Flexfit is a Vietnamese startup in interior design and construction with a tailor-made approach. At Flexfit, customers can order with consultation and advices from a team of experts. With this process, homeowners can customize their own living space while saving costs, time and enjoying comprehensive product warranty policies.
The company currently owns a network of 5 showrooms and 3 modern factories. The brand has served more than 8000 customers residing in high-end complexes such as The Zen Residence, Emerald Precinct, Dreamland Bonanza – located in both Hanoi and Ho Chi Minh City.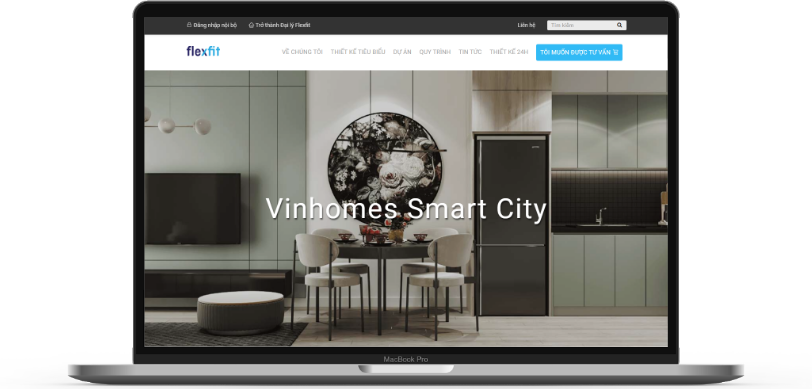 Although Flexfit owned a network of modern showrooms, workshops, and a large number of customers, their software services did not meet the rigorous requirements set by the brand. As their database grew, they couldn't rely on their email system and manually prepared reports to organize their information system. Flexfit's management had to deal with numerous barriers when it came to tracking work progress, as well as ensuring customer care during the design and production process. 
Additionally, as departments at Flexfit used to operate on separate software, it was challenging for employees to collaborate and share information. Therefore, to bring the best experience to customers in the design and production process as well as to effectively manage the company's internal operations, Flexfit sought a seamless system with sufficient functionality and user-friendliness so that they could quickly employ. At the same time, they believed such a system would help the company optimize resources and operating costs.
optimizing day-to-day activities
Reduce project management burden ​
With the sizable number of contracts increasing each year, Flexfit management faces a tremendous challenge in administering its ongoing projects. With Odoo, projects are now organized in a unified format that powers involvement. In addition, the process of approving applications, contracts, or assigning roles is also easier than ever.
Environmentally friendly is one of the most important criteria at Flexfit, and this also applies to internal corporate management processes. By storing tens of thousands of contract forms in the office, managers can quickly sign/approve applications online, even from mobile devices. We also integrated an online invoicing solution to Odoo that will help automate most accounting work.
Reliable information security
Information security has always been a "forever" issue of many businesses. However, Odoo offers unrivaled access sharing capabilities that not only limit unnecessary access between departments but also between the companies and its partners.
Accounting system complying with Vietnamese and international standards
Magenest has customized the existing Accounting module to include specifications for Vietnamese Accounting Standards (VAS) to comply with the regulations of the Ministry of Finance. Flexfit can quickly get real-time reports for cash flows, business performance, and making financial statements. The new Accounting system also allows Flexfit to convert from VAS to International Accounting Standards (IFRS) automatically so that they are always ready to go global.
With standardized business processes, Flexfit not only provides flexible design services, fits all kinds of living spaces, but also ensures the highest product quality in a short timeframe. This helps the brand build a loyal customer base as well as attract new customers, expand to potential markets and promote the brand's reputation.
The Odoo ERP system is a stepping stone for Flexfit to realize its aspirations to become a digitally driven leader in the field of design consultancy and interior tailor-made furniture.