For so long, Elise has become a well-known brand for all Vietnamese fashion lovers of all ages due to its stronghold on up-to-date and great customer service. Undeniably, this clever high fashion brand knew how to quickly adapt and upgrade market trends, so all of their collections are extremely up-trending while still remaining their own unique vibes – the vibes that have been known and loved. With huge progress in recent years, Elise has successfully covered all 63 provinces and cities of Vietnam with 122 high-end showrooms that offer a luxury shopping experience for customers. The number may look impressive, but it is just the tip of the iceberg when it comes to the real triumph of Elise in the offline retail market.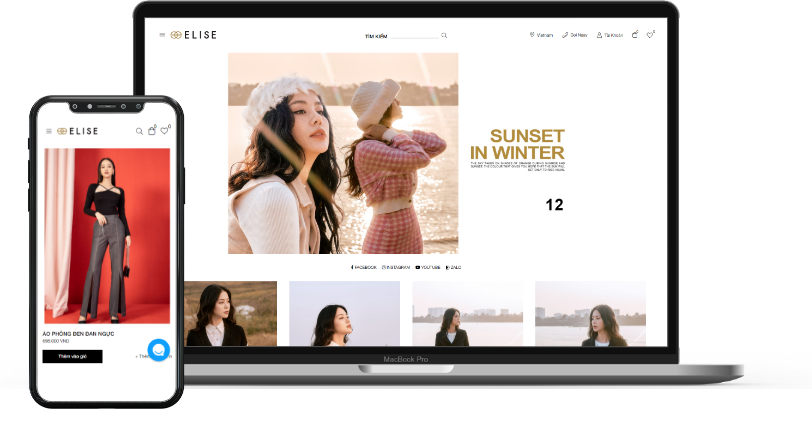 Despite huge achievements with offline showrooms, Elise has never fully abandoned the online segment. Especially during the COVID-19 pandemic, Elise has made a series of wise decisions in order to survive and thrive, when the mobility limitation prevents everyone from enjoying the luxury shopping experience of Elise's showrooms.
Meeting the growing demand for online shopping
Consulting on operation and implementation of eCommerce model
Understanding the need of adopting new technology trends in the market and controlling the conditions of businesses in the new situation, Magento 2 is the technology platform chosen by Magenest to deploy for the Elise brand. With the advantage of being the world's number one open-source eCommerce platform, Magento 2 easily meets the necessary requirements of users and is capable of meeting the future growth of businesses.

However, applying Magento 2 alone is not enough. With a high-fashion brand like Elise, all processes of managing bills of lading, information and customer cares need to be optimized at the highest level. Also, as Elise stands for a high-end, premium fashion brand in the customers' mind, the visual element also needs to be taken care of in the most meticulous way to bring the ultimate shopping experience on the online platform to customers. Understanding these challenges, Magenest has consulted and redesigned the entire e-commerce system and website in accordance with Elise's strategy and target customers.
Handling multi-channel sales in Magento
One of the most outstanding advantages of Magento 2 is the order management system (OMS – Order Management System). Currently, this system is managing more than 1,500 items ranging from clothes, bags, shoes, fashion accessories, etc. Orders will be automatically saved and processed on the Magento 2 backend, making it easy for admins to track and change product statuses. After the order is paid and shipped, Magento 2 also stores shipping information, invoicing, and inventory management for businesses, thereby creating synchronous management on both offline and online of the business.
To suit the Vietnamese market, Magenest has integrated VNPay and OnePay payment gateways, accepting payments by card, QR code, wire transfer as well as COD.
Loyalty program with Reward Points
With the new Magento 2 system, Elise's customers can quickly register for the Loyalty program with various offers and check their card class right on the website.
UI/UX Philosophy: Sophisticated
For a fashion brand, the website design has to be classy, eye-catching but still user-friendly. Such a design will certainly secure a large amount of orders for the brand. From Elise's brand analysis, Magenest has designed an interface that matches the customer's brand: an impressive new website with luxurious, high-quality images, and a systematic design to deliver the most premium shopping experience. Customers can also easily receive notifications about new collections as well as promotions. Catalog pages on the new website now use large, high-quality images so that customers can see every detail, even the tiniest, on Elise's haute couture products.
By implementing a new technology system, Elise is ready for future expansion and development. The changes have initially brought positive results for Elise. The number of customers shopping on the website increases by 22% only after a few weeks of deploying the new system. The number of customers signing up for loyalty programs through the online platform also started to grow steadily, which promises a brighter future in the journey of bringing this high end fashion brand closer to all customers.

In the meantime, Elise's other online sales channels also experienced significant growth. The number of orders placed through livestreams, Facebook Fanpage, and Shoppe channels has surprisingly excessed the initial expectations.