Established in 2009, BOO - a street-style fashion company, has quickly become a favorite brand among the youth due to their good quality, attractive designs, and sustainable messages and values conveyed through each product.
Not only pioneering in the field of sustainable fashion - Green from inside to outside - to inspire a positive sense of youthful style, mindset, and spirit, BOO also aims to become a global Made in Vietnam fashion brand, elevating Vietnamese quality and spirit to the international.
In addition to their signature products, BOO also collaborates with other brands. Currently, BOO has 30 stores nationwide, complemented by online sales through the website and eCommerce platforms.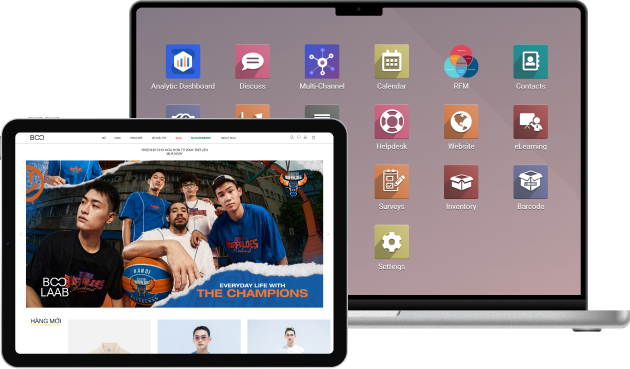 The Challenge & Expectation
Previously, BOO had utilized various technologies to support their business operations and management. Although these technologies had yielded certain benefits, management challenges persisted because each subsystem operated on a different platform. This leads to higher maintenance costs, increased potential for data discrepancies, and a lack of transparency in financial reporting at the stores.

As a result, BOO seeks a more unified management software centralizing all data on one platform with the goal of optimizing costs and ensuring transparency in revenue and operational data.
Building Magento 2 eCommerce system
After examining the cost and flexible scalability of Magento 2 Open Source – the world's number one eCommerce platform, Magenest advised and implemented the system for BOO.
With the power of Magento 2, Magenest developed an eCommerce website featuring an efficient Product Management System and Content Management System (CMS) with high-level security, flexible inventory management, and support for various product types and payment-shipping methods tailored to business needs. Furthermore, this system is integrated with BOO's existing ERP platform, delivery, and payment gateways, automating operational processes, enhancing user experience, and providing up-to-date and accurate data for accounting activities and data analysis.
Managing data effectively with Odoo Enterprise Edition (EE)
Due to the large and fragmented data across different platforms, which posed challenges in management, BOO needed an optimal management solution that could centralize data into a source. With the power of Odoo EE, all data is now streamlined to a single endpoint, making it easier for BOO to manage revenue, customer information, and transaction history. The data synchronization has also been automatically implemented daily across all systems.
To expedite payments for customers, Magenest integrated a Point of Sale (POS) system, synchronizing data from the POS to Odoo. BOO can enter customer information, initiate products, promotional programs, set up taxes, and view sales reports at any POS whenever they want. Additionally, the POS operates online and offline, ensuring consistent and accurate data for BOO.
Integrating Vani wallet to create promotional programs
Magenest integrated Odoo with Vani wallet, allowing BOO to easily create promotional programs for associated members, thereby promoting their brand value and customer loyalty. With BOO Rewards, customers can purchase products at special prices and participate in the Member Day program with many attractive offers. Customer data from the wallet is continuously updated in the Odoo system, enabling BOO to efficiently manage programs, and attract and retain customers, subsequently boosting sales and brand recognition.
Connecting with the Postgresql data warehouse for inventory management
Magenest connected Odoo with the Postgresql data warehouse, assisting BOO in real-time inventory and product details management across different warehouses: conducting and updating daily stocktakes, managing warehouse transfers based on quantities, and viewing reports. As a result, the sales team can review inventory reports, analyze, and plan for restocking efficiently and accurately, optimizing costs and time in revenue-profit calculations and enhancing transparency across stores. Instead of having to manually adjust on different platforms, all of BOO's inventory data is now automatically and precisely updated on Odoo.
Integrating Bravo for accounting management
Understanding the BOO's need to manage all activities and update figures and general reports, Magenest advised and integrated Bravo – an enterprise management solution easily scalable for the management scope that BOO already had.
Odoo serves as the central data management hub and supports bi-directional data synchronization with Bravo: Data from Odoo is automatically distributed to Bravo in real-time. Once this data is processed through accounting operations, it will be synchronized back to Odoo for centralized management on a single system.
Designing a simplified UI/UX to optimize user experience
Magenest developed the eCommerce website optimized for various platforms: desktops, laptops, and mobile devices running on both Android and iOS. The new website is designed with a modern style, and a Vietnamese language interface, optimized UI/UX to enhance user experience. As a result, BOO not only provides a seamless shopping experience for customers but also improves conversion rates, and sales revenue, and strengthens the brand reputation and customer loyalty.
Magenest successfully deployed Magento 2 eCommerce website and the new Odoo EE system for BOO. Both systems operate stably and smoothly, meeting the company's expectations: and effectively addressing initial challenges related to the system and data management. Now, data is accurately synchronized into a single source, making it easy to monitor, as a result, BOO saves significant costs in management and operations. Furthermore, both BOO and their customers highly appreciate the website's interface for its aesthetic appeal and user-friendliness, helping to attract more new customers, increase revenue, and enhance customer satisfaction.
After being guided by Magenest on how to use the system, BOO's team now manages data on orders, inventory reports, and revenue quickly and accurately. This has made it easier for them to launch many successful promotional campaigns, attracting customers and boosting sales.