Founded in 2006, BiboMart is now a major brand name in Vietnam, owning a chain of stores selling mother and baby products. The company imports and distributes high-quality products from Combi, Chicco, Fisher-price, Farlin, Hipp, DrBrown, etc. Its diverse offerings have made BiboMart stand out among its competitors.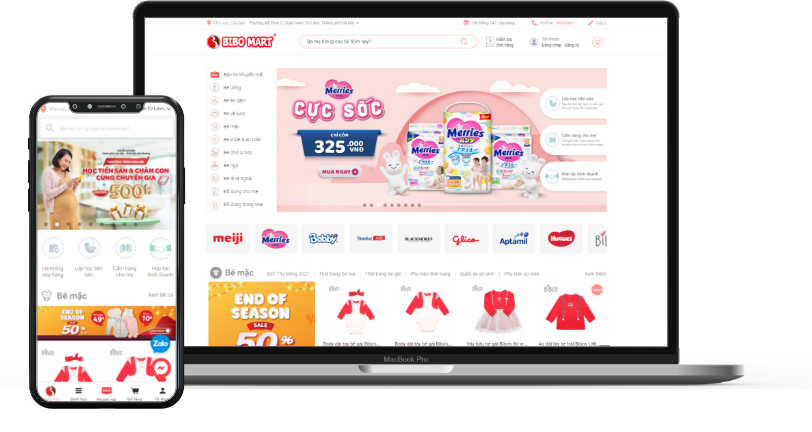 Like most Vietnamese companies, the orders are often processed by phone, this costs the company a lot of human resources, as they have to allocate phone operators to handle a growing customer base. With the rapid adoption of eCommerce in Vietnam, the company needs to stay ahead of its competition.

With stores across 22 cities in Vietnam, BiboMart receives hundreds of orders per day, and managing the growing sales and stock is proving to be troublesome, given the dated technology infrastructure. All their storage management operations are handled manually, which proves to be inefficient. The company will need a new eCommerce system capable of handling more than 15,000 SKUs. This new platform, boasting a true omnichannel experience, will house and synchronize real-time inventory updates to BiboMart's existing ERP. On another note, BiboMart offers a fast delivery option that promises under 2 hour shipping time for selected products that would require integrating a new technology stack.

In short, BiboMart wants to give its customers a true omnichannel experience and improve its storage management and order fulfillment operations.
A true omnichannel system
Seamless order placement to fulfillment
Each store is configured as individual storage that holds SKUs and corresponding stock information. Sales orders from the website and social channels are synchronized in real-time to BiboMart's ERP, Microsoft NAV, and LS Retail integration to ensure smooth coordination between departments and help with timely delivery.

When a customer submits an order with a delivery request, the system calculates the position of the buyer to find the nearest store to assign the order. Other conditions are also taken into account: whether a store is capable of handling the entire order, whether a store has too many orders being processed compared to other stores within a similar range. The in-house shipping team will process the orders and fulfill them.

In case a customer opts for the 2-hour instant delivery option, their order would be marked for priority and processed in the allowed timeframe.
Content personalization by region
BiboMart wants its content to be personalized for each region of Vietnam. This content ranges from catalogs, promotion, copywriting, etc.. We customize the new Magento 2 website to easily handle multiple content iterations and administrative roles effectively.
Flexible and diverse promotions
BiboMart also runs promotions throughout a month, including flash-sale, this requires quick computing and calculation to avoid any unwanted checkout hindrance.
UI/UX DESIGN & DEVELOPMENT
Per Bibomart's request, we made the necessary adjustments to their old interface to bring it up to par with modern standards, in terms of look and functionality as well.
Thanks to the new fault-tolerant and highly available system with close to zero down-time, BiboMart's operations are now smoother than ever.