Today, businesses are using mobile CRM apps to manage their customer relationships. These apps allow for easy access to customer data anywhere, anytime. But not all mobile CRM apps are created equal. So what qualities should you look for when choosing a mobile CRM? And which are the best mobile CRM apps out there? We'll bring you the most necessary information in this blog post.
The qualities of the best mobile CRM software
Nowadays, the sales process is essentially a 24/7 operation, so you need a good mobile app to communicate with customers while on the road. These essential features are what you should search for in any mobile CRM.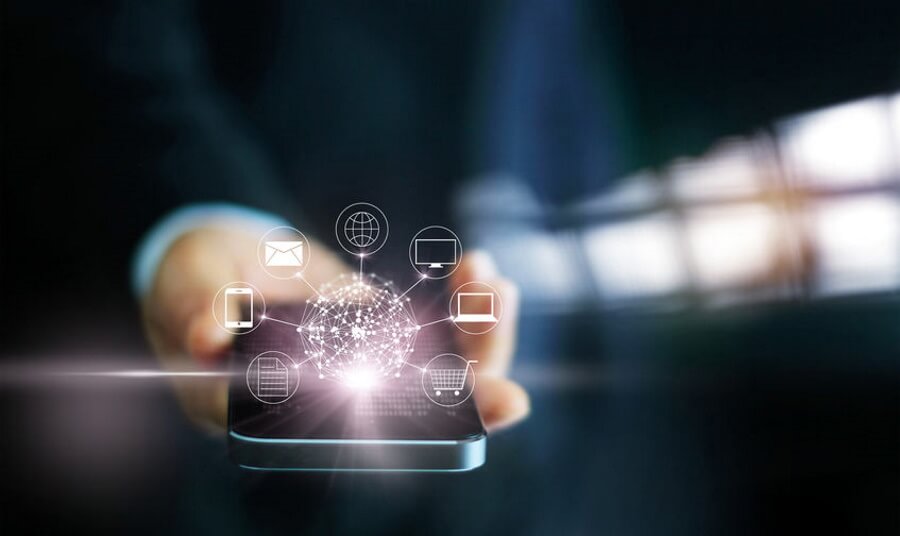 Optimized interface for mobile devices
CRM mobile solutions shouldn't just replicate desktop features on a mobile device, but rather have an intuitive user experience. The app shouldn't be difficult to use or messy. Instead, it should give the majority of the features and functionalities found in the desktop version rather than just offering a pared-down version of the software.
In particular, it should make it simpler to discover clients and take notes, support voice notes, and offer customized push notifications.
Team-friendly
Any CRM for mobile devices must support teams. Access should be open to all employees and should support a collaborative sales process. You'll therefore need a cloud-based app that can incorporate team messaging apps. The software should, in general, enhance team communication.
Smooth scanning
Business cards are the primary way new potential clients will provide contact information. A CRM program should make it simple to scan them into a database. Although it might not seem important, the ability to instantly upload a contact's information reduces the need for manual entry and the likelihood that the information would be lost. Additionally, you can rapidly add significant notes to it and the entire team will have fast access to it.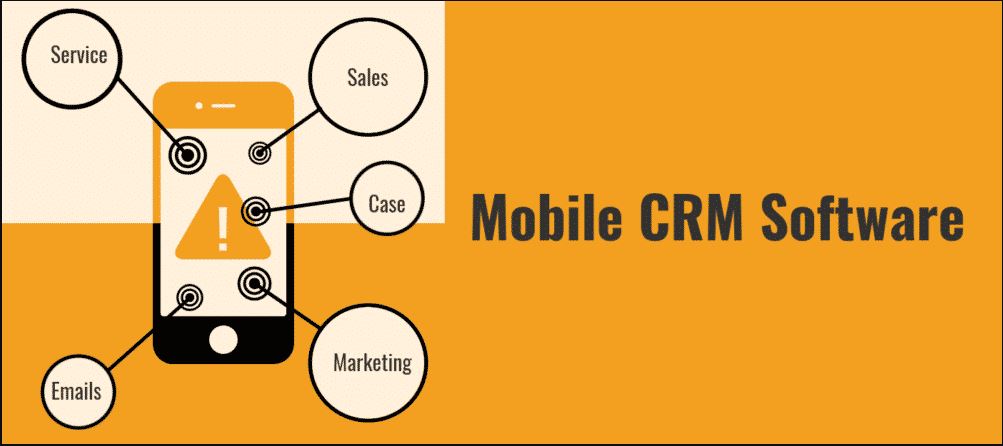 App Supported Devices
Finding CRM software that integrates with your smartphone shouldn't be too difficult as the majority of consumers own either an Android or an iPhone. However, your options for mobile CRM apps may be constrained by an outdated operating system or a different operating system.
Customer & Tech Support
Even the top-rated apps on the app store occasionally experience unavailability or bugs. Even if you can't totally prevent app issues, you can lessen the effects they have on your team by selecting an app with a solid reputation for customer support. When something goes wrong, you may get in touch with their support staff to have it corrected before it starts to affect your sales.
6 Best Mobile CRM Apps for 2023
The best CRMs provide you with simple mobile apps that let you access desktop software's features and capabilities straight from your phone. Along with the functions that should be included in every CRM, mobile functionality is a vital factor to take into account when selecting the best CRM software. We've created a list of the best mobile CRM apps to help you make your choice.
HubSpot CRM
Although HubSpot CRM has excellent free and premium tiers, the cost of the paid tiers may be prohibitive if you don't have enough users. However, Hubspot CRM mobile app provides excellent mobile capabilities in addition to cutting-edge sales and marketing features. It is excellent for integrated teams.
The ability to create tasks and reminders directly from the app is one of its major mobile features. So this software is fantastic for anyone who requires calendar reminders while out and about.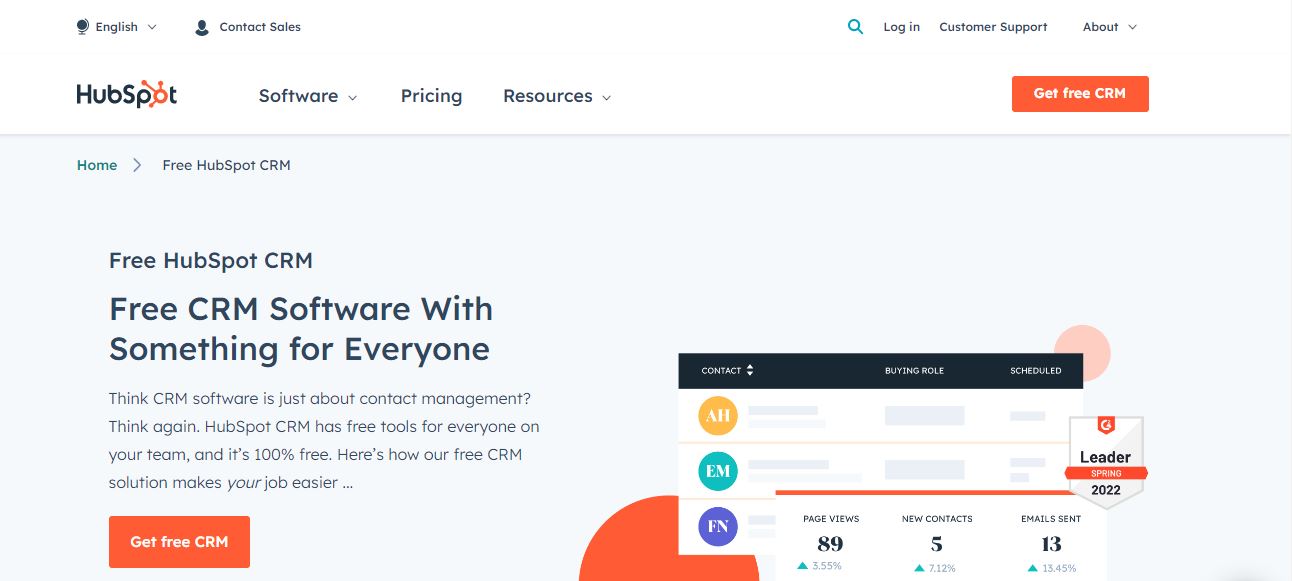 Key Features of HubSpot CRM:
Great Free Tier: For both its mobile and desktop apps, HubSpot provides one of the strongest free tiers available.
Immediate Pipeline Visibility: You may see and track useful metrics, statistics, and activities across the board with the use of a simple dashboard.
Chat & Telephony: Use the app's built-in dialer and your website chat to contact leads and prospects from your phone.
Design with Teams in Mind: HubSpot was created with teams in mind. HubSpot has something for you whether you work in operations, sales, marketing, or customer support.
Zoho CRM
A fantastic all-around CRM, Zoho CRM is renowned for both its sales and marketing functions. In terms of its smartphone app, it is the best CRM with mobile app. It provides an AI assistant named Zia AI that functions similarly to Apple's Siri. This tool enables you to ask it questions about sales while on the go.
Its mobile capabilities also include a map that you can use to find nearby prospects and choose the best route to get there. It is therefore ideal for hectic salespeople who urgently require customer information.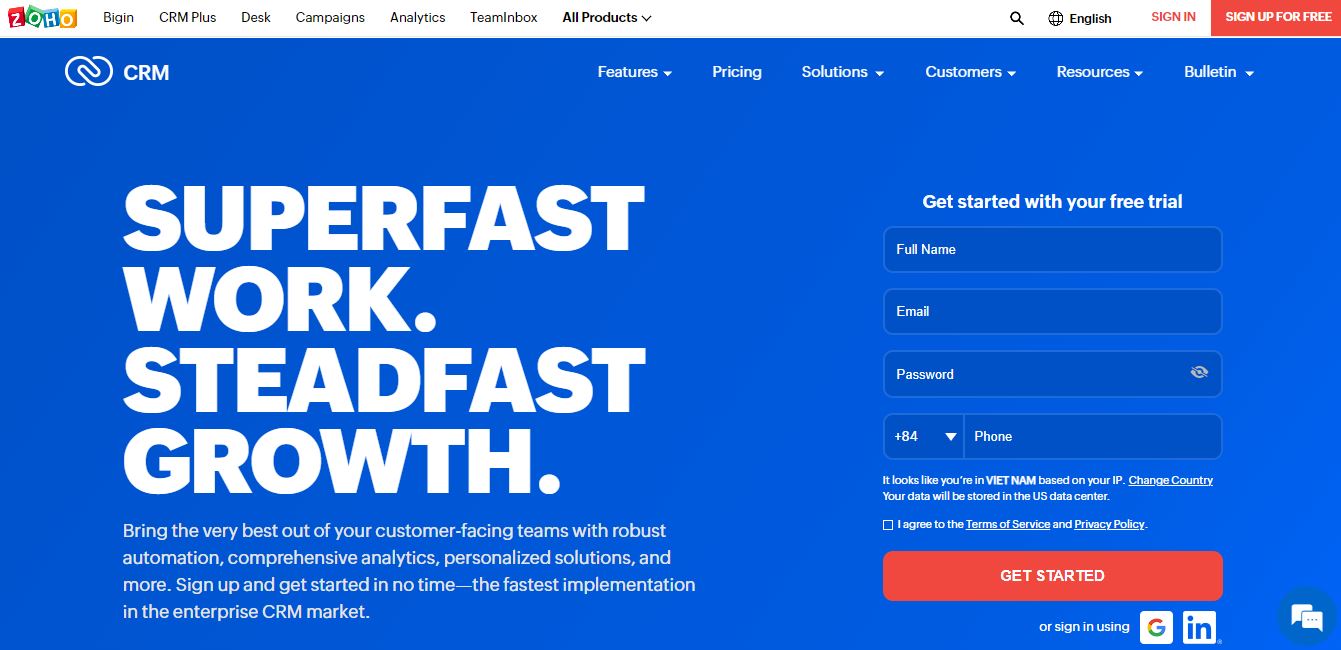 Key Features of Zoho CRM:
Sales Forecasting: Zoho's advanced plans allow you to leverage Zia AI, requesting sales data and giving robust sales forecasting on desktop and mobile.
Online Lead Management: Use effective online lead management for social media, email, and other channels to manage incoming leads while on the go.
Task Management: Utilize Zoho's mobile task management tools to make reminders and keep track of crucial sales items.
Prospect Mapping: Zoho has a mapping function that enables you to look up potential clients in your area, visit their website and directory, and determine the best path to go to them.
Freshsales
A virtual phone enables you to handle work calls from your personal device. It is just one of the many mobile capabilities that this best application for mobile CRM offers. Additionally, included are voice notes for on-the-go recording, Google Maps integration, and the option to check-in for meetings and other activities so your team is aware of your activities.
Naturally, all of this is on top of their strong desktop functionality. Therefore, Freshsales is a fantastic choice for people that require a multi-device solution.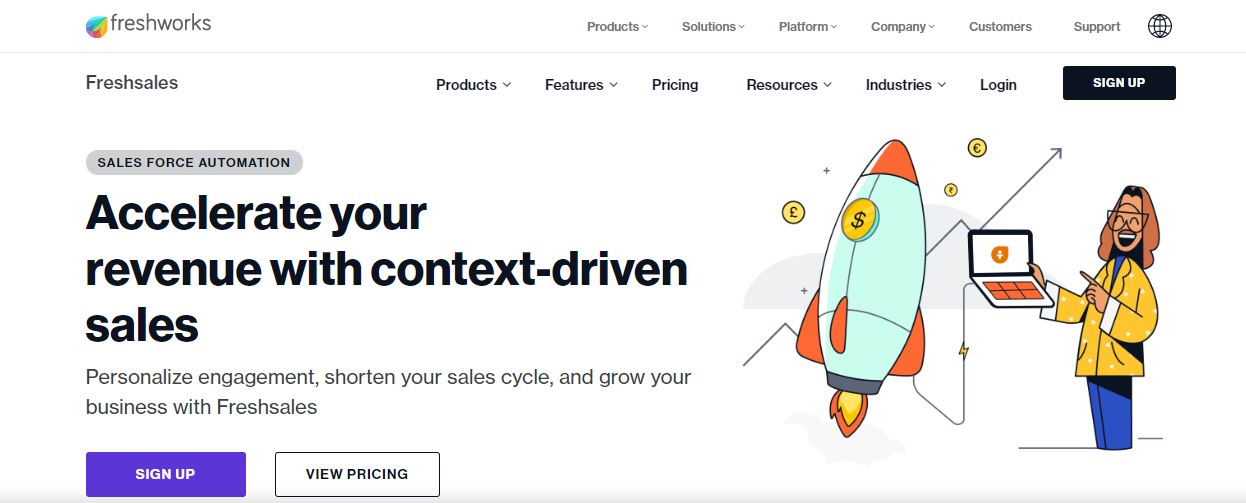 Key Features of Freshsales:
Virtual Number: Using the virtual phone that comes built into Freshsale, you may place and receive business calls right from your personal smartphone.
Social Media Compatibility: Use the chat features of well-known social media platforms like Facebook Messenger, Apple Business Chat, and WhatsApp.
Mobile Check-in: Let your team know where you are by checking into your in-person activities, such as sales meetings and prospect visits.
Google Maps Integration: Connect Google Maps directly to your CRM calendar to get directions to events like meetings.
Salesforce
By providing a comprehensive range of cutting-edge tools and capabilities accessible through its mobile app, Salesforce distinguishes itself from the competition. That's why it has become one of the best mobile CRM apps ever.
This includes personalized dashboards and reports that let you quickly access your data and insights. It's excellent for salespeople and teams who need to manage a lot of data and prospects because it also includes powerful lead and opportunity management from your mobile device.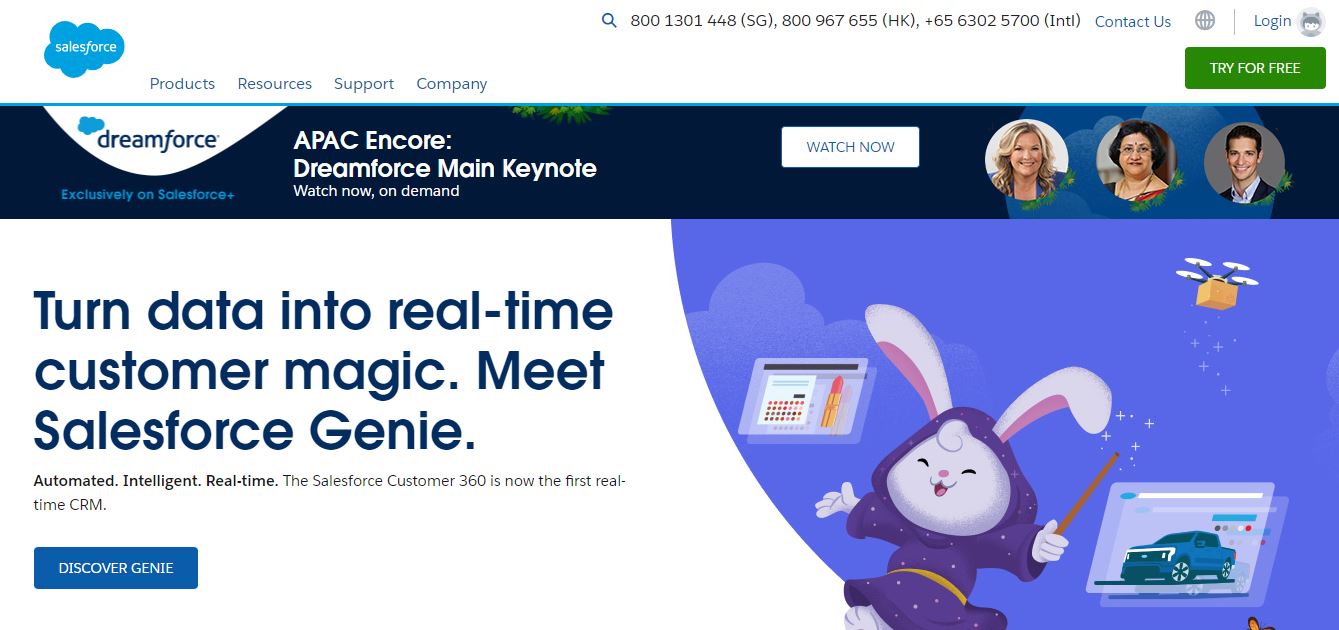 Key Features of Salesforce:
Dashboards with rich reporting: Customize your reporting for deep insights and incorporate your most crucial reports in a user-friendly mobile dashboard.
Real-time reporting: Salesforce is one of the few items on our list that offers real-time reporting and analytics.
Manage leads and opportunities in different pipelines so you can stay on top of the most crucial deals.
Built-in Dialer: Use the built-in phone dialer and call log in Salesforce to make calls to prospects and customers from your own device.
Pipedrive
Pipedrive is a visual CRM that provides a drag-and-drop pipeline in the kanban style for convenient use while traveling. Additionally, it provides a wide range of third-party mobile apps, such as online customer surveys, chat apps and bots powered by AI, remote team assistance, and more. For salespeople looking to expand the capabilities of their CRM on their mobile device, this makes it a fantastic option.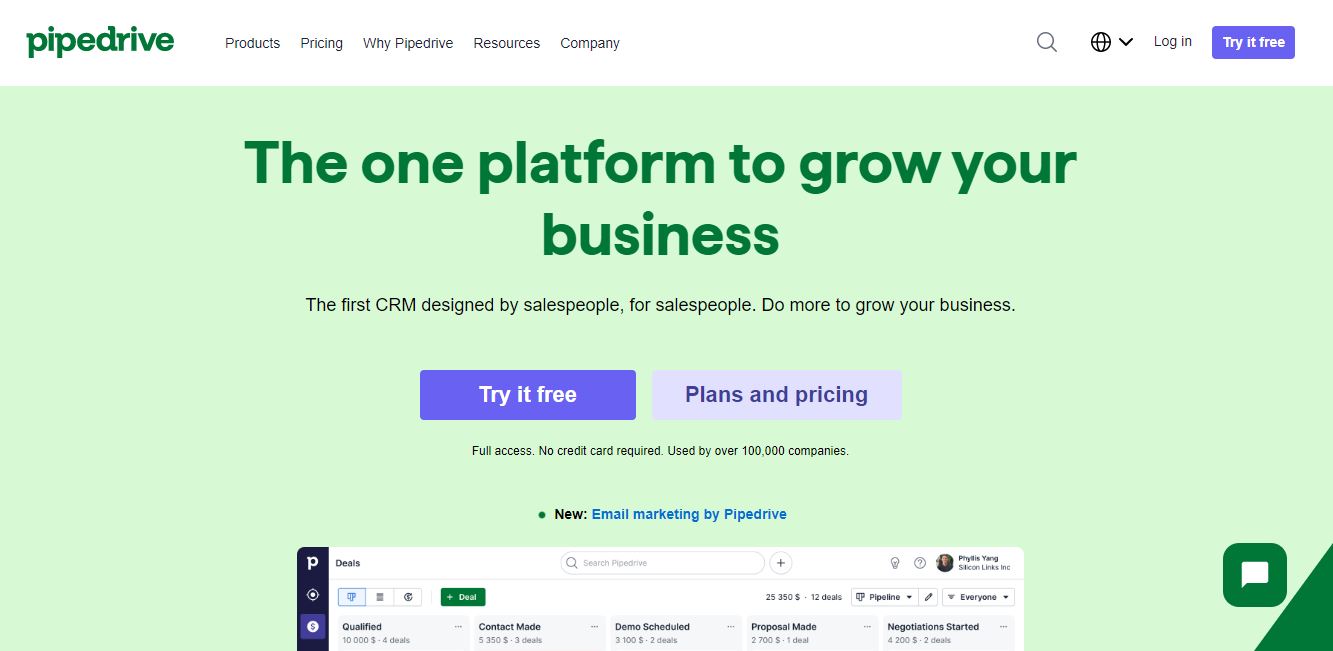 Key Features of Pipedrive:
With its extensive marketplace of third-party apps for Android and iOS, Pipedrive makes it simple to tailor your business.
Enhance lead creation with the aid of the LeadBooster Add-On Service, which enables you to collect both inbound and outbound leads.
Integrate with Google and Microsoft: Syncing your contacts and calendar with Google and Microsoft is feasible with Pipedrive.
Service support: All of Pipedrive's service options come with 24/7 technical assistance through email or web chat.
Insightly
The CRM and project management platform Insightly makes it simple to scan business cards, check digital requests, and monitor projects from your smartphone.
Additionally, it enables you to separate your sales process from your project pipeline so you can keep a closer eye on prospective clients and active client projects. For salespeople or teams who create leads, close transactions, and manage projects across various locations, Insightly CRM is fantastic.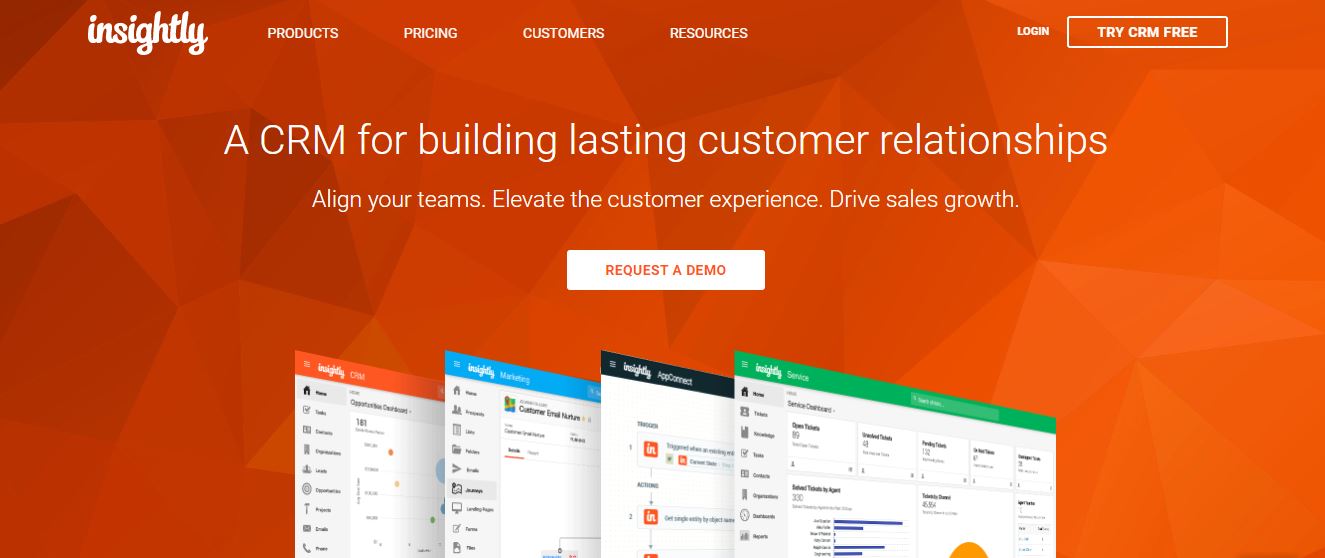 Key Features of Insightly:
Scan Business Cards: You may now digitally store all of the business cards you've gathered at conferences, seminars, and other trade shows.
Record Digital Notes: With the integrated capability to record digital voice notes, you can keep track of your daily schedule, manage clients, or take notes on just about everything.
Integrated project management: Insightly's mobile project management views make it easy to handle various projects on a daily basis.
Mobile Security: Insightly offers a single sign-on, common authentication, and constant two-factor data encryption.
In conclusion,
Although we've highlighted some of the best mobile CRM apps on the market, it's important to remember that not all CRMs are created equal. When considering a mobile CRM for your business, be sure to look for an app that offers the mentioned important qualities. And if you're looking for a top-notch mobile CRM that meets the specific criteria of your own business, Don't hesitate to contact us today. We would be happy to help you find the perfect solution for your business.