You might be wondering what the best free eCommerce website builders are for. To begin with, a competent eCommerce website builder can help you overcome the challenges of eCommerce and quickly put up a great online store. You'll be able to impress customers and start earning sales right away. Secondly, they are FREE, what a huge plus!
Are you ready to sell online without paying but still have fantastic results? We have done research on the best free eCommerce website builders as following, let's dive right into it:
1. Criteria when choosing Best Free eCommerce Website Builders for your business
1.1. Ease of Use
Beginners and non-technical people should find it simple to utilize a website builder. Even though some eCommerce website builders do not involve coding, the simplicity of use of different builders may vary. To make it easy to alter the items on your website, opt for a website builder that has a drag-and-drop capability and an intuitive editor. Alternatively, they can offer a variety of designer-made templates to give you more possibilities and personalization options.
If you have technical knowledge, this will not be a problem and you can consider other criteria for the best free eCommerce website builders like security or scalability.
1.2. An abundance of useful features
Of course, each eCommerce website will have its own set of requirements. Still, a good website builder should include things like a blogging system, mobile-friendly designs, a large selection of high-quality royalty-free photos, a good shopping cart, and the ability to integrate third-party marketing tools. The more the merrier; eCommerce managers can use these tools to focus on growth while selecting the features that are most useful to your business.
1.3. Customer Support
When selecting the best free eCommerce website builders, this is an important issue to consider. Business owners should be able to contact support staff quickly if they run into any problems while constructing their site or after it is up and running.
All business owners want to avoid losing a significant amount of traffic and sales due to a few minutes of downtime. As a result, having access to help 24 hours a day, seven days a week is a major advantage.
1.4. Marketing & Analytics
You should be able to get marketing assistance from eCommerce website builders. This might be accomplished by optimizing your site and content for SEO, allowing third-party marketing tools such as Google Ads to be integrated, and making it simple to promote your content on social media.
The best free eCommerce website builders should be able to provide you with access to your website's analytics, at the very least so you can see how well your site is doing in terms of traffic, bounce rate, and conversion rates. Third-party analytic tools, such as Google Analytics, should also be included.
1.5. High security
Absolutely a must-have criterion for choosing the best free eCommerce website builders. The website builder should be PCI compliant, meaning that it complies with particular regulations to ensure that credit card information is processed, stored, and transmitted in a safe manner.
1.6. Scalability
Even after your online store has launched, you should look for flexibility and customization when picking an eCommerce website builder for your website. Your company will grow, so you'll need a platform that can scale and adapt to meet your changing needs. You should go with a hosting plan that enables easy scaling, such as VPS or cloud hosting.
2. Top Best Free eCommerce Website Builders to consider using
Based on the criteria stated above, here are Top 7 best free eCommerce Website Builders we recommend:
2.1. Weebly
If you're a small business owner looking to launch your first website, Weebly is a fantastic option. Its drag-and-drop editor is fairly intuitive, so you and your team shouldn't have a hard time learning it. It also provides users with a vast variety of capabilities, allowing you to build something memorable for your guests. One of the best free eCommerce website builders on the market, we say.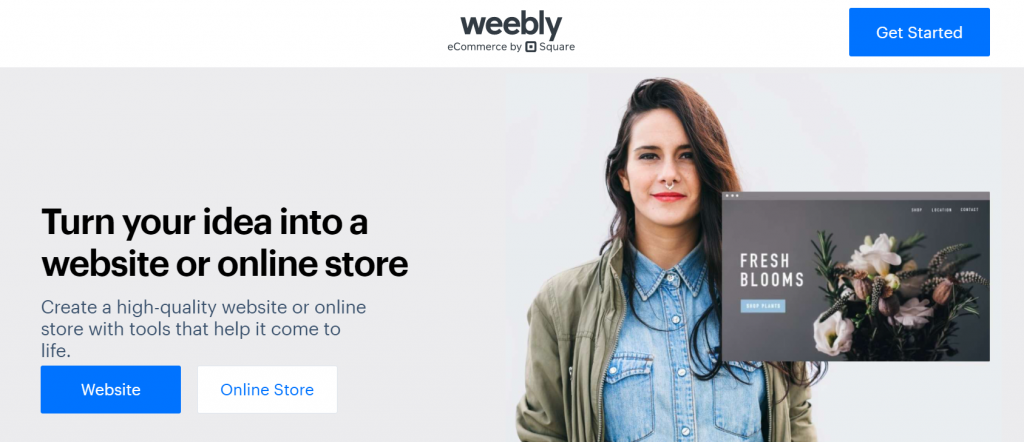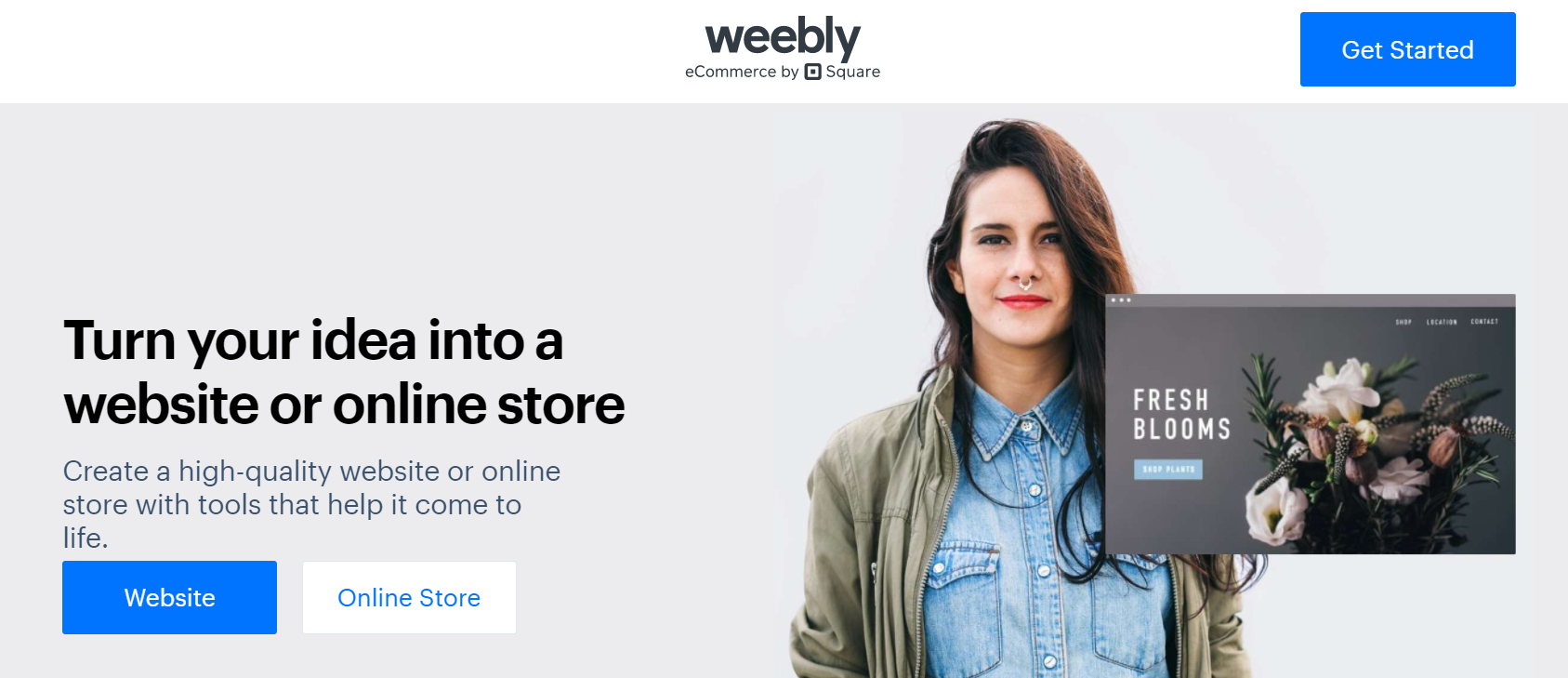 In short, you can't go wrong with Weebly if you want to create a basic yet elegant site to start a blog, advertise your business, or show off your portfolio. Users also have access to a variety of modern-looking themes that they can quickly alter to fit their brand's personality (all of which are mobile-friendly).
We also appreciate the fact that Weebly's help section contains a wealth of SEO resources. You'll have a far higher chance of ranking well in Google's search results for the keyword of your choice if you read and follow their suggestions.
What are the advantages of Weebly?
Ease of use: Weebly is simple to use; its drag-and-drop features are intuitive, and it doesn't require any coding.
All payment levels include unlimited storage as well as the possibility to link your own website domain. As a result, any size business wishing to expand can do so without incurring additional expenses.
Weebly offers free analytics to help you track your website's traffic.
You can choose designs from numerous topics. These designs are quite fashionable, so your free eCommerce website will definitely stand out!
What are the disadvantages of Weebly?
Weebly doesn't give you a lot of options for customizing your site's functionality. These constraints may annoy anyone who has their own programming skills.
It's difficult to completely change or adjust the themes. Those with web design skills or a specific vision for their site's appearance and feel may find Weebly restrictive.
The ability to categorize content is restricted, making it difficult to manage huge websites with a lot of content.
Weebly lacks a personal restore option. As a result, if your site goes down, you'll have to rely on them to fix it.
2.2. Magento
Magento was founded in 2008. There are two versions available: a free version and a premium one. Magento Community Edition is a free alternative that is suitable for small enterprises and startups who are just getting started. Users may tailor it to their specific needs, and there are forums where they can discuss tips and methods.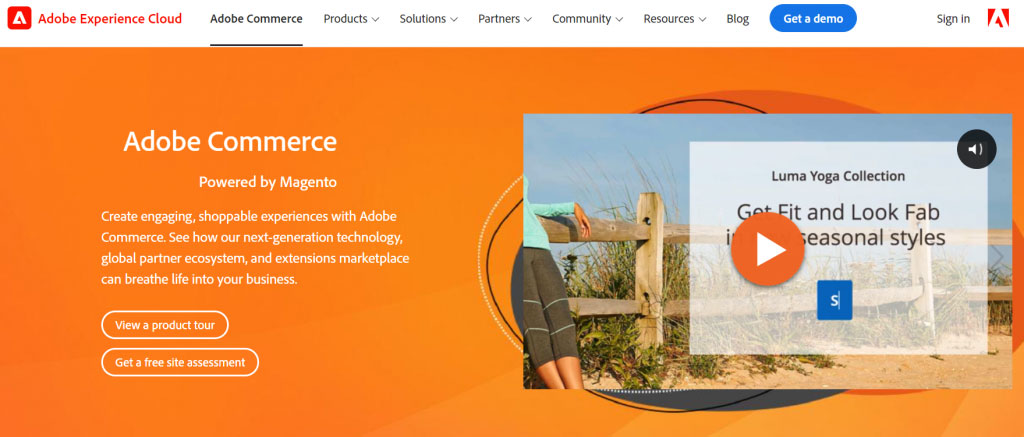 Magento claims to be the world's most active and influential developer community. There are free resources available that can help you expand your business, sell your products online, and much more. While the Commerce version has quite high prices, the Community version of Magento is certainly one of the best free eCommerce website builders. That's in addition to the technical assistance you can get to get your eCommerce site up and running.
What are the advantages when you use Magento?
The free version is open-source and has a lot of customization options.
Their stores are simple to expand.
There are numerous features available to use.
Magento enables you to swiftly interface with a variety of third-party services, such as payment gateways, database applications, transportation, shipping, and order tracking.
Magento is extremely SEO-friendly.
Magento is the clear winner in terms of page load time, query processing time, and other dynamic or static processes.
You can benefit much from becoming a member of Magento's vibrant and global community.
What are the disadvantages when you use Magento?
Magento is a difficult system to master, with a steep learning curve. You'll need a thorough understanding of web development to get the most out of this solution.
There isn't any customer service available (beyond looking for help from the community).
Magento's 'Commerce Variation' comes with an exorbitantly high price tag.
The fees of web hosting, SSL certificates, and payment processing must still be covered.
Who should use Magento?
Magento is a fantastic solution for people with the necessary development skills. If you have enough knowledge, you'll be able to make use of a range of features and have access to a platform that can swiftly scale. You won't be bound by the restrictions that come with paid website builders. And you should note that Magento isn't the proper eCommerce website builder for individuals just starting out or entrepreneurs who aren't comfortable with coding.
You are into the benefits of using Magento and want to build your own Magento 2 website, however, you don't know how to code? Then you are in the right place, Magenest offers One-Stop-Solution where your optimal Magento websites will be built by our technological experts. We have been serving thousands of customers, including big names like Heineken, Nestle, Universal… Get your website today!
2.3. Square Online
Square isn't just a payment platform for businesses and restaurants; they've also recently launched an online store builder. There is no monthly fee; instead, each transaction costs 2.9 percent plus 30 cents in credit card processing fees. Square Online allows you to sell online and in-person, and it syncs your sales between your physical store and your online business.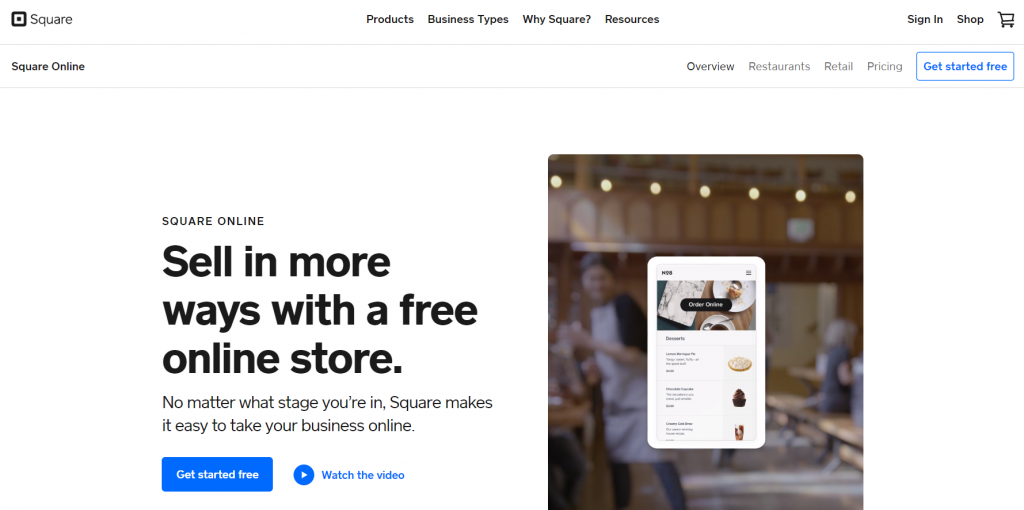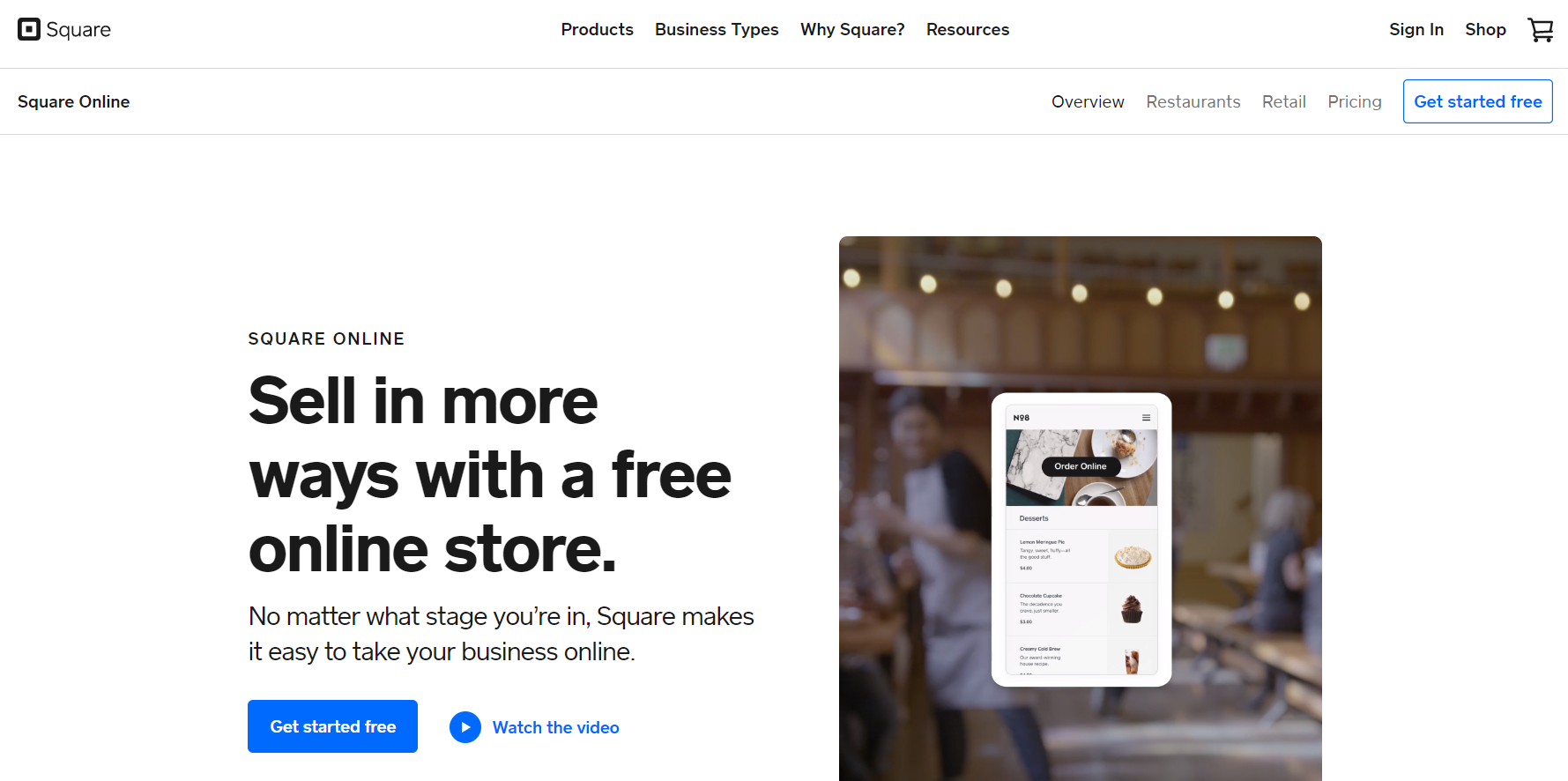 There are paid packages available, like on other sites. The free bundle only allows for 500MB of storage, but you may list an infinite number of products, manage your inventory, and schedule store pickups. However, you won't be able to accept PayPal payments or display product reviews.
For free clients, there's a community forum, chat, phone, and email assistance, as well as Instagram integration. Square's base service includes a POS system, and WooCommerce and Ecwid also enable Square integration to meet that demand.
Why is Square Online so appealing?
Square Online provides a free URL as well as limitless hosting.
They offer limitless storage for files of any size with all of their premium services.
You can schedule in-store pickups as well as manage and update inventory for both your online and physical locations.
There is no need for coding knowledge.
A few reasons why you might pass on Square Online:
To get access to additional features, you'll need to purchase one of their paid programs.
Setting shipping pricing might be difficult since you must choose between free shipping and a set rate for all of your products. When selling things of diverse weights and sizes, as well as varying price ranges, this might be inconvenient.
Account stability issues are widespread.
Who should use Square Online?
If you need to manage and oversee a large number of products, both online and in-store, Square Online is the eCommerce builder to use. As a result, it's a good alternative for existing brick-and-mortar stores that want to start selling online without having to learn to program.
However, if you're searching for a low-cost choice for very complex needs or reasonable control over your shipment charges, this isn't the solution for you. One of the more expensive options on our list is Square Online.
2.4. Ecwid
Ecwid is a good choice for online store owners who wish to add a free eCommerce store to their current website. At the time of writing, this platform had 1.6 million small enterprises as customers.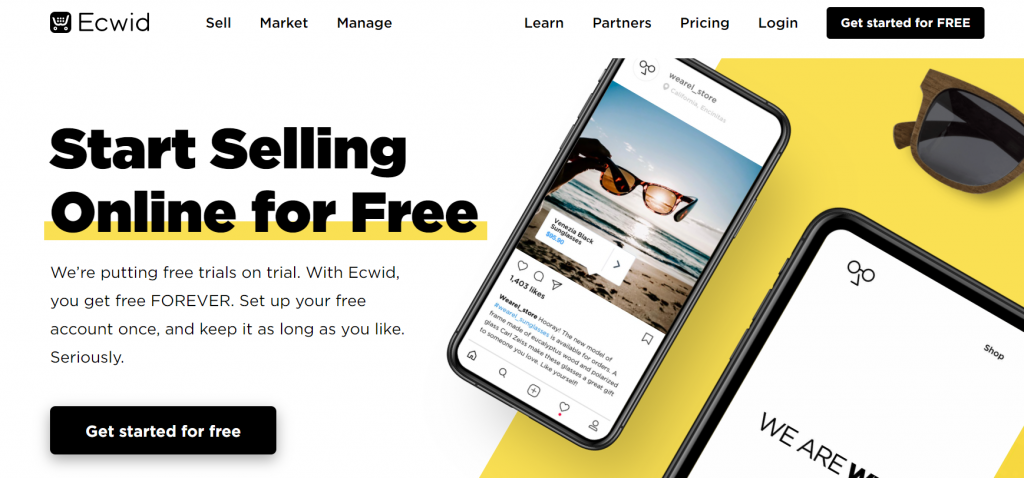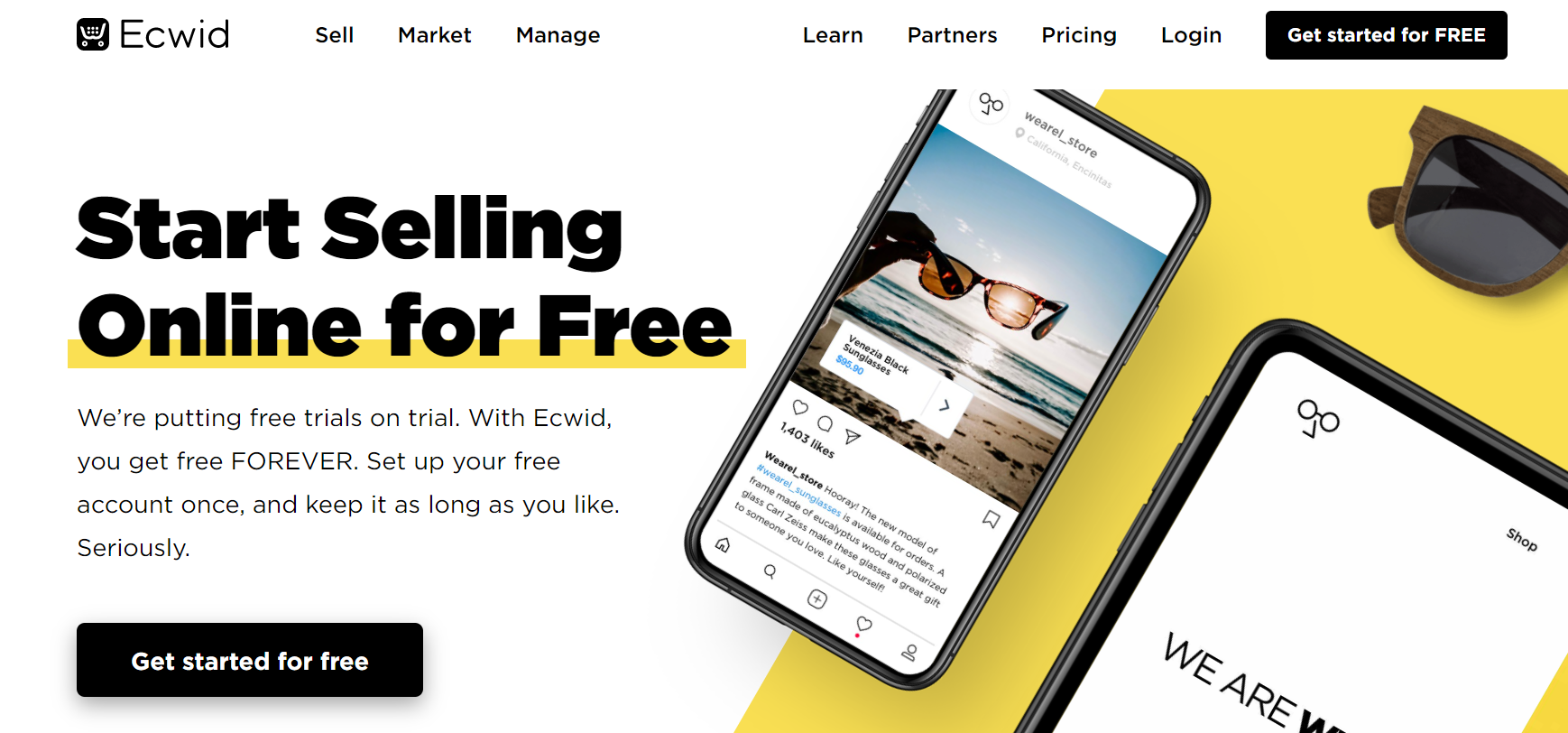 There's a free version and three premium options, all of which include unlimited bandwidth and mobile compatibility. The commercial solutions, on the other hand, offer a higher level of customer service and an abandoned cart feature that the free basic version does not.
Ecwid is an eCommerce website builder that works with a variety of platforms, including WordPress, Wix, and Squarespace. There's also a ten-product limit for free sales, so if you have a large product line, this isn't the website builder for you.
What are the benefits of Ecwid?
Aside from payment processing, there are no transaction costs.
Ecwid may be readily integrated into an existing website.
Ecwid provides a myriad of available integrations.
Ecwid's shops have mobile-friendly layouts.
The 'Venture' plan, which is the next rung up from their free program, is only $15 per month. This is significantly less expensive than some of its competitors while yet providing an outstanding set of features.
Ecwid's user interface was revamped in 2018 and is now far more user-friendly.
Your storefront can be shown in up to 45 languages.
If the rest of your site isn't already mobile-friendly, Ecwid allows you to publish your store as a mobile app.
What are the drawbacks of Ecwid?
Ecwid's free eCommerce plan is essentially a trial for the company's paying options. You can only add ten goods to your store with the free application, drastically limiting its potential.
On the free site, there is only one store theme.
In comparison to other sites, there are fewer SEO and GDPR alternatives.
Who should use Ecwid?
Ecwid is designed to be used as a plugin store that can be added to an existing website. So, if you're starting from scratch with an eCommerce store, this might not be the best solution for you.
However, it's a good free service for connecting a small business to a website you currently have. However, if you want to use this solution in the long run, you'll need to pay for one of their paid plans. However, to be fair to Ewid, their premium plans are reasonably priced and include a good variety of features – so it's a case of swings and roundabouts!
2.5. WooCommerce
This is an open-source shopping cart that integrates with WordPress sites, therefore it's the best free eCommerce website builders for WordPress users. WooCommerce has been around since 2001, has 48 million downloads, and powers around 30% of all online stores.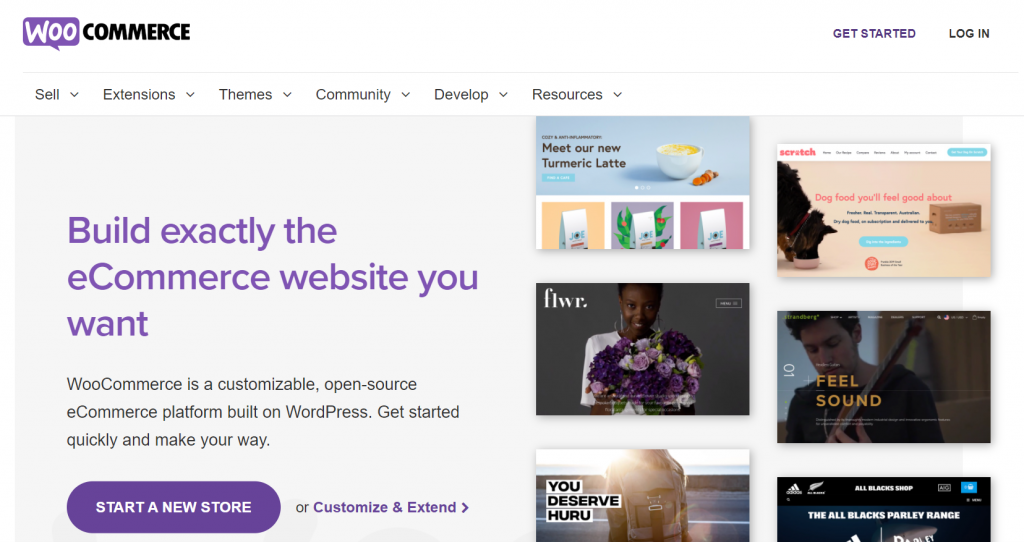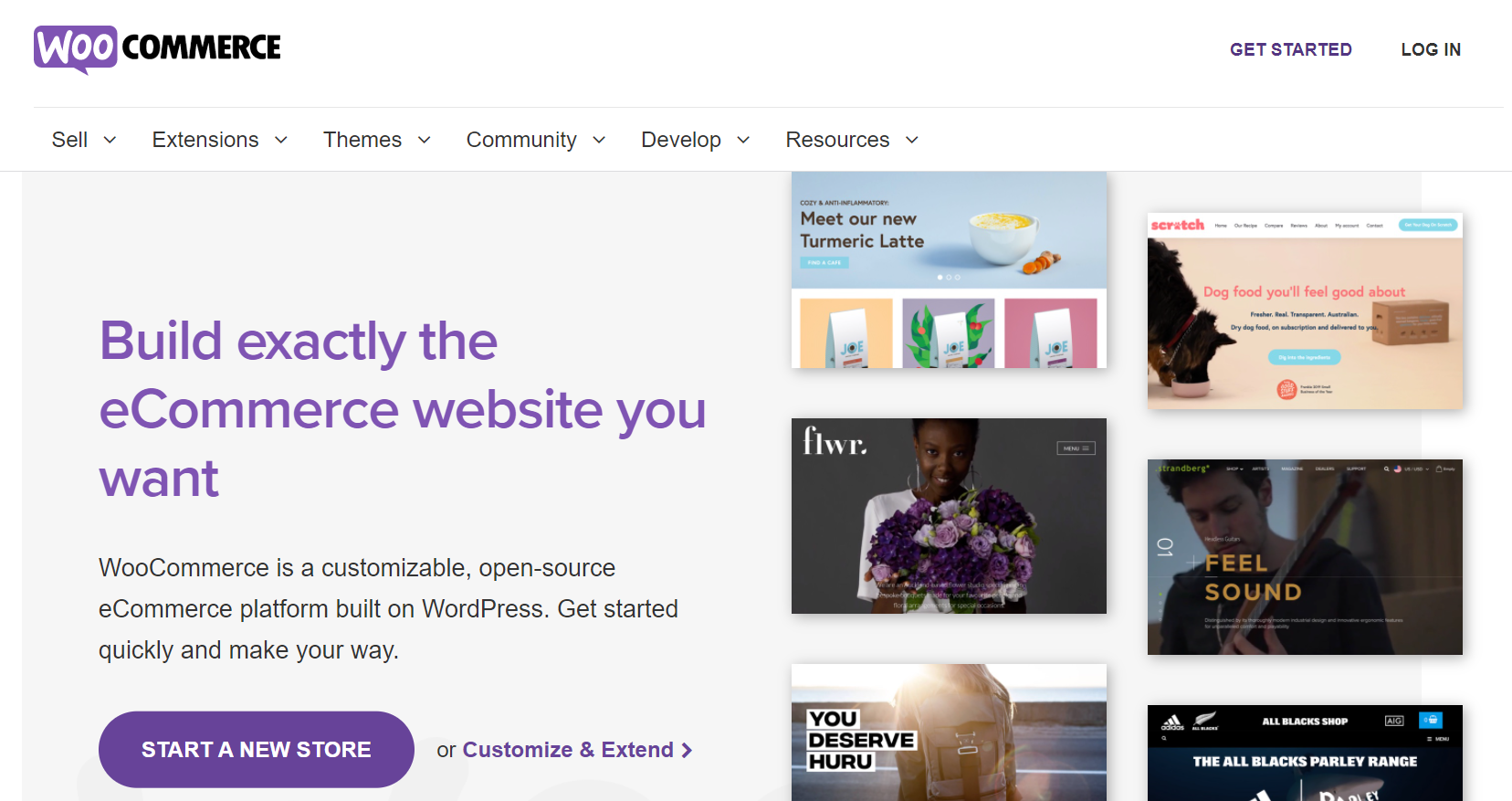 WooCommerce is completely free to download and use, with no transaction costs. However, because WooCommerce is a plugin rather than a standalone eCommerce site, you'll need to pay for WordPress hosting to manage your WooCommerce site (if you haven't already had). You'll also have to pay a fee if you want to use WooCommerce's add-ons.
The upside to using WooCommerce is that you can list an unlimited number of products for sale, take payments via PayPal or credit/debit cards, and choose from four mobile-friendly templates.
There's also stock tracking to make sure you don't sell something you can't deliver. Last but not least, WooCommerce provides online support to assist you in getting started. It's an excellent choice for anyone who wants to open an online store and use effective content marketing methods.
What makes you fall in love with WooCommerce?
Because WooCommerce is an open-source platform, it's highly flexible and has a wide range of integrations.
It's a terrific eCommerce builder for WordPress users because it's designed specifically for that market.
You can seek help from an active community of developers and specialists.
The main disadvantages when using WooCommerce:
While the plugin is free, maintenance, development, and hosting fees can add up quickly.
To become acclimated to it, you'll need to do a lot of preliminary research. For newcomers, learning how to use WooCommerce can be a steep learning curve.
WooCommerce necessitates some WordPress expertise and experience.
Because it is self-hosted, you are responsible for all upgrades and upkeep.
Who should use WooCommerce?
If you're already a WordPress user wanting to grow your site, WooCommerce is the free eCommerce website builder for you. It's also a good choice if you've done any programming or customizing of web pages before and don't mind doing some extra study to learn about their advanced capabilities and customization choices. Scaling your eCommerce business should be simple after you've mastered WooCommerce.
2.6. Strikingly
Strikingly has four available versions, with the free version providing five gigabytes of monthly bandwidth and up to 25 product listings. If you choose the free option, you won't be able to remove the Strikingly name from your site, but you will be able to publish an endless number of free sites. You can also obtain free support from their "happy cops" 24 hours a day, 7 days a week!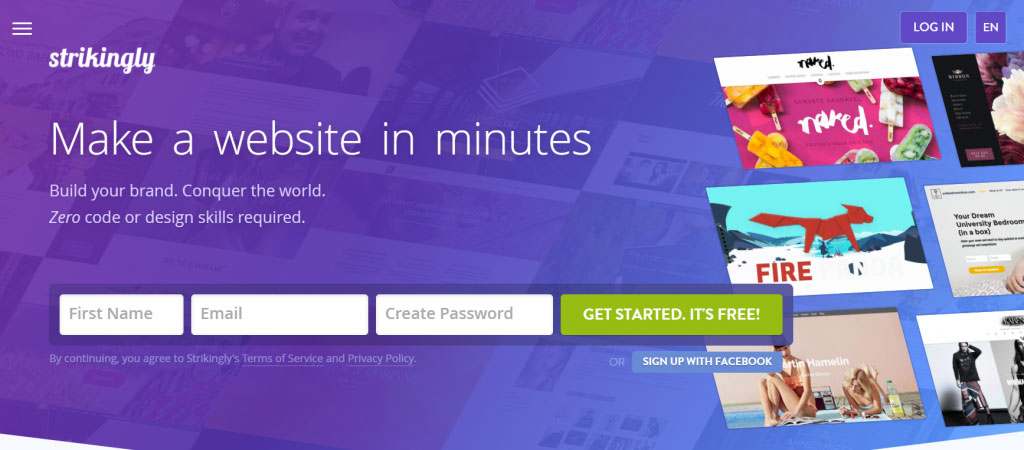 Main advantages of using Strikingly:
Strikingly is a company that specializes in one-page websites. These designs work well with small businesses.
Strikingly makes one-page layouts simpler than other website builders.
Surprisingly, it does not necessitate any prior coding experience or understanding.
These sites are incredibly responsive and look excellent on mobile devices because they were designed for extensive mobile scrolling!
Some disadvantages of using Strikingly:
Design and theme customization are severely inadequate. You can only change the website's core color, and you can't change the text colors or sizes.
Strikingly isn't a strong foundation for a large or professional store because it's designed for single-page designs and speedy website creation. Yes, eCommerce is available as an add-on, but it is not the primary emphasis of the business.
Strikingly does not support selling digital products.
Who should use Strikingly?
Anyone selling digital products or services should avoid using Strikingly. It's also not a good choice for someone who wants their online store to be the main attraction on their website. Furthermore, if you want creative freedom when designing your website, search elsewhere.
Strikingly, on the other hand, is incredibly responsive if you want a site developed exclusively for mobile consumers. It is, after all, designed for extensive scrolling on smartphones.
2.7. FreeWebStore
More than 600,000 online store operators use this platform. Freewebstore offers safe cloud hosting with the option of using your existing domain name. Individuals and corporations can both benefit from it. You can choose from hundreds of various store designs to match the tone of your business.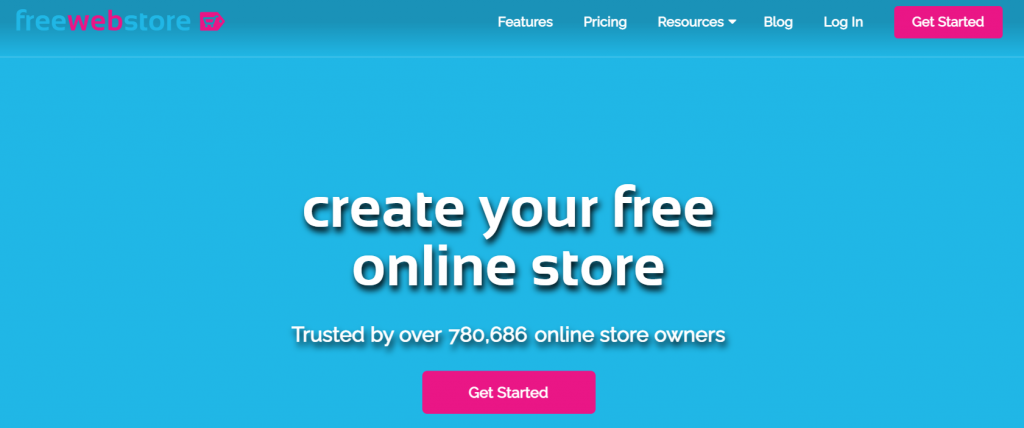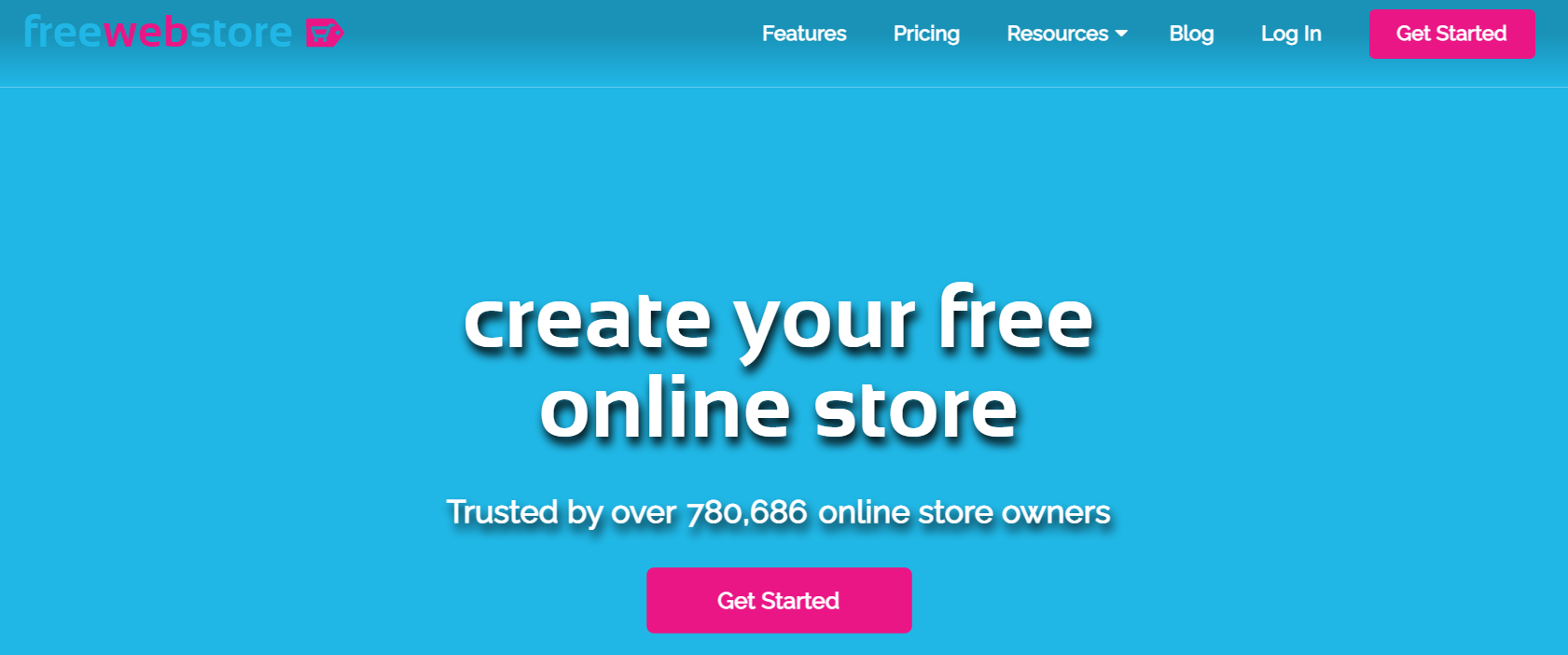 All of the designs are mobile-friendly and include an image editor as well as the ability to link to your store's social network accounts. There's also Google Maps access to make it easier for customers to find you, which is very useful if you have a physical store.
Using FreeWebStore, customers can pay you directly using their preferred payment methods, such as a credit or debit card. There's an entire section dedicated to getting started, obtaining a domain name, and explaining your product's postage.
You can access the site from anywhere in the world and set up alerts to be notified when things run out of stock. If you're selling age-related shares, our platform can assist you in setting up an age verification process.
What's impressive about Strikingly Freewebstore?
Age verification is an option in the FreeWebStore. This is useful if you're selling things with age restrictions. Take, for example, alcohol or cigarettes.
Tools for selling on social media.
You can take a variety of payment options from customers, including Paypal and Stripe.
There are approximately 40 different design templates to pick from.
You can sell up to 30 items in your store without even entering a payment card number.
You have access to CSS and HTML. This is ideal for people who want to develop their own store from the bottom up or expand on FreeWebStore's designs.
What's Freewebstore lacking?
If you wish to sell more than 30 products, you'll need to upgrade to a premium plan. For shops with huge product catalogs, this is an inadequate free alternative.
There are certain limits to the free version, such as no mailing labels or social media buttons. Without choosing a paid plan, you can't add other areas to your website, such as a blog.
Who should use Freewebstore?
This eCommerce website builder's free edition is perfect for small enterprises wishing to sell a few things online. You're in luck if you value attractive website designs and a simple purchase process. However, if you're purely searching for a free service, Freewebstore isn't a scalable solution, so if you want to grow your business, you'll have to switch or start paying.
Conclusion
It is undeniable that an appealing website brings about customers' satisfaction, therefore, increasing the amount of your revenue. Now the decision is in your hands. Choose one of the best free eCommerce website builders, build your beautiful sites, and gather your momentum to thrive. 
We hope that this article helps you along the process. For more useful posts like this, subscribe to our newsletter to find out about eCommerce trends and tips that you can apply to your business.