Choosing the right eCommerce platform for your startup can be tricky. While there are so many options available, each with its own set of features and benefits, how do you know which software is right for your needs? In this blog post, we will compare some of the best eCommerce platforms for startups and help you decide which is best for your business. We'll also discuss some key considerations to keep in mind when making your decision. Let's get started!
Challenges eCommerce Startups Face
There is a lot of battle in the startup market because the typical startup in 2019 had four employees, and Statista predicts that there will be 3,750,248 enterprises with fewer than five employees in 2022.
You'll undoubtedly encounter some difficulties along the way, especially if you're new to the eCommerce business, but if you can resolve them quickly, you'll be successful.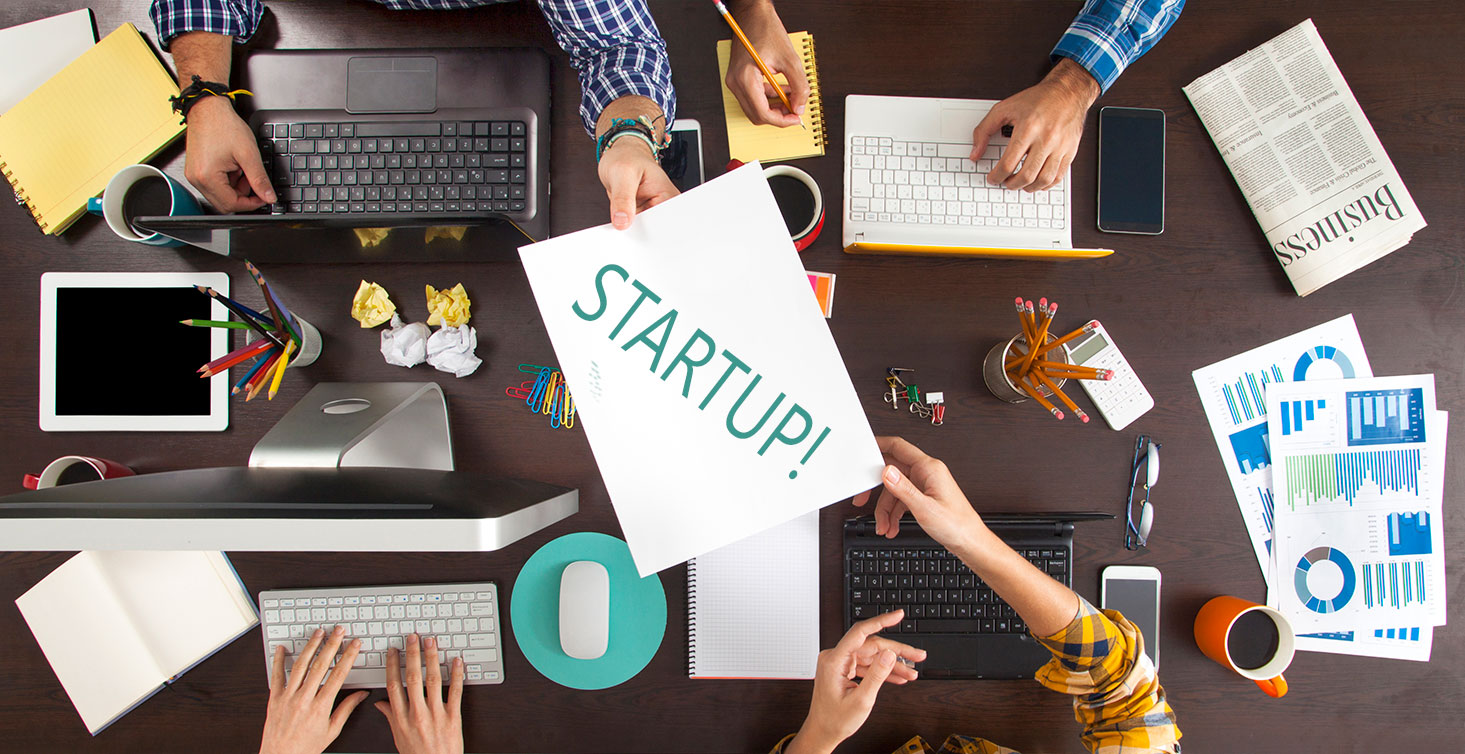 Getting the right data and research
Choosing what to sell and to whom will be one of the most important decisions you'll make as an entrepreneur. However, you must first conduct research in order to identify the appropriate product and market.
Numerous startups are competing for attention in the eCommerce industry, and the number of these enterprises is huge and expanding.
Therefore, take the time to thoroughly investigate the market, possible competitors, and demand for your product or service before launching the development of your website and incorporating plenty of new features. Additionally, as a startup, it might be a good idea to select a specialized market with fewer rivals and greater room for expansion.
Competing against existing big brands
It's feasible that, as a smaller company with a probably lesser budget, you'll compete with major names that have more resources, personnel, and cash on hand than you do. Sad to say, retail players in the market like Amazon, Wal-Mart, and eBay have the capacity to completely eliminate small entrepreneurs from the market.
So how can you resist falling into the darkness? By picking a less competitive niche, you can avoid direct competition with big businesses. This goes hand in hand with conducting research and selecting the appropriate market and audience. Finding a market niche with fewer competitors will give you more room to concentrate on expanding and scaling your company.
Marketing with good ROI
It can be tempting to try to advertise your brand on every marketing platform available, such as Instagram, Facebook, or Amazon Marketplace. However, new channels do not always translate into higher sales.
On the other hand, attempting to use every marketing tool will usually just result in significant time, effort, and financial expenditure. Therefore, using these channels selectively is wiser than employing excessive amounts of them. Test each to determine which will provide you with the best ROI, and then concentrate your efforts on two or three.
Available eCommerce Platform Options
We'll go over the four primary categories of eCommerce platforms available here, each of which can help various business types and has its own special functionalities.
Open Source
Anyone can view and edit every part of the source code on this type of eCommerce platform, therefore the label "open source."
Open-source systems are often more popular among companies that seek total control over their website because of this customization feature. A large developer community that builds and maintains open-source systems also provides a wealth of information and suggestions.
However, maintaining and expanding the site does require a specialized developer team or some prior technical skills to edit the source code. Additionally, as you add more code, the system becomes more complex, which makes maintenance more challenging and expensive.
Since anybody may download and modify the source code, as well as the fact that eCommerce sites frequently contain a lot of financial and personal data, security breaches are another worry.
Given these drawbacks, it is understandable that just 46% of major eCommerce firms are considering using open-source platforms.
However, there are still a number of platforms available that make use of open-source infrastructures, such as Magento, WooCommerce, and Prestashop.
In short, open-source software can be your best option if your company has the funding to cover the costs of creating and maintaining the source code and your business requirements are demanding.
SaaS
Unlike open-source, Software as a Service, or SaaS, takes the complexity out of creating an eCommerce site. Users of this kind of platform can subscribe to use the software, hosting, and upgrades, as well as new features and security care, for a monthly cost. Consequently, adopting a SaaS solution effectively implies you're "renting" the platform rather than having to completely design it yourself.
SaaS systems are typically simpler to use because the coding, security, and hosting are handled by the SaaS provider, even though the customer does lose some control over how the site is customized.
The scalability of SaaS is yet another fantastic benefit. Your website expands in perfect sync with your business. SaaS solutions frequently offer unlimited bandwidth, new apps and upgrades can add new features and capabilities, and you can incorporate new sales channels (like selling on eBay or Amazon).
The drawback of some SaaS solutions is that they may force you to use particular programs or features, which makes it challenging to select the ones that are appropriate for your company. For instance, Shopify charges extra transaction fees of up to 2% of each sale if you want to use a different payment gateway because it uses a proprietary payment provider.
So, SaaS can be your best option if your company is more concerned with growth than with infrastructure. However, if you prefer to have complete control over which eCommerce features your website will include, you might want to think about using a SaaS platform that is adaptable and simple to integrate with the solutions you require.
If SaaS sounds like it would be a good fit for your company, get some ideas from these top SaaS providers: Shopify, Squarespace, and Wix.
Headless
Online merchants need to be flexible enough to respond to digital disruption and stay up to date with trends, especially in the rapidly evolving eCommerce world of today.
Unfortunately, many eCommerce infrastructures might prevent users from quickly making changes that affect customers. Traditional, monolithic platforms frequently integrate frontend and backend technology in a closely tied system, making it difficult for customers to customize their websites and add needed functionality.
Headless commerce steps in to save the day here.
Consider the front (client-side or presentation layer) and backend layers of a technology stack (server-side). An eCommerce platform can decouple the frontend and backend layers using a headless infrastructure, allowing users to modify the interface without affecting the backend's operation. These platforms provide retailers greater creative freedom, reduced total cost of ownership, quicker time to market, and all the advantages of a hosting company.
Which are the key features of an eCommerce platform startups should take into account?
There are the key features your eCommerce solution needs based on the facts and circumstances of your business, such as the number of products you offer, the CSM you use, and the channels you want to sell products on. It's necessary to assess your priorities because no platform is the same and not every platform matches every business strategy.
The following are only a few qualities of the best eCommerce platforms for startups.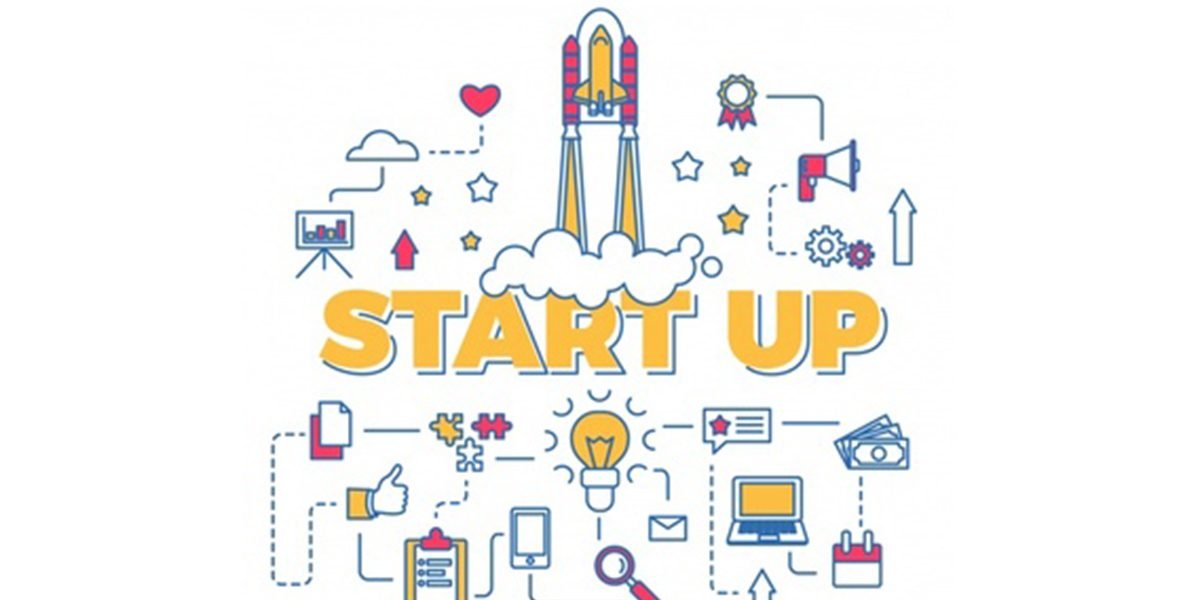 Cost of Ownership
Depending on the size of your company and the services you need, the price of your web platform can vary significantly. Pricing might range from free to hundreds of dollars, but paying more does not always ensure that you will have a better user experience.
On the other hand, the least expensive alternative might not have all the essential features and add-ons, forcing you to pay more for them elsewhere.
Flexibility
You need a platform that can scale with you because one of the main reasons for developing an eCommerce site is to expand and scale your business.
You might not yet require a host with high traffic capacities or unlimited bandwidth if your firm is just getting off the ground. However, if you want to grow quickly, your platform of choice must be able to meet demand both today and in the future.
The best eCommerce platforms for startups enable you to display an endless number of products if you have a vast inventory and need several product pages. Alternatively, your website needs to be adaptable enough to withstand a significant flow of traffic in the event that one of your marketing efforts goes viral.
Future-proofing your tech stack
The demand for eCommerce technology and adaptation is more than ever as a result of the faster digital transformation during the epidemic. Store owners must be ready to adapt their IT stacks in order to stay competitive as retailers fight to be digital-first through new digital channels and experiences.
Traditional eCommerce platforms, which tightly pair the front end and back end of a website, can lack the adaptability to modify a website and add critical functionality. However, by utilizing composable architecture, you can alter your tech stack in order to achieve agility and resilience in the face of digital disruption as well as achieve your unique business objectives.
Ease of use
The last thing you want to do is waste time attempting to figure out your eCommerce platform's ins and outs. You don't want to lose time that could be spent on developing and perfecting your site by dealing with unanticipated software updates or hosting issues.
Of course, if you are already very knowledgeable in IT, this might not be a problem for you. However, if you're just beginning to start with eCommerce, it's definitely better to pick an eCommerce platform with an intuitive user interface and a website builder to assist you in creating your website.
Omnichannel capabilities
Your company must engage in an omnichannel strategy given that customers are making purchases on more devices than before. Creating a cohesive brand experience across all channels, including Facebook, Instagram, your own web store, and even your physical store, is what omnichannel marketing entails as opposed to a straightforward multichannel strategy.
Because of this, before choosing an eCommerce platform, ensure that it can readily interface with each of your channels. You should also determine whether the website is designed for desktop, mobile devices, and tablet computers.
Best eCommerce platforms for startups
We've sorted through some of the most well-known eCommerce platforms to help you stand out online, providing you with a handy list of the top platforms suitable for startups right away.
Shopify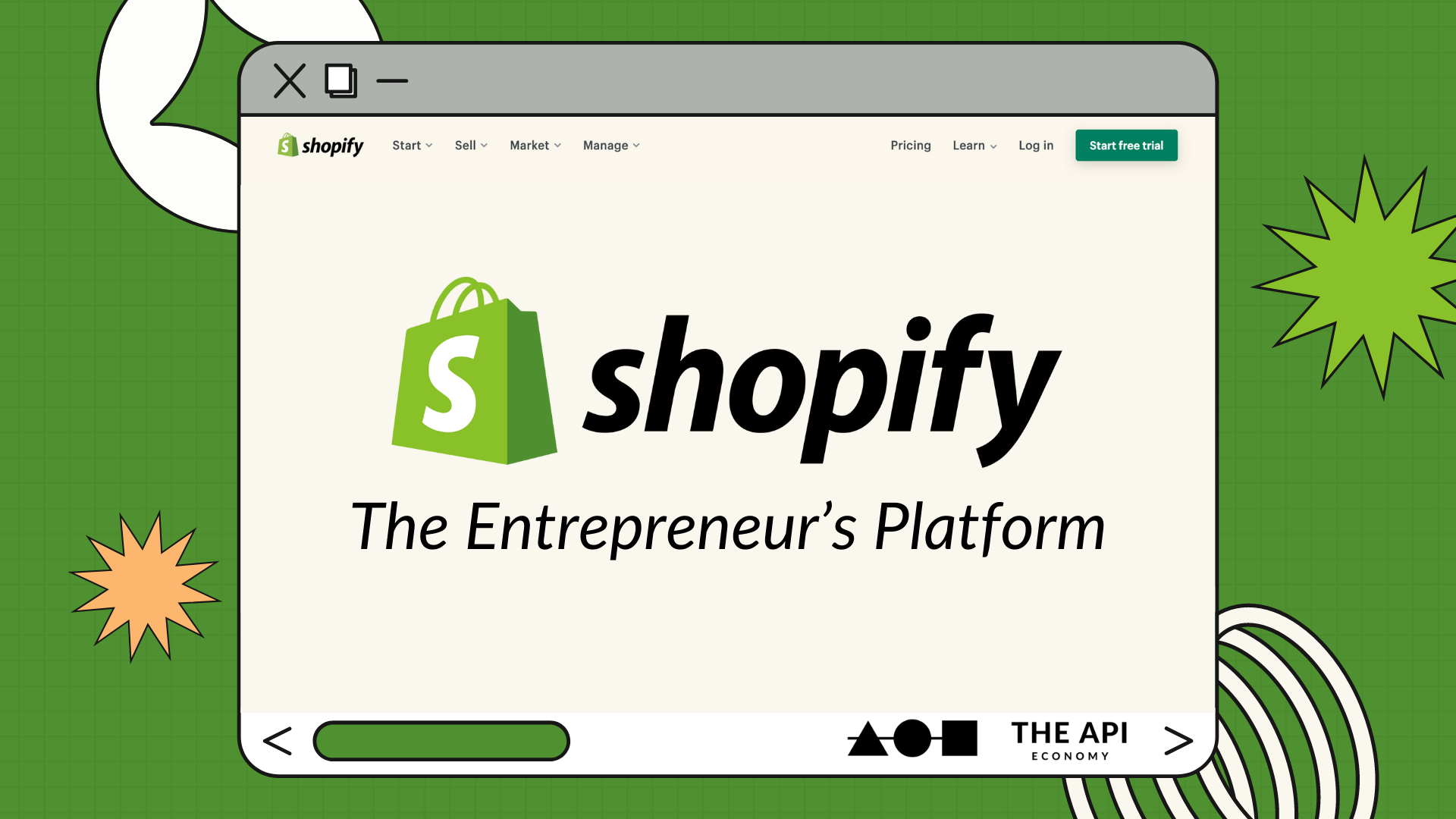 Shopify, often regarded as among the best eCommerce platforms for startups available, is an incredibly versatile tool for expanding your company online. Shopify's intuitive interface and surprisingly stylish design enable businesses of all sizes to create the ideal website for their needs, with limitless customization possibilities.
Pros:
Unlimited scalability for a rapidly-growing startup
Various apps and tools
Endless products for all pricing plans
Comprehensive guidance from an excellent support team
Wide range of themes and templates
Numerous payment options
Cons:
More expensive with premium plugins
Pay transaction fees when you're not using Shopify Payments
Wix eCommerce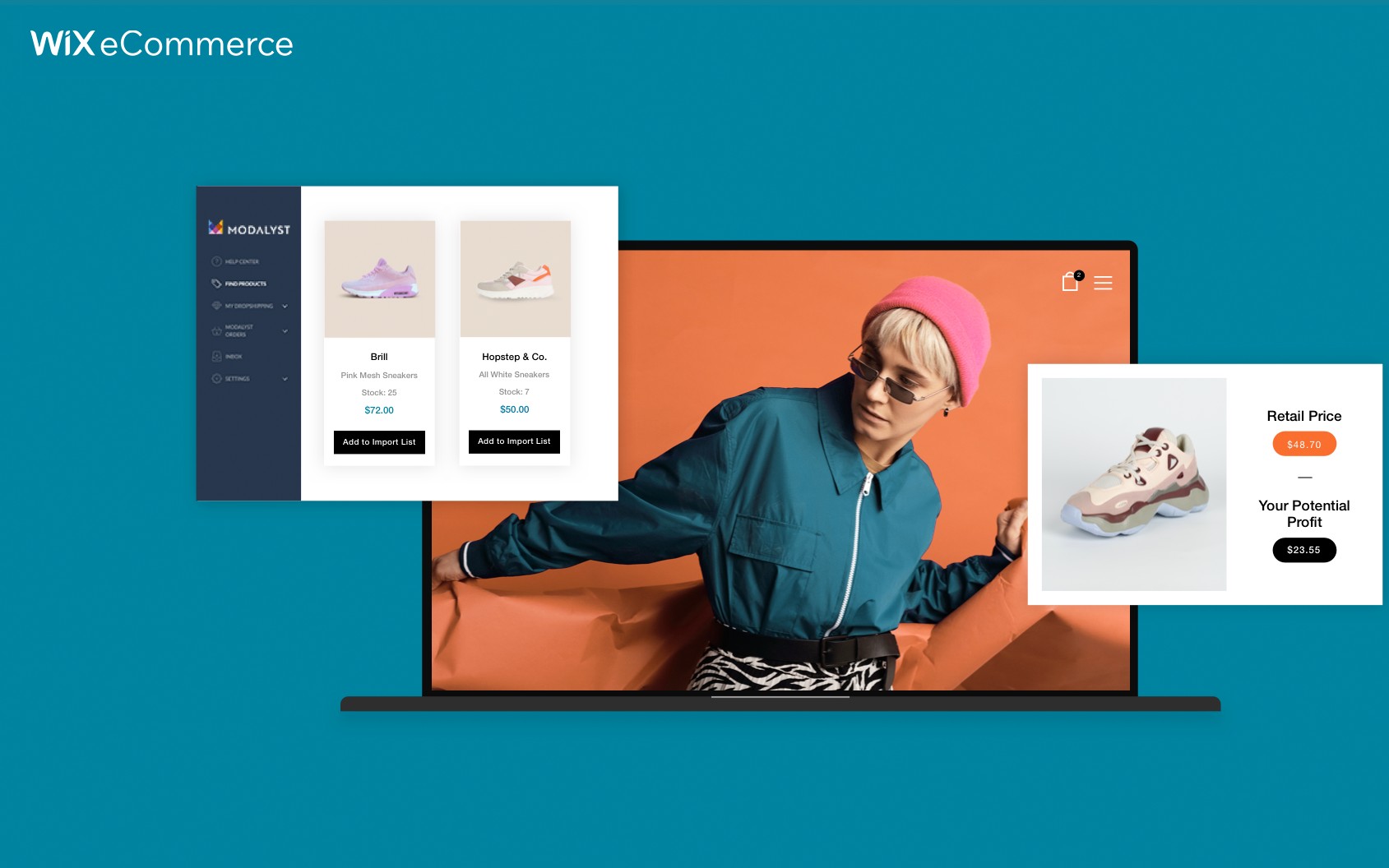 For a number of years, Wix has been assisting new businesses and eCommerce newcomers in thriving. The platform is most well-known for its great usability and a broad range of intuitive features, including access to an AI system to assist you in creating intelligent websites. Wix can be a great approach for firms investing in cutting-edge technology to beat the competition.
Pros:
Wide collection of attractive customizable templates
Seamless integration with Google Analytics
Easy to use for beginners with AI enhancements
Mobile app to manage your store on the move
Variety of secure payment options
Ever-evolving range of features
Cons:
Some limitations of eCommerce
Difficult to export data
WooCommerce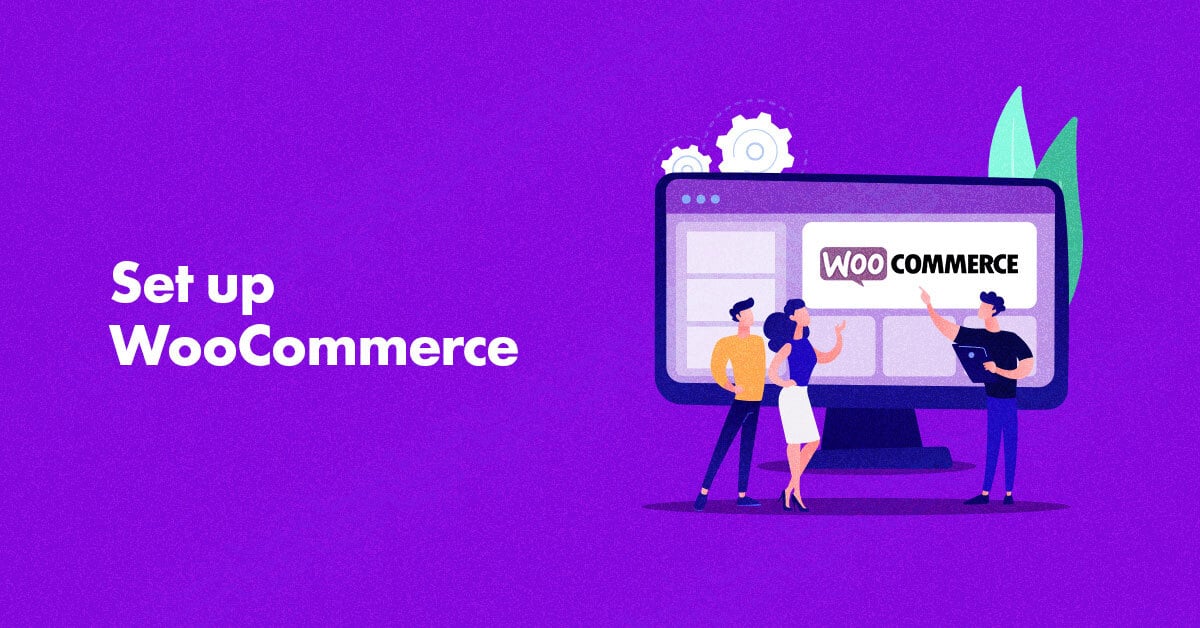 It is a well-known eCommerce plugin made for WordPress, the most widely used content management system in the world. WooCommerce allows business owners unrestricted ability to modify and customize their websites in accordance with their unique demands, making it ideal for innovative companies. The solution is adaptable to any type of business.
Pros:
Endless customization options and plenty of plugins
Many ways to make your store more affordable
Exceptional design freedom
Easy-to-use thanks to WordPress CRM
Manage unlimited products and orders
Cons:
May require basic technical knowledge
Can become expensive with third-party add-ons
Squarespace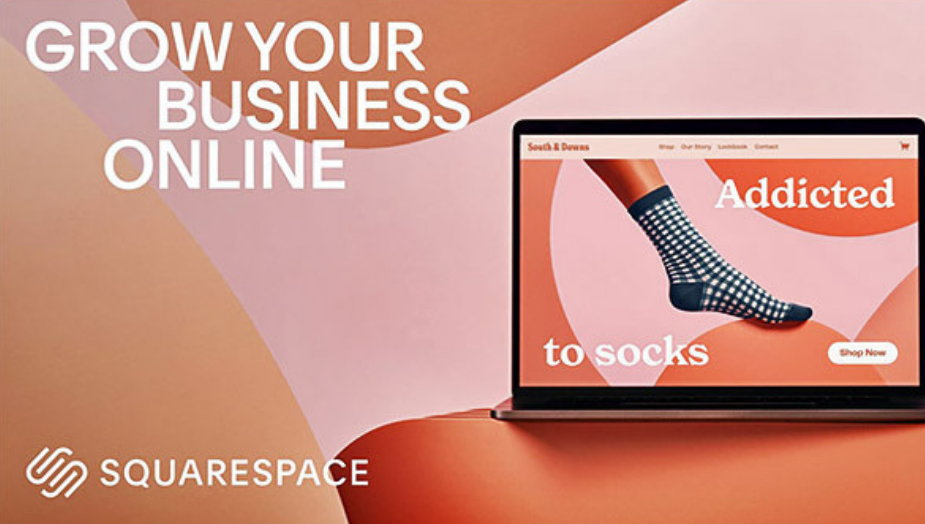 Squarespace, one of the most widely used site-building tools on the market for businesses looking to make a creative impression, allows you to construct incredibly stunning websites. The expert layouts and customization choices from Squarespace will ensure that your startup stands out from the competition if it has to make a visual impact.
Pros:
Excellent customer service for beginners
Attractive and responsive themes
Full control of CSS for layout changes
Free domain name on all annual plans
Social media and multi-channel sales integrations
Cons:
No app market for extensibility
High transaction fees on the cheapest package
Square Online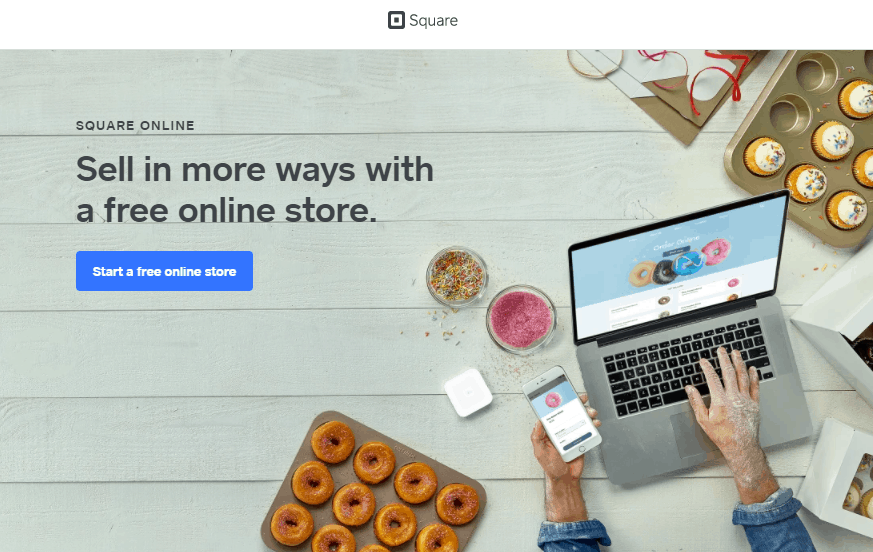 You're definitely already familiar with Square if you're switching from an offline store to an online store. Small companies all across the world use their point-of-sale technology to take payments.
Pros:
Excellent pricing for taking your business online
Easy-to-use interface for beginners
Fantastic for synchronizing offline and online selling
Discounted shipping for premium packages
Search engine and marketing tools available
Cons:
Some limitations on free themes and templates
Lack of the most advanced content management system
Sellfy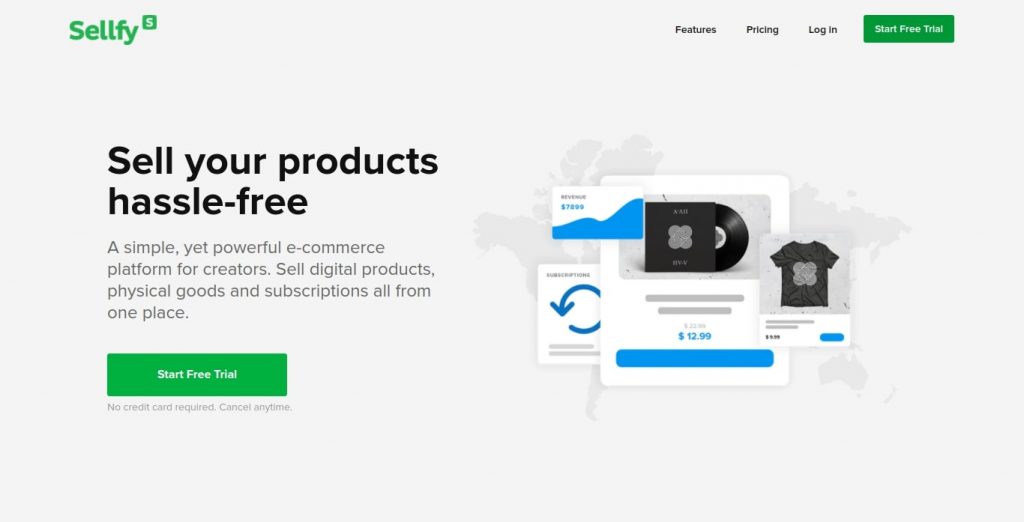 Sellfy is packed with amazing capabilities on a user-friendly backend and is designed to help store owners get up and selling as quickly as possible. This software is one of best eCommerce platforms for startups looking to sell a variety of goods because it supports the dropshipping business model.
Pros:
Included print-on-demand services
VAT and tax calculations
Unlimited products and sales
Multiple payment options (such as Stripe and Paypal)
In-depth reporting and analytics
Mobile-optimized SaaS solution
Cons:
Removing the branding requires an advanced premium package
Very basic free plan
Ecwid
Ecwid is filled with excellent tools for selling online and offers a wonderful user experience. Users don't need to start from scratch when adding this open-source solution; they can just do so on top of their current website builder.
Pros:
Great for use with an existing website on various platforms
Easy to use with lots of support for beginners
Multi-channel sales for all kinds of stores
Plenty of bandwidth and themes
Various great payment options
Cons:
Not a full site builder on its own
Limited functionality for larger companies
To sum up,
Different eCommerce platforms cater to different types of businesses. It's important to do your research and find the platform that will work best for you and your company. We hope this article has helped you understand some of the different best eCommerce platforms for startups available and given you a few things to think about as you make your decision. If you have any questions, feel free to reach out to us – we would be happy to help!