If you're running an online store, then you know that managing your sales and customer data can be a real challenge. That's where eCommerce CRM software comes in. But which package is right for your business? Check out our guide to find out the best eCommerce CRM software to help your business be more productive.
Why do online stores require CRM software?
You can locate, keep, and attract customers using an e-commerce CRM strategy. To develop marketing and sales strategies specifically suited to your customers, it also manages enormous data and statistics on your customers.
The following are some generous ways that an eCommerce CRM might help your business: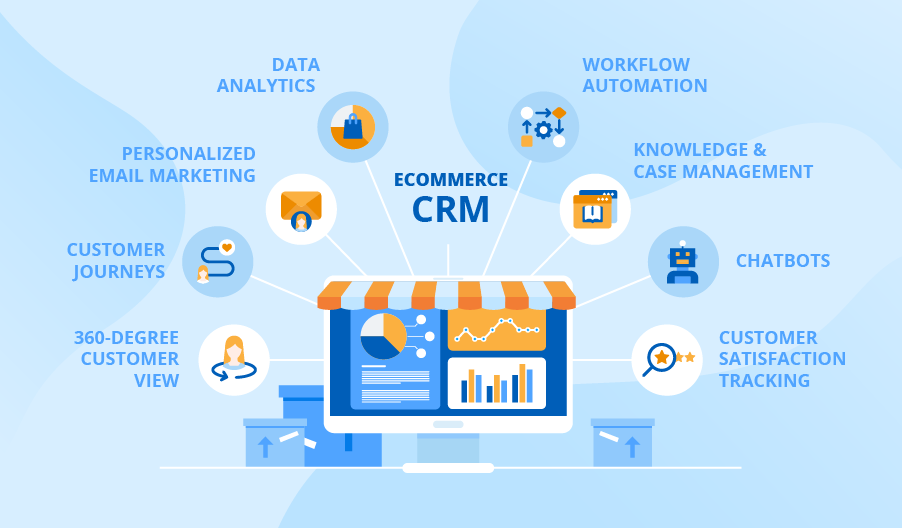 Raise your AOV (Average Order Value), as well as comprehend how your customers make purchases. You also acquire information on the kinds of products your customers favor, allowing you to launch the ones with the greatest value.
Find out how customers interact with your brand on social media.
Give your target consumers better experiences that are tailored to their pain areas and needs.
Create workflows that are automatically started when certain actions are taken by your clients to save time and effort. Workflows that are automated also eliminate the possibility of human error.
With the use of cutting-edge technologies, you can get analytics of your payment behavior. This can assist you in determining your top revenue streams, most valuable clients, peak consumer spending seasons, and other information.
Create consumer segments to improve management and marketing. Customers that share the same gender, age range, or purchase preferences can be grouped together. Utilize several marketing and management strategies appropriate for each consumer segment.
Make your marketing and sales strategies more specific by using the CRM tool for online stores that uses consumer data. These tools provide you with information about a customer's preferred method of contact, location, and price range.
Utilize customer data to better plan and manage your inventories and product lines.
Keep customers satisfied with your brand images as you can provide your customers timely and insightful feedback.
How to Assess a CRM Tool for eCommerce for Your Business
The following are the most crucial considerations while assessing CRM tools to figure out the best eCommerce CRM software.
Exactly Locate Your Online Store's Purposes
Prior to doing anything else, you must comprehend the need for an eCommerce CRM system. Do you wish to scale your process and boost output? Increase revenue and customer involvement? Obtain supporters and improve your referral program. or capture the complete sales process?
It will be simpler to choose the best tool for your online business once you are clear on what you need from an eCommerce CRM service.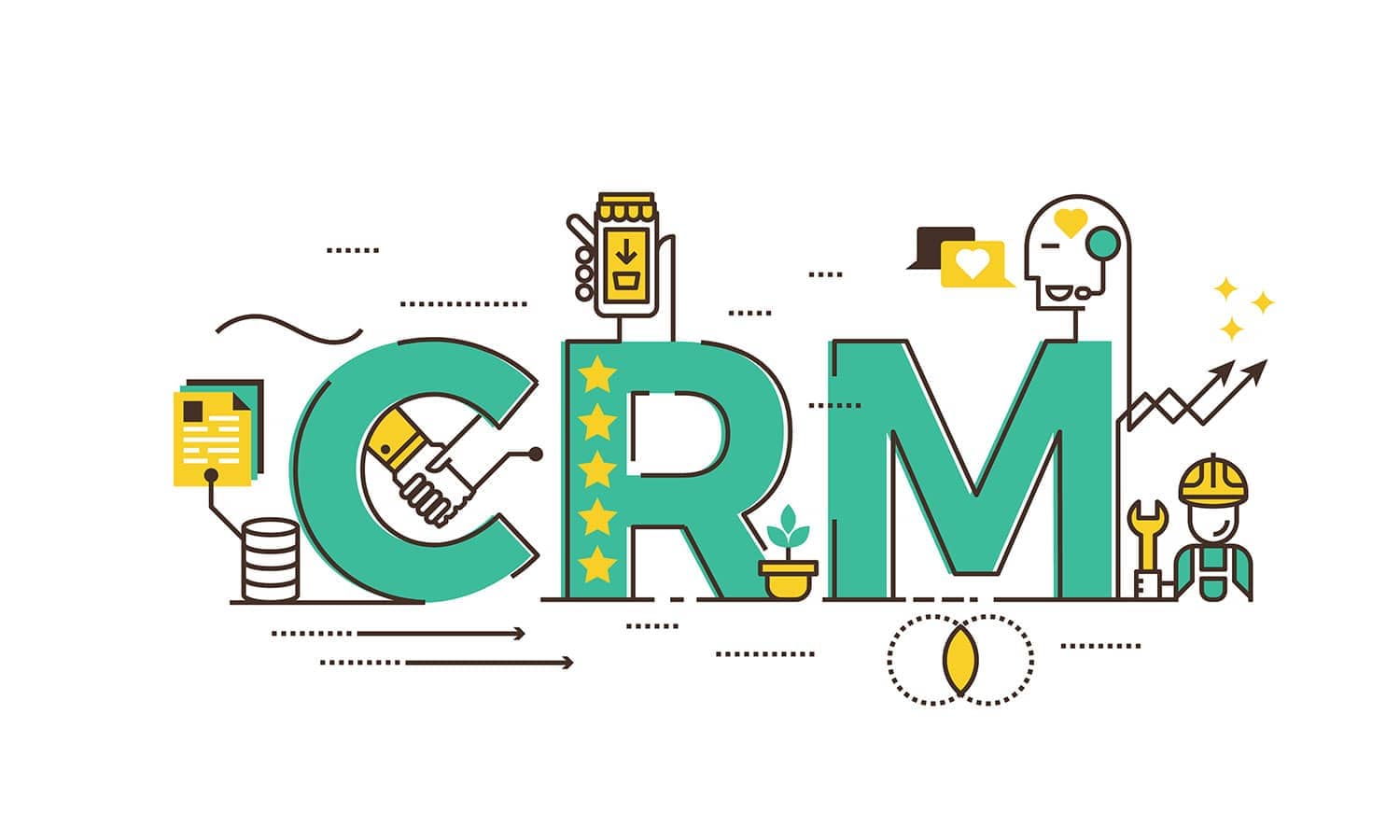 Identify the functionalities and features you need
The customer base, operations, ambitions, and growth of every organization are unique. That is to say, you cannot simply accept any features and functionality. The best eCommerce CRM software will provide you with just what you require and seamlessly integrates with your company.
Find a vendor who specializes in your industry
You should check out a CRM vendor's website before giving them any thought. If they have previously worked with companies similar to yours, this will appear to support it. For instance, if your company is a nonprofit, you need to hunt for a supplier who can give you nonprofit CRM software.
You can visit the websites of prospective vendors to understand exactly how employing that CRM vendor would benefit you, and read online reviews and testimonials.
Consider the possibility of training and configuration
Ask the CRM providers you are considering how much it would cost to set up your system and hold training sessions for you and your employees. Your CRM tool must support your brand and function naturally. This is feasible by asking the CRM vendor to set up the program.
Especially when it comes to onboarding your team with the new CRM system, the last thing you want for your employees is to get lost navigating the new CRM platform. Your business will run more smoothly and work toward the same objective if your staff has a better understanding of its functioning and how it relates to the existing workflow.
Select a CRM for online stores that integrates with third-party systems
CRM software has the advantage of saving you time through automation. A CRM for eCommerce that forbids third-party connectivity, however, utterly deletes that.
You will need to get other software for certain tasks if your CRM software lacks this feature, rather than using a comprehensive tool to streamline your process. To find out if you can combine your most important applications, make sure to look through the CRM software's list of third-party integrations.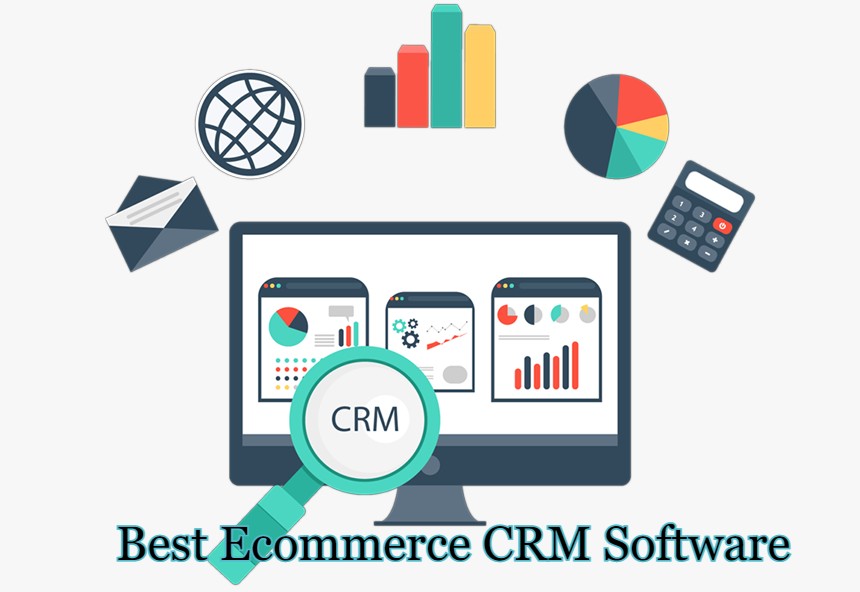 Give the eCommerce CRM software a test run
Avoid letting your enthusiasm get the better of you by purchasing CRM software before testing it out. No matter how good the reviews, how many essential features, or how many third-party integrations are offered, always give the product a try first!
Request a live demo of the E-commerce CRM solution to get started. Consider moving on to a free trial if everything seems okay. Also, you can familiarize yourself with the CRM software's features, functionality, and navigation during the free trial. This will enable you to decide whether it is what you require.
Suggestions for the best eCommerce CRM software
This list of CRM software will include an overview of each tool as well as some general benefits and drawbacks for each one.
1. HubSpot
HubSpot is a CRM software developed by Hubspot, a company that also provides popular tool suites for marketing, customer care, content management, and operations. This best eCommerce CRM software can thus be tailored to match your company's demands as it expands and is very scalable.
A meeting planner, live chat, an email template builder, email tracking, document management, conversation analysis powered by AI, call monitoring, sales automation, and configurable quotations are just a few of the essential CRM tools. In addition, a lot of the remote communication capabilities you want, including live chat and team emails, are available for free, making HubSpot an excellent eCommerce CRM.
Wistia, Databox, Seventh Sense, Zerys, PandaDoc, Aircall, Eventbrite, and numerous other apps are all integratable with HubSpot. Additionally, they constantly broaden their selection.
2. Marketo
Marketo is incredibly feature-rich, just like every other Adobe product. The tool's sophisticated automation features, dashboard and report features, and ability to host drip campaigns triggered on your leads' behavior are some of its best features.

Customers and analyst companies have singled out Marketo as having the strongest CRM connectors available. This offers native integrations for SugarCRM, Netsuite, Oracle, SAP Cloud for Sales, and Salesforce.com as well as native integrations for Microsoft Dynamics CRM and Netsuite.
Given that Marketo is a product of Adobe, it shouldn't come as a surprise that they didn't perform well in the evaluation criteria's Value for Cost section. They are the second-most expensive item on this list of CRM tools, which is worse with the lack of a free trial for their program.
3. Salesforce
Salesforce provides a marketing automation solution to meet the demands of B2B enterprises of all sizes. It is an absolute necessity if you are already a part of the Salesforce ecosystem. Even non-technical users can use it to set up their own landing sites and email campaigns with little assistance. Additionally, Salesforce is compatible with Google Cloud, Quickbooks, Slack, MailChimp, LinkedIn, DocuSign, JIRA, HelloSign, CodeScience, Active Campaign, Dropbox, and many other services.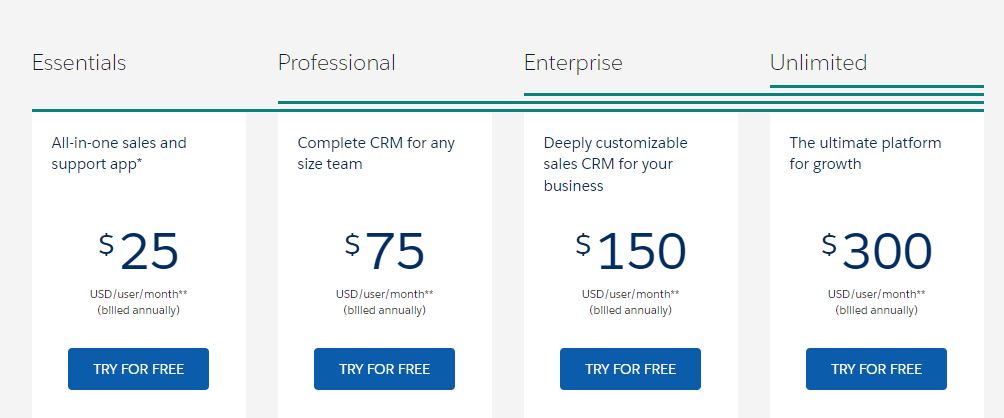 Given that it is by far the most expensive CRM solution on this list in terms of value for money, this platform lost some points on our evaluation scale. This CRM tool is the only one on this list to cost above $1,000 for the beginning plan while having a ton of features. We highly recommended this option for big corporations only.
4. Creatio
Leading industry analysts have given Creatio high praise, and the company has won numerous honors like the Gartner Magic Quadrant for the CRM Customer Engagement Center. They are frequently complimented for their higher level of detail and user-friendly marketing automation software. That's why it is on the list of the best eCommerce management software.

Through native integration or connection through their specific marketplace, Creatio connects to a vast array of third-party apps. As a result, they received a high rating in the evaluation criteria's Integrations category. Not to mention, connecting to other Adobe platforms is an added bonus.
One drawback of this software to be aware of is the mobile application, which has design and usability issues. Thus, it requires customizations to be 100% effectively compatible with your existing businesses.
5. Lucrativ
You may find services for pipeline management, connectivity, automation, analytics and insights, AI-powered CRM, and gamification tactics at Lucrativ, which offers a free sign-up so that potential customers can explore what they have to offer before committing. Therefore, in this list, Lucrativ provides the best free CRM for eCommerce.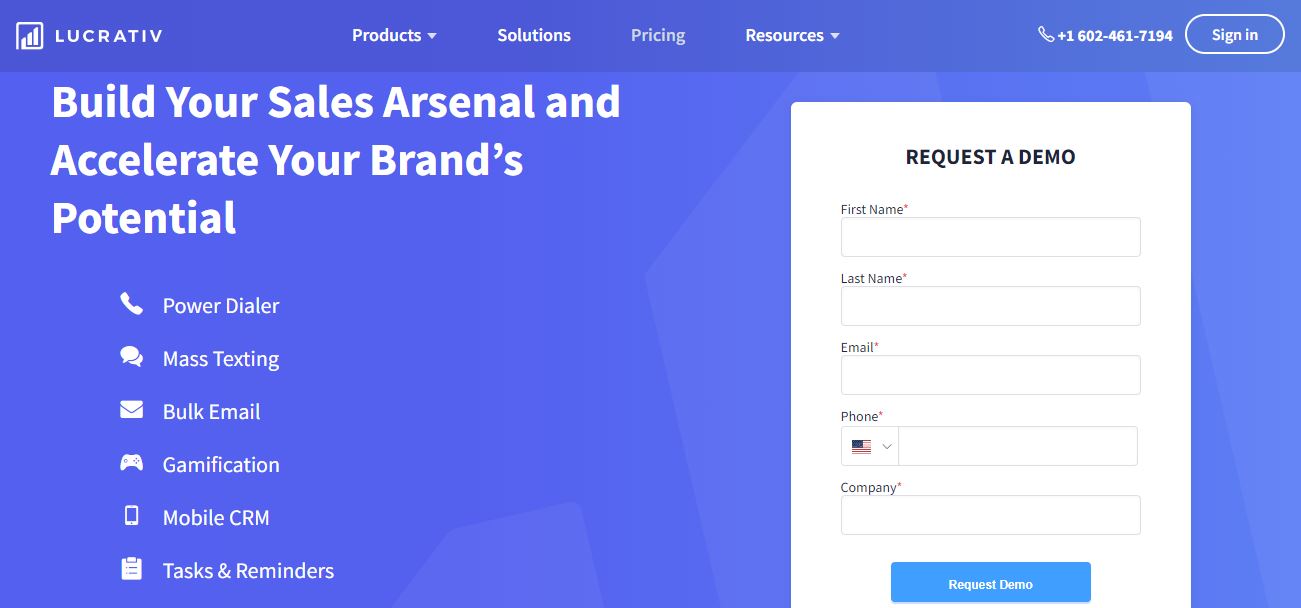 This platform excels at providing a fantastic jack-of-all-trades solution without going overboard with features and functions, which makes it highly small business-friendly. The tool's gamification is another noteworthy feature, making it one of the best CRM software for eCommerce.
Through the Lucrativ REST API, integrations may function with Gmail/Exchange mailboxes, Salesforce, Hubspot, Zapflow, and more.
On this list, Lucrativ provides the fewest publicly acknowledged third-party connections, which cost them some points in the evaluation criteria's Integrations area. Although its REST API gives optimism, using it takes a lot more technical know-how.
In conclusion,
It can be tough to figure out which is the best eCommerce CRM software for your business, but with the help of our team, you can find the perfect solution for your needs. Magenest's CRM expert team is happy to help you decide and customize the CRM system that will work best for you. Don't hesitate to contact us today if you need assistance in finding or implementing the right eCommerce CRM software for your business.