In the whole economic development and technology trends as of today, one of the main platforms inseparable is the phone. It is not too difficult to understand because of the great utilities and benefits of mobile apps for users, making it easy to access and capture information and handle work anytime, anywhere. Realizing the need, the set-ups researched the software and released applications on mobile phones that ran quickly according to the needs of customers. 
To discover the benefits of mobile apps as well as mobile programming and their importance to large and small businesses, as well as other areas of life, please refer to the following article.
What Is a Mobile Application?
A mobile application (also known as a mobile app) is known as a software application programmed and dedicated to running on mobile devices such as smartphones, and tablets.
The purpose of creating such a mobile application is that programmers want to create a miniature space to serve the needs of shopping, entertainment, paying bills, booking tickets, watching the news, etc. anywhere and anytime.
Therefore, the number of customers who trust and choose to use mobile apps is more and more and that is also a part of potential customers of businesses. Foreseeing this trend, there are now many mobile application service providers with hundreds of thousands of different applications in many fields such as shopping, beauty, education, real estate, eCommerce, etc.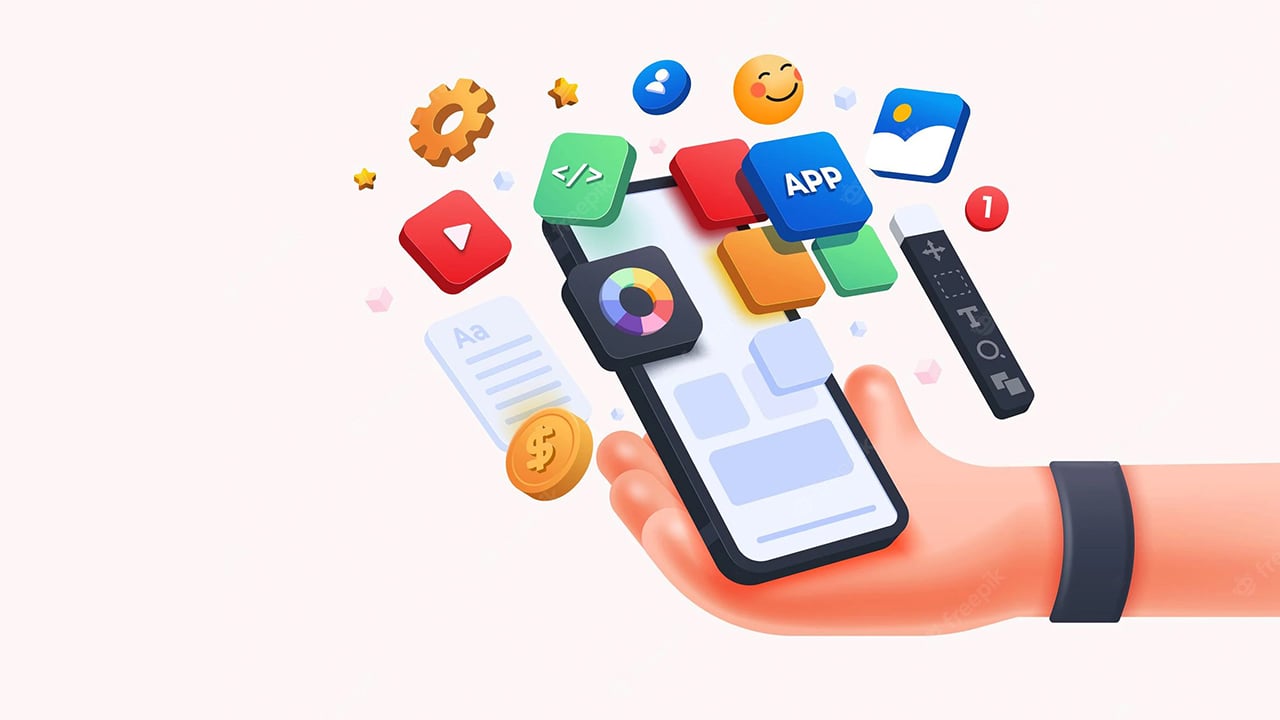 According to BuildFire, the use of mobile applications and the penetration of smartphones are steadily rising, without signs of slowing in the near future:
By 2023, mobile apps could produce revenues of more than $935 billion.
1.96 million applications are available for download from the Apple App Store.
The Google Play Store provides 2,87 million applications for free.
21% of Millennials open an app more than 50 times daily.
Every day an app is opened 11 times by 49% of users.
Mobile applications make up 69 percent of the entire time of US digital media.
The consumer uses 10 apps a day and 30 apps per month, on average.
Mobile apps belong to our everyday lives. For the mobile app industry, 2024 will continue to be a major year. And even if mobile use and penetration are at a high all-time, each piece of data we analyzed shows that we are still on an upward trend.
The Benefits of Mobile Apps for Business
Most of an operating business wants to own a website for their own company or business. This is considered one of the necessary initial steps for the success and further development of the business in the future. But no one can grasp the advantages of mobile apps for business so please refer to the reasons below!
Smartphones Are Now Used Quite Commonly
Smartphones are now an indomitable item for most people today because they not only bring many benefits to users but also help their lives become more modern and new job opportunities:
Always update new smartphone models with a variety of designs, colors, brands, and prices.
Smartphones have been and will gradually replace phones that only listen to calls in stores because there are many more convenient mobile applications to use on phones.
No need to survey consumption, just observing is enough to see its popularity and necessity.
Your potential customers are among those who are using smartphones like everyone else around you.
Provide Exceptional Value to Customers
The benefits of mobile apps for small businesses are not just increasing your presence, but also expanding your reach to give your business an edge. In addition, the mobile application also creates more value for the customers and enhances a positive customer impression of your business.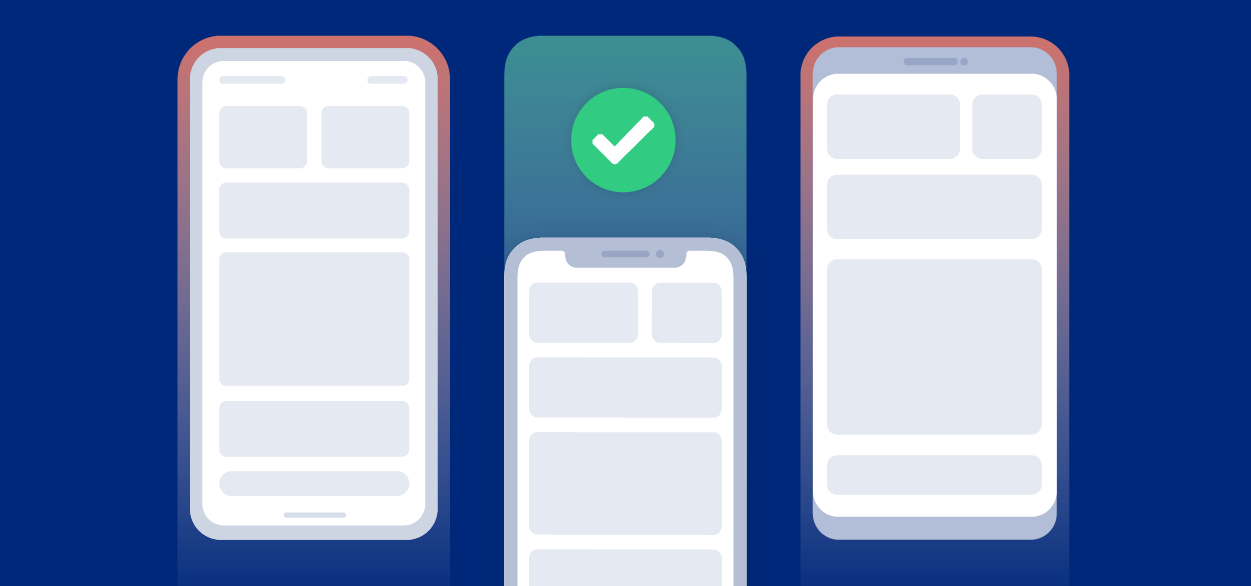 Imagine if you have an interesting application and your customers can keep all the products they like and choose in one place and the customer can review them at any time, even when not connected to the internet, what is better than that, right? Moreover, having a mobile application to sell and communicate with customers will make customers more intimate with the business.
Also for service providers, what do you think about an appointment scheduling application, just sit at home and use your phone to make appointments to use corporate services instead of having to go to direct booking or scheduled phone call? The mobile app can raise consumer awareness and give customers the most comprehensive experience.
Branding
Mobile phones are the dominant technology item in most fields, instead of before, people will spend a lot of time watching TV commercials, and now people will flock to cell phones more. Therefore, creating an advantage for businesses that are creating a mobile application of your business, all promotions will be more effective.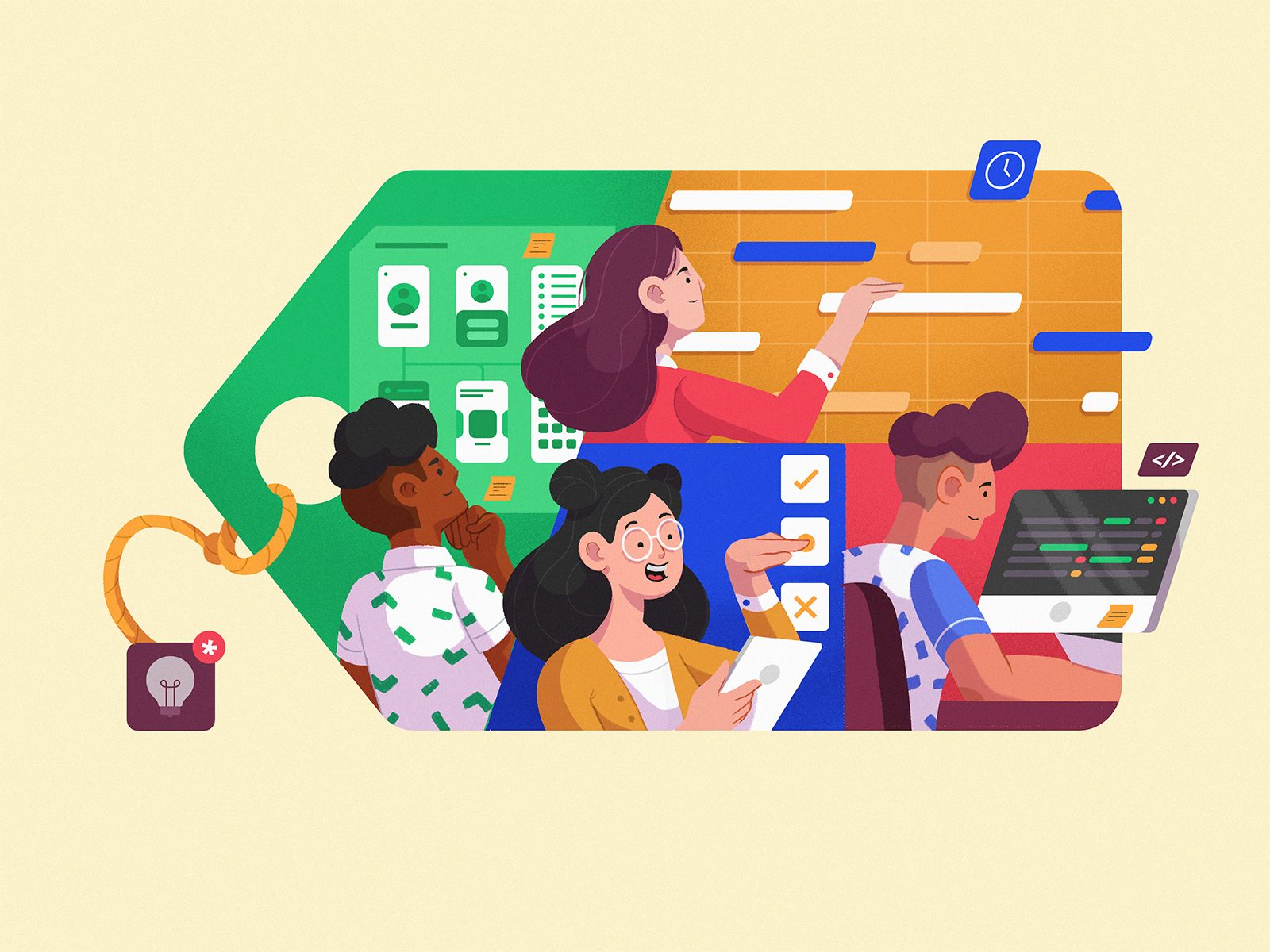 This is an effective tool to run advertising campaigns without spending a lot of money, the business needs to just build a mobile app with functions to meet the needs of customers. It can be said that the benefit of mobile apps over websites, is that the mobile application will bring more promotion to your brand because the mobile application is always present in everyone's phone to increase the brand visibility of the business.
Various Possibilities
Smartphones are getting more and more powerful and can do most of the large amount of work you previously had to do on a laptop or desktop computer. In addition, smartphones are also used by businesses to promote brands and products and to provide access to existing products.
Soon, we will see more types of mobile applications such as new product activation applications, mobile sales, etc. People can manage their property anywhere, anytime with software for accommodation management, building management, vehicle management, etc.
Close to Customers
In today's life, people depend a lot on cell phones, you can simply see people using mobile phones anytime, anywhere, mobile devices are smartphones more than laptops. Searching and buying habits on mobile phones will also be higher and spread more strongly. Therefore, the business creates mobile application programming to help customers easily access the products and information of the business and receive notification of promotional events timely. 
In addition, the enterprise's mobile application will have enough information for customers to know and can come to the store of the business to be more attentive to after-purchase customer care services.
Connection between Businesses and Customers
Besides the basic features (sales, order checking, revenue summary, etc.) that the mobile app brings, it is also a direct connection and interaction to reach customers. In other words, it's a very important part of every business.
Because thanks to the software you can create a solid foundation and bring information as well as customer support services in the best and fastest way. This is considered a great advantage to customer satisfaction, allowing them to comfortably share their feelings about the application and give feedback to help businesses improve better.
The Benefits of Mobile Apps in Education
All other careers need mobile apps to thrive. And not out of the trend in this technology age, the education industry is no exception. So what are the benefits of mobile apps in education?
The Benefits of Mobile Apps for School
The school will easily manage and monitor the activities as well as the teacher's teaching level or the schedule as well as student achievement.
App contributes to the birth of many new simple and easy-to-understand teaching methods to reduce the pressure on students' learning.
Teachers and parents will be more convenient to interact, schools can send notifications about students' learning as quickly as possible.
Thanks to modern technology and the form of QR codes, fingerprints, or facial recognition, the school will more easily enroll students.
The Benefits of Mobile Apps for Students and Parents
Thanks to the education app, students will easily find the information or documents needed for service-learning.
Students can review old knowledge by lectures that are constantly updated on the system of mobile apps.
Parents can directly manage their children with regular and highly accurate school schedules and achievements updated on the app.
Parents and homeroom teachers exchange information as well as their child's learning and activities in school every day and every hour.
The Benefits of Mobile Apps in Healthcare
Not being out of the digital transformation, healthcare with remote healthcare applications offers several advantages for both doctors and patients.
Effective and Prompt Medical Care
During this crisis, you should not spend too much time going to the hospital or waiting in line for the initial doctor consultation. If you are required to visit different health professionals, this may take longer.
Thereby, you can use a mobile application to edit appointments for remote medical care. Doctors and patients can connect most conveniently. The necessary treatment is started faster and more effectively. In emergency care, telehealth apps can have astonishing applicability.
Availability of Medical Services
For starters, a remote application can provide medical services to remote areas without the need for clinics. These services help people from rural areas where there is a lack of medical staff. Telehealth apps can help students, seniors, and veterans access healthcare services with ease.
Combined Patient Inspection and Handling System
A remote application can help track fatal diseases, update prescriptions, follow-up advice, and more.
Keeping Medical Records
A remote app that helps doctors in accessing and storing medical data efficiently. Nowadays, it can be very difficult to take advantage of such records and send them to other doctors for better treatment prescriptions.
Support of Governance
Using remote applications, you can spend more time on practical tasks. You do not have to fill out many internal forms and documents, as the maximum paperwork will be automatic. This reduction in inefficiency equates to a higher direct return.
The telehealth application can be used across a number of medical fields. Major areas include serious illnesses such as hypertension and diabetes, behavioral and psychological health, cardiovascular, dermatology, and so on.
Effective Time Handling of Medical Professionals
Healthcare providers can systematize their workloads more efficiently. This implies there is a probability to more accurately test the patient.
Extra Revenue
A mobile doctor app allows medical professionals to produce extra income for after-hours services. More capacity to check on patients than face-to-face appointments in the office.
The Benefits of Mobile Apps for Restaurants
The need to use the phone to search for everything searching for restaurant addresses, eateries, or delicious food occurs every day.
Creating an app for a restaurant on Android or iOS has a direct impact on users and doesn't have the same limitations as a mobile website. It shows the images and information that the restaurant wants to convey that appears anytime, anywhere as long as the customer installs the app on their smartphone.
What Features Does the Restaurant App Have?
Designing a restaurant app for marketing purposes is certainly indispensable for the basic features such as:
Section reviews and respond to customer reviews. This is the basis for new customers to believe in the service quality as well as the quality of the restaurant's food. At the same time retain old customers and attract more potential customers.
Update promotions, and customer gratitude quickly and more conveniently thanks to the push notification feature or send via SMS to customer subscribers.
Show ads anytime, anywhere according to presets. Every time there is a promotion, special images will be sent to customers to attract them, etc.
Features connecting to social networks: YouTube, Facebook, etc. help interact with customers better.
The Benefits of Mobile Apps for Restaurants
Traditional methods of communication do not seem very relevant to modern life any longer. This changes due to the user's daily habits from using smartphones. They see them as a powerful assistant and thereby create favorable conditions for mobile apps to bring into full play their strengths.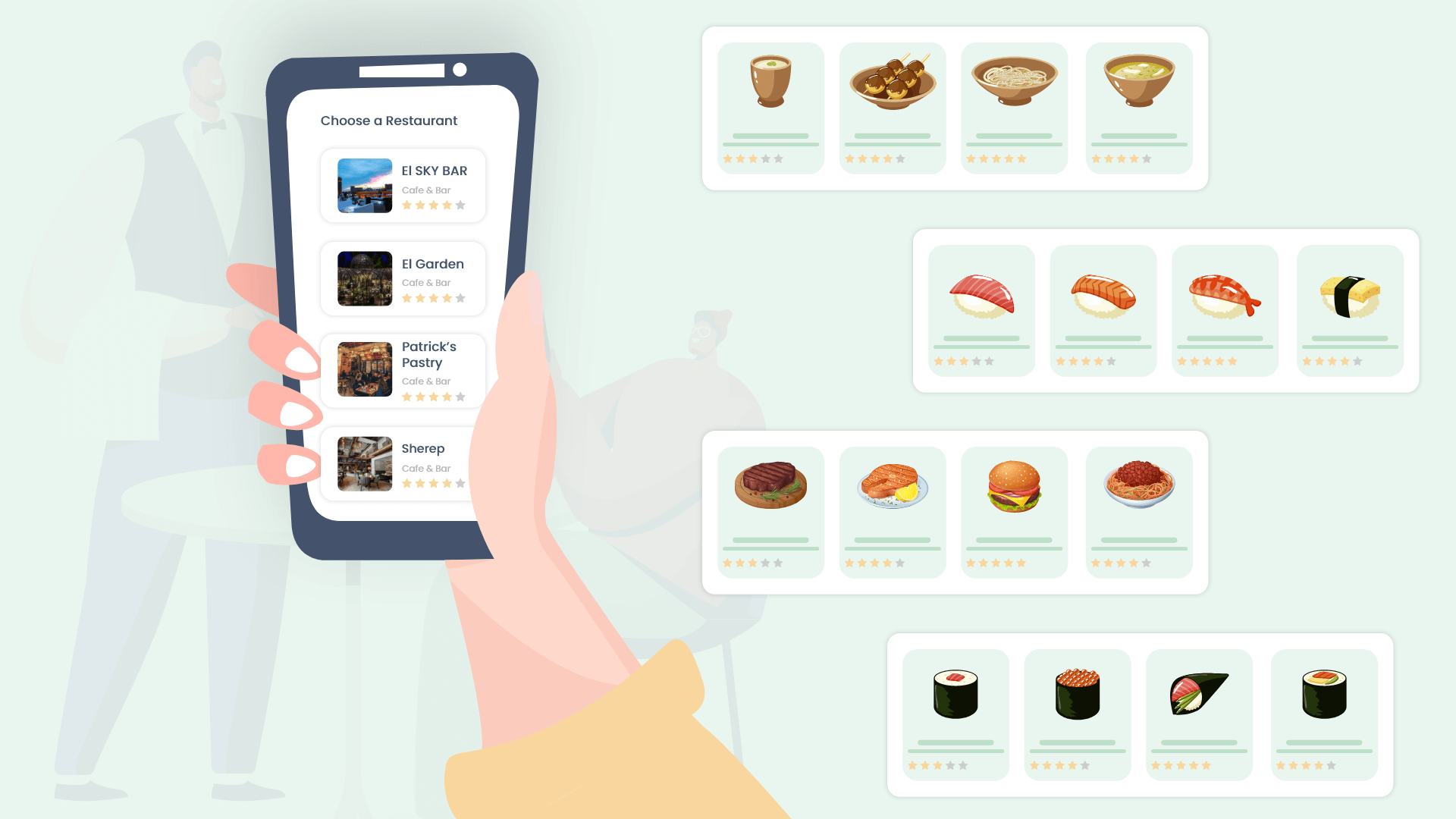 Creating a mobile app helps your restaurant attract customers better by raising the brand. Facilitating information, menus, or promotions to reach customers more quickly, easily, and accurately.
You also easily manage and group customers. Record transaction history easily deploys loyalty programs. Detailed statistics and reports on application downloads and application usage by each operating system help you synthesize information, from which appropriate directions for upcoming strategies.
Final Words
Above is all the information about the benefits of mobile apps for customers and extremely convincing entrepreneurs to set up. We hope that the above information will be greatly useful and help users to have a newer perspective on the era of technology 4.0 in business and life. Consider developing a mobile app for your business to educate customers, provide access to your services offline, and mirror the functions of your physical business.
A mobile app can boost profits by offering immediate satisfaction to users. Enhanced customer service through an always-available bot improves productivity and overall efficiency. Indeed, mobile apps can be a significant asset for your business.