Abbott (or Abbott Laboratories) is a Fortune 500 multinational company specializing in healthcare products. Founded in 1888 in Chicago, USA, the company is currently operating in more than 160 countries with more than 115,000 employees. Their goal is to make sustainable impacts on people's health.
Abbott operates in many areas of the healthcare industry, including 5 main segments: Nutrition, Diagnostics, Cardiovascular Care, Diabetes Care, Neuromodulation Care and Branded Generic Medicines. Abbott is the market leader in a wide variety of areas, typically blood screening, immunoassay diagnostics, drug-eluting stents, and adult and children nutrition worldwide. Some of Abbott's standout products include the FreeStyle Libre blood glucose monitoring devices and systems, nutritional dairy products such as Similac, Ensure and Pedialyte, as well as medical diagnostic products and regulatory pharmaceuticals. Treat heart disease, diabetes and many other diseases.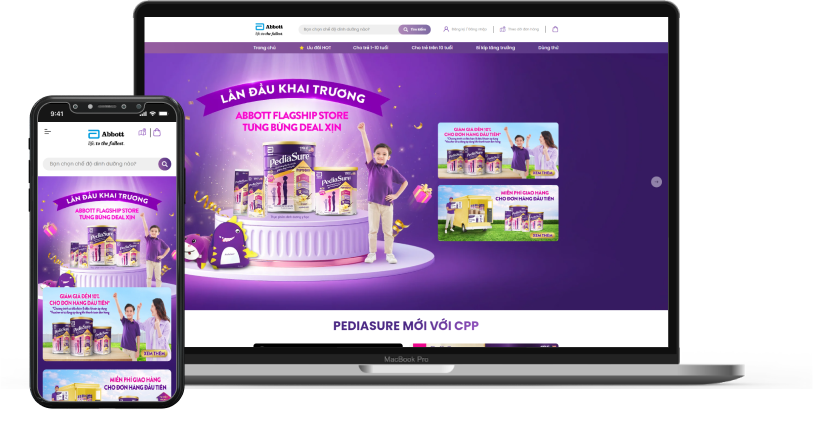 The Challenge & Expectation
Joining Vietnam nearly 30 years ago, Abbott has grown strongly in this dynamic market. To be able to do that, they invested in the construction of a nutritional product factory in Binh Duong province. Currently, Abbott Vietnam is distributing its products through many distribution channels, from agents, wholesalers to pharmacies, supermarkets, and eCom platforms like Shopee, Tiki, Lazada, etc.

However, having too many sale channels, as well as many partners in each channel, makes it difficult to keep track and process orders, inventory statuses and customer information. This situation leads to data conflicts between distribution channels, causing revenue loss and management difficulty. In addition, with Abbott Global's strategic goal of digital transformation and automation in every stage in their work cycle, Abbott Vietnam wants to optimize automated sales activities through chatbots and Facebook Shop to reduce shortages staffed at the sales and product consulting stages.
Bring a seamless shopping experience and sustain revenue growth with a robust system
eCommerce website on Magento 2 platform
As a multi-brand business with a wide range of products for different health purposes, Abbott needed a customizable, integrated, easily scalable platform to meet its business requirements at present and in the future. With these requirements, Adobe Commerce – Magento 2 is an extremely suitable platform for Abbott. In addition to being a familiar platform with Abbott in other markets, Magento also supports easy integration with many features such as converting information from chatbots, making automation easier.
Besides consulting, designing interfaces and website development, Magenest also provides guidance and on-site training for Abbott's team. This ensures Abbott's team can operate the Magento 2 system seamlessly, so they will be able to optimize the usage from this eCommerce platform.
Store data and system infrastructure on AWS
Magenest consult Abbott to use Amazon Web Service (AWS) platform so that their website can meet the resources required to serve the huge amount of daily traffic. AWS is also suitable for storing extremely large amounts of data pouring in from websites. Sales Channel. This world's leading Cloud Computing platform was built by the giant Amazon, so all features, security mechanisms, and pricing policies are designed in the most optimal direction. This ensures when using the AWS platform, Abbott will not need to worry about facilities and resources. Their eCommerce website will always operate smoothly and data is recorded accurately, even during peak hours/days.
Automate consulting and sales processes
To address the demand to automate the sales & consultation process, Magenest has developed and integrated many features. Which include a chatbot, an automatic store locator, and a distribution management system for Abbott's partners.
Magenest integrate to Abbott website a Facebook Chatbot module for Magento 2 that our team of experts developed. Every time a customer messages Abbott's Facebook page, the chatbot will ask relevant questions and suggest product options that are suited to the customer's needs. Customers can then go straight to the eCommerce website to read more information about the selected product and proceed to checkout.
After a customer places an order, the store locator feature will automatically check inventory from the nearest retail agents or stores in the 5 km radius. If they have the needed product in stock, it will notify them about the order and transfer it to them for process and deliver. This feature helps reduce delivery time and costs as well as reduce unfair competition between distribution partners.
Finally, Magenest integrates a separate management system for Abbott's distribution partners, allowing them to manage their own inventory and record customer's demand. This system provides real-time location based inventory and purchasing information for both Abbott and its partners, including agents, wholesalers, and retailers. All parties can quickly respond to customer requirements, forecast market demand and adjust production in an accurate and timely manner.
After Abbott Vietnam's new eCommerce website was put into use, the business has recorded numerous positive results in terms of user response and revenue. The chatbot from Magenest simplifies and automates the selling and consulting process, reducing the need for personnel to consult products, also boosting effectiveness, and making sure customers receive information timely and precise.
In addition, owning a separate website helps to expand Abbott's sales channels, reduce dependency on eCommerce platforms, and increase customer reach in the digital age. Moreover, this new website is scalable to meet Abbott's future growth needs.