ABOUT OCB AND UNLOCK DREAM HOME marketplace
OCB (Orient Commercial Joint Stock Bank) was established in 1996. After over 26 years of operation and development, OCB currently has more than 200 branches and offices across different regions in Vietnam. For many years, OCB is considered one of the banks with good and stable growth rates.
With the aim of assisting house buyers, OCB and partners develop the Unlock Dream Home marketplace – a place of thousands of reputable and quality real estate, helping customers unlock their dream houses in a short time and with reasonable prices.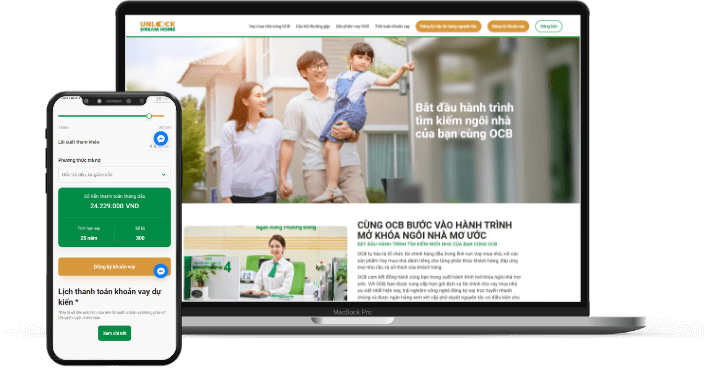 THE CHALLENGE & EXPECTATION
Sharing with Magenest, OCB's team realized that home buyers confront many difficulties from finding and choosing the appropriate real estate products, to calculating loans and looking for prestige banks. Moreover, the current loan origination process is quite complicated and time-consuming. To solve the problems, OCB decides to build an online real estate online marketplace - Unlock Dream Home - so that customers' loan origination journey for real estate products becomes more seamless and easier on a single digital platform.
UNLOCK DREAM HOME WITH A DIGITAL REAL ESTATE MARKETPLACE
Building an eCommerce marketplace on Magento 2
With Magento 2, Magenest has built a digital marketplace platform connecting customers with real estate distributors-agencies in Vietnam. It only takes buyers a few minutes to search and filter out the products based on the name, category, geographic area, and price range. In addition, customers can calculate their loans, thereby registering for one right on the new and elite eCommerce system as providing a seamless experience and creating convenience for users is the ultimate purpose.

On the sellers' side, they can post multiple real estate projects or products for sale. The number of posted products, for-sale products, and sold ones as well as traffic reports will be updated in the account panel for sellers. Thus, sellers have full control over their products.
Loan calculation features
To solve the credit demands of buyers who desire to own real estate, a dedicated tool for automatically calculating loans and offering suitable loan packages has been developed right on the frontend of the website. With this automatic tool, customers can make appropriate financial plans before proceeding with their loans. With the corresponding selected asset value, they can adjust the loan, method, and expected loan duration (up to 30 years duration for their loans). The tool calculates and estimates the money that the buyer must pay monthly, including principal and interest, at a reasonable interest rate, and offers a detailed payment schedule.

When choosing to register a loan, customers will be directed to OCB's official online loan system. The system will automatically check the debt history, and monitor and notify customers whether they are qualified for loans at OCB or not. At the same time, the bank will indicate the exact line of limit that OCB will allocate to customers and what list of documents to prepare.
Magenest builds and integrates geolocated features into the eCommerce system, helping users determine their exact real estate project location on the map.
After a month of implementation, Unlock Dream Home has more than 120,000 website visitors and over 3,000 registered users for consulting on home loan packages; about 6,000 real properties in many provinces and cities in Vietnam have been put on the system. With this marketplace, hundreds of customers have searched and selected real estate products, and accessed suitable loans from OCB to unlock their dream homes.