When it comes to software development, Thailand has emerged as a hub of innovation and technical prowess. With a growing pool of skilled professionals and a commitment to delivering cutting-edge solutions, this country has become a sought-after destination for businesses in search of top-notch digital services. In this blog, we will delve into the list of software development company in Thailand with the top 11 brands, each known for its unique strengths and capabilities. Whether you're a startup looking to bring your digital vision to life or an enterprise seeking to optimize your software solutions, this list will provide you with some suggestions to choose your best software provider and help you navigate the dynamic landscape of the digital world in Thailand.
Top 11 Software Development Company in Thailand
Manao Software
Manao Software is an excellent custom software development company in Thailand that provides affordable and budget-friendly outsourcing web and mobile app development services to its target audience.
With 16 years of experience, Manao has gained considerable expertise in the field with 270+ successful projects for 225+ clients. They are trusted by large brands namely Microsoft, WHO, and BBC, among others.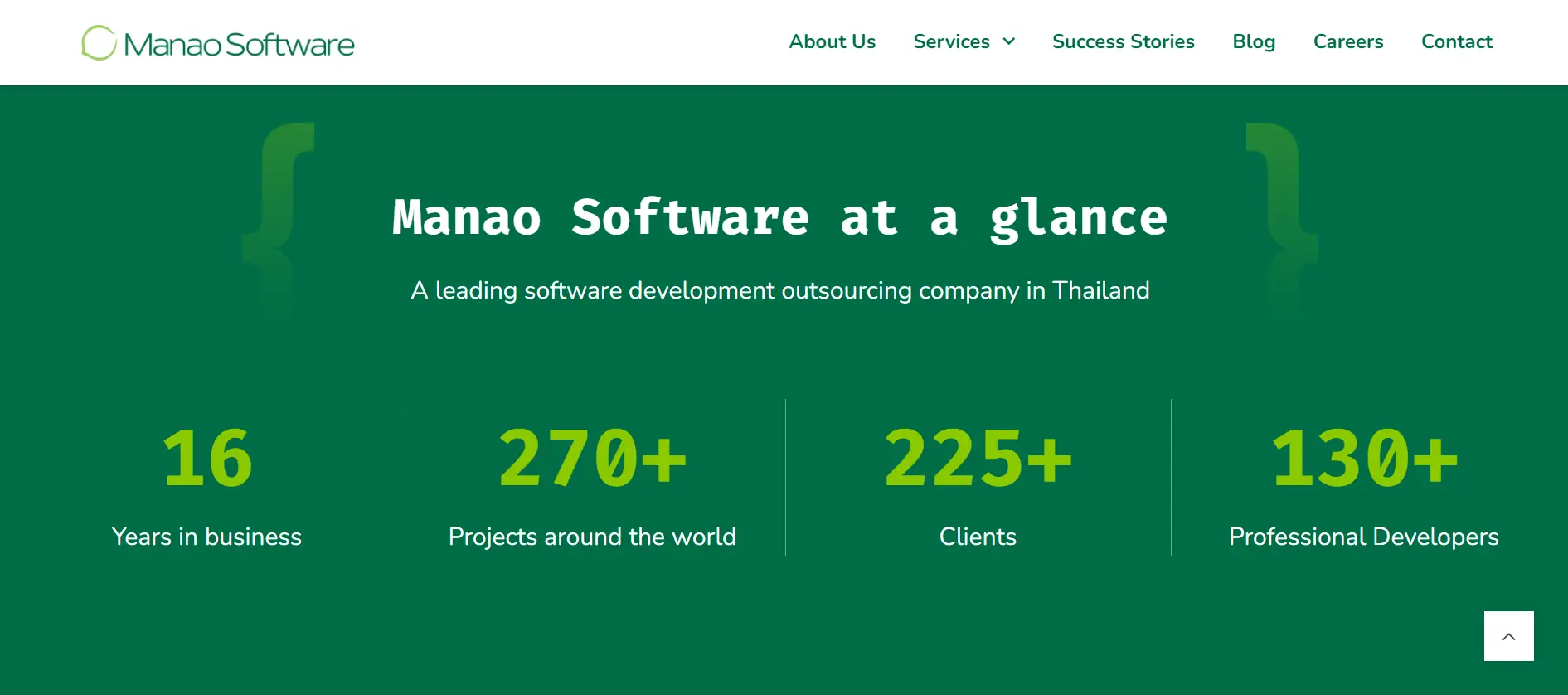 Manao has a strong internal resource of dedicated teams with over 130 professionals responsible for all software development roles, such as programmers, testers, project managers, architects, UX designers, etc., on a project-by-project or long-term basis. Depending on the needs of your business, they can assist you from the earliest stages of product conception to support and maintenance.
Key services
Manao offers a broad range of software development services, with the main focus on developing web applications and mobile apps.
Outsourced development teams
Web app development
Mobile app development
Outsourced software testing
Key strengths
Focus on custom software development
Provides professional and quality services
Offers a wide range of services
Has considerable expertise in the field
Able to deliver the project on time and within budget
Successful projects
DI Tele: Manao helped optimize the performance of their website with responsive web design services. The company website was then equipped with a variety of features, including video banners with autoplay, search functionality, a form builder, etc.
Web-koncept: This Denmark-based web agency needed a quick and easy way for customers to update their WordPress website. By delivering web app development, Manao Software developed a simple mobile app and a web administration, allowing the company to quickly and easily activate a customer's website.
Every Angle: An international software company that focuses on delivering SAP solutions, needs developers and quality assurance testers who could work exclusively for the company and deliver high-quality work. Manao Software has delivered exactly what the brand needed: a dedicated team of software developers that was eager to take on the challenges.
Magenest
Magenest is a one-stop digital solution provider with a special focus on eCommerce systems, ERP/CRM platforms, Cloud Infrastructure, Digital Marketing, and more.
Magenest was founded in 2015 with the goal of becoming one of the leading eCommerce – Digital Transformation solution providers in the APAC region. We formed alliances with the world's leading technology providers, including Adobe Commerce, Odoo ERP, and AWS, to name a few. Using this to our advantage, we provide our clients with elite digital services that facilitate their success in digital commerce.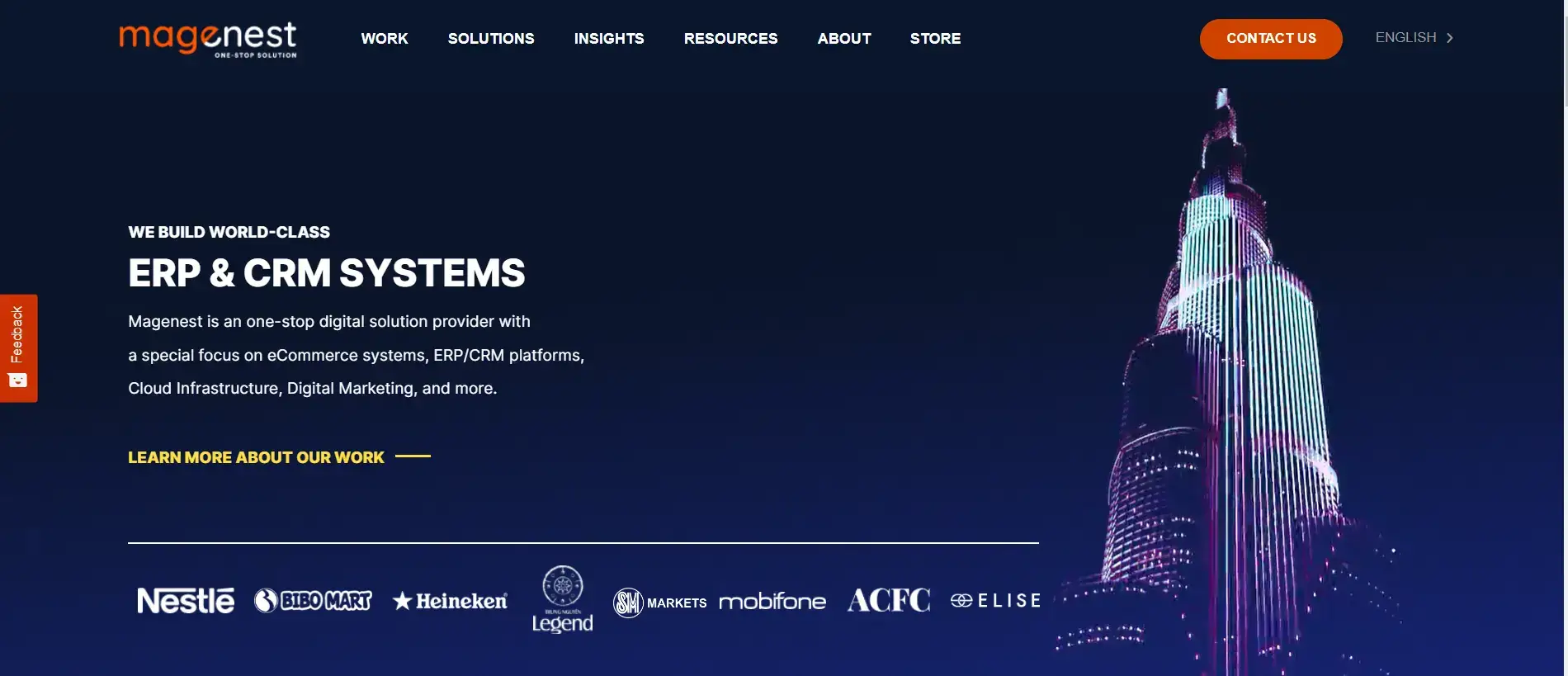 Magenest owns a team of 150+ certified developers who have great expertise and experience in the field. With our 7+ years of experience, we have completed 100+ successful projects, serving 2,000+ satisfied customers in 130+ countries and territories.
As the business expands, in 2023, Magenest opens its first location in Bangkok, Thailand, bringing our elite services to online merchants of all sizes in this rapidly developing region so that they can flourish in their digital journey.
Key services
Custom website development
Website maintenance
Audit & Optimization
Platform migration
eCommerce development
eCommerce UI design
Order Management System
Search Engine Optimization
Key strengths
Official partner of leading technology providers like Magento, Odoo, Shopify, etc
Experiences in working with customers both domestic and international in various industries
Owns a team of certified developers and consultants
Successful projects
Abbott Laboratories: This multinational healthcare company's digital strategy was to automate every stage in their work cycle. Magenest helped Abbott by implementing an integrated Magento 2 eCommerce platform, incorporating automated features like chatbots, store locators, and management portals, along with leveraging AWS infrastructure for scalability and efficiency, resulting in improved user engagement, revenue growth, and streamlined operations.
SM Markets: Supervalue, Inc. is a Filipino retail company. As SM Markets' goal was to improve their online presence, Magenest brought in eCommerce system optimization, UI & UX design, and PWA development, among others, helping SM Markets' eCommerce framework to work smoothly, offering a top-tier customer experience, and quickly fulfilling any placed orders.
ComeHome – Central Retail: Belonging to the Central Retail Group, Come Home is a high-end furniture retailer. The company has entrusted Magenest with the development of a new eCommerce platform that would streamline the shopping experience for customers. As a result of Magenest's assistance in implementing robust technology solutions, Come Home has a new eCommerce website system that meets all of its requirements, resulting in an enhanced online shopping experience, attracting and building customer loyalty, increasing sales, and promoting the reputation of Come Home.
Red Sky Digital Co., Ltd.
Red Sky Digital is a software development company in Bangkok, Thailand that specializes in providing fully managed and innovative solutions with Amazon AWS. They also build brands, and websites, and implement Hubspot-hosted marketing solutions.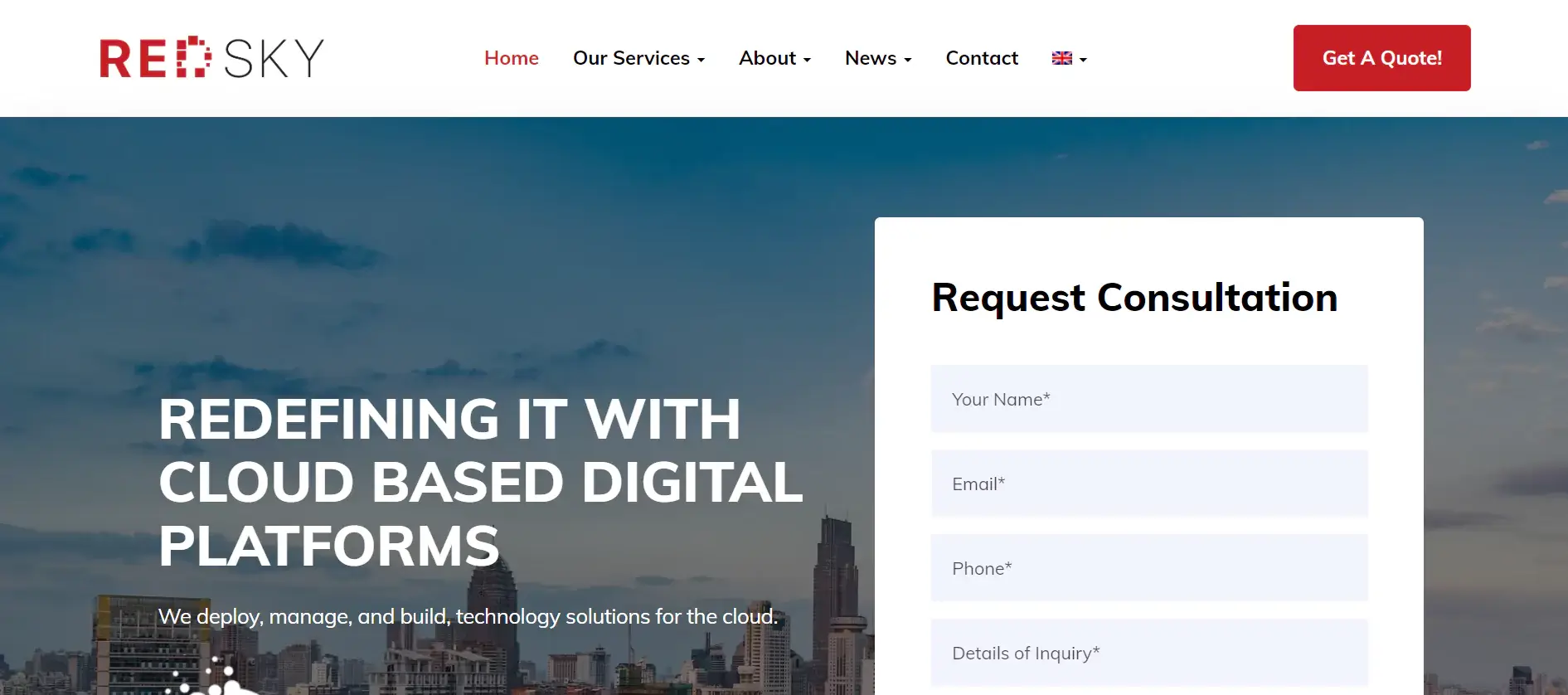 The company joined the market as a bespoke software development and consulting firm, focused on delivering fully managed solutions by Amazon AWS. As they evolve, the company also offers managed Hubspot CRM implementations that interlink with bespoke web, app, and digital marketing projects. With 23 years of cloud expertise experience, Red Sky Digital has completed 117 consulting projects for 18 different markets, making their project portfolio truly global.
Key services
Website development
AWS managed services
Hubspot CRM solutions
Software development
Digital marketing services
Cyber security services
Key strengths
Experienced consulting team
Expertise in Cloud Technology
Wide and flexible range of expertise
Successful projects
With expertise in AWS, Red Sky Digital is trusted by large brands including AIA, Prudential, April, Allianz, and more.
Nimble HQ
Nimble HQ is among the best software companies in Thailand. They provide world-class solutions for companies of all sizes, ranging from startups to innovative large enterprises.
Nimble owns a team of passionate builders who have great experience and are dedicated to working with businesses to deliver the best software solutions. They follow an adaptive process, which utilizes the proven Agile methodology to always deliver results beyond expectations. Nimble also puts focus on collaboration and transparency within the team, quality obsession, and ownership mentality.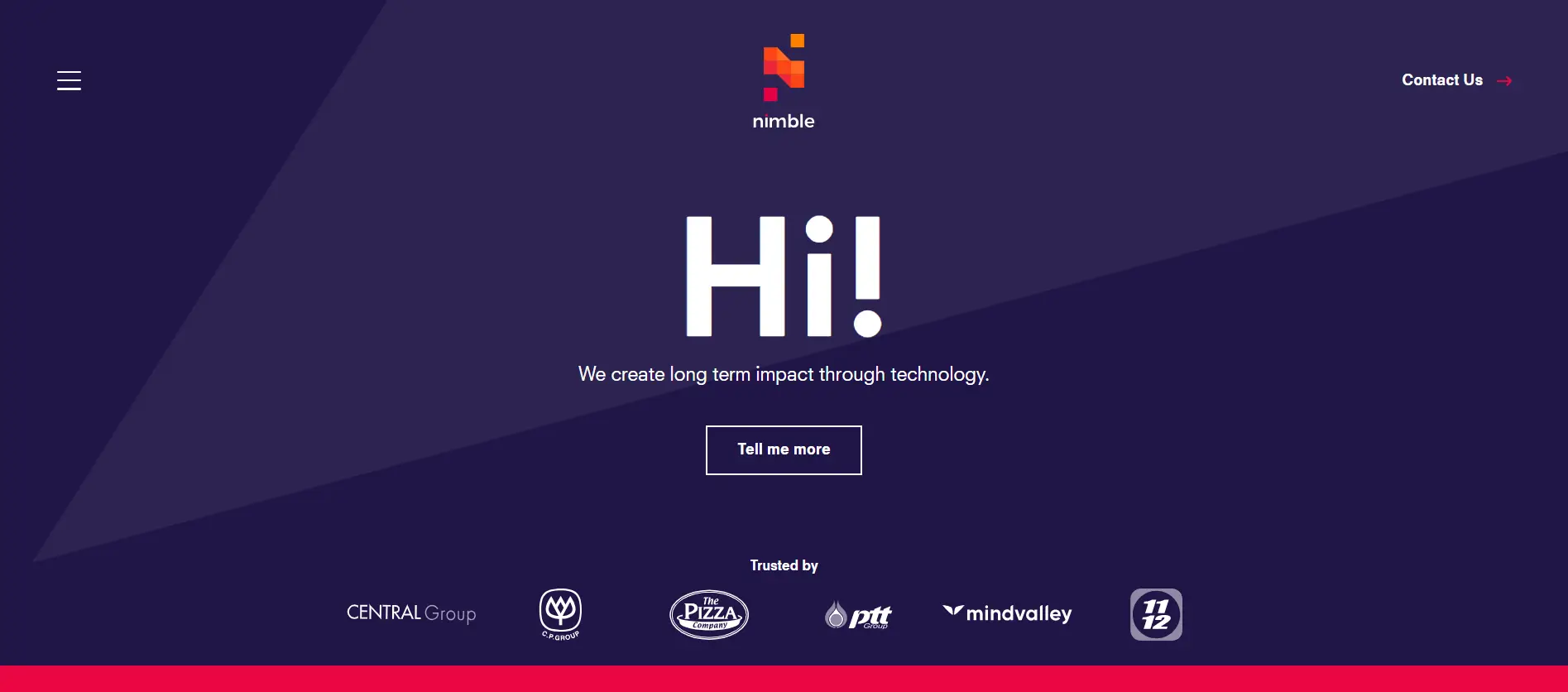 Aiming to create a long-term impact through technology, Nimble HQ is trusted by companies such as The Pizza Company, Central Group, Mindvalley, and others. 
Key services
Web development
Mobile development with iOS and Android apps
Product design & management
eCommerce development
Key strengths
Own a multicultural team, covering 4 continents and speaking 12 languages.
Expertise in mobile development
Professional process with an agile method
Product-oriented mindset
Successful projects
Braive: This website about mental health treatment programs entrusted NimbleHQ with the creation of its intuitive UX/UI design, mobile app development, and enhanced security, resulting in a clear presentation of its treatment programs and improved user experiences.
The 1: Thailand's largest loyalty platform utilizing the UX/UI design, mobile and web development, and API technology of Nimble, created an easy-to-use infrastructure for their 16 million members.
Toyota Wallet: Nimble HQ offered mobile development services, using API technology, to create an everyday mobile wallet that could perform well on both Android and iOS devices.
Workhiro: An employment company that used Nimble web and mobile development services to develop a website that owned a comprehensive UX/UI design and a web application that was compatible with both Android and iOS devices.
Aware Corporation Limited
Aware is a privately held software company in Thailand focused on Business-to-Business (B2B) applications that remove redundant manual processes and drive down costs. They strive to break down technology barriers and provide intelligent and predictive solutions that optimize their clients'​ business results.
Aware aspires to become a one-stop shop for all software development requirements. They design scalable software solutions and technology services to facilitate process automation, thereby enhancing businesses' efficacy and lowering expenses while scaling their growth. The company has spent years establishing and maintaining partnerships with renowned technology partners, including IBM, Oracle, Microsoft, Amazon Web Services (AWS), and Google Cloud, in order to provide the best technology, equipment, and advice.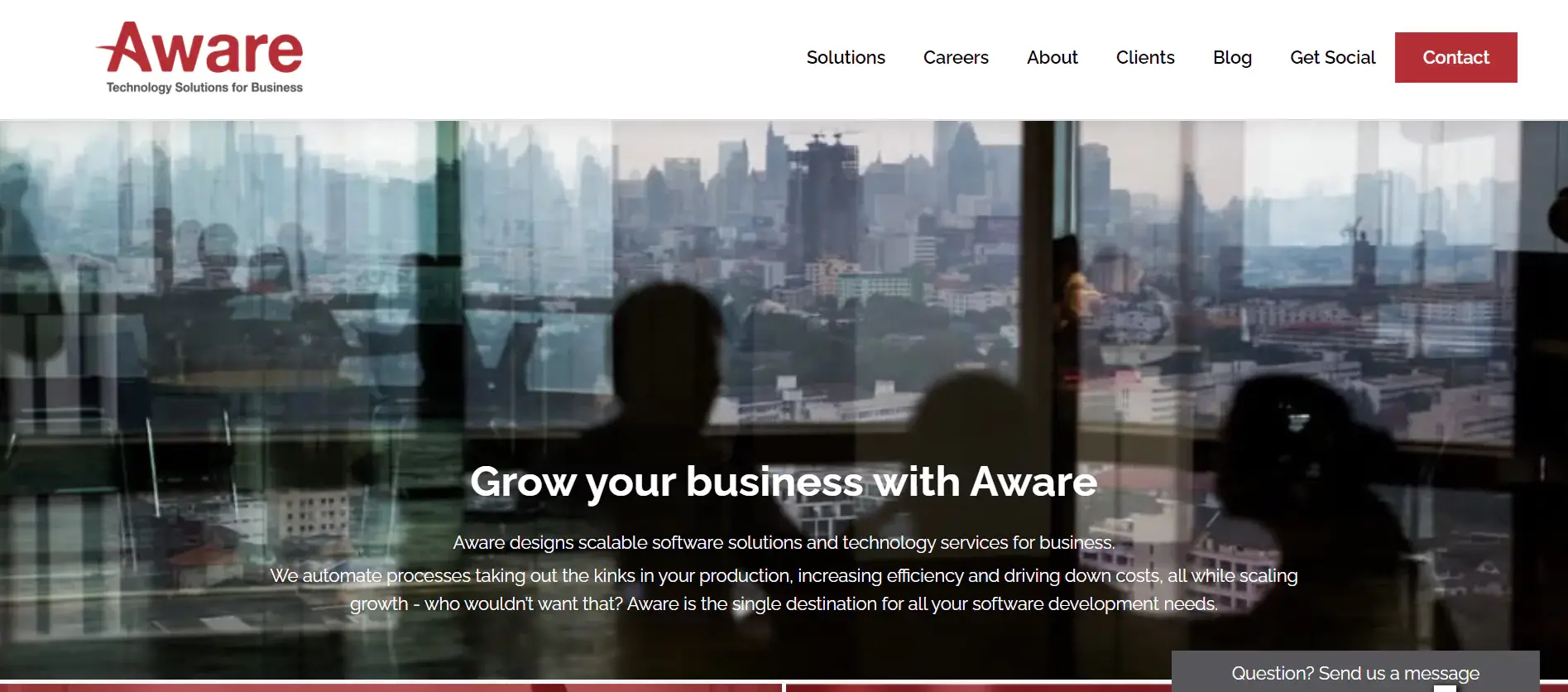 Aware has extensive experience working with a wide range of organizations in addition to providing advanced services. Their industry experience ranges from SMEs to large multinational corporations' departments. Aware has been entrusted by Honda, The People Network, and Swiss Re, among others, to develop their software.
Key services
Business intelligence
Custom software development
Systems integration
Managed services
Outsourced IT staffing
Microsoft solution
Key strengths
Partnered with well-known technology companies
Extensive experience in the field
Own a global team with many years of experience
Successful projects
The mortgage trail: Cloud-based technology was used for this Canada-based independent mortgage brokerage, providing reliable up-time and the capability to scale as the business grew.
KOCH: Aware moved KOCH from their previous hosting provider to an AWS Lightsail Private Server – this immediately decreased the page loading time down to 3 – 6 seconds, improving the user experience and employee efficiency in one transition.
Warrnambool Cheese & Butter: When this Australia-based oldest dairy processor approached Aware, they were managing seven websites developed on different technologies. Aware chose Kentico's ASP .NET CMS to handle the task of moving all 7 sites under a single technology platform and single hosting and management environment.
Iglu Bangkok
Headquartered in the UK with offices in Thailand, Vietnam, Hong Kong, and Estonia, Iglu offers you access to a pool of world-class digital talent. They come with a dedicated team that offers digital services and talented resources at competitive prices to clients all over the world.
Established in 2010, Iglu was founded to manage the growing client base and provide a home for an expanding team of developers and designers. Currently, the company owns a network of more than 200 professional and experienced digital experts in 5 countries who serve international clients on a variety of digital projects.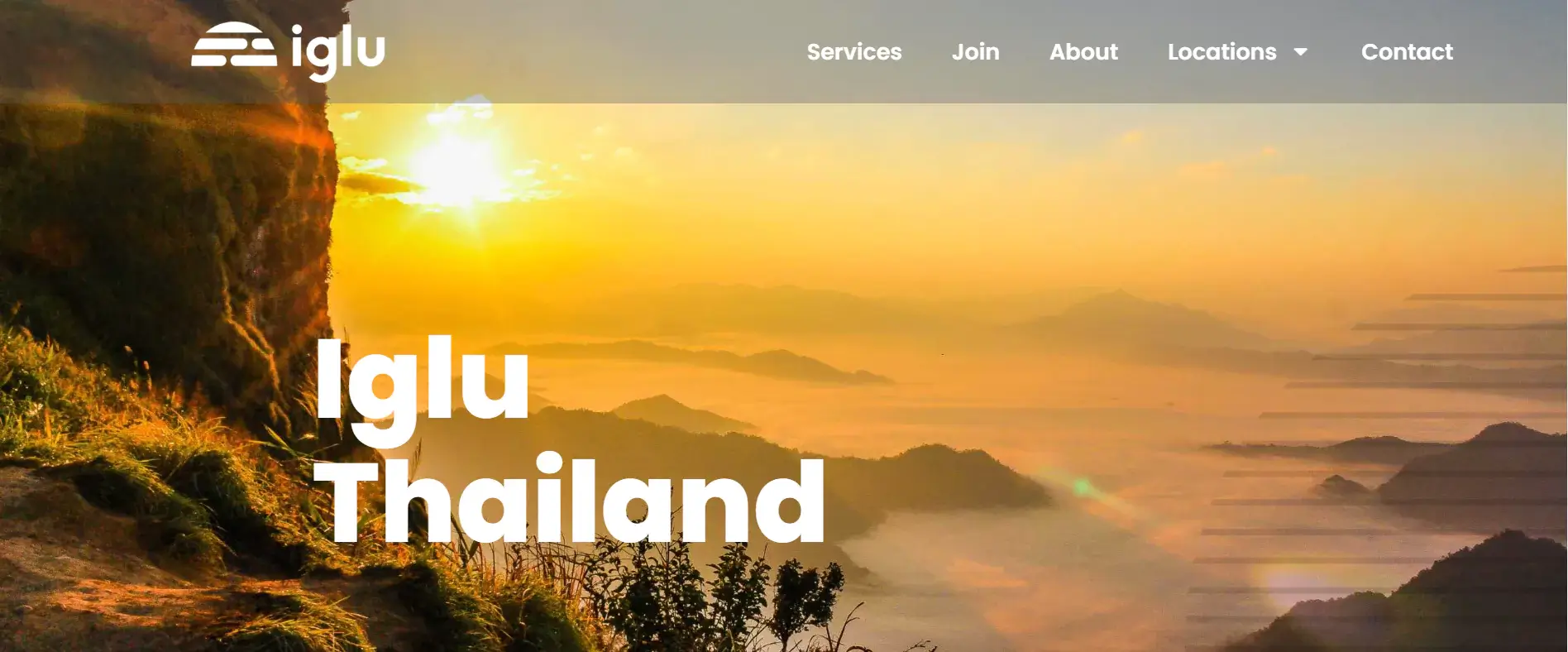 Iglu's services range from technology project management to business process outsourcing, including sales and services. Whether businesses require individual consultants, managed teams, or turn-key software development outsourcing services, Iglu is sure to be there and provide support.
Iglu Thailand specializes in offering software consulting and business process outsourcing services to Iglu network companies and Thai clients. With over 200 employees, they are one of the largest remote working communities in Thailand.
Key services
Software development
Web development
Cloud services and strategies
IT outsourcing and cloud ops
Outsource business processes
Key strengths
Specialized in software consulting and business process outsourcing services
Has branches globally
Able to provide prompt support as working remotely
Owns a team of experienced digital experts all over the world
Successful projects
Nonprofit: Iglu created an educational mobile app game for children. The team provided technical expertise, assistance with development, and maintenance support.
Seven Peaks Software Co., Ltd.
Seven Peaks Software is a top IT services and software development company in Thailand. They focus on solving modern business challenges for their clients with high-impact digital solutions that are made viable with robust strategies, desirable, through engaging user-centric design, and feasible, via technical advisory and delivery.
Founded in Bangkok in 2014, Seven Peaks is a rapidly growing international enterprise of 200+ employees from 25+ nationalities. Their expert team of 225+ professionals has expertise across the disciplines of delivery, mobile & web development, quality assurance, product design, data analytics, and marketing.
Advocates and practitioners of agile methodology, design thinking, and MACH alliance standards, Seven Peaks guides clients through their digital journeys with a best-in-class approach to building digital products that grow their topline and optimize the bottom line.
Seven Peaks has established itself as a reliable service provider by working with over 400 international and domestic clients, including Agoda, Prudential, and True, to name just a few. Their business software development solutions are specially designed with standard principals based around scalability, robustness, and extensibility in mind to deliver user & business needs. 
Key services
Mobile app development
Web app development
Cloud development
Product development
UX/UI design
Software quality assurance
Key strengths
Has a team of experienced local and international developers
Ability to build sustainable relationships with customers with an average customer lifetime value of over 3 years
Adapt to the latest software development frameworks
Successful projects
POEM Global: The company provided product service blueprints and conducted workshops to cover a wide range of topics for an entire digital workflow
CheckWise: Seven Peaks designed an easy-to-use mobile application to help users shop more consciously for increased health & safety.
Sekal: Help create a web-based user interface for a large oil & gas firm that significantly reduces the failure rate.
Morphosis
Morphosis is another name to be listed as the top software development company in Thailand. They are a leading digital product design consultancy that specializes in UX research, product design, development, and digital marketing. They provide end-to-end digital services throughout the entire product lifecycle, from ideation and research to design and growth.
With 15+ years of experience in the industry, Morphosis has amassed the knowledge and skills necessary to provide the highest quality product design and development services. They possess a pool of diverse and inclusive talent consisting of over 200 digital experts of 25+ nationalities. They have worked with over 400 clients, including both domestic and international SMEs and MNCs.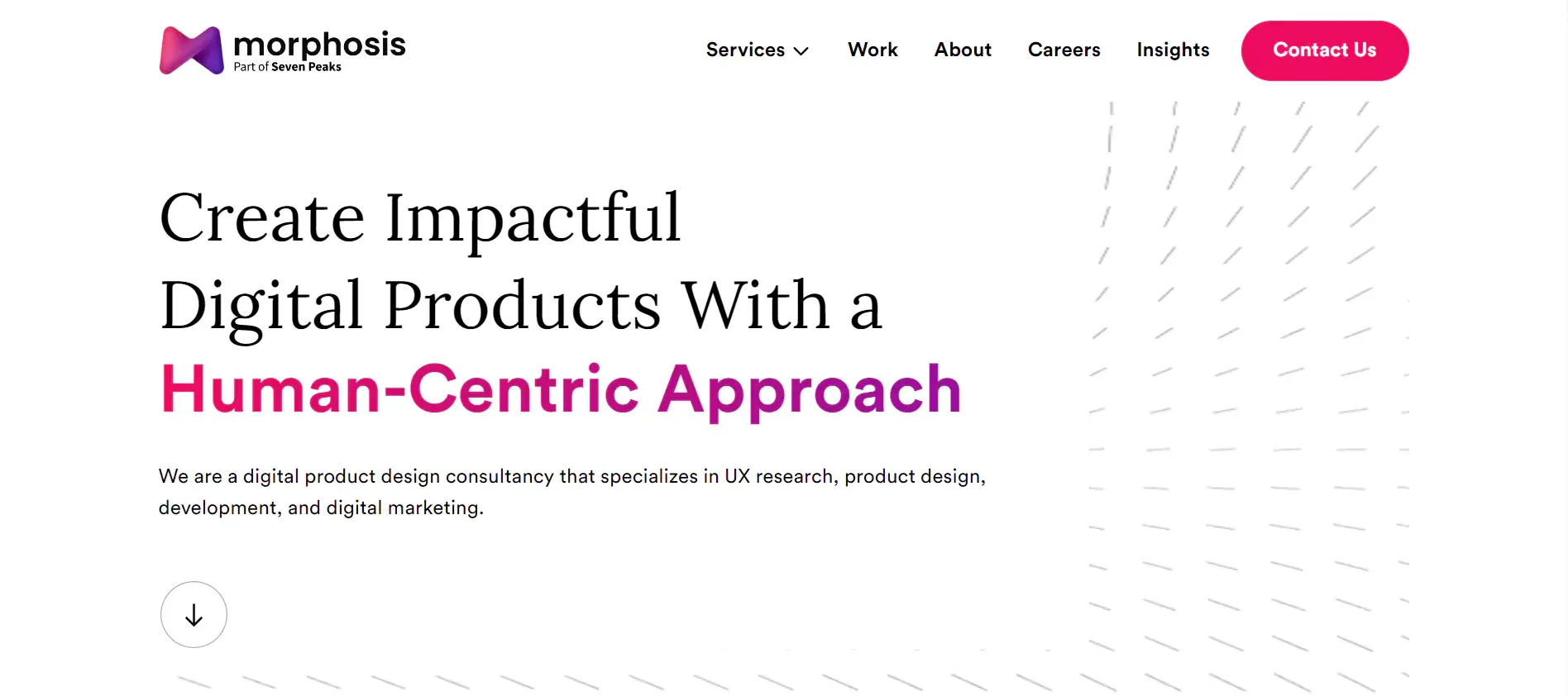 Morphosis and Seven Peaks Software are collaborating to expand their collective expertise and offer businesses a comprehensive range of digital solutions. With the user experience in mind, their unified approach combines UX strategy and Design Thinking principles with data-driven analytics, SEO optimization, and performance media marketing. This potent combination allows businesses to maximize their potential in the digital age by optimizing operations and creating new revenue streams.
Key services
Design thinking
UX research
Product design
Product development
Conversion rate optimization
Digital marketing
Key strengths
Specializes in digital product design consultancy
Provides iterative process and personal approach to project management
Effective team structure to provide fast results
Successful projects
Decathlon: Executed a tailored content strategy that revitalized Decathlon's eCommerce platform. By combining in-depth keyword and competitor analysis with expert content creation and optimization, Morphosis successfully drove a notable 37.3% increase in organic clicks and achieved a conversion rate three times higher than paid traffic.
King's College International School Bangkok: Established SEO campaign including a technical audit and research on keywords to increase King's competitive position. Morphosis also provided an on-page SEO strategy including optimizing content for category pages and linking internal pages to maximize impact.
Bitkub: Focused on creating and localizing high-quality content, targeting specific keywords relevant to Bitkub's audience; executed technical fixes on Bitkub's website to enhance page speed and mobile usability. As a result, Bitkub experienced a significant boost in online visibility, with an average of 500,000 organic clicks/month.
Hire Quality Software
Hire Quality Software is a trustworthy software company providing outsourcing software services to a global market. They mainly serve startups or established companies in countries with a higher cost of living.
Founded in Sweden in 2012, Hire Quality strives to become a leading company in software and business development. They now own almost 40 developers and generated over $5 million of revenue in 2022. They started their office in Thailand in 2020 as the international expansion of their business.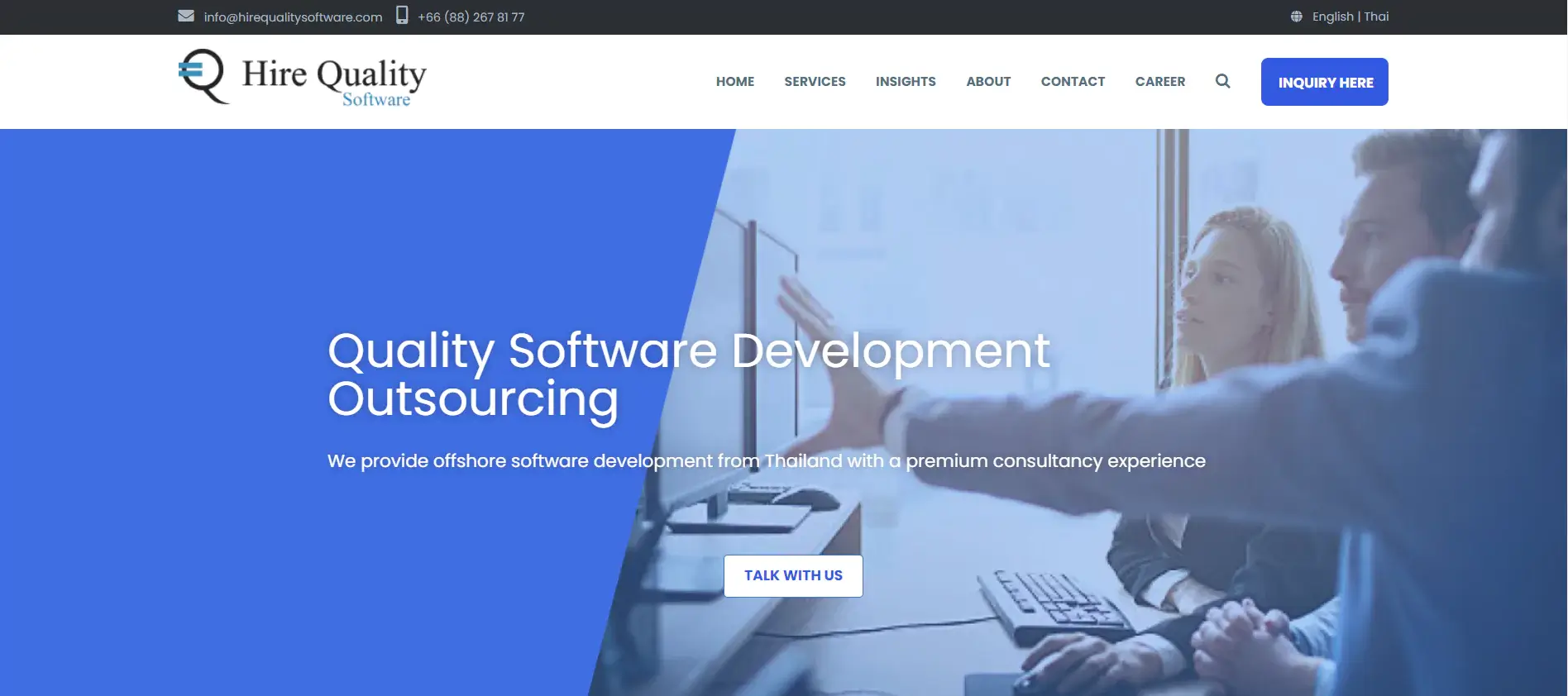 The consulting services of Hire Quality Software range from application development to major organizational transformations. Each area of expertise encompasses services designed to accelerate your progress and improve your results. In addition to custom-made software, Hire Quality also offers partnership, guidance, and dedication. They place a strong emphasis on developing commitment, communication skills, and core values. This ensures the success of their partner.
Key services
Software architecture and design
Software modernization and maintenance
Software quality assurance (QA) and test automation
Custom software development service
Application prototyping developing service
Data visualization and reporting
System integration solutions and services
Software development outsourcing
Key strengths
Offers diverse services
Specializes in delivering custom software development
Has global offices
Focuses on fostering a trusting, transparent relationship with the client
Successful projects
Weface.io: A custom software solution was developed by Hire Quality Software for a SaaS company. Prior to delivering a demonstration version of the solution, they led a discovery phase.
SomTamLabs
SomTamLabs is a web development agency that focuses on developing IT projects at competitive prices. They assist businesses in building their strengths with mobile and web technologies. They own a passionate and professional team that specializes in development, design, and user experience, thus providing the best solutions to enhance any IT project.
With the headquarters located in Bangkok, among the high-tech cities in Asia, SomTamLabs has access to the best technical skills in the region while remaining accessible to companies in Europe. Moreover, with a Thailand-based location, they can offer premium services at prices 40-50% lower than in the UK and much of Europe, giving a much more competitive pricing strategy,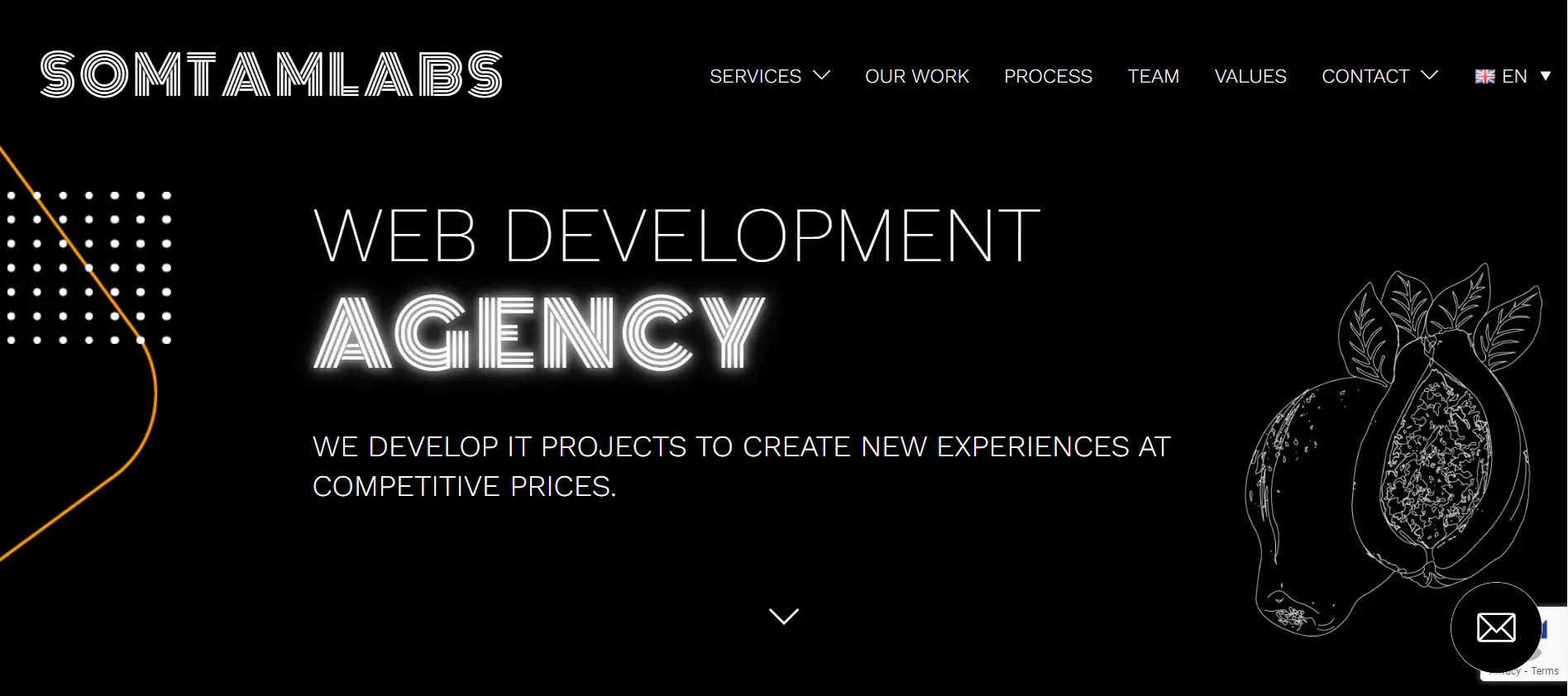 SomTamLabs commits to delivering projects of optimal quality. This is achieved through the use of the latest development languages. Businesses are also given a schedule that is adapted to their needs and will be checked in regularly by SomTamLabs's project manager.
Key services
Mobile applications
Website
Web design and graphics
ERP & CRM
Digital marketing
Social media
Testing & maintenance
Key strengths
Specializes in mobile development with UX and UI expertise
Supports European web/mobile agencies
Intervene at each key stage to transform your wishes into digital reality
Dedicated team with regular support for the whole project
Successful projects
Of Animo: Of Animo is a Los Angeles-based luxury house with a passion for creating a rich, opulent atmosphere. SomTamLabs has helped this business to establish their eCommerce website and mobile app with an elegant design that aligns with Of Animo's brand identity.
Dentaly: Dentaly.org is the largest independent and free source of information on dental care and oral health problems with more than 600,000 monthly visitors to their website. SomTamLabs helped them build a comprehensive mobile app for enhanced customer experiences.
SYNQA: A supplier of Fintech solutions and products throughout the world. The WordPress site created for SYNQA is a platform for information on group companies and team members.
Outsourcify
Outsourcify is a French and Thai enterprise with its headquarters in Bangkok, Thailand, which specializes in providing unique custom software solutions. They are experts in UX/UI, Web Design, and Development of Web and Mobile Applications. In addition to managed hosting and maintenance assistance, Outsourcify also provides UX workshops and consulting services. Outsourcify commits to delivering premium services at competitive prices.
Outsourcify owns an international team of professionals from all around the world: France, Finland, Germany, Myanmar, Korea, Thailand, etc. They are experts in various cutting-edge technologies as well as commonly used open-source technologies such as JavaScript (Vue.Js, React, Node.js) and PHP (Symfony, Sylius).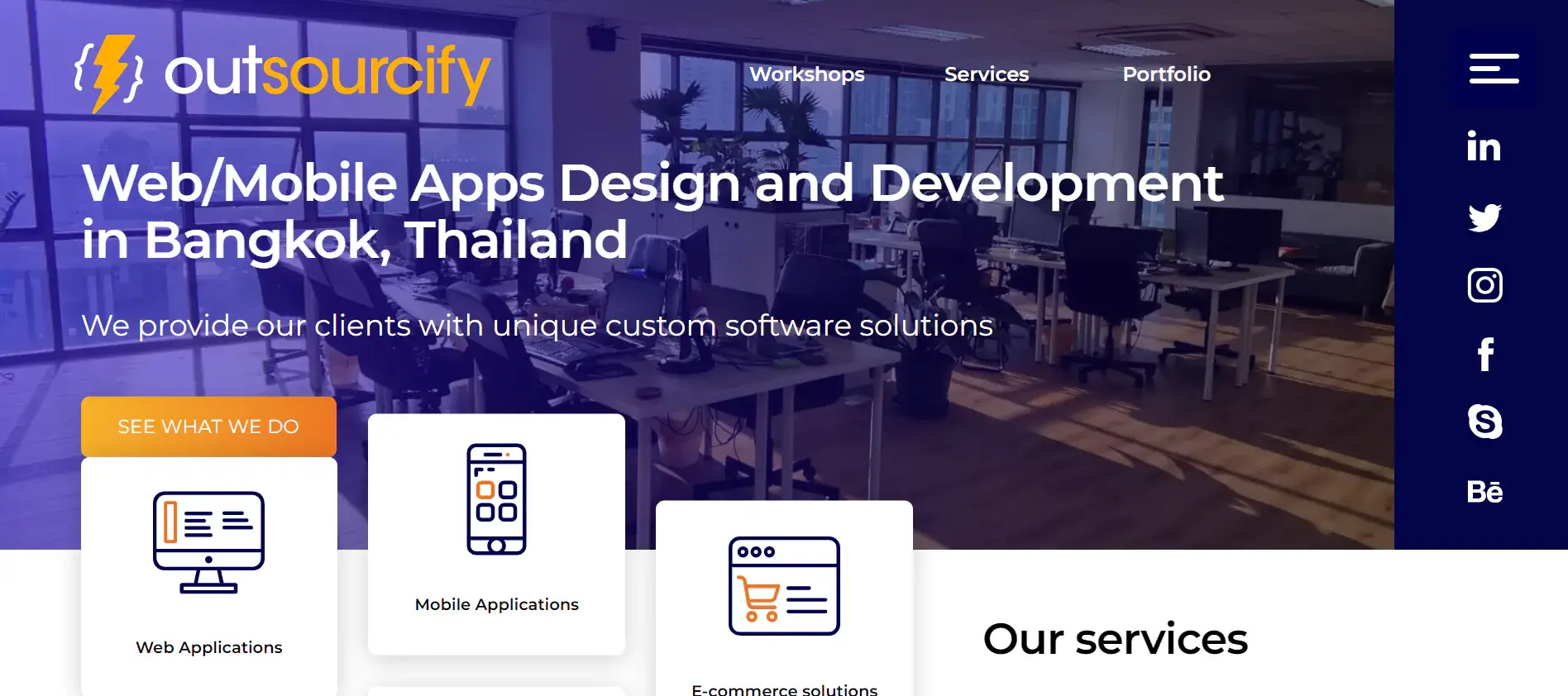 The company puts great focus on consistent communication to work toward their goal of providing the best quality solutions to its valued clients. Regardless of different time zones, they still keep the professionalism and provide the best care to clients. Outsourcify is trusted by large brands including United Nations, Ommise, Toyota, and Michelin, among others. 
Key services
Web applications
Mobile applications
eCommerce solutions
Workshops & consulting
UX/UI design
Key strengths
Specializes in custom web development
Owns an international development team
Experiences in working with global customers
Successful projects
Mae Fah Luang University: Designed and developed a website and an extranet web application to manage personal student schedules and grades, as well as to send messages to students and instructors. It includes administrative permission management and content management.
Adria: Helped with all aspects of this recruitment web platform, including defining the project requirements through workshops and UX/UI research, creating a product identity based solely on their logo, and developing it as a fully-featured SaaS product with online payments, PDF generation, digital marketing integration (Google tag, Facebook pixel), and a custom template email service.
High luxury travel agency (USA): A high-end American travel agency with offices in New York and Los Angeles entrusted Outsourcify with its entire web and mobile application ecosystem. Outsourcify created a back-office web application that allows advisors to manage their clientele (CRM) and needs via an itinerary builder, client portal, and mobile app (iOS and Android) where clients can review, approve, and pay for proposals.
How can you choose the right software development company in Thailand?
Researching the best software development company in Thailand to outsource the digital operations of your business can be a difficult task. In this crowded eCommerce market, you have a multitude of options besides the 11 leading Thailand software companies listed above. Consider the following factors when selecting the most suitable software development for your business.
Company's services
The first thing you should look for when looking at any software developer in Thailand is the services that the company offers. Ensure that their services align with your company's digital project objectives and specifications. Choose a company that specializes in the type of software development you require, whether it be web applications, mobile apps, custom software, or specific technologies such as AI and blockchain. Understanding their service offerings will allow you to determine if they can meet the specific requirements of your project.
There are some companies that specialize in mobile and UX/UI designs like SomTamLabs; while other focus more on custom software development as a whole such as Manao Software, Magenest, Hire Quality, or Outsourcify.
Business size and expertise
The size and expertise of the software development company in Thailand play a significant role in your decision-making process. Smaller firms may offer personalized attention and flexibility, while larger companies might have more extensive resources and a broader range of services. Assess your project's complexity and budget to determine whether a smaller boutique firm or a larger established company is the right fit.
In the interim, you should also evaluate the expertise and experience of the selected companies. How long have they been working in the field? How many clients have they served? Which industries have they provided solutions to? Consider the following questions to determine if the company has experience in your industry and can effectively solve your problems. You should also evaluate the technology framework they provide to determine if it is compatible with your business's projects.
Portfolio
Reviewing the company's portfolio provides you with valuable insight into the kind of work they have done in the past and the level of experience they have. Consider projects that are comparable to yours in terms of scope or industry served. Pay close attention to the quality of the software they've developed, as well as the user interfaces and functionality of the software they've created.

From the breadth of their portfolio, one can infer that they are able to provide high-quality solutions. Inquire about any case studies or client references that the company may have in order to gain insight into the capabilities of the company in terms of project management, communication, and problem-solving.
Check the quality and diversity of their previous work
It is not sufficient to simply examine the number of projects in a company's portfolio; you must also evaluate the quality and variety of their previous work. Exemplary projects demonstrate their dedication to excellence, attention to detail, and capacity to exceed customer expectations. Their portfolio's diversity suggests adaptability and versatility, which can be beneficial in addressing the specific challenges of your project. Determine if they have worked with diverse industries, technologies, and project sizes with success.
Benefits of hiring a software development company in Thailand
Cost-effective solutions
One of the primary reasons for outsourcing software development to Thailand is the cost-effectiveness it offers. Thai software development companies typically provide competitive pricing while maintaining high-quality standards. The lower cost of living in Thailand, when compared to many Western countries, enables these companies to offer affordable rates without compromising on the quality of work. This cost efficiency significantly benefits businesses looking to optimize their software development budgets without sacrificing the quality and functionality of their projects.
Technical expertise
Thailand has a rapidly growing technology sector and a pool of skilled IT professionals. When you hire a software development company in Thailand, you gain access to a talented workforce with diverse technical skills and experience. These experts are well-versed in the latest software development methodologies, programming languages, and technologies. Their technical prowess ensures that your software project will be executed efficiently, with the ability to adapt to evolving industry trends and technologies.
Cultural compatibility
Cultural compatibility is an underestimated advantage when working with a software development team. Thailand is known for its hospitality, teamwork, and strong work ethic. This cultural alignment often leads to smoother collaboration and effective communication between your business and the development team. Cultural similarities help avoid misunderstandings, reduce project risks, and enhance the overall experience of working together toward a common goal.
Time zone advantages
Strategically, the time zone of Thailand is advantageous for companies seeking to outsource software development. Thailand and the majority of Southeast Asian countries share the same time zone, making it easier for businesses in this region to communicate and collaborate with the development team in real-time. This overlap in working hours can expedite project development, problem resolution, and project management. In addition, it can help businesses respond more quickly to shifting project requirements and market demands.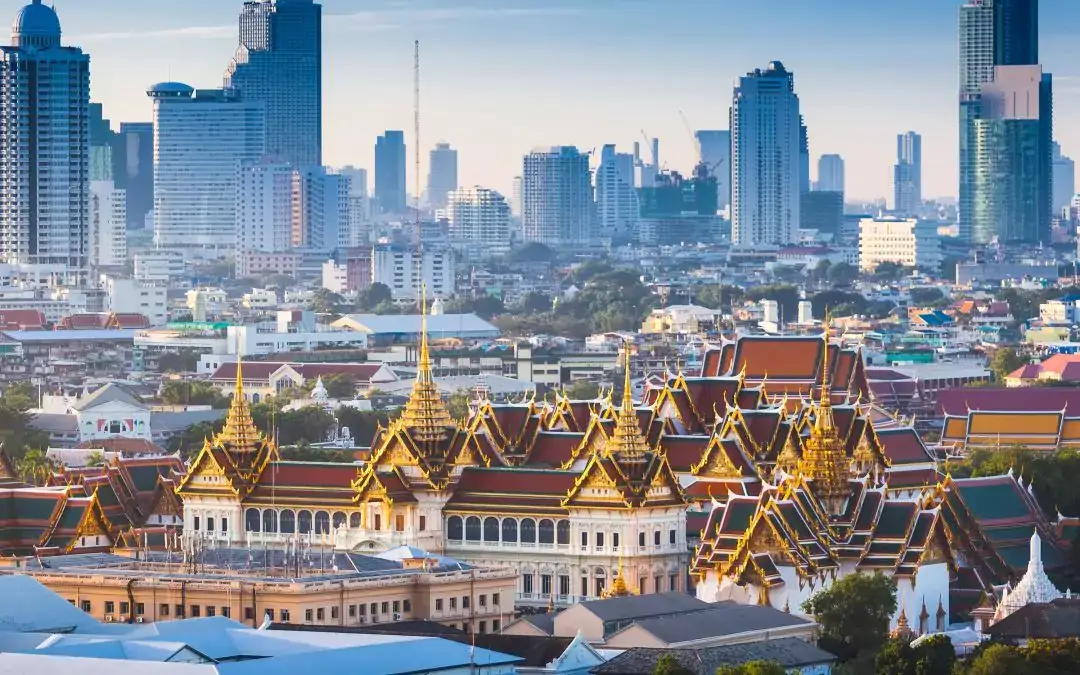 This can be difficult if your companies are located on other continents, such as Europe or the Americas. However, the majority of software companies in Thailand now offer remote support, allowing them to resolve your issue regardless of your time zone. Some software providers, such as Seven Peaks and Outsourcify, employ international developers, while others, such as Iglu and Hire Quality Software, have offices on other continents.
English proficiency
English proficiency is a significant asset in the global software development industry, and Thailand boasts a high level of English proficiency among its workforce. In fact, Thai software developers are generally proficient in English, which ensures clear and effective communication throughout the project lifecycle, from initial discussions and requirement gathering to regular updates and final delivery. It minimizes language barriers, reducing the chances of miscommunication and misunderstandings, and facilitating a smooth and productive working relationship.
Conclusion
In the vibrant digital landscape of Thailand, there are hundreds of software providers to choose from. This list of top 11 names stands as the most prominent examples and suggestions for deciding on your best software development company in Thailand. Through its diverse services, each company demonstrates its ability to transform ideas into reality through its own unique expertise and innovation. From custom web applications to mobile app development, and from AI-driven solutions to blockchain technology, these companies are poised to deliver the quality, innovation, and dedication to excellence that will ensure your success in the digital age. For more of our latest updates, please consider subscribing to our newsletter right below.