Choosing the right eCommerce website development company is critical to the success of your online store. There are many companies offering these services, so how do you know which one is right for you? Check out our list of the top eCommerce development company in India to find the best partner for your business. Each company on our list has been evaluated based on its experience, capabilities, and past projects. So whether you're just starting out or looking to take your business to the next level, we have the perfect company for you.
Tvisha Technologies
Tvisha Technologies is one of the best eCommerce development companies India with offices in both India and the USA. The company owns skilled and dedicated staff to build a user-friendly eCommerce website.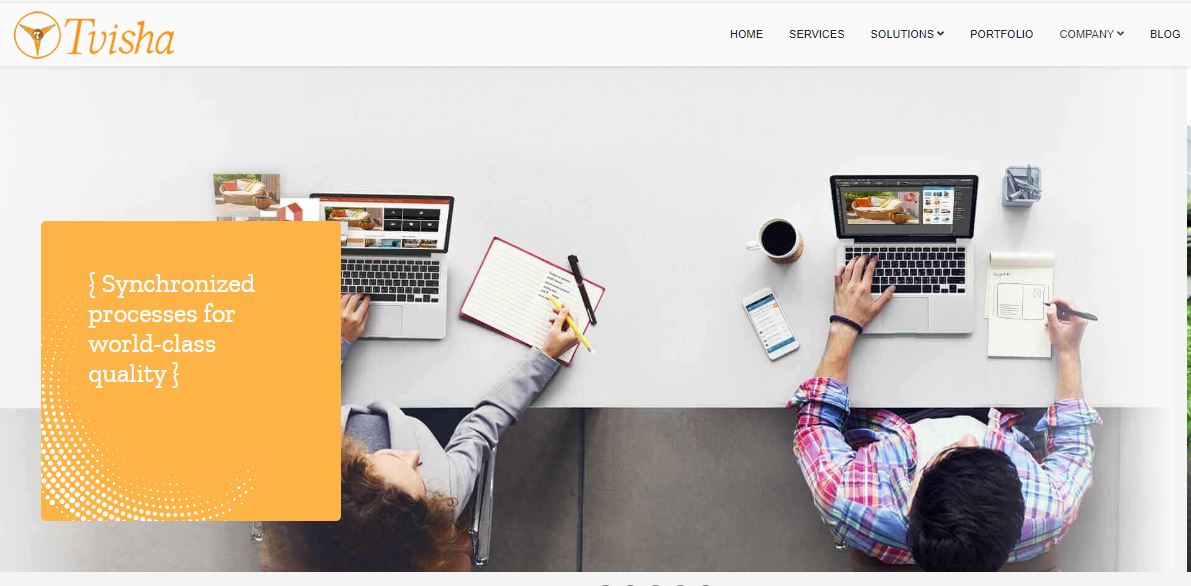 Their cutting-edge eCommerce development and solutions help your enterprises in a variety of additional ways, such as boosting their market visibility, enabling them to offer better customer service, improving company efficiencies, and boosting return on investment.
The team of knowledgeable eCommerce developers at Tvisha is competent at providing customers with a very pleasurable, simple, and easily accessible consumer experience.
Webkul
Founded in 2010, Webkul is a reputable provider of IT services. With its industry-leading services for Digital Commerce, ERP, and CRM solutions, it assists businesses all over the world in resolving their complicated business difficulties.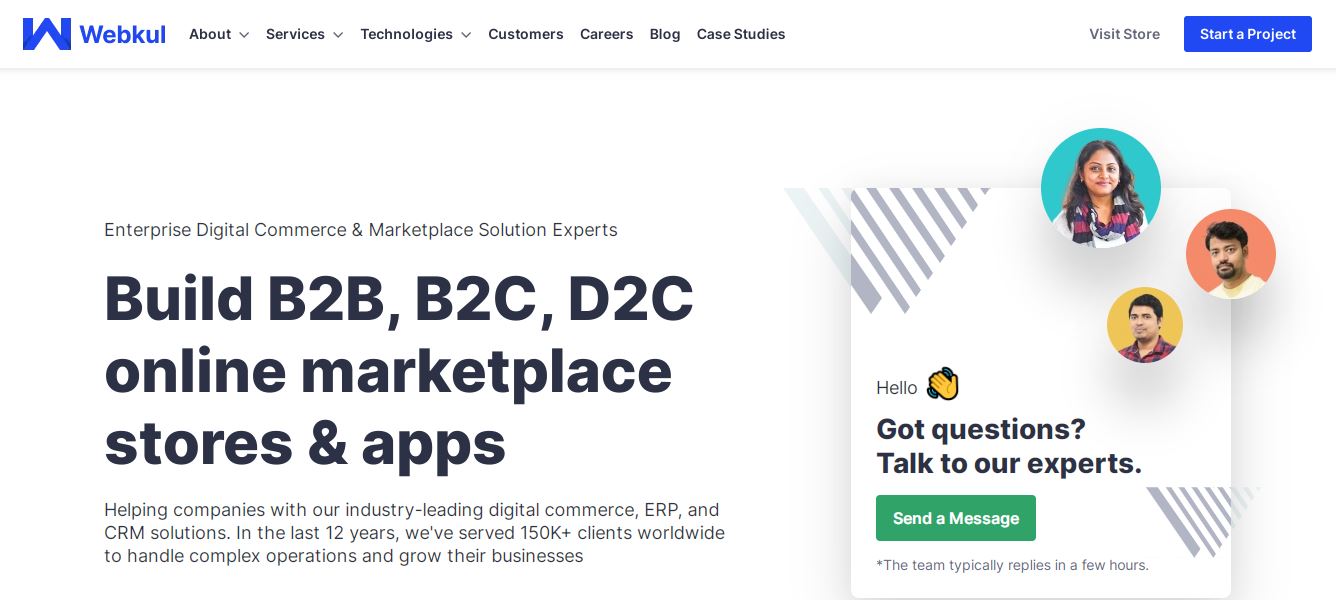 Enterprise Digital Commerce & Marketplace Solution Experts are another aspect of Webkul that is popular internationally.
They have provided services to thousands of clients globally over the last 11 years, ranging from small and medium-sized businesses to huge corporations, enterprises, and government agencies.
Webkul has received many honors and awards as the best eCommerce web development company in India. Also for its hardworking commitment to creating market-leading commercial solutions in augmented reality, machine learning, and mobility.
Nectarbits
The well-known eCommerce development company in India, Nectarbits has years of experience building imaginative websites. At Nectarbits, you can find the most skilled and professional eCommerce website developers in India. This devoted staff of eCommerce developers is skilled with a variety of platforms and tools in order to build a user- and client-friendly website.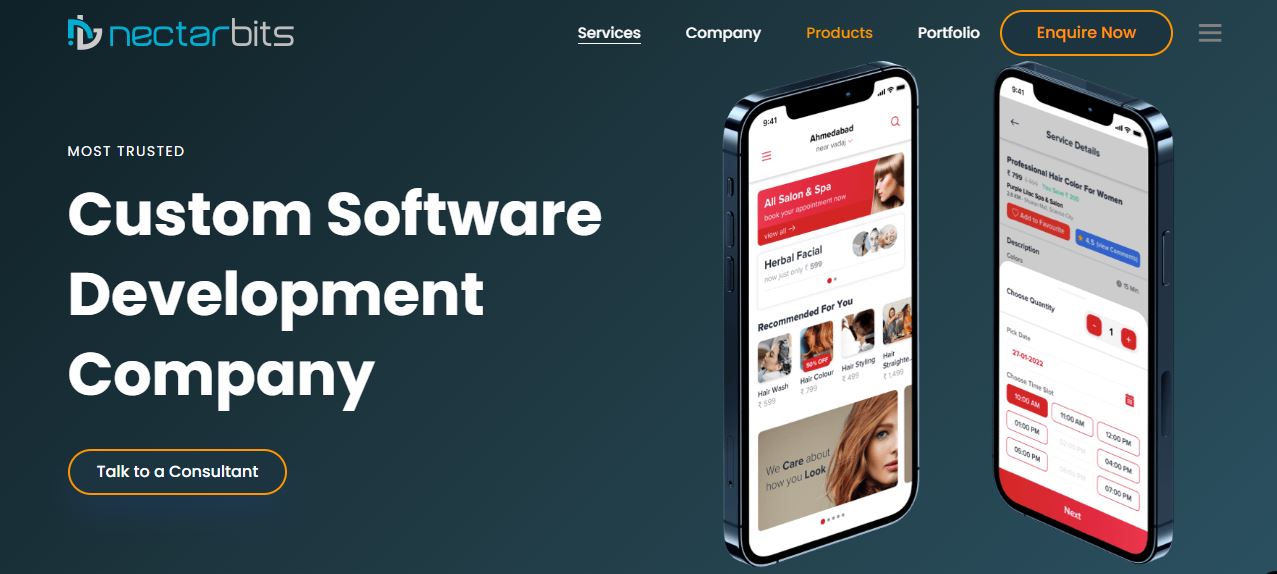 NectarBits began in 2009 as a firm that specialized in the development of iOS apps, but within a year they expanded to include the development of Android and online applications. NectarBits is a recognized mobile app design and development firm with offices in the USA, UK, UAE, Canada, and India.
Depending on your company's needs, they are ready to offer the most innovative solutions. They have aided a number of top-tier companies by developing fantastic and user-friendly websites.
In terms of developing customized mobile apps and digital products, NectarBits is a market leader. They offer specialized online and mobile app development services.
Magenest
Magenest is one of the leading eCommerce website development companies. We have a team of experienced developers who are experts in Shopify website development services and designing eCommerce websites. We have a proven track record of delivering high-quality websites that are responsive and user-friendly.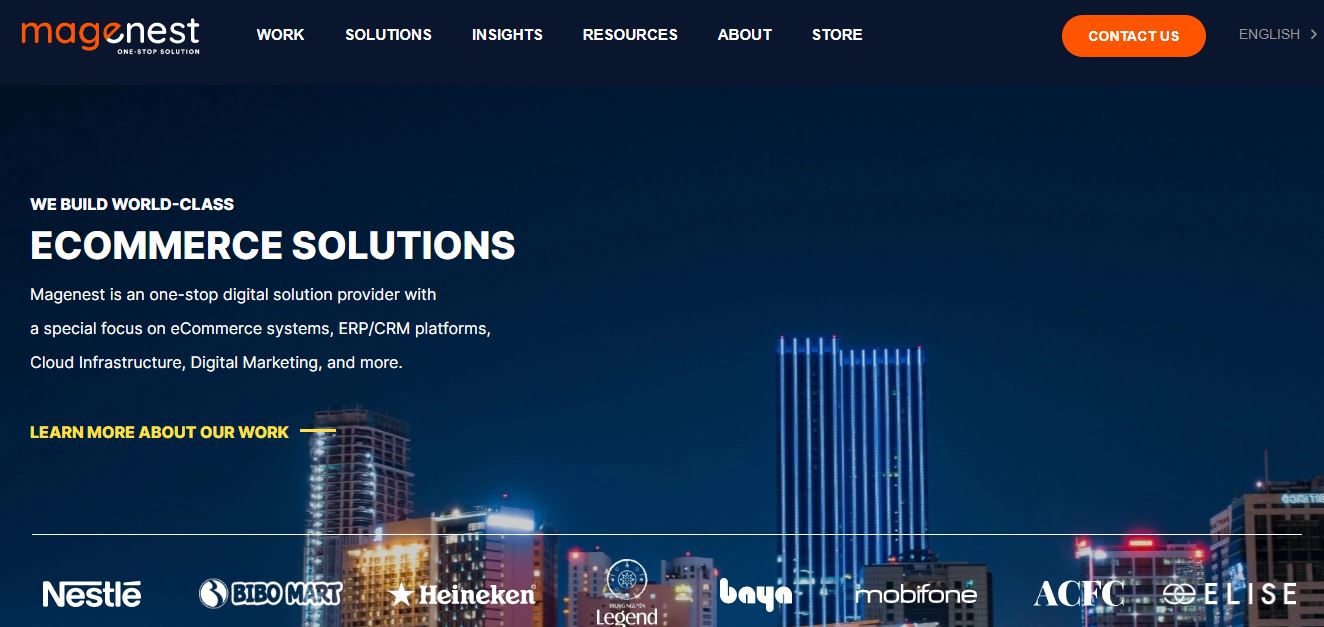 Our team can help you to create an eCommerce website that is customized to your specific requirements. We can also integrate your website with third-party applications, such as payment gateways and shipping providers.
Whether you're looking to develop a new eCommerce website or to upgrade an existing one, Magenest can provide the perfect solution for you.
Indglobal
As a leading provider of end-to-end solutions at affordable prices, Indglobal works on hundreds of eCommerce projects. You will receive assistance from Indglobal's responsive development staff at every stage of the development process.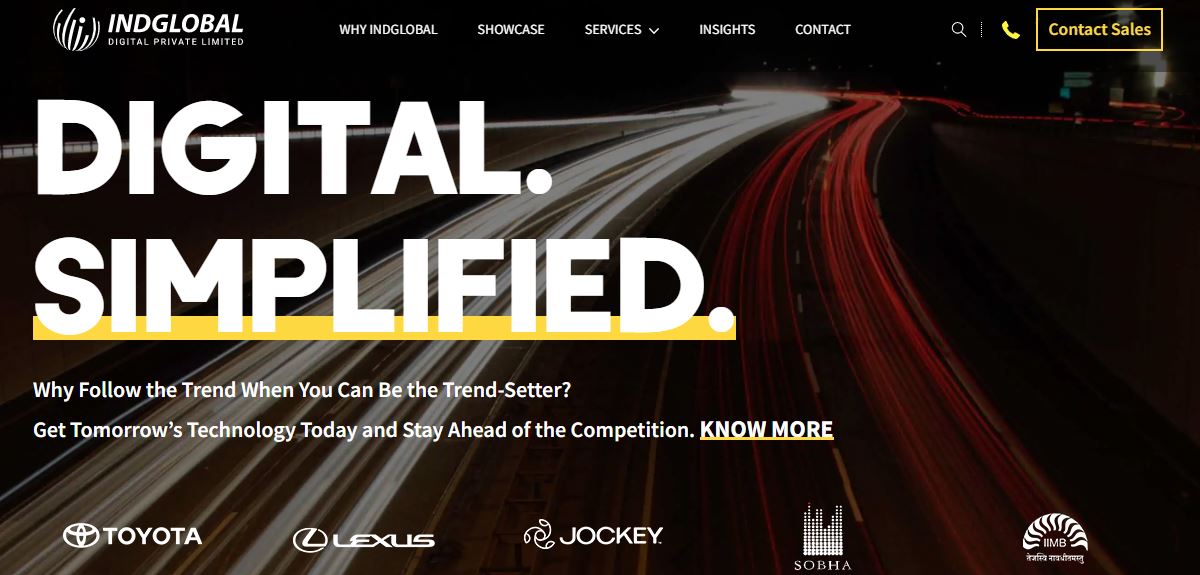 They provide creative solutions to ensure a positive online shopping experience for users and customers, which increases your online profits.
The Mindglobal Mobile Intelligence Platform enables improved management across the organization, from employees to managers and beyond. You can optimize every aspect of your wireless program using a safe, personalized interface.
For even the most complicated mobile projects, this secure web-based platform gives you immediate access to wireless management solutions. As a result, it will contribute to improving control and strategic decision-making.
Seawindsolutions
Among renowned eCommerce development company India with offices in India and the USA, Seawindsolutions provides the best development solutions to help you reach your business objectives.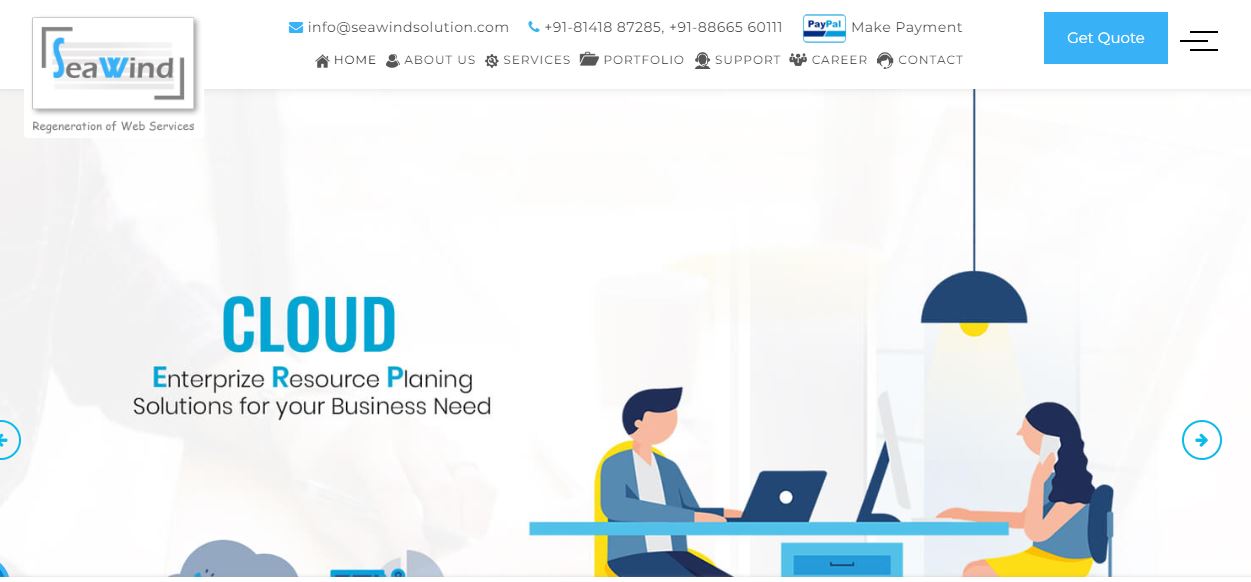 They are experts in constructing and developing innovative, user-friendly, and secure websites for your business. Moreover, they entirely administer with significant customer support available 24/7. Their business eCommerce solutions assist in increasing online visibility and a broad consumer base.
SynapseIndia
Another top eCommerce website developer in India, SynapseIndia, provides effective development services that significantly increase traffic to online stores.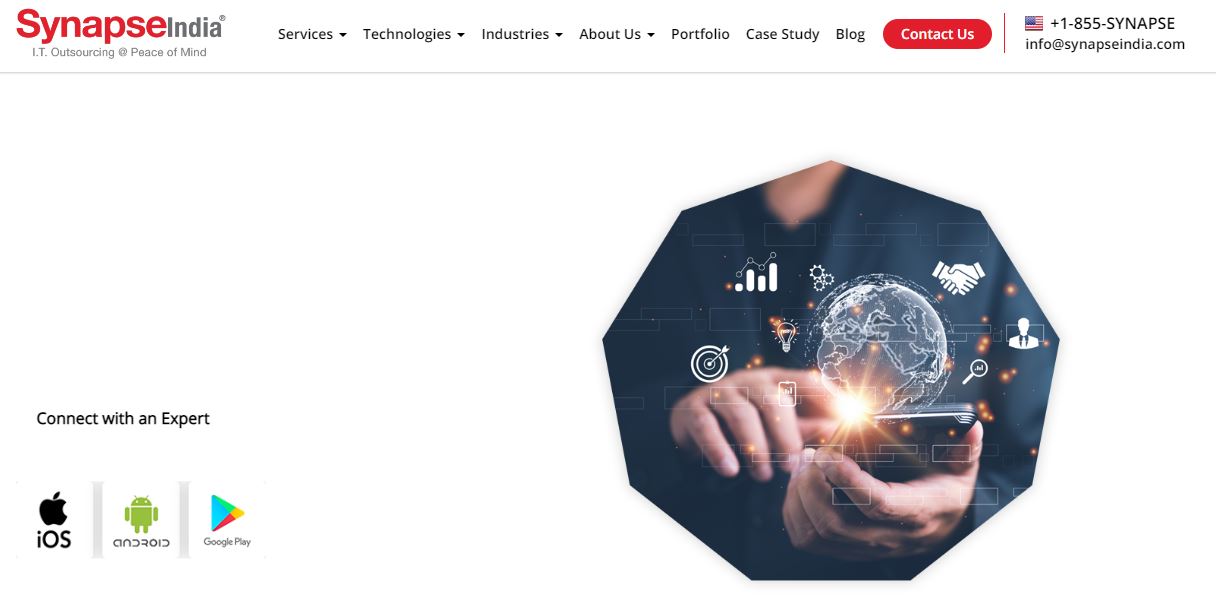 They are specialists in offering eCommerce solutions for a variety of platforms, including Magento, WordPress, OpenCart, nopCommerce, BigCommerce, and others.
The skilled group of programmers at SynapseIndia will create and deploy complete eCommerce solutions that are amazingly connected to your website.
Magneto IT Solutions
Amazon is one of Magneto's clients, and they specialize in offering their customers a design-centric approach to mobile app development. Magneto was established in India on forward-thinking concepts with an emphasis on highlighting the most important aspects of brand messaging.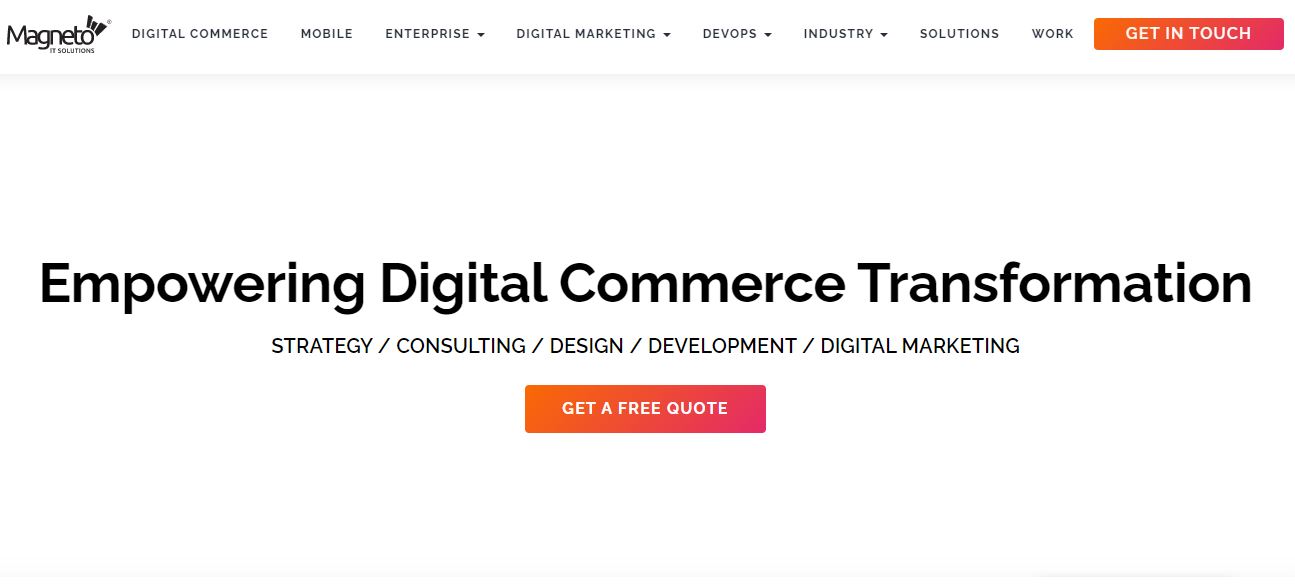 Magneto is among the multi-award-winning eCommerce website development companies in India. Their primary expertise is in the creation of market-leading end-to-end eCommerce solutions. It works from strikingly beautiful web stores to creating mobile applications. And the team employs agile methods to design industry-leading User Interfaces that provide the best possible end-user experience.
By adopting cutting-edge Digital Marketing solutions, they use the resource strength of 100+ to assist their clients in scaling their eCommerce enterprises. They help their in-house team become more efficient by optimizing and streamlining their customer acquisition and retention methods.
Elsner Technologies Pvt Ltd
Elsner Technologies Pvt Ltd, a certified Magento eCommerce development company in India, offers end-to-end mobility solutions to SMBs and corporations; among their clients are the United Nations, Apollo, and Baldinger. They are affiliates of OpenCart, Google, and BIGCOMMERCE and provide site design, SEO, and eCommerce development services.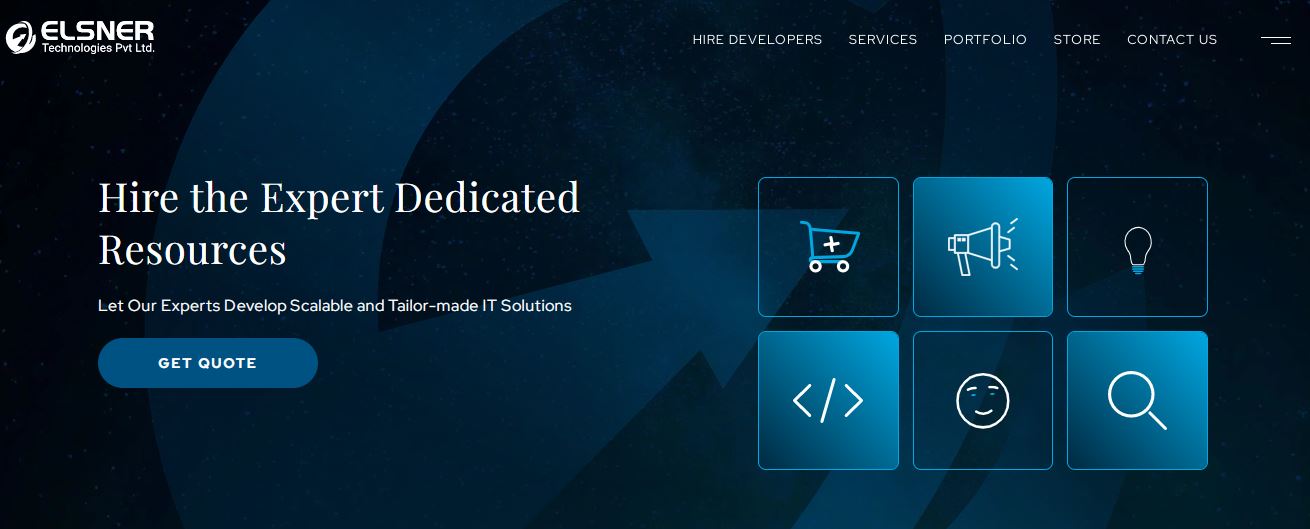 For a furniture company, Elsner Technologies Pvt Ltd created and constructed a number of websites utilizing the WordPress, WooCommerce, and Magento frameworks.
Along with redesigning already-existing platforms, they also developed new ones and produced content to support SEO strategies. For a considerable return on the client's investments, they generated high-quality deliverables in an efficient manner.
Netsmartz LLC
Impressive stats from Netsmartz include over 2000 projects completed, 98% client satisfaction, and over 1000 professionals located over eight international locations. This eCommerce website designing company in India is a full-service IT business with various services to customers of various sizes.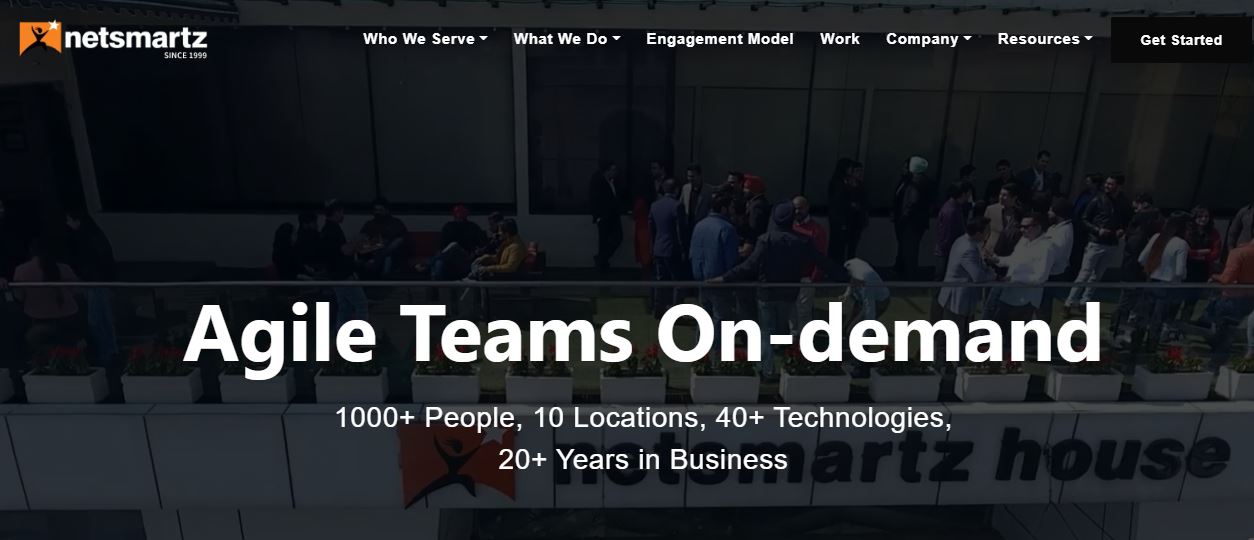 Starting in 1999, Netsmartz is a software firm with an office in the United States with CMMi 3 standards. They provide a pre-vetted pool of the top 5% of software developers from our 10 global locations.
They collaborated with Samsung to create an international eCommerce platform for electronics and other products. The web application offers a scalable online eCommerce platform that makes it simple for customers to purchase electronics.
OrangeMantra
With a love for both design and strategy, OrangeMantra has developed mobile apps for customers like Ikea and SRS Grocery. OrangeMantra, among the top eCommerce web development companies in India, brings a successful track record to every project it completes.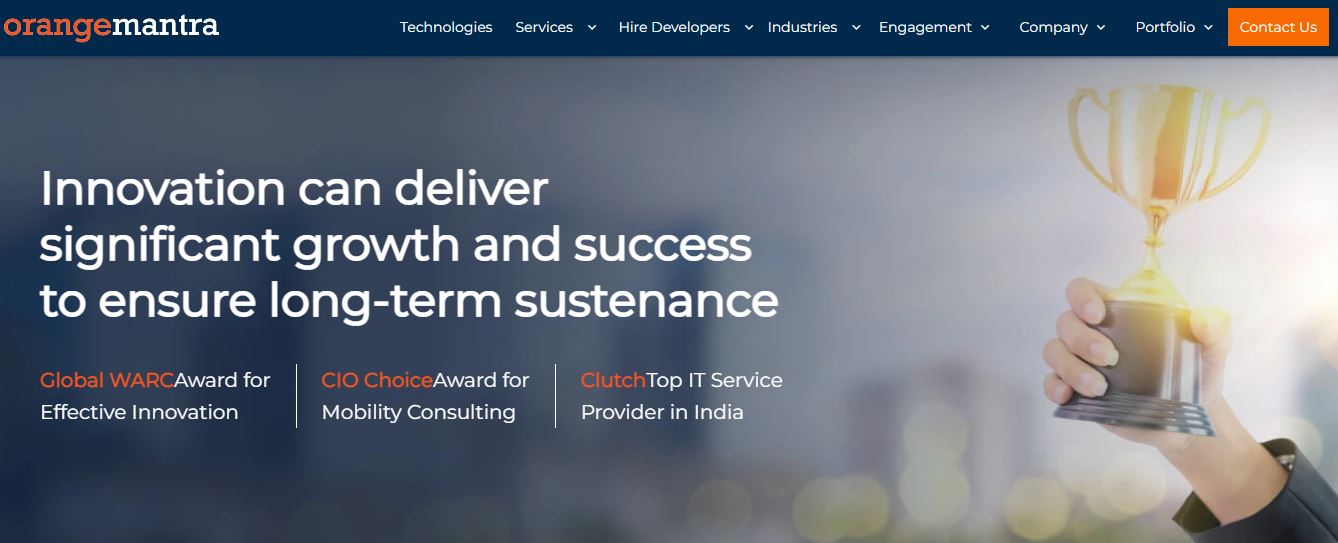 OrangeMantra developed not only Almamater's most recognizable mobile appearance but also the entirety of its customer-facing mobile experience when the company was simply a young brand aiming to make an impact in the college apparel market. As a result, designers and strategists at OrangeMantra planned a grand entry into the market.
In Conclusion
eCommerce website development is a complex process, but with the help of the best eCommerce website development companies in India, it can be done quickly and easily. At Magenest, we have years of experience in providing eCommerce website development services that are both user-friendly and profitable.
If you're interested in learning more about our services or want to get started on your own project, please don't hesitate to contact us. We would be happy to answer any questions you have and help you get started on creating the perfect online store for your business.