Uncover the nuances of Shopify refund and return policies, their impact on businesses and customers, and the vital role of clear and customer-centric guidelines. From understanding the differences between refunds and returns to crafting effective policies, we'll explore every facet of this journey. Learn how to set up, showcase, and optimize policies, while also delving into handling complex scenarios and harnessing analytics for continuous improvement. By the end, you'll be empowered to master the art of managing Shopify refunds and returns, creating a seamless experience that fosters trust, satisfaction, and business growth.
Understanding Shopify Refund Policy and Shopify Return Policy
What Is Shopify Refund Policy?
The Shopify refund (or chargeback) policy outlines the procedures and regulations that govern the process of providing customers with monetary reimbursements for returned merchandise or canceled orders. When adhering to Shopify's refund policy, store owners ensure that refunds are issued in a fair, consistent, and transparent manner.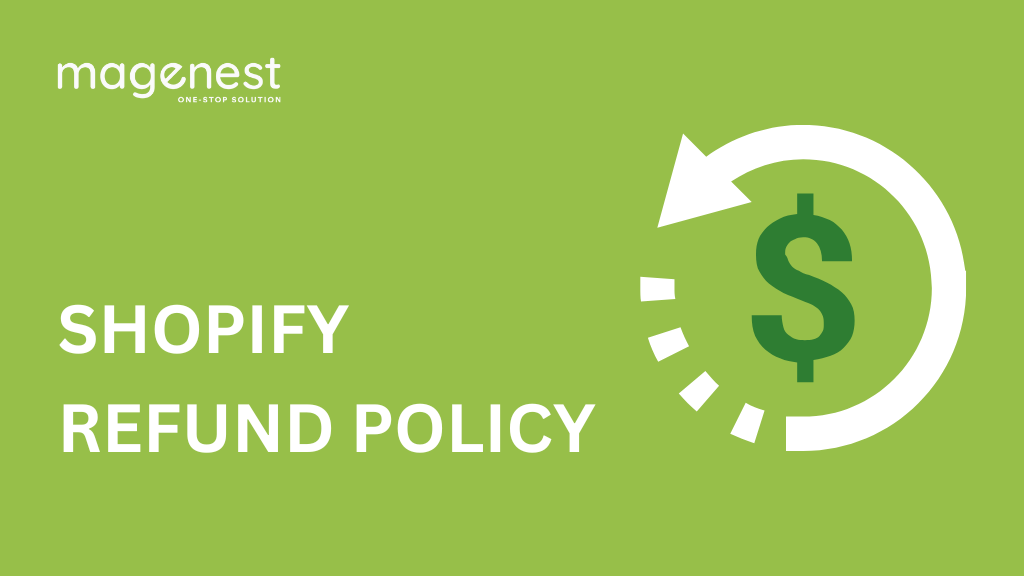 The policy details how refunds are processed in terms of payment methods, currencies, currency conversion rates, and associated fees. It emphasizes the use of the same payment method and currency used in the original purchase, maintaining integrity in the refund process.
What Is Shopify Return Policy?
The Shopify return policy lays out the guidelines and conditions under which customers can return purchased items to a store. It defines the eligibility criteria for returns, including acceptable reasons for returning products and the time frame during which returns are accepted.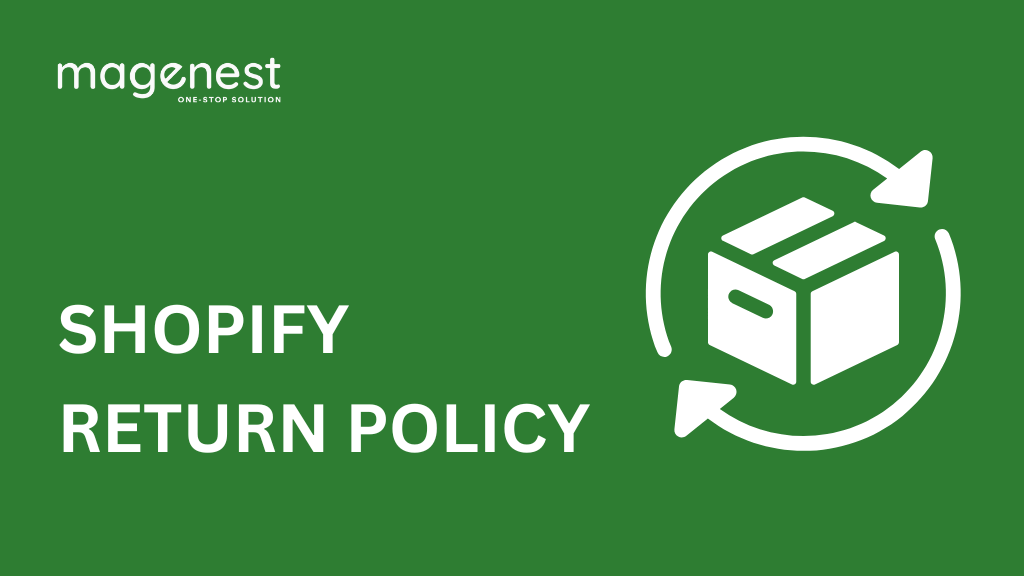 Shopify's return policy assists store owners in managing return requests effectively and in a way that aligns with their brand's values and customer service standards. By clearly communicating the return process, eligible items, and return timelines, store owners can foster customer trust and satisfaction while minimizing misunderstandings or disputes.
What Is the Difference Between Refunds and Returns?
Both returns and refunds play essential roles in maintaining customer satisfaction and ensuring a smooth shopping experience, as well as adhering to store policies and consumer rights. However, there is a slight difference: A return is an action of bringing back a purchased item to the store or warehouse, while a refund is a financial transaction that reimburses the customer for the returned item's value.
The Importance of a Clear Shopify Refund and Returns Policy
A well-defined returns and refund policy on your Shopify store plays a pivotal role in fostering customer trust, enhancing shopping experiences, and ensuring smooth business operations. Here's why having a clear policy is crucial:
Transparency and Clarity: A transparent policy helps customers understand what to expect when they want to return or refund a product. This clarity minimizes confusion, reduces customer inquiries, and establishes a sense of trust between your business and the customer.
Customer Confidence: A clear policy reassures customers that your business values their satisfaction. This confidence encourages more purchases, as customers feel more at ease knowing they can easily return or get a refund for unwanted or defective items.
Reduced Friction: When customers know the exact conditions and process for returns and refunds, they are more likely to engage in hassle-free transactions. This reduces the likelihood of disputes, chargebacks, and negative online reviews.
Enhanced Customer Experience: A smooth and consistent return and refund process improves the overall shopping experience. Customers appreciate businesses that prioritize their convenience and needs, leading to increased loyalty and positive word-of-mouth.
Legal Compliance: Many regions have laws governing return and refund policies to protect consumer rights. Having a compliant policy ensures your business operates within legal boundaries, avoiding potential penalties and legal complications.
Operational Efficiency: A clear policy provides your staff with guidelines to follow when processing returns and refunds. This consistency streamlines internal processes, reducing errors and the time required to handle these transactions.
Brand Reputation: Your returns and refund policy directly impacts your brand's reputation. A hassle-free process shows that your business is committed to customer satisfaction, which can lead to positive reviews and recommendations.
Impact of Refunds and Returns on Business Operations
Refunds and returns have significant implications for your business operations:
Inventory Management: Returns can lead to returned products that may no longer be in pristine condition. Properly managing returned items and their potential resale or disposal is crucial for maintaining accurate inventory levels.
Financial Impact: Refunds affect your revenue, and poor handling of returns can result in losses due to restocking fees, damaged goods, or inventory discrepancies.
Customer Service Load: An unclear or inefficient returns process can flood your customer service channels with inquiries, leading to overwhelmed staff and frustrated customers. A well-managed process reduces customer service burdens.
Operational Costs: Processing returns and refunds incurs operational costs, including shipping, restocking, and administrative expenses. Proper management helps optimize these costs.
Data Insights: Analyzing return and refund data can offer insights into product quality, customer preferences, and areas for improvement. These insights can guide business decisions and product offerings.
Customer Loyalty: A hassle-free return and refund experience can turn dissatisfied customers into loyal ones. Conversely, a complex process could drive customers away.
Crafting a Customer-Centric Shopify Returns and Refund Policy
Designing a customer-centric returns and refund policy for your Shopify store requires attention to detail and a deep understanding of customer needs. Here's a more detailed breakdown:
Elements of an Effective Refund and Return Policy
Before being able to write a compelling Shopify refund and return policy, you need to understand all the elements of a refund and return policy. It consists of 4 elements, which includes:
Clear and Concise Language: Use straightforward language that avoids confusing terms. Make sure your policy is easy to read and comprehend for customers of all backgrounds.
Eligibility Criteria and Timeframes: Clearly state which items are eligible for returns, such as damaged products, wrong sizes, or faulty items. Specify the window during which returns are accepted, e.g., within 30 days of purchase.
Return Methods and Conditions: Describe the step-by-step process for customers to initiate returns, including how they can contact you, whether through email, chat, or a dedicated return portal. Outline conditions like requiring items to be in unused condition, with original tags and packaging.
Refund Options: Provide a breakdown of the available refund options. Explain how customers can get their money back, receive store credit, or exchange for a different product. Clearly state any conditions associated with each option.
Legal and Compliance Considerations
Building a legally compliant refund and return policy also means enhancing customer trust and satisfaction. This, in turn, fosters positive customer experiences and strengthens your store's reputation.
Adhering to Consumer Protection Laws and Regulations When crafting your Shopify refund and return policy, it's essential to ensure compliance with relevant consumer protection laws and regulations. Research and understand the laws in your jurisdiction that govern consumer rights, such as the right to return faulty products. Clearly communicate these rights in your policy to assure customers that you respect and uphold their legal entitlements.
Privacy Considerations When Handling Returns: Privacy is crucial when managing return and refund processes. Collect only necessary customer information for processing returns and refunds. Securely store this data and ensure it's used solely for these purposes. Clearly outline your privacy practices in your policy, addressing how customer data is handled, stored, and protected.
Transparency in Refund Processing Times: Transparency regarding refund processing times is essential to maintaining customer trust. Clearly communicate how long customers can expect to wait for their refund to be processed. Factors such as payment methods, banks, and currency conversions can influence processing times. Setting realistic expectations and being transparent about these timelines prevents customer frustration and misunderstanding.
Example of a Shopify Refund and Return Policy
Based on the given information, you are surely well-informed to write your own refund and return policy, but in case you're still clueless, we will give you an example.
---
Magenest's refund and return policy
At Magenest, we want you to be completely satisfied with your purchase. If you're not satisfied for any reason, we're here to help with our hassle-free return and refund policy.
Return Eligibility
To be eligible for a return, your item must be unused and in the same condition that you received it. It must also be in the original packaging.
Certain items, such as personalized or perishable goods, gift cards, and final sale items, are exempt from being returned.
Return Window:
You have 14 days from the date of delivery to initiate a return. If 14 days have gone by since your purchase was delivered, unfortunately, we can't offer you a refund or exchange.
Return Process:
Step 1: Contact our customer service team at marketing@magenest.com to initiate a return. Please provide your order number and a description of the item you wish to return.
Step 2: Our team will provide you with a return authorization and instructions on how to proceed.
Step 3: Pack the item securely and include a copy of your receipt or proof of purchase.
Step 4: Ship the item back to us using a trackable shipping method.
Step 5: Once we receive and inspect the returned item, we will notify you of the approval or rejection of your refund.
Refund Process:
If your return is approved, a refund will be processed to your original method of payment. Please note that shipping costs are non-refundable.
Exchanges:
If you need to exchange an item for a different size or color, please follow the return process outlined above and specify your exchange request. We will do our best to accommodate your request, subject to availability.
Damaged or Defective Items:
In the unlikely event that your item arrives damaged or defective, please contact us within 14 days of delivery. We will arrange for a replacement or refund, including return shipping costs.
Questions or Concerns:
If you have any questions or concerns regarding our return and refund policy, please feel free to contact our customer service team at marketing@magenest.com.
---
That's our example, you can create and customize your own Shopify refund and return policy to fit your business. You can also check out our blog post about How to write a Shopify Return Policy if you don't want to have a combined policy.
Setting up Your Refund and Return Policy on Shopify: A Step-by-Step Guide
Based on your Shopify Refund and Return Policy, you can incorporate it into your Shopify store so that customers can see it clearly and the system will automatically ….
Turn on Shopify Return Rules
Step 1: Start by accessing your Shopify admin (at admin.shopify.com) and navigating to Settings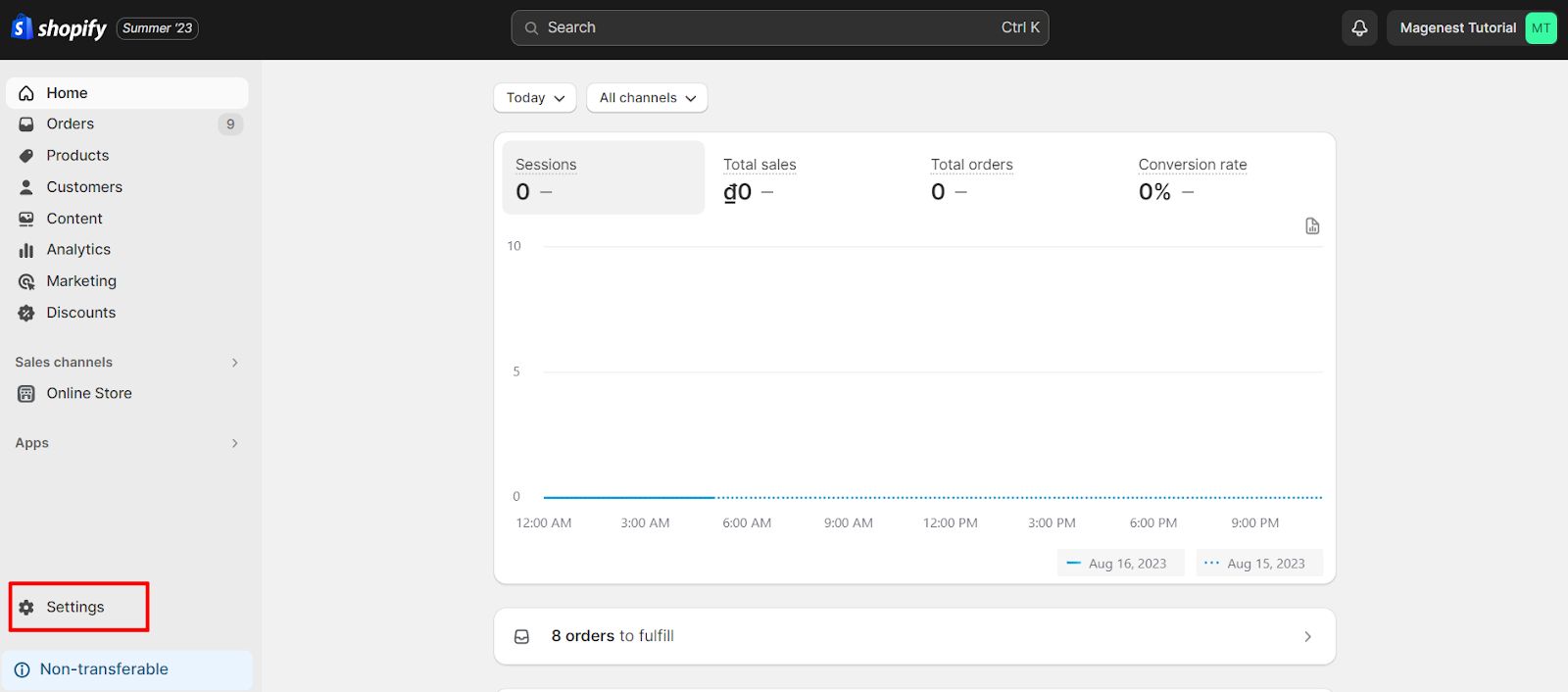 Step 2: Find Policies at the left panel, within the Return Rules section, click Turn on so that it is visible to customers on Shopify.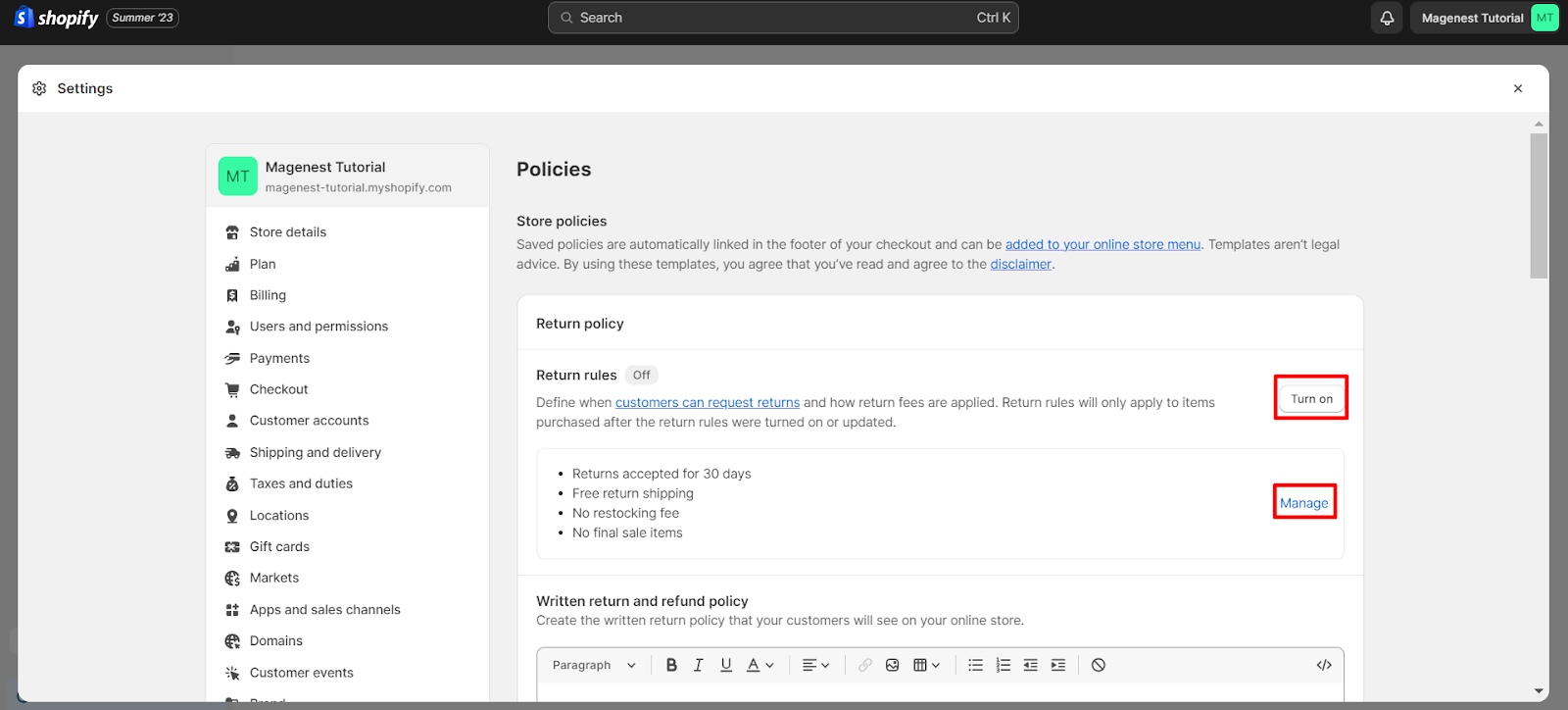 Step 3: You can also click Manage to adjust the Shopify Return Rules
Adjust Shopify Return Rules' Details
After clicking Manage, it will show you the Default return rules panel.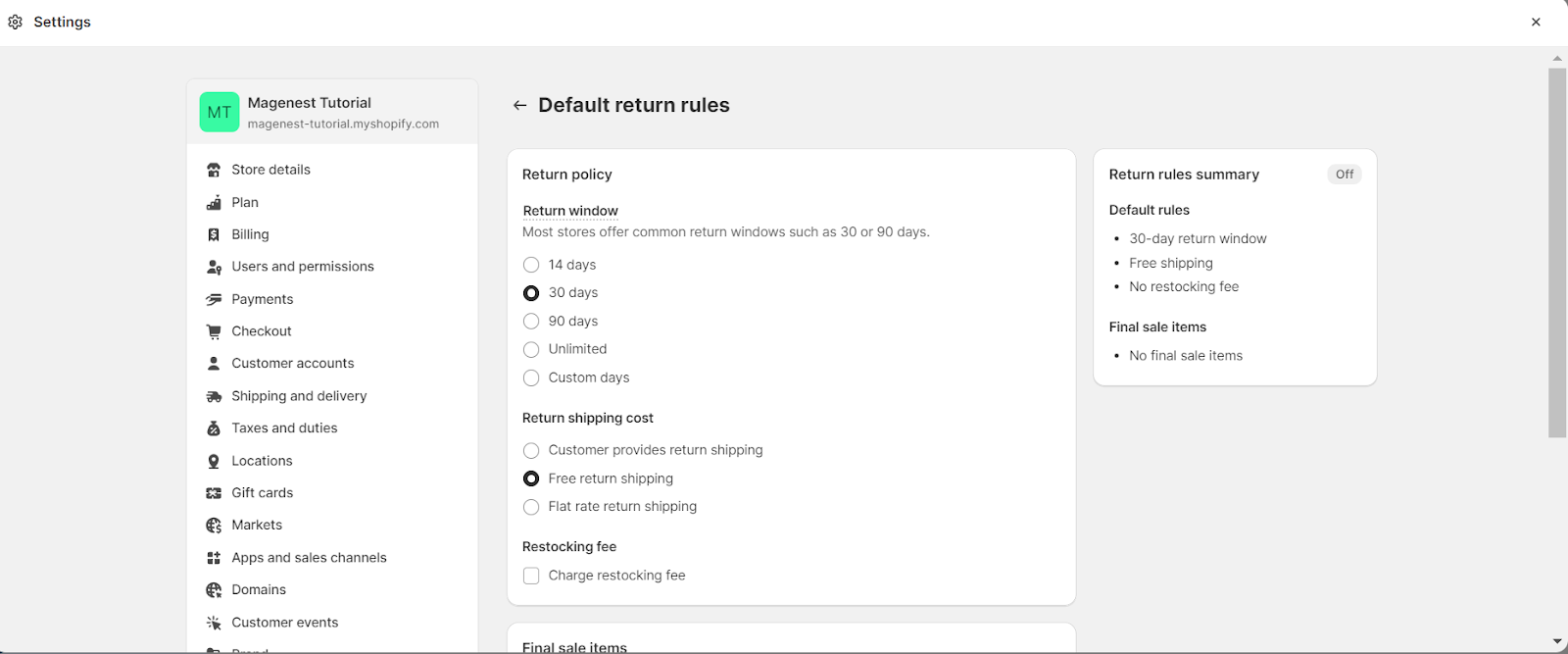 In this panel, you can adjust:
Return Window: Define the period within which customers can request returns after their order has been delivered. You can choose from preset options like 14, 30, or 90 days, or set a custom timeframe.
Return Shipping Costs: Decide how return shipping fees will be handled. You can offer free return shipping, charge a flat rate fee, or have customers purchase their own return shipping label.
Restocking Fee: Select whether to charge a restocking fee as a percentage of the return. You can charge Restocking Fee as an amount percentage of the total order.
Final Sale Items: Determine which products or collections are exempt from returns as final sale items. This could include items like perishables, custom goods, or items with significant discounts.
Once set, your return rules are automatically applied to future orders. Note that changes to return rules will affect new orders, not past ones, to prevent customer surprises.
Creating a Written Return and Refund Policy
After enabling Shopify Return and Refund Policy, you can also create a written policy to create a fully customizable user experience. And this is how to do it
Navigate to Settings and then Policies in your Shopify admin.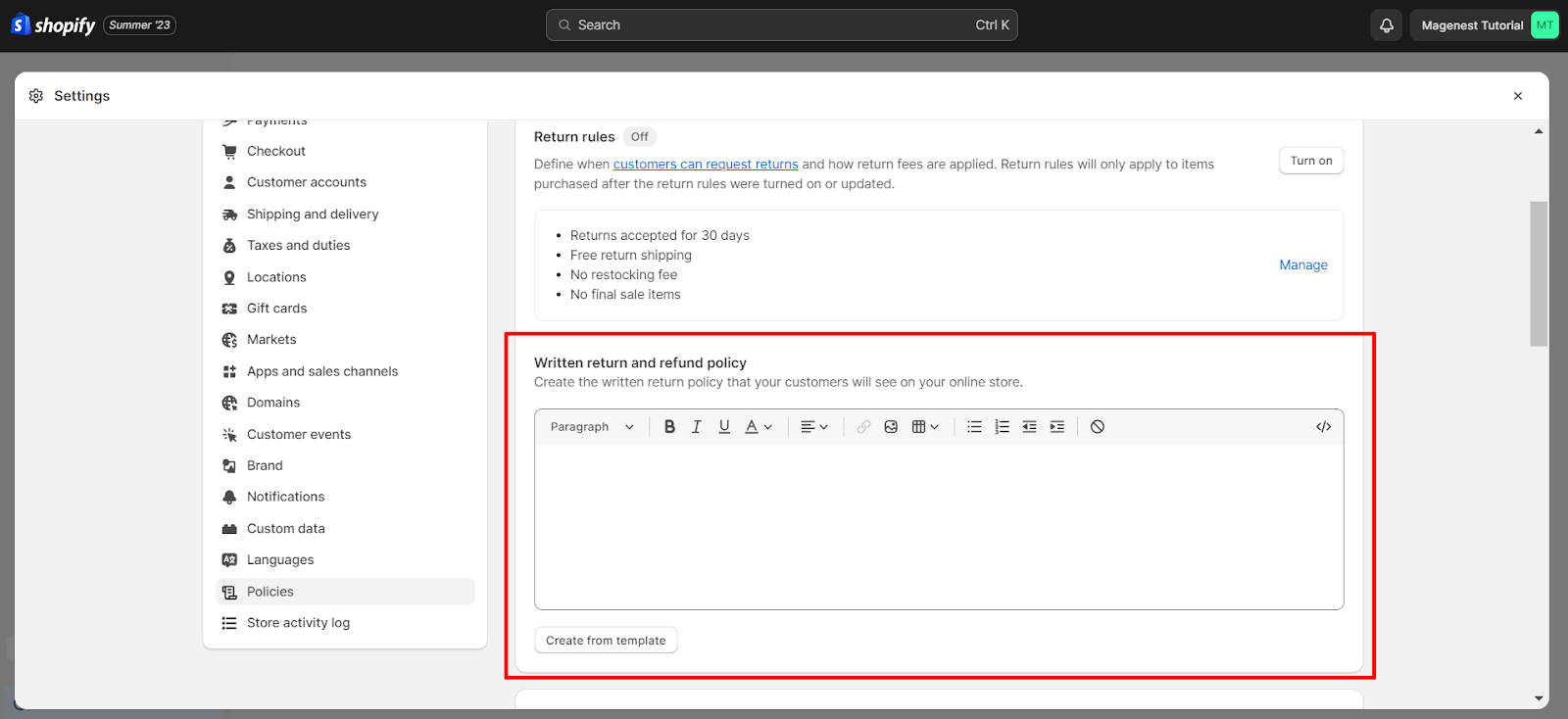 In the Written Return and Refund Policy section, under the Return rules, you have the option to enter your store's return and refund policy manually or generate a default template policy. If you generate a template, carefully review and modify it to suit your store's specific policies. Remember that you're responsible for adhering to your published policy.
Once finalized, click Save to add your return and refund policy.
Showcasing the Policy on Your Shopify Store
After creating and setting up your Shopify Return and Refund Policy, you w
Visibility: Feature a link to your returns and refund policy on the main navigation menu or in the website header, ensuring it's easily accessible from any page.
Checkout Page: Include a condensed version of your policy on the checkout page to reassure customers before they make a purchase. This could be a simple statement like Easy returns within 30 days.
Product Pages: Mention your hassle-free returns policy on product pages to alleviate concerns about making the wrong purchase. A brief sentence like Not sure? We offer easy returns! can be effective.
How to Optimize Shopify Refund and Returns Policies
Handling Complex Shopify Refund and Returns Policy Scenarios
Navigating intricate return and refund scenarios on your Shopify store requires a strategic approach. Here's how to effectively manage these complex situations:
Dealing with Damaged or Defective Items: When faced with damaged or defective items, it's imperative to respond swiftly and empathetically. Customer communication should be quick and apologetic, addressing their concerns and assuring them that their issue is being taken seriously. Providing a simple and streamlined return process is key, offering clear instructions and even pre-paid shipping labels to facilitate the return of the damaged product. Once the item is received, prioritize a prompt resolution by offering customers the choice of a replacement, a full refund, or store credit, demonstrating your commitment to rectifying the situation and ensuring customer satisfaction.
Addressing Customer Dissatisfaction and Minimizing Returns: Mitigating customer dissatisfaction requires proactive measures. Ensuring responsive and attentive customer support channels can address queries and concerns promptly, potentially preventing returns. Transparent and comprehensive product information, including detailed descriptions and images, can set accurate expectations, minimizing the likelihood of customers receiving products that do not meet their needs. Establishing a feedback loop with customers allows you to learn from their experiences, enabling you to fine-tune product descriptions, address common concerns, and continuously improve your offerings to align with customer preferences.
Managing Returns for International Orders: Managing returns for international orders necessitate a specialized approach. Begin by establishing a clear and transparent international return policy, outlining procedures, timeframes, and any associated costs. Address the potential issue of customs and duties, clearly informing customers whether they are responsible for these fees during the return process. To cater effectively to international customers, provide localized customer support that considers different time zones and languages, ensuring seamless assistance throughout the return journey and reinforcing your commitment to serving a global clientele.
Refunding Shipping Costs: Refunding shipping costs requires well-defined guidelines. Clearly communicate the circumstances under which shipping costs are refundable to customers, ensuring transparency in your policy. When fulfilling items, be prepared to refund shipping costs in cases of damaged goods or fulfillment errors on your part, displaying accountability and fairness in your dealings. Automating the refund process for shipping costs, when feasible, streamlines the experience for customers, sparing them unnecessary steps and further enhancing the efficiency and customer-centricity of your Shopify store.
Analytics and Continuous Improvement Shopify Refund and Returns
Analytics and continuous improvement are integral to effective Shopify refund and return management. They enable data-driven decisions by providing insights into customer behavior and product trends, allowing for proactive issue resolution and enhanced customer experiences. By addressing root causes, refining processes, and adapting to changing trends, businesses can streamline operations, reduce costs, and gain a competitive edge. Data-backed adjustments to refund and return policies ensure alignment with customer needs, fostering trust and loyalty, and ultimately contributing to long-term growth and success in the e-commerce landscape.
Leveraging Shopify's Reporting Tools for Insights: Shopify offers robust reporting tools that can provide valuable insights into your store's performance. Utilize features like sales reports, conversion rates, and customer behavior analytics to gain a comprehensive understanding of your business's performance. These insights can guide decisions related to product offerings, pricing strategies, and customer engagement, ultimately contributing to a more informed approach to returns and refunds.
Analyzing Return and Refund Data to Identify Trends: Return and refund data can offer invaluable insights into customer behavior and product quality. Regularly analyze this data to identify trends and patterns. Are certain products more prone to returns? Are there common reasons for refunds? By identifying these trends, you can address root causes, improve product descriptions, and make informed decisions on which products to offer.
Iteratively Improving Products and Processes Based on Feedback: Feedback from customers who initiate returns or refunds is a goldmine of information. Pay attention to their reasons for dissatisfaction and use this feedback to improve products and processes. Enhance product descriptions to align better with customer expectations, revise sizing guides, or consider changing suppliers for problem-prone items. Continuously iterate based on this feedback to prevent future issues and enhance customer satisfaction.
In conclusion,
Navigating the realm of Shopify refund and return isn't just about policies—it's about creating exceptional customer experiences while best protecting your businesses against bad intentions. Armed with insights into crafting clear policies, optimizing processes, and handling complexities, you're equipped to build trust and loyalty. Remember, each interaction is a chance to showcase your commitment to customer satisfaction. As you forge ahead, keep refining your strategies, embracing continuous improvement, and leveraging analytics for insights. By mastering the art of Shopify refunds and returns, you're not only shaping seamless transactions but also fostering lasting customer relationships and propelling your business toward sustained success.
If you have any obstacles in the process of configuring your own Shopify refund and return policies, don't forget to contact our Shopify experts. At Magenest, we have plenty of developers and specialists and seasoned Shopify development services with a full range of solutions that help you boost your online sales and gain a competitive advantage in this eCommerce market.