Following the success of Odoo Roadshow Vietnam 2019, at the end of this year, we are bringing to you Odoo Roadshow Vietnam 2020! This event is very much anticipated by the Vietnamese business community and we are going to make it even better by introducing a lot of new and exciting contents.
About Odoo Roadshow Vietnam 2020
Odoo Roadshow Vietnam is an online event, taking place on 2nd and 3rd December 2020. In this event, the attendee will have the opportunity to discuss with Odoo experts in Vietnam and explore the outstanding capability of Odoo 14. Especially, Magenest is honored to be one of the two partners invited by Odoo to share our experience with Odoo ERP during the Roadshow.
Mr. Pham Quang Hau – Head of Office of Magenest., JSC, will give in-depth talks about the reasons why ERP implementation is often challenging and demanding so much time and resources. Moreover, he will share his practical experience in operating the business effectively with Odoo through Magenest's own success story.
This is an opportunity for business owners, IT professionals, and service providers to have a better understanding of Odoo's business management solution and gain access to the latest version of the software – Odoo 14. This event will be the only opportunity in 2020 to meet Odoo Experts in Vietnam and learn about how you can optimize your business operation with Odoo!
Things that you shouldn't miss in Odoo Roadshow Vietnam 2020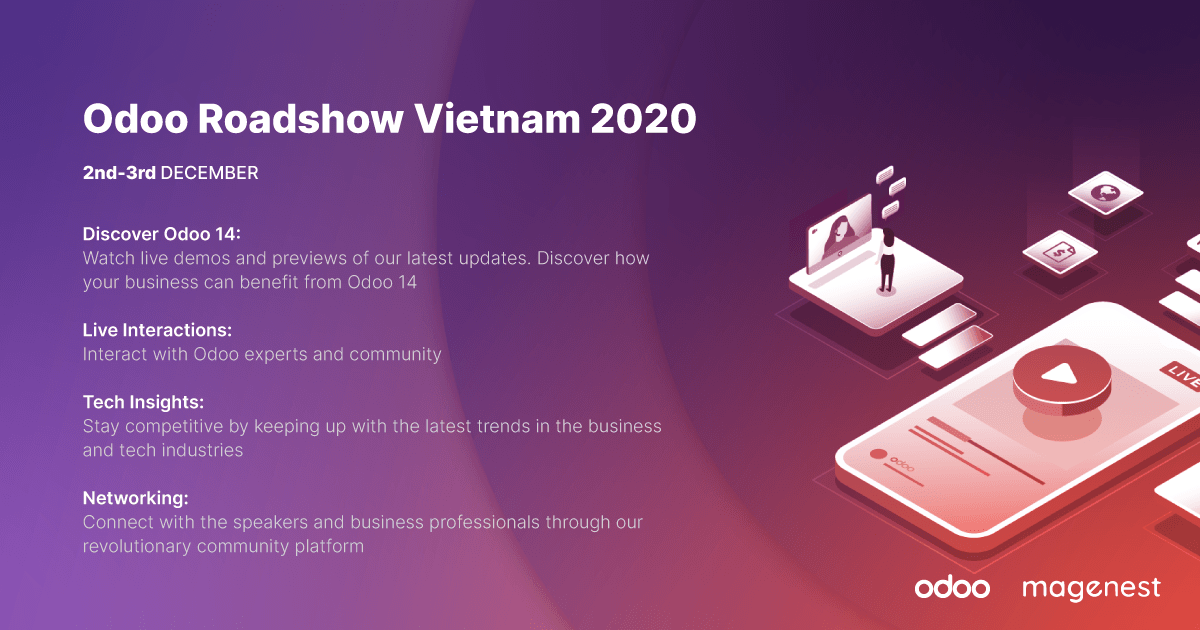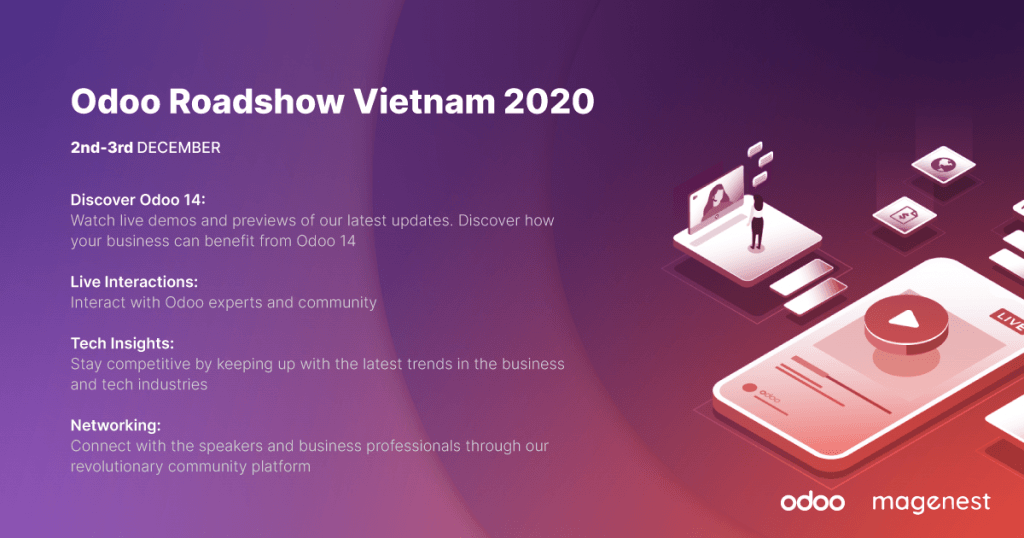 Details about Odoo Roadshow Vietnam 2020
Agenda
Wednesday 2 Dec, 2020
Discover Odoo 14: 14:00-15:00 (ICT).
Partnership Enablement: 15:00-16:00 (ICT).
Thursday 3 Dec, 2020
Automation Manufacturing – presented by IZISolution: 14:00-15:00 (ICT).
Successful Implementation – presented by Mageness: 15:00-16:00 (ICT).
Details about Odoo Roadshow Vietnam 2020 will be regularly updated on our Magenest Fanpage.