Established in 1997 and with 200 offices and branches in 15 countries, Mirae Asset has become one of the leading financial groups in the world. With the aim toward optimal investment management strategy to help customers achieve their long-term goals, Mirae asset offers a wide range of loan and stock investment products, suitable for many different audiences, ensuring customers can access capital efficiently and safely.

Since 2006, Mirae Asset has been deeply involved in Vietnam's stock and financial markets. Constantly striving to meet the demands of markets, as well as to offer better services to clients is the success recipe of Mirae Asset.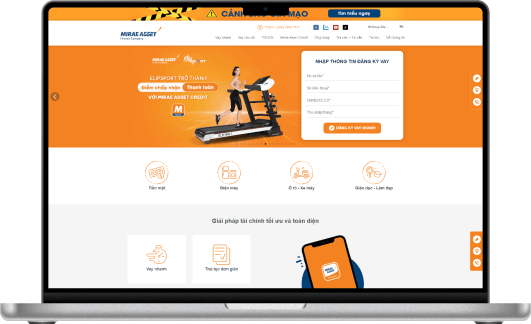 THE CHALLENGE & EXPECTATION
Mirae Asset has tried many Email Marketing systems available in the market. However, all of them failed to meet their demands because they could not handle Mirae Asset's enormous customer database. Additionally, these tools are difficult to customize and integrate into other platforms, and the ability to create and analyze reports is limited. Therefore, Mirae Asset hopes to apply a comprehensive tool to optimize their email marketing campaigns and assist the customer relationship management (CRM) process at the same time.
Effective Email Marketing management with odoo
Customer Relationship Management
Because of their huge customer database, Mirae Asset needs an optimal CRM solution that also provides a robust email marketing tool, thus making Odoo an incredibly viable choice. With Odoo, the business can manage an enormous amount of customer data, including activities such as modifying, updating, and searching for information, segmenting, and tagging customers. Moreover, the admins can easily look up specific customers' history and information such as notes, meeting management, email status management, customers' tags, and segmentation based on the category that they're interested in, etc.
Email Marketing Campaign Management
With Odoo, Mirae Asset can create email marketing campaigns in a breeze with suitable email templates. Business can customize their email based on their target audiences, and modify automatic information fields (like names, companies, etc.) without manual editing required. Additionally, email marketing can automatically be sent at a fixed calendar or on special occasions, namely customers' birthdays, anniversaries, New Year holidays, etc. Odoo support business to keep track of campaign process, get report on email marketing campaigns' status, and measure performance.
On the new system, Mirae Asset has complete freedom to set up, configure, and modify report templates based on their demands. The platform collects the statistics of customers reading emails, clicking on the links inside emails, surveys, their favorite topics, and the number of contact customers.
For the most optimal email-sending process, Magenest consults Mirae Asset to adopt Amazon SES Services. By integrating Odoo into Amazon SES, which costs nearly nothing, the business can send a maximum of up to 1,000,000 emails a day. After each campaign, Amazon SES collects the statistics of email campaigns, according to four types of metrics: 
number of emails sent per day
percentage of email accounts that do not exist or do not receive emails from you
rate of customers rejecting emails
rate of customers marking emails as spam
With these valuable insights, the business can evaluate email marketing campaigns better, thus drafting better, more appropriate solutions and plans for upcoming campaigns.
After applying Odoo, the first email marketing campaign sees more than 300,000 emails being sent with less than 40% of the admin effort, in direct comparison to the situation before Odoo. In 2022, this email marketing system can serve even up to 7 million customers, which is the desired statistics of Mirae Asset before the project begins. Odoo helps to bring Mirae's business procedures to stable and sustainable growth.