In today's digital area, the manufacturing industry is embracing advanced technologies in an effort to better serve customers. If you're looking for a solution to boost the firm's production output and effectiveness, then the Odoo manufacturing management module is a perfect fit. In this post, we will give you a sound explanation about manufacturing management and how Odoo can significantly benefit businesses in this sector.
What is manufacturing management?
Manufacturing management involves the planning, organizing, directing, controlling, and integration of the labor force, capital, materials, facilities, and equipment to accomplish production tasks economically. Each phase of the production process must be monitored to ensure the quality of the end-product. Meanwhile, waste at all levels should be carefully examined and eliminated if necessary.
In other words, it can be deduced that manufacturing management is an essential part of the overall business management framework, with the main objective is to produce goods and services of the right quality, right quantity, at the right time, and at minimum cost.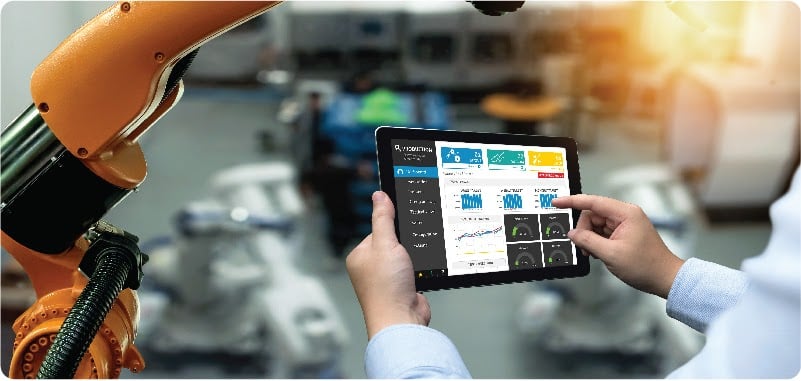 An effective manufacturing management process will save time, reduce inventory, avoid overproduction, and minimize unnecessary movements. At the same time, it boosts the operations of other functional areas within the company. For instance: the marketing department will find it easier to sell good-quality products or the HR team will be able to manage the human asset effectively with a structured task allocation scheme of manufacturing management. Ultimately, it helps to increase efficiency in the firm's overall performance and profitability.
Odoo – An innovative Manufacturing Management Software for your future growth
Odoo and its exceptional features
Odoo is an all-in-one software solution to meet a majority of business needs. Its intuitive modules can help firms cover a wide range of tasks, such as Sales, CRM, Project, Inventory, Manufacturing, and Accounting, just to name a few.
Since the first appearance in 2005, Odoo has gradually been a frontrunner in the field of manufacturing management. It helps manufacturers – especially those operating within a different mode environment – cover a wide range of tasks, including management of resources, business process tracking, inventory level optimization, and more.
Below are outstanding features of the Odoo manufacturing management system.
Offer a real-time view in a user-friendly dashboard: This feature helps manufacturers make data-driven decisions and analyze opportunities.
Allow setting product variants and by-products.
Offer work order and manufacturing order mode.
Integrate a master production schedule program (MPS) to schedule the production of stock.
Offer corrective and preventive maintenance management.
Provide standardized reports and develop a barcode scanner.
Odoo's functions to fit manufacturing businesses
In this section, you'll learn about the robust functions that make Odoo a decent choice for manufacturing firms. These pieces of information will be useful data for your future consideration regarding manufacturing management tools to be employed.
Cloud-based MRP software
MRP stands for material requirements planning, and cloud-based MRP software is the technology designed to estimate quantities of raw materials and schedule deliveries, with all the data stored and accessed over a network.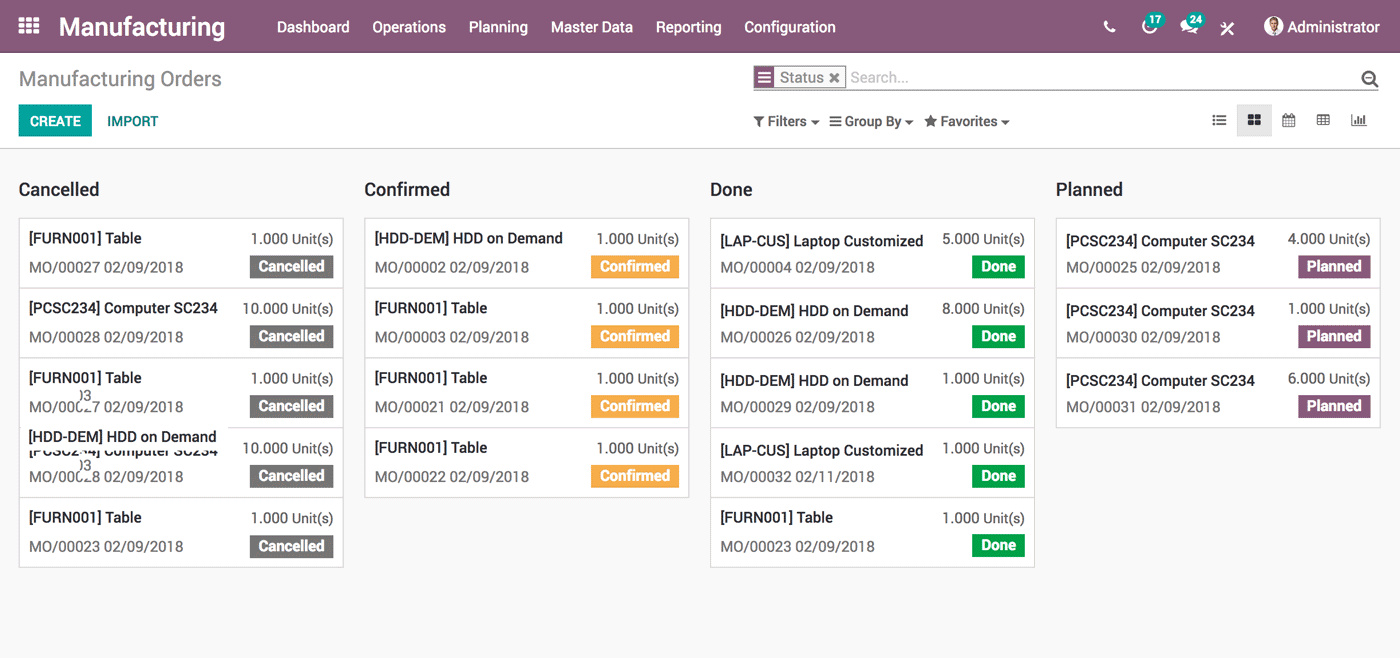 This module is a competitive advantage of Odoo compared to other manufacturing management tools. It opens up chances to leverage the productivity of your manufacturing business while reducing the cost so that you can focus on company growth. In particular, the cloud-based MRP software gives manufacturers full control over:
Shop floor control using the API.
Purchase planning based on real manufacturing times measures.
Real-time communication through the Workcenter Control Panel.
Inventory level optimization through innovative fulfillment propositions.
Furthermore, Odoo has developed out-of-the-box barcodes to streamline business' operations at every stage. Also, you are provided with proper reporting and KPIs of each department. These data will help you with enhancements and decision making for your manufacturing company.
A maintenance software solution
With regard to maintenance, Odoo manufacturing management system adopts the preventive approach to keep your production line running. You are also automatically backed up in planning with standard statistics about mean time to repair (MTTR), mean time between failure (MTBF), and expected next failure date.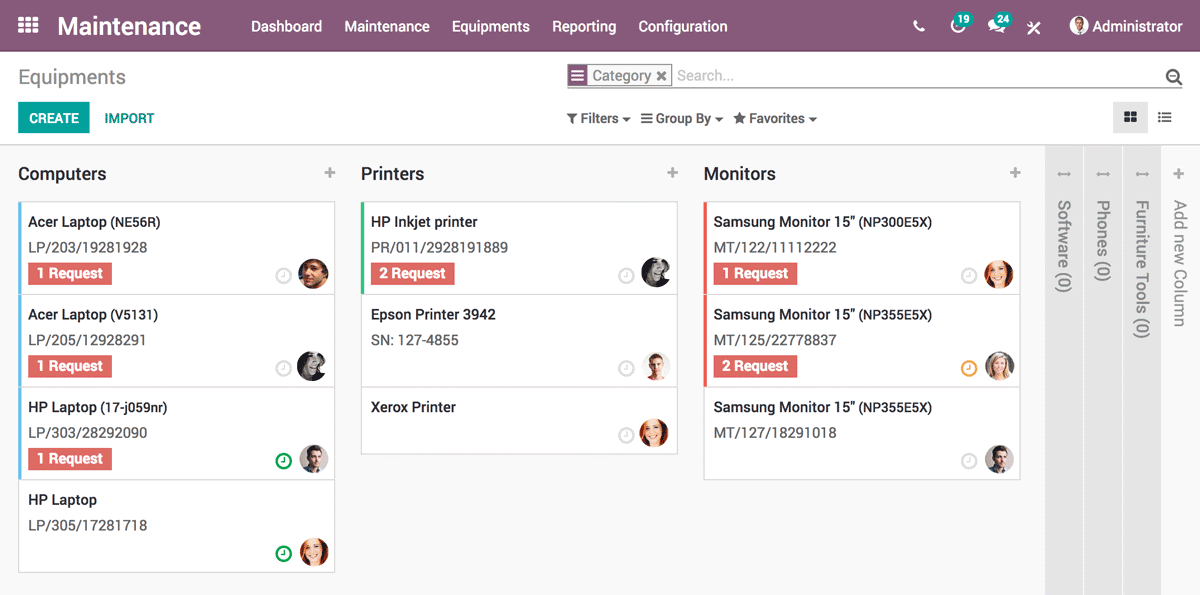 In addition, manufacturers can organize maintenance requests and plan upcoming activities with highly visual kanban and calendar views. Every work item is displayed in a form of a separate card on the board, and you just have to drag/drop each task to track the workflow. Moreover, thanks to Odoo's efficient maintenance, you can enjoy a remarkable increase in overall equipment effectiveness. In particular, once your maintenance team triggers their requests, a specific staff member will be updated in real-time.
Again, statistics provided by Odoo manufacturing management program including MTBF and MTBR can help you adjust your preventive maintenance rules and minimize the risk of equipment failure.
Product Lifecycle Management (PLM)
PLM is the practice of managing the entire lifecycle of a product, from its development and introduction, growth, maturity/stability, and decline. All these stages are presented in the intuitive dashboard of Odoo manufacturing management system, thus allowing users to keep track of every phase at a glance.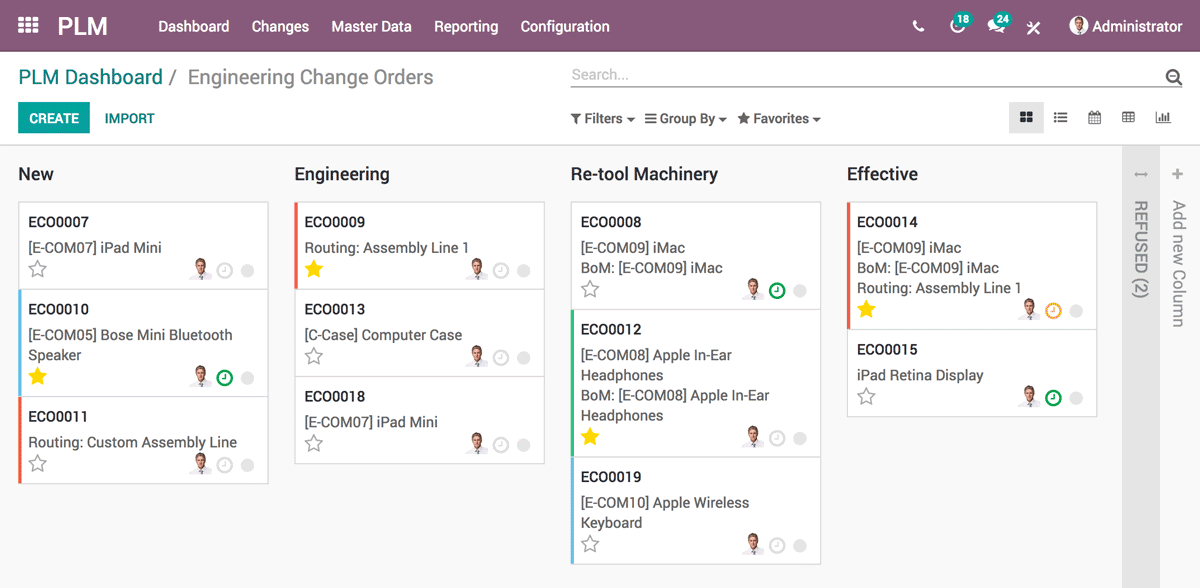 Odoo PLM allows manufacturers to manage engineering changes with real-time communication. At the same time, the staff can accomplish their task thanks to immediate support from team members.
Besides, Odoo's solution makes sure of your firm's PLM by aligning every department on the same documents. Hence, every staff can keep track of changes across multiple versions without any hassle.
Quality Management Software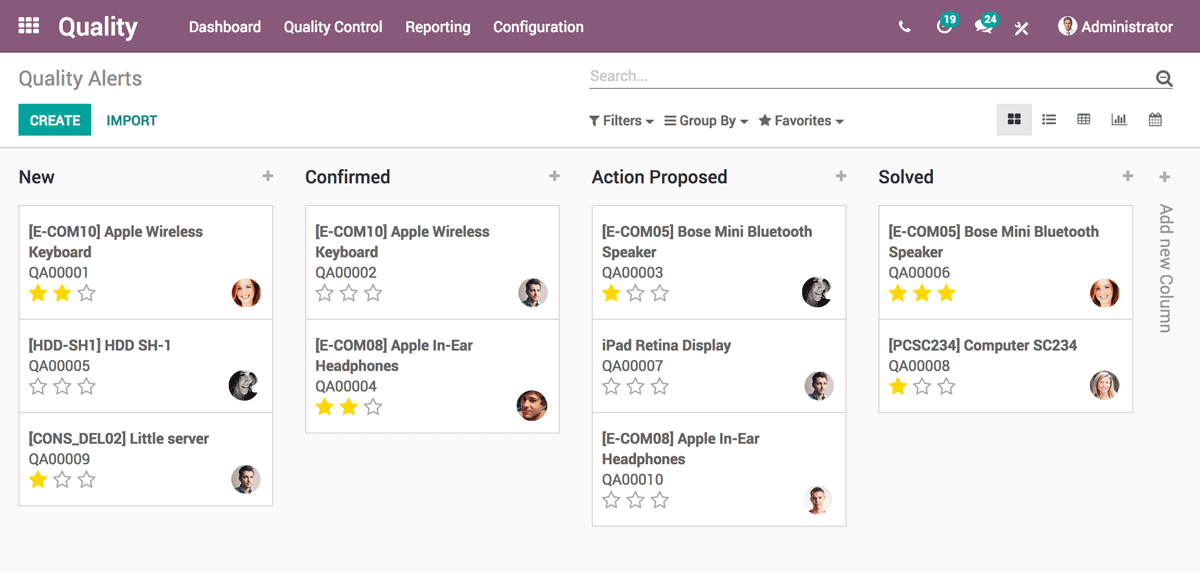 Quality management is another great module integrated with Odoo manufacturing management suite. In each quality control point, you can easily define a quality control plan with appropriate follow-up and responsibility tracking.
Other than that, manufacturers can also engage staff in key quality program activities, and get notified through automated alerts. Customized inspections are created and scheduled to ensure that every process and service remains in compliance.
Conclusion
To sum up, from MRP, maintenance, PLM to quality management, manufacturing software solutions can hold great potential for your manufacturing business. If you are eager to optimize your firm's operations, Odoo is an excellent platform.
We are totally open to any concern from you. If you are still confused about manufacturing management or any function of Odoo, just let us know in the comment section below, and we will try our best to solve it.