Globally, the eCommerce industry is on a trajectory of remarkable growth, with market size projections reaching a staggering $62415.2 billion by 2030. In the Southeast Asian (SEA) region, this growth is particularly notable, with a forecasted Compound Annual Growth Rate (CAGR) of 11.43% between 2023-2027. This robust expansion is set to generate an impressive $169.00 billion in revenue by 2027, underscoring the enormous potential of the eCommerce market in this part of the world.
Each country in SEA contributes uniquely to this growth, with varying factors and penetration rates shaping the landscape. Indonesia and Singapore are at the forefront, while the Philippines, Thailand, and Vietnam are rapidly catching up. Thailand, in particular, is making significant strides in advancing its growth and profitability through innovative strategies such as Live Commerce, Cross-border Transactions, Influencer Marketing, and Personalization.
Recognizing the significant growth and dynamic evolution of the eCommerce sector in Southeast Asia, Magenest is proud to collaborate as the Exhibitor Sponsor with Rockbird Media for the upcoming Retail & eCommerce Summit Asia – Driving Digital Connectivity for Growth And Profitability (RESA). Together, we are set to deliver an insightful and impactful summit for industry leaders and professionals, aiming to shape the future of eCommerce in one of the world's most vibrant and rapidly evolving markets.
About RESA
The Retail & eCommerce Summit Asia (RESA) stands as a distinguished gathering, poised to bring together over 100 prominent decision-makers from a wide array of local and international brands. This one-day event offers a unique opportunity to broaden your professional horizons and networks, engaging with top industry leaders, many of whom you'll be meeting for the first time.

Tailored for individuals focused on business growth and innovation, RESA transcends conventional business events. It interweaves an assortment of knowledge-sharing sessions with relationship-building activities, crafting an environment that perfectly balances professional advancement with meaningful networking. This summit is not just a forum for work, it's a space where the exchange of ideas and the forging of new connections happen seamlessly, fostering both personal and professional growth.
About the Speakers
The speaker lineup for the Retail & eCommerce Summit Asia represents a pivotal element, enriching the event with diverse expertise and insights.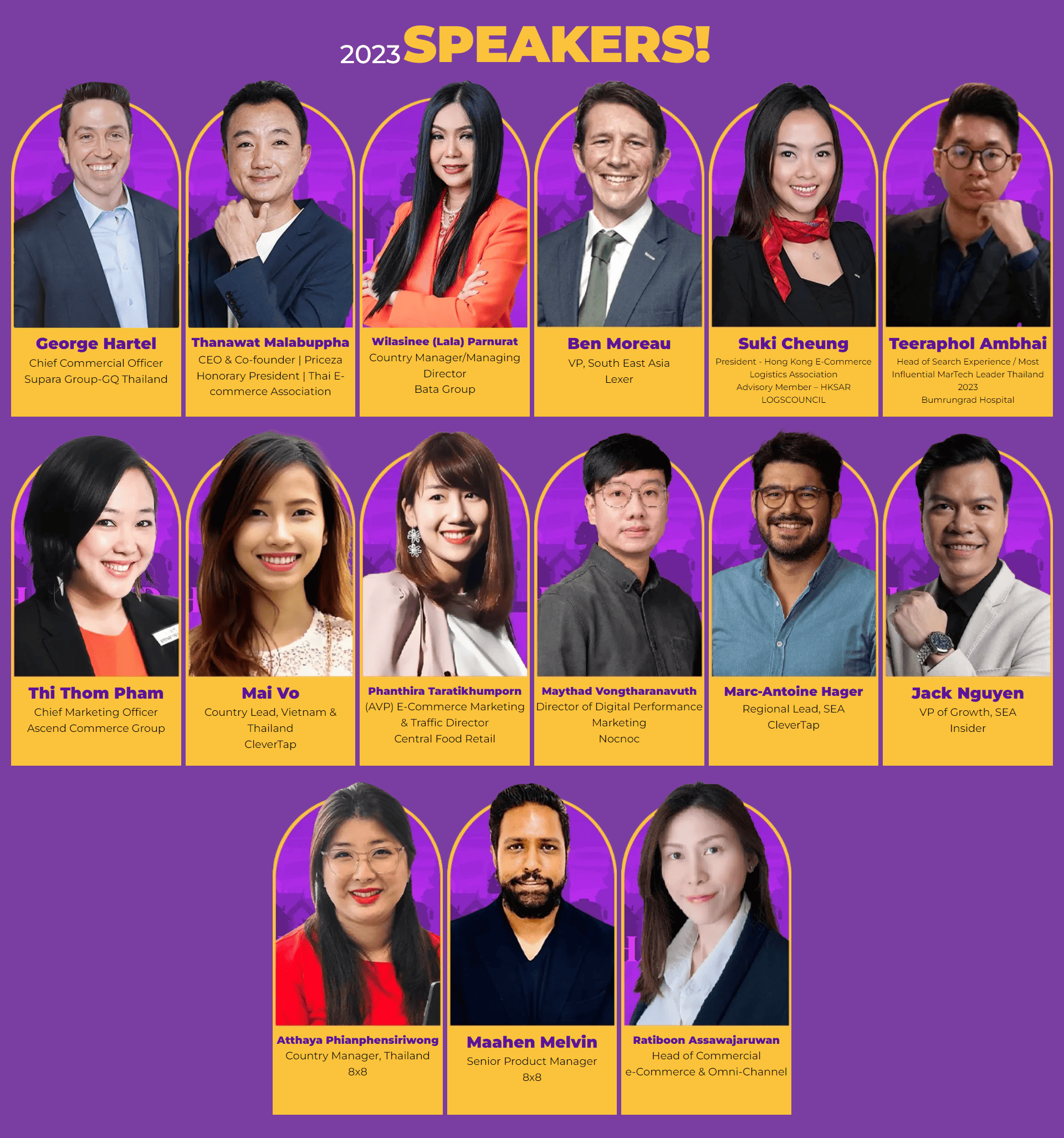 Attendees will have the unique opportunity to interact with and learn from this esteemed group of professionals, comprising:
George Hartel: Chief Commercial Officer at Supara Group-GQ Thailand.
Thanawat Malabuppha: CEO & Co-founder of Priceza, Honorary President of Thai eCommerce Association.
Wilasinee (Lala) Parnurat: Country Manager/Managing Director at Bata Group.
Ben Moreau: VP, South East Asia at Lexer
Suki Cheung: President at Hong Kong E-Commerce Logistics Association, Advisory Member at HKSAR LOGSCOUNCIL.
Teeraphol Ambhai: Head of Search Experience at Bumrungrad Hospital, Most Influential MarTech Leader Thailand 2023.
Thi Thom Pham: Chief Marketing Officer at Ascend Commerce Group.
Mai Vo: Country Lead, Vietnam & Thailand at CleverTap.
Phanthira Taratikhumporn: (AVP) eCommerce Marketing & Traffic Director at Central Food Retail.
Maythad Vongtharanavuth: Director of Digital Performance Marketing at Nocnoc.
Marc-Antoine Hager: Regional Lead, SEA at CleverTap.
Jack Nguyen: VP of Growth, SEA at Insider.
Atthaya Phianphensiriwong: Country Manager, Thailand at 8×8.
Maahen Melvin: Senior Product Manager at 8×8.
Ratiboon Assawajaruwan: Head of Commercial for eCommerce & Omni-Channel at CMG (Central Marketing Group).
Who Should Attend the Summit
The Retail & eCommerce Summit Asia is an essential gathering for senior executives and leaders across various domains. This event is particularly suited for:
C-Level Executives: CEOs, CMOs, COOs, CFOs, and other C-suite professionals who are steering their organizations through the evolving landscapes of retail and eCommerce.
Vice Presidents (VPs): Senior leaders responsible for strategic decisions and implementation of key initiatives in their respective areas.
Heads of Omnichannel: Professionals in charge of integrating and harmonizing customer experiences across various channels.
Customer Engagement Leaders: Experts focused on building and maintaining robust customer relationships and engagement strategies.
Customer Experience Directors: Those who oversee the overall customer journey, ensuring a seamless and satisfying experience.
Heads of Customer Loyalty: Individuals responsible for developing loyalty programs and strategies to retain and reward loyal customers.
Growth & Marketing Executives: Leaders tasked with driving business growth and overseeing marketing strategies.
Delivery Fulfillment Managers: Specialists in managing and optimizing the delivery and fulfillment processes in eCommerce operations.
Supply Chain Heads in eCommerce: Professionals overseeing the supply chain operations specifically tailored for eCommerce businesses.
Last Mile Coordinators: Individuals focused on the final phase of the delivery process, ensuring efficient and timely delivery to customers.
Personalization Experts: Those skilled in tailoring products, services, and experiences to individual customer preferences.
B2C Growth Strategists: Professionals focused on expanding business-to-consumer relations and growth.
O2O (Online-to-Offline) Leaders: Specialists in integrating online and offline business strategies and operations.
eCommerce Marketing Managers: Experts in crafting and implementing marketing strategies in the eCommerce domain.
Digital Marketing Professionals: Individuals skilled in leveraging digital channels to enhance marketing efforts and reach.
Attendee Benefits
Attending the Retail & eCommerce Summit Asia offers a multitude of benefits, designed to transform, educate, and inspire every participant:
Transformative Strategy Meeting: Engaging in a one-day strategic conference with leading industry experts. This session is meticulously designed to delve into critical topics, offering deep insights and strategic perspectives that will broaden your understanding and provide a competitive edge.
Curated Topics for Maximum Gain: The summit's agenda is carefully curated, focusing on key areas of interest in the retail and eCommerce sphere. These sessions are crafted to not only provide valuable information but also unlock significant advantages for your business or role.
Personalized Agenda: Recognizing the diversity of interests and needs among attendees, the summit features a specialized agenda that aligns with individual preferences and professional focuses. This tailored approach ensures that every participant can derive the most value from the event.
Access to Industry Leaders and Keynote Speakers: Listening to esteemed keynote speakers and participate in engaging panel discussions. These sessions are a gateway to acquiring invaluable knowledge and wisdom from the forefront of the retail and eCommerce industry.
First-Hand Exposure to Trends and Innovations: Immersing yourself in the latest trends, strategies, and innovations shaping the dynamic landscape of retail and eCommerce. This summit provides first-hand access to the most current and forward-thinking ideas in the industry.
Event Details
Date: November 16th, 2023
Time: 8:00 – 17:00 (GMT+7)
Venue: Bangkok Marriott Marquis Queen's Park
This event is not just a meeting point for industry leaders but a transformative experience that will shape the future of retail and eCommerce. Don't miss out on this pivotal event that promises to be both enlightening and inspiring!