Though eCommerce personalization is nothing new, its importance has only grown in recent years. In order to stay ahead of the competition, it's crucial that online businesses understand and implement effective personalization strategies. This article will explore the personalization eCommerce definition, several different approaches to personalization, as well as some of the best platforms currently available. So if you're looking to take your eCommerce business to the next level, read on!
What Is eCommerce Personalization?
eCommerce personalization is the use of unique consumer data by an online store to present dynamic content. Personalization in eCommerce may be based on a user's demographic group, browsing tendencies, previous purchases, and browsing platform.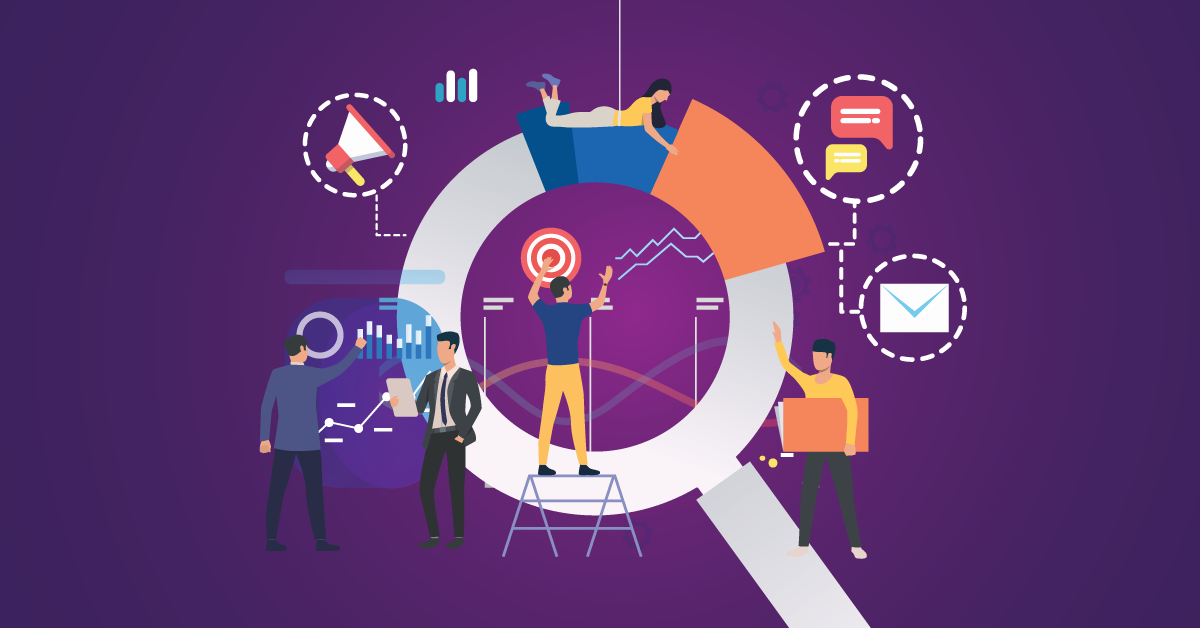 Personalization initiatives have been demonstrated to enhance conversion rates by 10-15% and customer satisfaction levels by 20%. With the use of artificial intelligence and machine learning algorithms, eCommerce businesses can automate and scale these personalization efforts to cater to each individual among their thousands or even millions of customers.
Of course, when your SKU count and customer base are low (about a few thousand), online customization is simple. Unfortunately, it might be difficult to come up with a practical answer when those numbers reach hundreds of thousands or higher.
The Benefits of eCommerce Personalization
Increased Conversions
Personalization boosts the likelihood of a sale since it allows buyers to cut through the clutter and get exactly what they're looking for. A customized homepage has a lower bounce rate since the content is chosen based on the shopper's IP address, ensuring that the language, currency, and shipping charges are appropriate for their area.
Moreover, eCommerce personalization based on geographic location can provide a more inclusive and welcoming shopping experience. For instance, displaying prices in the local currency eliminates the need for customers to convert prices themselves, making shopping more convenient. Similarly, providing shipping charges upfront based on their location ensures transparency, which can enhance trust and persuade customers to complete their purchase.
Enhanced Customer Loyalty
Instead of requiring generic point redemption, the best loyalty programs give individualized benefits. Customers that are interested in a certain product line, for instance, should be rewarded inside that product category.
Referral programs reward consumers in proportion to the number of successful referrals made and support increased customer engagement and retention.
Better Customer Experience
Customer decision-making is aided by carefully selected product recommendations, promotions, and incentives. Nearly 40% of customers have abandoned a website because there were too many options for them to choose from.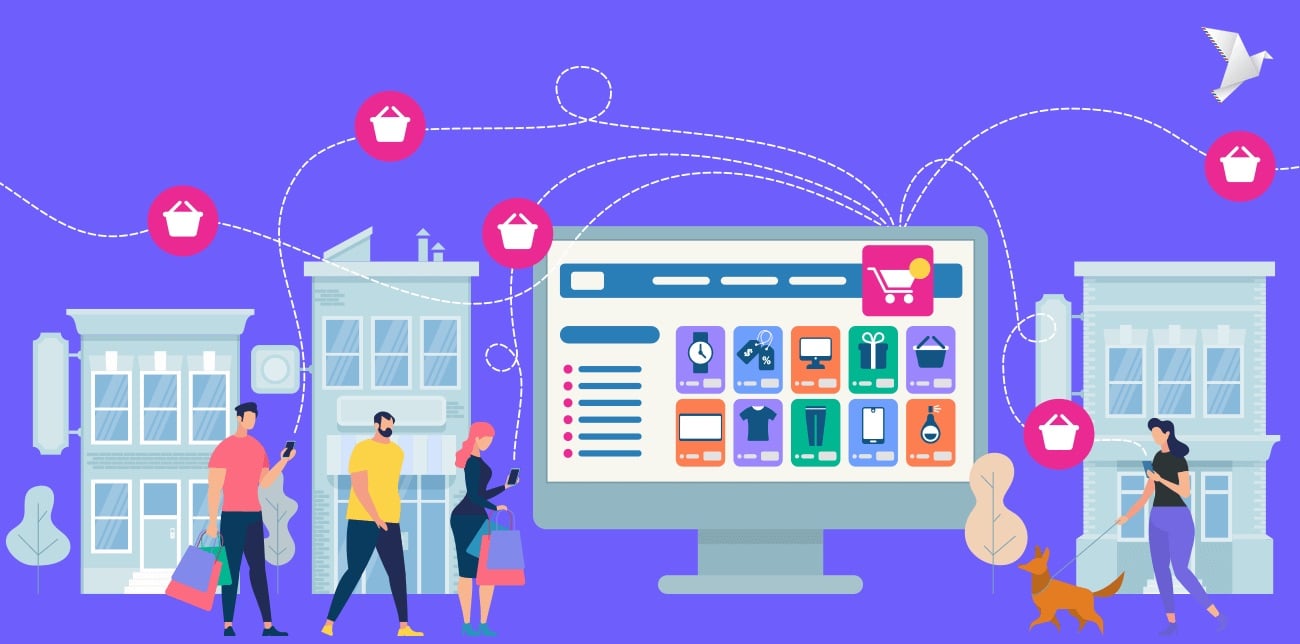 If you sell a large range of products targeted at various demographics, you must offer a website experience that enables users to filter information and view tailored recommendations.
Competitive Advantage
There is strong competition among eCommerce firms, and many of them differentiate in pricing. You can give your consumers customized offers when they have buying intentions by providing a personalized shopping experience. By providing a shopping experience that directly aligns with a customer's needs and wants, businesses can effectively differentiate themselves from competitors who take a one-size-fits-all approach.
Another way personalization provides a competitive advantage is through customized offers. By leveraging data analytics and customer behavior tracking, eCommerce businesses can identify when a customer has a high intention to purchase. At this crucial moment, businesses can present tailored offers or incentives, such as discounts or free shipping, to encourage the customer to complete their purchase.
A Better Understanding of Your Customers
First-party data, or data gathered by the company, offers a plethora of information about the kinds of products clients choose, their shopping habits, and their driving forces. This information might help you refine your personalization tactics and choose which product lines to strengthen or drop.
By analyzing this data, businesses can gain a clear understanding of what motivates their customers. For instance, they can identify which types of products are most popular, which ones are often bought together, or which ones tend not to sell. They can also determine which marketing messages or offers are most effective at driving sales.
These insights can be extremely valuable in refining personalization strategies. For example, if a certain product is popular among a particular demographic, businesses can personalize their offerings to recommend this product to similar customers. If certain products are rarely purchased, businesses can either attempt different marketing tactics or consider discontinuing the product line.
Scalable eCommerce Personalization Tactics
Use Intelligent Product-detail Page Suggestions
Product-detail page (PDP) recommendations present customers with comparable or related goods to those they are presently considering. By suggesting more expensive but similar designs or brand items, you can take advantage of dynamic up-selling. They have greater margins and the best conversion rates, according to research.
Similar to continuous shopping, the PDP's browsing history makes it simple to go back to previously viewed things. PDP recommendations have been shown to be one of the most effective methods for raising conversion rates and average order values. They also enhance the shopping experience for your clients.
Display Continuous Shopping Suggestions for Repeat Customers
One of the strategies we advise high-growth shops on the most is continuous shopping recommendations. This method makes it simpler for visitors to pick up where they left off by remembering their preferences and previously selected goods. Even though this technique isn't particularly sophisticated, it is useful because it simplifies the process for your visitors to make purchases, thus bringing them closer to the checkout button.
Make Customized Bestseller Lists to Encourage Click-throughs
Popular products appeal to consumers—just consider the allure of the bestseller list in industries like music and literature with strong chart-based economies. By including the dimension of time, you may present the bestsellers in an innovative way. Depending on how much traffic you receive, you can zoom in on the last hour or display the products that have sold the most over the past 24 hours.
Add User-generated Content to Every Page in Your Funnel
User-generated content (UGC) can give your website a new depth. Visitors can view your product in person by sharing images, videos, and user feedback.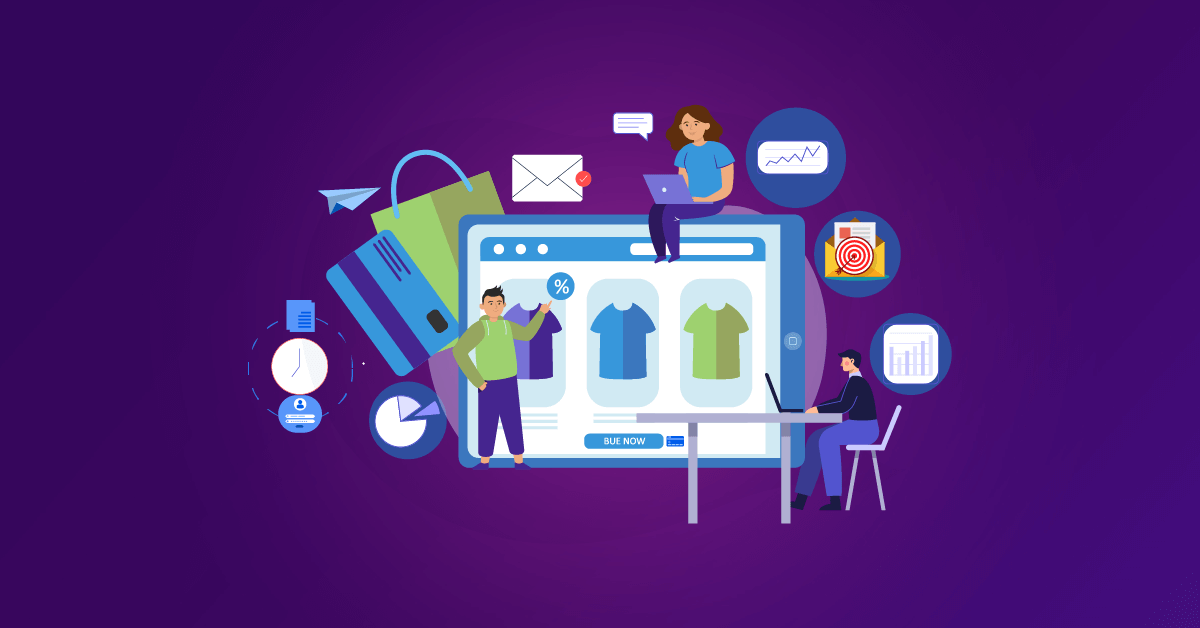 Additionally, customers are open to making selections based on recommendations from others. 54% of consumers in the US alone claim that they typically hear about new and appealing products from friends and acquaintances.
Based on Behavioral Cues, Retarget In-session
Off-site retargeting might cost a lot of money. Fortunately, on-site interstitials can be a fantastic solution. The secret to effective popups is to avoid becoming annoying.
To achieve this, you can time or trigger your popup offers to correspond with the in-session activities of each visitor. These pop-ups can be automated to appear based on factors like the volume of sessions, the value of the cart, and surfing habits.
Smart Recommendations for Social Retargeting in Real-time
There are techniques to regain a visitor's interest even after they leave your website via retargeting on social media. You must carefully consider your time in order to make this strategy work.
Granulated retargeting is one of the more sophisticated methods of this practice. Layering your remarketing as a visitor's value diminishes will help you save significantly on ad spending as their worth decreases the longer they've been gone from your site.
Automate Different SMS and Email Formats
You have another opportunity to interact with and convert online shoppers if they give you their email address or mobile number. You may reach out to them wherever they are by using these two methods of reengaging, which aids in keeping your business at the front of customers' minds. Therefore, let's explore three messaging strategies that grab their attention:
Abandoned cart messaging: With an abandoned cart email, you can prompt their recollection of this situation. This can also be used to draw visitors' attention.
We miss you messaging: You can gently remind a customer to check their cart by sending them this kind of email.
Order follow-up messaging: Your relationship with a customer does not end at the checkout. After a sale, follow up with customers and recommend specific products based on their past purchases.
Serving Dynamic Content to Traffic Segments
Companies with a sizable client base and product offering must divide their consumer base into groups to target various demographics. For instance, you must offer each consumer a distinct buying experience based on their intent if you serve both middle-aged men in the U.S. and kids in Japan.
Your eCommerce personalization strategy's audience segmentation is its most crucial component. Most eCommerce systems and conversion rate optimization (CRO) software include options to categorize your visitors.
Here are some ideas for how to divide up your traffic:
Geolocation/IP address: Identify users by their location in order to provide them with customized search results and product listings.
The device used: Recognize clients based on their device (web vs. mobile), operating system, and channel of origin.
Demographics: Include age, gender, and job title/income
Behaviors: Identify if they are new customers, returning customers, newsletter subscribers, or cart abandoners.
Dynamic Pricing
Pricing can be adjusted in accordance with a user's demographic data, past purchases, browsing patterns, and general buyer profile. Other elements including the time of day, competition pricing, and inventory levels may affect pricing.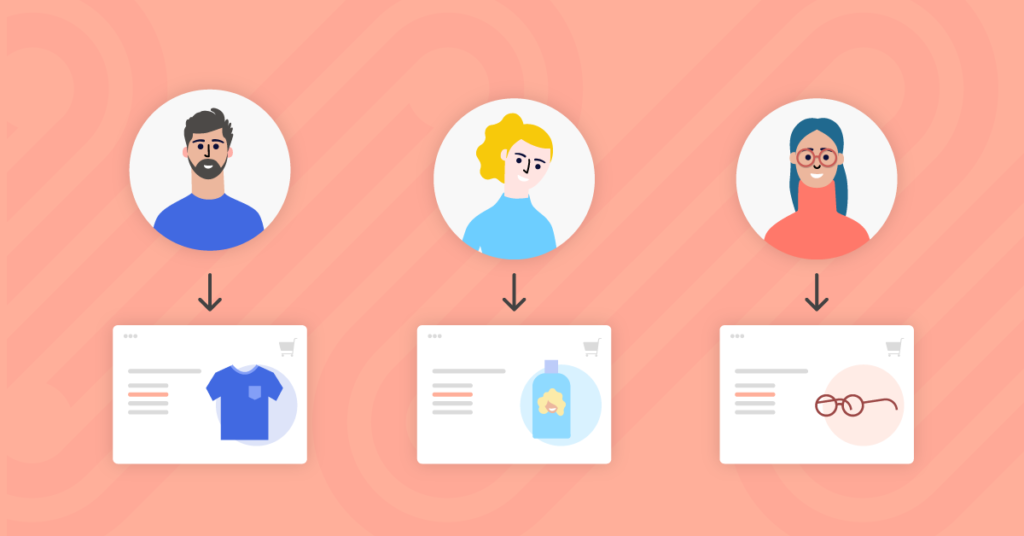 Pricing is controlled by algorithms that take into account market demand, historical sales data, and competing price points. Slow-moving products can be priced more aggressively to boost sales if they are recognized by the last time they were sold, the number of visitors to the product page, and the percentage of conversion rates.
On-site Targeting: Dynamic Content Block
On a landing page or email, a dynamic content block is a customizable widget that shows various sorts of material depending on the visitor segment. For instance, the content block might show last-order information, similar goods, last-viewed categories, or last-viewed products.
Dynamic content block: Dynamic content blocks show relevant products, recently seen products, recently viewed categories, or recent order details. Additionally, they work well for promoting CTAs for completing questionnaires and surveys as well as special sales events for VIP clients, loyalty-based discount codes, and other CTAs.
Overlays: An overlay on a website is a graphic content box that appears in the center of a page and hides the background information. Overlays are frequently useful to boost conversions by requesting an email address from the visitor in exchange for a coupon, discount, or free trial.
Header, footer, and sliders: Consider utilizing header and footer banners if site visitors aren't responding to modal pop-ups because most people merely click the X button to close them without looking at them.
Segmenting Most Valued Customers
VIP customers have the greatest average order value, frequency of purchases, or lifetime value. The most valuable clients for shops with quickly shifting inventory are those who pay full price. Utilize your CRM data to locate these hidden gems.
When creating a VIP segment in your CRM system, be sure to set a time limit; otherwise, you risk capturing inactive customers. You can thank them with appreciation gifts, loyalty programs, subscription plans, and exclusive online events and previews.
Modal Pop-ups
Based on the in-session activity of each visitor, generate pop-up offers. As an illustration, you could provide first-time visitors with exclusive offers in exchange for their email addresses. To increase the average order value, you can provide tier-based discounts or free delivery when a customer adds products to their cart.
Pop-ups can vary according to the items in your shopping basket, how long they spent on the website, how many products visitors viewed, and other variables. To make this work, timing, and action-based triggers are important.
Best eCommerce Personalization Software
Insider
Enterprise marketers can integrate consumer data across channels and systems with Insider – one platform for personalized, cross-channel experiences – predict the future behavior of customers using an AI intent engine, and orchestrate personalized experiences for them. The Insider platform is used by marketers to distribute experiences over a variety of channels, including web, app, web push, email, SMS, messaging apps (WhatsApp, Facebook Messenger, RCS), ads, and more.

Analysts have ranked Insider as the #1 Leader in eCommerce personalization globally. In addition to IKEA, Adidas, Estee Lauder, MAC Cosmetics, Singapore Airlines, Burger King, Virgin, Toyota, New Balance, Samsung, Newsweek, MediaMarkt, Nissan, AVIS, Marks & Spencer, Allianz, BBVA, Dominos, Avon, CNN, more than 1000 international companies rely on Insider.
ActiveCampaign
The platform enables companies of all sizes to access 750+ pre-built automation that combines transactional email, email marketing, marketing automation, and CRM for effective segmentation and personalization across social, email, messaging, chats, and text.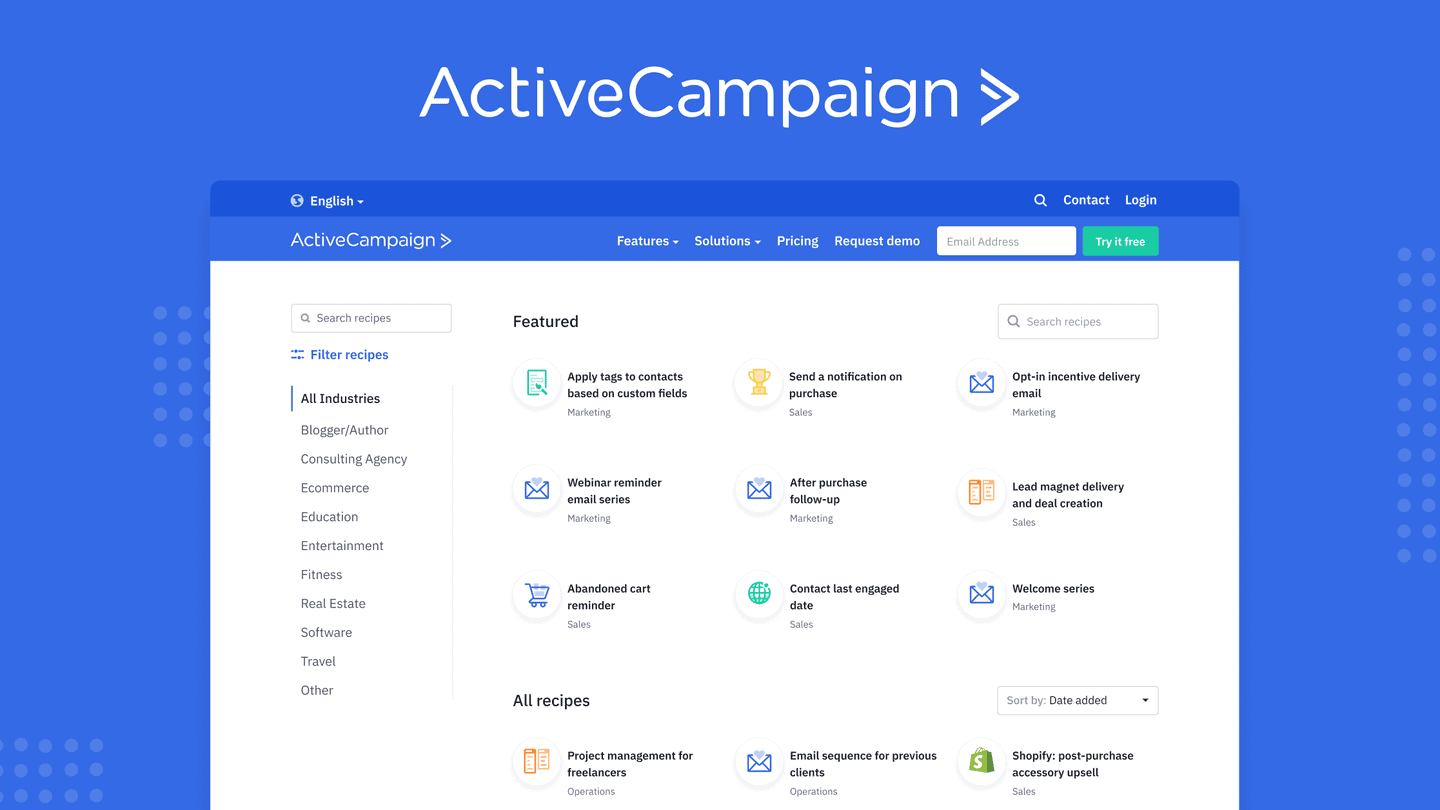 The foundation of ActiveCampaign is the belief that superior customer service must extend beyond conventional marketing touchpoints like email. In the beginning, it is simple to provide a personalized, high-touch experience, but as a business expands – adding channels, extra teams, locations, client groups, etc. – the complexity of managing connections becomes too great, and that personalized connection doesn't scale.
Webtrends Optimize
Webtrends Optimize supports companies in increasing their online conversions while enabling unrestricted experimentation.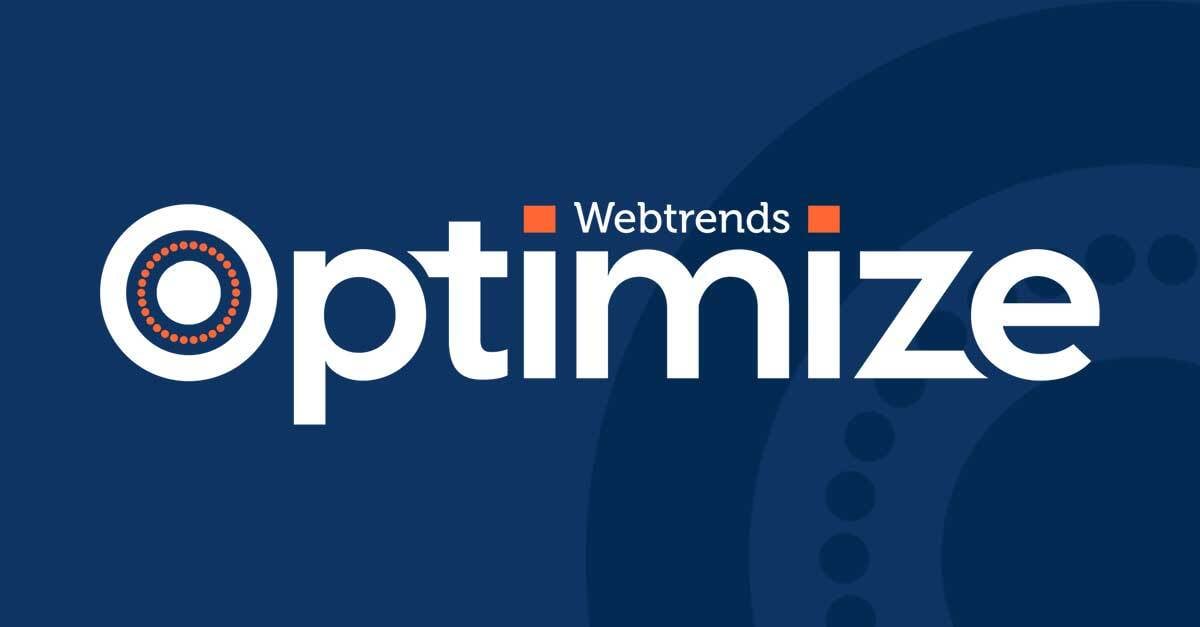 They offer a wide variety of tools and features for testing, analysis, and personalization, including Exit Intent overlays, Social Proof and Product Recommendations engines, AB, ABn, MVT, Split testing, etc. There are numerous SDKs for optimizing mobile apps as well as client- or server-side testing options.
As the market's initial testing and targeting solution, their technology started in 2000. Since then, the platform has experienced exponential growth under the UK-based Accelerate Group Ltd.'s August 2018 acquisition of Webtrends Optimize.
Moosend
With cutting-edge automation flows, world-class features, and lead generation capabilities, Moosend is an effective email marketing automation platform that will help you expand your business right away while keeping an all-in-one user interface that has achieved great success.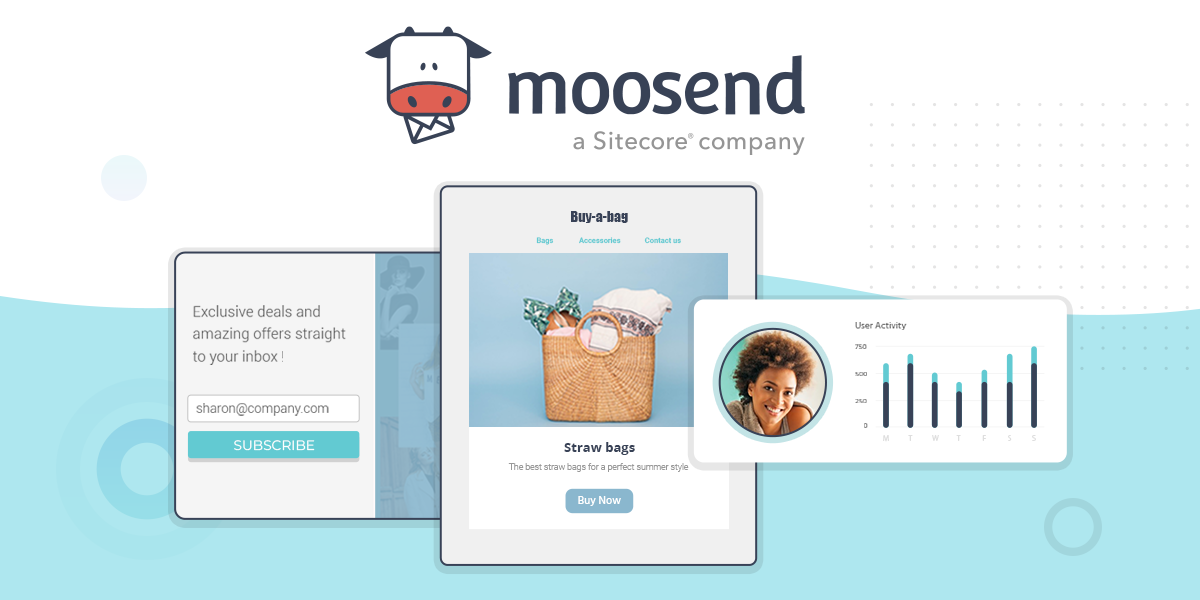 Its features are designed to support a range of activities including designing emails, segmenting mailing lists, automating workflows, and evaluating the performance of campaigns through detailed analytics. Specifically, you can:
Create eye-catching, expert email campaigns to interact with your audience in a professional manner.
Utilizing sophisticated segmentation tools, you can send the appropriate email to the right audiences, organize your list with subscriber tags, and reduce unsubscribes.
You can design, develop, and optimize stunning landing pages and subscription forms with only one tool.
Automate routine tasks so you can concentrate on improving and customizing digital encounters with your clients.
Analyze the results of your marketing initiatives and collect useful information to aid in decision-making.
Searchspring
Searchspring started its journey in 2007 and has operations in San Antonio, Denver, Toronto, Krakow, and Sydney. This platform offers the best eCommerce personalization solutions available. As the leading search, merchandising, and customization platform created specifically for eCommerce, Searchspring enables marketers to deliver the ideal product to the ideal customer at the ideal time.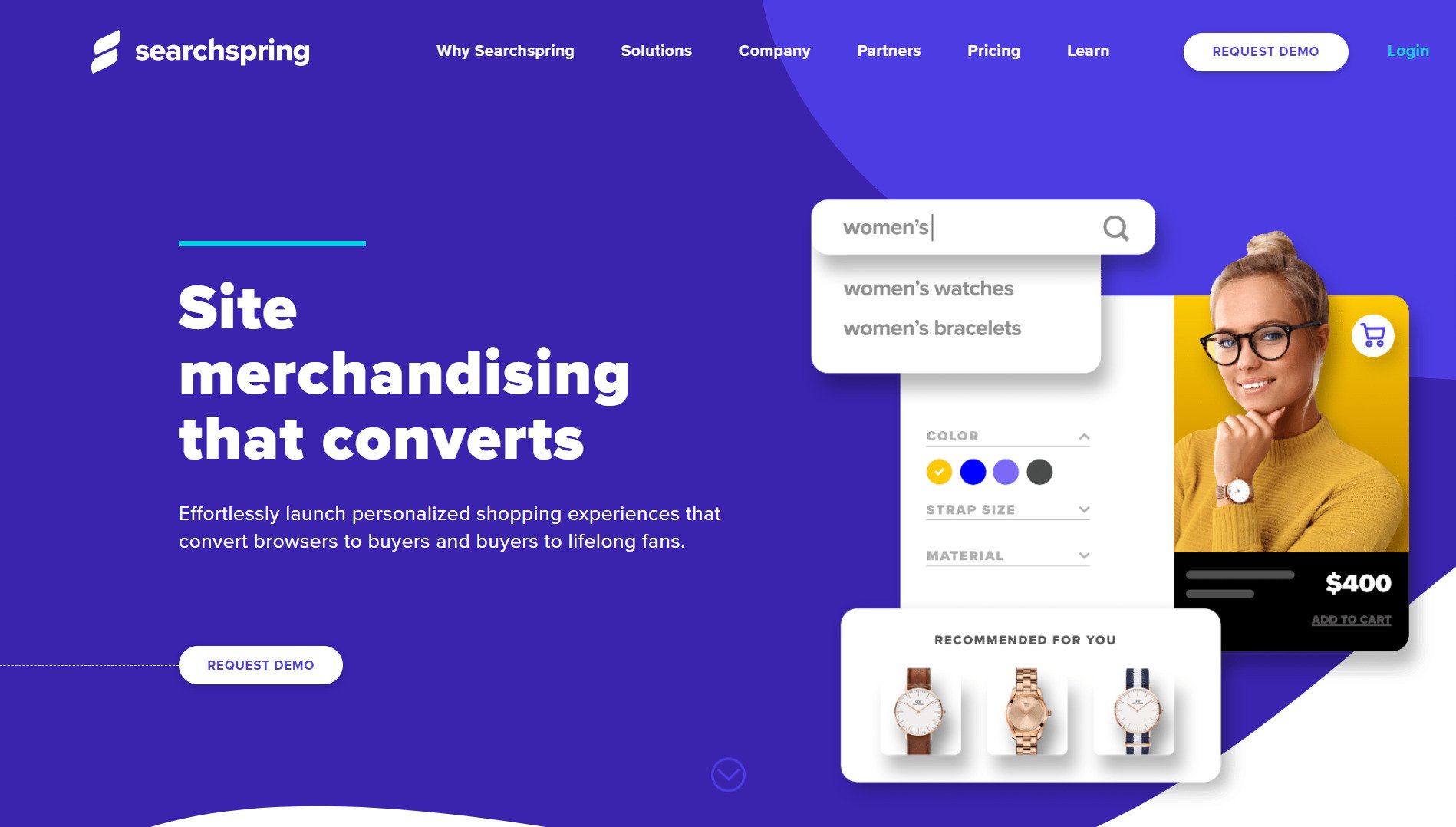 Chubbies, Pura Vida, Moen, Fabletics, Peet's Coffee, SKIMS, West Elm, Specialized, Wildfang, and Ripcurl are just a few of the clients using Searchspring to boost their cart size, conversion, and repeat business. 
To conclude,
Personalization is key to a great eCommerce experience, and there are many different ways to go about it. We've looked at some of the best personalization solutions for eCommerce stores and how they can improve your customer's shopping experience. If you want to learn more about how eCommerce personalization can benefit your business or need help implementing any of these solutions, please get in touch with us. Our team would be happy to discuss your needs and provide you with a custom solution that will take your eCommerce store to the next level.