Incorporated in 1997, privately owned and based in Bahrain, Designer Shaik is an award-winning luxury brand for perfume and clothing accessories. Born out of a dream to build a brand that stands for opulence and distinction, the world of Designer Shaik represents a sense of style and taste that is rooted in Arabian heritage and the mystique of the desert sands.

As one of our closest customers, we have been working extensively with Designer Shaik and providing continuous support for them ever since.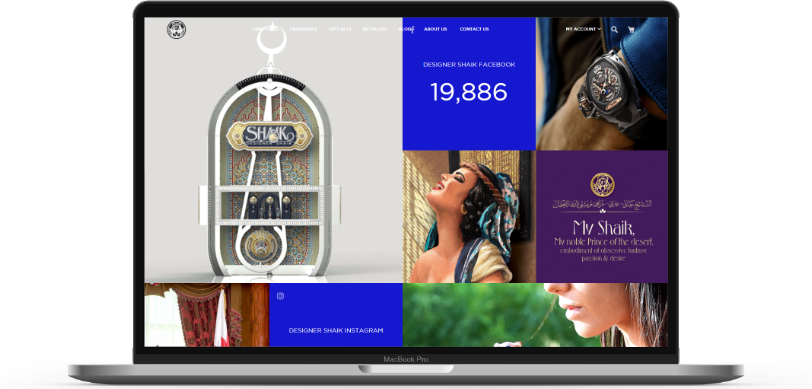 TRANSFORMATION WITH MAGENTO COMMERCE​
Custom-built luxury theme for Magento 2
Ms. Armani wanted to bring the essence of prestige and exclusivity across multiple retail platforms, so the website has to offer that luxury and imperial feel. The result we achieve is a layout that has a feel of depth that makes Designer Shaik's crafts really stand out. Our design was able to convey a story of royalty and mystery in connection with the kingdom of Bahrain.
360-degree image for the holistic product view
The business specializes in imperial-like crafts: watches, fragrance, and clothing and jewelry. Their products are internationally recognized for impeccable quality and stunning presentation. To further complement the features of the products on the site, we incorporated a 360-degree image for each one of them. This also gives customers a complete look at the refined products as well as a sense of interaction.
Store Locator - Integration with Google Maps
Designer Shaik has an increasingly wide range of retailers around the world to distribute its products. To cope with such expansion, we used a store locator for their customers to get the location of its retailers. The locator allows users to specify filters such as countries, areas, and types of products and get better search results.
THE DESIGN THAT SAYS CLASS
"Magenest's support service is one of the best in the market. Magenest helped us to design a completely unforgettable online luxury experience." - Miss Armani, Designer Shaik