In 2019, online marketplaces sold $2.03 trillion in goods, accounting for 58% of worldwide online sales. Many companies want to try their hand at building an online marketplace similar to Etsy, Amazon, eBay, Alibaba, and others. But how to create an online marketplace like Esty? Let's find out the article below to know how to create an online market like a top eCommerce platform.
What is an online marketplace?
An online marketplace, also known as a multi-vendor marketplace, is a platform where a customer can buy a variety of digital or physical products or services from a variety of sellers, suppliers, or stores. Traditional eCommerce websites, on the other hand, sell things from a single brand or niche.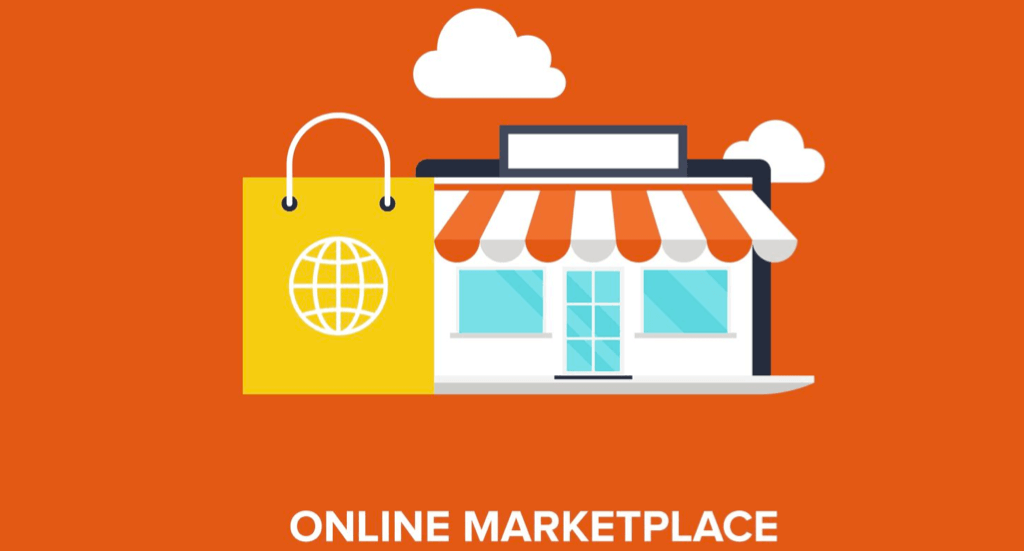 To create an online marketplace provides quicker operations, a more user-friendly buying experience, and a wider range of products. The marketplace's owner is in charge of client retention, order administration, website optimization, financial transaction management, and third-party vendor negotiations. Shopping in an online marketplace is essentially the same as shopping from several different eCommerce stores at the same time.
Customers can pay all vendors in one transaction rather than many transactions. In these locations, the consumer can find a variety of brands of products from a variety of merchants all under one roof. This assists the buyer in locating the most affordable pricing for the highest quality product. As a result, conventional markets provide the opportunity to sell/buy a wide range of products, as well as the option to bargain/purchase things at a more reasonable and cheap price.
5 Types of Online marketplace
Product Online Marketplace
This is the type where people buy and sell goods. The website brings together all types of retailers into a one-stop shop where buyers can not only compare pricing for the greatest bargains but also do so all under one electronic roof. In addition, with features such as auction and fixed price sale, the seller advertises a product and establishes a deadline; the buyer with the highest bid wins the item. This type of marketplace is typically managed by an operator who allows third-party vendors to sell things in addition to the marketplace owner's usual offerings.
Online Service Marketplace
The internet marketplace is no longer limited to selling things; it may also cater to the service industry. It is beneficial for a beginning firm that wishes to build a marketplace with minimal input to provide various services that consumers seek. A services marketplace's offering to users is based on the discovery of services, while its offering to freelancers is based on opportunities for paid labor.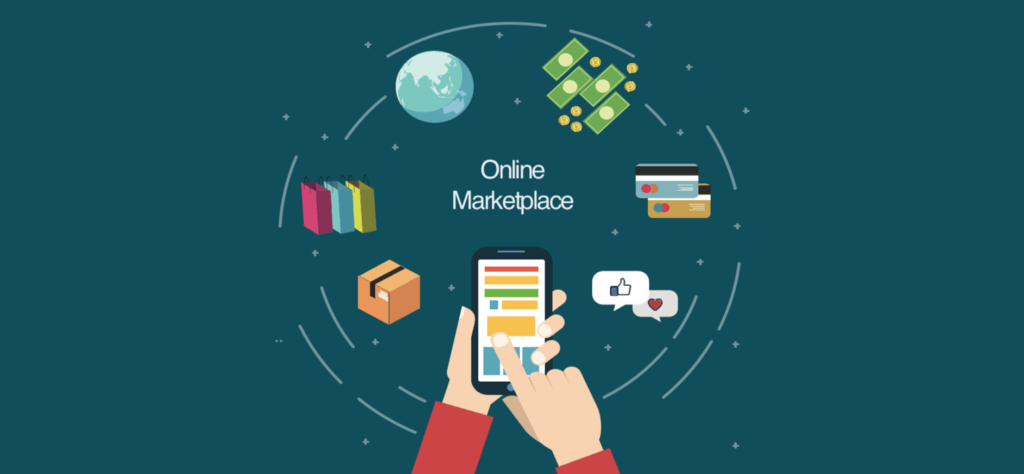 Platforms such as Fiverr and Upwork are markets for freelancing services. All you have to do in the service sector is build a solid and dependable internet platform that connects service seekers with service providers. The platform serves as a link between both of these ends.
Online Rental Marketplace
The transportation and fashion industries are popular among investors and potential entrepreneurs when it comes to online rental marketplaces. However, in recent years, the rental sector for household appliances, electronic accessories, and gears has risen to prominence.
Hybrid Model in eCommerce
Hybrid online marketplaces can be of two types. People expect to sell and buy both services and products on the same platform in one category. This category includes online classifieds sites such as Olx. Another is when individuals seek to obtain the best of both worlds by purchasing from online and offline establishments. The customer initially books the products online in this model. They then proceed to a neighboring physical store to purchase the products. This concept is being used by ticket booking companies such as BookMyShow.
Hyperlocal Marketplace
When individuals began to explore nearby options while searching for businesses, restaurants, and so on using search engines, the concept of hyperlocal emerged. The goal of this marketplace approach is to deliver facilities and services from local merchants as quickly as possible.
The hyperlocal eCommerce marketplace is very similar to Amazon marketplaces. The primary distinction is that clients will only be allowed to purchase products from vendors that guarantee delivery within 24 hours.
Why do firms need to create an online marketplace?
So, why do firms need to know how to create an online market like Esty?. Firms create an online marketplace to sell things without the need to set up your own online store. As a result, selling on internet marketplaces offers a flexible business option with low start-up costs.
Variety of Product Options: Customers gain from the ability to find aggregated brands and product selections from various merchants all in one spot. And can get their hands on the most recent things in the market at the most reasonable price or of absolutely authentic quality. 
Global Reach: Marketplaces already have a vast customer base, and selling on them will help your business get massive recognition. 
Increased traffic: When we construct a marketplace in an eCommerce store, it generates more traffic than individual business sites since it includes a wide range of product offerings that attract new clients who are now exposed to your product line.
Sale Conversion: Vendor product visibility improves as it is exposed to the broadest audience possible. This improved recognition and exposure can aid to drive customers, and an increase in product demand leads to increased sales. 
Time and Resources: By partnering with an online marketplace, suppliers can devote more time and resources to product management rather than creating and managing their own virtual store. 
Niche Market: Niche marketplaces cater to the demands of a certain group of consumers by providing a more comprehensive choice of specialized products, which may include hard-to-find items in low demand. 
How to create an online marketplace like top eCommerce platforms?
When eBay entered the market, it had no choice but to start from scratch. Nonetheless, contemporary technology has made the entire process of building a multi-vendor marketplace simple and low-cost. Learning how to create an online marketplace like eBay: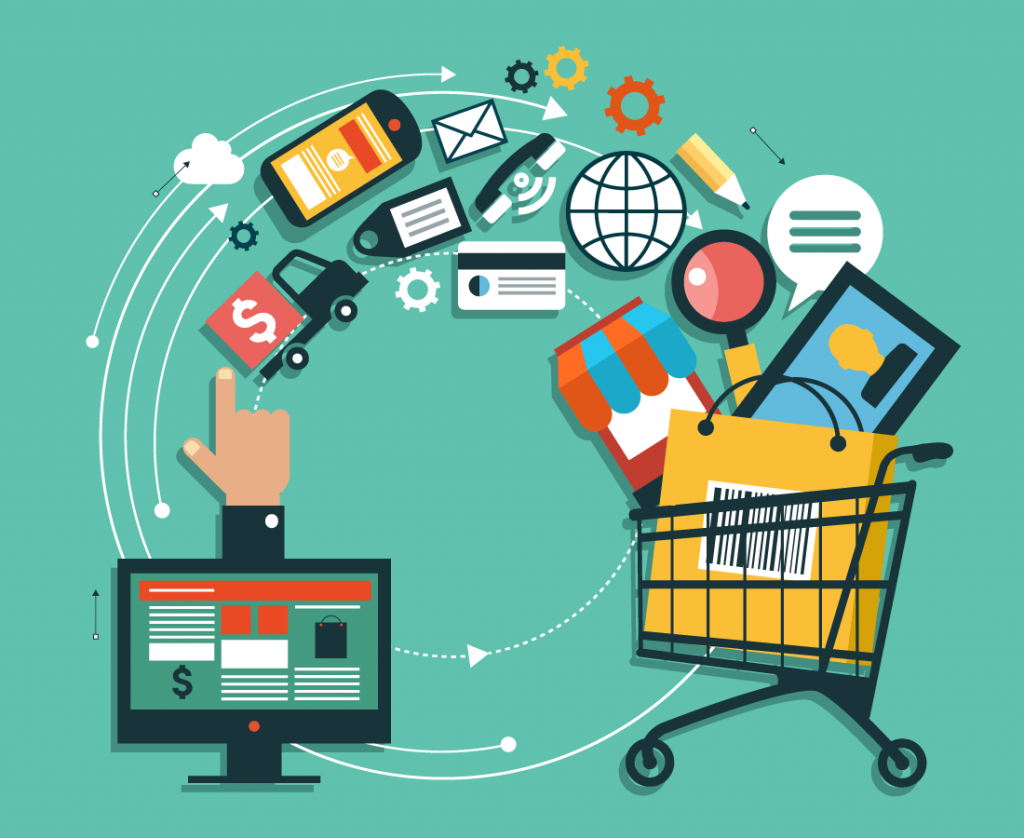 Find firm's niche
Many eCommerce organizations should consider intense competition as their primary challenge when launching a new auction website. It is preferable to select a distinct niche in order to concentrate your emphasis. Finding a specific niche that has not yet been occupied by competitors will undoubtedly boost your chances of success in acquiring new clients. You should review your marketing approach and develop a USP (unique value proposition) for customers and sellers.
Choose a good monetization strategy
The next stage is to choose a monetization strategy. Your online marketplace business strategy will influence how you achieve results as well as how your merchants make money. Among the numerous sorts of internet monetization models available are: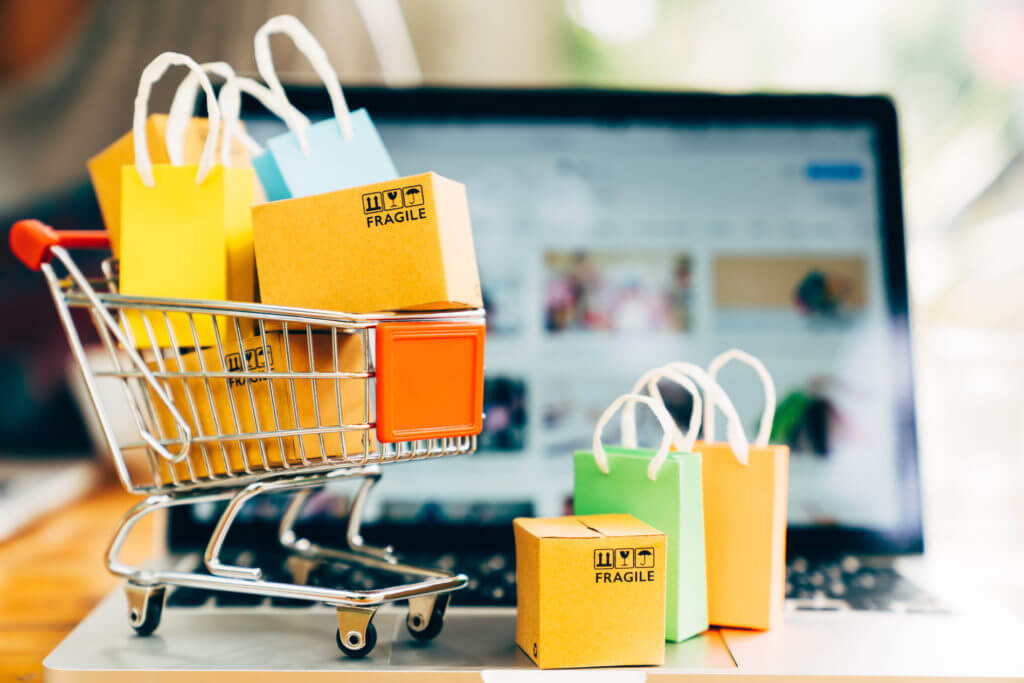 Commission-based model: Commission-based models are one of the most popular ways to monetise a marketplace. You will receive a commission for each transaction that occurs on your online marketplace using the monetization approach. Vendors typically choose to work on those terms because they are not paid a fee until they get their first cash from the marketplace. A commission charge monetization method increases the trust of sellers and customers since they understand that maintaining successful transactions benefits you because you have a vested interest in it.
Membership fee model: The membership fee model is an effective technique in which each seller or consumer pays a membership fee to trade or buy on the auction website. This monetization technique provides a consistent monthly income, but it may deter sellers and customers from utilizing your site. This strategy is appropriate for eCommerce platforms that sell high-priced items.
Listing fee model: The listing fee model charges merchants a fee to list their items or services on the auction website. The listing fee might be a flat fee or a percentage of the digital or physical product's value. Merchants with modest sales numbers who sell only a few things choose this strategy because a long-term subscription is not useful to them. This technique is appropriate for sellers that want to pay for exposure to a broad audience, and the marketplace can provide enough coverage.
Freemium Model: The freemium model allows sellers and buyers to utilize multi-vendor eCommerce websites for free, and the website will add various services that sellers and merchants can purchase to increase the value of the marketplace. The freemium monetization method provides the consumer with free access to basic capabilities while charging for advanced features as needed. The main advantage of the freemium model is that it is much easier to attract an audience for a marketplace that provides free services. However, in order to persuade clients to pay for additional services, they must be actually beneficial.
Establish Your Priorities, Vendors, or Customers
It is critical to outline your priorities while developing your marketplace. This implies that you should determine whether your marketplace has features that are more beneficial to suppliers or shoppers. However, it is clear that you cannot ignore either of them.
You can keep your marketplace's area compatible with vendors, just like eBay and Etsy. They give features that assist vendors in achieving the best possible results. It never means you can dismiss end-user expectations because even merchants would not want a marketplace that does not communicate with or assist their customers.
Choose an eCommerce platform
Because you intend to develop an online selling site similar to eBay, you must select the best eCommerce system. Consider that your future auction website should be able to handle high visitor volumes and scale straight out of the box to accommodate fast-growing firms. To build your own online marketplace, you must first evaluate each platform on the market and grasp its benefits and drawbacks.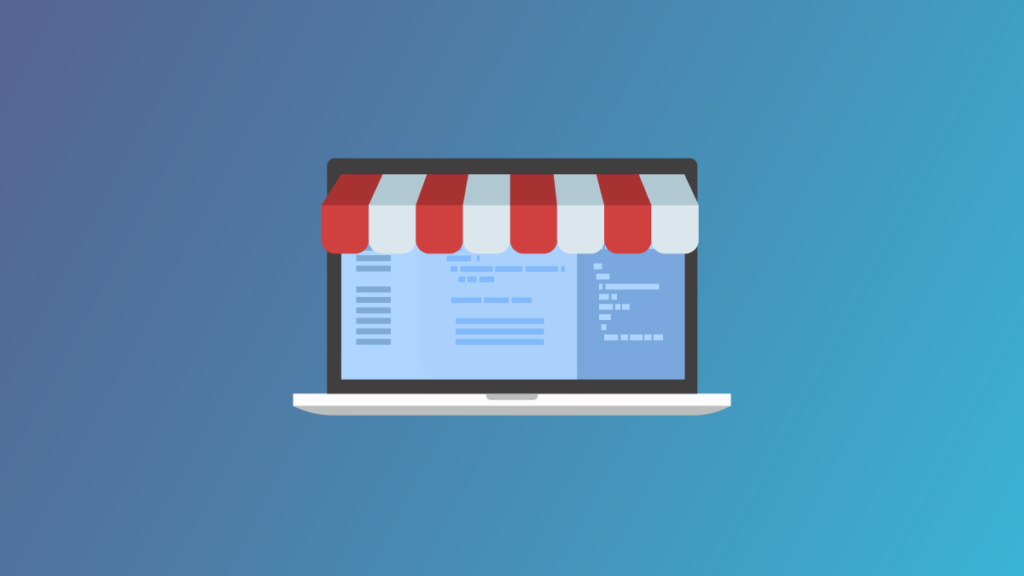 When researching how to establish a multi-vendor eCommerce website or how to create an online marketplace like etsy, you can find fantastic eCommerce solutions that enable eCommerce enterprises to launch websites like eBay at affordable pricing.
Magento eCommerce development services are well-known for their eCommerce-specific capabilities. The platform has been a significant technology in the development of several of the world's largest marketplaces. Any Magento development business has been a popular choice for clients because of its diverse assortment of themes, layouts, and eCommerce extensions.
Custom Theme and Design
Thousands of themes and templates are available on all of the sites mentioned in this blog to create an online marketplace. When it comes to developing an eCommerce website, you may believe that web design services are the sole consideration. Things maybe a little more complicated when it comes to developing an online marketplace like eBay or Etsy.
You consider not only the design but also the scalability. You may need to include multiple product pages on your marketplace, so select a theme or template that can handle a variety of website design services alternatives and views. It cannot be centralized on a single color orientation because it may limit the flexibility to adopt new pages of new product page design orientation in the future.
Add features
Since we're idealizing eBay and Etsy, I incorporated the best characteristics of both platforms. Developers can incorporate these capabilities by writing native code or using the accessible APIs.
If you consult a WordPress development business, you can concentrate on incorporating features that appear crucial to you but were not initially included.
Features can assist you in determining the scope, budget, and applications of your project. The goal should be to build a high-end marketplace that is tailored to the diverse needs of the users.
Conclusion
Multi-Vendor businesses have been thriving in recent years, and the enormous success of platforms such as Amazon, Alibaba, and Etsy has demonstrated that the online marketplace model is incredibly expandable and versatile. Understanding steps of how to create an online marketplace like top eCommerce platform can be really helpful.