When it comes to Vietnamese fashion, they all refer to Hoang Phuc International as a familiar, intimate brand name for the past 30 years with customers. Hoang Phuc is a fashion retail business with a system of 64 distribution agencies across the country. Hoang Phuc is currently distributing for 6 international luxury brands: Ecko, Dr.Martens, Kappa, Superga, Staple, and Replay.
Hoang Phuc always brings the latest fashion trends with the most quality products and the best experience for customers. In the context of the complicated Covid 19 pandemic development, Hoang Phuc needed to have strict responses and actions. They had appropriate solutions to adapt to changes in consumer shopping behavior.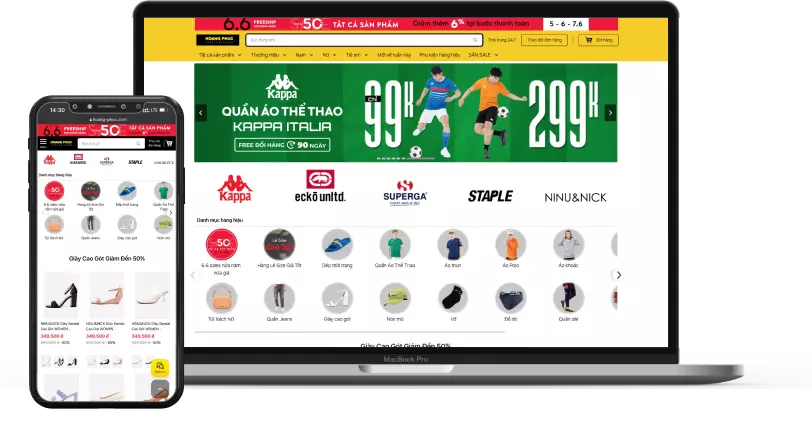 At the time, Hoang Phuc used many different technology platforms to operate: CS Cart for Sales online, LS Retail for retail points, and Oracle as a management system. Information updating and synchronization between these platforms depend on the input activities of the staff. Because the business always has huge order numbers on a day, if the inventory information does not deliver seamlessly between the physical stores and website, it will easily lead to the abandonment of orders.

Another issue that Hoang Phuc was concerned a lot is that their promotion campaigns always had to be handled manually by calling to check if any order is eligible for preferential programs. This is an inconvenience for customers as well as decreasing the brand's professionalism.

Thus, when cooperating with Magenest, a Digital transformation solution agency with more than 8 years of experience, Hoang Phuc shared their vision of omnichannel model application to the business system, automatizing all the manual data import tasks in the past as well as the expectation that the new website will transfer the best experience to customers.

The new system needs to automatically synchronize data between sales and administration channels, and be able to connect and integrate with the LS Retail POS system that Hoang Phuc is utilizing. The CS Cart platform itself cannot meet these requirements of Hoang Phuc, and Magento 2 appears as the perfect solution for the brand.
Moving to the Magento 2 platform with powerful customizability to create outstanding eCommerce experiences
Centralized transparent data management system
Inventory information management is always one of the biggest challenges that any omnichannel business needs to face and Hoang Phuc is not the exception. Because the brand always has a huge number of orders on a day, if the inventory information doesn't transfer seamlessly between stores, it will easily lead to shortages and abandonment of orders. With the new system, store status, and product information are constantly updated every 30 minutes, ensuring that the data between the eCommerce channel and the physical stores are not corrupted.

Hoang Phuc's orders will be automatically distributed to online consultants and coordinated to the nearest in-stock stores to customers, in order to minimize shipping time.
Comprehensive eCommerce experience with featured extensions
Thanks to Magento 2 strong integration with other platforms, Magenest delivers an extensions ecosystem to help Hoang Phuc deploy various promotions, product combos and improve user experience.
Search for the nearest store with the

Store Locator

extension: Customers can enter the street name, and use filters to search for Hoang Phuc stores.

Product search with Advanced Search and

Shop by Brand

: Create detailed filters by brand, size, and color… saving customers' time when searching for the right product.

Social Login

: Hoang Phuc's customers can use existing social network accounts to create accounts on the site very conveniently.

Product Label

: Mark products as "hot selling" or "on sale" to attract customers.

Insider's Email & SMS Marketing solution integration: Automatically send customers updates on order status according to preconfigured marketing scripts.
Optimized website interface for the shopping experience
When it comes to the front end of the website, Magenest redesigned the entire website interface according to Hoang Phuc's requirements. The redesigned website needs to be able to handle price information, images, and inventory information as well as categorize different products based on customer requirements. Especially, the requested customizations of Hoang Phuc are fully compatible with the brand's available theme.
The entire system will be developed and stored on AWS (Amazon Web Services) infrastructure, the world's leading Cloud platform provided by the giant Amazon. AWS infrastructure ensures that Hoang Phuc's data is safe and secure, and enables eCommerce websites to operate thoroughly even when the traffic increases prompted during sales seasons. Besides, AWS ensures the overall stability of the website. When using AWS, Hoang Phuc does not need to be concerned about physical infrastructure problems.
Customer-Centric eCommerce System
At Hoang Phuc, customer experience is always put at the front and center when developing a new eCommerce system. To achieve this, Magenest conducted thorough UX research and implemented UI design for the website, ensuring a friendly and consistent shopping experience across various devices, including mobile devices with small screens. Furthermore, the utilization of AWS storage infrastructure guarantees the website's security and stability, even during periods of high traffic.
In collaboration with Magenest, Hoang Phuc has successfully developed a comprehensive eCommerce system aligned with the strategic vision of establishing a stepping stone toward the omnichannel model. The system is now fully operational, delivering smooth and seamless business functions and interactions, and the website has been successfully launched ahead of schedule. The new website offers an internationally standardized shopping experience, catering to the preferences of Vietnamese consumers.