BOM Sister is the first lingerie brand in HCMC that can offer qualified products at exceptionally low prices. As the pioneer of this strategy in the lingerie niche, BOM Sister has been whole-heartedly welcomed by sisters in HCMC. 6 operating stores in the city, as well as hundreds of thousands of followers on each social media platform and Shopee have proved the success of BOM Sister.
Although the stores are still doing great, BOM Sister cannot ignore the online trend, especially during this unprecedented, unpredictable COVID-19 time. Developing a proper eCommerce system to offer a great shopping experience is certainly the number one priority of this lingerie brand.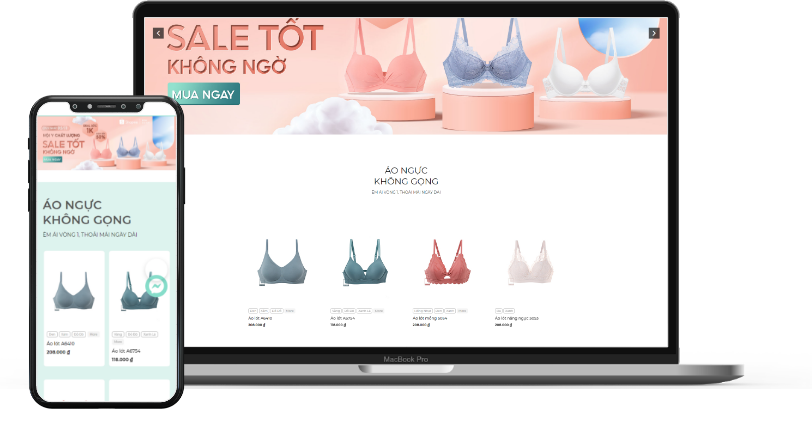 During the COVID-19 lockdown, physical stores in Vietnam were forced to shut down for public safety. As commerce moves online, to meet the changing consumer behaviour, businesses have to accelerate their digital transformation process. Already having quite a successful run on the Shopee marketplace, BOM Sister realized that it has to lower its dependency on the eCommerce marketplaces and focus on its own channels.
Upgrade from Magento to Magento 2
Magenest safely migrates all Trung Nguyen data to Magento 2: Data structure, categories, orders (including reports and saved orders) as well as customer information. We also design a new storefront for a better shopping experience of visitors. Supporting both Vietnamese and English, the website is suitable for both national and international customers of Trung Nguyen.
Develop new features for the website
To simplify the buying process of Trung Nguyen, Magenest has integrated various useful features into the new system: Integrate Google Maps to navigate customers to showrooms. Add popular social networks shortcuts such as Facebook to the website. Design email templates. Email marketing through Mailchimp. Manage content and SEO. Manage products and inventory. Manage customers info and promotions: Apply different promotions to unique customers and groups. Order management system and subscriptions. Connect with Vietnamese payment gateways and shipping companies such as Alepay and ViettelPost.
Expand to new business models
Not only targets individual customers, but Trung Nguyen also wants to cooperate with other beverage companies and aspiring restaurants. Therefore, Magenest has helped Trung Nguyen customizing B2B features such as: Allow registering to be a Trung Nguyen partner. Approve/Decline registration. Quick order. Save and re-order. Manage B2B account. Separate discount for each product.

We also launch an easy-to-follow Affiliate program. With this program, Trung Nguyen can quickly expand to many potential customer groups.
Implement the POS system on Magento 2
To seamlessly sync between online and offline stores, Trung Nguyen has successfully implemented the POS system. Admin can turn off some features according to the needs of each location.
Create Trung Nguyen mobile app
Trung Nguyen mobile app is built to serve the needs of B2C customers. Visitors can easily order, pay and follow the buying process.
System hosted on Amazon Web Services
Trung Nguyen mobile app is built to serve the needs of B2C customers. Visitors can easily order, pay and follow the buying process.
Re-thinking the user experience
A fresh UI/UX rework is another prioritized objective for BOM Sister in this project. Nevertheless, the brand wanted the project to be finished in the shortest timeline possible. With that in mind, using a custom theme has dramatically reduced the amount of time we needed, in comparison to designing a completely new web design from scratch.
The new system went live smoothly with everything working without a hitch and the new look of the website is widely adored by customers. Most impressive, The first flash sale saw more than 1,500 orders placed in just under 2 first hours.