In a competitive world of eCommerce, businesses are looking beyond the traditional way of content management and locations to deliver it other than the web browser. Headless CMS rises as a new trend in delivering exceptional user experience across various channels and platforms.
A headless CMS provides greater speed, security, and flexibility across digital channels than its traditional counterparts. In addition, the capability to deliver content across multiple channels makes it a potent option for any publisher seeking to expand.
With its amazing benefits, there are hundreds of headless CMS platforms out there. So which are the best Headless CMS providers? In this article, we will offer you a few names in mind. Each platform will come with its key features, pricing, benefits, and drawbacks. Let's dive in!
What is Headless CMS software
Headless CMS is a type of content management system (CMS) that stores, edits, and manages content without a front-end or presentation layer. As described in its name, the term headless is derived from the human body metaphor, in which the head (integrated front-end) is separated from the body (backend).
Unlike traditional CMS, where the body and the head are tightly integrated, Headless CMS, in its literal meaning, does not have a head. It focuses solely on the development of the body, which is managing and delivering back-end content.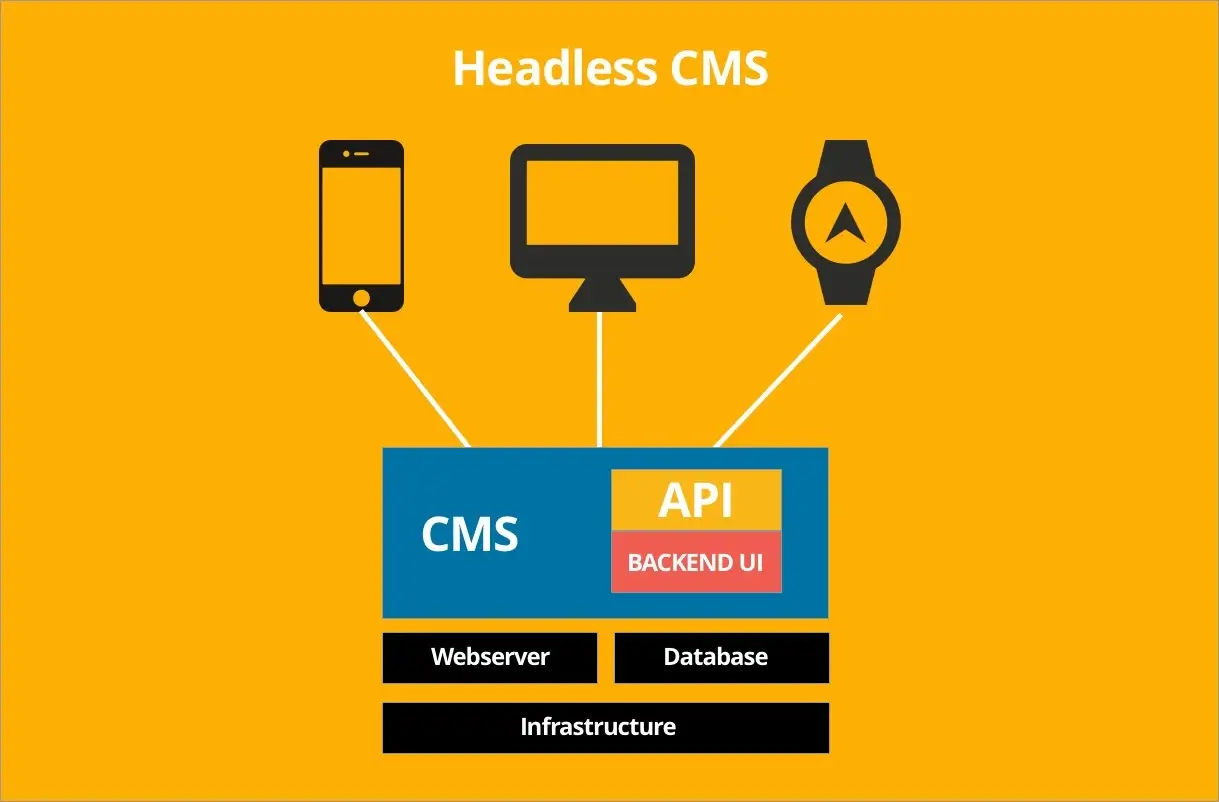 With this separation, there are basically no restrictions to how and where content is delivered. Headless CMS provides content through APIs, which is the connection between the front-end and the back-end, acting as a bridge for data exchange and functionality access. This allows for content to be displayed on any device or channel, from websites to mobile apps, smartwatches, IoT devices, and more.
Headless CMS platforms give you complete control over all your database-stored data and the option to easily integrate it with any other medium without having to worry about complexity. Headless architectures offer a variety of advantages for businesses that support both short-term and long-term growth.
High flexibility: Your businesses are not restricted to any specific template or programming language. Instead, you can choose any tools and frameworks that best serve your needs.
Omnichannel content delivery: Headless CMS has the ability to push your content consistently across various platforms with its API-only, UI-anything feature.
Great scalability: With the flexibility and adaptability to any technical advancements, Headless CMS allows for infinite scalability. Each of its components can be modified based on the specific needs of businesses, enabling you to incorporate new features without sacrificing performance.
Promote an agile workflow: With a simplified backend focused solely on content management, developers and content creators can simultaneously generate content and manage pages, thereby saving time, allowing for real-time collaboration and faster time-to-market.
12 best Headless CMS platforms in 2023
With its various benefits, the demand for Headless CMS for eCommerce is highly increasing. There are many names of providers out there and choosing the best Headless CMS for your businesses can be a daunting task. We've compiled a list of 12 top headless content management platforms to assist with this issue. Each contains basic information to help you choose the best option.
Kontent.ai
Kontent.ai is an API-first cloud-native headless solution that allows organizations to have complete control over all aspects of content in order to deliver exceptional customer experiences. All of your content can be created in one place, allowing for collaboration in real-time which facilitates the selection of the best ideas, the elimination of bottlenecks, and the maximization of the impact of everything created.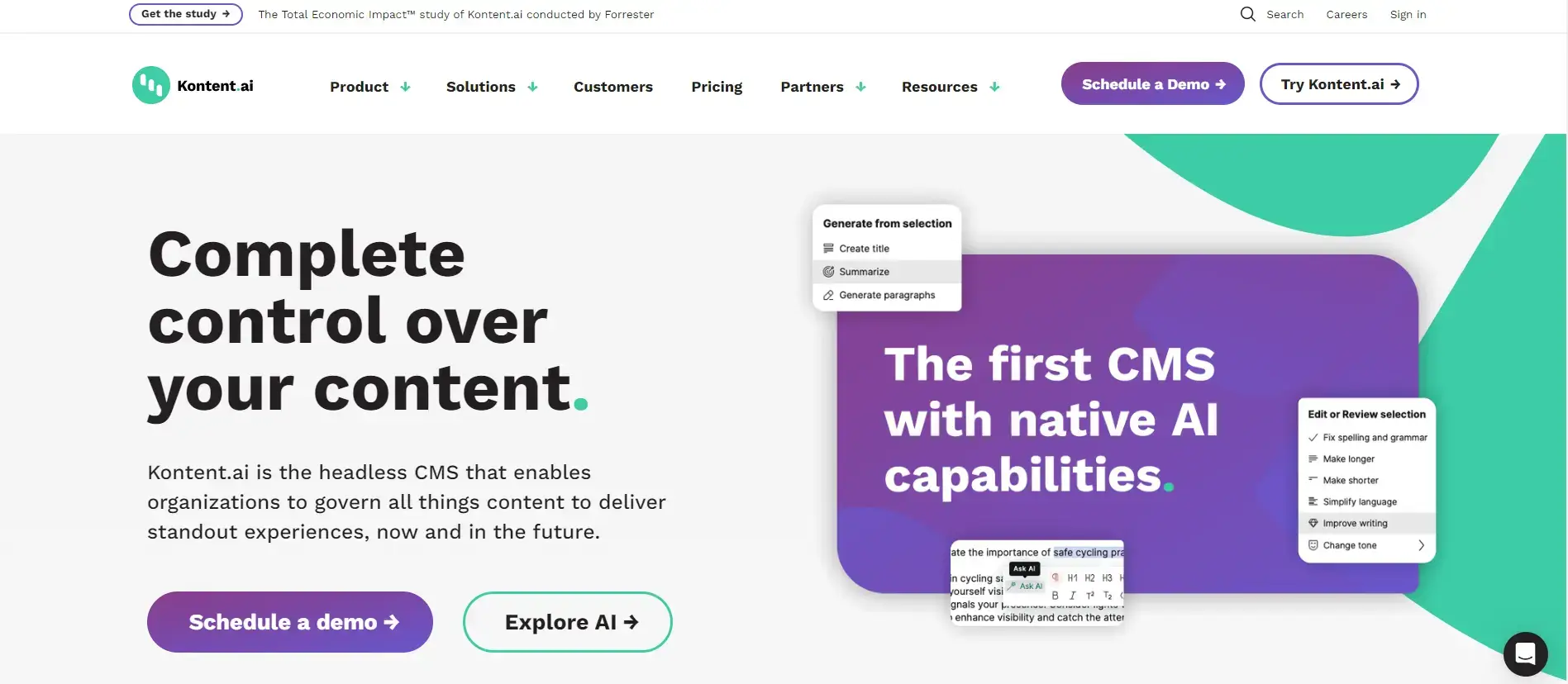 The platform also offers control over the experience, where developers can use their favorite technologies, languages, and frameworks of their choice. Hosted on Microsoft Azure, and used Fastly for CDN, Kontent.ai provides support to APIs like REST and GraphQL. Therefore, they acquire the ability to deliver seamless experiences that work on any channel.
With offices in New York, London, Amsterdam, Brno, and Sydney, Kontent.ai supports global customers including Zurich Insurance, Algolia, and Oxford University. Kontent.ai is a Microsoft partner and MACH Alliance member, recognized by both Gartner and Forrester.
Key features
Authoring experience: Collaborate with your team in real-time and error-free.
Modular content in Collections: Help group content and users, allowing specific teams or regions to access and use content relevant to their scope, while still imposing centralized control over the entire operation.
Web Spotlight content preview: Allow users to create, edit, update, and test content to see how it will be presented on your web pages and applications.
Custom workflows and approvals: Create multiple role-based workflows to ensure all content changes follow your business processes.
Localization and governance: Allow for content creation in any language as well as language permissions to control the translation of content in a specific region.
Advanced asset management: Organize all digital assets in the built-in library and categorize them so that they're easy to find and used in the right way.
Pricing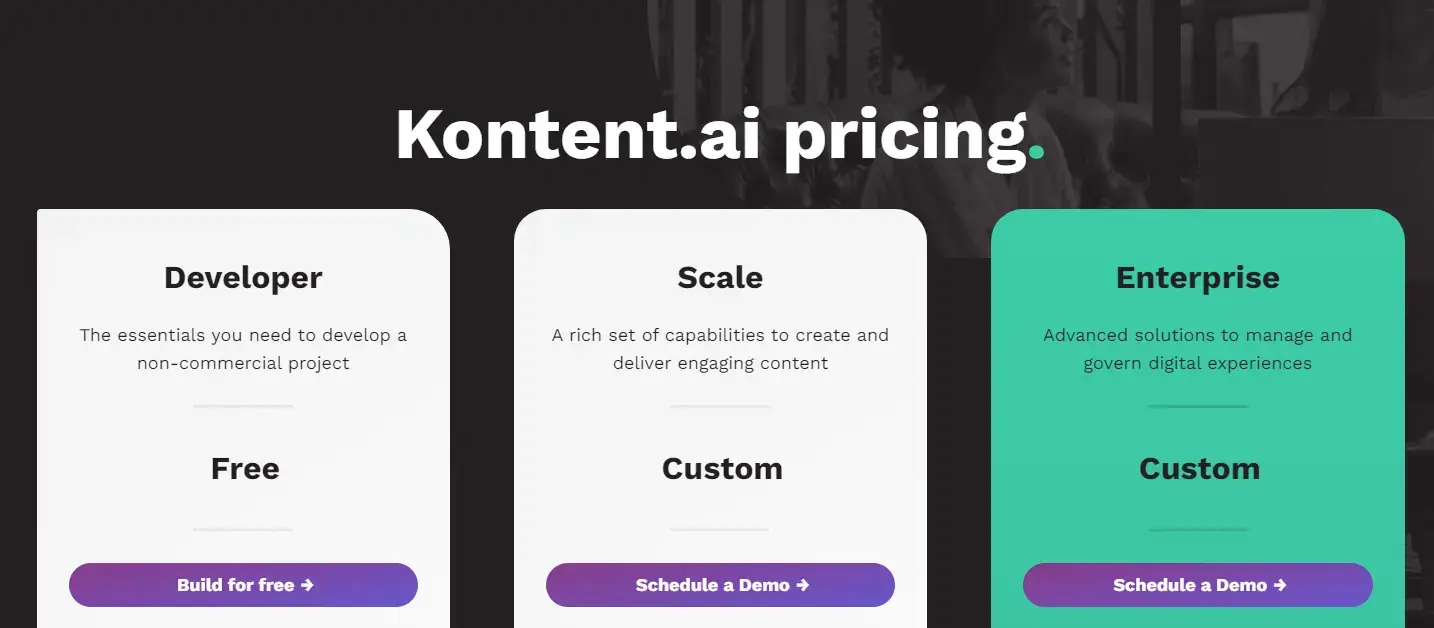 Kontent.ai has three pricing plans:
Developer: free, provides the essentials to develop a non-commercial project.
Scale: custom pricing, provides a wide range of capabilities to create and deliver engaging content.
Enterprise: custom pricing, offers advanced solutions for digital experiences management and governance.
Pros
Allows for easy and seamless integration with other platforms, which supports better content creation and marketing activities.
Beginner-friendly UX/UI design
Developer support is fast and reliable
Provide fast and reliable support from experienced developers, guidance, and education.
Cons
URL slugs may not be generated as expected.
Price may be expensive, depending on your business's specific requirements.
Installation of plugins can be challenging, and user roles are restricted.
Lacks SEO performance integration (keyword inclusion, reminders about anchor text).
Magnolia
Founded in 1997, Switzerland-based Magnolia CMS has been recognized as the fastest way to launch a digital experience. Working toward the mission to help clients move fast and stay flexible in the digital world, Magnolia they have been trusted by iconic brands like JetBlue, CNN, and The New York Times, just to name a few, to be their DXP of choice.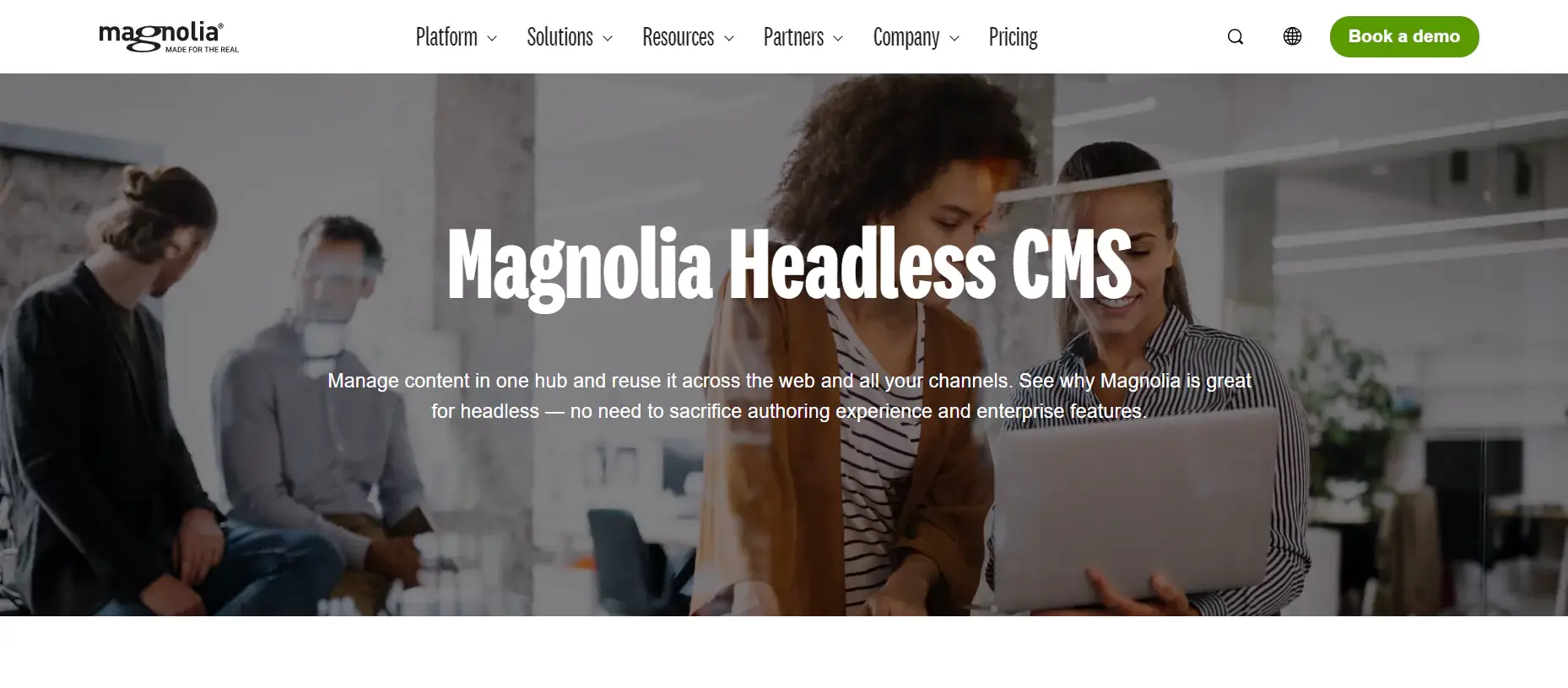 Magnolia is among the best Headless CMS vendors for eCommerce businesses. With the flexibility of an API-first headless solution, Magnolia helps enterprises build their corporate websites, manage content in one single hub, and reuse it across the web and all your channels. It allows developers to integrate with a wide choice of front-end frameworks— like Vue, React, or Angular—with the back-end while offering a visual UI for content creators for experience management.
Key features
Content Types features: Provide automatic authoring tools, offering you full control of UI customization.
Optimized content authoring: Provide three unique authoring tools which are designed to serve specific business requirements

Content App: used for structured content with form-based editing
Stories App: used for long-form content with multi-block stories
Pages App: used for WYSIWYG visual editing with full editorial control

Custom workflows: Offer a standard 4-eye workflow out-of-the-box to implement your governance processes and ensure only the right people are able to approve the content before it is published.
WYSIWYG and single-page app editing: Allow preview capabilities and the autonomy to edit all layout and content with Visual SPA Editor.
Pricing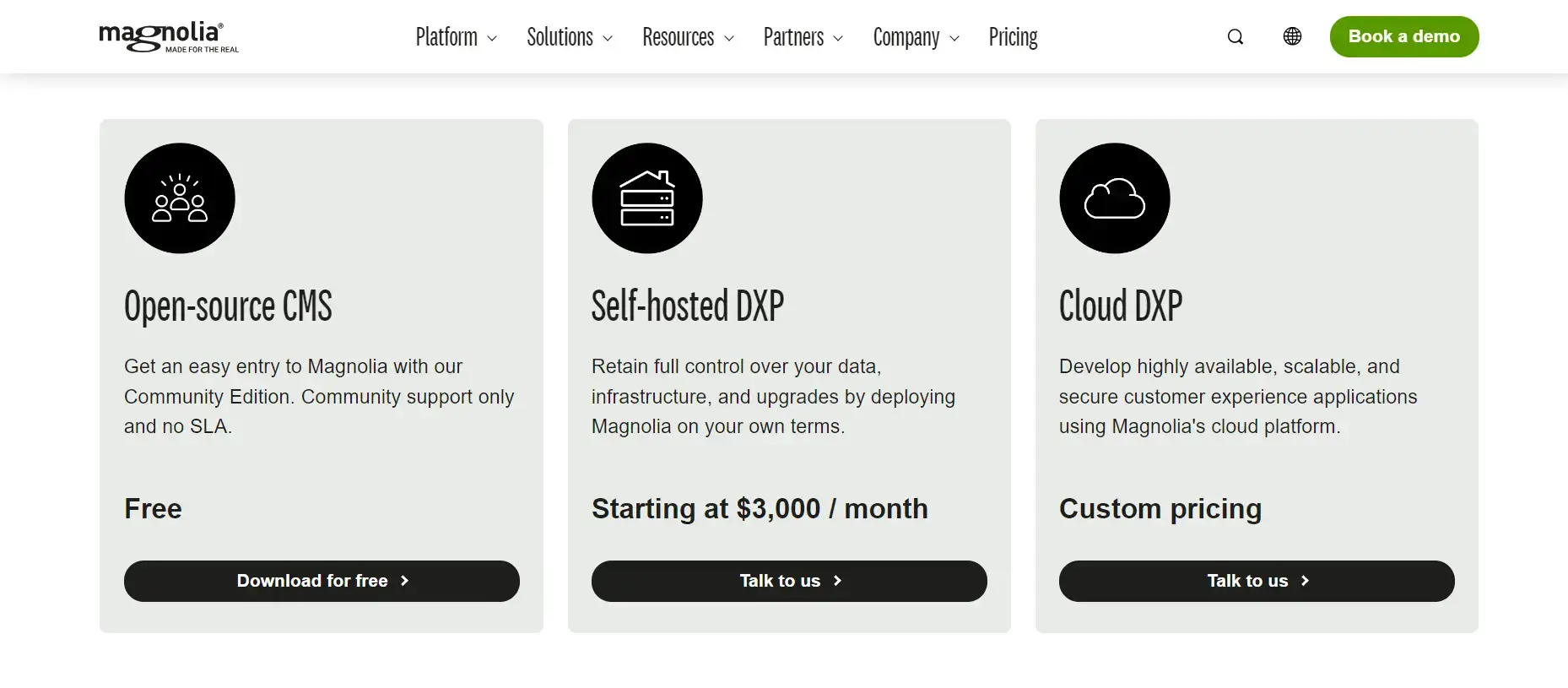 Open-source CMS: free to download with community support only
Self-hosted DXP: starting at $3,000/month, allows for access to full control over your data, infrastructure, and upgrades
Cloud DXP: custom pricing, develop highly available, scalable, and secure customer experience applications using Magnolia's cloud platform.
Pros
Easy to implement and modify new module settings
Easy-to-set-up pages for editors
Allow for capabilities namely internal search, approval process, versioning, and authoring to facilitate content creation
User community and access management capabilities support the user experience.
Cons
The learning curve for new developers can be steep
UI might be somewhat difficult to comprehend. There should be more documentation and guides.
It is difficult to migrate from older versions of the website to newer ones due to the significant changes introduced by newer versions.
Agility CMS
Agility CMS is the best Headless CMS+ for businesses seeking personalized, scalable, and future-proofed content management solutions. With an API-first approach and flexible architecture, Agility enables faster iteration and innovation, as well as scalability and adaptation to changing business requirements with ease. Your brand can effortlessly create and distribute engaging content across channels while working seamlessly with any front-end and coding language.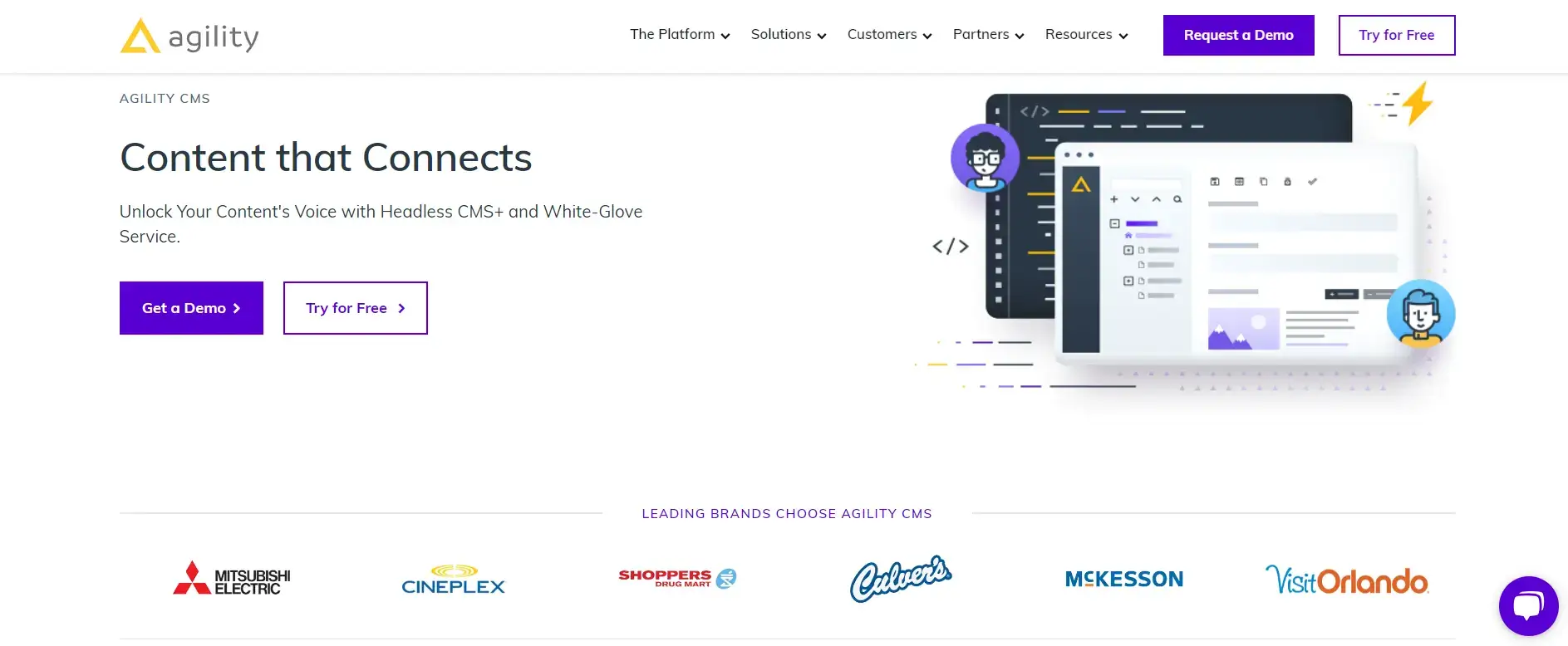 Agility offers personalized white-glove service and focuses on unique challenges, making them the superior choice for large enterprise websites with a lot of content. It also allows for easy data import to support the migration from other platforms to a Jamstack CMS. The platform is trusted by large brands in the world, including Cineplex, Mistubishi, Pepsico, and more.
Key features
Agility has all the features you need, including Marketing, content operation, and developer features, to create and manage modern, dynamic digital experiences without a steep learning curve or prohibitive price.
Built-in sitemap management: allows content editors to compose pages in the sitemap wherever they like.
Built-in SEO fields, no need to manually define fields for everything
Content and Page Previewing with Agility's Next.js starters
Multilingual Capabilities allow for content creation in different languages
Beginner-friendly with low-code content creation and management
Various built-in features help to reduce considerable development time
Diverse support channels including hotline, community Slack channel, onboarding packages, DevOps support, training, and consultation
Pricing

Starter: starting at $1,249/month, for a single website and small teams.
Pro: starting at $2,499/month, for larger teams with multiple websites and content hubs.
Enterprise: custom pricing, for further scalability and control of the process.
Pros
The API of the website is high-speed.
It has flexible navigation structures and enterprise scalability features.
Allows for faster workflow and more organized content operation.
Large resource base available with guides, webinars, blogs, case studies, and documentation.
Cons
The business plan is expensive.
The search function is limited.
Contentful
Contentful is a composable content platform that facilitates great digital experiences for businesses. The API-first approach enables the platform to provide ease of out-of-the-box authoring on the one hand, and ease of application development for consumption on the other.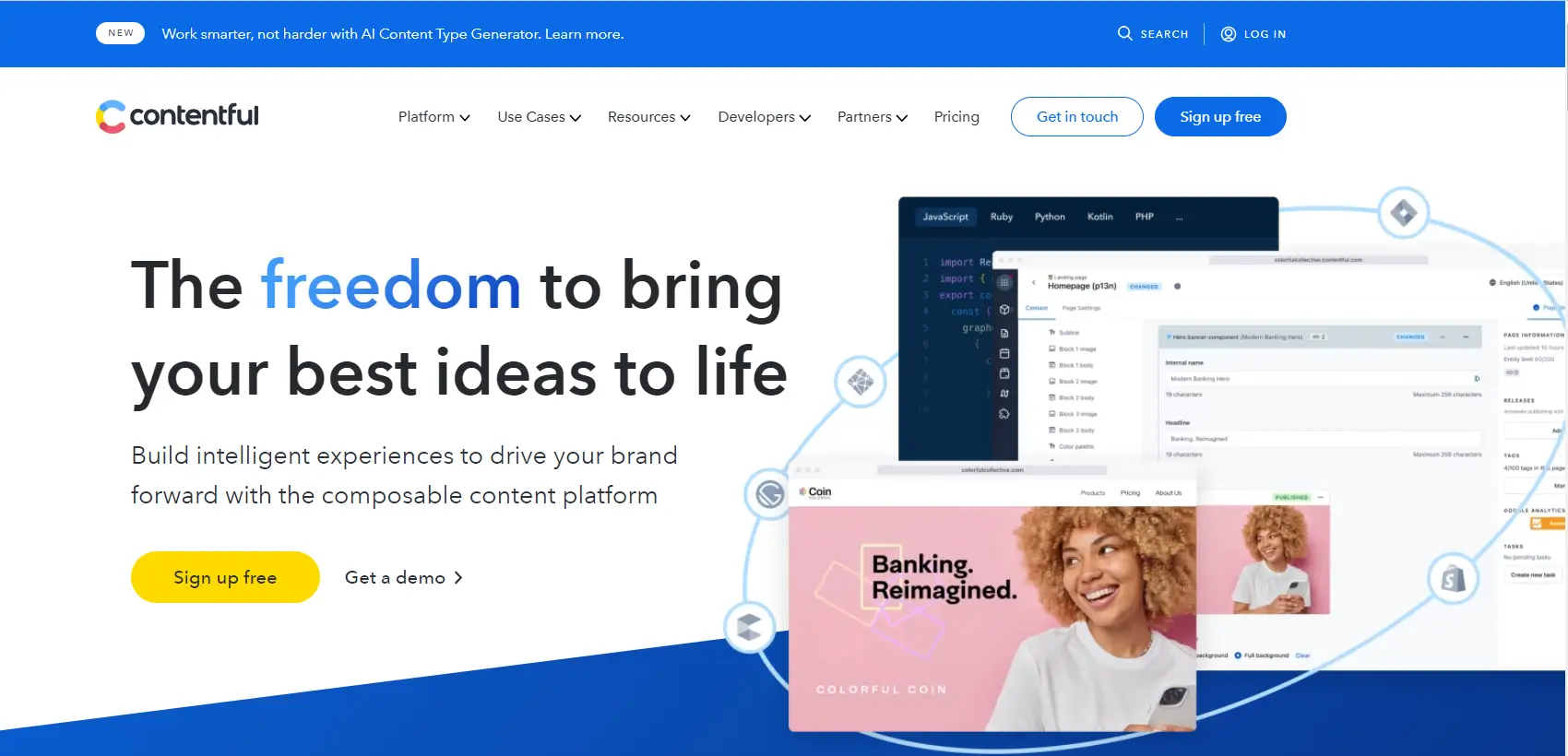 With built-in orchestration, a robust app ecosystem, and a framework for platform scalation with ease, Contentful enables businesses to effectively connect, create and extend content. The platform enables businesses to unlock the potential of their digital content to launch faster, consistently, and at scale, thereby transforming their content into a strategic business asset. Many world-famous brands, namely Shiseido, Staples, Band & Olufsen, etc, have relied on Contentful to help them bring their best ideas to life.
Key features
Orchestration: Orchestrate workflow across the entire content graph along with internal and external data to launch new digital experiences faster, more efficiently, and power innovation.
Integrations: Offer pre-built integration with other platforms like Shopify, the Contentful SAP Connector, and Google Analytics 4 for you to leverage their power and enhance your system.
Live preview: Allow for content testing to enhance content visualization and optimization.
Simplified experience: Simplify the content modeling and editing process, thereby offering a more intuitive experience.
Collaboration: Eliminate production silos with @mentions and field-level comments to increase collaboration speed.
Enterprise-grade: Support 70 billion API calls/month and thousand of purpose-built apps and integrations.
Reputable platforms: Fulfill all of your security and data residency needs
Speed: Accelerate time-to-market with new starter templates that engage customers more quickly.
AI utilization: Scale your content effectively with Contentful Marketplace's AI Content Generator.
Pricing

Free: for individual projects
Basic: starting at $300/month, for teams building sites and apps, allows upgrade to Medium for an additional $350/month.
Premium: custom pricing, for organizations building scaled experiences, allows upgrades to Medium, Large, and bigger Premium spaces for an added fee.
Pros
Simple UI and small learning curve
Owns a team of certified and experienced developers who can help solve any project complexities
Content management is merged into a single hub.
Teams can collaborate on a specific project easily.
Cons
The subscription plan restricts the types of content per space.
Preview and editing capabilities are limited.
Integrating applications with application frameworks can be difficult.
Content created on a different platform cannot be duplicated.
Butter CMS
Butter CMS is another API-driven, cloud-based best Headless CMS platform. This Chicago-based content management system provides the ability to integrate with 21 different frameworks and programming languages, freeing up time for developers in building powerful and customizable components for content creators. At the same time, with an easy-to-use interface, content creators can easily build pages and publish content to multiple sites, apps & localizations without needing developers' help.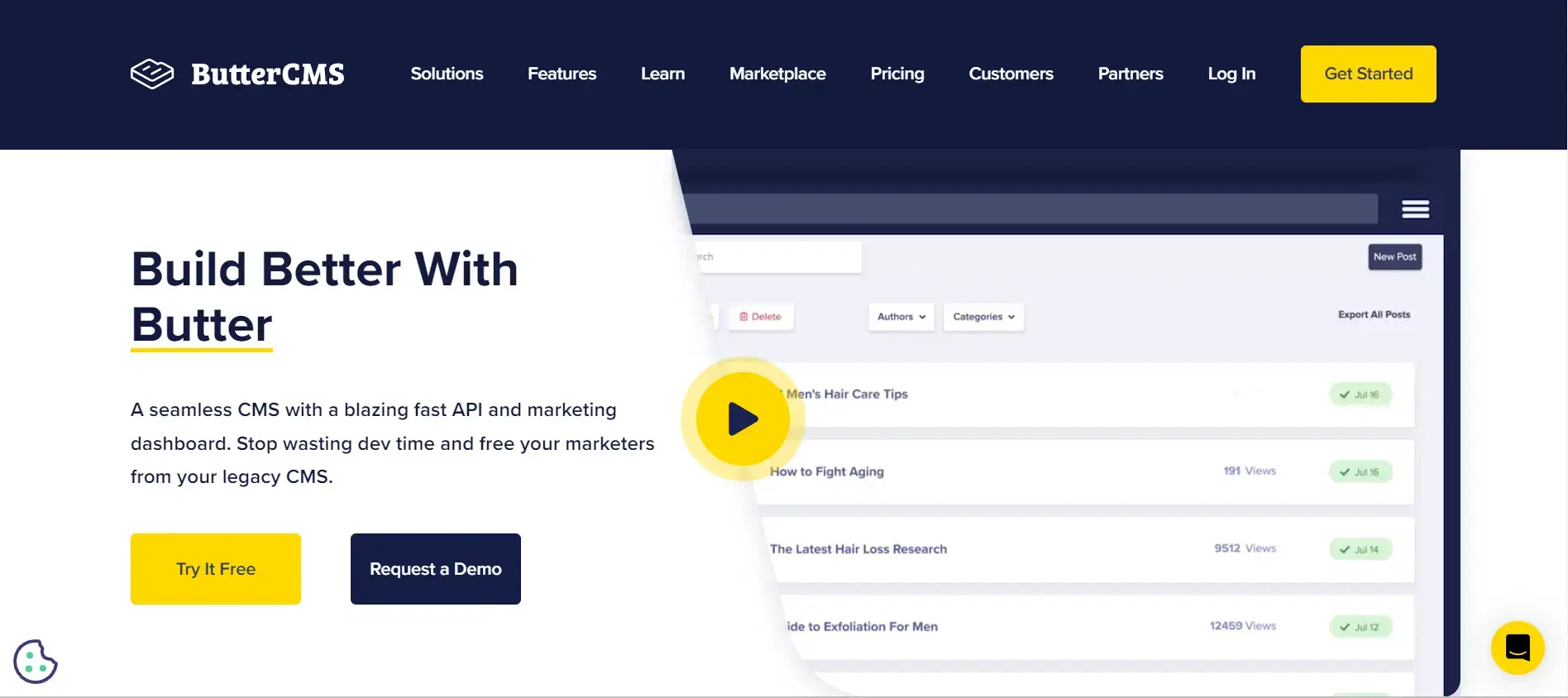 As a composable content management platform, Butter CMS comes with diverse features, from commerce, personalization, AI, and localization to analytics. This makes it a perfect match for eCommerce which enhances product detail pages, launches personalized promotions for customers, and more.
Key features
Efficient content creation: Offer easy content management from one centralized dashboard as well as intuitive content modeling and collections.
Component: Allow the marketing team to have their own component library and compose dynamic landing pages without a developer.
Powerful Admin Interface: Provide a user-friendly admin interface for you to take control of your content with ease.
Productive team workflow: Enable you to stay in sync and keep content flowing with custom roles, workflows, and more.
SEO boost: Provide exceptional SEO support, thereby contributing to an increase in page views and organic traffic.
Language/Framework Compatibility: Create all the locales you need along with an easy-to-use UI to manage all languages of your content.
Centralized multi-channel & multi-site content management: Manage content across your entire enterprise in a centralized location with fine-grained user access at the site level.
Pricing

Micro: starting at $83/month, for small projects.
Startup: starting at $166/month, for a quick launch of a full marketing site for startup.
Small business: starting at $333/month, for marketing teams to scale content, SEO, and run promotions globally.
Enterprise + agency: custom pricing, for business's custom content and locale limits.
Pros
An easy-to-use platform that does not require too much technical expertise
Has an automated publishing feature.
Image management and reusable content are functional development features.
Cons
Creating interactive and dynamic content may not be possible due to the limitations of certain features.
Contentstack
Headquartered in San Francisco, Contentstack is a fully automated composable digital experience platform, powered by the #1 Headless CMS. The platform enables content creators and developers to deliver composable digital experiences at uncompromising scale and dependability.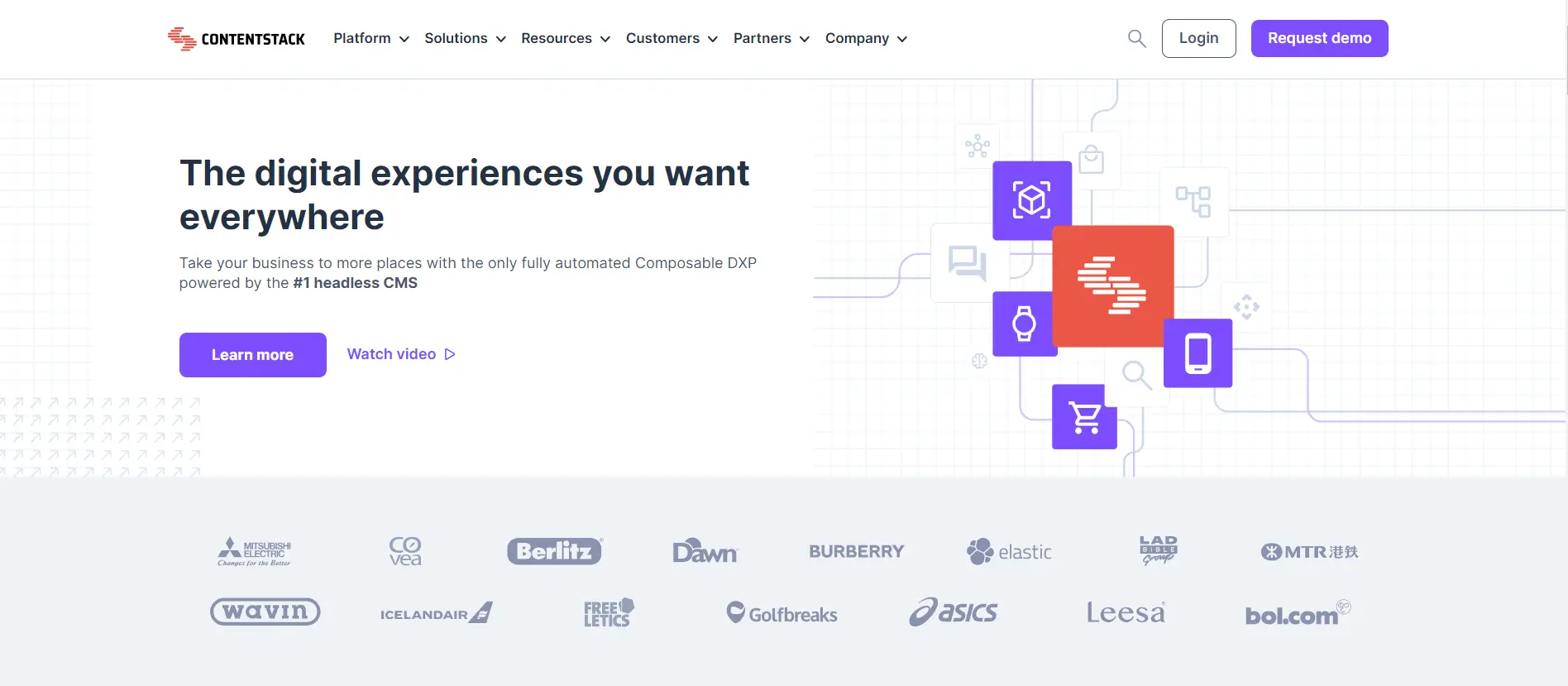 Contentstack comes with superior performance that contributes greatly to its trustworthy reputation. Its platform is architected to handle the most demanding customer conditions, making it a suitable solution for businesses at any scale. Contentstack also offers high flexibility and is customizable, allowing for complex add-ons and tech stacks that are tailored to your business needs.
As a result of its reputation, large companies such as ASICS, Mitsubishi, and Icelandair trust Contentstack to best optimize their online performance. The platform also achieved the industry's highest customer satisfaction rating with its famous Care Without Compromise™ program. They are a founding member of the MACH Alliance, providing the industry-leading best-of-breed CMS and Experience Management solutions via microservices, API-first, cloud-native SaaS, and headless technologies.
Key features
Streamlined Workflows: Accelerate content creation, review cycles, and approvals and streamline the content flow step by step.
Convenient Live Preview: Easily preview content updates across multiple channels prior to saving or publishing them to a live site. You can edit an entry and immediately view the changes side-by-side in real-time.
Dynamic Modular Blocks: Create and modify components instantly with drag-and-drop ease, eliminating the need for technical expertise and long wait times.
Localization: Create and publish entries in over 200 languages for your global audience.
Comments and discussions: Provide in-line commenting, annotations, and discussions to improve collaboration across your team whenever they are.
Contentstack AI Assistant: Transform and enhance your content creation experience immediately with ChatGPT integration.
Headless APIs: Allow for flexibility in building and interface and choose the APIs that best suit your requirements and goals.
CLI Tooling: Perform common tasks and bulk actions without any coding requirements using the command line interface
Developer Hub: A centralized place to build and manage custom apps for your business or the Contentstack community.
Pricing

Start: custom pricing, for management of single-property sites
Grow: custom pricing, for management of single-property sites, apps, and IoT.
Scale: custom pricing, for organization-wide use and teams working on multiple digital properties.
Pros
Offers content scheduling, content authoring, and content repository features.
Internal search capabilities and a rich text editor make it more user-friendly.
Good tools for the handling/conversion/compression of images
Easy to manage once implemented
Intuitive layout tools
Cons
On some monitors, it may be challenging to locate the input fields.
The image tools are not particularly intuitive.
Complicated setup
Directus
Directus is an open-source platform that comes as the best Headless CMS option for businesses with customized databases. It provides a powerful toolkit of features for managing, visualizing, and connecting data. The product suite includes an admin app for editors, a content API for developers, and can be self-hosted for free through Node.js or cloud-hosted. The platform is written with vue.js and uses REST for the public API.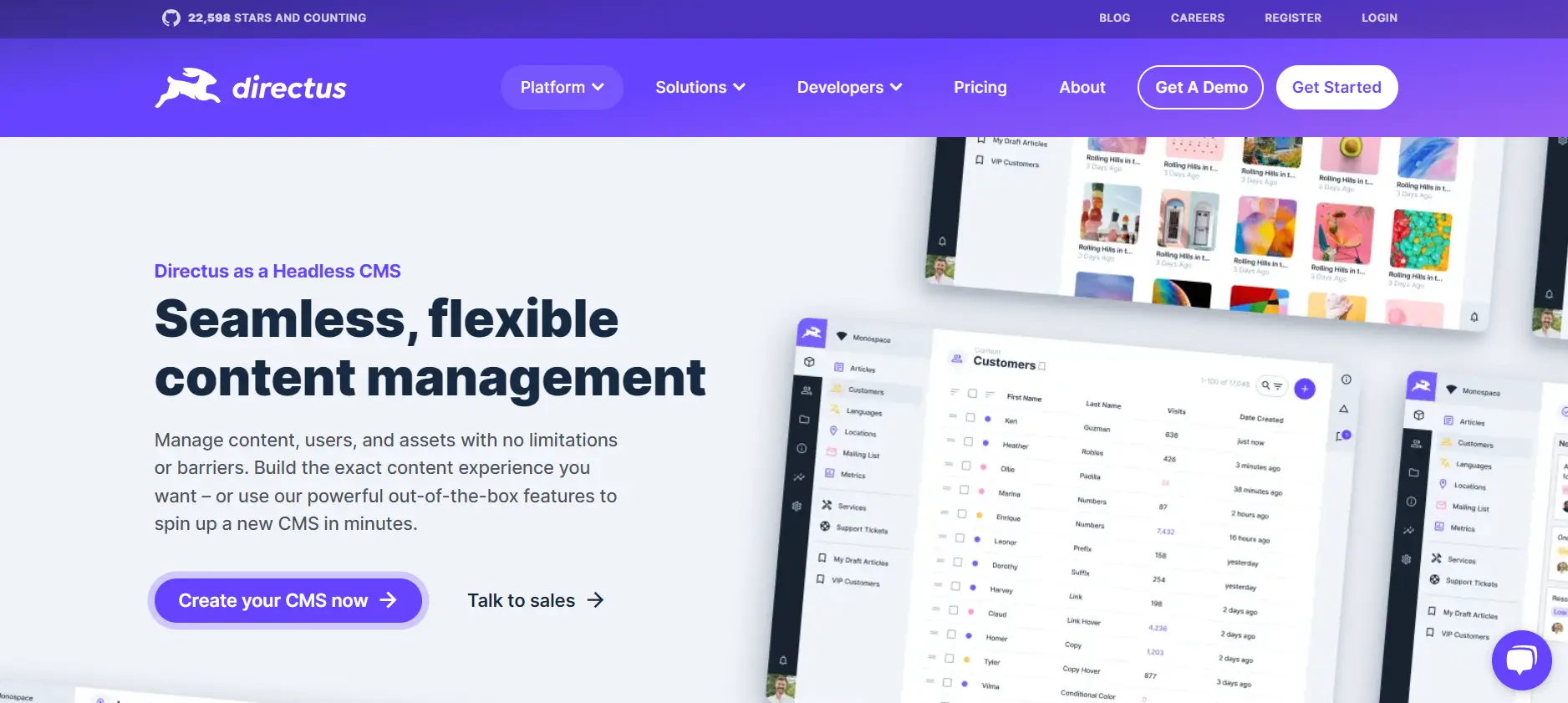 Like other CMS tools, it is powered by PHP, offering developers flexibility in choosing libraries, tools, and stacks for their projects. Specific features for developers such as self-documenting REST and GraphQL API, event hooks for logic, granular access control, data workflows, and much more, are all available. Directus offers fully democratize data access. These robust developer tools are accessible via an intuitive no-code application, enabling self-service for even the least technical business users.
Directus uses a modern and fully-customizable TypeScript codebase, which is completely open-source and built to be extended. Therefore, there is basically no feature ceiling to outgrow. With over 24 million downloads, trusted by Fortune 500 companies, Directus is a proven data solution at any scale.
Key features
Effective content management: Provide powerful GUI for engineers and an intuitive no-code app for non-technical users, enabling all your teams to browse, manage, and post content
Built-in digital asset management: Help all your team organize filesystem, and relationally interconnect them with the rest of your data.
Custom dashboards: Use Directus Insights, no-code charting, and analytics module to build business intelligence dashboards in minutes
Workflow automation: Select from a variety of event triggers, then drag-and-drop conditions and operations to build automated workflows.
Customized database: Offer end-to-end customization and the ability to handle unique database configurations and complex data structures.
Internalization and translations: Supports 64+ languages and allows you to manage any number of content translations.
Feature-rich experience: Provide various capabilities built into the core Directus Studio, including

SSO & MFA: OAuth2, OpenID, LDAP, two-factor auth, and custom password policies.
Batch editing: select multiple items and efficiently update specific fields.
Comments & Mentions: Built-in commenting, user mentions, and in-app notifications.
Search and advanced filtering: Full-text search, filtering, and logical operators.
Pricing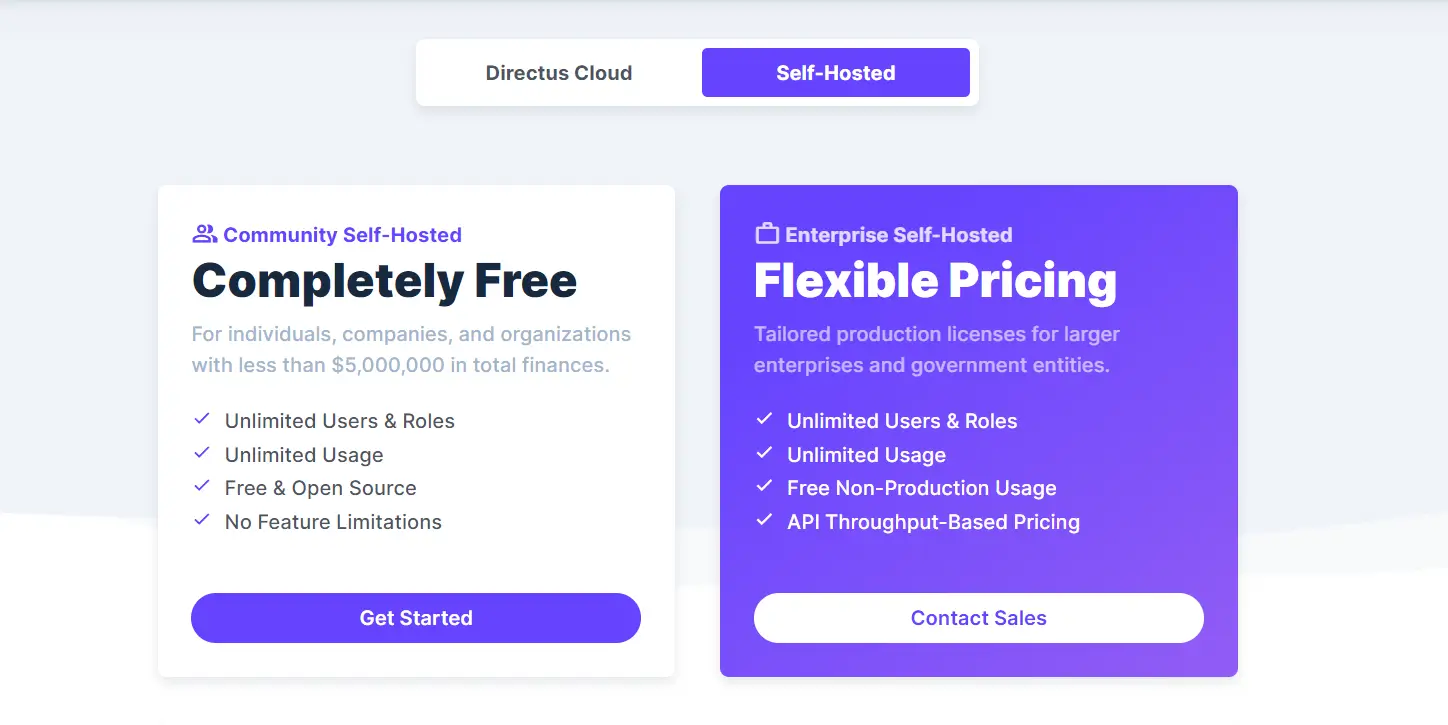 Directus Self-hosted pricing
Community self-hosted: free, for individuals, companies, and organizations with less than $5,000,000 in total finances.
Enterprise self-hosted: flexible pricing, tailored production licenses for larger enterprises and government entities.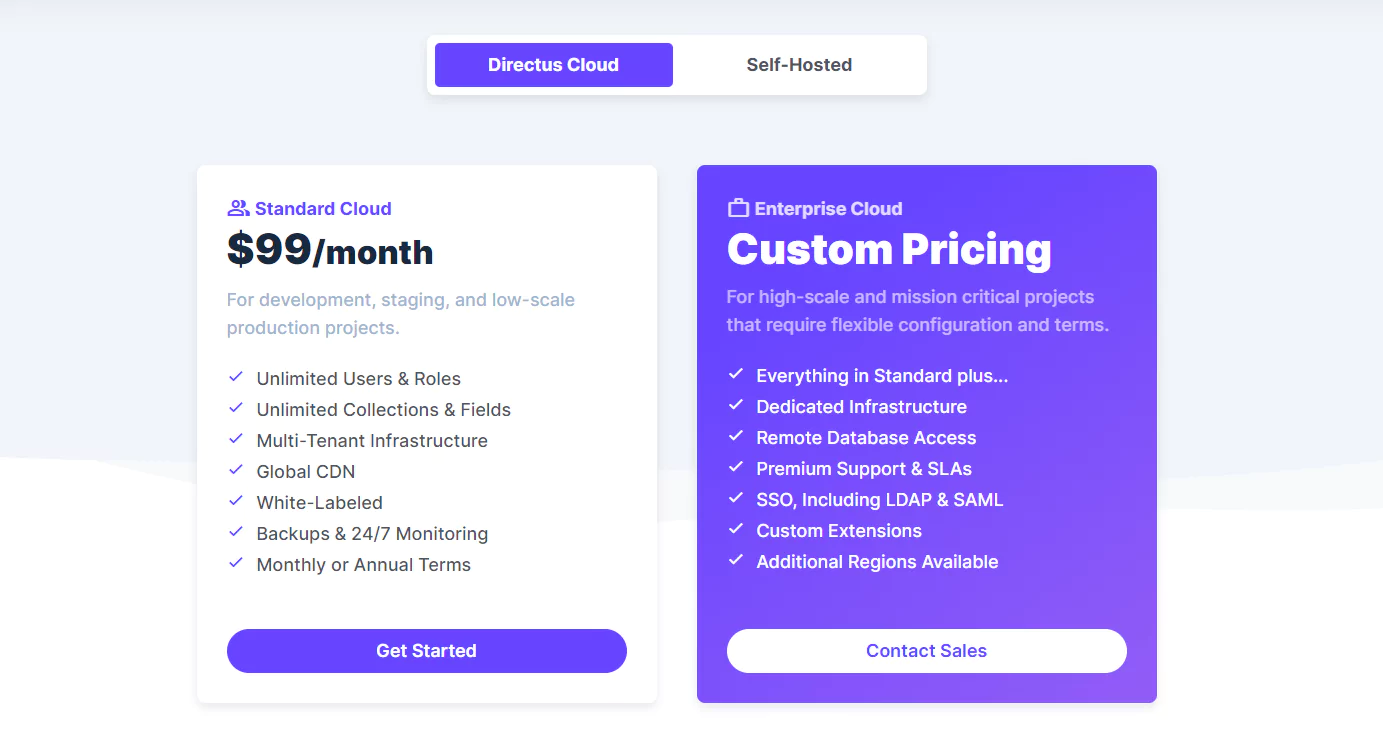 Directus Cloud pricing
Standard cloud: starting at $99/month, for development, staging, and low-scale production projects.
Enterprise cloud: custom pricing, for high-scale and mission-critical projects that require flexible configuration and terms.
Pros
Personalized brand customization
Intuitive and user-friendly front-end
Easy SQL database content management.
Cons
Sometimes content fields are unable to function and must be deleted and recreated.
Occasionally complex new features require additional documentation.
On a server, only one central installation option is available. Dealing with multiple applications can be difficult.
Sanity
Sanity comes as another customizable Headless CMS software that treats content as data to power your digital business. The fact that large brands like Nike, Figma, and National Geographic, among others, rely on its services indicates its excellent reputation in the marketplace.
Thanks to open-source support, numerous plug-ins, and the ability to create custom components, Sanity comes with great customization. It allows developers to make changes to the editing environment using JavaScript and React as well as providing easy integration with Mux, Vimeo, Bynder, Cloudinary, Google Maps, SUSAM, and plenty more.
The product suite encompasses real-time collaboration, customized editing environments, handy previews, and a full version history out-of-the-box, to name a few. Sanity offers great freedom for users but also requires more technical know-how.
Key features
Real-time collaboration: Allow for an efficient workflow with no locking, and no waiting time. You can also build your own workflow actions in Sanity Studio.
Flexible content preview: Let you build richer and more advanced authoring experiences and empower authors to relate to the user experience across every channel.
Custom infrastructure and integration: Create workflows programmatically for editors and connect them to your databases and CI workflows. Even project configurations and content schemas can be generated programmatically.
Precise content querying: Treat content as data with GDPR compliant.
Localization: Provide coherent messaging across territories. Use global CDN to serve ultra-fast data from around the globe.
Pricing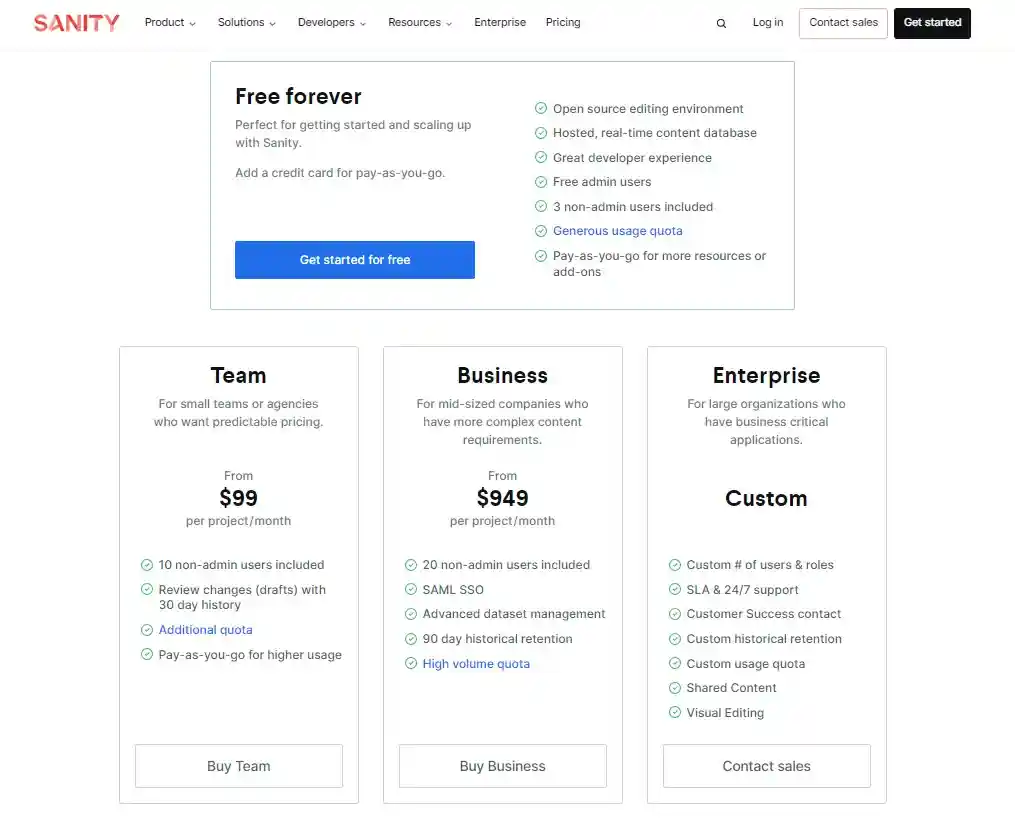 Free Forever: for starters with Sanity
Team: starting at $99/month, for small teams or agencies who want predictable pricing.
Business: starting at $949/month, for mid-sized companies who have more complex content requirements.
Enterprise: custom pricing, for large organizations that have business-critical applications.
Pros
Schemas and data models are flexible and easy to set up
Easy-to-integrate frameworks
Small learning curve
Deep customization
Offer content preview, personalization, and content performance analytics features that make content management more effortless.
Cons
Media management (such as video) necessitates external services (such as the Mux plugin) that incur additional expenses.
Customization based on specific components may be difficult.
The flexibility of some modules is limited.
Require technical expertise to set up
Strapi
Being an open-source headless CMS software, Strapi offers a seamless creation and distribution of content. This self-hosted CMS comes with 100% JavaScript, extensible and fully customizable features, and empowers developers to speed up their projects. It offers the entire codebase on GitHub and integrates with a whole host of frameworks and programming languages such as Vue.js, Angular, and React— and platforms like SendGrid, Algolia, and Mailgun.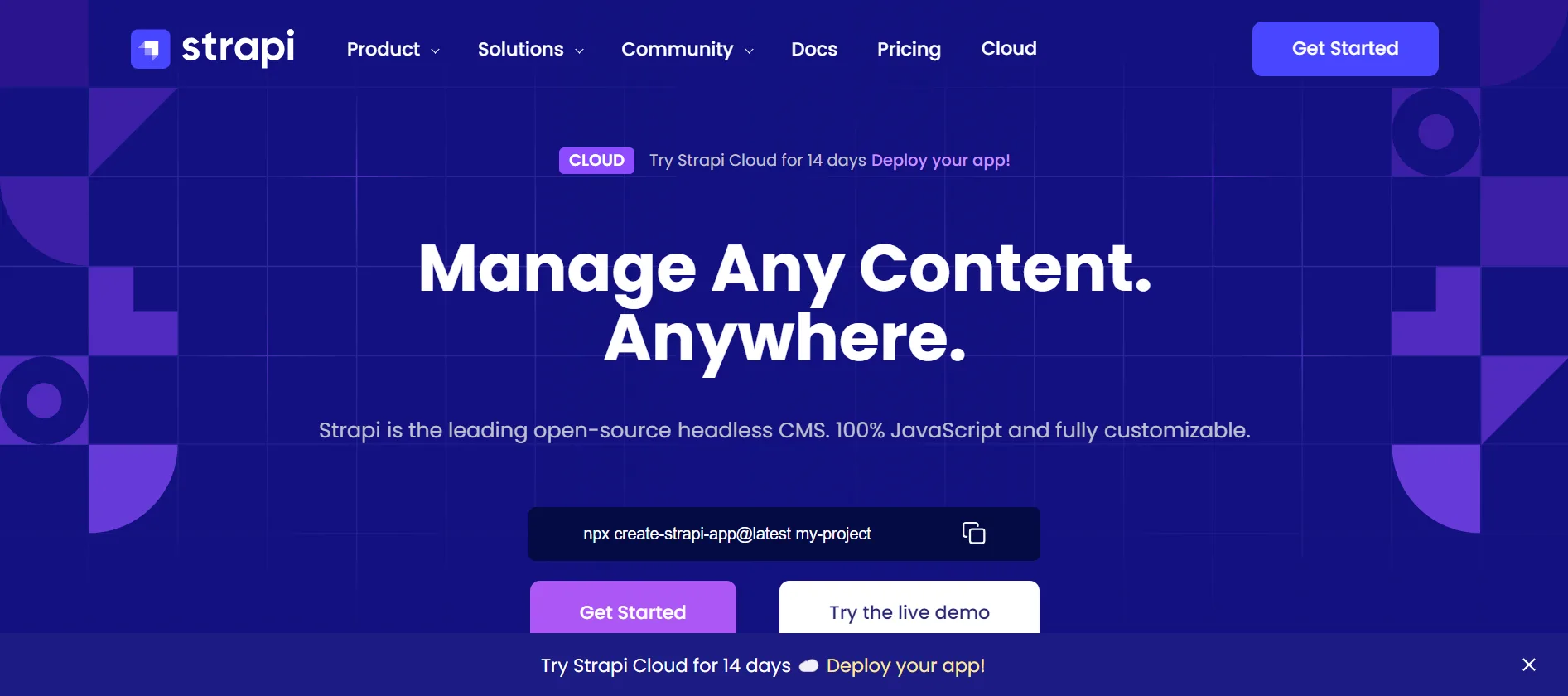 Strapi strives to construct a robust API for developers while providing an intuitive admin panel for content teams. The platform allows you to define the content-type structure you desire, including Text, Date, Media, Password, Relationship, and Number categories. In addition, you can also edit the API code to further customize it. Content teams can leverage this to autonomously manage content and distribute it to various channels.
Strapi is adored by developers and supported by a global community of members and partners bringing together an ecosystem of more than 150,000 enthusiasts and 700+ contributors. They are trusted by large clients namely Toyota, NASA, and IBM.
Key features
Multi-database support: Support SQLite, MySQL, Postgres, and MariaDB
Customizable API: Consume the API from any platform (React, Vue, Angular), mobile apps, IoT, using REST or GraphQL. You can edit the code anytime to fit your API to your needs.
Single types: Create one-off pages that have unique content structures such as a homepage, menu, and SEO settings.
Internalization: Create multilingual websites and applications. Localize content by translating the text and modifying the page's messaging and structure for each version.
Custom fields: Create a unique editing experience by customizing the admin panel at ease. Integrate Strapi app with other tools and customize the admin panel easily.
Media library: Upload images, videos, or any files. You freely crop and optimize their sizes without having to worry about quality loss, therefore, you can easily find the right asset, edit, and reuse it.
Built-in sorting and filtering: Manage thousands of entries without effort
SEO optimized: Easily manage SEO metadata with a repeatable field and use Media Library to optimize the SEO of media assets by adding captions, notes, and custom filenames.
Pricing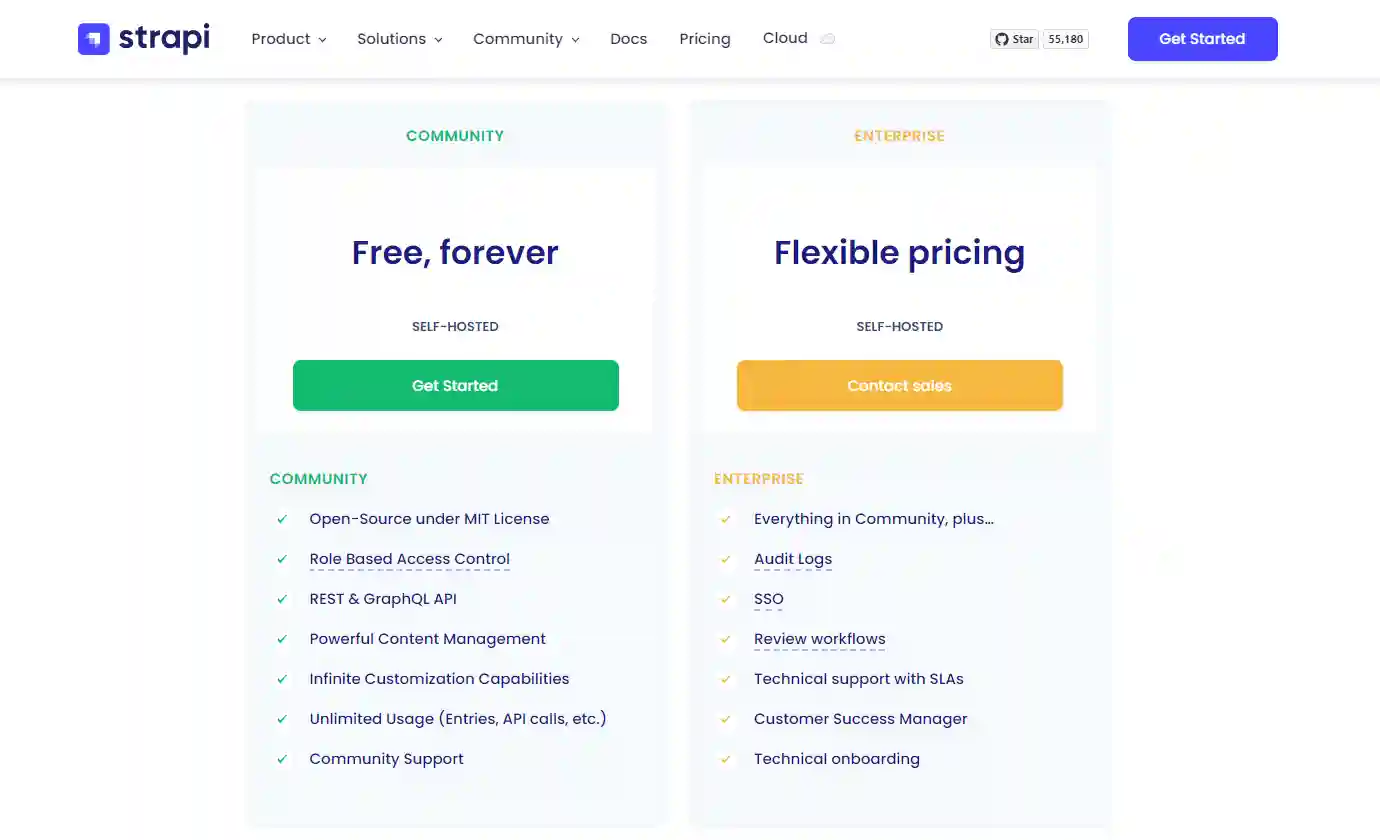 Strapi self-hosted plan
Community: free, forever
Enterprise: flexible pricing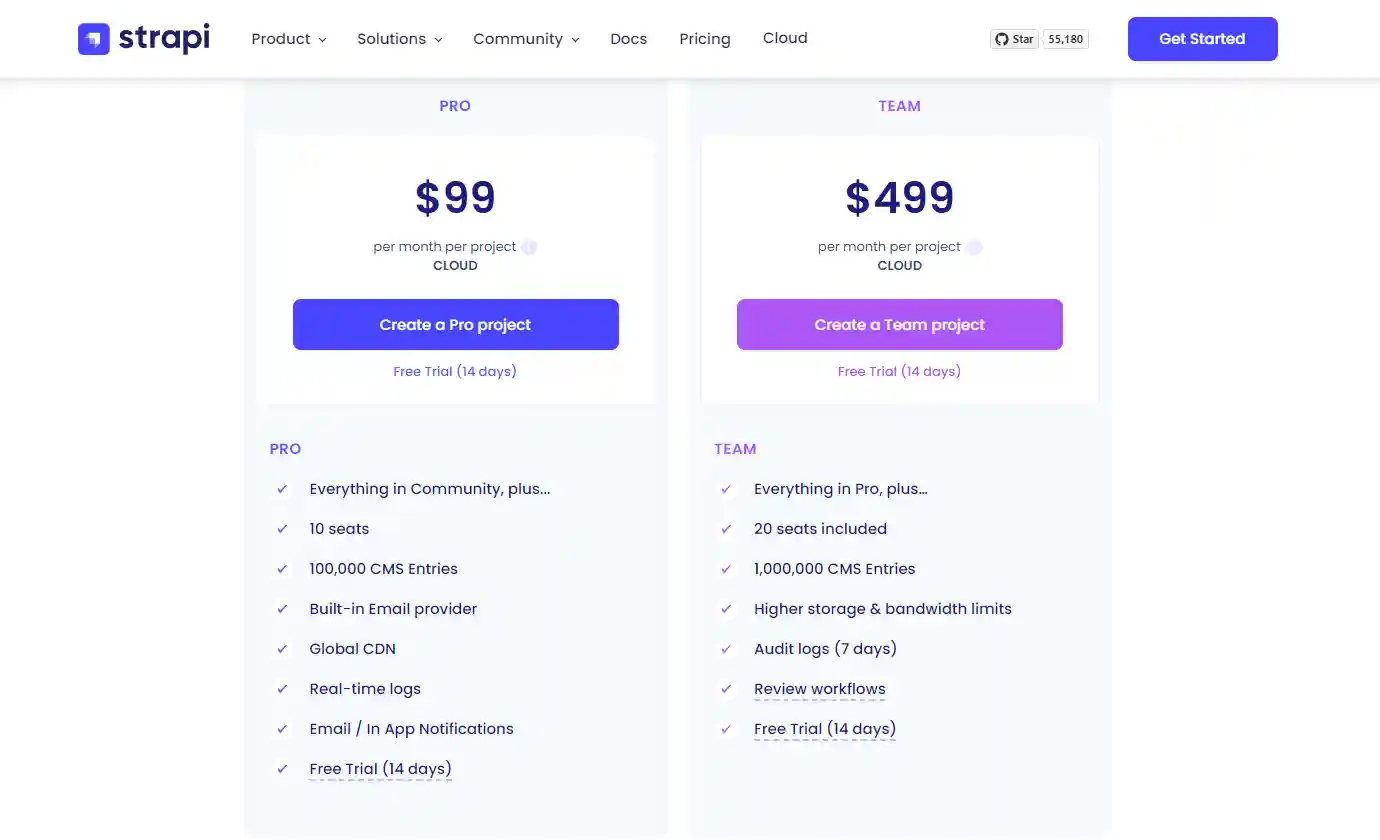 Strapi cloud plan
Pro: $99/month/project
Team: $499/month/project
Pros
Intuitive and functional UI
Customizable API
Fast performance features with NodeJS and a modern codebase.
Third-party API integrations are straightforward
Regular updates and bug fixes
Cons
Limited administrative roles per plan
Lack of support for the superset JavaScript language Typescript
Restricted access to community plans.
The documentation might not be clear and understandable.
Hygraph
Hygraph is a cutting-edge Headless CMS platform that allows for true composability of your stack. It follows an API-first approach, which enables editors and developers to have complete independence.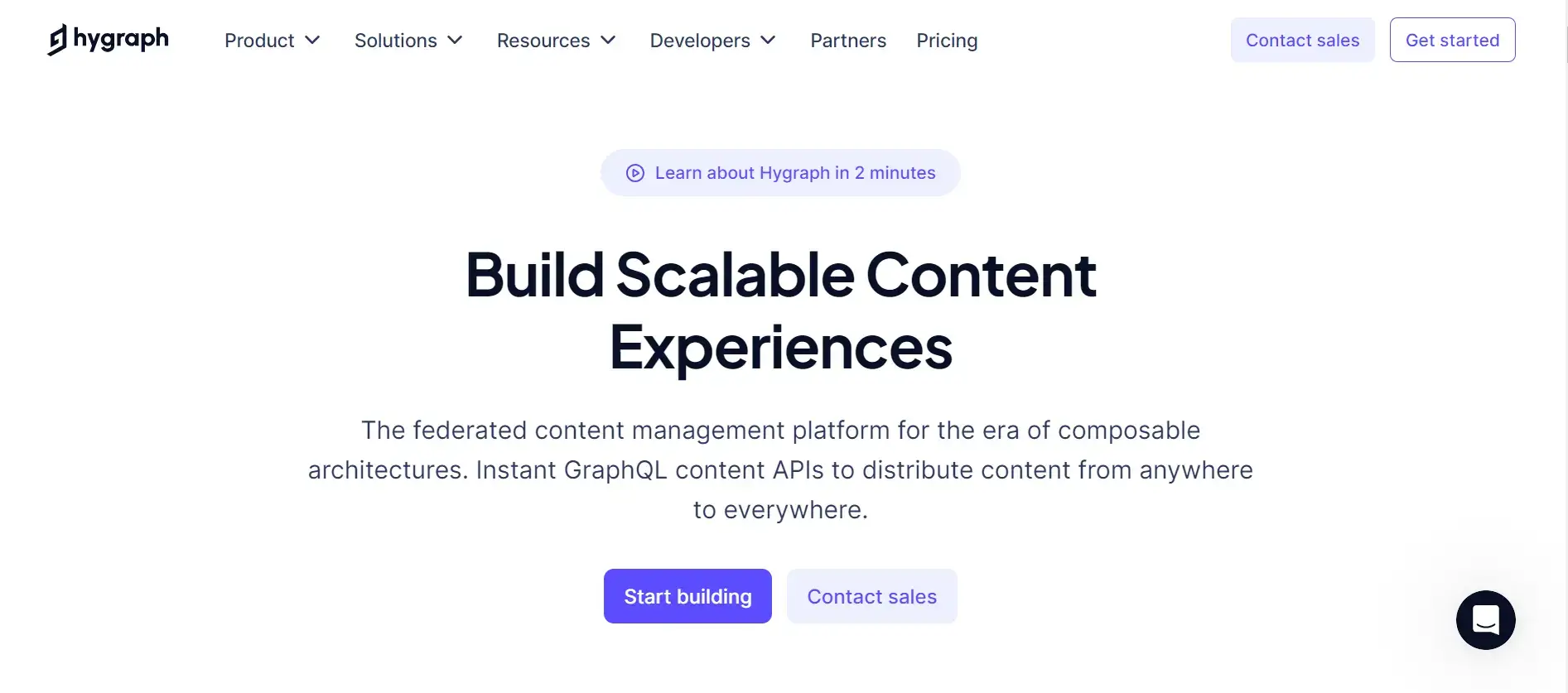 Hygraph harnesses the full potential of GraphQL and focuses on Content Federation. This is the platform's standout feature that sets it apart from other competitors. With Content Federation, Hygraph integrates and aggregates content from multiple sources and systems, creating a unified content experience within a single CMS interface. Hygraph is trusted by teams of all sizes to deliver their content across the world successfully: Samsung, Biocentury, Dr. Oetker, etc.
Key features
Schema builder: Easily customize your content API using low-code schema builder with a variety of field options like text, assets, numbers, and maps, and even connect content models to share information and scale faster.
Components: Make content creation faster with a predefined set of fields to be used across multiple models. You can choose to add basic components or modular components in a model.
Rich text editor: Create captivating content using robust text editing tools.
Content preview: Set up URLs to preview content through auto-generated links on the front-end before it's published.
Remote sources: Use a low-code approach along with the support for API GraphQL or REST to configure multiple external systems for your Hypraph project. Once a remote source has been configured, its content can be utilized across multiple models or queried at the top level.
Custom roles: Project Admins and Owners can create custom roles, each with its own set of permissions for managing content and projects.
Granular Permissions: Maintain control over content access with precise permission settings for every role.
Localization: Easily translate, publish, and manage content from different languages in one place.
Webhooks: Invoke webhooks for various Hygraph events with optional additional headers and authentication.
Ready-to-use integration: Offer various integration available in Hygraph marketplace.
Worldwide Content and Asset Delivery Network (CDN): Allow your content to be distributed globally. You can even choose from two different caching solutions depending on your location and requirements.
Pricing

Community: free forever, for personal and small-scale projects that require a robust content API.
Self-service: for growing teams need to scale their applications and products

Professional: $299/month/project, billed yearly
Scale: $799/month/project, billed yearly

Enterprise: custom pricing, for building market-leading applications, tailored to your requirements.
Pros
Provides a speedy user interface and intuitive schema designer
The API playground facilitates testing fetch requests.
Contains a rich text editor and features for content authoring
Displays content performance metrics
Cons
API functionality can be slow, ranging from 1-8s
Migration of data during a model change can be complex.
Not optimized for mobile use.
dotCMS
dotCMS is an open-source hybrid CMS that utilizes Java technology to help organizations build, manage, and deploy content-enabled applications such as websites, single-page apps, mobile apps, and more. Its API-first approach allows for the management of content, images, and assets in one centralized location and delivers them to any channel.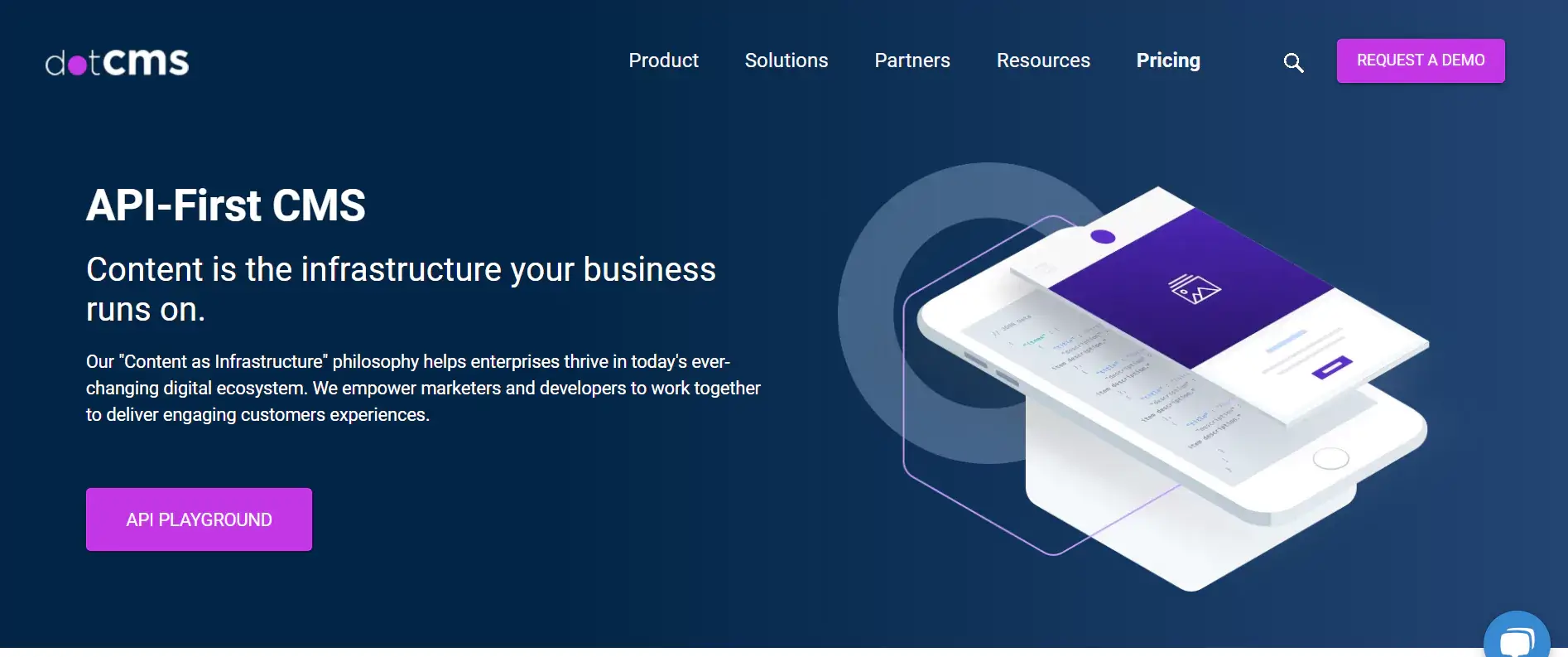 The platform uses REST, GraphQL, and Scripting APIs, which are tested on Postman and executed via its command-line interface (CLI). dotCMS is hosted through AWS, and its data repository is GitHub. It also supports Apache Velocity as its native coding language. The plugin architecture and APIs allow users to easily customize and integrate with third-party systems to build a best-of-breed Digital Experience Platform (DxP).
Headquartered in Florida, DotCMS has an active open-source community that has generated over 500,000 downloads. dotCMS customers include BNP Paribas, GreenSky, TELUS, and Lennox International.
Key features
Drag-and-drop WYSIWYG editor: Create custom content types, fields, relationships, and taxonomies easily.
Customize roles and permissions: Keep content safe and ensure the productivity of the team workflow.
REST API: Have full control over your content, assets, layouts, and workflows.
Multi-step workflows: Improve and simplify the content creation system with features like Four Eye approval, AI translations, and third-party integrations.
Layout as a Service: Manage and edit layouts, contents and assets in context with NoCode layout creation.
Multilingual and granular localization: Allow for content publishing anywhere, anytime, and in any language.
Top-rated support: Received 24/7/365 monitor and support from dotCMS engineering and support teams.
Single Sign On: Integrate smoothly with SAML, OAuth, and AD-based SSO vendors to make Single Sign On simple.
Scalability and speed: Scale your website across organizations quickly and easily with Java infrastructure and multi-tenant capabilities.
Pricing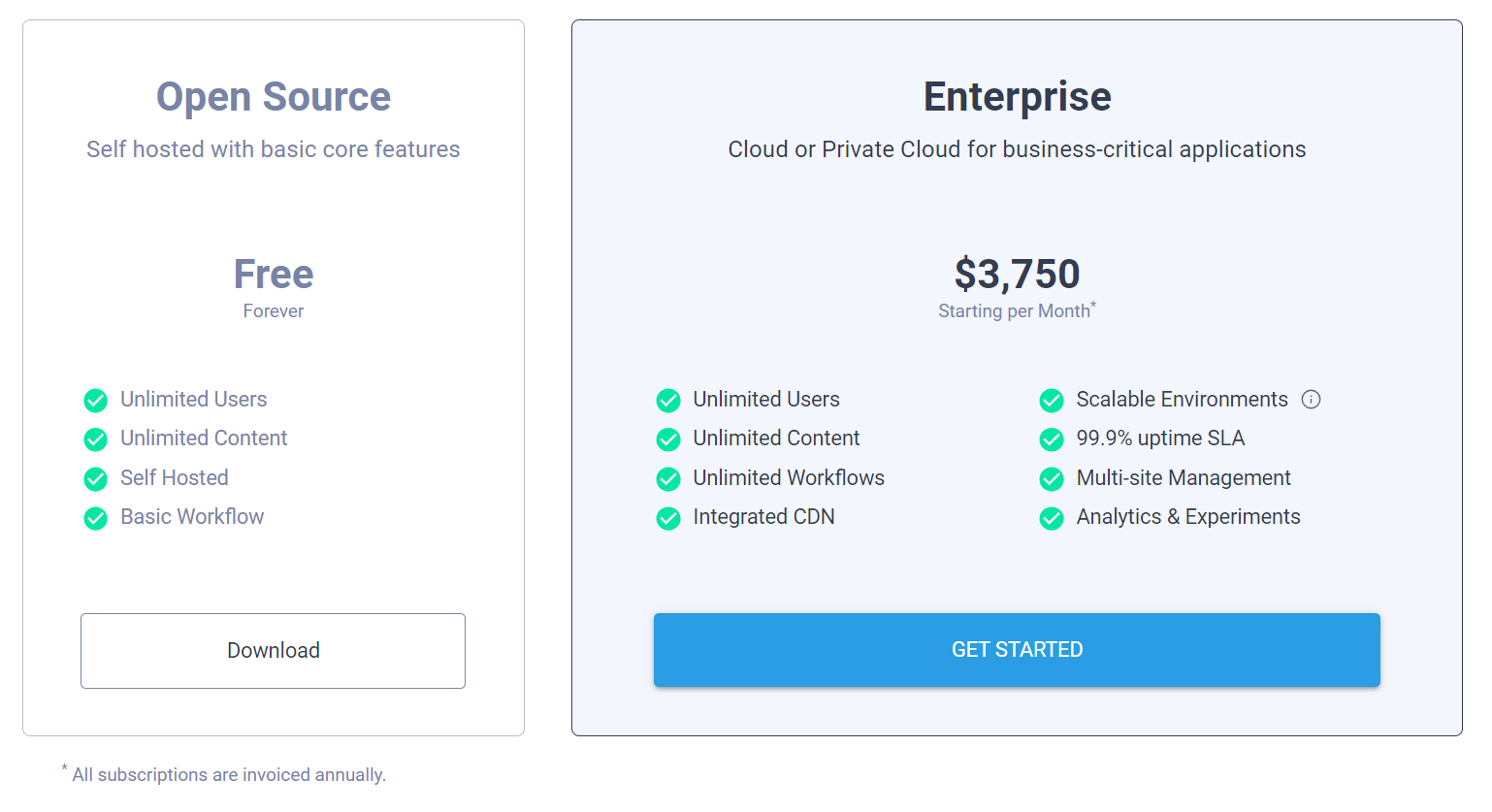 Open Source: free forever, self-hosted plan with basic core features.
Enterprise: starting at $3,750/month, cloud or private cloud plan for business-critical applications.
Pros
Customizable templates
Easy custom content types creation and integration with other platforms
Content scheduling, rich text editor, and content authoring features, thus making content creation easier
Cons
Comes with a steep learning curve as a content-driven CMS
Software crashes can occur occasionally.
Storyblok
Storyblok is a visual editor for content teams. Established as a pure headless SaaS CMS, Storyblok helps your team to tell your story and manage content for every use-case, from corporate websites, eCommerce, and mobile apps, to screen displays.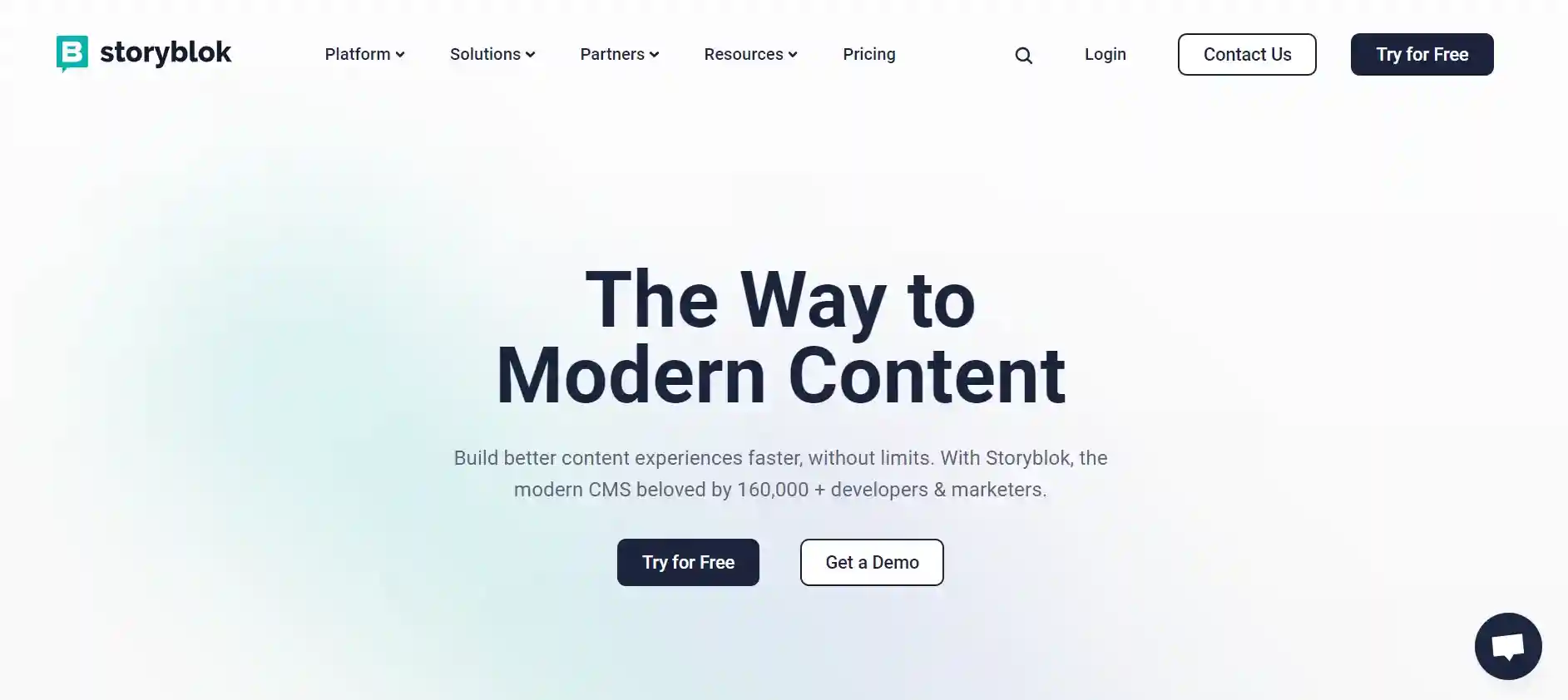 The platform supports Vue.js, Gridsome, Laravel, Nuxt.js, Gatsby.js, React, Svelte, Next.js. With the modern headless architecture behind its operation, Storyblok helps create a content experience without any limits with the development of a tailored technology stack for each business. Storyblok has completed 50k+ projects and is trusted by businesses in 130+ countries. The platform clients are Tesla, Adidas, Oatly, Netflix, just to name a few.
Key features
Cloud-native headless CMS: Give the flexibility to integrate with anything, publish everywhere, and easily extend your capabilities with powerful APIs, Front-end SDKS, auto-scaling, and global CDN.
Composable Components: Have great control and flexibility across all projects.

Management API: Faster delivery of fully rendered pages via APIs.
Pipelines: Set up content staging workflow with pipelines.
Custom extensions: Extend your capabilities with customized apps, plug-ins, and field types.

Visual Editor: Create content intuitively and collaboratively with a live visual editing experience.

Live preview: Allow previewing your change while editing.
SEO optimization: Provide SEO plugin to boost technical SEO with granular, component-level control.
A/B testing: Test different content experiences for various segments with your preferred A/B testing solution.
Localization: Offer native field-level and folder-level internationalization capabilities to localize your content.

Digital Asset Manager: Consolidate asset and content management workflows into one central platform.

User roles and permissions: Manage system access, create custom user roles, and assign permissions.
Custom management structures: Use advanced tagging and nestable folders.
Pricing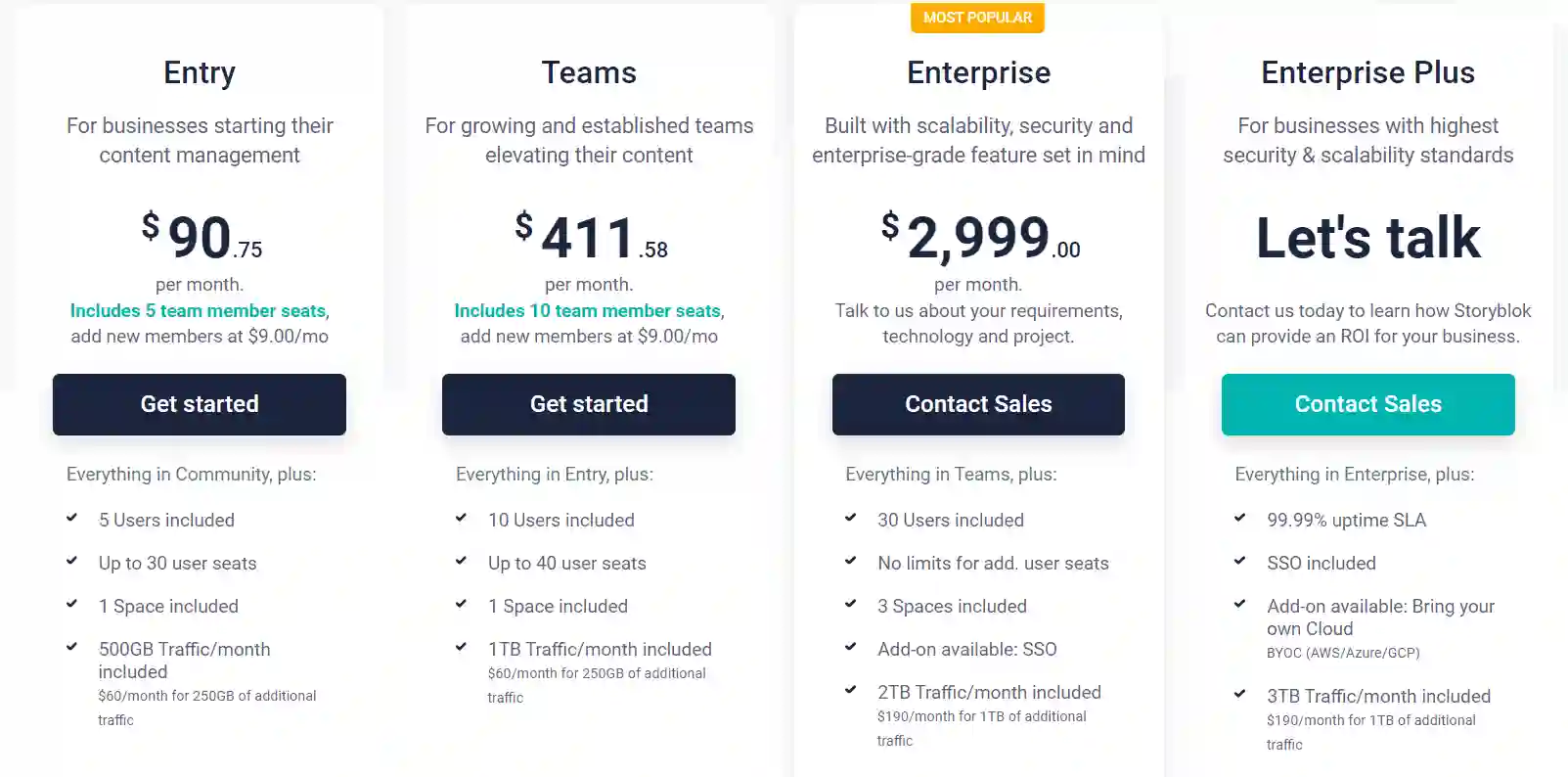 Entry: starting at $90.75/month, for businesses starting their content management.
Teams: starting at $411.58/month, for growing and established teams elevating their content.
Enterprise: starting at $2,999/month, for businesses that require scalability, higher security, and have an enterprise-grade feature set in mind.
Enterprise Plus: custom pricing, for businesses with the highest security & scalability standards.
Community: free forever for 1 seat, additional user seat for $9/month, for developers, freelancers, and small businesses.
Pros
Excellent content authoring, content repository, and rich text editor features facilitate content creation.
Support multiple front-end frameworks and simplify website customization.
Easy-to-produce project documents.
Obtaining the most comprehensive data insights from cloud services
Simple creation of diverse content
Cons
Not compatible with certain platforms as some plug-ins may not function properly.
Lack of flexibility in model creation.
Not a good option when it comes to using CMS as a database.
How to Choose the Best Headless CMS
Evaluate whether your businesses need Headless CMS software
It is undeniable that Headless CMS is gaining popularity as a future-proof solution for eCommerce, however, all top headless content management platforms come with benefits and downfalls and headless architecture cannot be the optimal solution for all businesses. Therefore, before embarking on new CMS for your eCommerce businesses, it is important to consider whether your team needs a Headless CMS platform.
Headless CMS should be the best solution when your businesses are in the following cases:
When scalability, flexibility, or adaptability are among the issues for your businesses.
When you are implementing an omnichannel strategy and need to find a solution to deliver content to multiple channels and platforms in an efficient and effortless way.
When your businesses want more control over content management and how they are structured and presented to your customers.
When building a collaborative workflow is your main concern to improve your business's performance and facilitate faster time-to-market.
Alternatively, there are also some cases when Headless CMS is not recommended to use:
When your businesses have a small budget and limited resources as this will be detrimental when it comes to requiring further support and customization.
When your need for content distribution is to focus solely on a single channel.
Consider factors to choose the best Headless CMS
Once you've determined your needs for Headless CMS, here are some recommended factors to consider when choosing the best Headless CMS for your businesses.
Infrastructure
The first thing to consider when choosing the best Headless CMS is the platform's infrastructure. Consider how the software operates in terms of hosting capabilities, whether they are hosted on Cloud or self-hosted. Examine what their programming language is and which technologies they use.
You should also examine which platform they use, whether it is a SaaS, or open-source solution. While SaaS is more secure with professional maintenance and support services offered by the providers, open-source comes as a more economical solution along with greater control and ownership of the platform. Most of the listed platforms above are SaaS solutions, however, if you wish to find open-source software, Directus, Sanity, Strapi, and dotCMS are some names that come to mind.
APIs
There should be a clear indication of the platform's API capabilities. Does it support GraphQL, REST, or both? Examine how they are used and how they can support your business.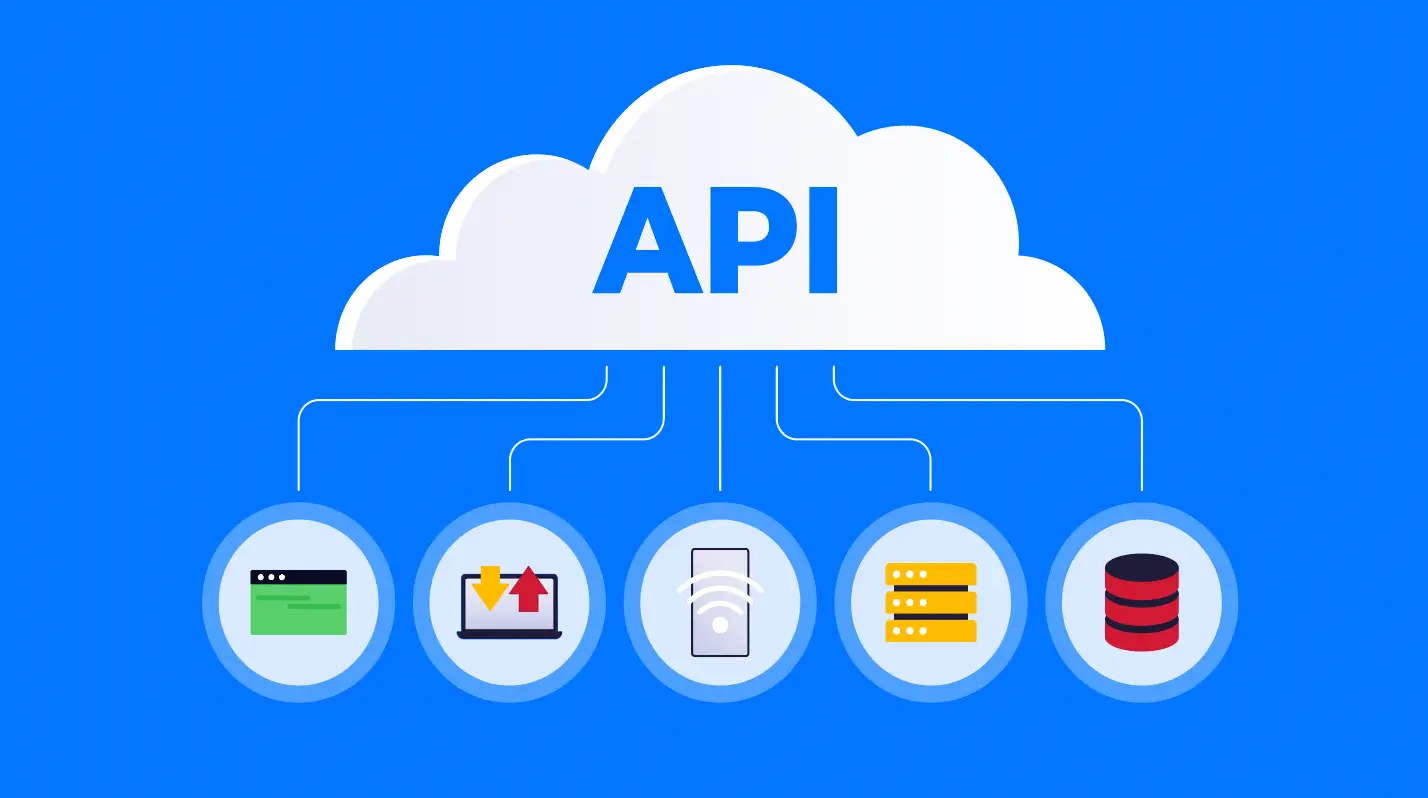 REST APIs are preferable for simple data sources with well-defined resources, as they provide support for content automation and security. GraphQL, on the other hand, excels at managing large, complex, and interconnected data sources, enabling developers to retrieve content at a deeper level and enhancing development efficiency.
Most of the listed platforms above support both REST and GraphQL API. Only Hygraph is a GraphQL-native software.
Scalability and Performance
Assess whether the best Headless CMS of your choice provides you with the adequate scalability and performance your business requires. if your businesses currently have to deal with large traffic and have a high possibility to deal with an increasing number in the future, your Headless CMS should be able to handle those increasing demands without compromising on performance. Look for solutions that offer content delivery through CDNs to improve content distribution speed and reduce latency.
Kontent.ai offers great scalability as they use Fastly for CDN, while the localization feature is available in Sanity and Hygraph with their global CDN.
Security and Compliance
CMS is a hub that stores a huge amount of data and customers' private information. Therefore, the security of your system should be prioritized. Ensure that the Headless CMS platform you choose follows industry-standard security practices and offers features like data encryption and user access controls.
You should look for a platform that has robust security features such as encryption, firewalls, and intrusion detection systems. Make sure the CMS has proof of security. This includes GDPR compliance, SSL, SSO, ISO and HTTPS certification.
If your businesses operated in a regulated industry such as healthcare or finance, you should verify that the platform of your choice complies with relevant data protection and privacy regulations.
Integration Capabilities
Evaluate the availability of integration with other tools and services in your tech stack, such as e-commerce platforms, analytics tools, marketing automation, etc. You should also examine whether your chosen platform is compatible with your existing systems or tools. This easy integration benefits both content creators and developers as it allows you to work with familiar frameworks and maintain your current workflow on those systems.
Kontent.ai, Magnolia, Sanity, and dotCMS are platforms that offer flexible and custom integration. Alternatively, if you only require pre-built integration, Contentful, and Hygraph can fulfill your needs.
Content editing capabilities
A clean and intuitive UI has a positive influence on your content production effectiveness. Therefore, it is important to examine the platform's user-friendliness and intuitiveness interface. This is more important if your businesses have limited technical capabilities. Some providers of choice are Strapi, Kontent.ai, Agility CMS, Directus, and Magnolia, which all offer simple and easy-to-set-up UI/UX design for editors.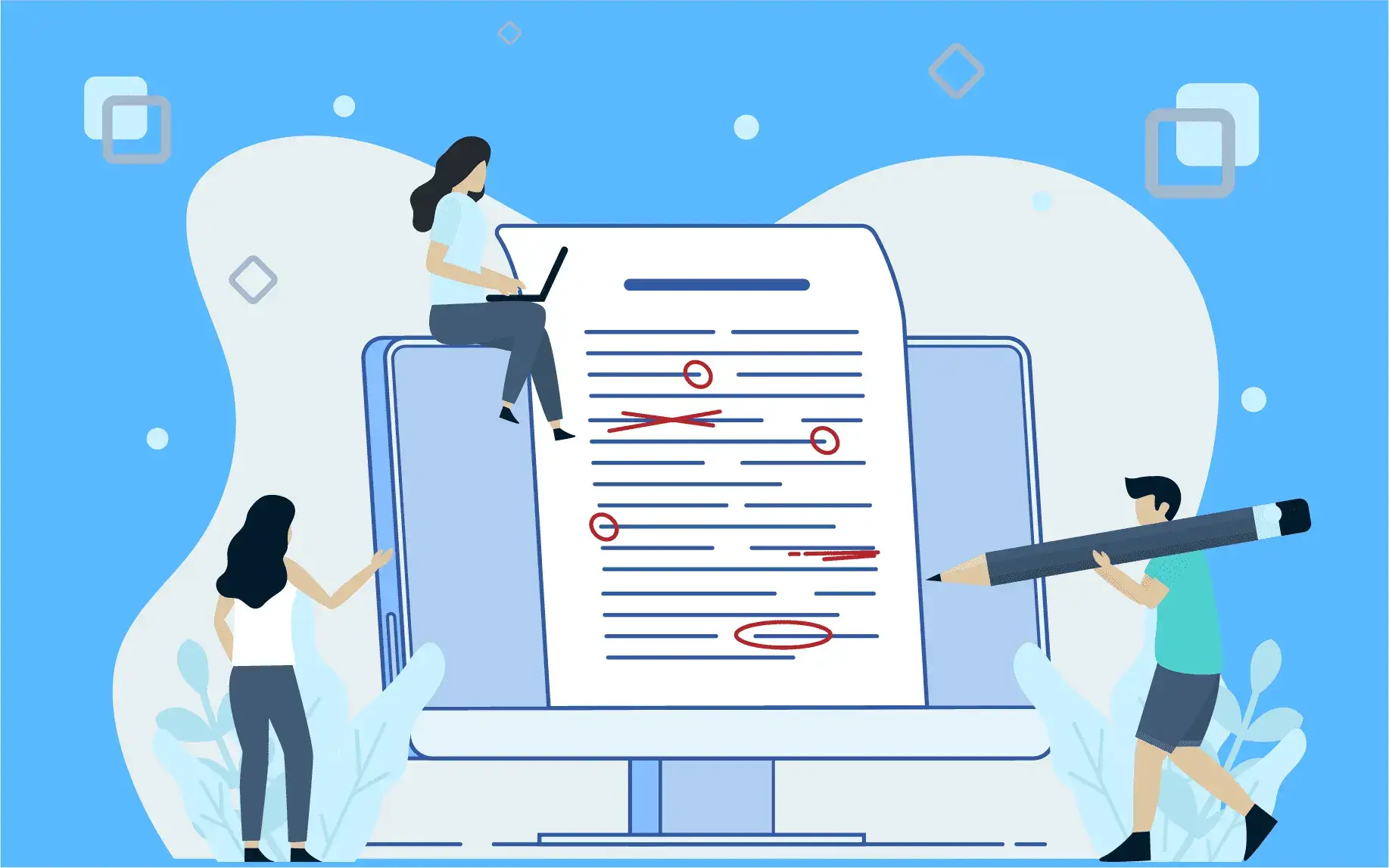 The best Headless CMS software should also include effective editing features which include tagging, media format support, commenting, search, and filters. Content preview is also an important feature, allowing content creators to view the content changes before publishing. This help facilitates the content creation process. Editors should also have access to data fields for omnichannel content modeling and APIs for viewing unpublished content across multiple environments. Additionally, users must be able to integrate third-party systems via webhooks or APIs.
Magnolia offers Visual SPA Editor that provides WYSIWYG page editing, while Directus Studio creates a feature-rich experience with batch editing, comment and mentions, search, and advanced filtering. You can receive the webhook feature from Hygraph.
Customizable Roles and Permissions
Assess whether the CMS supports multi-user collaboration, workflow management, and approval processes. Author roles and admin permissions should be available in order to manage content creation, editing, and publication. Additionally, you should be able to tailor these roles and permissions to meet your specific requirements. This will create an easy workflow for your team as well as save considerable time for your team to focus on more important tasks.
Most Headless CMS platforms allow you to create a custom workflow for your content management. Among those, Contentful includes Orchestration as its main feature, aiming at creating an orchestrated workflow across the entire content graph to support faster and more efficient digital experiences. On the other hand, Hypraph, dotCMS, and Storyblok are three platforms that offer customized roles and permissions.
Pricing and Additional Costs
Estimating the total budget for your Headless CMS development is critical to examine all the costs and the availability of your financial capability. Consider the provider pricing and see if the features included meet your businesses' requirements and quickly generate your ROI. Look at upfront costs and ongoing expenses, such as hosting fees, additional features, and support plans. External developer costs should also be taken into account. You should also make sure that the headless CMS offers a preview feature and that the subscription plans scale as the business grows.
Although many Headless CMS software offers free plans, their price scales up for bigger plans that serve more needs. Directus, Contentful, and ButterCMS are suitable solutions for businesses with budget constraints due to their cost-effective pricing structures. For large businesses with a more comfortable budget, Magnolia, Agility CMS, and Storyblok comes with larger plans that fulfill their requirements. Custom pricing is available for Contentstack and Kontent.ai, in which you collaborate directly with the vendor to determine the optimal price for your business.
Support and documentation
Last but not least, you should consider how accessible the CMS vendor's support team is when any problems arise. Check for any service-level agreements (SLAs) offered by the vendor to ensure timely assistance when required. Take into account if there are external developer resources available, for example, documentation, forums, and customer support channels, to help assist your team in case of issues or questions. Documentation towards factors such as APIs, integrations, and customizations should be comprehensive and easy to understand, up to date, and provide examples with code snippets.
In terms of support, Magnolia provides support based on the Service-level Agreement (SLA)'s response times and scope conditions. The ticket system is also provided by Magnolia, as well as Contentful. You can find a large resource base with Agility CMS, or a large professional community with open-source platforms such as Sanity, Strapi, or Directus.
Final thoughts
Delivering high-quality content to every customer's touchpoints is crucial for any eCommerce businesses in order to maintain its competitiveness in this highly competitive market. Choosing the best Headless CMS is indeed the key to helping create, manage, and publish your content with ease, thus achieving this goal.
Through this article, we hope to provide you with a comprehensive view of the top 12 best Headless CMS eCommerce, along with some tips for you to choose the most suitable platform for your businesses. Bear in mind that each software will come with different infrastructure and features, therefore, you should carefully consider your business's requirements and goals before moving into the Headless world.
If you wish to learn more about relevant content to boost your eCommerce performance, subscribe to our newsletter. We're striving to be the No.1 supporter of your business's growth.