There are a lot of different email marketing platforms on the market today. So, which one is the best for eCommerce? In this blog post, we'll compare some of the most popular ones to help you decide. We'll also discuss some key factors you need to consider when choosing the best email marketing platforms for eCommerce. Let's get started!
Why is Email Marketing Important?
It is among the quickest & least expensive strategies to advertise your eCommerce company.
The greatest approach to establishing a solid brand reputation is through email marketing.
Additionally, you can improve your customer interactions.
You can send an email blast to announce the debut of new products if you have them.
Email automation is a feature that almost all email marketing software for eCommerce offers. This enables you to set up email campaigns and gradually increase revenues and conversions.
The email marketing tool can also send transactional emails based on actions, such as successful purchases, order confirmations, order deliveries, etc.
It is the most practical and effective method for running seasonal marketing campaigns for your eCommerce company.
Things to Consider When Choosing the Best Email Marketing Service for eCommerce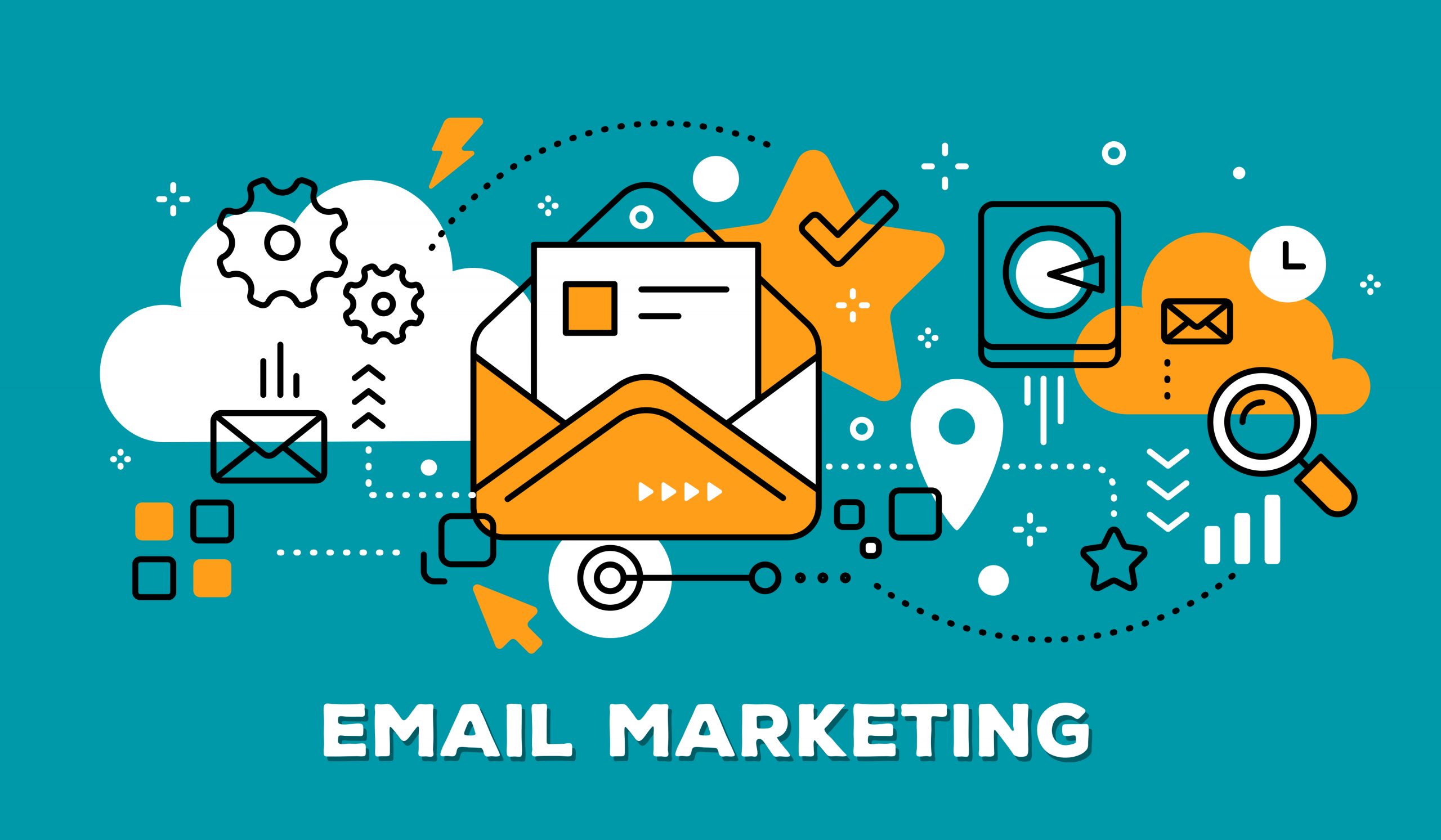 Since there are numerous email marketing service solutions with relatively comparable capabilities, you should concentrate and search for the significant qualities given below in them.
So that you don't have to waste time creating from scratch, the best email marketing platforms for eCommerce should offer pre-made email templates.
When your consumers take on certain activities, such as a purchase, payment, order cancellation, etc., the software you choose for email marketing must be able to automatically send emails to you.
If the program you choose enables full marketing automation, that would be fantastic.
On the basis of their interests and conduct, you should also be able to classify and divide your consumer lists. By doing this, you might get the most conversions.
It would be quite beneficial if the email marketing platform for eCommerce you've picked had signup forms or landing pages. This function is vital for adding new leads to your email lists and maintaining them.
Your chosen software must be able to provide graphs and data that show you how well your email campaigns are performing.
Either your online store or any other third-party application should be able to be integrated with the emailing solution. This might do away with a lot of manual work.
Additionally, the email marketing tool you use needs to be affordable and easily scalable.
The Best Email Marketing Platforms for eCommerce
Considering your unique goals and requirements objectively can help you find the best email marketing solution. Before you dig in, make sure to carefully assess what you need. You can even think about giving some of the things you enjoy the best a free trial.
Let's look at some of the best email marketing platforms for eCommerce now that you know how to find the correct ones.
Omnisend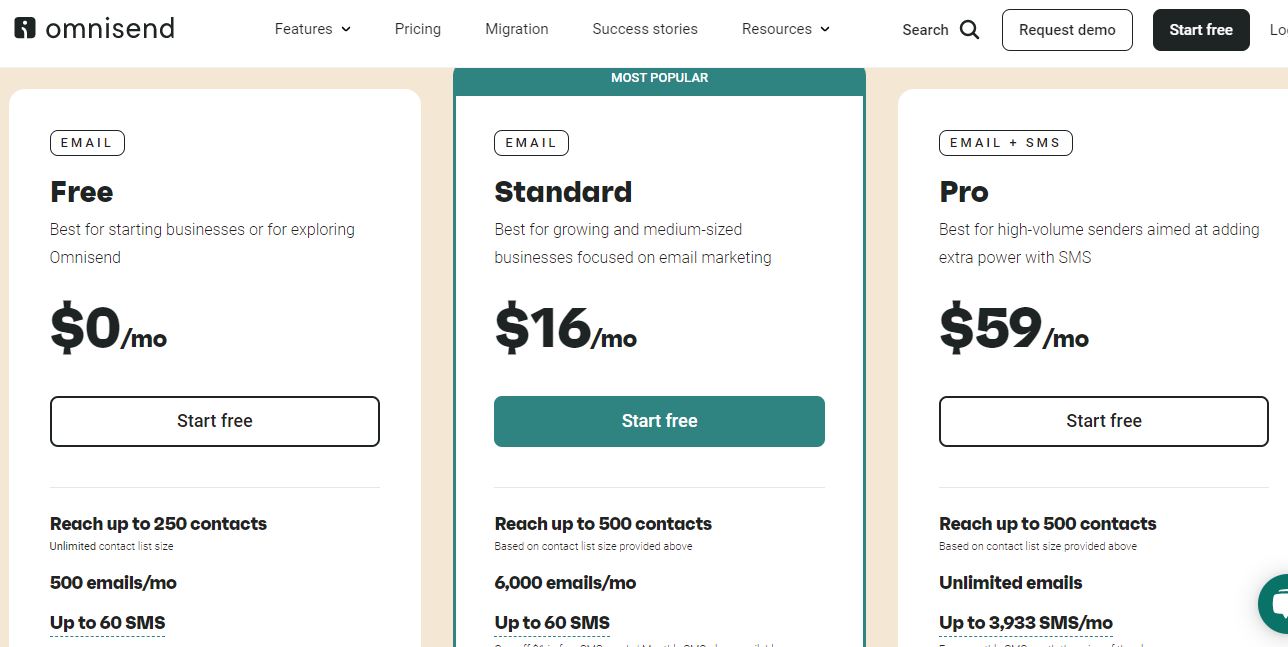 Omnisend is a well-known email marketing platform. It was created specifically for agile businesses to make it easier for you to communicate with your clients without having to worry about things like keeping track of every email manually. From templates, you may generate emails with a beautiful, polished appearance that you can change using a drag-and-drop builder.
The ability to develop distinctive relationships with clients is one of the best things about Omnisend. Numerous metrics are available that may be used to better understand client preferences, and you can also employ a variety of dynamic features in your emails.
Key features:
Drag and drop content editor
Dynamic content without a plugin
Excellent almost real-time analytics
Tons of insights for business owners
Great templates for your contact list
Integrations with multiple eCommerce platforms
Automated follow-up email
Various unique marketing features
HubSpot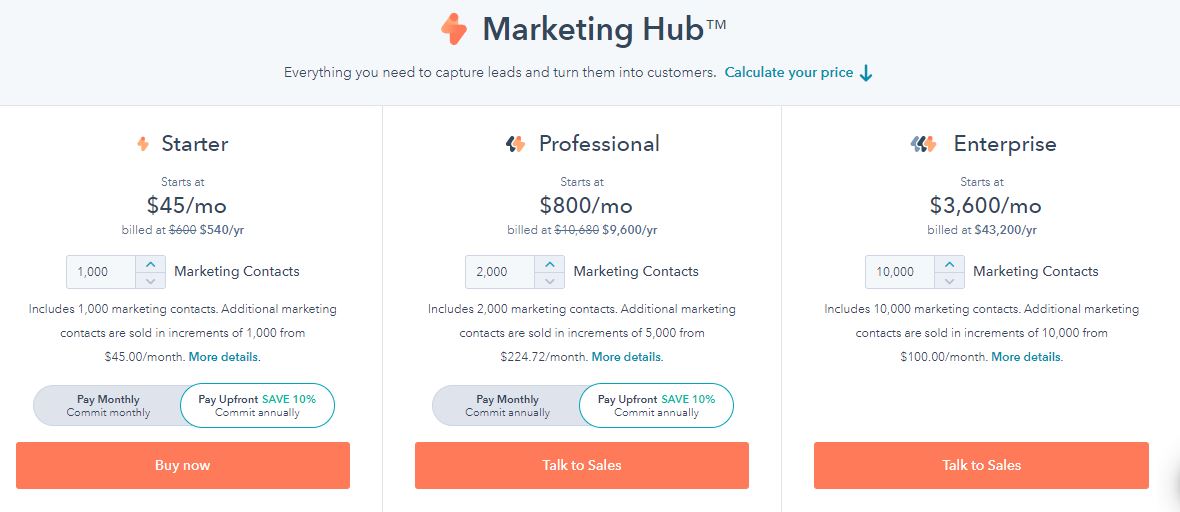 Thanks to the company's ongoing dedication to delivering new and improved features, HubSpot's popularity for email marketing has recently increased dramatically. The HubSpot solution is very user-friendly, has a high deliverability rate, and offers a variety of capabilities as part of the many packages offered by HubSpot as a whole.
If you're a beginner trying to determine what you need from an automated platform, the HubSpot email marketing solution is accessible for free. You have a wide selection of professionally created pre-made themes to pick from when generating emails, or you may start from scratch. Drag-and-drop editing makes it easy to customize your content.
Key features:
Free access to a complete CRM solution
Drag and drop editing for email templates
Design from scratch or choose a pre-made solution
Lots of social media and connection options
Access to service and sales technology
Easy-to-use backend for beginners
Analytics, A/B testing, and great insights
Klaviyo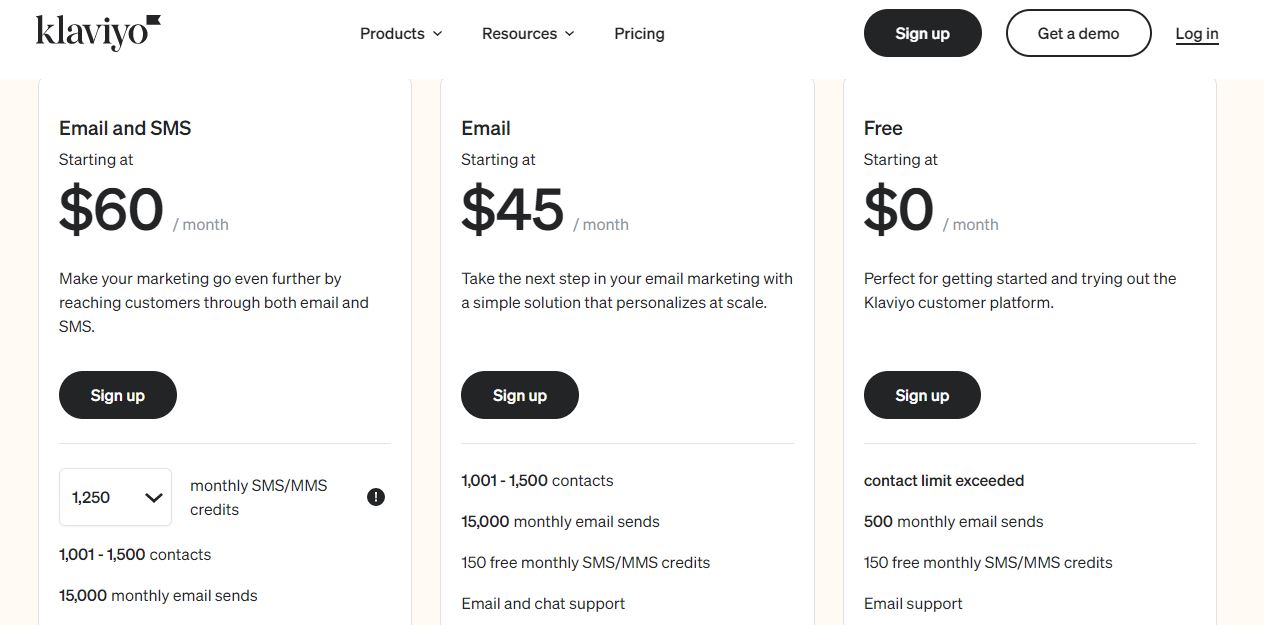 One of the best email marketing platforms for eCommerce with the ideal connectivity for your Shopify online business is Klaviyo.
However, email automation is the one area where Klaviyo really excels. You might set up workflows depending on triggers like mailing list subscription dates, website activity, or past purchases for automatic email blasts. Additionally, Klaviyo includes a Flow Library with customizable prebuilt workflows that span the whole client's lifetime if that sounds like too much work.
Key features:
Advanced segmentation with email capture and pop-ups
Automated workflows
Email campaigns and email templates
Intuitive drag-and-drop builder
A wide range of user-friendly options for quick and easy editing
MailChimp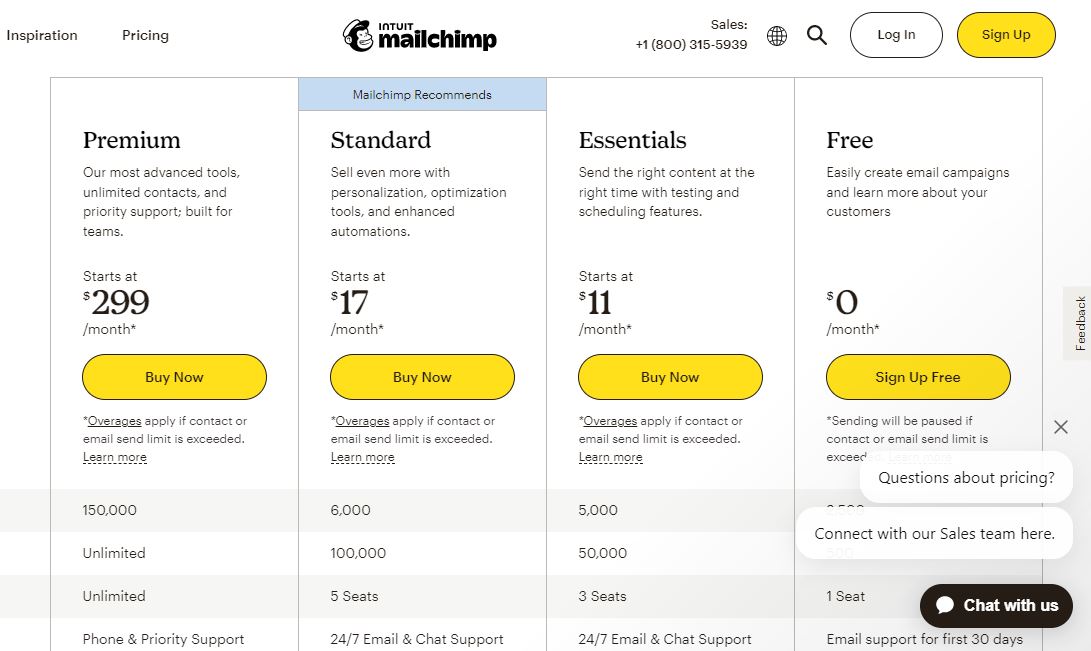 One of the most well-known email marketing platforms available, Mailchimp has drawn interest from a large number of businesses due to its rich feature set, potent functionality, and simplicity of use.
This is the best eCommerce platform for startups as there is also a free email marketing service plan. All the capabilities you require to take advantage of email marketing are included with Mailchimp, including tracking, segmentation, autoresponders, and a drag-and-drop email builder.
One feature that makes Mailchimp so appealing is the service's ability to be integrated with many of the marketing and sales tools you already use, such as Magento, WordPress, and Shopify.
Key features:
Comprehensive drag-and-drop email builder
Lots of professional templates
Landing pages
Social media and offline marketing
Convenient automated drip sequences
Powerful analytics
Transactional emails
Drip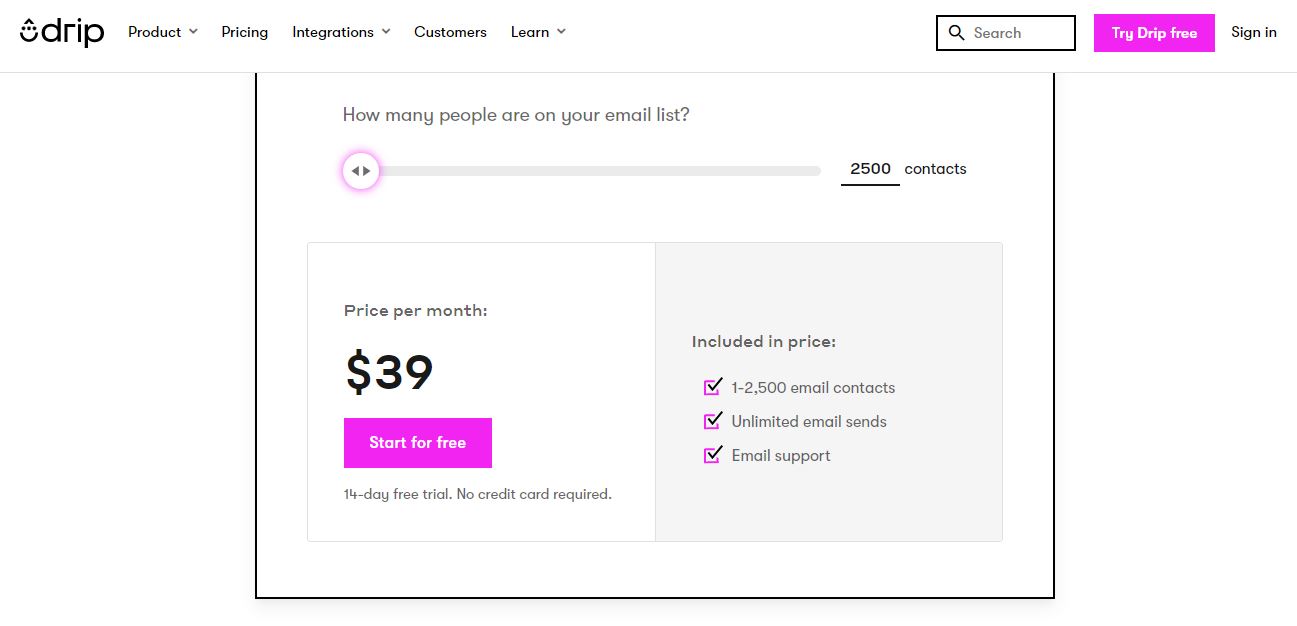 Drip, a handy tool that is becoming more and more well-liked for email marketing, assures today's bloggers, digital marketers, and bloggers of a terrific approach to reaching their audience. You shouldn't have any trouble understanding how everything operates because the Drip solution has a straightforward backend that is incredibly simple to use.
Additionally, the email program works well with many of the well-known website builders now available, including WooCommerce and WordPress. To gather as many leads as you like, you can link your audience members and develop pop-ups and sign-up forms for your website. Drip stands out from other platforms thanks to its amazing array of email segmentation, split testing, and marketing automation options.
Key features:
Tags and segmentation
Unique range of multichannel marketing tools
Tons of integrations
Excellent analytics and reporting
Drip campaigns
Ecommerce revenue guidance
Convenient for bulk emails
ActiveCampaign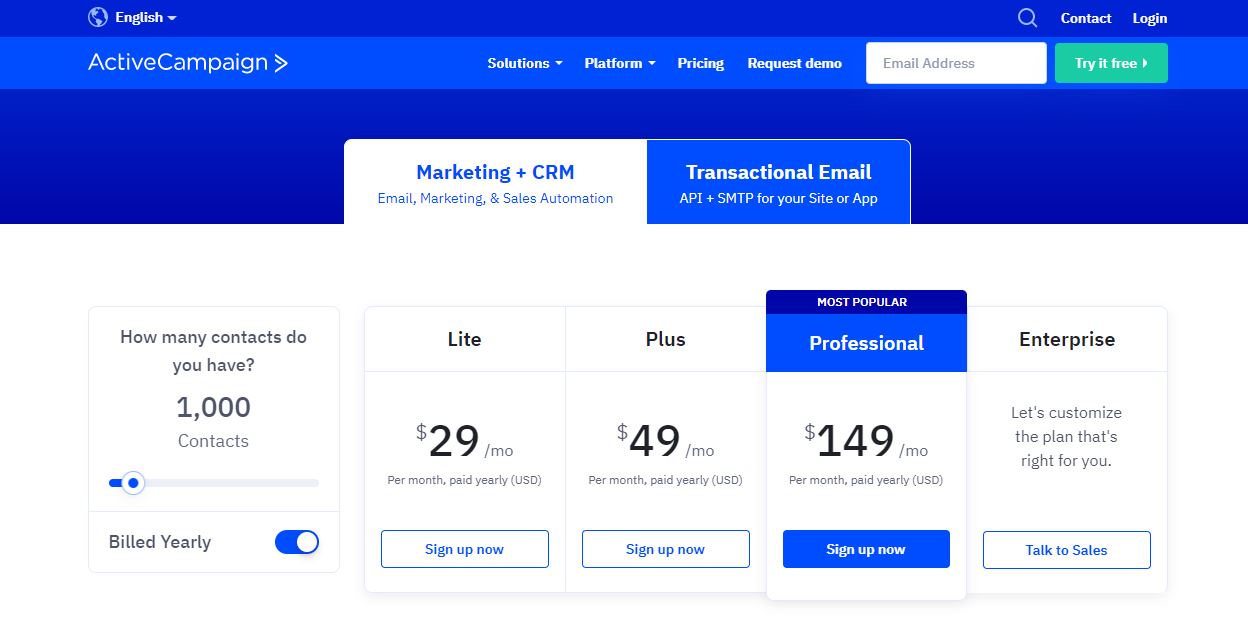 One of the most popular email marketing services now offered is ActiveCampaign. The software enables you to gather and nurture leads throughout the full purchase cycle. By segmenting your audience based on interests, ActiveCampaign makes it quick and easy to add contacts to your service.
With so many templates and module options available, creating an email is simple. Using pre-existing templates or making your own, you may even construct complete email processes. By doing this, you can be confident that your audience is always being reached with the appropriate messages at the appropriate times.
Key features:
Subscription and sign-up forms
Marketing automation and drip campaigns
Tons of email templates
The site and event tracking
CRM solutions and marketing access
Analytics and insights
Segmented outreach and lead capture
APIs and developer tools
Moosend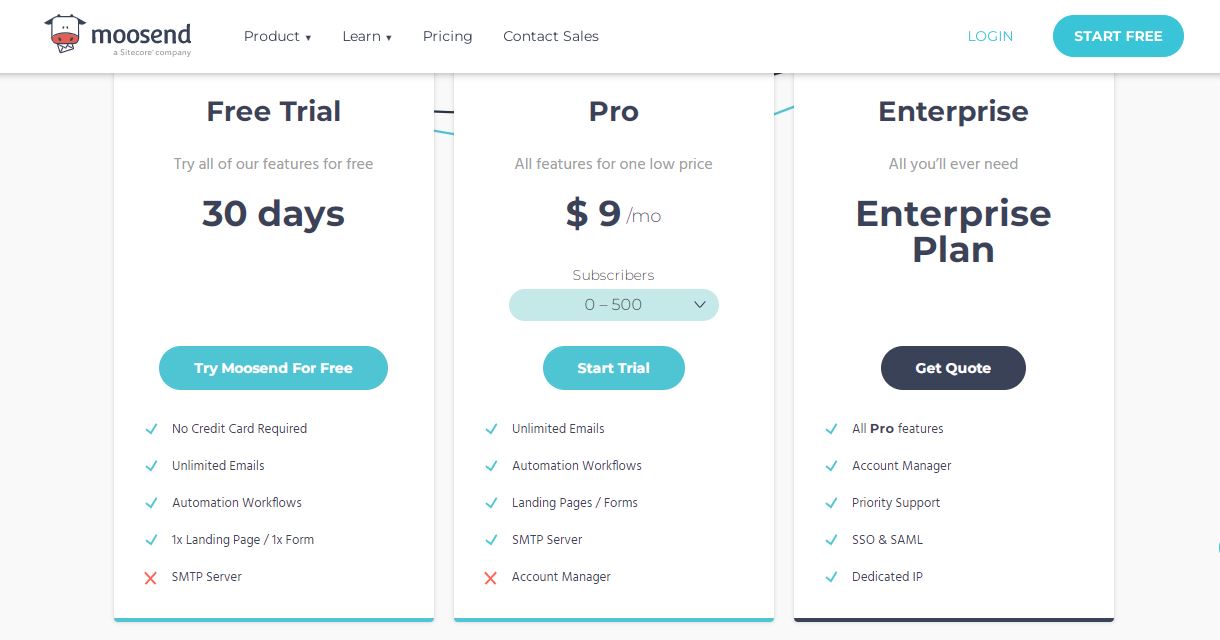 Moosend is a big rival even if it does not have the same level of media exposure as some of the email marketing tools on this list. Users of the email marketing tool can automate numerous time-consuming marketing processes to save time. It is also possible to create behavioral email campaigns depending on subscriber data and activity.
Because of the sophisticated segmentation capabilities, Moosend is particularly useful as an email marketing tool because it allows you to cultivate stronger bonds with potential customers. The analytics provided by Moosend are also rather good.
Key features:
Lead collection tools like landing pages
Subscription forms
Analytics and in-depth reporting
Team member accounts
SAML and SSO support
Onboarding support when migrating
Custom transactional messages
MailerLite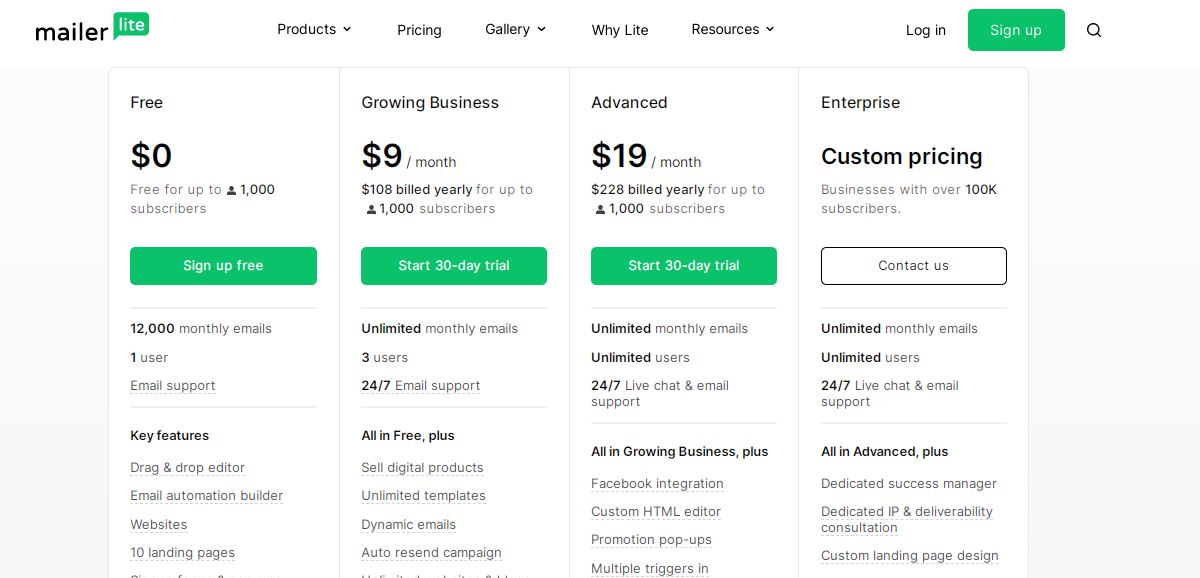 MailerLite promises businesses an affordable option to start establishing relationships with clients in the email marketing industry. The service is among the more affordable ones on the market right now, but it still has a ton of fantastic features. You may create your own landing pages, forms, and email templates to experiment with collecting leads.
MailerLite is a great option if you're searching for an efficient solution to both acquire and nurture leads without spending a fortune. The system will enable you to create and send all of the ideal emails using a simple drag-and-drop interface.
Key features:
Lots of customizable templates
Easy trigger and automation options
Customer service and support
Engagement rate tracking options
Pop-ups and landing pages
Custom reports
Easy-to-use interface
Constant Contact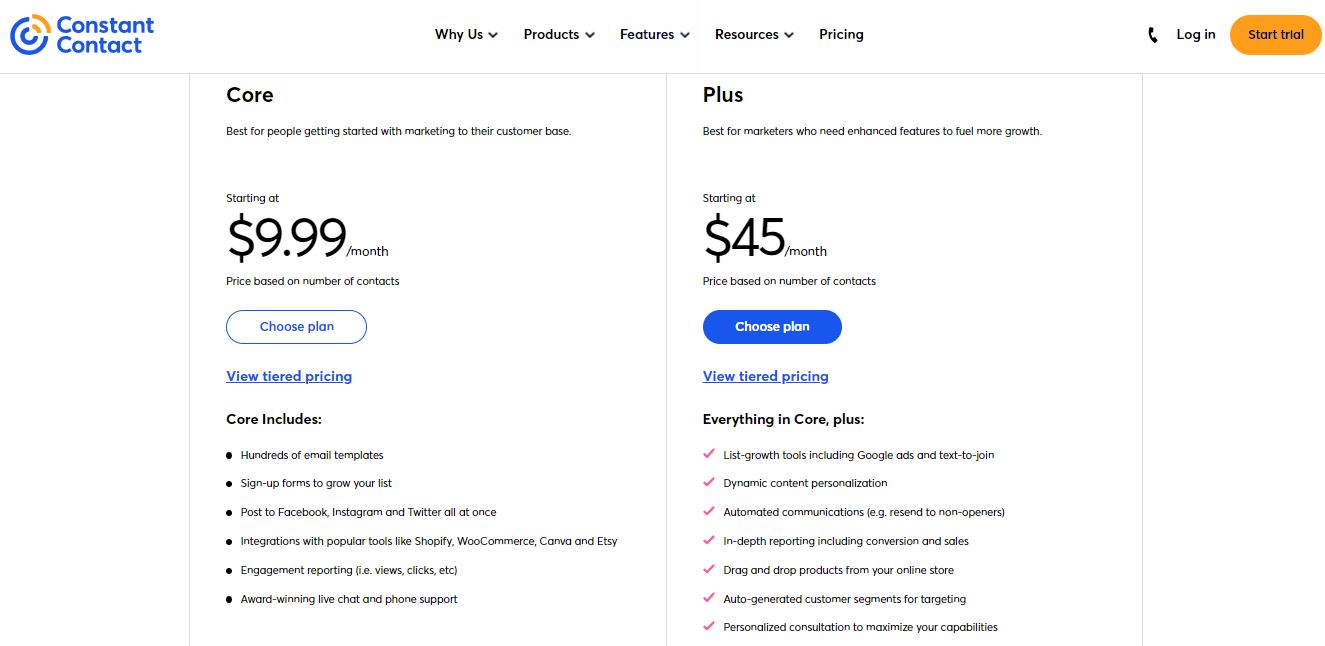 Constant Contact, one of the biggest and fastest-growing email marketing solutions on the market right now, guarantees businesses a simple approach to make their campaigns successful. Despite having a plethora of functions to discover, Constant Contact is incredibly simple to use. There are solutions available for start-ups, small businesses, and service providers that include a ton of pre-built templates and workflows.
Along with drip marketing, online donations, A/B testing, and comprehensive community support, Constant Contact provides online training to assist you in maximizing your results. Even live seminars are known to be held by businesses across the US.
Key features:
Fantastic email templates
Range of automation and drip campaign tools
Responsive and professional templates
Smart tools for better selling
Reporting, tracking, and analytics
Donation support
Surveys, signup forms, and polls
Extensive connections with third-party tools
In conclusion,
As you can see, there are a number of different email marketing platforms to choose from. Hopefully, this article has helped you narrow down your choices and give you a better understanding of the features each platform offers. Now it's time for you to decide which is the best email marketing platforms for eCommerce and best suited for your business. Do some research, ask around for recommendations, and test out a few platforms before making your final decision. With the right email marketing tool in place, you can look forward to increased sales and conversions! If you need help with an email marketing system, drop us a message and Magenest's experts will be with you in no time.