An attractive, well-organized, and user-friendly website is the key to lead merchants to more sales. Unfortunately, even the most experienced developers face a variety of obstacles in B2B eCommerce website development. B2B businesses have additional challenges than retailers, including sophisticated operations and sales channels, various product lines, and other factors.
In this blog, we will help you lay the groundwork for a long-lasting website that meets the stringent requirements of business clients.
Let's take a look at the B2B eCommerce website development process!
Must-have Features of a B2B eCommerce Website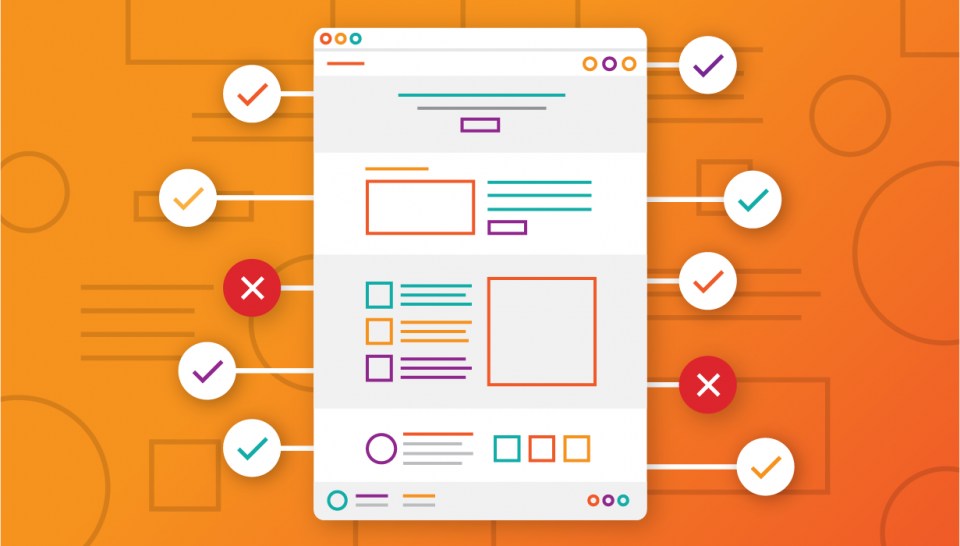 Advanced search
It is not easy for customers to find exactly what they are looking for if your search tool is not optimal. Rather than depending on out-of-the-box functionality, investing in a specialized search facility on your website may take your product visuality to the next level.
Some search tools can autocomplete search strings, fix common typos or even give related product images in search suggestions.
Navigation is an essential element when you design your eCommerce website. It is like a map or set of directions that drive customers to where they need to get appropriate products. The combination of simple navigation and informative content will greatly minimize the bounce rate and keep the customer on your site longer. Besides, buyers can leave your site without making purchases because they can't discover the correct information. As a result, merchants will lose a number of sales.
Lightning site speed
Your site speed needs to be optimized for a better user experience. Users will often stay on a site longer and likely make a buying decision if your website is faster. That is why Google has made site speed a factor to rank your website. The higher rank you get, the more customers reach you.
Clear and detailed product information
While listing a product name, simple information and images are not enough, especially with B2B businesses with high-value orders. Detailed information can build customers' trust and help them to decide whether to buy products or not. Compiling a convincing variety of product data, whether measurements, MPNs, or spec sheets, may all assist you to convert buyers more effectively.
Order tracking
In B2B orders, punctuality is extremely vital. It is not simple like customers abandoning orders, or giving bad reviews. Merchants have to pay fines against contract violations when shipping to their clients late. You should integrate an order tracking tool into your website so that customers can proactively track their order, or send them an email about the order status.
Secure and optimal payment methods
While most B2C purchases need quick payment, B2B transactions don't necessarily have to follow the same rules, with prolonged credit periods serving as a positive indicator of confidence between a firm and its customers.
Offering multiple payment alternatives for credit, debit, and even BACS payments, as well as offline transaction conditions, can assist your consumers in finding a solution that works for them. However, with a high-value order, you need to be careful with the payment method to avoid security and KYC risks. You can set specific payment methods for different products or value orders.
Easy checkout process
The checkout process is critical for every eCommerce shop, and for B2B stores, it may be considerably more difficult.
Reducing the danger of cart abandonment is a major objective for every website. So variables like guest checkout, flexible payment methods, the ability to recover address information, and even the ability to repeat previously made purchases may all be important.
Ultimate Guide for B2B eCommerce Website Development
Prepare for implementing a B2B eCommerce website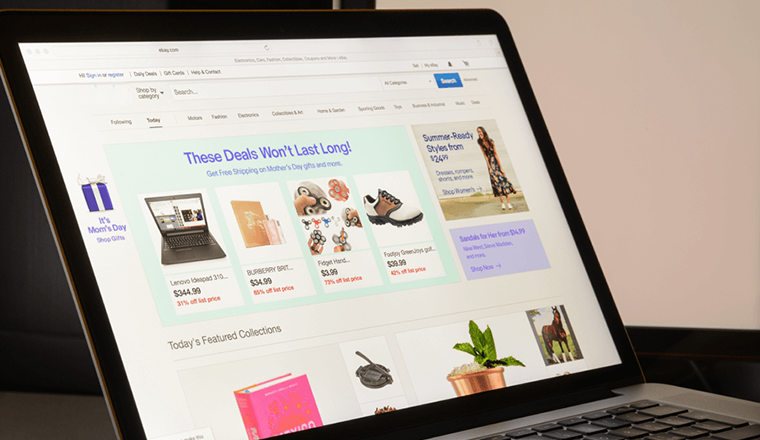 Know your target customers
Before starting a project, you have to deeply understand your target customers by doing market research and analyzing your niche. Unlike B2C, defining B2B customers is more complicated because there are more individuals making buying decisions. Let's define your target audience and personalities so that we can match their behaviors to every touchpoint of company development. This allows you to adjust the website functionality to the needs of corporate clients in terms of the user interface, visuality, professionalism, B2B eCommerce website design, content, and other factors.
Consider your resources
If you operate a large company, you may put more money into your eCommerce website. If not, you must carefully assess your company's resources, such as money, people resources, and technological capabilities.
Each website includes features according to the level of coding expertise and usability. And, of course, the expenses of each kind of website range in a variety of ways. As a result, it is critical to establish your company's capabilities and select the appropriate platform.
Define your requirements and targets
Merchants should think about purposes and targets before making any decision that has a significant impact on their business. Your purposes can be attracting more buyers, improving customer experience, and building trust with clients,… Whatever your goals are, you have to make sure that your website is developed based on these purposes. After that, you should list your B2B eCommerce platform requirements.
Start your B2B eCommerce website development
Choose the most suitable B2B eCommerce platform
Choosing a platform on which to develop your website might be daunting. With so many possibilities, like Magento, Shopify, Wix, and so on, it's not surprising that this is a question that comes up repeatedly. Thus, merchants should divide these platforms into two types: hosted and non-hosted to understand how they work and scale down your list.
A hosted platform is an all-in-one website solution that provides the hosting and software to create your website. But you are limited to customizing your site as you want or accessing the code. Famous providers are Wix, Shopify, and WordPress.
A hosted platform is like a rental. You cannot improve or adjust the site to adapt to your future business expansion. However, this solution gives you everything you need to build a site: hosting, domain registration, software, maintenance, and security.
A non-hosted platform is open-source software; thus, you can download it freely and modify it as you want. It is like you own a house. 
The software is often free, but you have to hire a hosting service and purchase a domain. Not only that, but building a website on these platforms also requires a deep understanding of technical knowledge. That is why you need to hire a skilled development team.
One of the most optimal non-hosted B2B eCommerce platforms is Magento Commerce. Merchants can build an engaging and well-organized website with this platform. It can help you get there, whether it's creating a new online storefront or migrating your existing eCommerce system. Besides, Magento Commerce has its own B2B features that are tailored to serve the specific needs of B2B merchants.
Buy a domain and server hosting
A domain name serves as an identifying card for your website, confirming its presence. You may simply acquire a domain at various pricing ranges from a variety of market suppliers. The same may be said for hosting services. Simply mentioned, you require a stable location to keep website items such as systems, photographs, videos, and so on.
However, you cannot utilize your own computer since separate Internet connections will be vulnerable to IP address changes via the IPS. That is why we require hosting to ensure the security of the website's content. Furthermore, it assures that consumers may access your B2B website from any location.
Pick up your B2B eCommerce website development team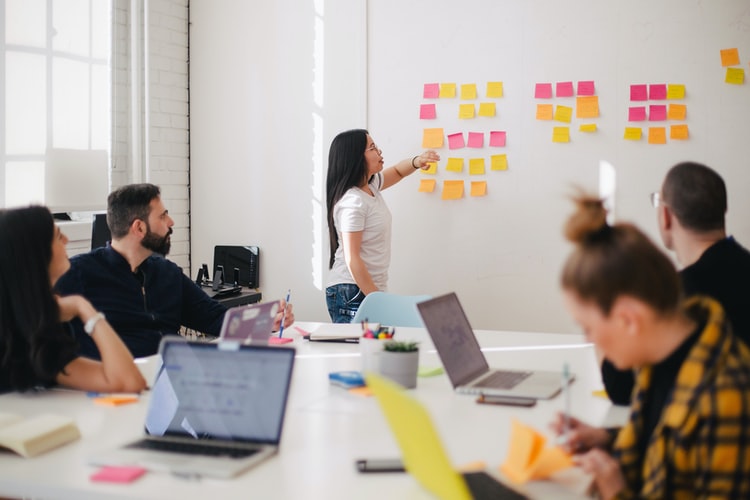 The website should be ensured by a high-skilled offshore development team. A good B2B eCommerce website development team should have a workforce that can handle a variety of tasks, has a lot of experience, and has a wide range of expertise and abilities. You will have the most optimal solution with a team like this, and your problem will be solved swiftly.
Besides, you have to make sure that you and your team converse in the same way and have meetings weekly to track the process of your project. The workflow of the partner should be optimized with a smooth approach to ensure that the project is completed on time.
Before choosing your team, you need to check their portfolios. You can assess their qualifications by looking at their previous initiatives. A capable development firm should have worked on a variety of types of projects, including one like yours. It demonstrates that they have the requisite experience to build your project properly.
Choose engaging B2B eCommerce website templates
You know, the layout is the first thing that people notice before they pay attention to your content. A drab appearance has never piqued the interest of users, and it is unlikely to create significant sales. Your website template also shows your brand features because it is a channel delivering messages precisely and expressing your brand voice loudly. For businesses/organizations that do not want to involve much in the process of drafting proper UI/customizing themes, Shopify is a bright choice of eCommerce platform as it offers so many ready-for-usage themes, both for B2B and B2C websites. Take a look at our Shopify services to see how we can help your Shopify web to thrive.
Test your B2B eCommerce website
After accomplishing the project, you will want to release their site immediately. But hang on! You need to check your website to assure that it has the best performance. Testing your website allows store owners to see your site from the perspective of their customers and make any necessary changes. There are some things you should take into consideration:
Check if there are any broken links or bugs.
Make sure your website is user-friendly.
Ensure your website is free of grammatical and spelling errors.
To obtain maximum traction and traffic, your website must be compatible with all devices.
Go live now!
After reviewing your website's performance, it's time to go live in order to better understand your client's demands and needs. Please keep in mind that you may still recheck and make changes while running your online business. As a result, your website will attract more potential clients.
After releasing your B2B eCommerce website
Take advantage of digital marketing
To start with digital marketing, you should consider maintaining blogs, writing extra content to enlighten clients about your objective, and using other simple techniques such as SEO and email marketing. You may begin working with your email marketing methods after your consumers have subscribed to your mailing list.
Besides, make sure that you have a blog library having attractive and useful content. To be productive in creating blog material, you must conduct keyword research to identify the best target phrases for your site. Tools like Keyword Planner, Keyword Tool, and SEMrush, for example, will provide useful ideas on high-traffic keywords.
Track your website performance
It is necessary to have regular examinations of the website's performance to identify gaps and make appropriate modifications. By tracking codes, precise monthly reports, and behavior analysis, you can deeply know about your website's problems. There are some factors merchants have to care for:
Monthly organic traffic or traffic from other sources such as social channels, paid advertisements, and more.
Conversion rate.
Sales volume.
Order value, return on advertising spend, customer time on site, bounce rate, and cart abandonment rate.
Maintain and improve website performance
When your B2B site cannot fulfill current and future scalability needs, it's time to employ maintenance and upgrade services.
There are no security flaws or gaps.
The seamless operation and administration of the business.
Advanced user experience.
Besides, there will be an adjustment to your website if you want to grow the business. You have to add some extensions and customize your online store to fit the scale.
Example of Best B2B eCommerce Website
Blake Envelopes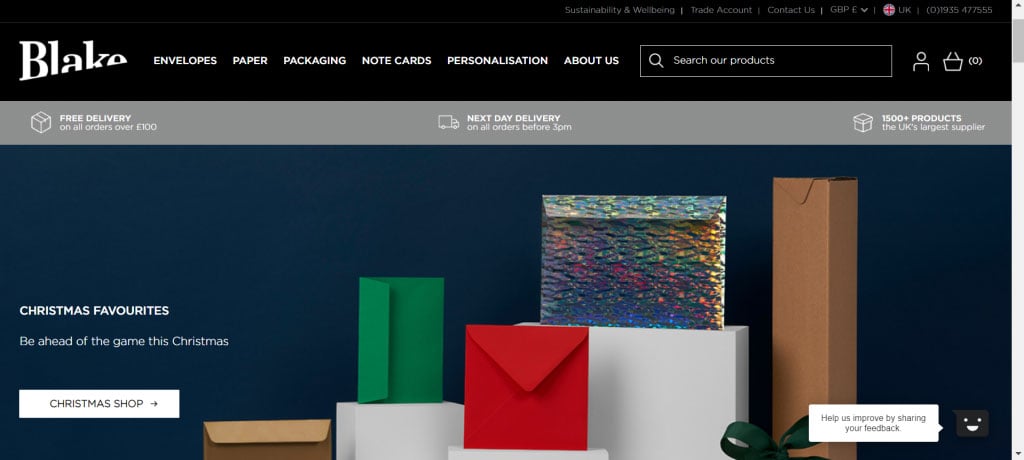 Blake Envelopes is regarded as one of the most inventive and accurate instances of B2B eCommerce. It has a highly clean and well-designed eCommerce website with fantastic functionality, simple design, and incredible advantages represented by education and corporate responsibility initiatives.
A large product selection was displayed logically, with filtered navigation and a user-friendly site search. The well-thought-out design enables product searches by color, range, and style, as well as pack sizes, kinds, opaques, and so on.
AIIA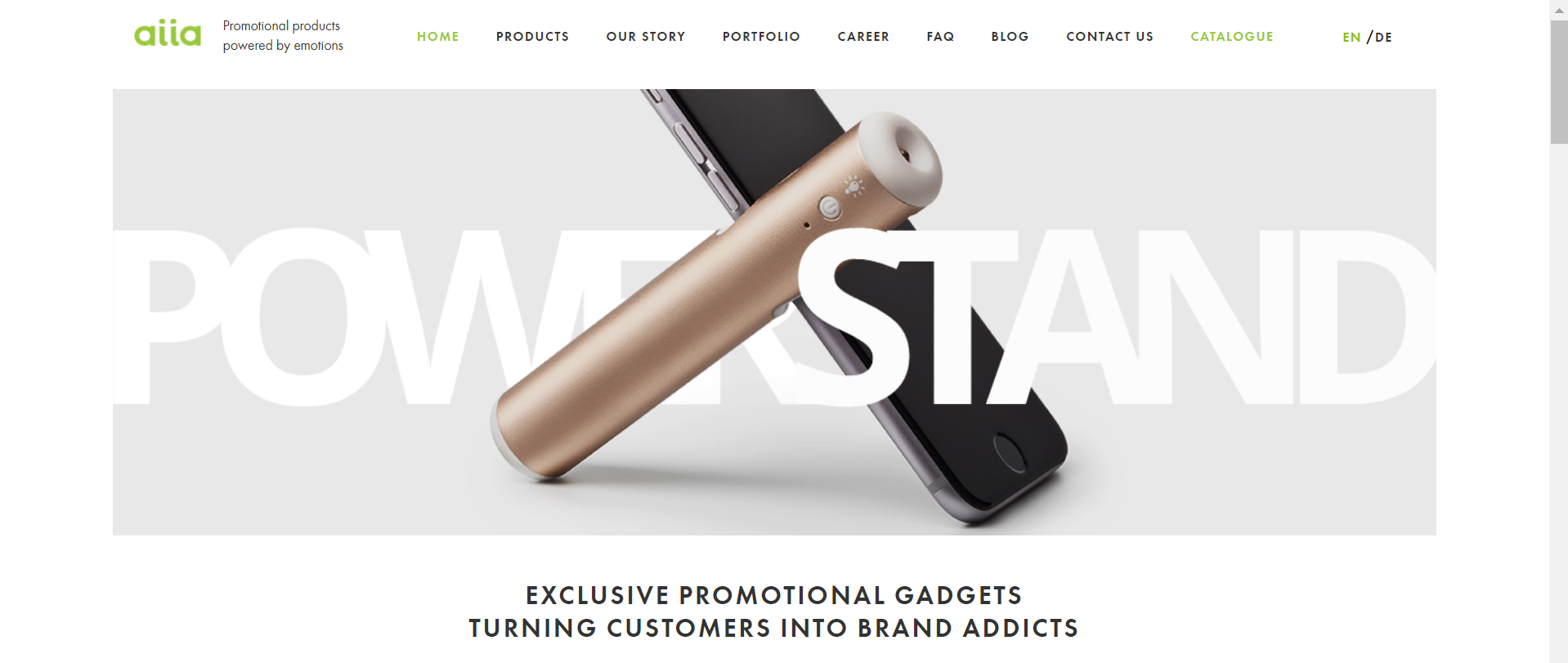 AIIA is a B2B wholesale eCommerce company that sells branded promotional items to businesses. Given that every client wants an emotionally real online experience, Aiia is an example of the best B2B eCommerce website that illustrates creative and innovative promotional items. The brand's vibe is defined by its own aesthetic. Brightly colored backdrops and well-rendered graphics undoubtedly contribute to the overall impression.
When you click on a certain product, a full-screen, background promotional video is played. This is a video of the device in action. This establishes an emotional bond between a consumer and a corporation. Providing this experience digitally is a critical component of the online B2B retailer's success.
Polycom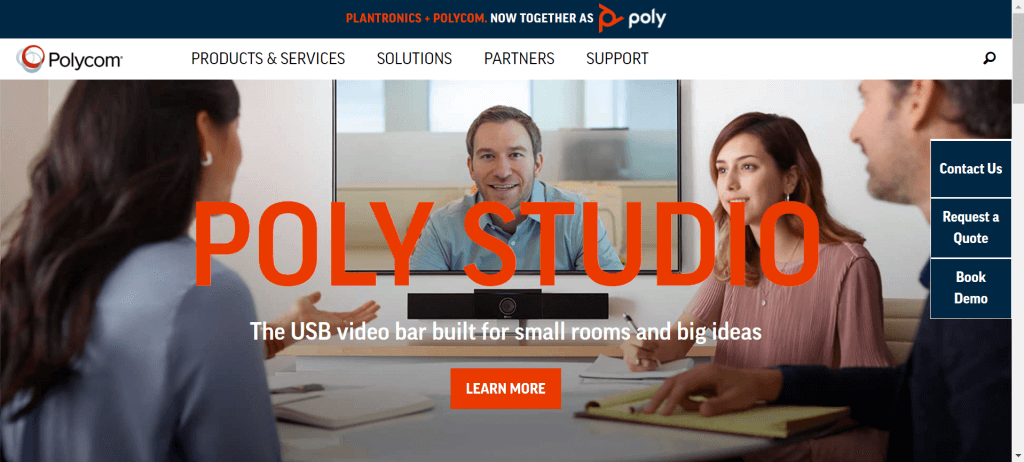 For more than two decades, Polycom has been inventing cutting-edge video, audio, and collaboration technology. However, due to the market's evolution, Polycom must contend with a wide range of competitors. Instead of competing on price, they concentrate on giving high-quality solutions.
This company creates material that meets the needs of its target clients while also providing useful information to the public. Their strategy was successful because they emphasized the needs of their customers over the needs of their products.
ACME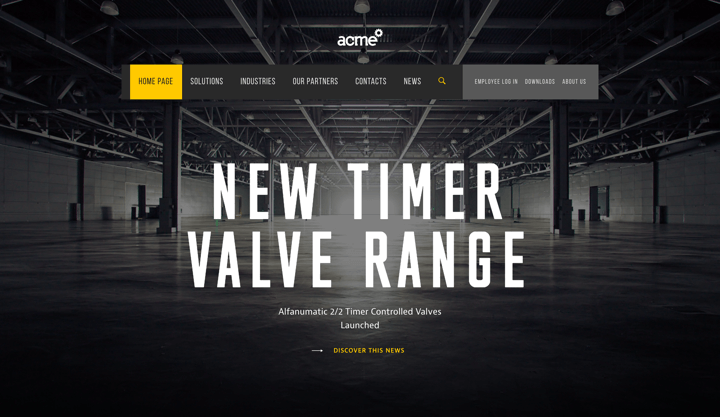 Their website is simple and easy, allowing users to easily absorb information about products and services. People can supposedly tell who their target demographic is because of the well-designed layout. The use of color and animation also assists ACME in effectively promoting their services and goods, as well as carefully directing the various users (retailers, corporate logistics authorities, and shippers) to the proper page.
Future Water City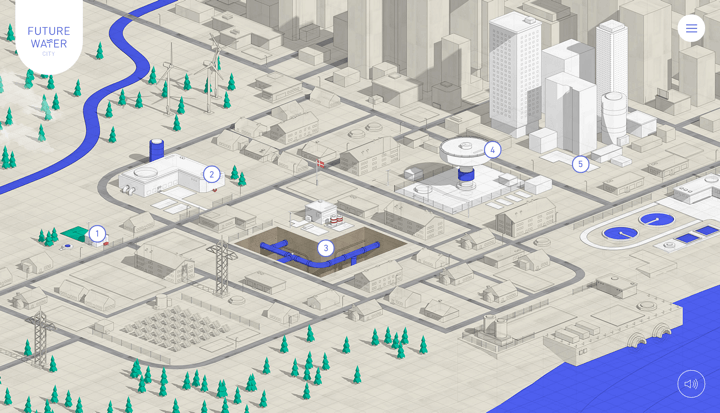 Future Water City is a solution for water pipeline infrastructure for families and facilities. This B2B website has become a symbol of Denmark's drive to identify and create better, cheaper, and more efficient water technology solutions.
Essentially, it's an interactive map of a city block that demonstrates how water circulation works piecemeal. The Future Water City B2B website uses interactive design features to promote cutting-edge water technology. It goes without saying that the surfing and navigation experience on this website is anything from traditional.
Customers explore website areas in a game-like manner. Each of these is then detailed in detail on its own landing page. A fantastic design that will have you engaged with the website for hours.
Wrapping up
B2B eCommerce is an excellent approach to getting new consumers and generating revenue for your company. Defending targets and considering your resources are a must before creating a site! After that, you will imagine and be clear about what your website looks like and which functions are significant.
If you want to have an engaging website, hiring a B2B eCommerce website development team is the greatest solution. Customer-driven service, reasonable price, and optimal progress are must elements of trustworthy outsourcing partners. If you require assistance in developing a B2B eCommerce site, please contact us! We are delighted to offer eCommerce customizing tips, tactics, and other information.