Established in 2009, Au Chau Fashion and Cosmetic (ACFC) company is a distributor of a chain of 17 fashion international brands in the Vietnam market such as Nike, Gap, Banana Republic, Tommy Hilfiger, Calvin Klein, Levi's, Old Navy, Mango, Dune London, French Connection, OVS, Mothercare, etc.

Now, ACFC has 210 stores in major city centers across the country and a 2,000,000 VIP customers community. The product and brand system of ACFC aims at diversity, meeting the needs of different customers: clothes, shoes, purses, glasses, etc., and even stationery gifts. The brand has gradually shaped the Vietnamese youth style and conquered consumers.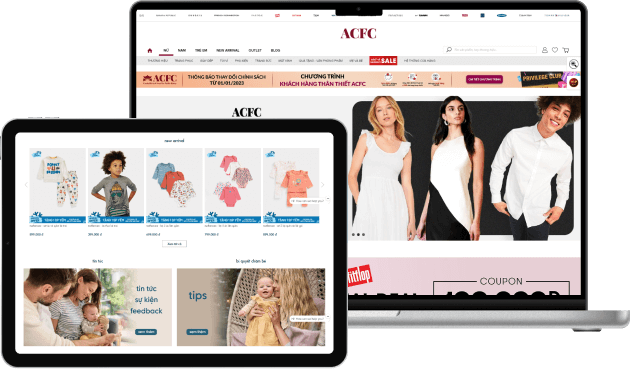 THE CHALLENGE & EXPECTATION
Starting as a traditional business, ACFC focuses on promoting the scale of offline stores nationwide. Confronting the scale expansion and longer-term growth problems, ACFC soon realized the importance of eCommerce and the advantages of an eCommerce system. Besides, ACFC does not have a high level of brand awareness as shoppers are often aware of well-known brands such as Nike, GAP, Mango, etc., instead of knowing about the real product distributor of those brands. Specifically, consumer shopping behavior changed due to COVID-19 has also accelerated ACFC's decision to implement a new business model.

The situation requires a robust eCommerce system to become the cohousing of ACFC's current fashion brands. Not only does the system need to be able to handle an enormous database, but it must also be easily expanded in the future to bring the most up-to-date shopping customer experience. After considering and collaborating with Adobe's solution partner - Magenest JSC, Magento Commerce is an excellent option for ACFC thanks to its structure that can easily refine operational flows compatible with the business model, and scalable in the future.
Management and operation system restructure
Magento Commerce implementation for multi-website management
ACFC's eCommerce system is deployed with a multiple-website structure, managing the two domains: acfc.com.vn and mothercare.com.vn. Magento Commerce allows uniform operation management of many websites, takes advantage of the common system feature, and provides overview reports for businesses.
Automated order process & data auto-synchronization between platforms
With the integration between the Magento Commerce system and Retail Pro POS, ACFC can take advantage of existing physical stores as pick-up and delivery hubs. Simultaneously, to optimize shipping costs, ACFC needs to aggregate orders from many stores and deliver goods once. To solve this problem, Magenest has built an intermediary database between Retail Pro and Magento to update inventory numbers for ACFC constantly. ACFC can navigate products from sub-store to store to pack goods for customers in case of a shortage of goods.
ACFC's shipping partners are VNPOST, J&T and Nhat Tin Express. Through the integration of the new system with those partners' API, after receiving successful order packaging confirmation from the store, the delivery staff will be dispatched to the store to pick up the order and proceed with the shipment. And ACFC's operations team can keep track of the entire process from storage to this bill of lading.
Online payment methods and Click-and-collect feature
Consumer shopping behavior has changed evidently, cash payment habits are no longer the no.1 option since payment cards and eWallet have become more convenient. ACFC's website is integrated with Payoo payment gateway and MOMO eWallet, assisting customers to pay with domestic payment methods or VISA/MasterCard international debit cards.
In addition, ACFC's customers can choose products and complete payments on the website, and then collect the orders at the stores. This Click-and-collect feature is possible thanks to the Retail Pro connection for synchronizing orders from the website to the in-store receipt.
Various brand pages creation
To keep ACFC's brand recognition and create an accessible experience for the 17 sub-brands customers, the eCommerce team can create branded category pages, and customize a separate interface with our Magento 2 Shop by Brand extension.
Mobile App development for increasing sales
Magenest developed a Mobile app for ACFC to enhance brand awareness, attract new customers, retain loyal ones, and boost revenue. The new app features a user-friendly interface and is designed with a one-page design for category pages: all product pages are designed as pop-ups. Therefore, customers can experience a seamless shopping process, easily choose the desired products and brands, track their orders, receive vouchers, flash sales, and stay updated with the latest fashion news quickly. With the new app, ACFC has simplified customer service with special offers and marketing campaigns reaching customers anytime, anywhere, enhancing brand reputation and achieving sustainable revenue growth.
A user-friendly experience design with superior features
ACFC desires a new website that puts user experience on top. Therefore, Magenest deployed website designs with a mobile-first mindset to ensure a seamless experience between devices for customers, especially convenient when shopping via mobile devices.
ACFC's revenue has impressive growth with the new eCommerce system and mobile app. Product catalog data is standardized on the eCommerce website. Besides, incentive programs are applied flexibly, and especially the online sales process is fully automated. The digital transformation project helped ACFC to attract new customers, expand potential markets and promote the reputation of its brand. Furthermore, Magenest has always accompanied and provided professional support to ACFC before and after the system came into operation process, assuring their team can operate the system smoothly and efficiently. ACFC's resources are properly allocated, and departments are also more specialized and productive thanks to a consistent, easy-to-use system.

This eCommerce system is a long-term stepping stone for ACFC to continue implementing its mission - bringing international fashion style closer to Vietnamese consumers. Magenest is proud to be a partner with ACFC on the journey to create an amazing online shopping space and bring long-term value not only to businesses but also to customers.