Recent years have seen an exceptional evolution in the way India trades and shops. eCommerce is one of the rapidly growing sectors, stimulating an entire generation of entrepreneurs, large-scale manufacturing of small and medium-sized enterprises. But there are thousands of eCommerce sites in India around the world but choosing the best is a difficult task. If you are thinking of online shopping. Let's take a look at some of the top eCommerce sites in India here and you can purchase almost every essential product you want for daily living or start selling.
Top 10 eCommerce sites in India
Amazon India
Amazon, a B2B and B2C marketplace, is one of the top eCommerce sites in India and unquestionably the best in terms of customer service. According to Statista, this eCommerce giant has a user reach of over 85%. Since its beginning in India, it has made a fortune and attracted 322.54 million visitors every month, making it the country's most popular website.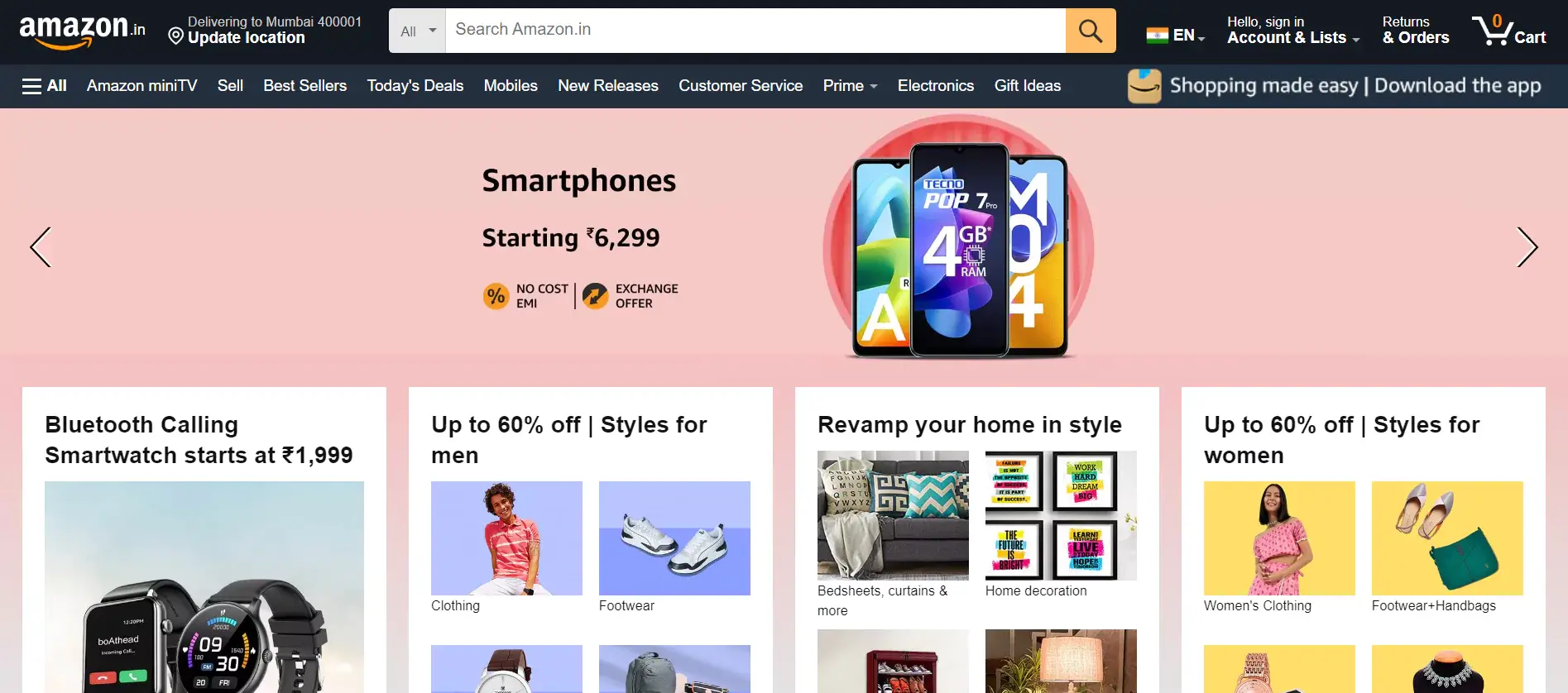 While the majority of its visitors are interested in the electronics category, that does not mean the other categories are not worthwhile. Men's and women's clothes, groceries, Amazon Prime digital media, sports, and a variety of other categories are all available through Amazon. In addition to that, the US rates usually are cheaper for many electronic items, than purchasing their Indian versions.
Amazon Seller Self Registration (Amazon SSR) enables vendors to self-register in the Amazon marketplace, regardless of their location or catalog size. It enables vendors to begin selling within a day, without the need for any third-party assistance.
Flipkart
The king of Indian eCommerce holds second place in top eCommerce sites in India. Established in 2007, Flipkart insists that is because it is pushing more towards app transactions, where the company beats Amazon. Many industry analysts, however, think while mobile commerce is the way to the future, it is too early to discount website business. Flipkart, valued at over US$15 billion, now leads the Indian eCommerce pack but is under pressure to maintain its position as Amazon closes the gap. Its eCommerce website receives 242.62 million visitors monthly.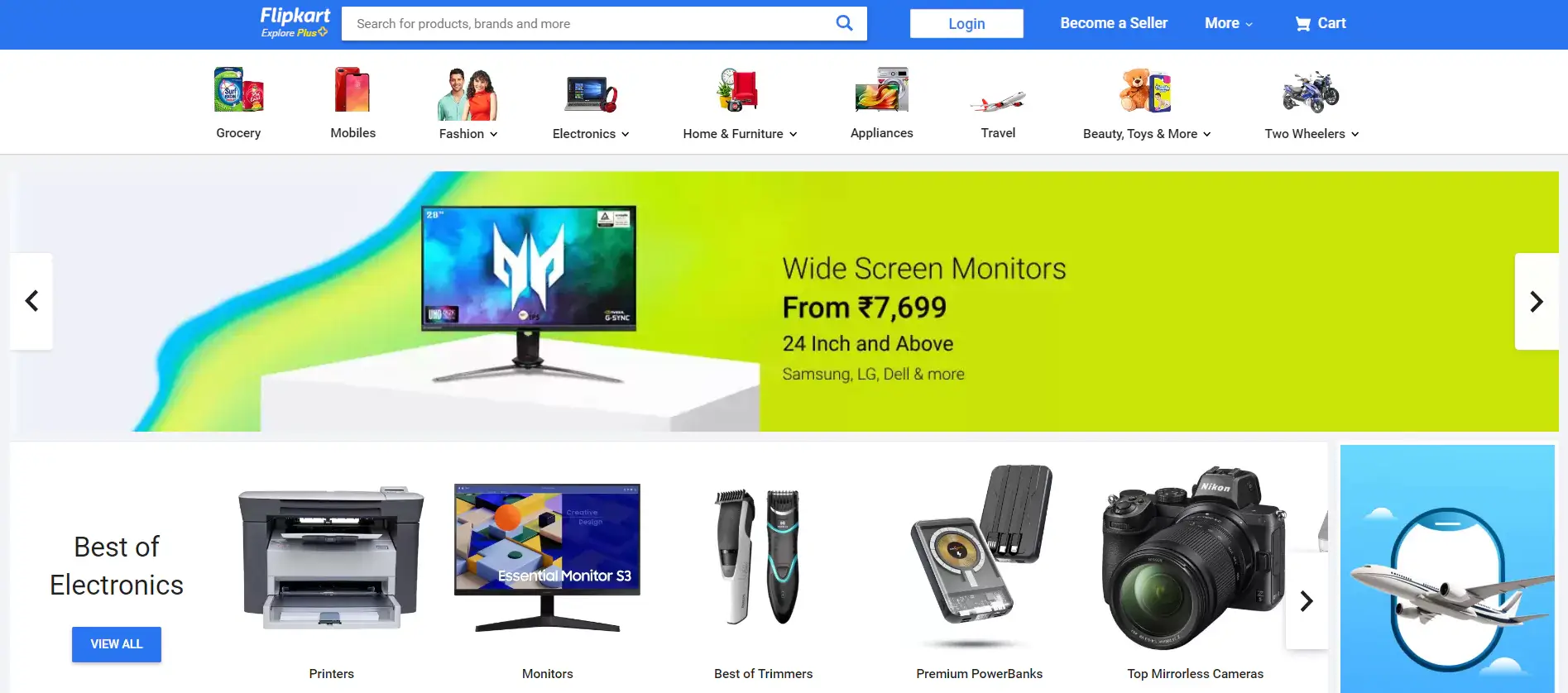 Like Amazon, Flipkart also follows the B2C model that is most popular with customers for goods in the electronics sector, following the same patterns as the online retailer. However, it also has a diverse selection of products, including televisions and appliances, fashion, furniture, sports, and literature, among other things.
Alibaba
Another name that comes to the list is Alibaba, a China-based B2B eCommerce platform that has gained popularity worldwide. Surprised? Don't be. Despite the fact that Alibaba does not advertise to Indians or have an Indian website, shoppers in India have long found the advantages of purchasing gadgets in large quantities on Alibaba. Shipping via AliExpress is still becoming increasingly popular, which is one of the best key-selling points. This makes this website lie on the list of top eCommerce sites in India with 175.95 million visitors each month.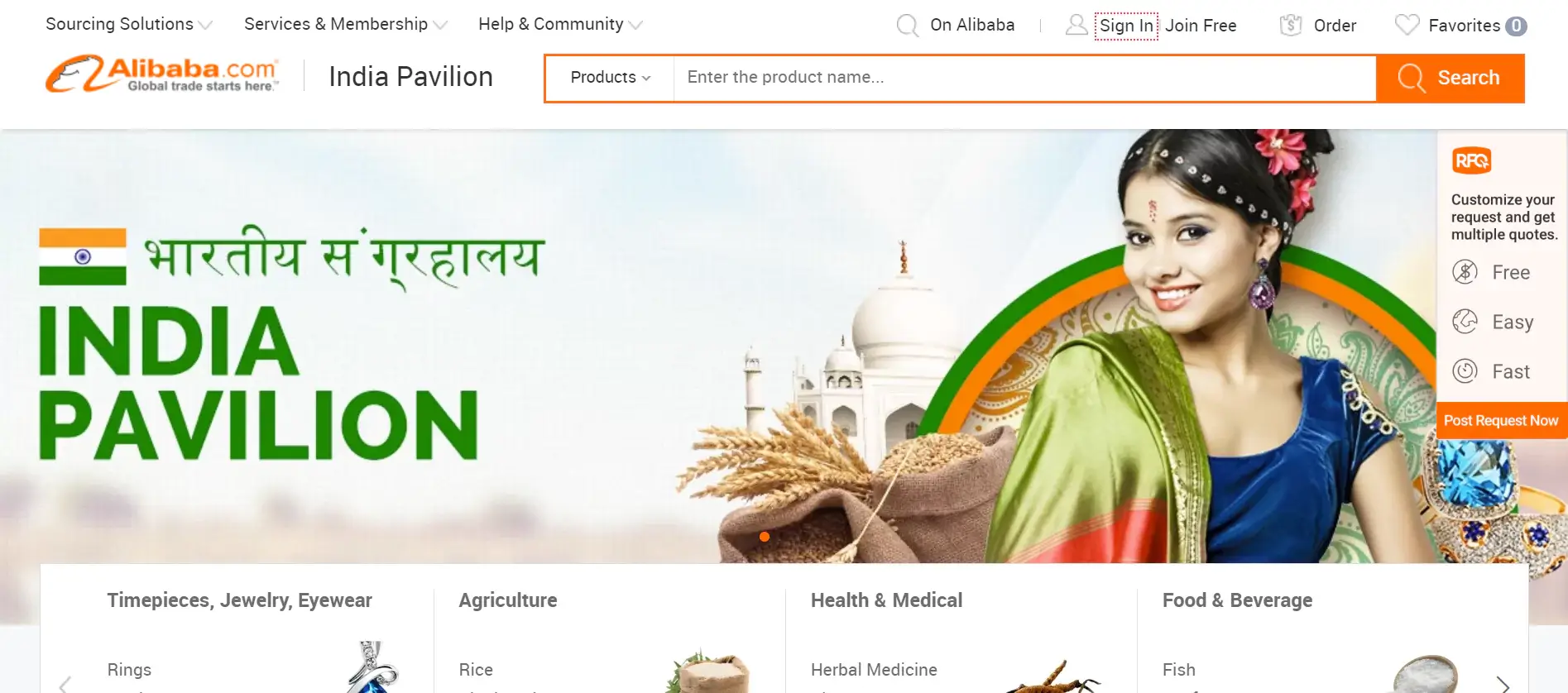 In spite of being outperformed by its Indian competitor, Flipkart, Alibaba offers products in a variety of categories, including home and kitchen, tools and hardware, rubber and plastics, electrical equipment and supplies, vehicles and accessories, toys and hobbies, consumer electronics, apparel, and more.
Snapdeal
Snapdeal, another Indian-founded digital B2C eCommerce giant, is an online variety shopping platform that has gained a great deal of interest from users and investors. Since its inception in 2010, Snapdeal has received funding from well-known investors such as the Alibaba Group, Softbank, and Foxconn Technology Group. Its website receives an estimated number of 56.41 million visitors each month.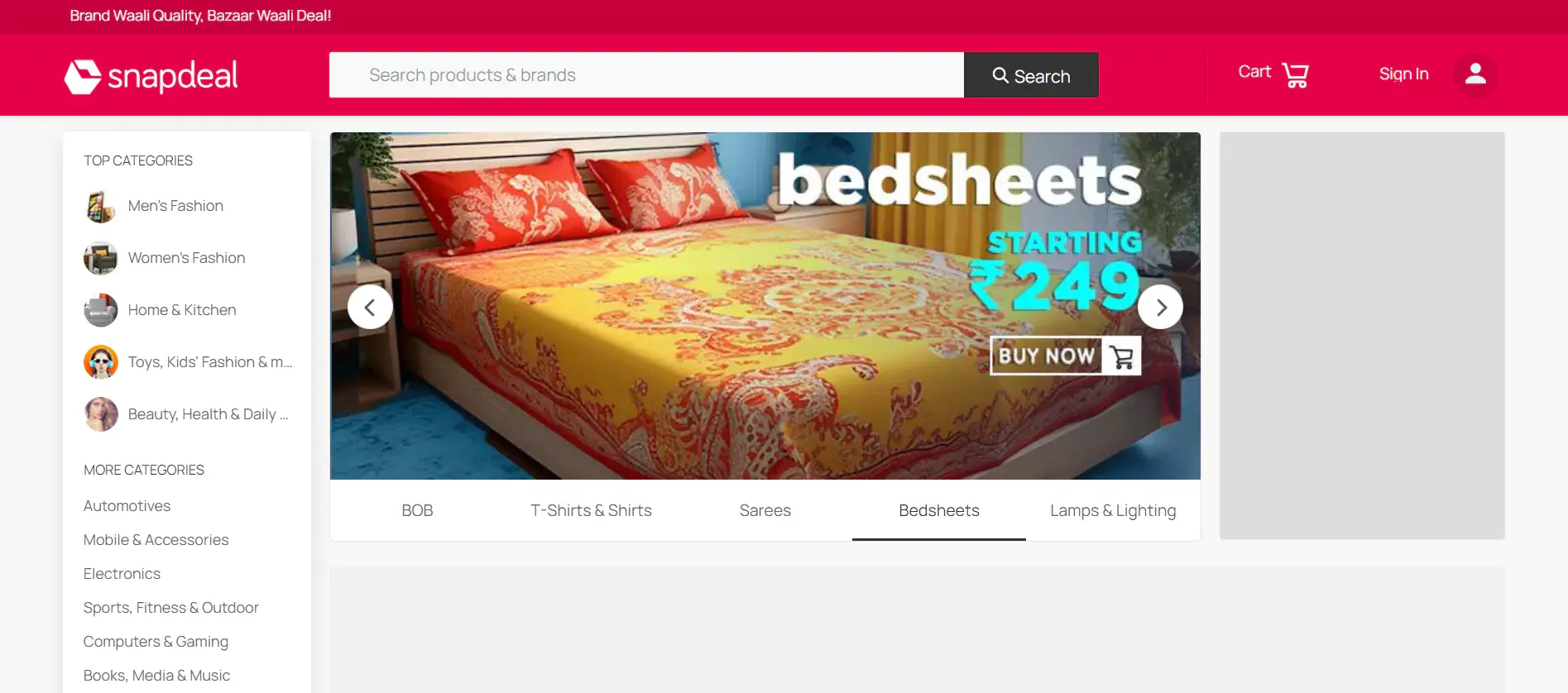 It gives you the best deals in a particular city in various service categories ranging from: restaurants, spas and salons, apparel, footwear, baby care, home, and décor. It has adopted the marketplace business model. Snapdeal came up with a unique idea of permitting local vendors and manufacturers to publish their product catalog and sell it on the Snapdeal portal. This avoids the expensive costs involved in building your own inventory. It focuses on logistics and efficient delivery to customers. It operates at such a fast pace that a new product is added every 30 seconds.
Jabong
Within six to seven months of its introduction, Jabong, a leading top eCommerce website in India, generated a great deal of interest. Besides selling products on their own through inventories, it is also an excellent marketplace for third-party sellers, and it caters to a wide range of products, including accessories, footwear, and apparel, as well as numerous branded products. Furthermore, it has its own logistics network, and it is attempting to expand its reach outside of India in terms of delivery services. Jabong eCommerce site has 56.41 million visitors monthly.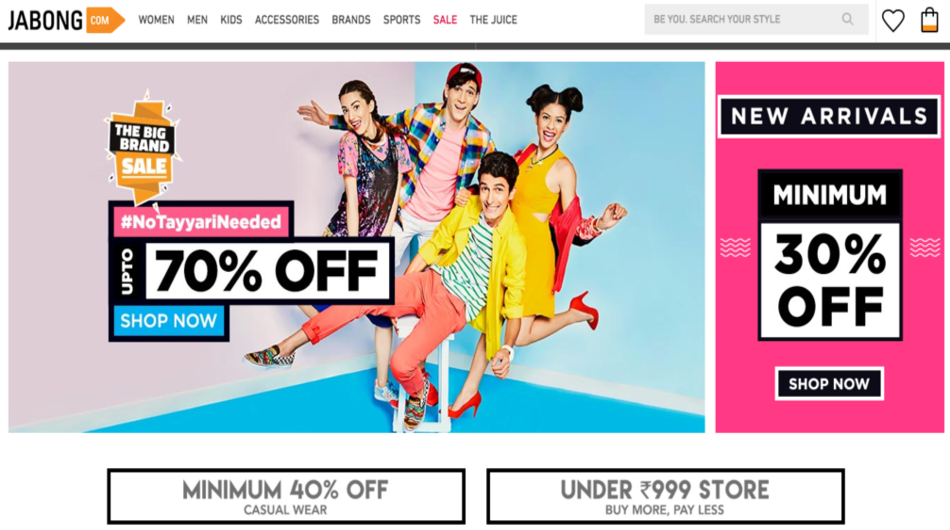 Another distinguishing feature of Jabong is its magazine, The Juice, which is a mix of pop culture and fashion and is published bimonthly. A variety of payment channels have made it possible for customers to place orders for products. Despite the fact that it is currently closed, it has been acquired by Myntra, and the Jabong app will redirect users to Myntra's shopping window to make it easier for them to complete their purchases.
IndiaMART
Online B2B marketplace IndiaMart was established in 1999. IndiaMart, a direct competitor to Alibaba, allows manufacturers, suppliers, and exporters to post their items directly on the site in order to be reached by its visitors. IndiaMart has been operating its eCommerce retail platform, Tolexo, since 2014, and receives 47.23 million visitors each month,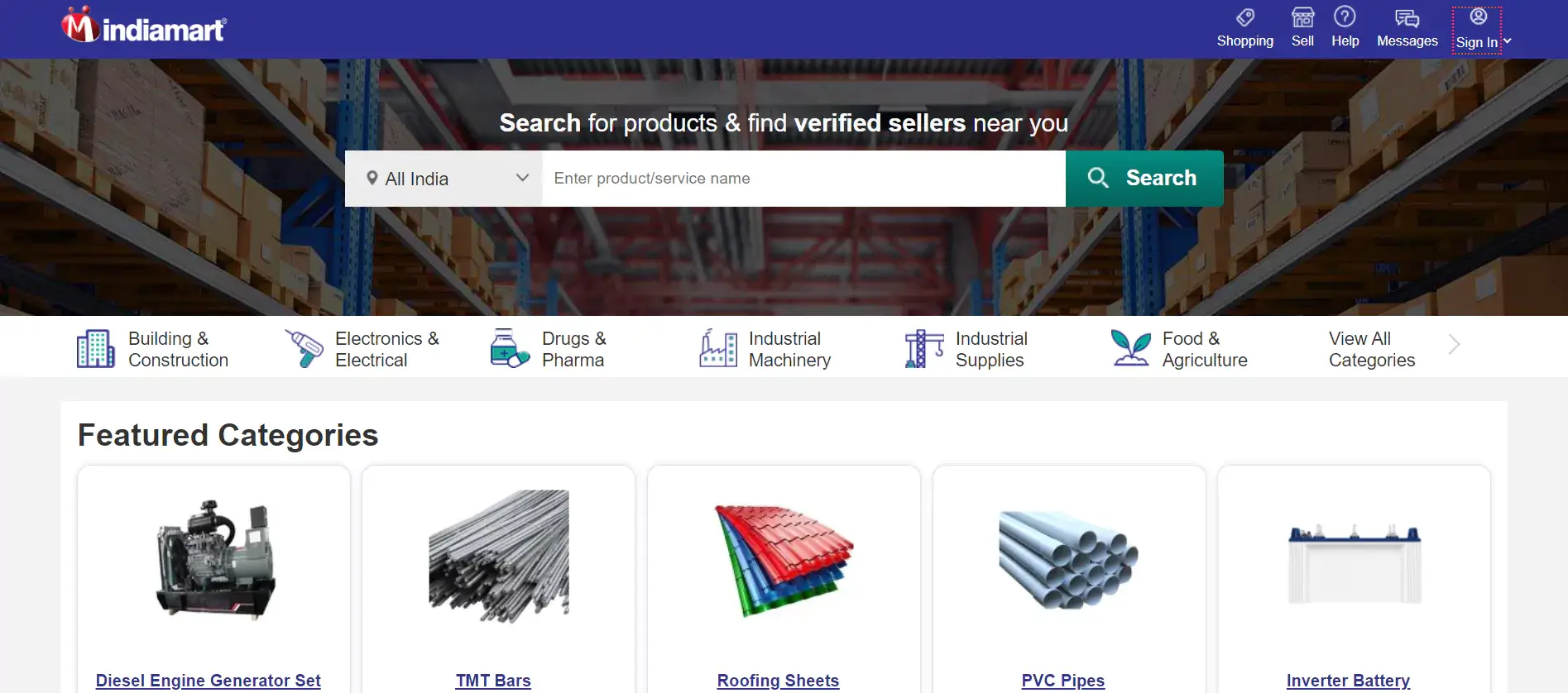 By Connecting manufacturers, suppliers, and exporters, IndiaMART provides a platform where buyers may contact them directly via email and phone to promote and expose their products to one another.
A wide range of products is available on IndiaMART, spanning anything from building and construction to industrial gear to clothes to electronics including building and construction, industrial machinery, clothes, electronics, and even chemicals, dyes, and solvents, to mention a few.
Myntra
Myntra is a well-known name in the list of top eCommerce sites in India for fashion and lifestyle products. It is an aggregator business model (B2C) for premium brands. You can purchase products on Myntra for Men, Women, and Kids. Apart from fashion products, Myntra also offers home and living products like kitchen essentials, home decor, bathroom items, and lighting products. In 2014, Myntra was acquired by Flipkart.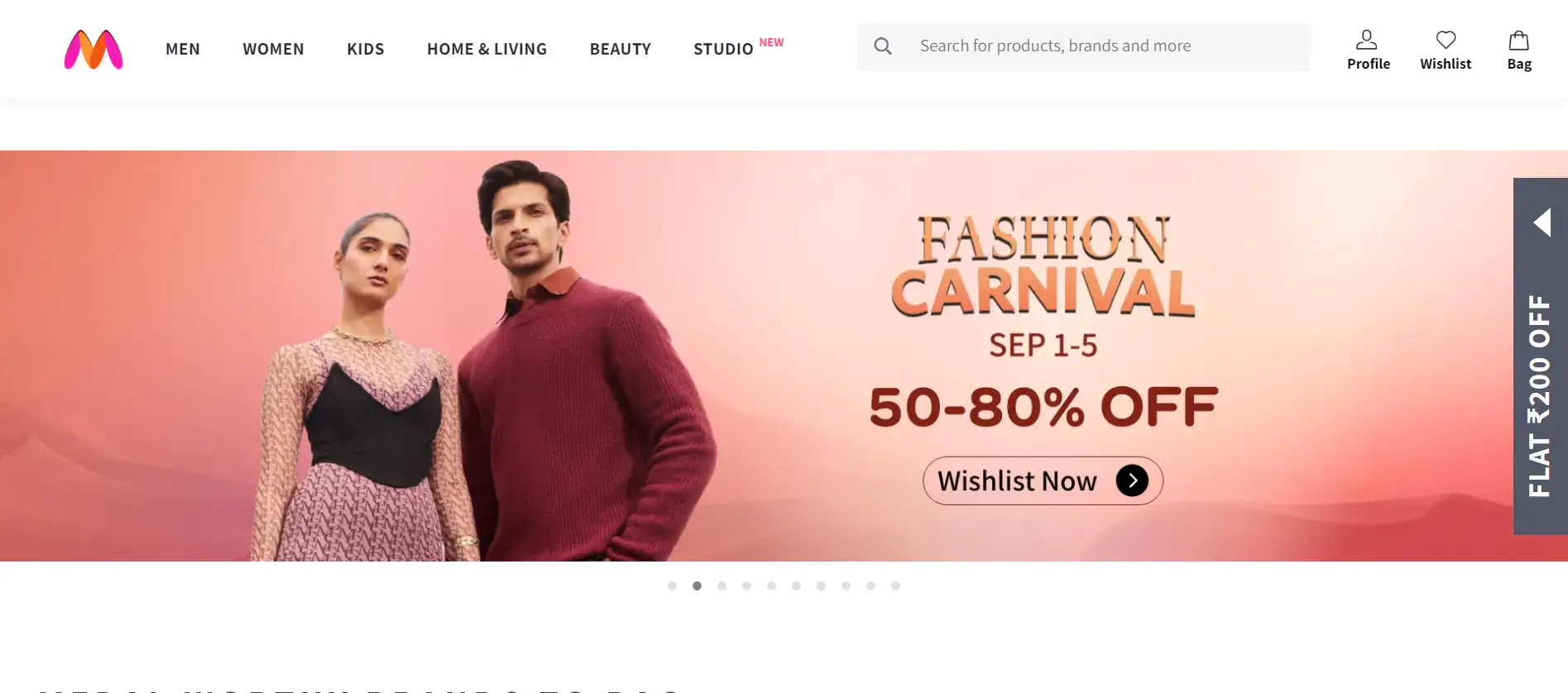 In addition to that, its various payment options and regular discounts contribute to the overall success of this brand. Myntra has employed diligent delivery agents and takes care of its supply chain management. The website showcases various top-tier brands of celebrities such as HRX, Deepika Padukone's All About You, Being Human, etc. with 48.03 million visitors monthly.
Myntra has also come up with a complete guide to your everyday fashion and the latest style trends. The MyntraLookGood is a daily fix of style tips, beauty tricks, celeb fashion, and non-stop entertainment. They believe that Bollywood influences fashion and frequent tie-ups with celebrities help to bring customers closer to Myntra.
Book My Show
BookMyShow India is the most popular online ticket vendor in the country, with over 10 million customers. Following the establishment of its doors in 2007, it has expanded to provide ticketing services in five nations, including the United Arab Emirates, Sri Lanka, the West Indies, and Indonesia, amongst others.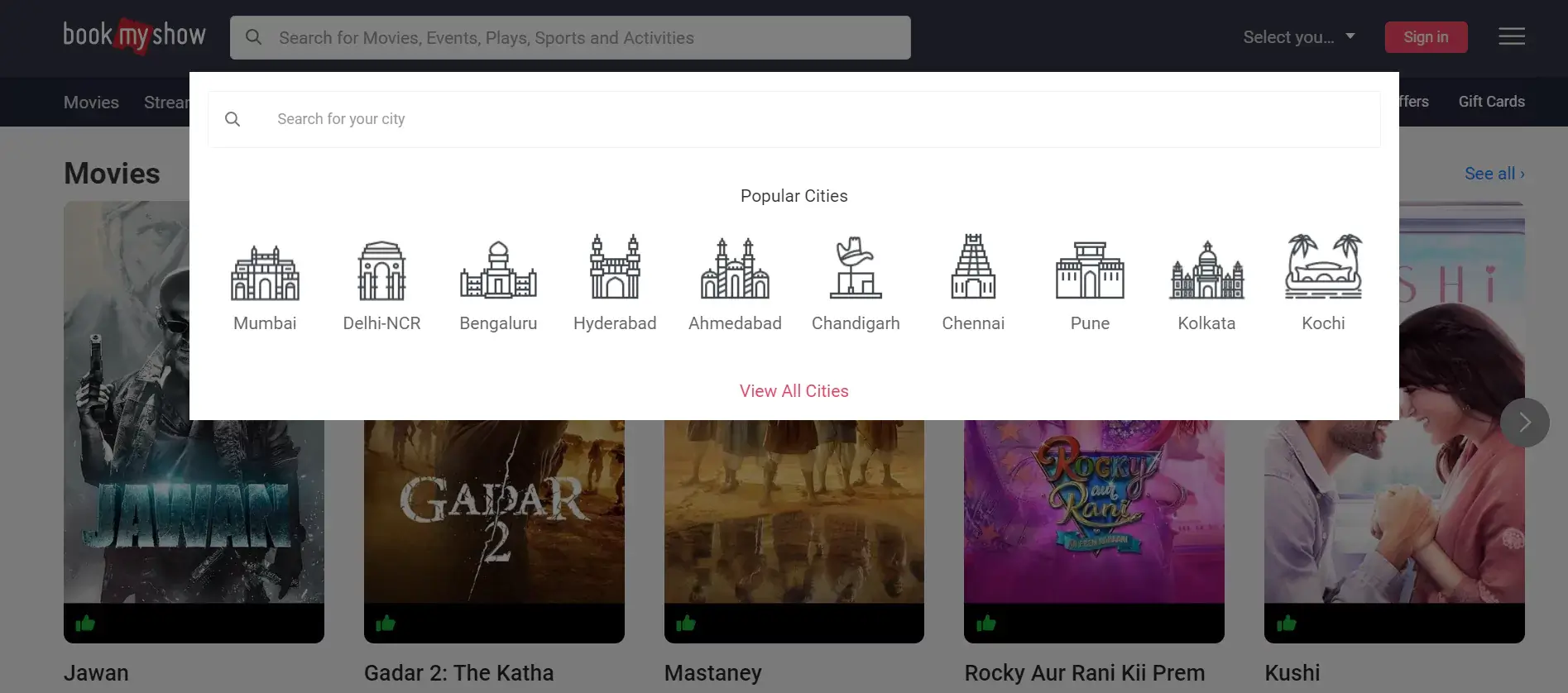 After surviving difficult circumstances, it was able to emerge triumphant at the end. With the growth of BookMyShow, it has evolved into a multi-door revenue platform that provides customers with a wealth of options. Ticket and surf trailer reservations can now be made at any time and from any location.
BookMyShow is India's one-stop website for ticket-booking entertainment and merchandise of all types, visited by 43.25 million users each month. It offers a wide range of options, including tickets for movies, events, plays, sports, activities, and tickets to historical monuments, in addition to selling fan products. TPG Growth, a well-known worldwide investor, is the company's largest shareholder.
PayTm
The Indian eCommerce merchant Paytm has slowly and steadily pushed its way onto this restricted list of eCommerce retailers. From its humble beginnings as a mobile wallet, Square is on its path to becoming one of the industry's leading innovators. Following a match-making business model, Paytm is able to meet the needs of its customers on a regular basis, whether it is through accessories or technological goods.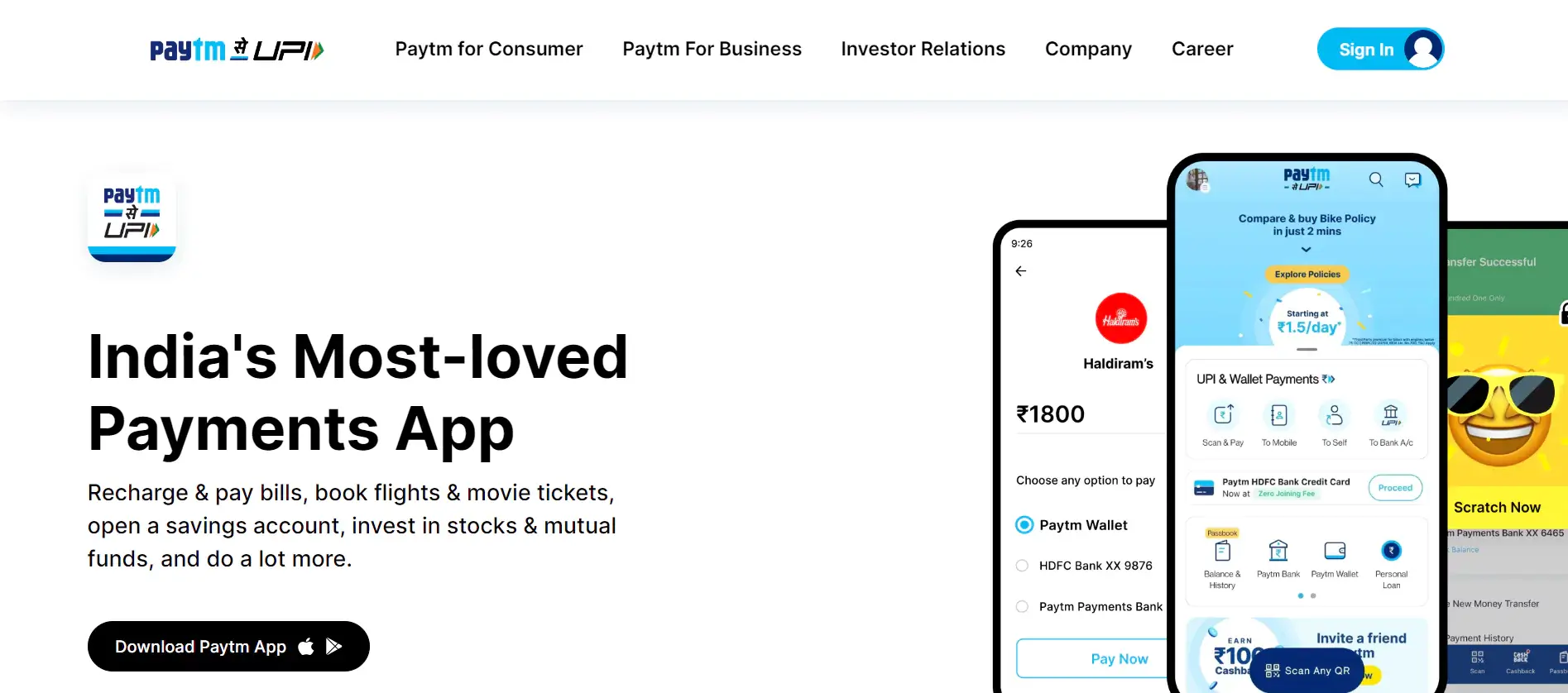 Paytm Mall is constantly looking for new ways to improve the shopping experience for its nearly 120 million registered users and 63 million visitors to their websites. Paytm's cashback option has proven to be one of the most appealing aspects of the service. When purchasing goods, consumers are provided with a selection of discount coupons to choose from, all of which yield significant savings. It also collaborates with brick-and-mortar retailers, and with the use of its mobile application and QR codes, it guides customers through an online buying experience that includes appealing discounts.
Shopclues
Last but not least, the final name that comes to the list of top eCommerce sites in India is Shopclues, a well-known B2C eCommerce platform. Established in 2011, it has been working gradually and steadily rising through the ranks by putting an emphasis on client satisfaction. Shopclues specializes in domestic products at a time when other eCommerce titans are focused on selling gadgets and electrical stuff. It may still have a long way to go, but the outlook appears to be promising.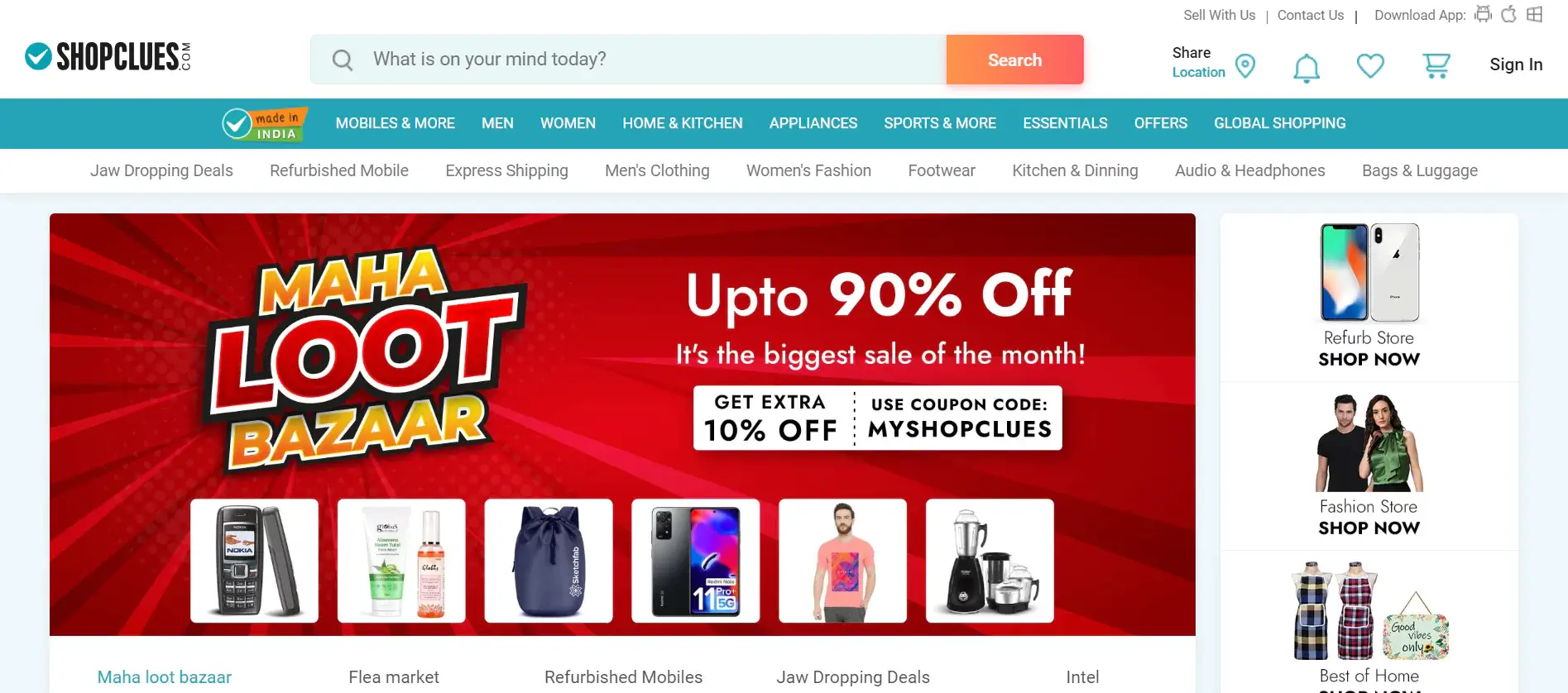 With a considerably larger merchant base, Shopclues is a more popular online destination. It concentrates on small and medium-sized businesses (SMBs) in smaller cities, and it assists them in expanding their operations online. Its website has more than 50 million visitors every month, and one of the company's most profitable areas has been the home and kitchen appliances section.
What do Top eCommerce sites in India have in common?
While the Indian eCommerce sector is still in the early development stages, it is a market rich with opportunity; with so many people comes so much room for major players and small players alike to take a giant chunk out of the Indian eCommerce pie. Looking at the biggest eCommerce sites in India, we can clearly see some similarities.
First and foremost, the overall quality of the experience for the end user is always their top priority. Every eCommerce website offers a user-friendly interface, which includes simple and straightforward checkout procedures, user-friendly navigation, and a design that is responsive across a variety of devices.
Another similarity lies in the product offerings. These top eCommerce sites in India offer a wide variety of products to meet a vast array of consumer requirements. On their websites, customers can easily locate any product, from electronics and fashion to groceries and household items.
With a focus on user experience, all of the successful eCommerce sites listed above feature the most efficient payment methods. They offer multiple payment gateway options to customers, allowing for convenient transactions regardless of location or preference. They also integrate trustworthy and secure payment gateways, resulting in increased customer confidence.
Wrapping Up
If you wish to find some inspiration for your eCommerce stores, or you simply want to explore prominent names in the Indian eCommerce market, this article is exactly for you. Despite the fact that the Indian eCommerce industry is still in its infancy, these businesses have managed to get their websites to the top of Google search results and have gained a substantial number of monthly visitors. You can learn from these case studies and implement their strategies in your own practice.
If you liked this article and have any questions, then do let us know by commenting below. Additionally, if you're ready to level up your existing Magento store with more advanced features, then our Magento development services are perfect for you. Our professional developers and support staff are excited to help boost your eCommerce business' ranking in the highly competitive market. Don't wait – take advantage of this opportunity now!
Additionally, if you possess limited technical expertise yet aspire to establish your own online store, Shopify stands out as the ideal selection. Don't hesitate to explore our seasoned Shopify development services; we are thrilled to assist you on your digital transformation journey.