B2B is one of the fastest-growing segments for new and established companies. This business model helps to rapidly expand for the development of collaborations, more open marketing, and the growth of entire industries while meeting specific company goals. Entering the 2020s, the demand for B2B business development is rising. This means searching for trustworthy B2B eCommerce examples all throughout the world. Below is the list of top B2B eCommerce companies that work with clients across a range of industries like logistics, eCommerce, restaurant technology, and so on. Let's find out their operations and some innovative ways to make them successful in this challenging racing.
Top B2B eCommerce Company and Website
Amazon Business
In 2015, Amazon rebranded its B2B platform from AmazonSupply to Amazon Business, which achieved a staggering sales figure of over US $1 billion in just one year. Five years later, its net sales had soared to US$25 billion, showcasing its continued dominance in the market.
Amazon Business provides a comprehensive package that encompasses all the features necessary for a successful eCommerce B2B website. Approval workflows and multi-user accounts allow businesses to assign different authorization levels to users on their accounts. Account settings range from purchasing and reporting preferences to managing delivery addresses and payment options.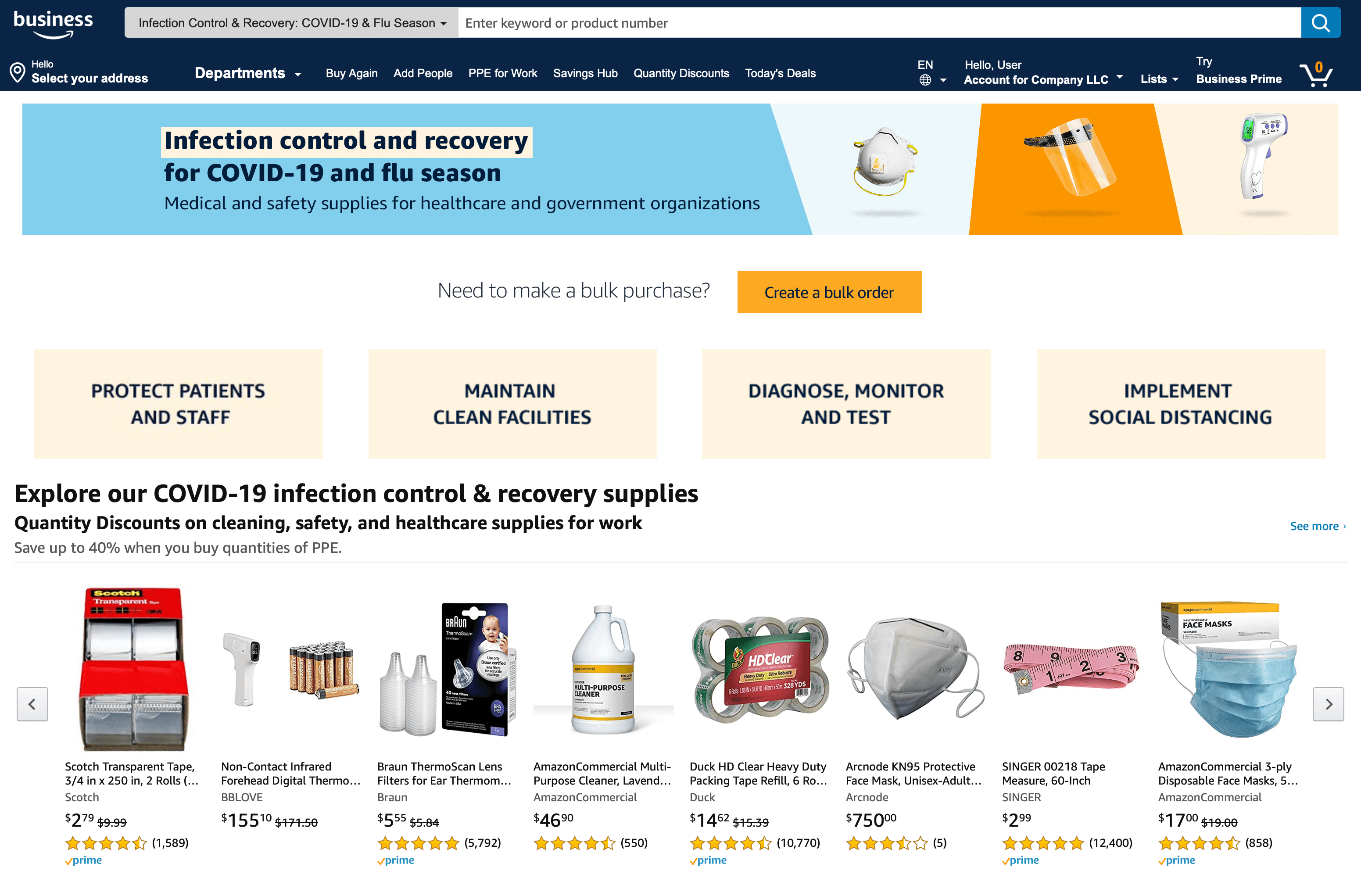 Furthermore, Amazon Business values small businesses and supports them in starting their entrepreneurial journey. They offer a strategic approach to their customers and have developed software to meet the procurement needs of small businesses by digitizing their processes.
Similar to Amazon Prime for consumers, Amazon Business offers Business Prime, which provides contract pricing for various subscription levels. These levels unlock several benefits, such as progressive discounts, free delivery, and access to analytics tools to gain insights into buyer behavior.
Alibaba Group
Alibaba has established itself as a prominent name in the B2B world, offering a convenient platform for trading. It is a Chinese-centric manufacturers platform that launched in 1999 and has since expanded to include various new business avenues, such as payments.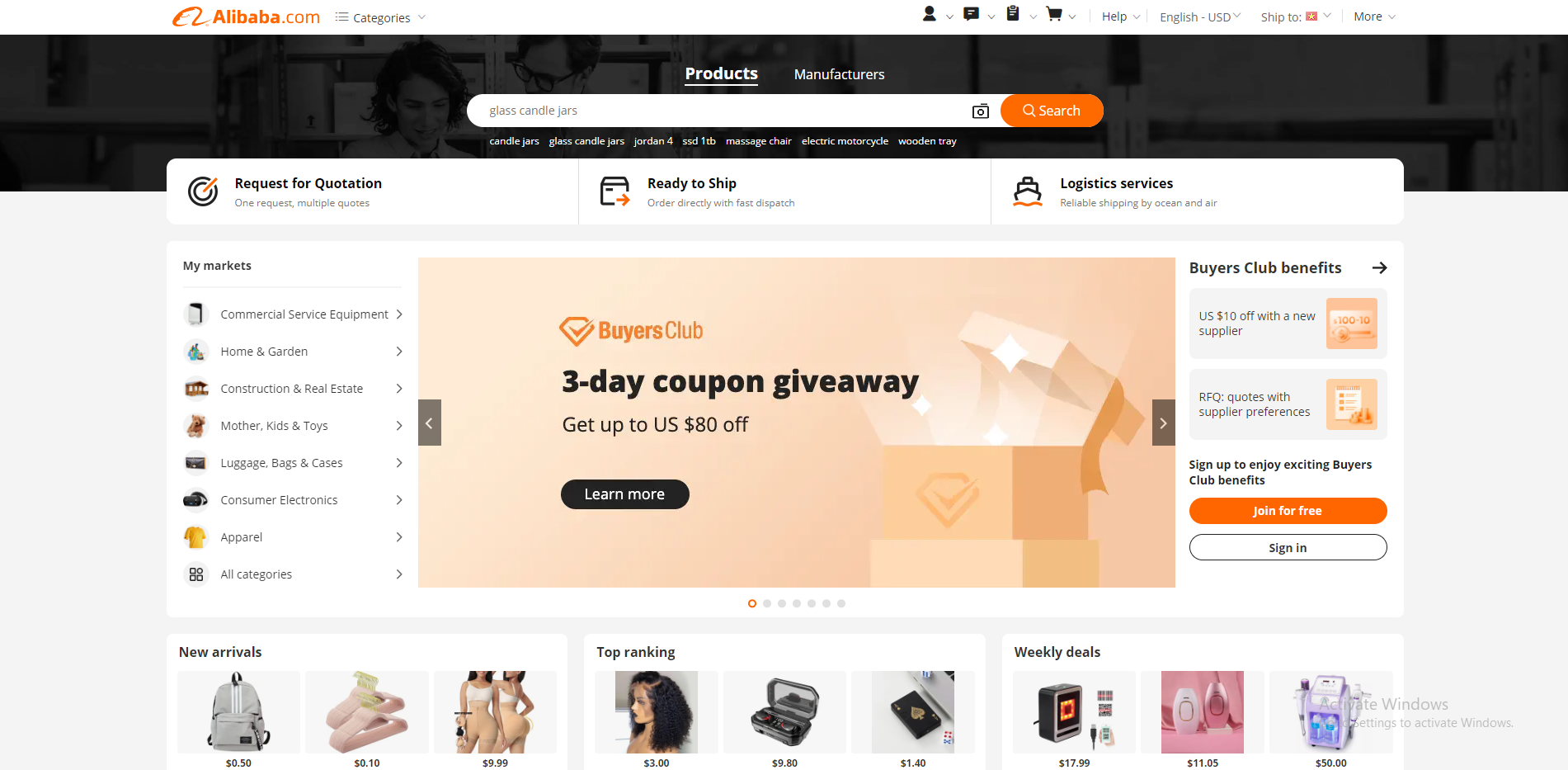 One of the key strengths of Alibaba is its impressive array of features, including segmentation, automation tools, and reporting. These tools help suppliers reach their target audience and effectively market their products. Alibaba also serves as a one-stop sourcing platform, with millions of products from over 40 major countries. Its highly-immersive platform allows users to browse through categories and discover products of interest. Additionally, Alibaba has a learning center where sourcing managers can learn from experts in their respective fields.
However, eCommerce businesses that use Alibaba as their marketplace must be cautious when it comes to tracking their shipping journey. This is because Alibaba has a complex shipping system with various carriers and logistics providers, making it crucial to track shipments carefully. Without tracking software, eCommerce businesses would have to rely on manually checking the status of their shipments, which can be both time-consuming and prone to error.
Made-In-China
Made-In-China is a comprehensive service platform that connects Chinese suppliers with overseas buyers for foreign trade. The platform features over 6 million registered suppliers and 14 million buyers and currently lists more than 40 million products from 27 industries across 3,800 categories. Made-In-China provides various possibilities for sourcing products based on different procurement demands, making it a versatile platform for buyers.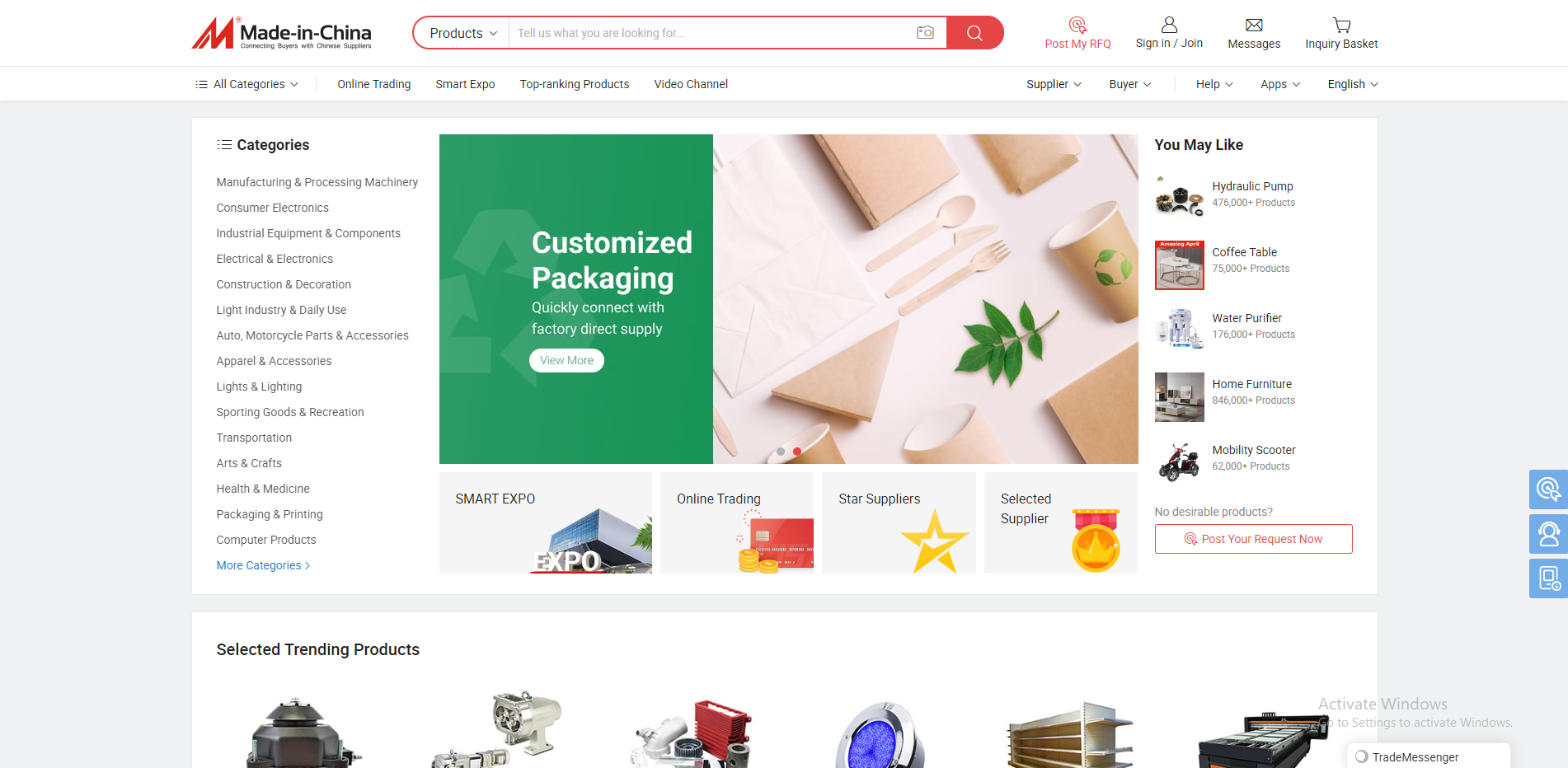 To ensure the credibility of the platform and its partners, Made-In-China collaborates with renowned inspection companies such as SGS, Bureau Veritas, and TÜV Rheinland to verify its suppliers. Upon suppliers' approval, the platform provides comprehensive audit reports that buyers can review before making a purchase. This thorough verification process increases and maintains the credibility of the platform and its partners, making it a trustworthy platform for foreign trade.
MSC Direct
MSC Direct is a leading North American distributor of metalworking and maintenance, repair, and operations (MRO) products. The company has a long-standing history, having been established in 1941 and grown into a two-billion-dollar enterprise with over 6,000 experienced associates and partnerships with more than 3,000 suppliers.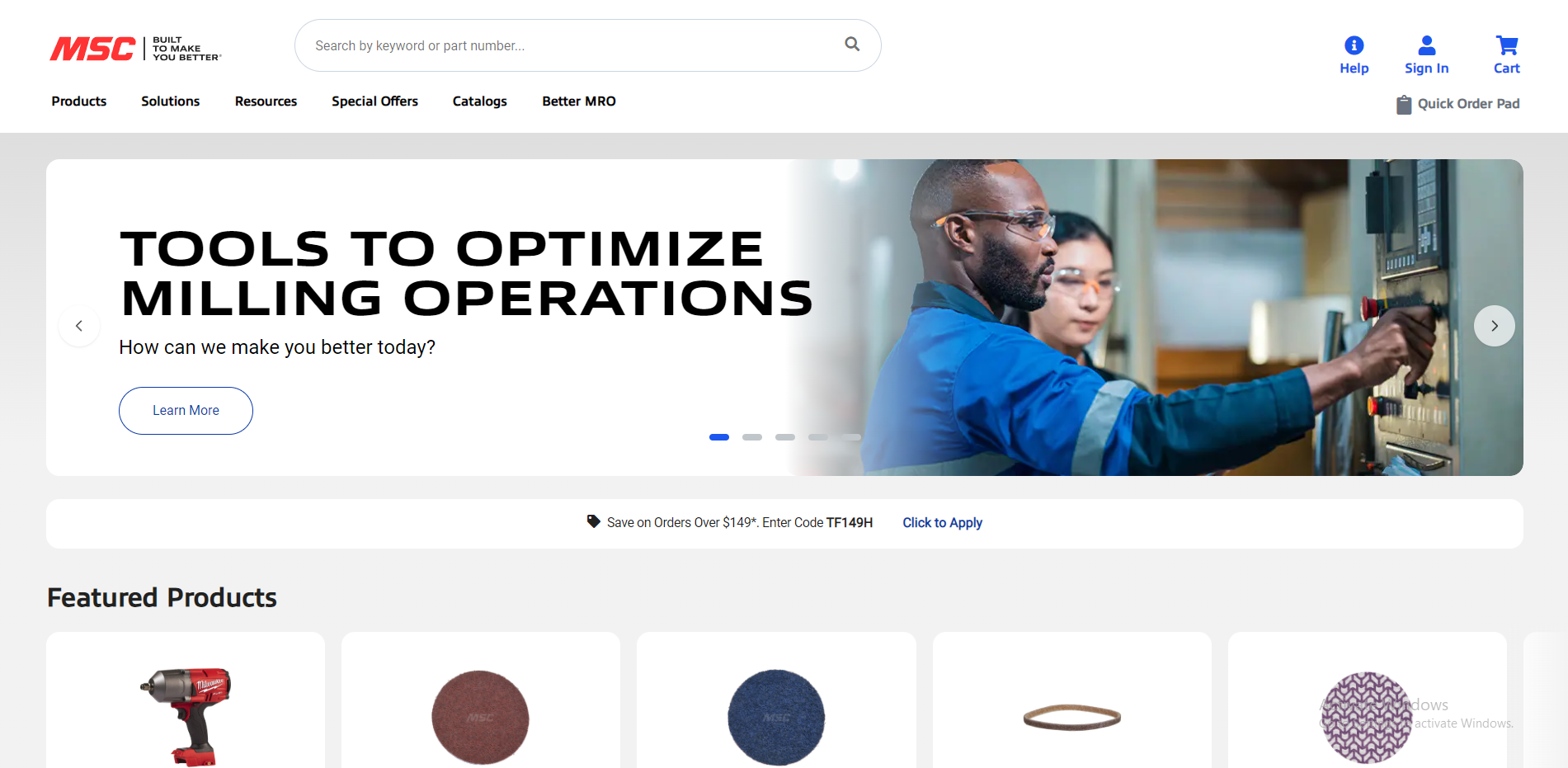 MSC Direct offers an extensive range of products, with close to 2 million items available for purchase, including 500,000 items ready for next-day delivery. As a reliable source for MRO products, MSC Direct has invested heavily in optimizing its website and search function to provide a seamless browsing experience for its customers.
MSC Direct's dedication to customer service is evident in its focus on providing quality products and a user-friendly experience. With a commitment to innovation and customer satisfaction, MSC Direct remains a leading distributor in the MRO industry.
IndiaMART
IndiaMART, launched in 1996 by cousins Dinesh Agarwal and Brijesh Agrawal, started as a website directory for customers in the Delhi National Capital Region (NCR) in India. Since then, it has grown to become the largest B2B e-commerce website in India, catering to both small- to medium-sized businesses (SMBs) and large enterprises.
IndiaMART's catalog is accessible to anyone as a product listing site, but prices are only visible to users with accounts. Navigation is straightforward and easy to organize, with subcategories that provide access to a wide range of options without the need to open multiple browser tabs. Buyers can contact sellers directly with pricing and regional product availability queries.
The company generates over 95% of its revenues through IndiaMART's Advantage Program, which offers sellers a range of benefits. Basic accounts are free but come with limited features, while the paid subscription package includes higher search engine visibility, lead management solutions, direct payment options, and more.
Tradewheel
Tradewheel is a global B2B marketplace founded in 2003 that connects manufacturers, suppliers, buyers, importers, wholesalers, and traders. With over 6 million registered suppliers, more than 7 million buyers, and a product inventory of over 20 million items, Tradewheel offers a vast array of options for businesses. They have multiple operational units in prime trade locations, including China, Tradewheel.com operates in 195 countries.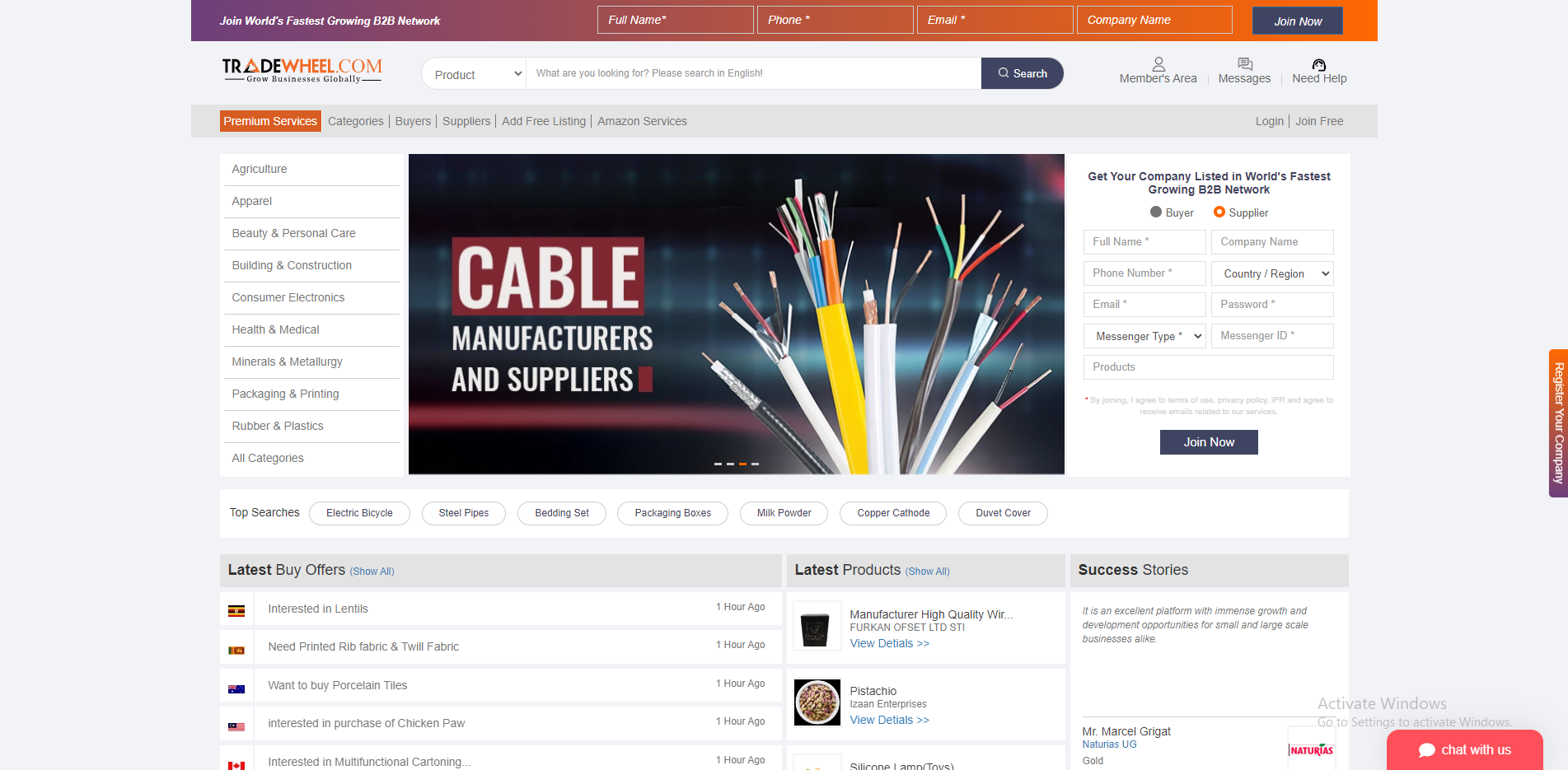 One of the unique aspects of Tradewheel is its dedicated sales managers who are available to assist buyers throughout the buying process. From finding and connecting with leads to negotiating a deal and closing orders, Tradewheel's sales managers provide personalized support to buyers.
In addition, Tradewheel offers special marketing services for suppliers to promote their listings and attract their target audience. The website is user-friendly and easy to navigate, providing both buyers and suppliers with the information they need to get started. Thanks to the human-to-human approach of Tradewheel, buyers can receive assistance from sales managers whenever they require it.
Tradekey
Tradekey is a well-established B2B online marketplace that was founded in 2006. It is one of the fastest-growing platforms that connects small and medium-sized businesses for international trade. The company primarily targets the Asia-Pacific market, though it has global ambitions.
Tradekey offers a wide range of products, with nearly 40 categories and a great selection of items for buyers to choose from. It provides various Service Packages, including VIP and GoldkeyPlus, that help companies close deals faster and more frequently. These packages are designed to assist businesses with everything from lead generation to deal closure.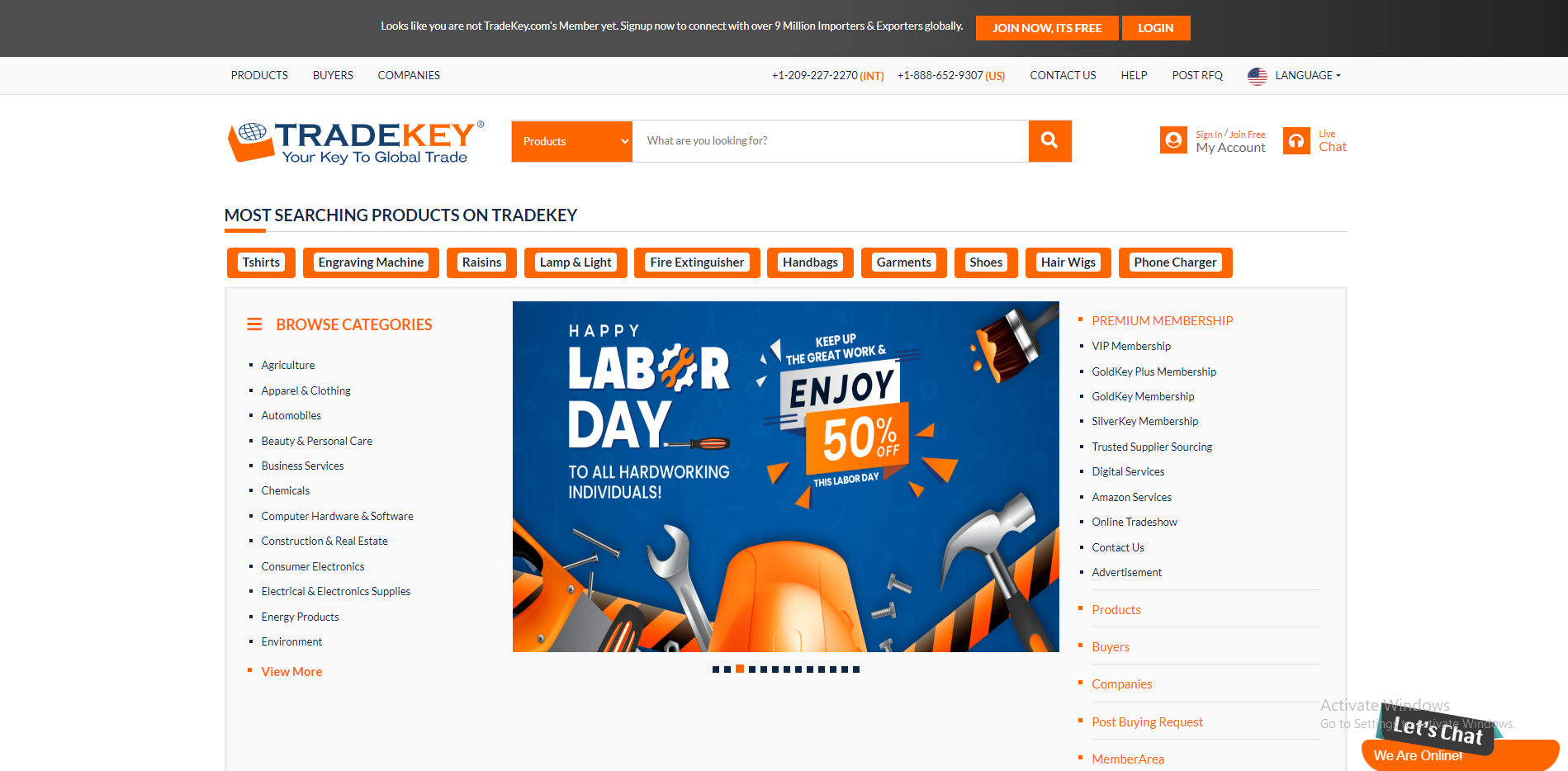 One unique feature of Tradekey is its focus on safety and security for buyers and sellers. The company offers a secure platform where buyers can place orders and make payments without worrying about fraud or scams. This is made possible through Tradekey's strict verification process, which ensures that all buyers and sellers are legitimate.
Tradekey's website design, however, may be considered somewhat intrusive, as many pop-up windows offering registration and other features cannot be easily removed. Despite this, the platform remains a reliable option for businesses looking to expand their reach in the Asia-Pacific market.
Global Sources
Global Sources is a leading B2B marketplace and multichannel media company that has been serving buyers and suppliers worldwide since 1971. Based in Hong Kong, the company connects more than 10 million registered international buyers and verified suppliers globally through tailored solutions such as trade shows, digital platforms, and magazines.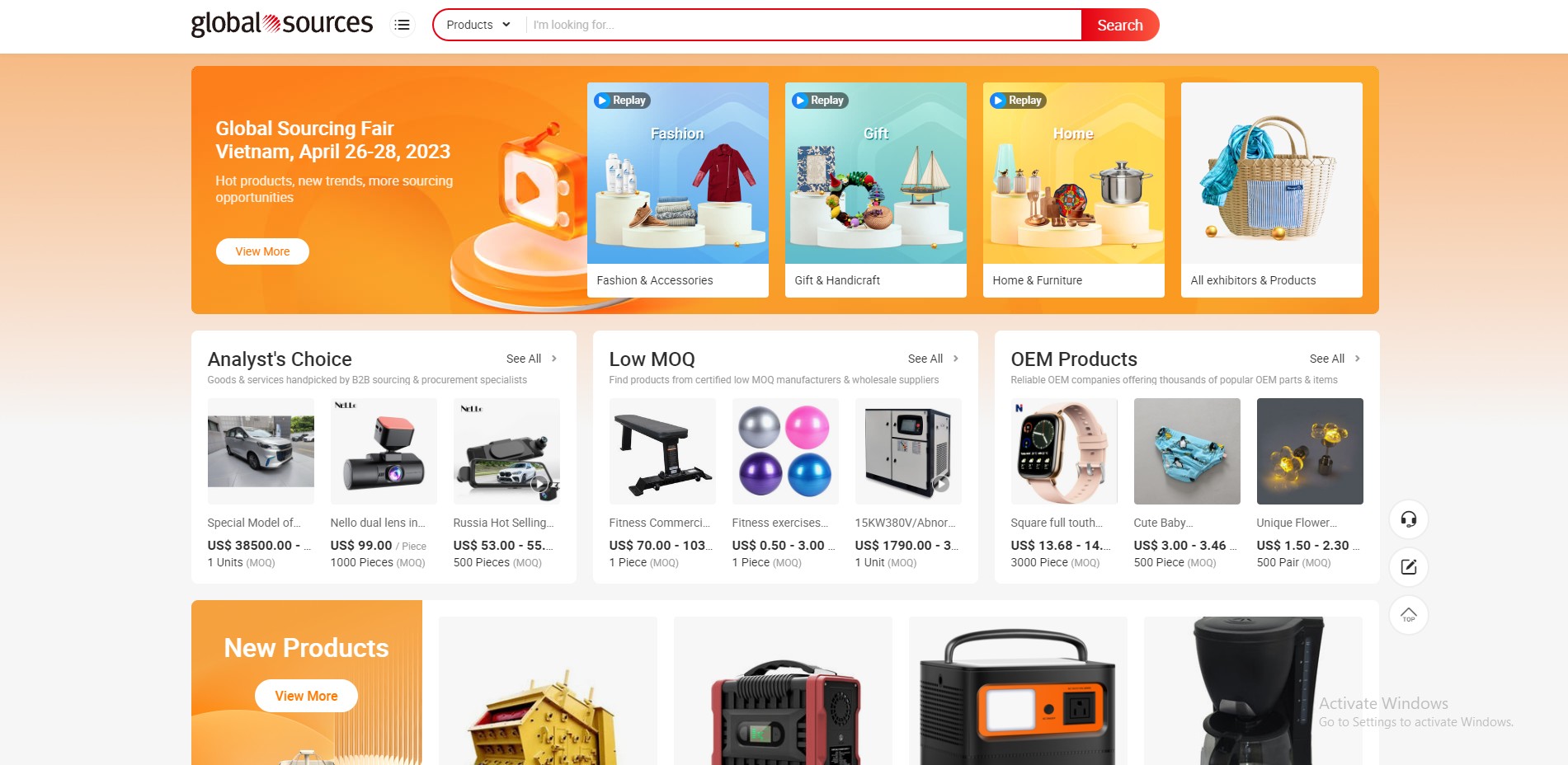 One of Global Sources' standout features is its focus on providing a smooth and efficient shopping experience for its users. The company has integrated an RFQ feature that connects clients with multiple suppliers and enables them to obtain free quotes quickly. Additionally, the company offers sourcing services that help customers find a supplier, and the Match service connects buyers with suppliers after assessing their sourcing requirements.
Global Sources' VIP buyers feature is another valuable asset for its clients. Members of the VIP buyer's community can enjoy numerous benefits and privileges, including the ability to order samples and request quotes within a day. The company also has a sourcing knowledge center where buyers and sellers can learn about Global Sources, and different products, chat with an expert, or attend online lectures and events.
Not only that, during the pandemic, Global Sources was also a pioneer in the virtual summit and trade show space and continues to work on improving digital experiences for online shows. The company's website is also well-structured and organized, providing a smooth and easy shopping experience for users.
DHgate
With more than 2.2 million sellers and serving over 26 million enterprises and individual customers in over 200 countries, DHGate is a prominent Chinese B2B eCommerce platform that has made a name for itself as a leading provider of wholesale products to buyers worldwide. The platform caters to a wide range of businesses, including small and medium-sized enterprises, retailers, and individual customers, offering access to over 30 million products from a diverse range of categories.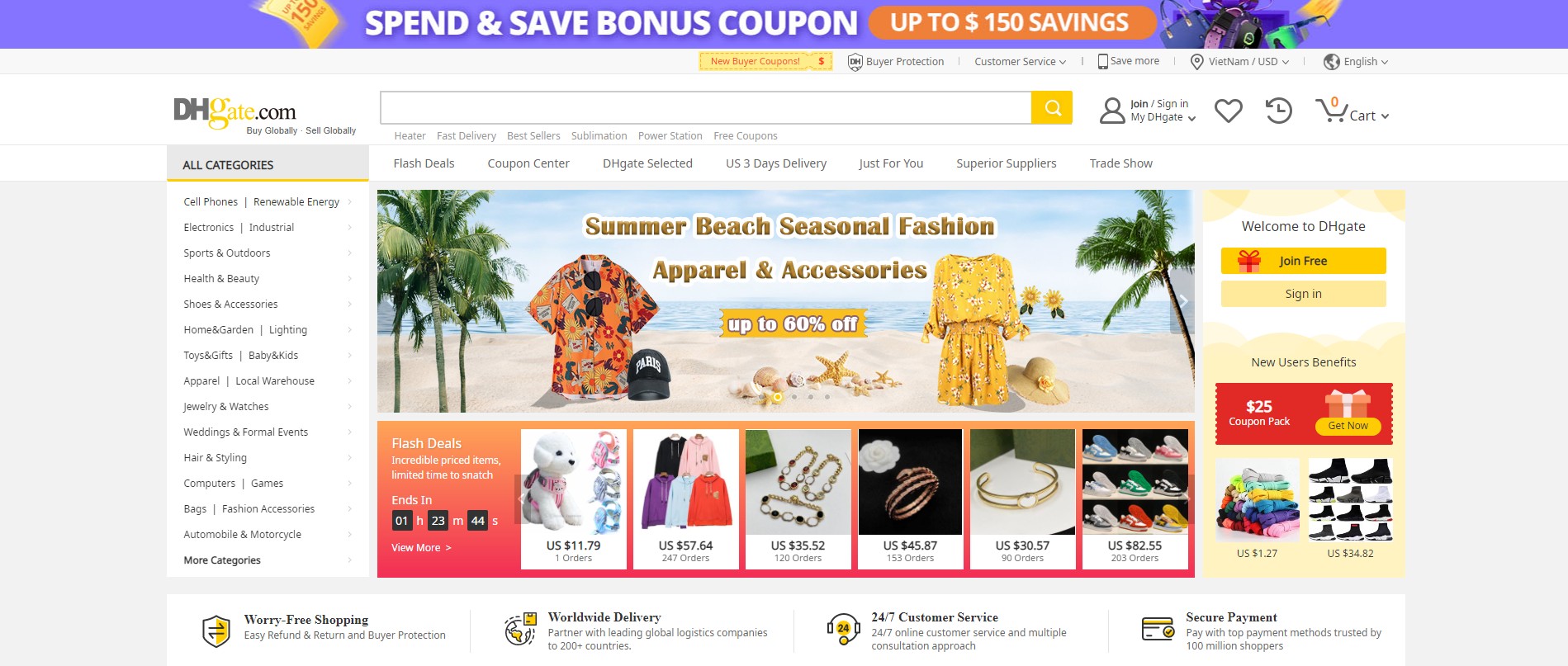 One of the key advantages of DHGate is its low minimum order quantities, which makes it an attractive option for buyers who need to purchase products in smaller quantities. Additionally, the platform offers secure payment options, logistics solutions, and escrow protection services to ensure a safe and seamless transaction process.
Similar to Alibaba, DHGate's comprehensive catalog, superior search and filtering features, and competitive pricing has made it a popular choice among buyers looking for quality products at affordable prices. The platform has also established a strong reputation for its customer service, with a team of knowledgeable and responsive representatives available to assist buyers at every step of the purchasing process.
Additionally, DHgate's website is available in multiple languages and offers a range of features including secure payment services, logistics solutions, escrow protection services, and internet financing, making it easy for international buyers to order products in bulk directly from manufacturers.
Features that websites of Top B2B eCommerce Company must have
Security
Security is a critical feature of any top B2B eCommerce company. In today's world, where cyber threats are constantly evolving and becoming more sophisticated, it is essential that businesses protect their sensitive data and confidential information from unauthorized access.
B2B eCommerce companies need to understand the importance of security and take proactive measures to ensure that their platforms are secure and protected from cyber threats. They implement robust security protocols, including encryption, firewalls, intrusion detection systems, and other measures to safeguard sensitive data.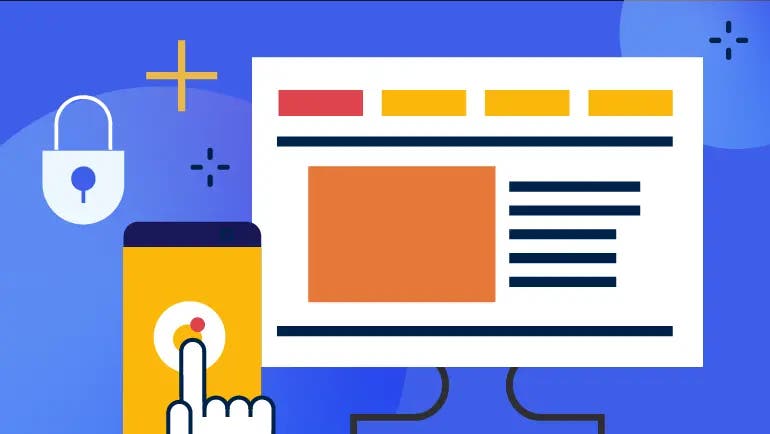 In addition to technical security measures, top B2B eCommerce company also implement policies and procedures to ensure that their employees and partners are aware of and adhere to security best practices. They conduct regular security audits and assessments to identify vulnerabilities and address any issues promptly.
Moreover, top B2B eCommerce company offer their clients a secure and reliable payment gateway to process financial transactions securely. They ensure that payment data is encrypted and stored securely and that clients have access to comprehensive payment protection programs that safeguard them against fraudulent transactions.
Flexible Pricing
With flexible pricing, businesses have the ability to offer customized pricing to their clients based on various factors such as order quantity, frequency of orders, and customer loyalty. This feature is particularly useful for businesses that deal with large and complex orders or for those that work with a variety of customers with different pricing needs.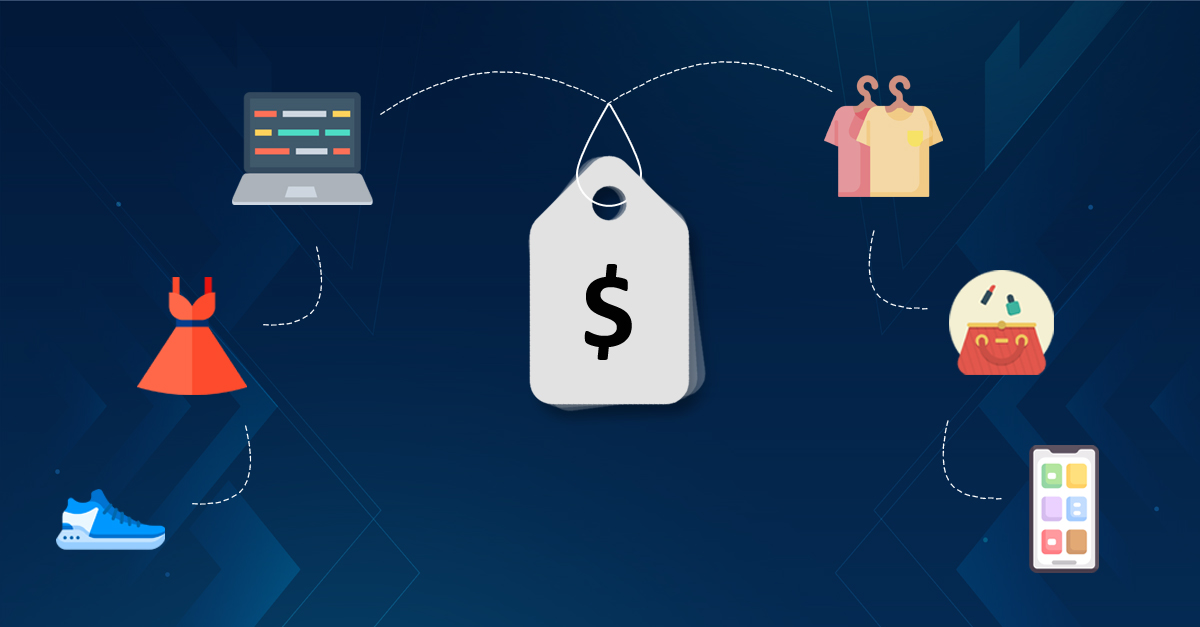 Many B2B eCommerce companies provide tools and software that enable businesses to easily set up and manage flexible pricing structures. For example, businesses can set up pricing rules based on order quantity, allowing customers to receive discounted rates for larger orders. They can also set up volume pricing tiers that automatically adjust pricing based on the amount ordered.
Flexible pricing also enables businesses to offer personalized pricing to specific customers or customer segments. This can be particularly useful for businesses with large customers or those that work with specific industries.
Ability to Buy in Bulk
Unlike B2C eCommerce, where individual customers may only require a few items, B2B eCommerce customers often need to purchase products in large quantities. Therefore, B2B eCommerce companies must offer bulk purchasing options to cater to the needs of their customers.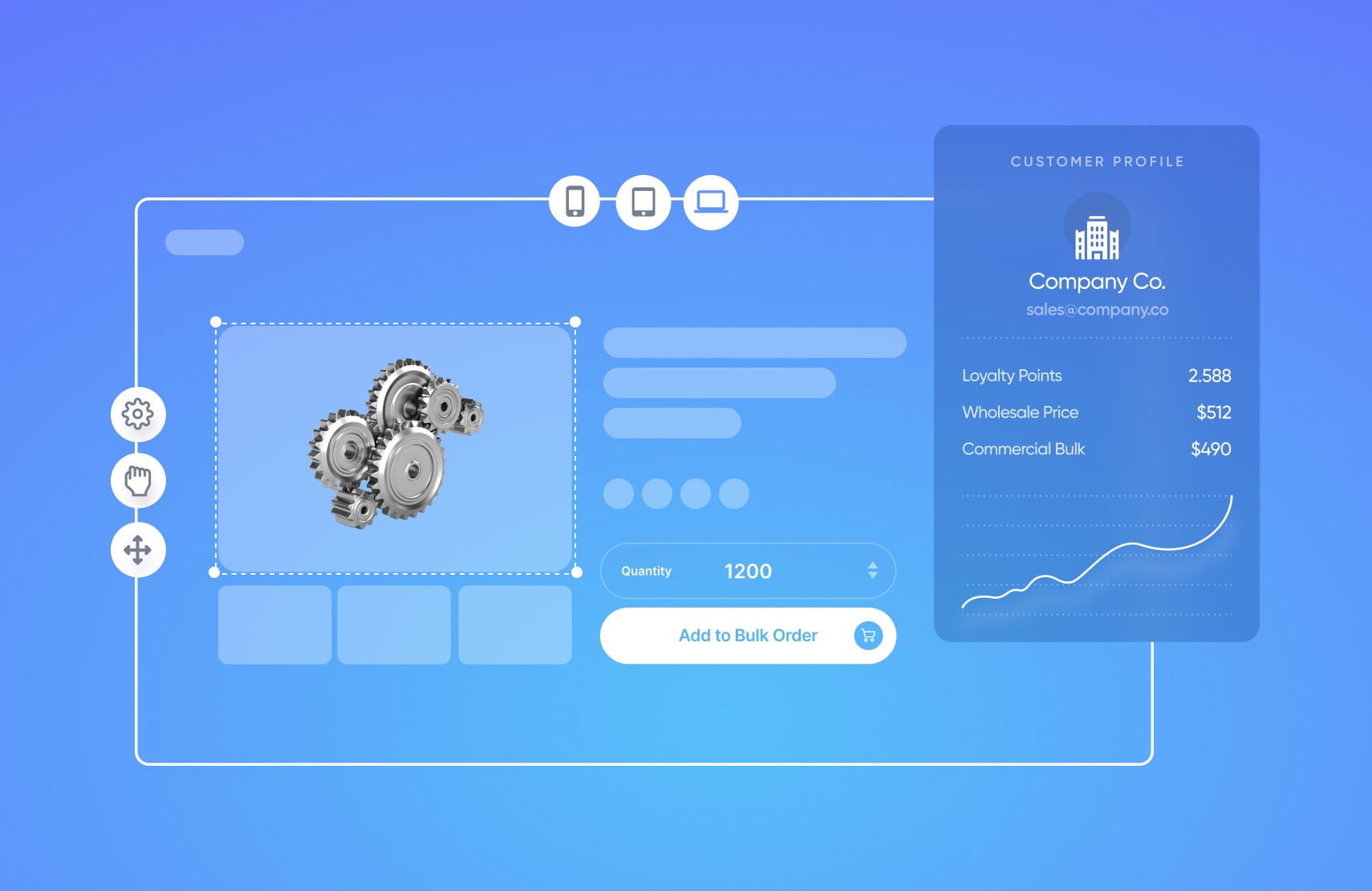 Top B2B eCommerce company provide the flexibility to buy in bulk through various features, such as volume discounts, tiered pricing, and minimum order quantities. These features help buyers save money on their purchases and give them the ability to negotiate better pricing based on the volume of their orders.
Moreover, B2B eCommerce companies that allow buyers to buy in bulk often offer customizable options for their products, allowing buyers to choose specific colors, sizes, or materials to fit their business needs. This customization ability enables buyers to make purchases that are tailored to their specific requirements.
B2B Portal Customization
A crucial aspect of any B2B eCommerce portal is a personalized user experience (UX) that matches the specific processes of the business. As different users perform different tasks, the UX should respond accordingly to their needs. With B2B portal customization, companies can also create a unique brand identity, improve user experience, and increase efficiency.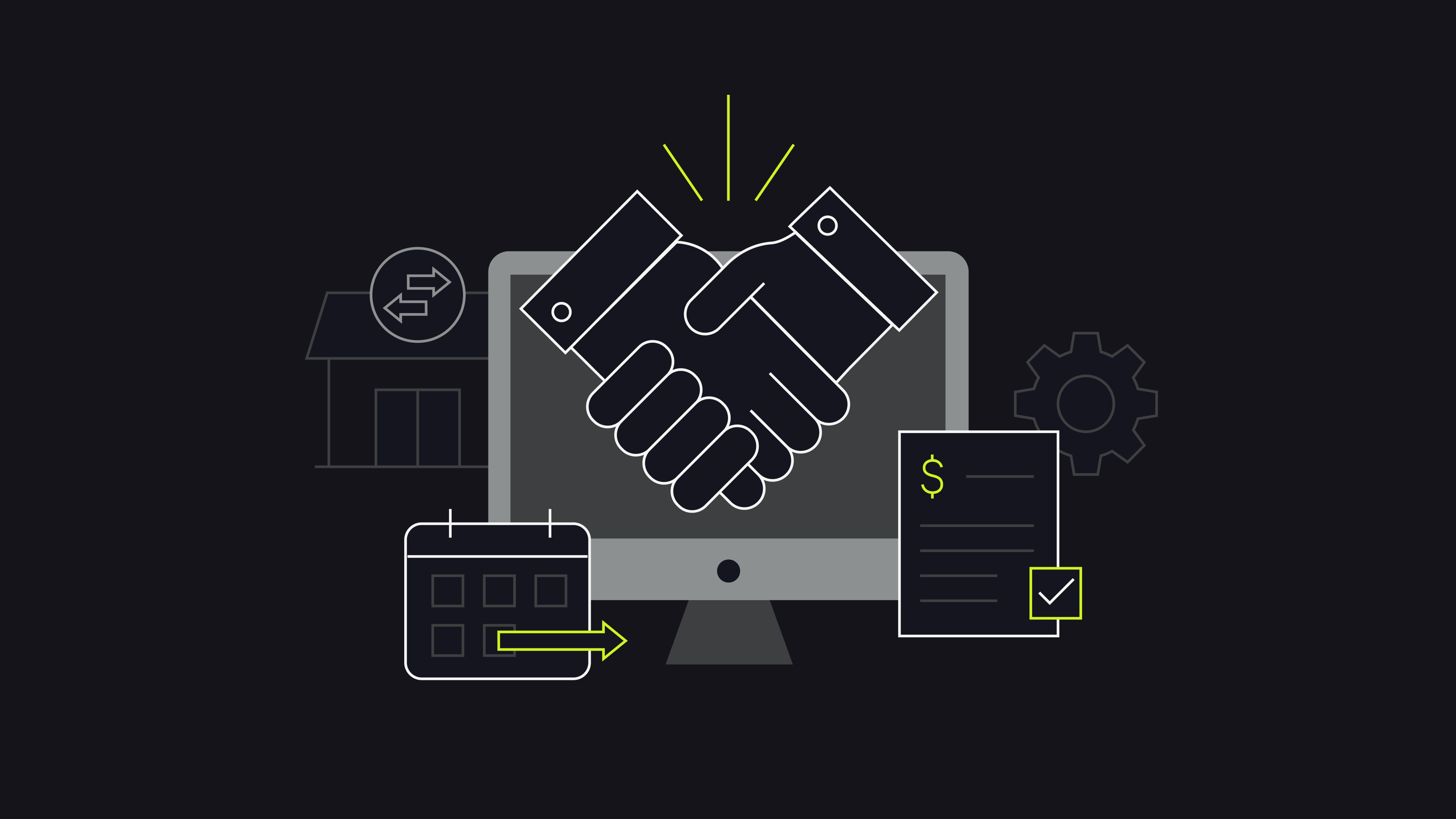 B2B eCommerce companies can provide various customization options, such as adding custom fields, creating custom workflows, and designing custom themes. This feature allows businesses to tailor their portals to fit their specific business requirements, including order processing, shipping, and payment options.
Moreover, the B2B portal needs to allow businesses to integrate with third-party software and APIs, such as inventory management, accounting, and ERP systems. This integration ensures that all business processes are streamlined and managed efficiently.
Quick Reordering
Quick and efficient reordering allows businesses to reorder products easily and quickly. This feature eliminates the need for customers to go through the entire ordering process every time they need to replenish their supplies.
A quick reordering function helps businesses save time and effort by allowing them to create an order with just a few clicks. Some companies offer a dashboard or a dedicated section where customers can quickly reorder their previous purchases or select from their frequently ordered items.
Top B2B eCommerce companies also provide an option for customers to modify their previous orders before reordering. This allows them to make changes to their order, such as quantity or delivery date, based on their current requirements.
Quote Management
B2B eCommerce sites often don't display pricing upfront. However, offering a quote management feature can streamline the negotiation process. This feature allows customers to request quotes for specific products or services and enables suppliers to respond with customized pricing and terms. Quote management systems typically include tools for creating, sending, and tracking quotes, as well as the ability to negotiate with customers and convert quotes into orders.
With the help of Configure Price Quote (CPQ) tools and Request for Quote (RFQ) buttons, users can easily create accurate quotes without the need for extensive back-and-forth communication. By streamlining the quote process and making it easy to manage and track, B2B eCommerce companies can improve the efficiency and effectiveness of their sales processes and provide a better overall customer experience.
Sharing Shopping Carts
One important feature of top B2B eCommerce companies is the ability to share shopping carts. In B2B commerce, the purchasing process can involve multiple stakeholders who may impact the buying decision. Therefore, the ordering process should be designed to accommodate these complexities.
With the ability to share shopping carts, multiple stakeholders can easily collaborate on complex purchases. B2B buyers can assign names to these carts and align them under specific accounts or contracts, allowing for a more streamlined and organized purchasing process.
In Conclusion,
The world of B2B eCommerce has seen a significant rise in recent years, with various companies emerging as the top players in the market. The examples presented above reveal that a successful top B2B eCommerce company must have a website that owns a modern and user-friendly design that is easy to navigate. Additionally, these companies offer a wide range of features such as flexible pricing, quick reordering, quote management, and secure payment options, among others.
If you want to succeed in this evolving digital marketplace, you should offer more than a generic B2B buying experience to stand out from competitors. Magenest is proud to be a trustworthy partner with a hundred B2B companies that will help you come up with some solution to accept the change that comes from digital transformation and quickly catch up with the trend. Reach out to our experts right now!