There are many different factors to consider when choosing a CRM system. Two of the most important considerations are whether to use an on-premise vs cloud CRM solution. Here we'll take a look at the pros and cons of each option so you can make the best decision for your business.
Pros and cons of cloud-based CRM
Cloud-based CRM software employs the Software as a Service (SaaS) model, which means paying a corporation a subscription fee in order to access the CRM. Whatever the case, cloud CRMs involve using the internet to access the system, where all the data is kept. The data is stored online rather than on a local server.
Only 13% of CRMs were housed on cloud servers in 2008. In 2017, an impressive 87% of CRMs were cloud-based. This is a clear sign of the high adoption rates that cloud CRMs experience. Let's look at some of the benefits and drawbacks of using a cloud CRM.
Pros:
Given that the vendor hosts all the servers and hardware necessary to run the CRM, there is no need to pay over a sizable number of setup fees.
Because maintenance is the vendor's duty, you don't have to worry about the extra expense or inconvenience that comes with it.
The service provider handles updates and other technical difficulties. The deployment time of these updates is also shorter because these upgrades are performed outside.
You have simple access to all of the data because it is kept on the cloud. The CRM is portable, so you can use it anywhere.
Hosting data in the cloud enables the development of mobile CRMs that access data from cloud servers while on the go. The members of your team can download these apps from app stores.
Through cloud services, software customization is simple, accessible, and ready to deploy almost immediately.
Numerous cloud service providers offer integration options, making it simple to use the software with other devices and platforms.
Cons:
Your data and systems are not entirely in your hands. Another server is still hosting the data.
You don't have control over when you wish to upgrade the system.
When the servers are upgraded or maintained, there might be downtimes. These are out of your hands and might conflict with your work.
It may be obligatory to contact the vendor's assistance to complete tasks, which is often not the best scenario.
Pros and cons of on-premise CRM
These CRM programs are ones that businesses have created for internal use. Some businesses may rather not have their data handled by a third-party vendor. This is particularly true for businesses managing sensitive data, like banks and insurance organizations.
Building a CRM on their own property would cost a lot to set up initially. This would require contracting with a different vendor or employing fresh developers for the product. It would also cost money to buy and install the required gear. You might also need to prepare for periodic maintenance and update expenses.
It is advisable to construct a backup system and store it far from the original site. By doing this, any losses or damage brought on by mishaps or natural disasters will be prevented.
Here is a list of the advantages and disadvantages of adopting an on-premise:
Pros:
You gain total management over all of your data and systems. Your upgrades, downtimes, and modifications are all up to you to determine and plan.
Your data is not hosted on a third-party website, therefore you don't need to be concerned about data theft.
You can genuinely save money if you have a high number of users. Numerous CRM suppliers base their pricing on the number of users. In the long term, it may be wise to build your own CRM.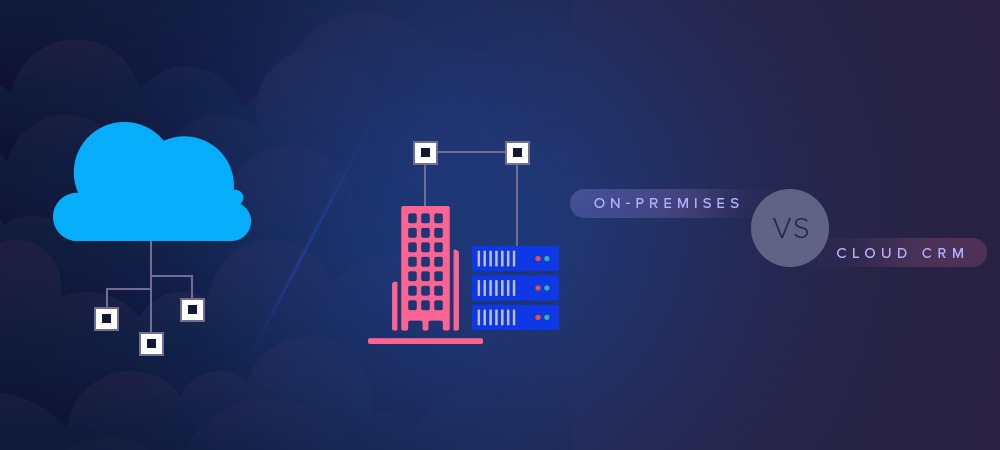 Cons:
The system won't allow users to log in from any place. The control would be based on IP addresses or locations.
Since most applications run on cloud servers, developing a mobile app might be difficult.
It would be expensive and time-consuming to upgrade your software.
It requires both initial and ongoing expenses. For a small or medium-sized business, this could be considerable.
On-premise vs cloud CRM differences in several aspects
CRM cloud vs on-premise CRM – Number of users:
The on-premise CRM would be a useful CRM for you if there are few users in your company and you don't utilize CRM Software outside of working hours.
Cloud CRM will be a beneficial method if there are many users in your company who use the CRM Software outside of the organization or even after working hours because it gives them 24/7 access from anywhere. The smartphone apps that are part of the cloud CRM make it handier for consumers.
Data transfer and security of cloud CRM vs on-premise CRM:
Since all of the data is kept on the organization's server, the data transfer and security on an on-premise CRM are secure. However, if the data is not handled well, it is vulnerable to employee fraud or negligence.
Your cloud provider offers a dependable solution for data transfer and security on a cloud-based CRM. Just make sure you are using a reputable cloud provider as they will have access to your company's data and information.
On-premise vs cloud CRM – IT support and resources
In addition to a substantial budget to support the department, the on-premise CRM requires the backing of a specialized IT department.
The cloud CRM is administered by the cloud provider themselves, therefore it doesn't need any IT assistance or costs.
Which one is best for your company? On-premise vs cloud CRM software? It actually depends on your own business requirements and preferences.
CRM cloud vs on-premise: Which solution is right for you?
The case for the on-premise CRM
Large businesses frequently require a great level of customization, in which case an on-premise CRM is typically the best choice. Additionally, if they use an in-house solution, they would totally own their software—a cost that many corporate players in the market can afford. Because businesses don't have to pay the monthly fees of cloud-based software, the costs can actually balance out over time.
Another benefit of this strategy is that companies can completely safeguard their software to meet their own requirements. Your data, which may include any sensitive employee and customer information, will be completely in the authority of the companies.
Because they can simply link the software with other systems, businesses that already have a lot of on-premise solutions in place may find that this is the best option.
In the end, this type of system might be a better choice for your CRM requirements if many of your workers work on-site and you have the IT infrastructure — including the IT personnel and resources — to support it.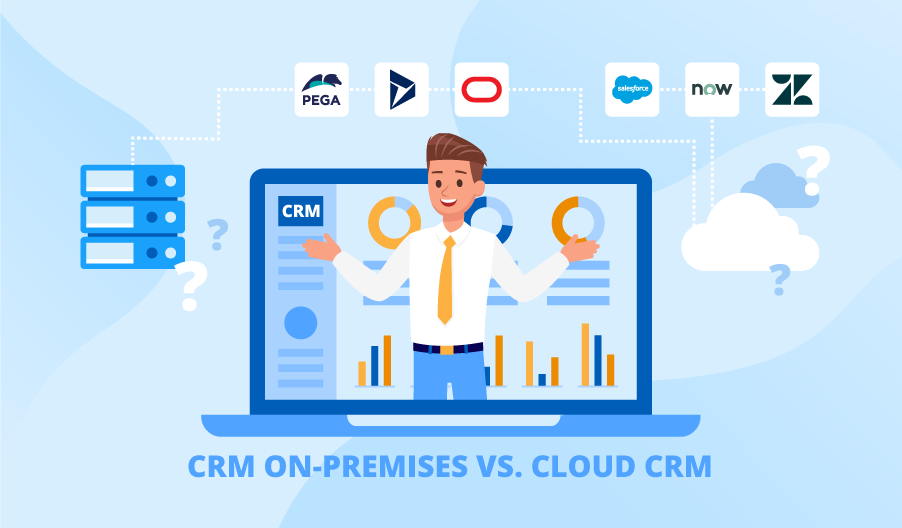 The case for the cloud-based CRM
Cloud-based CRMs are frequently the software of choice for newer or smaller businesses with resource constraints. Businesses don't have to worry about having an IT infrastructure in place, and the upfront costs aren't as high. But it's vital to consider the longer-term costs. Teams can depend on the supplier for upgrades and maintenance.
Additionally, when these companies expand, they can easily alter their subscription programs to meet their evolving needs.
As you may anticipate, cloud-based CRMs are perfect for distributed and remote teams. Different team members can examine and change the information as necessary because these systems are reachable from any location with access to the internet.
In Conclusion,
So, on-premise vs cloud CRM, which CRM solution is right for you? The answer to this question will depend on your individual business needs and preferences. If you're still not sure whether an on-premise or cloud CRM is the best option for your company, don't hesitate to contact us. Our team of experts can help you determine which CRM solution is best suited for your unique business requirements. Thanks for reading!