eCommerce is growing more complex as customers demand a consistent shopping experience whether buying online or in a physical store. Merchants need to find efficiencies to stay competitive, and that's where multi-channel eCommerce software comes in. This type of software allows businesses to manage their inventory and sales across multiple channels, all from one central location.
In this blog post, we'll discuss the key features of multi-channel eCommerce software and highlight some of the top current options. We'll also provide tips on how to choose the right solution for your business. Read on to learn more!
What is multi-channel eCommerce?
The technique of employing many channels to reach customers and sell more goods in order to reduce your reliance on a single online store is known as multi-channel eCommerce.
The multi-channel strategy entails connecting several sales channels and platforms to your internet business as a hub. For greater visibility and a broader audience, all the products are also offered in different sales channels.
It is more convenient for clients to buy things through the channel of their choice. So products are offered on a variety of sales channels. You can then introduce your product to new customers who otherwise would not be familiar with it.
These sales channels frequently combine online marketplace listings, social media platforms, retailer websites, and physical storefronts.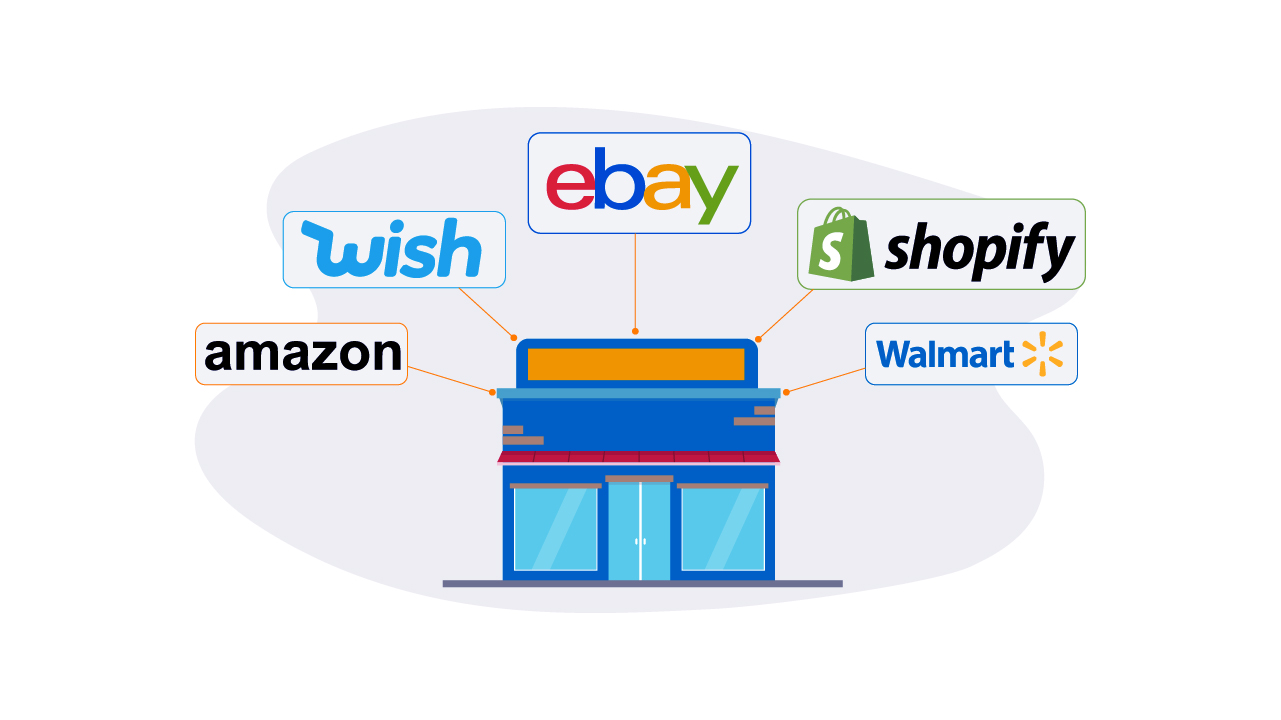 Why multi-channel eCommerce is growing
The following are some of the main causes for the recent growth of multi-channel eCommerce:
Increases brand visibility
You may increase the exposure of your brand by expanding across different channels and connecting more to your business.
It's also an additional point of exposure when we know through attribution and tracking. It can take numerous interactions with your brand before a customer makes a purchase.
More potential customers will inevitably result from increased brand visibility. The use of social media is a perfect example of brand visibility in action since you engage with customers more. Then you will motivate them to spread your brand's content within their network, which also facilitates social proof.
Helps meet customer expectations
Consumers today need brands to provide flexibility in terms of when and where they can purchase goods.
You may match this expectation by offering customers an easy option to buy what and when they want it.
Increases sales potential
To simplify the buyer's journey, allow online shoppers to purchase your products directly from the channel they're currently using. This eliminates the hassle of having to switch to your online store to complete the transaction. Or they don't have to visit a physical store or create a new account to purchase on a new website.
Overall, direct shopping across various channels reduces the possibility of cart abandonment because buyers can easily finish their purchases in only a few clicks.
Key features of multi-channel eCommerce software
You should keep an eye out for these essential capabilities while you search for a solution that satisfies your objectives. You should make a list in advance so that you can carefully weigh your options because some may receive higher priority than others.
Centralization
Is there integration between the multi-channel eCommerce software and your key sales channels? Remember that not all platforms will interface with every channel you sell on, therefore you must choose whether a particular channel will make or break your business.
If overseas markets are a key emphasis for you, you should also confirm that the platform can integrate with them. You should also confirm whether it can link to your WMS, OMS, or other necessary apps.
Listing Automation
One of the most significant advantages of multi-channel eCommerce software is the ability to avoid manually listing your products on each channel. Keep a look out for software that claims to automate listing but necessitates a lot of human setups, especially if it's inexpensive.
Your platform must be able to adjust to each channel's requirements both now and in the future because each one has a taxonomy that is extremely detailed, unique, and changes frequently.
Change Management
Markets are constantly changing. For instance, Amazon frequently modifies its listing criteria to improve the user experience for its customers. In order to avoid high charges, this forces sellers to implement updates as soon as possible, even if it means pausing regular business operations and spending weeks manually updating their ASINs.
Your software vendor should have experience making these kinds of adjustments. The majority of providers need weeks, if not months, to create new solutions.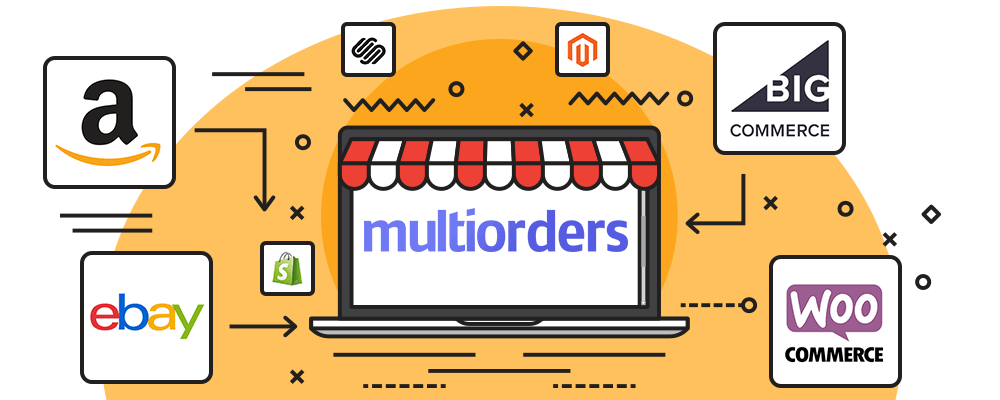 Inventory Syncs
Your software should automatically update available quantities as sales are made to safeguard you against early stockouts or overselling. This implies that your other channels should update in almost real-time whenever you make a sale on any one of them.
Along with helping with concurrent selling, inventory buffers are also useful. They make sure that your item is only offered for sale on one channel when you are down to your last few pieces.
Workflow Automation
What activities consume the majority of your time? Tasks would you rather spend your time on? What prevents your company from growing? Software for multichannel eCommerce should be your key to achieving greater, better objectives.
Workflow automation can be used in many different contexts, but some of the most widely used functions are the ability to plan and automate promotions, do mass edits on a sizable catalog, and swiftly fix listing issues.
User Interface
How many clicks does it take to carry out the platform's essential functions? Will you have to spend a lot of time educating new team members on the platform, or is it simple to learn? You should make sure that using your platform involves as few user actions as feasible.
Support
This is one of the most underrated needs of a good multi-channel eCommerce software partner. Customer service, however, should never be an afterthought; as a result of insufficient assistance, many vendors leave their platforms each year.
Verify that the support staff at your multichannel eCommerce platform vendor is accessible. Is there a direct number to their customer service team? Or do they attempt to keep that information secret?
Best Multi-Channel eCommerce Software
Shopify
Shopify Plus facilitates unifying eCommerce and point of sale, transforming it into an omnichannel shop. The tool's features for in-store and curbside pickups aid in attracting click-and-collect clients to your establishment. With email carts, it can also serve as a reminder for customers to buy their in-store favorites, creating a completely new online shopping experience.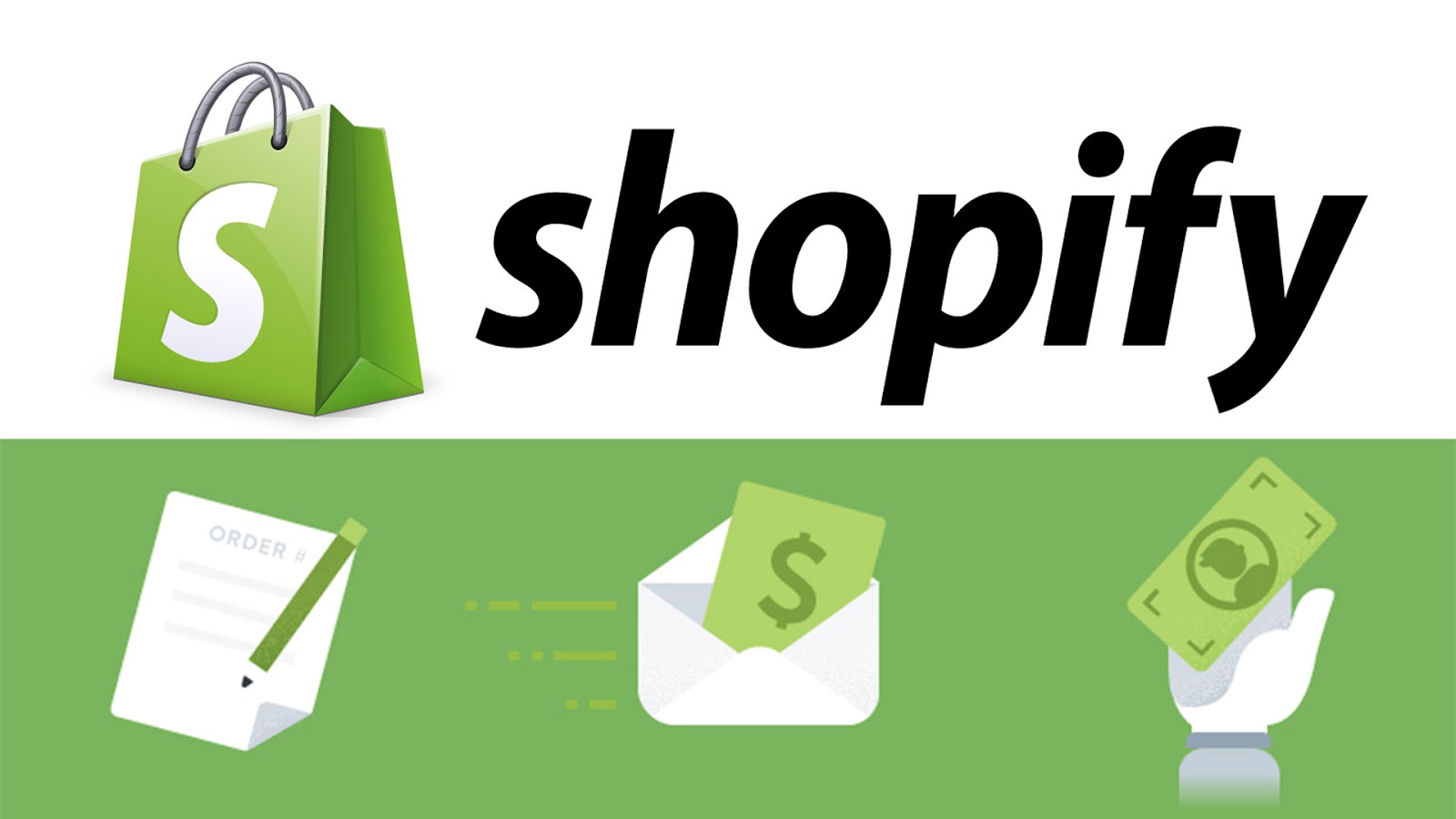 When a product is out of stock, the tool can still support a transaction by giving the buyer the opportunity to purchase in person and have it shipped to them later. Additionally, shoppers can return items or exchange them in-store regardless of where they made their purchases.
This best multi-channel eCommerce platform also enables users to manage inventory by tracking inventory, adjusting inventory, and exporting and importing inventory through CSV files. Its headless feature makes your company accessible via mobile devices and voice-activated technology, enabling flexibility.
Magento
Adobe Commerce, formerly Magento, is a powerful eCommerce software that enables businesses to sell across multiple channels, including online, mobile, and in-person. The software provides a robust platform for businesses of all sizes to build and manage their online store. It includes tools for product management, order management, customer relationship management, and more. 
Adobe Commerce is also highly scalable, so businesses can easily add new products, categories, and functions as their needs grow. In addition, Adobe Commerce integrates with other Adobe products, making it easy for businesses to create a seamless omnichannel experience for their customers.

Magento/Adobe Commerce provides a unified platform for managing all of these sales channels. It is easy to track inventory levels, process orders, and track customer data. In addition, Magento/ Adobe Commerce offers many features and extensions that allow businesses to customize their eCommerce experience.
Whether businesses are just getting started with eCommerce or are looking to take their online presence to the next level, Adobe Commerce is the ideal solution.
Wix
Wix frequently appears in our best eCommerce platform series because it allows you to sell on a variety of platforms, including Facebook, Instagram, eBay, and others. All of these channels will instantly sync your inventory, allowing you to get started right away.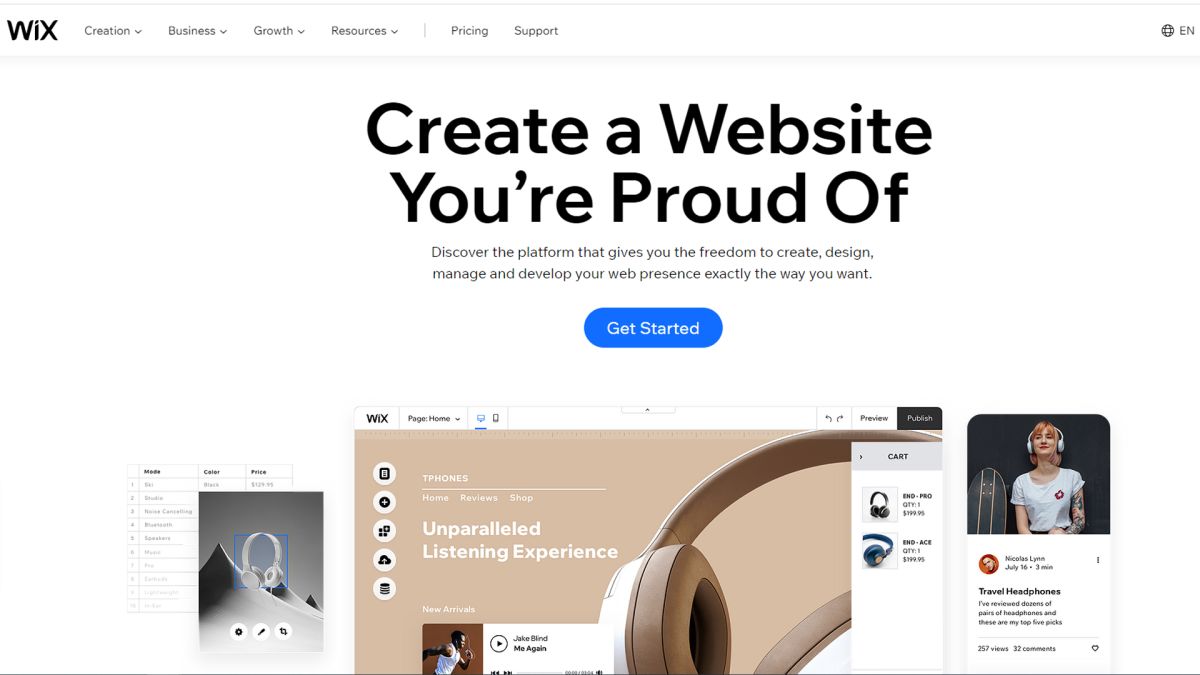 Other online stores like Amazon, and Google Shopping, and third-party applications like AdScale and InkFrog are also available for users to sell on. Wix enables you to build multilingual websites so you can reach every of the world's markets.
This multi-channel eCommerce software offers 500 lovely designs to make a cutting-edge site that converts. The artificial design intelligence tool bases its site design automation on perceptive queries.
With QuickBooks, MailChimp, and other leading eCommerce applications, Wix interfaces with ease.
LS Retail
Modern POS, financials (Microsoft ERP), store operations, inventory, supply chain management, and eCommerce are all provided by the integrated retail management system known as LS Retail.
The POS terminals are simple to set up and offer both keyboard and touchscreen items. Across all of your many sales channels, you may use it to measure sales, stock levels, and productivity in real-time.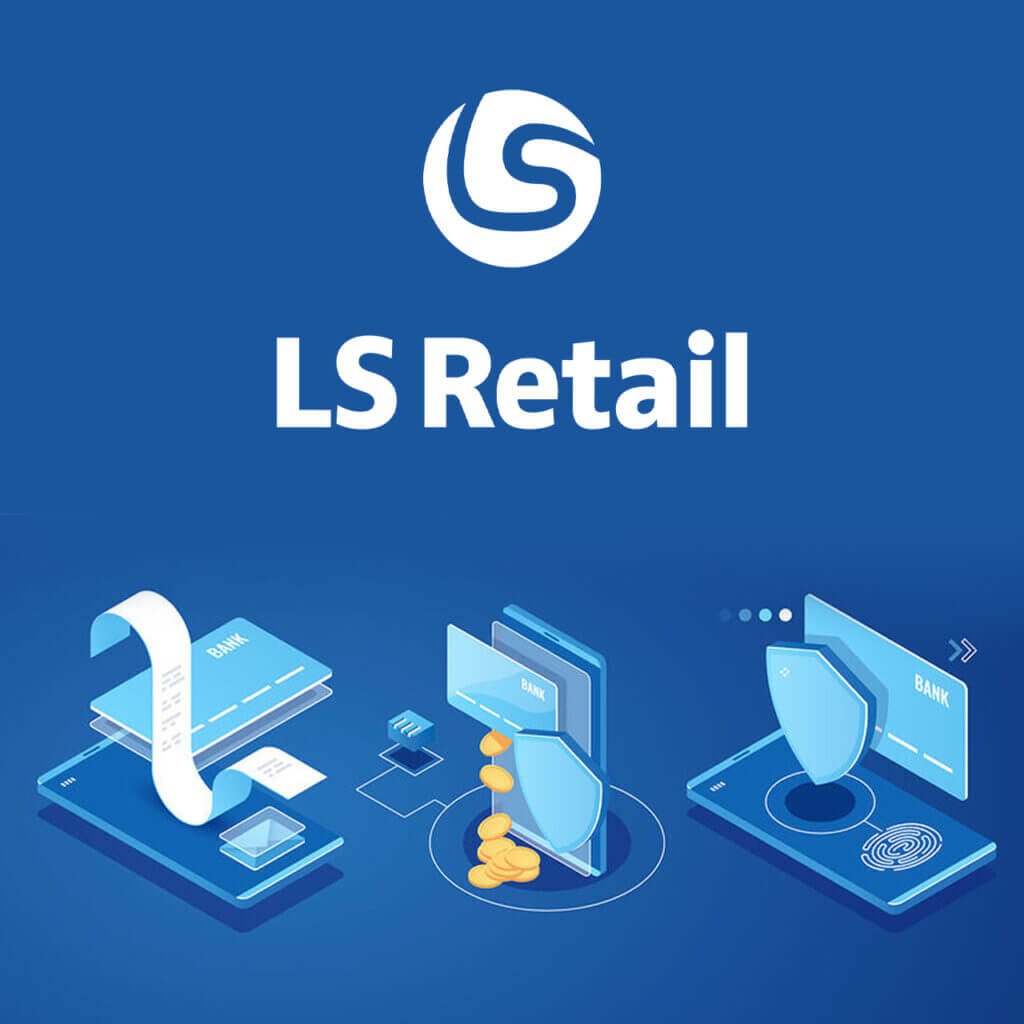 You can therefore view and keep track of synced data across all channels, whether they be physical locations, eCommerce platforms, or mobile apps. It is more capable and in demand because it may be used as vertical software for Business Central/Microsoft Dynamics NAV.
Applications are simple to use, and the UI/UX is user-friendly. It provides extensive configuration options and the ability to exclude features for certain users, allowing for true customization of the program. Additionally, it provides capabilities to make it quite simple to configure pricing, offers, and promotions.
Channel Connector
Channel Connector delivers connectivity APIs as a service that can be implemented inside a property management system. As a result, without having to write numerous OTA APIs individually, channel connectivity capabilities for property management system developers are integrated seamlessly into their apps.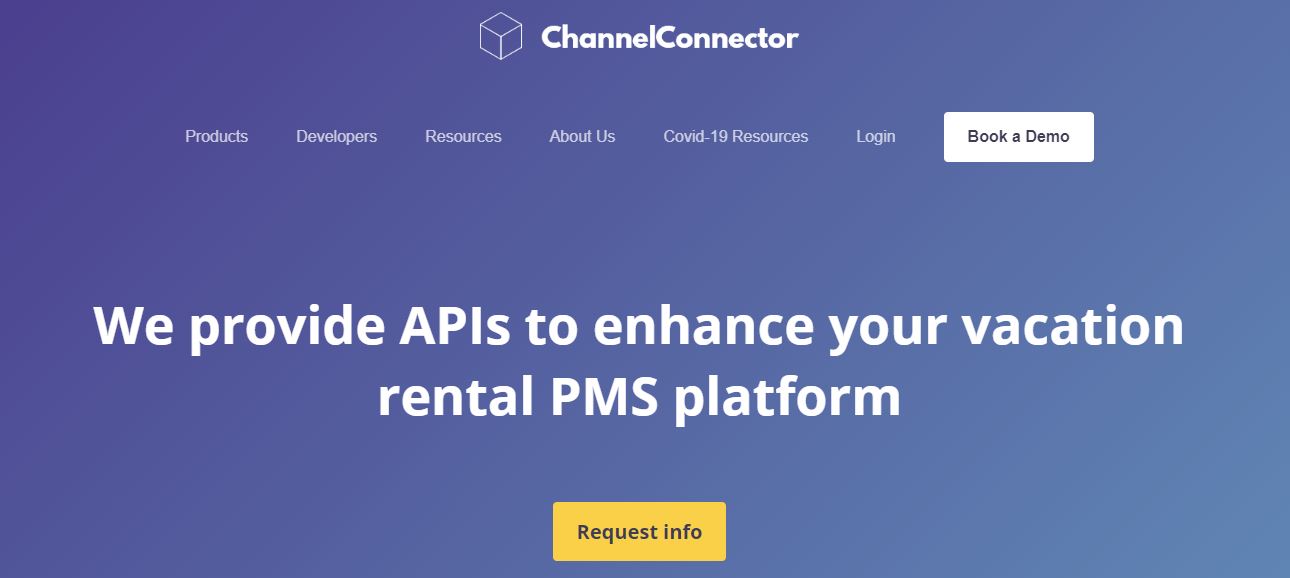 Channel Connector facilitates the synchronization of pricing, availability, and content between property management software solutions and online travel agencies. In order to complete online transactions, the technology also enables users to send payment card data between the customer and the payment processor.
It expands connectivity to numerous channels with seamless multi-platform eCommerce integration, enhancing the capabilities of property management systems.
Jagged Peak
EDGE allows for increased personalization and mobility. And it can display real-time inventory from all distribution channels, increasing the consumer experience. In order to reduce shipping costs, it automatically routes orders to the best distribution location across warehouses, retailers, or other shipping points.

You may access all orders and inventories from various distribution channels in real-time thanks to the EDGE multi-channel eCommerce software, which links frontend and backend systems.
The pick, pack, and ship procedures are made more efficient by using rules-based order management and handling, which guarantees that each order is executable and shippable.
The device is compatible with numerous systems, including PayPal, Apple Pay, Avalara, and Chase. Telephone and email support are offered around the clock.
SeCommerce by Silver Earth
SeCommerce is a top SaaS solution for managing numerous eCommerce websites and point-of-sale systems. Users can manage numerous storefronts on their sophisticated platform without sacrificing customization.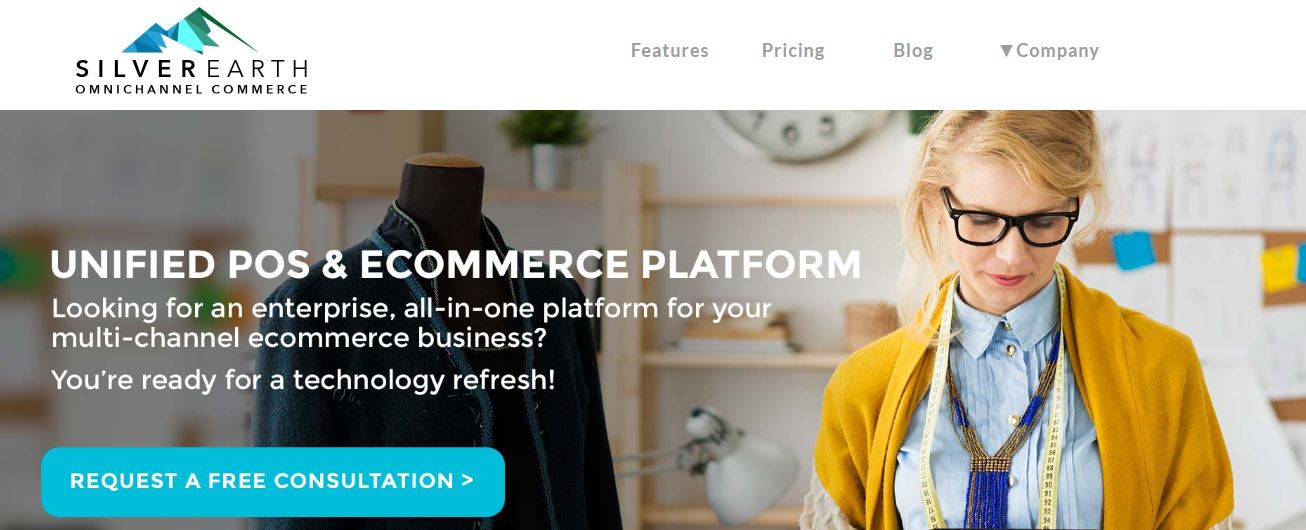 It helps eCommerce managers to quickly scale their online stores and individually tailor each one. Real-time inventory tracking is a feature of the solution that can handle numerous inventory locations. It assists you in tracking vendor purchase orders and transfers between stores, and it provides real-time inventory syncing with all of your websites and POS locations.
Users can upload products to a variety of online stores, such as Amazon, eBay, and others. And it is considered the best eCommerce platform for eBay integration.
In Conclusion,
Choosing the right multi-channel eCommerce software for your business can be a daunting task. There are so many options on the market, each with its own set of features and benefits. We've compiled a list of some of the key features you should look for when choosing an eCommerce platform and highlighted some of the top current options on the market.
But this is just a starting point – contact us to get personal assistance in finding the best software for your unique needs. With over a decade of experience helping businesses grow online, we know how to find the perfect solution for your company's unique selling proposition. What are you waiting for? Get started today!