The world of online stores has seen a surge of innovation in technology, with new and improved ways to enhance the user experience. One key aspect of achieving seamless customer experience is Progressive Web Apps (PWA). This technology is being used by online businesses to provide their valuable customers with a native app-like experience. For the eCommerce industry, Progressive Web Apps are quickly becoming the go-to solution, combining the best aspects of both mobile apps and mobile websites to offer an unparalleled user experience. Are you looking to enhance the performance of your Magento 2 website with a progressive web app (PWA)? Look no further, as we've compiled a comprehensive list of the best Magento 2 PWA extension that can help you enhance your website's user experience and boost your business revenue.
Top 5 PWA Magento Extensions
Webkul PWA Extension For Magento 2
Webkul's PWA Extension for Magento 2 is a game-changer for online businesses. This extension enables businesses to provide their customers with a native app-like experience, all while using the power of the web. With Webkul's PWA Extension, Magento 2 store owners can take their mobile strategy to the next level.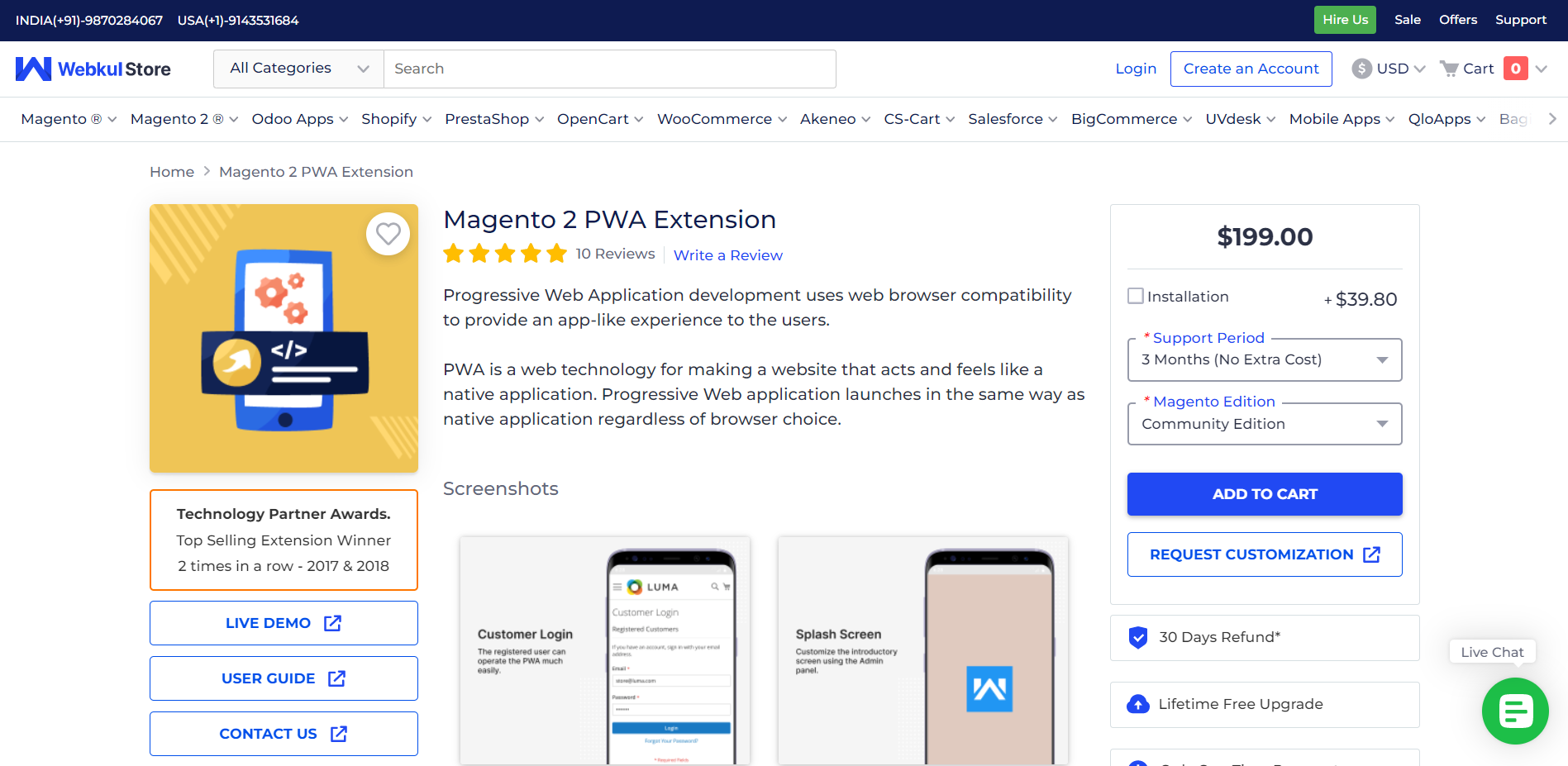 One of the key features of Webkul's extension is its PWA Orientation. This allows the admin to choose from four different screen orientations, including Any, Natural, Landscape, or Portrait. This provides businesses with a greater degree of flexibility and allows them to optimize the user experience for different devices.
Another advantage of Webkul's PWA Extension is its use of Workbox. Workbox is a powerful tool that is used to enhance store performance and speed. It incorporates a cache strategy to save assets in the first-page load and restricts the time for data storage. This ensures that the PWA loads quickly and efficiently, providing users with an exceptional experience.
Finally, Webkul's PWA Extension also includes the ability to track the number of PWA installations. The admin can view stats by dates and in a graph, providing valuable insights into how the PWA is being used and how it can be optimized further.
Pricing: $199
Magento 2 PWA by SetuBridge
Magento 2 PWA by SetuBridge is an extension that is designed to help businesses create high-quality PWAs (Progressive Web Apps) for their Magento 2 stores. The extension is packed with a range of powerful features and is designed to improve the user experience, boost performance, and increase conversions.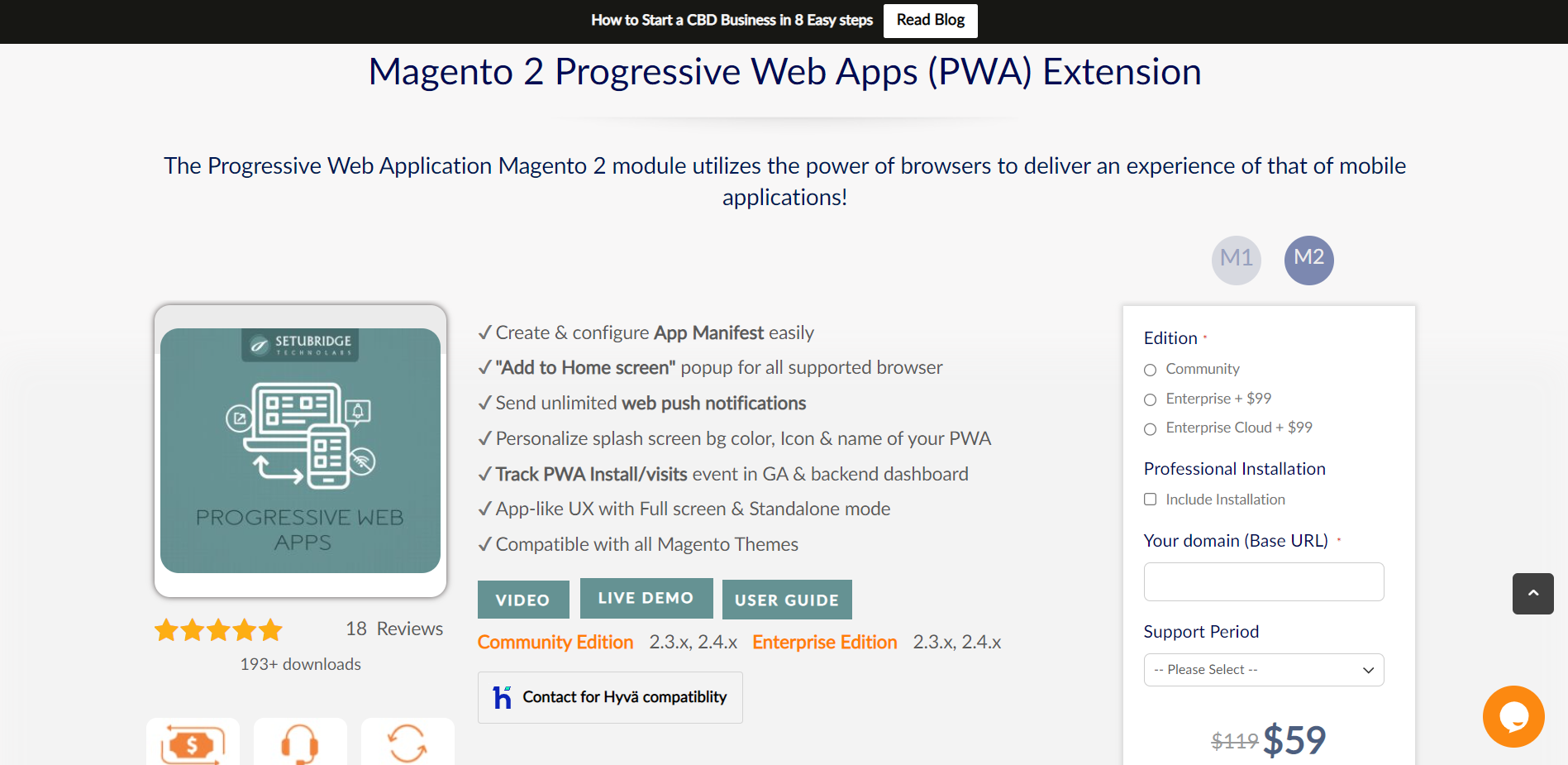 This Magento 2 PWA extension offers essential PWA features and customization capabilities to the store. The extension ensures a seamless shopping experience for customers by providing features such as a customizable splash screen and push notifications.
The splash screen feature presents the store logo and name to the customer upon installation of the PWA, providing a professional and personalized touch. The customization option allows merchants to tweak the splash page to match their branding, thereby enhancing the overall user experience.
Push notifications are an effective way to communicate with customers and keep them informed about store promotions, new product releases, and other essential updates. This feature enables merchants to create and manage notifications through the backend, making it a convenient and easy-to-use tool.
The PWA offline mode is another useful feature of the extension. It allows the admin to enable or disable the PWA offline mode through the backend. Additionally, the admin can choose specific CMS pages to be accessible even when the customer is offline. This feature ensures that customers can continue browsing even in areas with limited or no internet connectivity, providing a seamless shopping experience.
Lastly, the Add to Home Screen feature makes the website installable on the device, providing the customer with the convenience of accessing the store just like any other native app. The PWA will appear on the device's home screen, making it easily accessible for the customer.
Pricing: $59
Magetop Magento PWA Module
Magetop offers a comprehensive PWA module for Magento, allowing online stores to deliver an exceptional mobile experience to their customers. This module comes packed with a wide range of features that enhance user experience, improve performance, and provide seamless navigation.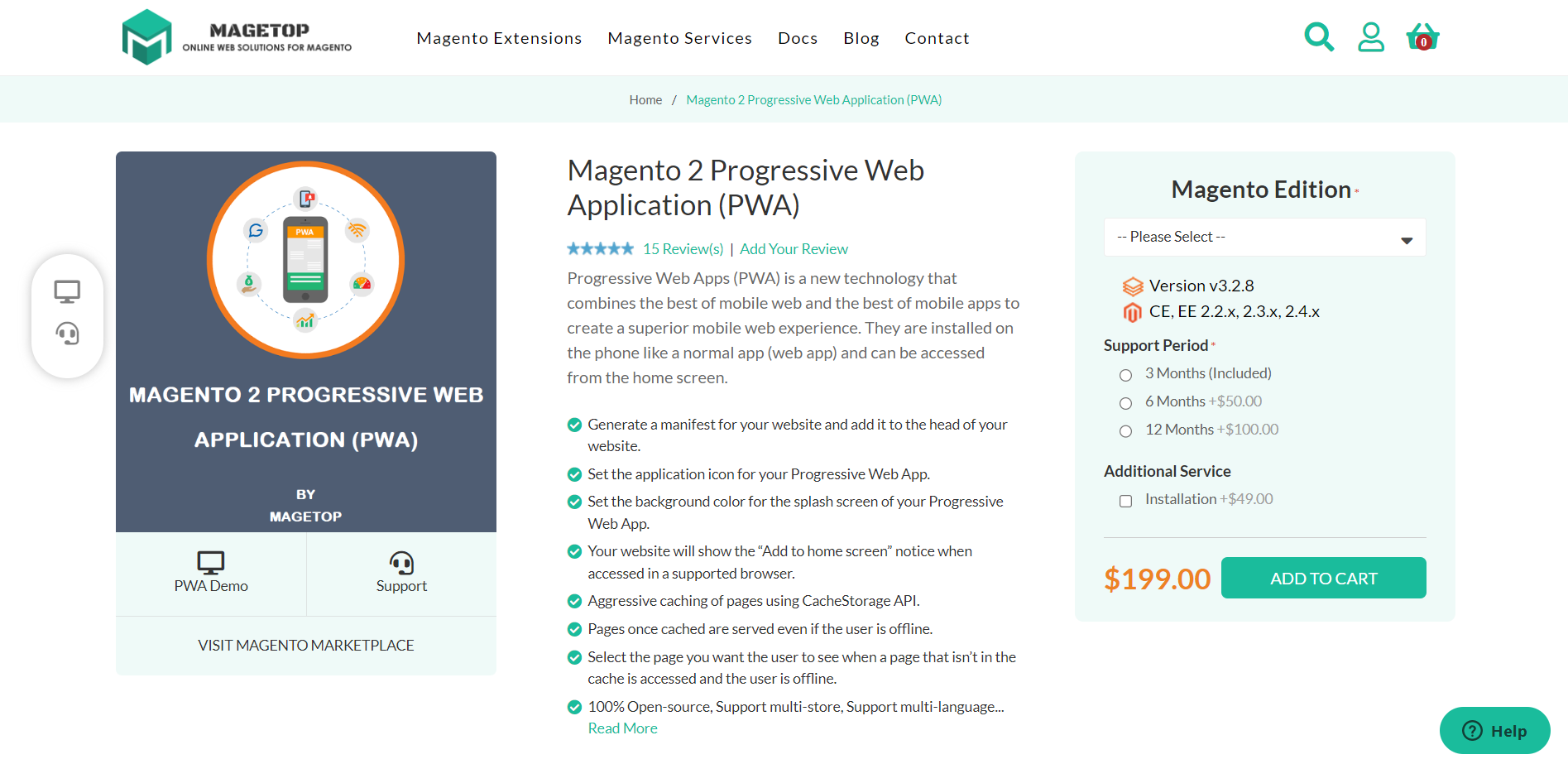 This PWA extension offers some common PWA features, including adding the website to the home screen, offline functionality, splash page, and push notifications. While these features are beneficial, the available template of the extension has both advantages and disadvantages. One advantage is that it includes templates for the essential pages of an e-commerce store, such as the home page, category page, product detail page, and shopping cart page.
However, the design of these templates is quite basic, lacking many essential features of the Magento platform. This drawback may limit the extension's usefulness for real-world eCommerce stores, as they require a more robust and feature-rich solution. Overall, while Magetop's Magento PWA extension is a step in the right direction, it falls short in terms of offering a comprehensive and advanced solution for businesses looking to leverage the benefits of PWA technology.
Pricing: $199
Elsner Magento PWA Extension
Elsner, a web development company, has also developed a Magento PWA Extension that aims to provide an enhanced shopping experience for customers. This extension has various features such as push notifications, offline support, add-to-home-screen, and splash screens.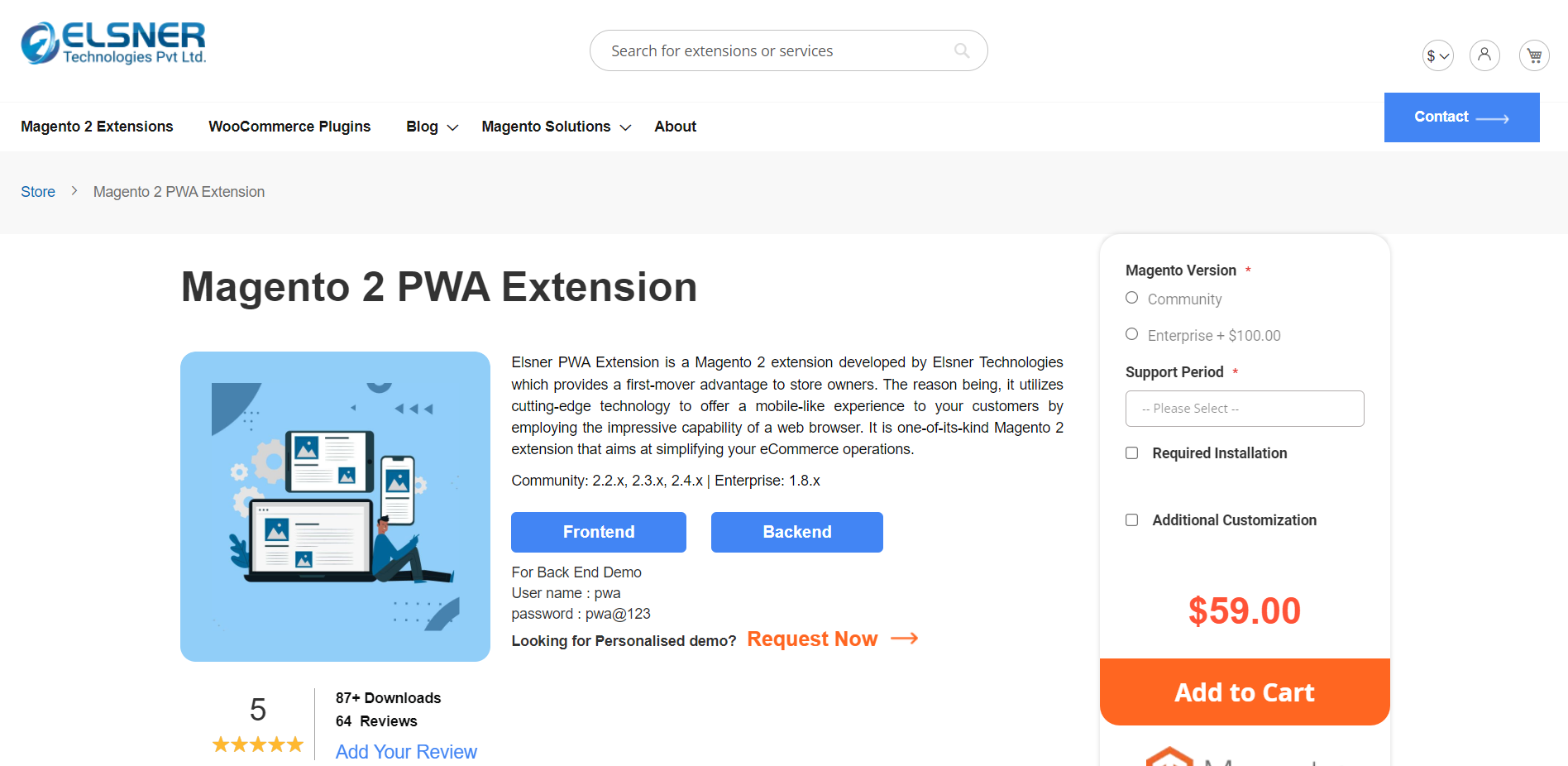 Compared to the previous two PWA extensions mentioned, Elsner's Magento PWA Extension offers a limited set of features and relatively less flexibility in configuration. While the extension does include some essential PWA features such as offline capability, add-to-home screen, and push notifications, it lacks some advanced features that other PWA extensions offer.
Additionally, the configuration options available in the backend are relatively limited, which may be a concern for some store owners who want more control over the appearance and functionality of their PWA. However, for those looking for a straightforward and easy-to-use PWA extension, Elsner's may still be a viable option.
Pricing: $59
PWA Magento 2 by CedCommerce
Cedcommerce offers a PWA Magento 2 extension that comes with various PWA features to enhance the user experience on the website. The extension includes features such as offline browsing, push notifications, and add-to-home-screen, which can help to improve user engagement and retention.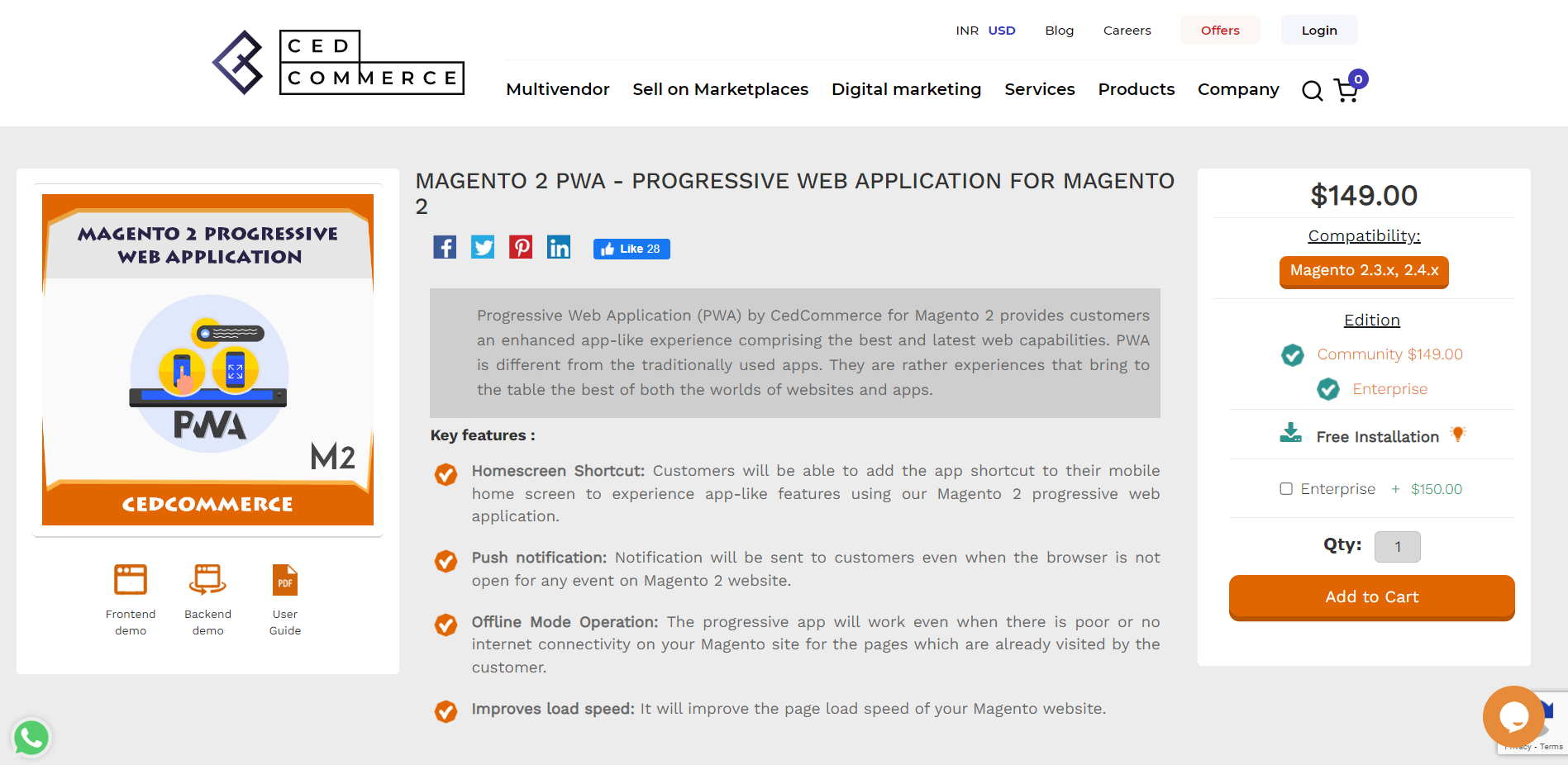 One of the great features of this module is the ability for customers to add a shortcut to the app on their mobile home screen, providing them with app-like features. Additionally, push notifications can be sent to customers even when the browser is not open, ensuring they are always up-to-date with the latest events on your Magento 2 website. The offline mode operation allows the progressive app to work even in areas of poor or no internet connectivity for pages that have already been visited by the customer. Finally, PWA Magento 2 by CedCommerce can improve the page load speed of your Magento website, providing customers with a seamless browsing experience.
Pricing: $149
In Conclusion,
The world of eCommerce is rapidly changing and with it comes the need for more advanced and user-friendly solutions. Progressive Web Apps (PWA) have become a popular solution for online stores, and Magento 2 PWA extensions have become increasingly popular among merchants. We hope that with this list of the top best Magento 2 PWA extensions, you can easily choose the right one for your online businesses. With these extensions, your online stores can improve performance, speed, and user experience, ultimately leading to increased customer satisfaction and sales.
If you have a small budget and only want to experience some basic PWA functions, then choosing a Magento 2 PWA extension would be a good option. However, if you are looking to build a more comprehensive PWA with all the necessary features, it would be better to explore our solutions such as a complete package of Magento development services, ready-made Magento 2 PWA themes or custom Magento PWA development services.