Magenest is thrilled to announce that we are the first Vietnamese agency to have achieved Adobe Commerce Specialization in the APAC Region, as part of the Adobe Solution Partner Program. This is a significant milestone in our journey, not only validating our commitment to excellence but also a recognition of our 8+ years of dedication as a leading eCommerce solution provider in the region.
The Adobe Commerce Specialization is an accolade reserved for a select group of Adobe partners who have satisfied rigorous requirements including certified technical expertise, implementation proficiency, and sustained customer success in the solution areas. This achievement reaffirms our status as a trusted digital solution provider in the APAC region and highlights our unwavering dedication to nurturing skills and expertise to deliver top-notch digital solutions for our clients.
Our journey
Founded in 2015, Magenest began our journey as a Magento 2 extension developer. Following our efforts in providing and developing Magento services, we reached our first milestone as an official Adobe Bronze Solution Partner in 2017.
Striving to become one of the best eCommerce – Digital Transformation solution providers in the APAC region, we did not stop at our first achievement. Our proficiency in Adobe Commerce has undergone significant development over time due to years of consistent and effective training. We have successfully completed 1000+ projects for 2000+ satisfied clients, both domestically and internationally.
Why Magento?
Magento, now part of the Adobe family, has consistently proven itself as one of the most versatile and powerful eCommerce platforms in the industry. Its flexibility, scalability, and customizable features allow businesses to create unique and tailored solutions for each of their clients. Whatever industry you're in, or what your business's requirements are, Magento, in conjunction with our expertise, offers unparalleled solutions for your business.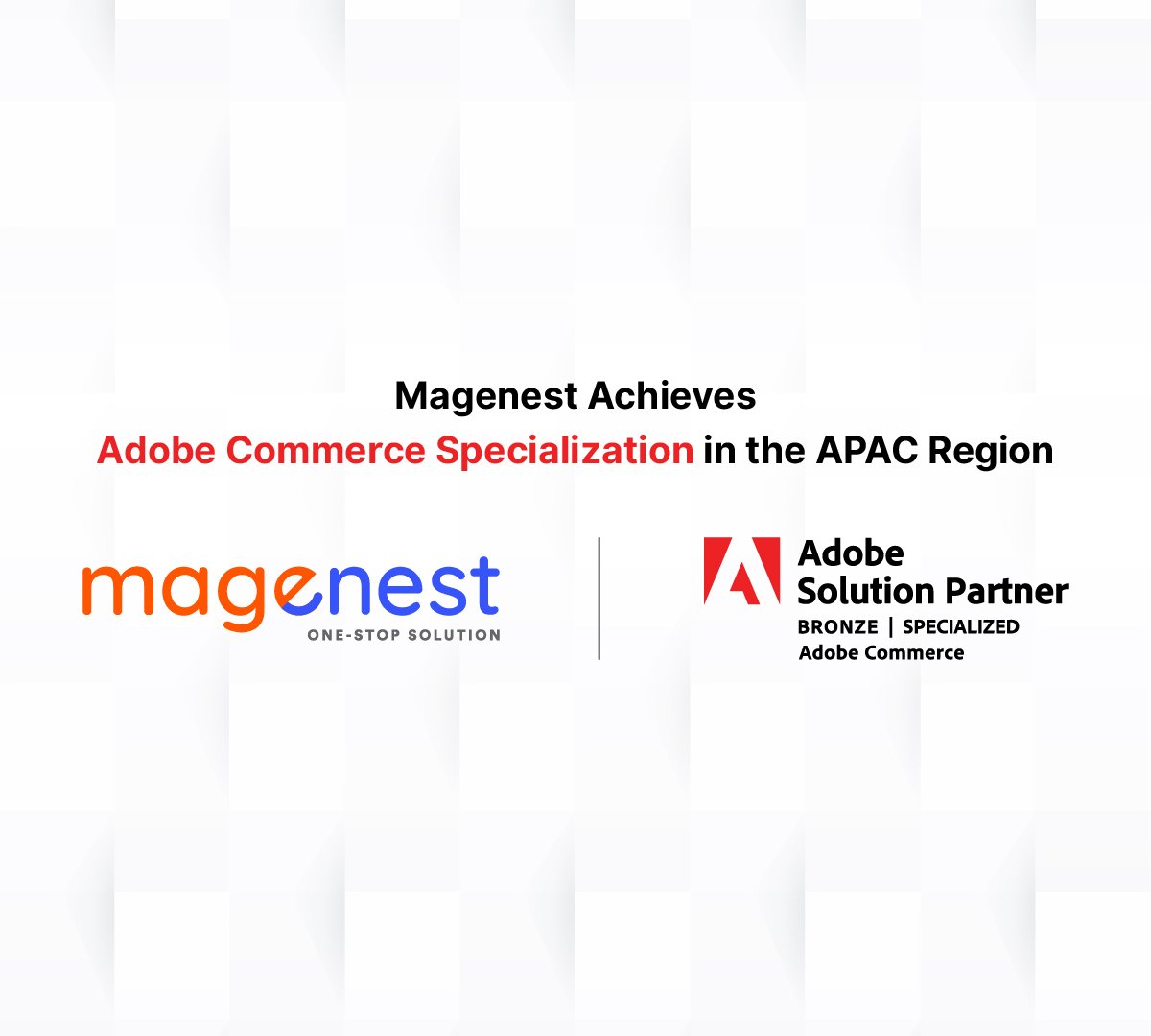 Our Adobe Commerce Specialization status in the APAC region signifies not only our extensive knowledge of the platform but also our journey of successfully delivering Magento-based projects. In addition to our proficiency in the software, we are devoted to remaining current with the latest eCommerce technologies and trends. This enables us to provide our clients with disruptive solutions that position them at the forefront of their industry.
Our Commitment to Excellence
Throughout our 8+ years of dedicated service, we've always put our customers at the center of everything we do. We commit to delivering services following our core values, including speed, daring, professionalism, and flexibility. Our commitment to excellence is unwavering, and this recognition from Adobe Commerce is a testament to that commitment.
As an Adobe Bronze Solution Partner, Specialized in Adobe Commerce for the APAC region, we are not only excited about the opportunities it brings to our clients but also the chance to deepen our partnership with Adobe. We will leverage our opportunities, continuously updated with the latest tools and technologies, and work tirelessly to provide cutting-edge solutions to our clients.
Looking to the Future
As we celebrate our achievement of Adobe Commerce Specialization in the APAC region, we are excited about the journey ahead. The digital landscape continues to evolve, and so do we. We are dedicated to preserving our standing as a leading eCommerce and digital solution provider. We are committed to further developing our team, technology, and area of expertise in order to consistently surpass our client's expectations. We also look forward to forging new partnerships, creating innovative solutions, and tirelessly pursuing our mission of assisting businesses to thrive in the digital era.