For such a long time, eCommerce has been on the chase for the best and easiest to achieve the goal of personalization – a predictable, cross-channel experience that adjusts to client needs and objectives in real-time. In case you are not getting personal in eCommerce marketing, you are creating a costly mistake. It is not simply about income. It could cost your clients, as well. Therefore, choosing a good eCommerce personalization software is an initial step to manage your customers' personalization.
Around 41% of clients switch stores due to poor online personalization and an absence of belief. Regarding money, poor eCommerce personalization costs US companies around $756 billion per year.
The terrible news is that the sheer bunch of these technological advancements, which offer altogether different levels of personalization, implies it is not obvious enough what outlining personalized UX in eCommerce means and how you can accomplish it.
You can not overestimate the significance of eCommerce personalization software. Whatever your budget plan is, no business can afford to lose clients or income. Then, the potential result for getting good eCommerce personalization software is essential.
1. What is eCommerce personalization software?
eCommerce personalization software is the process of conveying individual experiences on eCommerce websites by powerfully showing content, product suggestions and explicit offers dependent on past activities, browsing behavior, buying history, socioeconomics, and other personal information.
Personalization is progressively essential to sellers trying to not only draw in customers but also to increase repeat purchases, drive sales and increase transformation. It comes in various formats—from personalized item suggestions on a retailer's homepage or item detail page to cart abandonment marketing messages to onboarding quizzes that give a product detail area of things to consumers, among numerous different applications.
2. What can we gain from eCommerce personalization software?
COVID-19 pandemic has set off a fascinating cultural reset, with regards to customer attitudes towards shopping, and the new habits are probably going to have formed. Consumers are probably going to search out a personalized experience more and more. Let's take a look at some of the aspects that eCommerce personalization could positively affect:
2.1. Positive CX 
The essential benefit of online eCommerce personalization is that you can give a positive customer experience which will thus, improve the probability of your clients coming back. This will construct a drawn-out relationship with your shoppers.
eCommerce business enjoys an advantage over conventional retail in that it can give a particular experience to each and every client. eCommerce personalization software includes building connections through personalized landing pages, directed promotions, and curated email messages, among numerous different techniques.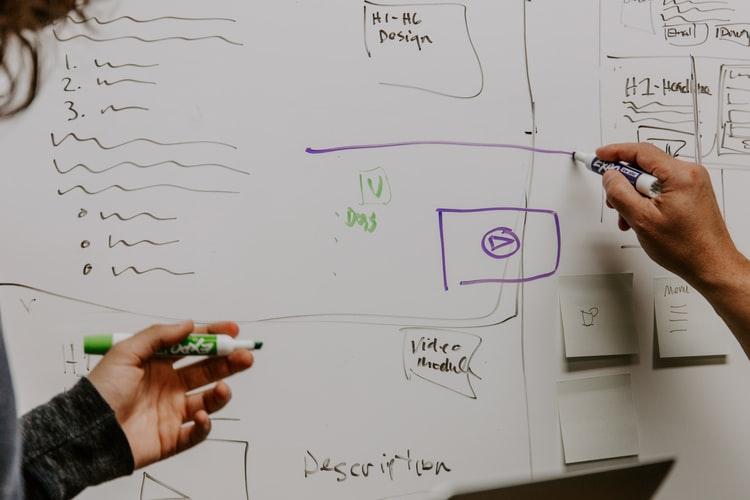 Personalization assists clients with discovering specific content that suits their necessities. Thus, this implies the experience becomes consumer-focus and not company-centric; one purchaser's virtual shopping environment can be very unique to another's. Personalization can be ideal for your business as an analysis that 75% of customers perceive and appreciate when brands personalize messaging and offer for them.
2.2. Selective attention
As people, we love to be entertained, and we give most attention to the things that guide our attention. The idea of selective consideration has an influence on the advantage of eCommerce personalization. Selective attention relates to the possibility that we normally shift our concentration and thoughtfulness regarding things we esteem and invest in. Personalized eCommerce CX encounters in the types of curated items, targeted advertisements, and recovery messages can draw the selective attention of potential clients.
2.3. Alleviate information overload
Personalization likewise alleviates or reduces data overload. This is the inclination an individual encounters when they are barraged with many items they could not care much about when browsing your website. In fact, 74% of online consumers get disappointed with content that is insignificant to their interests.
Personalized content introduced in a neat and curated way can assist clients with process data. At the point when they are presented with the items that spark their interest, they do not feel overwhelmed yet rather delighted. Personalization through curated content and focused on item display can really help the transformation process.
2.4. eCommerce Personalization software provides your customer with full control
We can consider the fact that people are craving for control as a reason why personalization is so fruitful. Control is an exceptionally fascinating thought of human behavior and thinking. It really adds to happiness and wellbeing when people's senses can control the options they make in their life. In similar regard, the individuals who identify that they do not have indirect or direct control over their life or the rewards they get, have demonstrated to be less fulfilled.
Giving a personalized eCommerce business experience can permit a client to allow a client to feel as though they have control over their own purchasing. Control is passed on when a client sees a selection of items that relate to their inclinations, without exposure to undesirable things. A client feeling this feeling of control is a situational purchasing factor that can decidedly impact their buying behavior. Since situational factors like having control of buying choices are positive, it will take into consideration simpler eCommerce transformations.
3. eCommerce personalization tools
3.1. OptinMonster
OptinMonster is perhaps the most impressive eCommerce personalization tool available on most eCommerce markets due to the fact that it can quickly enhance your income.
OptinMonster's high-level focusing on features is adaptable enough for any eCommerce shop to make personalized marketing plans that compel your customers to purchase. It tends to be utilized on every website and has a devoted WordPress module and Shopify application with additional alternatives also.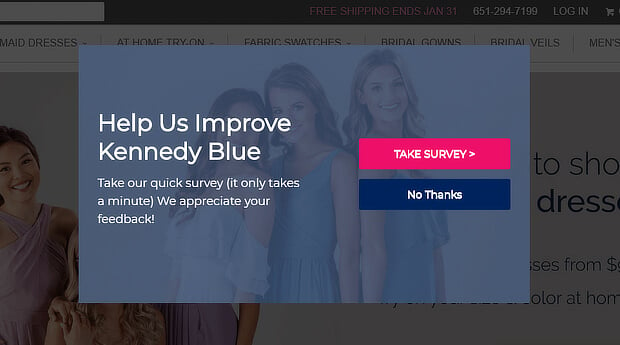 Utilizing OptinMonster, you can make:
Personalized exit intent pop-ups to assist you with recovering lost income from shopping cart abandonment.
Gliding headers to promote your flash sales and deals, along with countdown clocks personalized to every guest.
Powerful coupons and other lead magnet offer depend on guest behavior, so you can change over hesitant customers into email subscribers for future email marketing.
eCommerce business website managers have seen revenue income enhancements utilizing personalized crusades like the ones listed previously. OptinMonster also has affordable plans for small and medium-sized businesses, while some other eCommerce personalization software just offer to price on request and concentrate only on enterprise-level eCommerce.
3.2. Barilliance
Barilliance offers personalization all through the client venture. Just as online personalization and item proposals, it incorporates cart abandonment and client retention tools. Barilliance incorporates live shopping warnings, as well. It guarantees a 5-minute setup measure.
3.3. Evergage
Evergage tracks guests' conduct on your site and portable application so you can offer the correct items, messages, and motivations at the perfect time. Like other eCommerce personalization platforms, Evergage likewise allows you to personalize content and item suggestions so you can help commitment and deals.
3.4. RichRelevance
RichRelevance offers venture-level omnichannel personalization for organizations like HP, L.L.Bean, and L'Oréal. They give personalized routes, research, and suggestions. They additionally offer personalization as assistance so retailers can fabricate extraordinary client encounters that are reliable across all promoting channels.
3.5. Monetate
Monetate is outstanding amongst other known eCommerce personalization software. It offers smart client segmentation, personalization, and individualized item proposals. This permits retailers to personalize in a scope of ways, including personalizing for every person.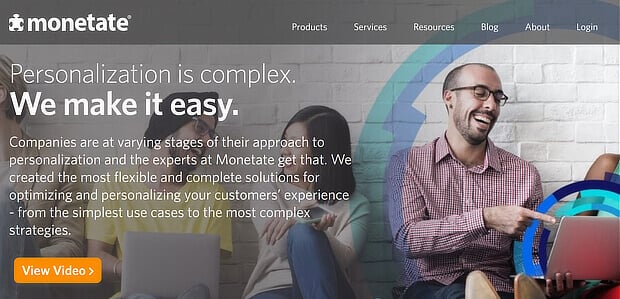 3.6. DynamicYield
Dynamic Yield is an endeavor-level eCommerce personalization software that could be known as the "world's first personalization innovation stack". Its item incorporates personalization, item proposals, informing, testing and enhancement to assist retailers with streamlining on the web encounters progressively. Commonly recognized names like Sephora, Hallmark, and IKEA utilize Dynamic Yield to expand income.
3.7. Yusp
Yusp gives personalization both on the web and available, including item proposals, personalized search, and mobile personalization. They gather information on your clients both on location and off-site, (for example, through your mobile application or email bulletins), and utilize that information to make personalized multichannel missions to develop your income.
3.8. Cxsense 
Cxsense attracts client information across different gadgets and platforms so you can utilize that to connect with your crowd and improve their experience on your website. It offers ongoing eCommerce personalization to improve transformations and deals and vows to scale effectively as your business develops.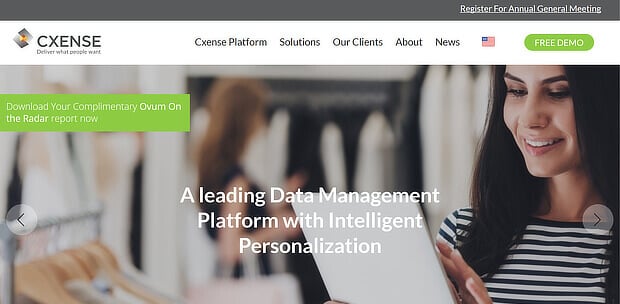 3.9. Salesforce Commerce Cloud
Salesforce Commerce Cloud incorporates man-made brainpower programming, called "Einstein", to assist online retailers with personalized item suggestions for all customers. The tool incorporates personalized item arranging to show clients what they need and drive more deals.
3.10. Emarsys
SAP Emarsys Customer Engagement is an omnichannel marketing automation solution, part of the SAP Customer Experience portfolio. Involving a client information platform with a completely coordinated multi-channel campaign of the executives, personalization, division and examination dashboards, it is supported by many extra highlights and additional items. Our completely digital client lifecycle work processes are publicly supported by driving brands in your industry that speed up an ideal opportunity to esteem, convey unrivaled 1:1 encounters and produce quantifiable outcomes. By adjusting your marketing difficulties with our demonstrated omnichannel client engagement strategies and forefront AI innovation, you can convey the anticipated, productive results that your business requests and the exceptionally customized omnichannel encounters that your clients merit.
Emarsys is not difficult to utilize. It conveys personalized proposals incorporated across the web and email to help retailers increment commitment and deals, regardless of where their guests are shopping.
3.11. Personyze
Personyze is a personalization tool that gathers all your information to shape a far-reaching guest profile. With that data, you can personalize content and proposals. Personyze chips away at each site. You can utilize a demo to give it a shot free of charge.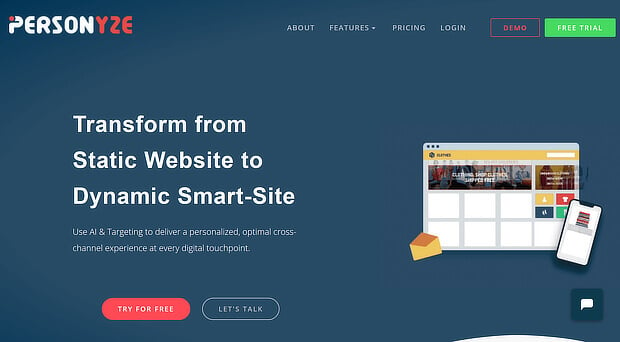 3.12. Apptus
Apptus utilizes Artificial Intelligence to help eCommerce retailers foresee and show the perfect items to clients at the perfect time. It offers personalized search, route, and eCommerce item suggestions to convey significant client encounters.
3.13. Boden
Boden understood that personalizing the client venture was the way into their future achievement. Nonetheless, the group was working with tools that required a ton of manual work and were along these lines tedious and delayed to showcase for exchanging changes. As a feature of the digital change project, they searched for an answer that would permit them to utilize their time all the more astutely and deliberately.
With Bloomreach, Boden is presently ready to assemble a personalized insight for every one of their guests. The arrangement is controlled by AI which takes out the tedious manual work and offers capacities in A/B testing, opening-based marketing, 1:1 personalization, division, examination and then some.
3.14. Torrid
To make convincing digital encounters for Torrid's clients, their objective was to offer a strong web search tool that conveys clients refined and more exact outcomes, permitting her to shop all the more proficiently.
As Torrid offers a wide scope of attire (swimwear, shapewear, tops, dresses, pants, and so forth), just as conveying authorized products, it was a test for the organization to return precise indexed lists to every guest. They discovered the Bloomreach tools marked off the entirety of her prerequisites. The AI-controlled site search truly permitted Torrid to scale. Furthermore, combined with Salesforce Commerce Cloud, Sumaira had the option to update the quest insight for clients.
3.15. Albertsons
Albertsons' online supermarket was battling with helpless list items – they were not exact and needed significance. This prompted high ricochet rates and lost income. Almost half of their eCommerce turnover was ascribed to look, so it appeared well and good to improve the pursuit experience first.
They began utilizing Bloomreach Experience Cloud (brX), which utilizes AI-driven calculations to control client search. It helped Albertson's offer personalized list items and item proposals.
Final Thought
There is a full spectrum of eCommerce personalization software involved and creating your personalization roadmap means making your own unique recipe of things like how much or how little, you will rely on each one. To get your customers to their goal of the moment you need to understand all of them and guide your CX across every level these technologies offer.