After thorough speculation and advanced deal talks, Salesforce made it official on the first day of December, announcing their plans to buy Slack for $27.7 billion. The deal was mainly fueled by Salesforce's ambition to take the lead in the pandemic's remote-work boom.
Salesforce is a giant cloud-based software company that provides customer relationship management service (CRM) and enterprise apps. With regard to Slack, it is a messaging program designed for workplace usage. Founded in 2013, this app has been among the most popular communication tools in the corporate world.
"This is for sure a match made in heaven. Together, Salesforce and Slack will shape the future of enterprise software and transform the way everyone works in the all-digital, work-from-anywhere world. I'm thrilled to welcome Slack to the Salesforce Ohana once the transaction closes", said Marc Benioff, Chair, CEO and Founder of Salesforce.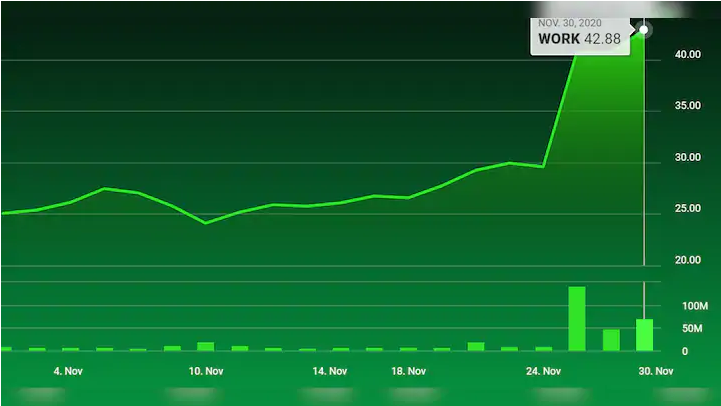 The ultimate purpose of the megadeal
The combination has brought together two highest-profile figures of the tech industry, namely Salesforce CEO Marc Benioff and Slack CEO Stewart Butterfield. This translates into tremendous benefits for both parties as Salesforce can bolster its business offerings while Slack can accelerate its user growth even more.
Other than that, it is by far the largest acquisition by Salesforce, which turned the combined company into a more formidable competitor to Microsoft – the longtime industry powerhouse. The trade agreement will reposition Salesforce and Microsoft (with its Teams chat platform), as closer competitors in the virtual collaboration space.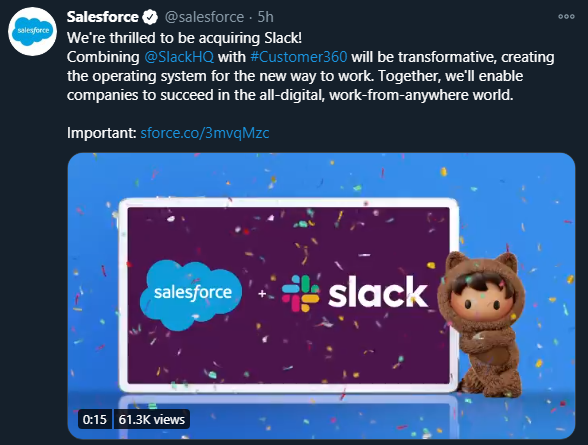 In addition, the acquisition is another sign of Salesforce's ambitions. Hereby, the giant tech company is expecting that changes in the workplace in recent months will outlast the pandemic. "We see our business world as fundamentally having shifted," Salesforce's Chief Operating Officer Bret Taylor told analysts. He also mentioned the potential of Slack messaging tool: "Slack is truly the ideal system of engagement for every employee, every partner, and for every customer interaction."
The deal is still in progress and expected to close in the 2nd quarter of Salesforce's fiscal year 2022, with the approval of Slack shareholders.