It's no secret that the eCommerce industry is booming. As online shopping becomes increasingly popular, more businesses are turning to eCommerce development companies to create custom eCommerce websites. If you're in the market for an eCommerce website, it can be difficult to decide which development company is right for you. That's why we've compiled a list of the best eCommerce development companies in USA. Check it out!
Zealous System
Zealous System is a full-service IT service provider with a clientele across the globe and an extensive service offering. When it comes to cognitive technologies like Blockchain, IoT, and Artificial Intelligence as well as more traditional IT services like application development, web development, custom software development, and others, they are on a self-evolving path of innovation and working to build a rare talent pool.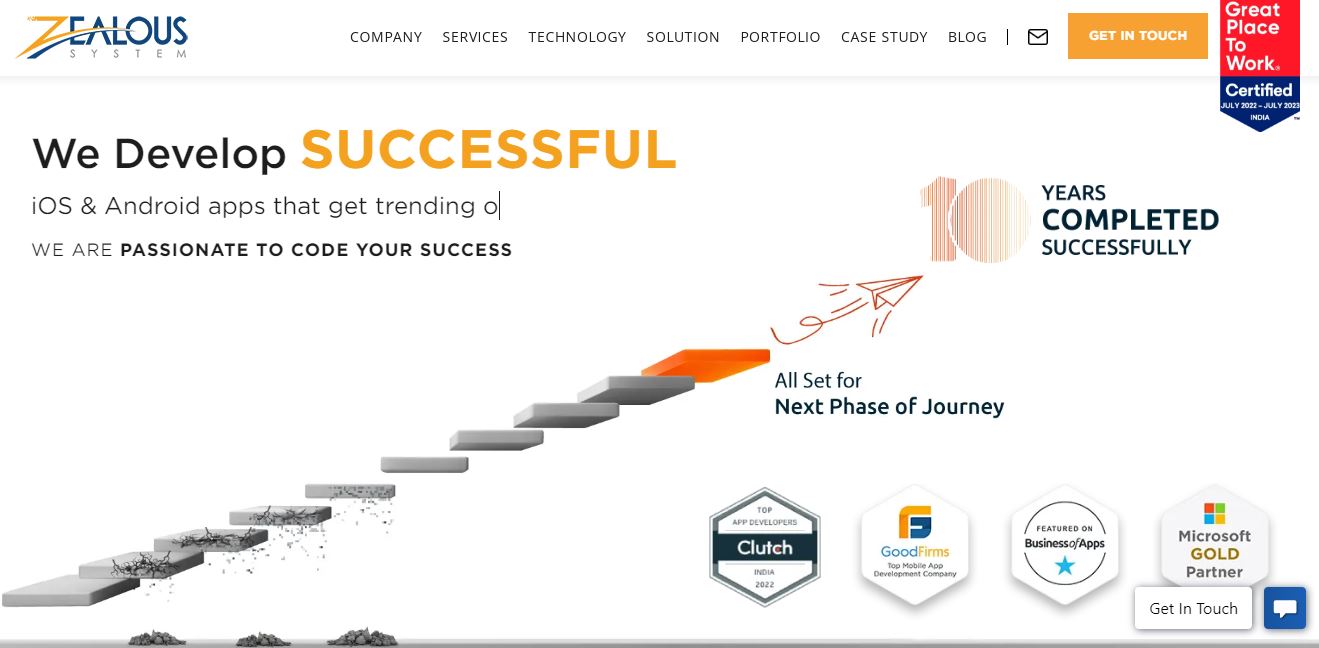 They have one of the highest client retention percentages in the sector thanks to their customer-centric approach and focus on customer happiness in all managerial decisions.
Simform
Simform is an eCommerce development company in USA that provides IT talent solutions and digital product engineering services with the goal of resolving challenging software engineering issues. Since 2010, the team of 1,000+ specialists has provided development services that have assisted businesses in increasing their value.
Your engineering becomes a growth generator thanks to the flexible global delivery center, which changes it from being a bottleneck. With tried-and-true technological techniques like DevOps, cloud-native development, and testing services, they assist you in identifying and resolving the most essential business problems.
The engineers on the remote agile teams fully commit to your project while upholding your corporate culture and pursuing your strategic objectives.
Sapphire Software Solutions
Established in 2002, Sapphire Solutions is among the eCommerce development companies in USA with ISO 27001:2013 certification. They provide businesses, ISVs, digital agencies, and startups with a comprehensive range of IT services and industry-specific solutions. Their committed and enthusiastic team uses industry best practices, technical know-how, and business domain expertise to enable digital transformation.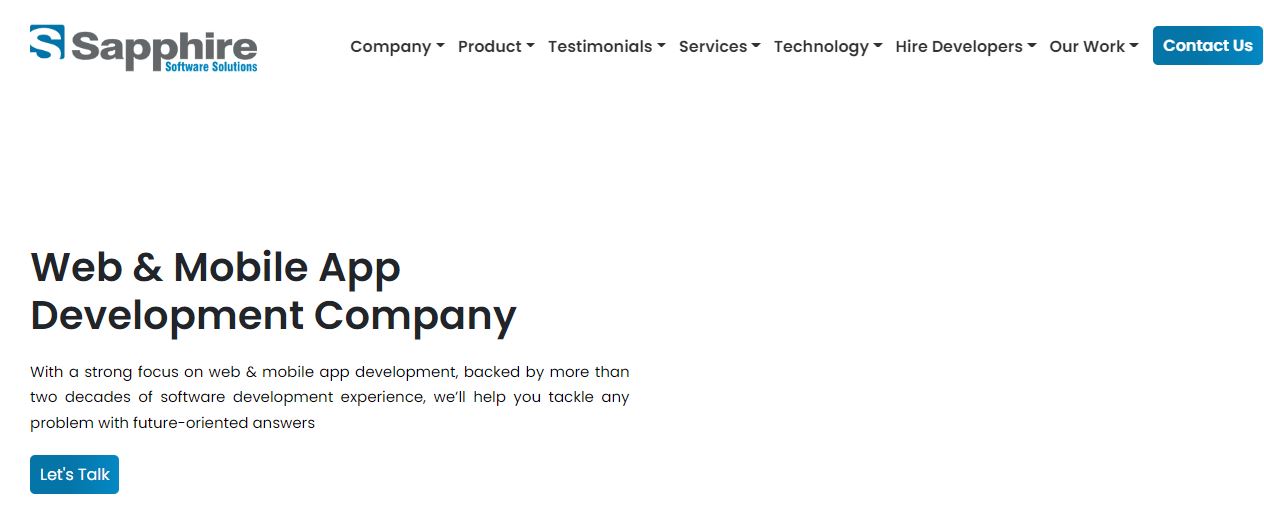 With a wide range of clients, from start-ups to major enterprises, Sapphire has developed strong client ties spanning more than 20 years.
Enterprise, web, social networking, media, and mobile application developers can all benefit from Sapphire's software development and engineering service line, which provides full life cycle software development and engineering services to independent software vendors, systems firms, and other businesses. Their offerings include product development, testing, technical support, implementation, and maintenance as well as software outsourcing.
Dedicated Developers
Whether you're just starting out in eCommerce or you're looking to take your existing website to the next level, Dedicated Developers can help.

They have collaborated with 300+ startups, SMEs, and well-known companies from over 15 nations. Over the past ten years, they have been providing them with knowledge and competence in digital technology. They have successfully delivered 1000+ Swift and Agile online and mobile solutions across more than 12 industries.
Through the development of cutting-edge, highly effective, and reasonably priced technology solutions, they outperform competitors in delivering the proper business outcomes and aid clients in better monetizing their investments.
Bachoo
Their team of designers, developers, copywriters, and creatives build and develop amazing websites, SaaS, and mobile applications, pushing boundaries – and your business forward. They always complete projects on schedule thanks to their project management philosophy's openness, adaptability, and predictability.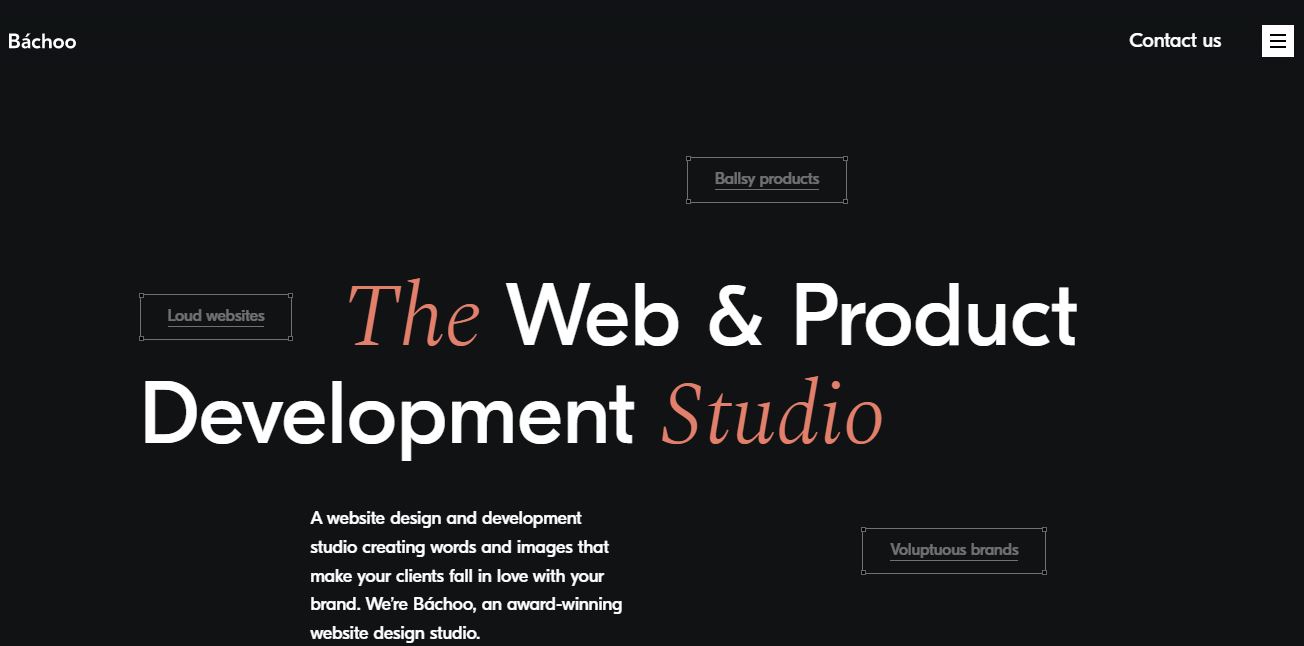 Their target market consists of bold and courageous SMEs who are not afraid to make unconventional decisions that will help them stand out, gain more exposure, and realize their full potential.
According to their design philosophies, everything they create is evaluated by actual users to determine how well it will function in practice.
Promatics Technologies
Promatics Technologies is a leading provider of web and mobile app development services. They have established a solid basis for web and mobile app development processes with much more developed and optimized engagement and delivery strategies as a seasoned staff of more than 150 developers.
They have specialized teams with a customer-centric strategy for all phases, whether it be business research, UI/UX, development, or QA, and they consistently deliver on all fronts. They want to provide the top mobile and online applications that power today's businesses.
They take pride in having Fortune 500 companies, SMEs, startups, and entrepreneurs as clients. Promatics Technologies serve as your technological partner, helping you develop your ideas, making the greatest suggestions, and assisting you at every crucial stage.
TechAvidus
TechAvidus provides small, medium, and big businesses with customized software, web, and mobile applications. Their company culture is built on the fundamental ideas of cooperation and collaboration.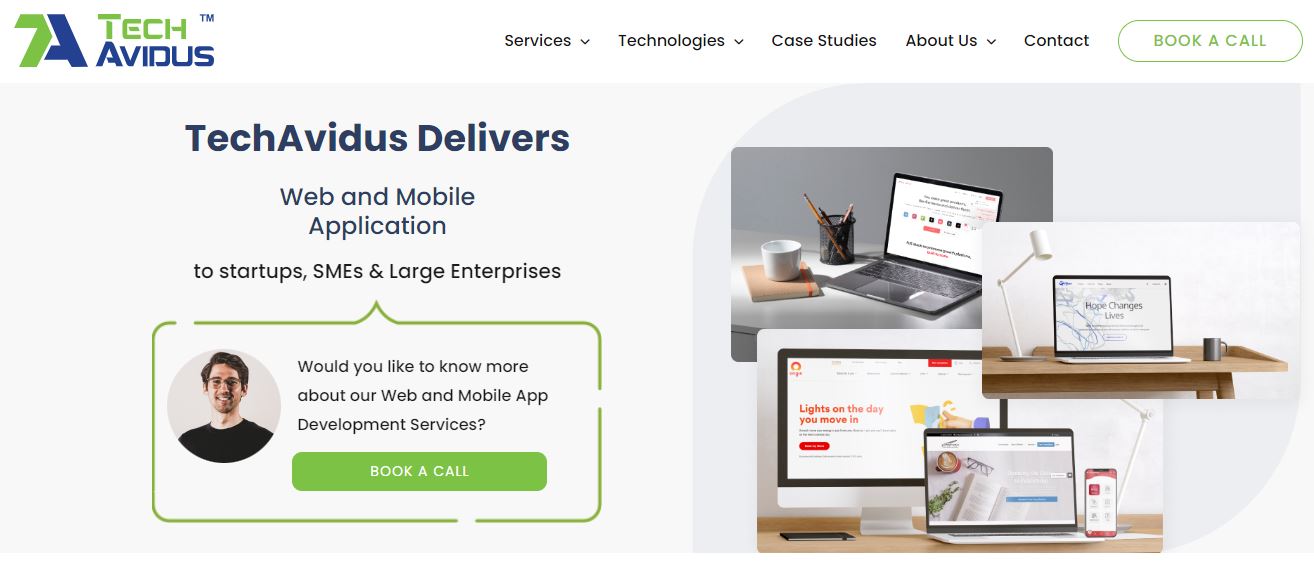 They take a progressive stance and are always experimenting with cutting-edge technologies like cloud computing, chatbots, artificial intelligence, blockchain, augmented and virtual reality, the internet of things, and more.
When working with its clients, TechAvidus takes the utmost care. When you deal with them, you receive everything required to meet your marketing and operational goals without having to make any additional financial commitment.
Magenest
As anyone who has ever tried to develop an eCommerce website knows, it can be a challenge. There are a lot of moving parts, and if any one of them isn't working correctly, it can throw the whole thing off. That's why it's so important to work with a dedicated team of developers who understand the ins and outs of eCommerce development services USA.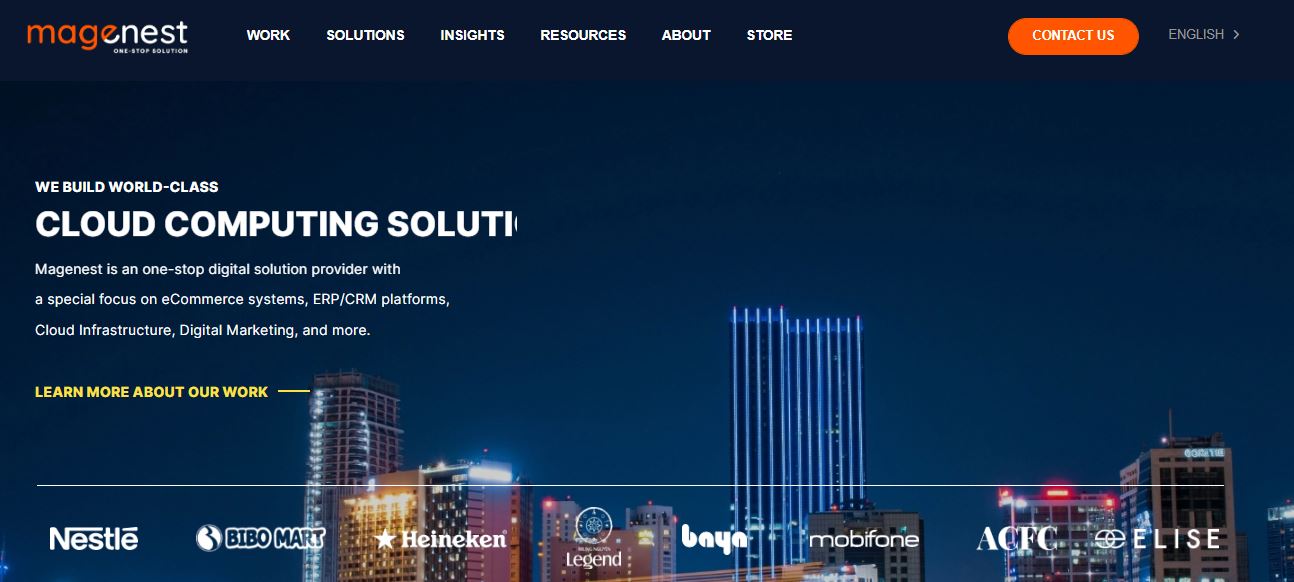 Magenest is one of the top eCommerce development companies in the USA. We have a team of experienced developers who are experts in all aspects of eCommerce development, from Magento and Shopify development services to shopping cart integration and payment gateway setup. We understand that every eCommerce website is unique, and we will work with you to create a custom solution that meets your specific needs.
KrishaWeb
Since its humble beginnings in 2008, KrishaWeb has worked diligently to establish itself as a market leader, serving clients from the United States, Canada, the United Kingdom, the Netherlands, the United Arab Emirates, Germany, Spain, and many other countries.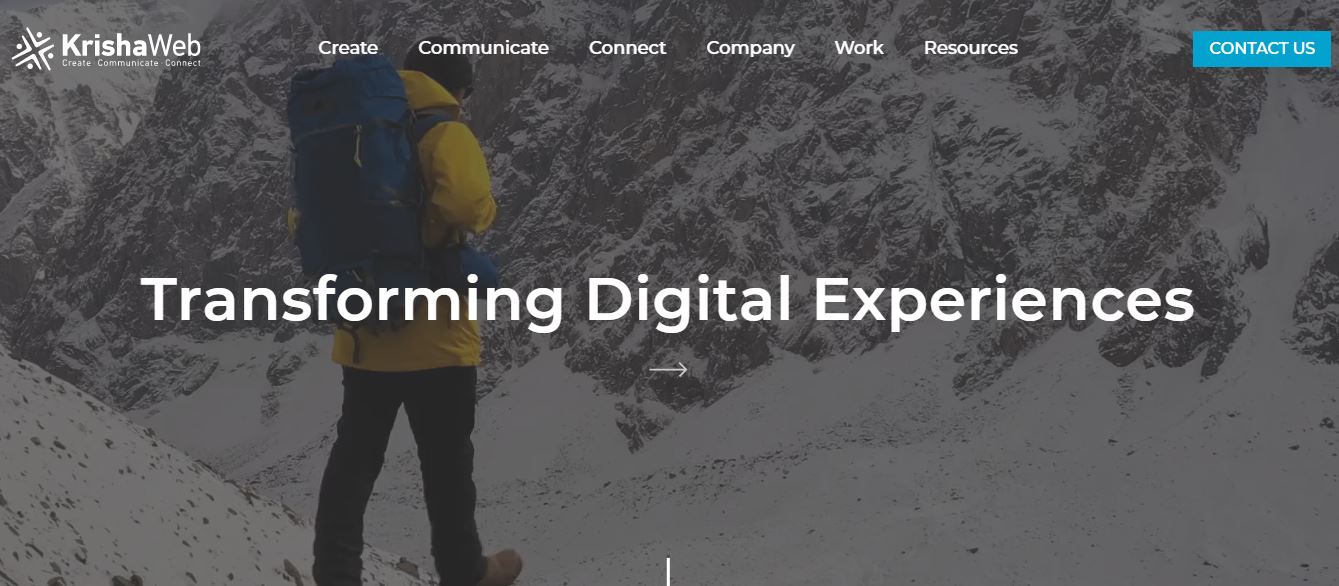 They have provided services for more than 1950 small and medium-sized businesses in the areas of web design, logo design and brand identity, digital marketing, open source development, specialized framework solutions, eCommerce development, and video creation.
With a staff of 105+ seasoned web services specialists, this eCommerce development company USA is an established full-service digital agency that focuses on building long-term professional connections by offering the best and most personalized services at incredibly competitive prices.
HTMLPanda
HTMLPanda is a professional eCommerce website development company in USA that specializes in creating mobile-first and fast-loading websites. Their seasoned web designers and developers are skilled in creating pixel-perfect websites with high conversion rates. They make use of information relevant to the sector to offer outstanding highly customized web development services to small and large businesses.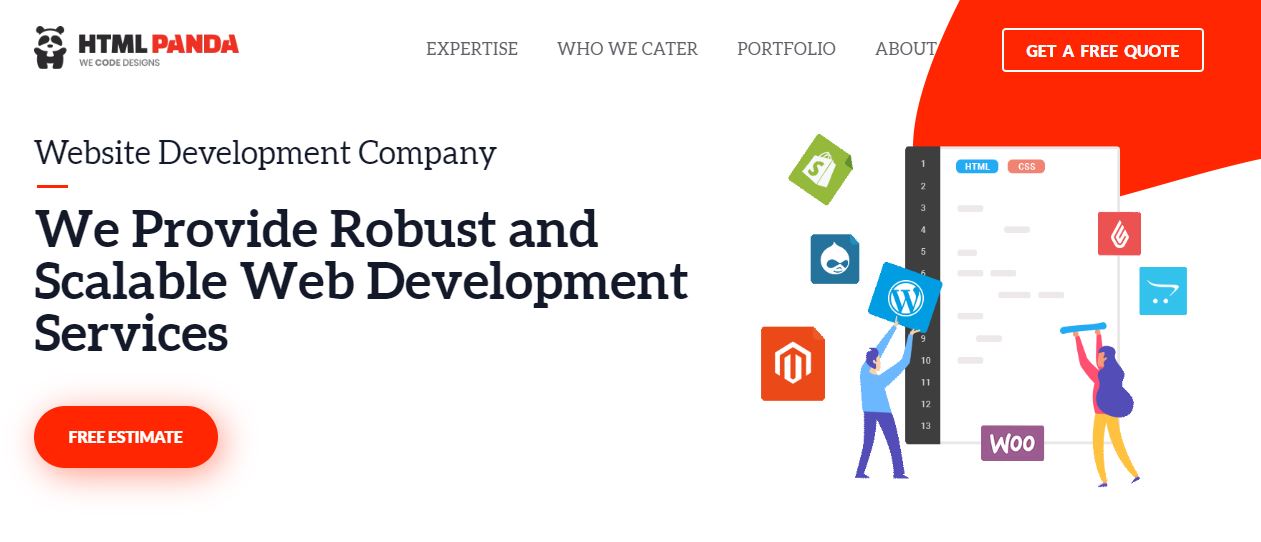 They have extensive experience creating flawless websites for every business vertical, from design to front-end conversion. Their successful projects are the result of their in-depth knowledge of website design and development, dedication to their business, and trustworthy customer relations.
Orases
Orases is a custom software development firm situated in Maryland with a mindset focused on outstanding product creation and high-end design.
They create unique online, mobile, and web-based applications for companies in a variety of industries… and make everything fit together.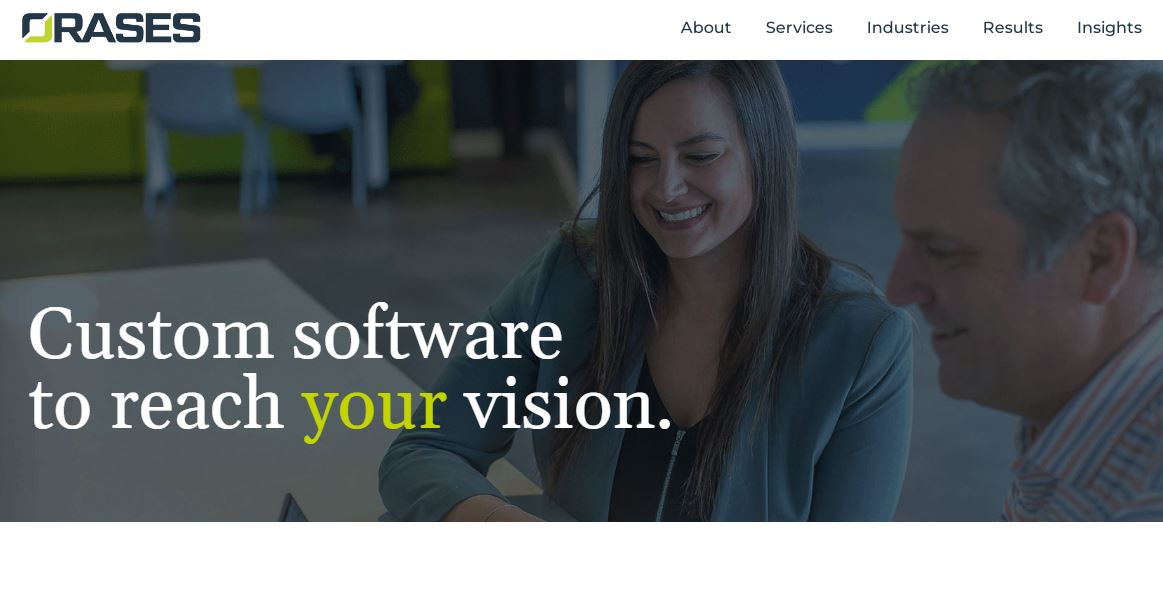 They are professionals at creating complicated software that can integrate with other systems, including third-party systems, different APIs, EMRs, CRMs, and ERPs.
Orases offers a distinctive approach to software development services, which has aided in the creation of enduring client relationships. They have expertise in software consulting, IT staff augmentation, SaaS application development, cutting-edge technology, and more, in addition to software and mobile app development.
Swenson He
Swenson He is a driven group of experts who create and engineer unique mobile and online software solutions. As a full-service company, they offer technical strategy implementation, product assistance, and ongoing support for businesses and sponsored start-ups.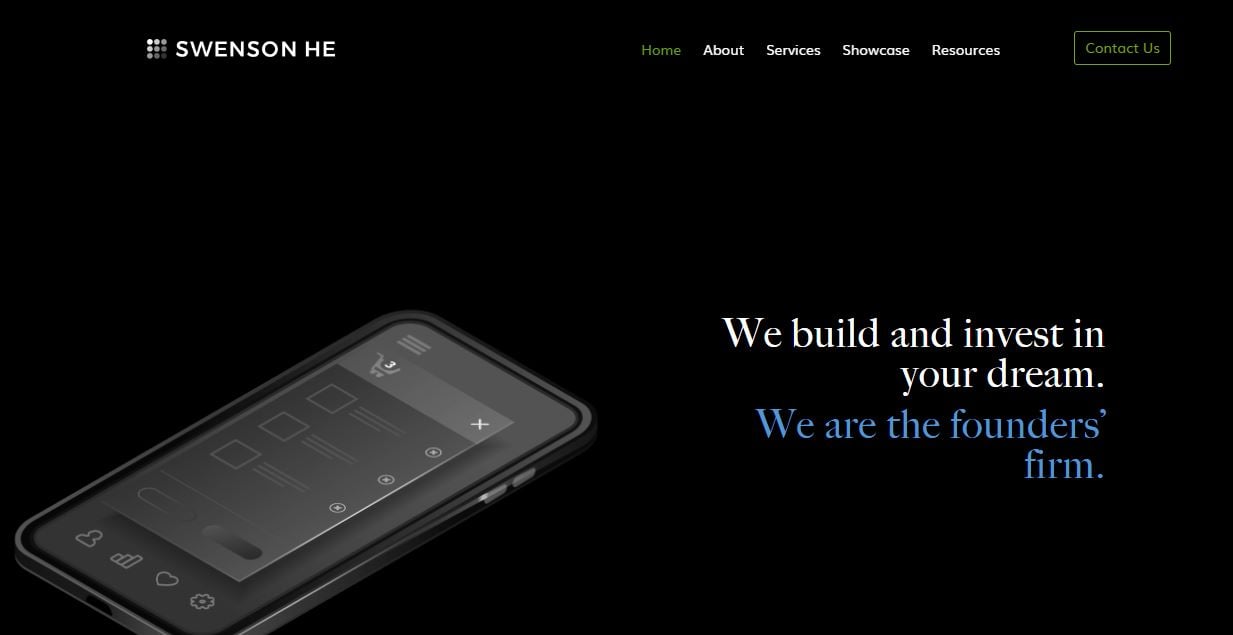 By concentrating on the success of the customer and keeping the user experience at the forefront of all they do, they constantly produce greater outcomes. They operate under the idea that effective mobile technology improves lives in significant ways.
They are one of the top-rated eCommerce website development services in USA with competence in Media & Entertainment, Fintech & eCommerce, Healthcare & Fitness, and the Internet of Things thanks to their award-winning solutions (IoT).
Appingine
One of the best award-winning top mobile app development firms in the USA, Appingine ensures that your app will succeed in the market. The business creates flawless web applications that aid in branding and help the business appear in app stores.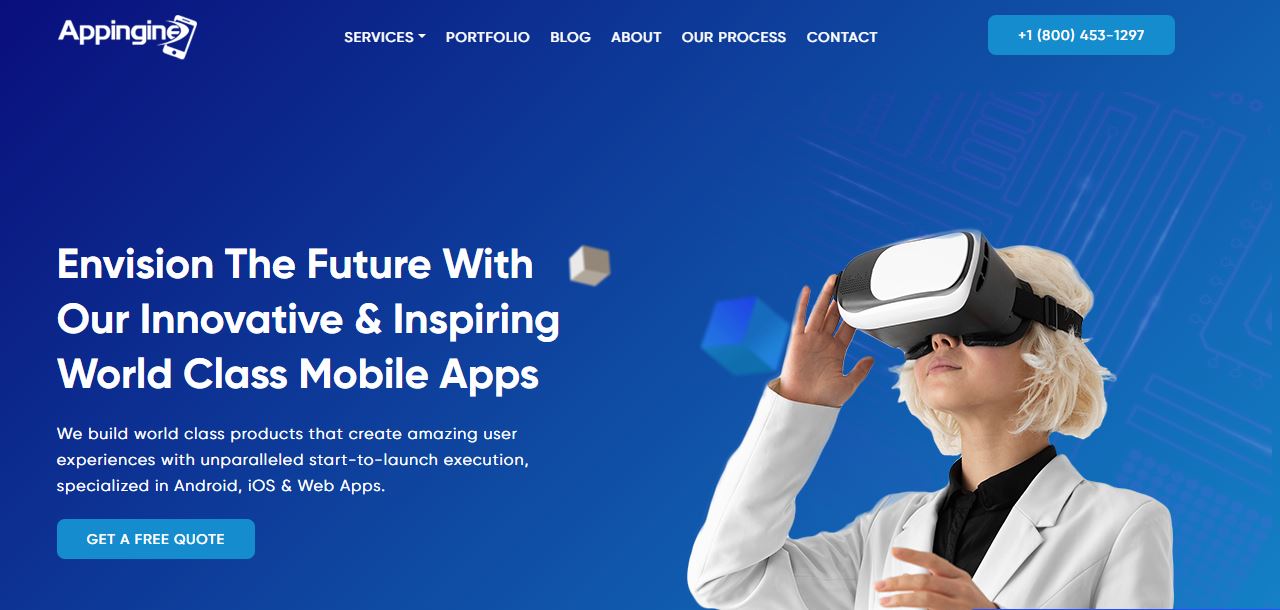 It is renowned for its carefully thought-out features, expertise in branding, and Blockchain-related company development technology. The business has a stellar track record with more than 500 satisfied Customers & Enterprises from their app services, and their pace is steadily increasing.
Next Big Technology (NBT)
Founded in 2009, Next Big Technology (NBT) is a top web and app development company. NBT uses cutting-edge technologies to create its websites and mobile applications.
As an organization that develops applications, they are skilled at creating websites and apps that make use of appropriate design and coding to create scalable solutions.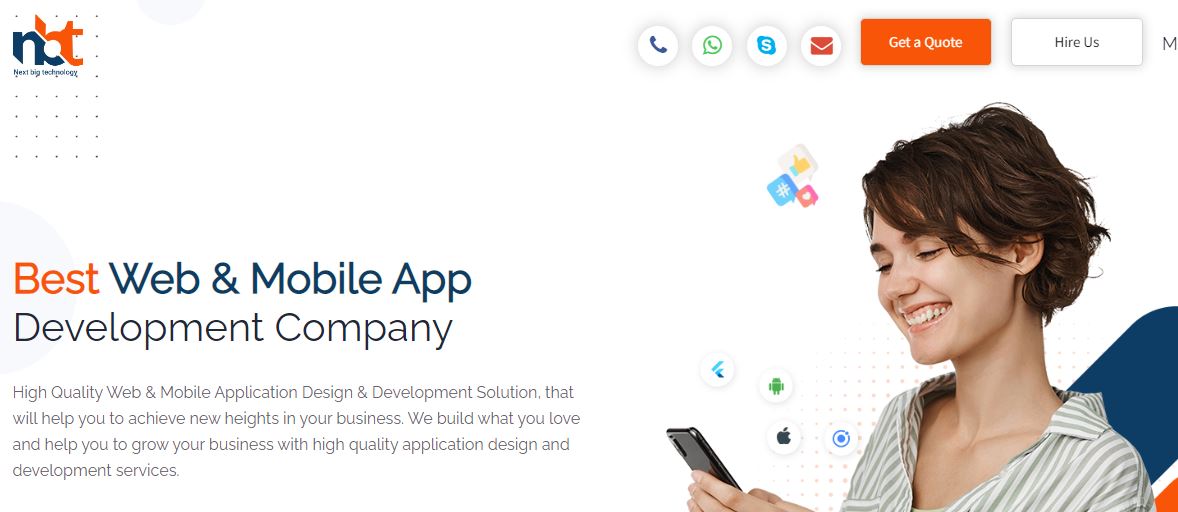 The dedicated staff at Next Big Technology has developed a reputation for providing high-caliber services in a timely manner. Their clients come first, and each project has its undivided attention. They provide quality, working to bring value to your company by creating new things.
Magneto IT Solutions
Magneto is among the multi-award-winning eCommerce development companies USA. Their primary focus is creating industry-leading end-to-end B2C, B2B, B2B2C, D2C, and marketplace eCommerce solutions. In addition to Fabric & Commerce Tools for Composbale (Headless) Commerce, they are Exclusive Partners with Oro Inc., one of the top B2B eCommerce systems. Magneto helps businesses in manufacturing, distribution, wholesale, and retail digitize their operations by providing solutions and consultancy.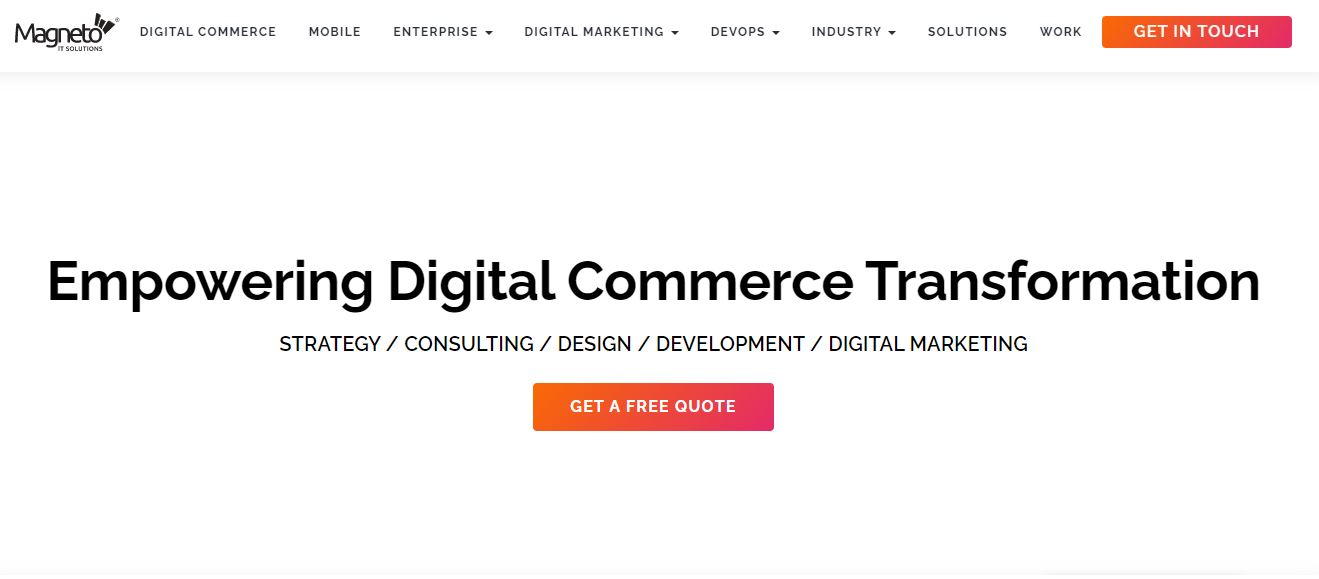 Their team uses the agile technique to design industry-leading User Interfaces, from creating stunningly gorgeous web stores to cutting-edge mobile applications, to provide the ideal experience to end users.
Magneto helps its clients scale their eCommerce operations by deploying cutting-edge Digital eCommerce solutions, utilizing their resource strength of 150+ resources spread across both Onshore, Offshore, and NearShore locations.
In Conclusion,
As you can see, there are many top eCommerce development companies in the USA to choose from. When making your decision, it is important to consider the company's experience, portfolio, and team. Do your research and ask for references before making a final decision. We hope this article has been helpful in narrowing down your choices.
If you are looking for an eCommerce development company that can create a custom solution for your business, contact us today. Our team of experts has the experience and knowledge to help you get the most out of your eCommerce platform. We look forward to hearing from you!