The exploration of selling on an eCommerce shop
Nowadays, business on the Internet not only depends on the diversity of products in the store but also bases on the interaction between your website interface and customers. Have you ever wondered what should you do if you want to attract more customers to your website or augment the store traffic and improve the conversion rate? There are many solutions executed but I strongly believe that managing product efficiently is the best way.
You want to highlight your new arrival items, or you desire to sell more on certain products by offering discount prices but do not how to figure it out. Or on some occasions, your important product needs to be outstanding on the ground with a special price… Because of understanding your requirements, Magenest released Magento 2 Product Labels which will solve most of your problems. With our newly released extension, you could get some advantages to managing products more efficiently such as:
Product/category on sale label
The label will be displayed whenever the product gets a lower price than the basic price specified in the product settings. The users could define the label position within the product image and use their images to select the label.


Product / Category New label
All new products will be shown in the store with a New label within X days of it being added to the catalog. All functions are similar to "Sale labels" except you define for how long the extension considers a product to be "New" in the last tab.

Rule-based labels
The Product Labels extension allows assigning labels via attribute-based rules. Navigate to Products > Product Labels > Manage Rules tab. You will see a grid table of the rules list.

Rule Infomation tab
In this tab, you can define the general rule parameters: Rule Name and Description, Status (Active / Inactive), target Store Views and Customer Groups, From-To Dates, and the rule Priority (Priority is counted from low to high. I.e., the rule with Priority=1 will be processed before a rule with Priority=2).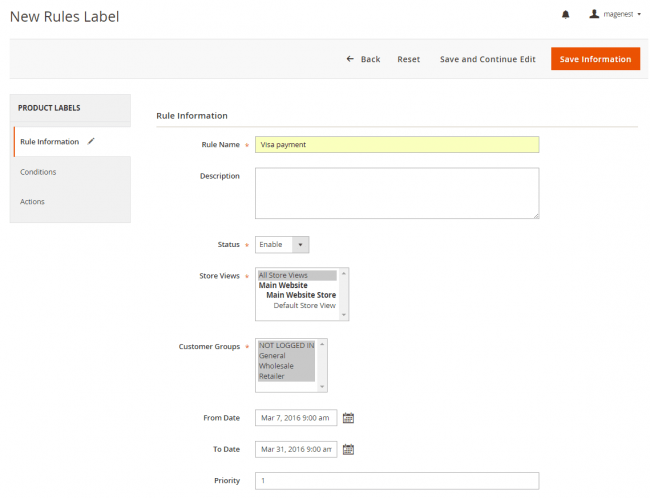 Conditions tab
In this tab, you can select the criteria for an item to get the label. The available conditions are based on the Product Attributes.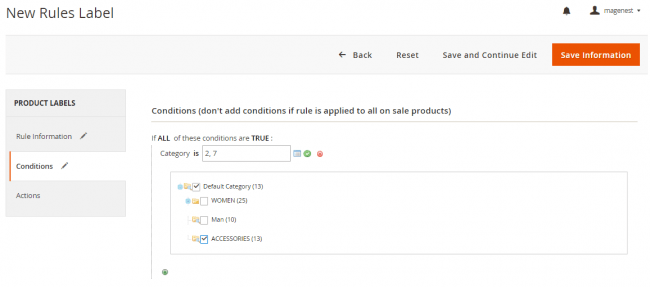 Actions tab
In this tab, you are to specify the actual labels to be used in Product View and in Category View.
For both Product and Category labels, you can enable/disable the label (Display label on product/category page = "Enable/ Disable"), select the Label Position, upload the Label image, and specify the Label Text.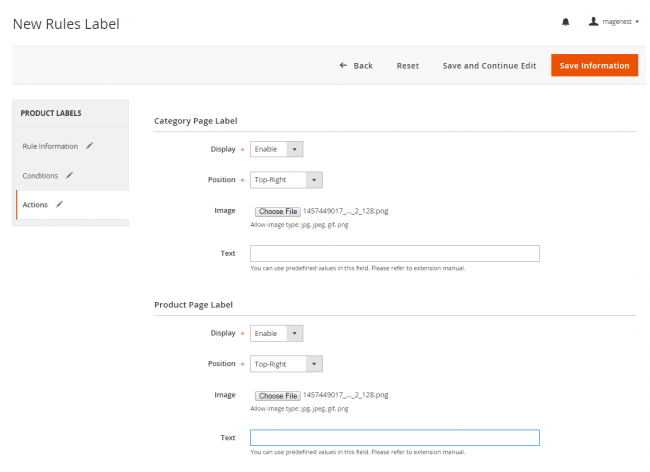 Get this extension right now and you will not regret it! For more information, please contact our store for screenshots, live demos, and support. If you'd like more information about our well-crafted and cost-effective Magento development services, or if you're in need of an efficient migration to the Magento eCommerce platform, we at Magenest pledge to offer unparalleled assistance. Moreover, should any issues arise when installing or configuring our modules for your store on the Magento website, don't hesitate to reach out! We guarantee that no other service provider can match us in terms of quality or price.