The word "outsourcing" may not be strange to many businesses. Sometimes, companies think they can do it all, but they need help and support. The word "help" here is about not wasting too much time and materials and focusing on what they already did well. With outsourcing, businesses now properly can speed up workflows and improve their products or services. In this blog, we'll give you a deeper view and understanding of outsourcing: ''What is outsourcing''. Along with that, you'll also learn some tips to choose the right outsourcing provider for your business to grow your core business.
1. What is Outsourcing?
1.1. Outsourcing definition
Since the 1990s, outsourcing has appeared to be a strategic move of business as it brings out a considerable number of benefits. In short, this service is the practice of cooperating with another outside company to provide some parts or the whole services, design, and manufacture goods. The demand for outsource happens when one company wants to cut off extra investment in materials, labor, and focus on what they do best.
Many business owners have applied and chosen this as a strategic plan for their companies. Also, many firms in this field set up their businesses to provide that kind of helpful service. For a more in-depth understanding, let's take a look at several outsourcing examples in the industry.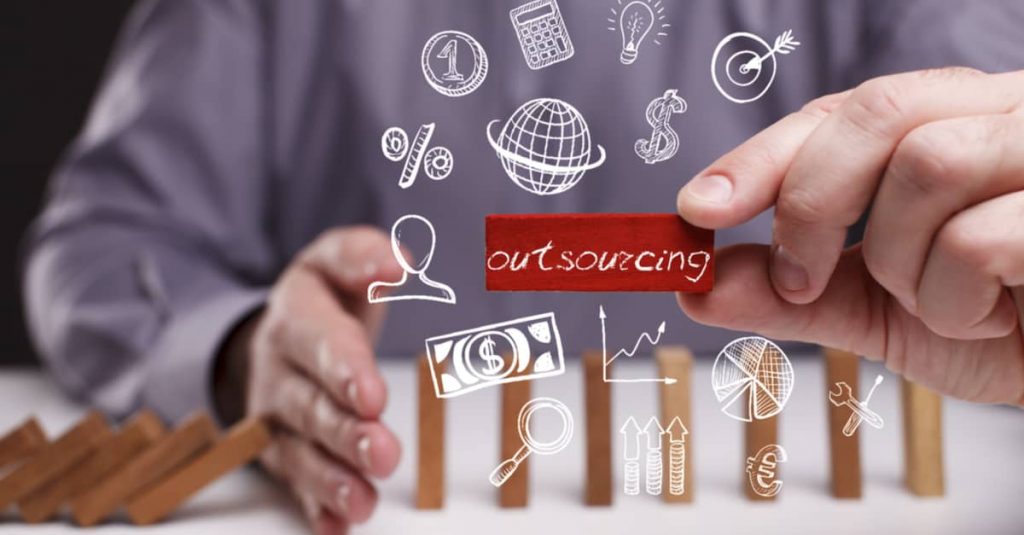 1.2. Some outsourcing examples
Outsourcing may be more prominent in the manufacturing business field. Many companies have beautiful ideas about their new products. However, the time and money they have to spend on experiments, buying machines, components, and hiring more laborers are considerable. Sometimes, that can be the latest and most trustful technology they need to buy to create that product. In that case, a manufacturing outsourcing company is the best solution.
Another significant example is bookkeeping. Some small companies, especially start-ups, usually don't have enough money and employees to build a professional paperwork team. Therefore, they will hire an accounting company to handle their financial figures and send them monthly reports. Sometimes they will outsource a human resource department by having another company take their recruitment and even training.
>> Read more: 9 Outsourcing Types for a Breakthrough in Business Growth
2. The Benefits of Outsourcing
The decision to give certain functions to an outside service provider should never be taken lightly. Once the tasks have been outsourced, reintegrating them back into a company can be anything but easy. Besides, you should always first deeply understand ''what is outsourcing'', but also check at the benefits for your company before opting for outsourcing
2.1. Experts' Assessment
Global outsourcing gives you an assessment of many other certified sources of labor. That can bring out many values to your company, and sometimes, you can take it as a chance to invite more talents to cooperate with your companies. Therefore, the brightest scene could be when the company gets ready to launch new products into new markets. Companies can have many local experts who deeply understand the need and can give out strategic plans with outsourcing.
2.2. Getting Things Done Fast
By outsourcing tasks to other firms, agencies, or freelancers, companies can get things done very professionally and fast without paying too much money on employees and facilities. Each firm or agency always focuses on this field and has great experience in one specific field. Therefore it could be an easy thing for them to handle one project, but it can be a great challenge for us to take.
2.3. Reduce cost
As one might expect, outsourcing fragmented work is almost always less expensive than hiring full-time employees. Not only will you save time and money on recruitment, but you will also increase your profit margins due to lower overheads.
When you outsource, you turn fixed labor costs into variable labor costs, which means you only pay for the services you need while still retaining the reliability of a dedicated employee. This affords you personnel flexibility that in-house employees just don't have.
2.4. Focus on core areas
There is a wide range of business functions in a company. For instance, IT, human resources, manufacturing, accounting, payroll, finance, transportation, security and logistics, sales, marketing among others. Most companies only invest their resources and efforts in a few of these business functions. A "core" offers the company competitive edges to win the battle over its competitors in the same industry. If the companies outsource some functions, which are not their "core", they will have more time and workforce to develop their strengths and stay competitive.
>> Read more: Outsourcing Strategies – Tips And Best Practices
3. Type of Outsourcing Services
Now you know what is outsourcing and its advantages, it's time to decide what business activities you'd like to outsource. There are many different types that can increase a business's productivity and reduce costs.
Let's look at the various types of outsourcing services!
3.1. IT Outsourcing
IT outsourcing, one of the most popular services today, includes subcontracting an outside firm to take care of all or part of a business's IT needs, which can vary from software development to maintenance and support. 
A third-party IT management team is often less expensive than building one in-house for many businesses. For storing and managing their data, organizations typically turn to IT outsourcing services for support. Seeking talent can require you to look into companies in India, Ukraine, Russia, Vietnam or to find a developer that specializes in IT.
Top companies for IT outsourcing: Wipro Technologies; Magenest; Accenture; Unleashed Technologies…
3.2. Process-Specific Outsourcing
These days, it's very typical to outsource specific operational components to other companies or units that specialize in that particular function. Besides, Outsourcing of public sector services, such as fire, police, and armed forces, to for-profit businesses is sometimes also called process outsourcing.
For example, a realtor hires a virtual assistant to help them schedule client appointments and respond to emails regarding customer inquiries, or a small business can outsource lead generation to gather more customers locally and overseas.
Top companies for process outsourcing: Triniter, IBM, Cognizant, Concentrix…
3.2. Professional Outsourcing
Sometimes, entrepreneurs and their tiny teams can't handle some complicated jobs. They may need a professional license or further training to perform this assignment. Hiring local labor might be expensive due to scarce demand. In these cases, professional outsourcing might be a feasible option. This allows them to save money while still receiving a high-quality employee.
There are three types of process-specific outsourcing: knowledge process outsourcing (KPO); legal process outsourcing (LPO) and recruitment process outsourcing (RPO).
Top companies for professional outsourcing: Upwork, FlexJobs, Remote Work Hub, RemoteJobs.
3.3. Manufacturer Outsourcing
It can be very expensive if you decide to manufacture your own products. Aside from the high cost of raw materials, the cost of industrial employees, as well as the capital required for infrastructure and equipment, can be extremely high.
However, By outsourcing the manufacturing process, you can significantly reduce your cost since you don't need to worry about infrastructure and equipment, as well as labor costs. Also, Manufacturing still runs smoothly and items are delivered on schedule.
For example, The cost of producing clothes in the United States is costly for many fashion companies. As a result, they frequently choose Asia as a source of production. After manufacture is done, the clothing is then shipped to the United States.
Top companies for Manufacturer Outsourcing: N-ix, FullStack Labs, Toptal.com, Clorox Co.
3.4. Project Outsourcing
In some cases, the lack of available people to do and finish the task or the lack of skills for the job can cause the price to be more expensive to complete the project in-house than to outsourcing. It is much cheaper to hire a remote worker to complete a project. By outsourcing them you are going to be paying a fixed amount to a project manager to complete the project and at the same time keep your current staff available for internal tasks.
For example, they may need to redesign their website, write an ebook, or get help managing a paid search campaign. Top companies for project outsourcing: Upwork, FlexJob, Sciencesoft, Capgemini.
4. How to Determine the Cost of Outsourcing?
Along with ''what is outsourcing'' the question for 'How to determine the cost of outsourcing?' will be raised regularly by new businesses who want to start outsourcing a project. However, The cost of an outsourcing company depends on the level and variety of services it offers, for example, the cost of outsourcing accounting ranges from $500-$2,500/month depending on the number of transactions and the complexity of services required. These variations can make it difficult to compare the costs of the service providers you're considering.
Here are 4 steps to help you determine your outsourcing:
4.1. Clearly define the business process you would like to outsource
When contemplating outsourcing a business function, it's necessary to identify the quality and quantity of the function and the expected outcomes. This is necessary for you to achieve a fair comparison between what is realizable in-house and the service proposed by external contractors.
Outsourcing costs may be greater (or cheaper) when a business function is vaguely or incorrectly defined due to the fact that you may be doing more (or less) internal work than what's indicated in the request for proposals to vendors.
4.2. Calculate your in-house costs that could be avoided by outsourcing
After the business process is clearly defined, it is time to identify and calculate the costs your organization would avoid if it outsourced the process. As a first step, make a list of all costs associated with the process, including direct costs (such as salary and equipment), as well as indirect costs (such as travel and other expenses) (general administration and internal services).
Instead of making decisions based on a cost analysis, focus on future expenses that can be avoided by outsourcing the operation. Next, make a list of all the internal costs that could be saved by outsourcing the business process.
4.3. Calculate your total costs of outsourcing
It's important to calculate the total costs of outsourcing the specific business function. The costs of outsourcing comprise a contractor's bid and contract management fees, and the transition costs, excluding any extra income produced through sales of unneeded supplies or equipment..
Costs associated with selecting and managing an outsourcing partner will be included in your contract administration costs. On platforms such as Upwork and PeoplePerHour, etc. small businesses may have to pay subscription fees as well as salaries and fees to fund their accounts.
Moreover, For bigger outsourcing projects, costs related to researching and analyzing RFPs, negotiating contracts, executing change orders or modifications to the contract, evaluating contractor performance, resolving disputes, or processing payments to vendors
Your transition costs may also include personnel costs; unemployment compensation; and severance pay.
4.4. Subtract total outsourcing fees from in-house costs
The final step of the cost analysis is to determine how much money may be saved by outsourcing. A BPO provider's Business Engineering department or a Request for Information or Request for Proposal to gather bids for outsourced services may be able to justify your organization's next actions toward outsourcing, such as interacting with the Business Engineering department of the BPO provider.
>> Read more: Outsourcing vs Insourcing: What Should You Choose?
5. The Challenges of Outsourcing
5.1. Loss of Control
When hiring these types of services, especially off-shore ones, you can lose the management of your products. You don't often communicate with them to get the latest news about the products or can not directly check the quality and other processes. This disadvantage is understandable, but you might have to be careful when choosing an outsourcing partner.
5.2. Getting Hidden Costs
Along with the ad-hoc costs, when signing contracts with them, take time to read them to get all the costs transparent carefully. It would be best if you timely discussed with your partner the extra or unacceptable costs. As at the end of the road, the goal of outsourcing is to cut down the expense.
5.3. Security Leaking Risk
When transferring tasks to your outsourcing partners, you can put your customer or intellectual property at the risk of leaking. That can cause a lot of trouble for your company as it relates to legal issues. Also, you have no idea what your partner is going to do with your data.
5.4. Financial Burdens Sharing
It can be great to share the risks with other outsourcing companies; however, it's also hazardous to tie your business to another company's financial well-being. One more time, you have to spell out every term and condition in contractual arrangements. Therefore, you don't need to take a financial hit if the cooperation fails to deliver.
>> Read more: Advantages and Disadvantages of Outsourcing You Should Know
6. How to Choose the Right Outsourcing Provider Portfolio?
After figuring out all the aspects of outsourcing and the challenges of outsourcing, it's time for you to choose the right outsourcing provider portfolio. But, How to find the right ones that fit with your business goal is always a challenging question. Here is a step-by-step guide to help you:
The first tip will always be knowing what you need to seek a suitable partner and service. Having detailed requirements can also help you get rid of unnecessary fees.
The next tip is carefully discussing terms and conditions before signing contracts. The conditions could be about the price or quality. Therefore, it's crucial to go through all the things before getting into cooperation.
The third tip is also the key to the outsourcing process. It's communication and management. Keep in mind that when running the project with this firm, timely and daily communication is an essential element of managing quality. So, set up a schedule to check on the partner's progress with your projects to ensure they're in the right conditions.
7. Mistakes need to Avoid When Outsourcing
The right outsourced team can be an asset that provides businesses the competitive advantage necessary to enable them to stand out as industry differentiators Although there are still some major errors that companies often make when outsourcing, which may lead to failures, additional costs, and loss of time. Therefore you must be aware of potential mistakes and be prepared to avoid them.
7.1. Lack Of Research
Almost all entrepreneurs base their choice to outsource mainly on cost-effectiveness. In fact, the cost element plays an essential part, but it's far from the sole issue. A vendor's performance in the market, customer feedback, evaluations, portfolio, and experience are other important aspects that need to be considered. Obviously, if you need to grow your technical team from 40 to 70 people or have a 3-year vision, you should take your time and conduct the appropriate research before making any decisions.
You can check their past work to see whether they have been able to meet clients' expectations.
7.2. Letting Vendors Tell You What You Need
Another mistake that most first-time outsourcing clients make is not having a well-thought-out plan before approaching a BPO company. Outsourcing without planning and preparation is like going into war without donning armor.
In order to avoid this, create a road plan before you start looking for an outsourcing partner. Make a list of the tasks and processes that you want to outsource. Consider carefully how many employees you want to recruit for your project as well as the price range you're willing to pay.
7.3. Miscommunications
No matter how good your plans for your project are, and no matter how skilled and experienced your outsourcing partner is, you would get nowhere if you and your staff are Miscommunications
Effective communication is essential for the development of a long-term business partnership with your outsourcing partner. In the absence of specific instructions and requirements for the work, your outsourcing partner will be unable to deliver the quality service you anticipate. If communication is really not explicit at the beginning, there's a high chance you'll be disappointed at the end of the project. As a result, you must create clear communication and expectations between your organization and your outsourcing partner.
7.4. Ignoring Quality Testing Process
In order to ensure that your final product is smooth and works as expected, you should test your current project. You can't introduce an app or program straight to the market without testing its performance and quality with consumers first, testing must be a part of the process.
In addition, The final product becomes qualitatively superior and delivers better customer experiences. Also, it helps to lower the maintenance cost and prevents customers from suffering consequences on account of hidden bugs.
7.5. Avoid Short Term Partnerships
When you plan to outsource, make sure at the very least that the supplier is one that you are 100% confident will assist your company to achieve great outcomes. And best of all, long-term vendor relationships can encourage a willingness for compromise in many areas — including price.
Long-term relationships with your vendors will allow you to increase communication and build trust with your vendors. You'll help foster a desire on the part of both parties to continue doing business with each other.
7.6. Completely believe in outsourcing services
When manufacturing new products by cooperating with an outsourcing company, they can lead to what they want. For example, they can offer you some materials or services beyond your requirements at a higher price. However, nothing can guarantee that your products can be better with those materials.
On the other hand, when you put too much belief in outsourcing services without following the process, many minor errors can happen. You might not recognize them right away, but they might affect the product function or disappoint your clients when getting launched. 
>> Read more: Top 5 examples of Outsourcing Failures
8. Magenest's Outsourcing – When Everything Is Beyond Your Expectations
With more than five years of outsourcing experience, Magenest deeply understands business owners' obstacles in applying these services. We have been working with many companies of different sizes and fields. We're confident that we can provide high-quality services and always update the latest technology and system to support and get your jobs done. With a significant number of risks that you have to deal with when outsourcing, we have qualified teams, certified partners that can timely and professionally solve or prevent them.
In conclusion
In short, We hope that this blog can help you strongly believe in the positive things of outsourcing. For us, outsourcing is an opportunity more than a challenge. Contact Magenest TODAY to make more successful projects together. There is always a FREE offer for you to try.
For you, outsourcing is an opportunity or a challenge? Please share with us your opinion in the comment section below. Make sure to sign up to Magenest for more upcoming blogs.