Google released new algorithm " mobile friendly" from 21 Apirl of this year. They announced that their next algorithm update will take into consideration the mobile friendly of a site within search engine rankings. It will affect mobile searches in all languages worldwide and will have a significant impact in our search results. This means if you have a site that is not "friendly" to mobile devices, then you will likely be penalized and appear lower within search results.
So how to make a Google mobile friendly for your website?
Depending on how your original site was built, companies without mobile compatibility have several options:
Rebuild your site on a responsive WordPress pre-built theme.
Rebuild your site with a custom responsive WordPress theme.
Build a mobile version of your site for tablet and smartphones.
Add responsive functionality to your existing site by adding viewport tagging or a responsive pre-built plugin (WP touch is one WordPress mobile plugin option).
If you're not sure if your website is mobile friendly, here is a great tool that Google has provided for you: mobile-friendly test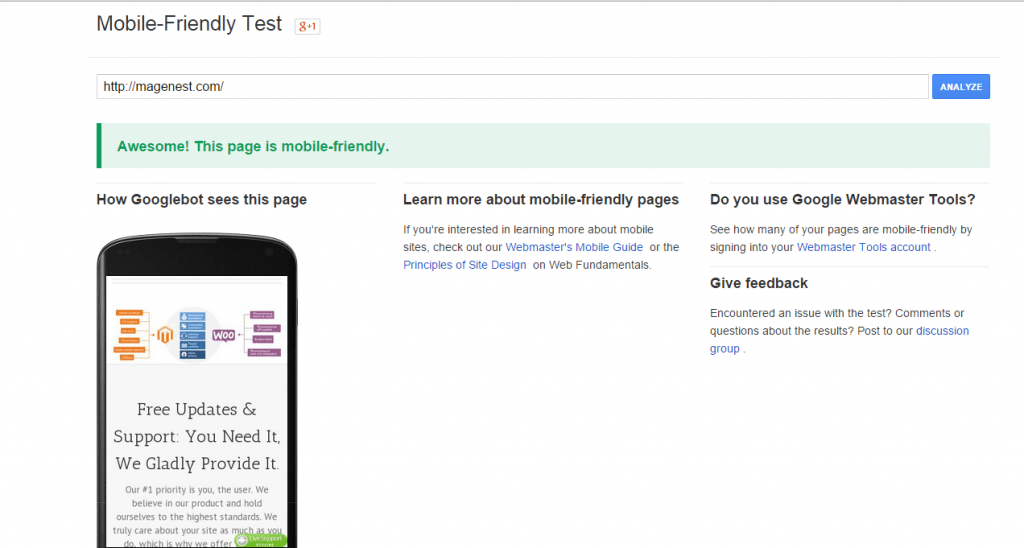 Run a "mobile-friendly test" within the Google Webmasters tools program, you will get a report that says: "Awesome! This page is mobile-friendly." in green text, or a report that says: "Not mobile-friendly." in red text. If you get the error report, Google will provide links and resources for what to do to fix those errors.
Passing the Mobile-Friendly Test isn't enough. You don't want your site to be "just adequate" on mobile devices; you want it to be great. Dig under the hood with the Google Developer's Page Speed Insights Tool
PageSpeed insights will give you exactly the information you need to make things better. It can tell your team whether:
1. You're using Flash in a way that's problem on mobile (for example, a Flash-based Amazon affiliate link in one of your sidebars). Check to make sure that you don't have odd Flash elements firing away in old pages or posts.
2. You have render-blocking scripts on your pages that need to be moved or reorganized. This is a common problem with sites that have added features over the years to become "stickier."
3. Your javascript files may have to be moved or reorganized. This is definitely a help ticket item for your IT/webmaster team.
4. Your low-cost deal with your hosting provider is hampering you (you might have to move from a shared to a dedicated hosting plan if this is the case).
5. You could speed up performance by better use of browser caching.
6. You could compress the images and/or other resources on your site.
Finally, If your website is friendly, it will be taken in mobile screen like this: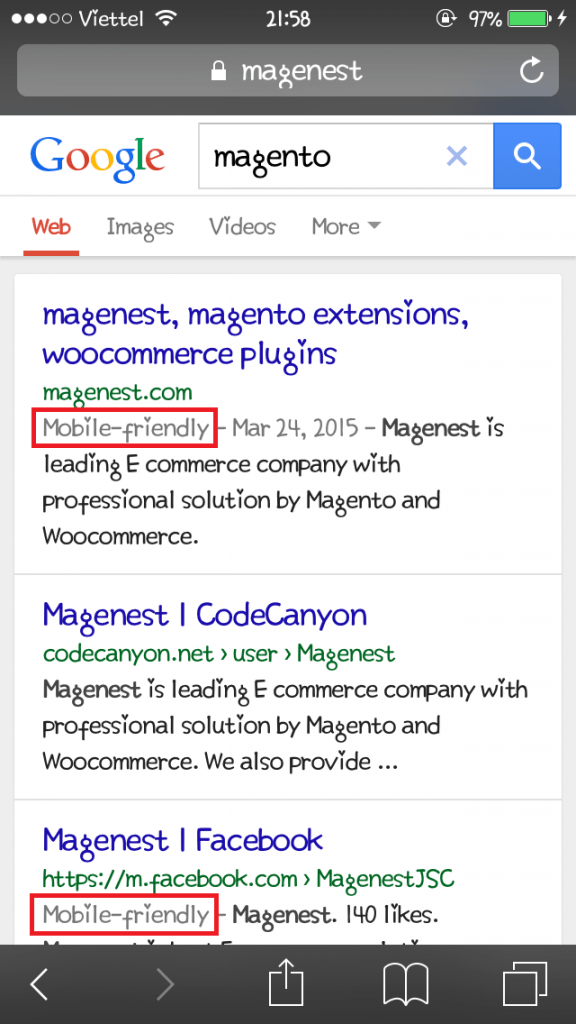 Now, we are releasing new Magento extensions and Woocommerce plugins adapting onself to Google's algorithm, namely, our products focus to have a mobile responsive feature. In the next time, we are going to plan to build mobile apps to support e-commerce projects for company's needs.