Outsourcing is an evolution as it has saved great deals of time and money for businesses. Along with cost-saving, many outsourcing types have optimized the working process and been a strategic part of productivity increase.
In this article, we provide you with 9 outsourcing types classified in terms of 2 categories: Business Core and Location. 
Outsourcing types based on Business Core
As the final purpose of outsourcing is to decrease the workforce and effectively support the business's production process, people always think about many ways to make outsourcing various and helpful. When companies grow more prominent and more departments are working, people always ask themselves what else they can apply to outsource.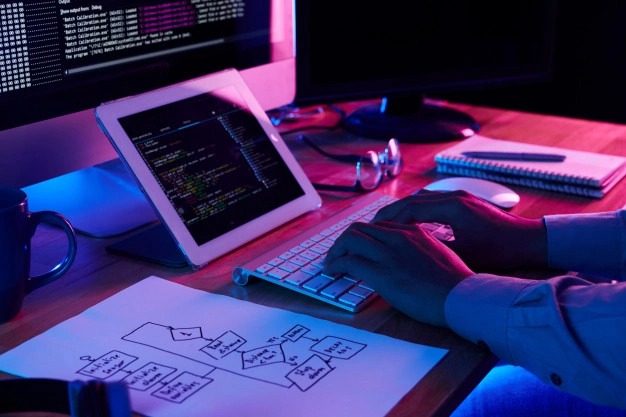 In the past, there were many outsourcing types. However, they were not explicitly related to the core business. For example, many business owners had contacted emerging specialized companies to require outsourcing services such as human resources, internal mail distribution, accounting, security, and maintenance work.
As time goes by, outsourcing nowadays becomes more effective and consistently sticks to the business core. 
Professional Outsourcing
Professional outsourcing is cooperating with individual other professionals or specialists to handle single, small tasks without getting outsourcing an entire function. People also know professional outsourcing in terms of body shopping.
There are times when an organization has well-established and optimized its processes when there are tiny tasks or initiatives that slip by the wayside due to resources already being allocated. In those cases, organizations can contract those minor tasks and side-projects to professionals outside the company who can individually work on the charges. It is then possible to re-integrate active activities or projects with great potential into the business or further develop them with an outsourced team.
Some significant benefits of professional outsourcing are:
Maintain cost reduction and time-to-market.
Suit your exact requirements with highly qualified and experienced personnel.
Provide faster identification and on-boarding of resources.
Access to an extensive technical knowledge bank, quality processes, and delivery frameworks.
Flexible swap, add and remove resources followed the project needs.
Manufacturer Outsourcing
As its name, manufacturer outsourcing is related to the manufacturing process of companies. In detail, it is the process of hiring outside partners of your company to build some parts of specific items or, sometimes, the entire product. Companies across the globe usually choose to outsource their manufacturing needs as it helps cut labor costs. Occasionally, hiring outside manufacturing partners can also guarantee the quality as they already specialized in that field. 
Besides, when producing and releasing new products, companies have to invest a great deal of money in materials while the third parties often have available assets. On the other hand, the investment in developing internal infrastructure, market research, and business plan is also a nerve-cracking challenge. Therefore, by practicing manufacturer outsourcing, businesses often witness a significant decrease in cost and labor.
Since manufacturer outsourcing usually belongs to technical parts of products, choosing a contract manufacturing company (CMO) is challenging. It's wise to check on the different available businesses and look for the one you think would fit your best interests. In a CMO, the first things you'll want to look for are their technological skills, facility capacity, and facility maintenance. From there, you may want to understand the CMO's willingness and ability to adapt their current systems, practices, and processes to fulfill your product's specifications.
Process-Specific Outsourcing
Nowadays, one of the common outsourcing types that companies prefer to apply is process-specific. This is the fact that companies hire or cooperate with third parties to take care of one specific process, usually service.
One significant example is that a cake company transferred its delivery service to one logistic firm. Since then, this cake company can fully invest their time, money, and labor in creating ideas, making cakes, and selling. Process-specific outsourcing is a way for businesses to focus on their specialists and grow faster. Sometimes, people also use process outsourcing to handle over control of public sector services such as armed forces, fire, and police for-profit corporations.
There are some process-specific outsourcing types:
Recruitment process outsourcing (RPO): This covers outsourced recruitment, including application tracking, management of posting, and evaluation.
Knowledge process outsourcing (KPO): This relates to outsourcing knowledge development for product improvements like research and data analysis.
Legal process outsourcing (LPO): This includes all the legalities such as litigation and regulatory compliances.
Project Outsourcing
Project management is not challenging until companies have to deal with too many projects at the same time. Therefore, one of the favorite outsourcing types of businesses is project outsourcing. It illustrates the fact that companies outsource to other more qualified companies to handle some of their projects. These third-party companies usually specialize in particular fields and can finish the projects early and effectively. It may also cost more in each project when the company doesn't have enough qualified laborers and assets.
Some examples of this form of outsourcing are when legal firms with a high demand for cases at hand recruit contract lawyers to assist and keep up with their workload. Besides, manufacturing companies often cooperate with other design firms to custom their websites, packaging, and so on. Also, they will have other marketing agencies create and do promotions and advertisements.
IT Outsourcing
Among all outsourcing types, IT outsourcing is the use of external service providers to achieve business results efficiently through IT-enabled business processes, application services, and infrastructure solutions. This could be a greater choice if you have unique IT needs or you are a small business. In order to manage their networks, maintain security, and keep licenses up to date, even start-ups need some IT help, and this is an inexpensive way to get those services.
Thanks to the flexibility, this kind of outsourcing bring out many benefits to companies. It reduces costs and enhances the quality of the product manufacturing process as outsourcing organizations often have special equipment and technical expertise. Also, after the end of the project or when companies want to try the new IT organization, they can easily cut off the previous cooperation without hesitation or complicated contracts. 
Some outsourced IT services that companies often use are:
Application/software development.
Application support or management.
Database development/management.
Web development/hosting.
Infrastructure.
Technical support/help desk.
Telecommunications.
Operational Outsourcing
Operational outsourcing helps many consultants fulfill their main objectives. Its strategies allow consultants to use outside staff to process their information while retaining in their own offices some or all of their technology infrastructure, servers, software, and other systems.
Operational outsourcing is designed to help advisors control a mission-critical field of their firms more effectively: handling the large quantities of data residing in their applications. Back-office operational functions such as data processing and customer reporting, traditionally preserved in-house, are becoming an increasingly common approach among advisors.
Outsourcing types based on Locations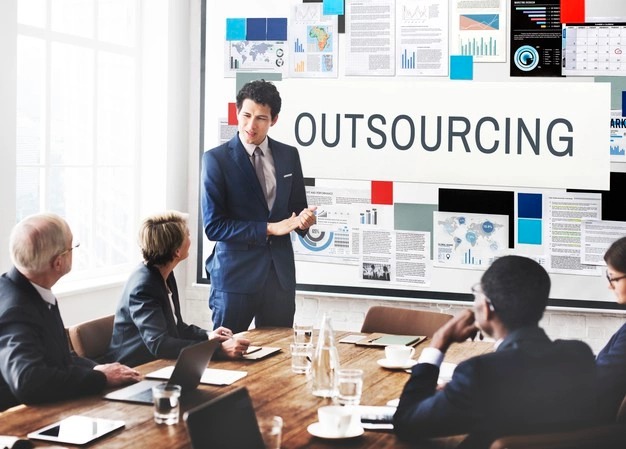 Besides the variation of outsourcing types based on business cores, the most plausible category of outsourcing firms prefers distance or locations. Sometimes, these kinds of outsourcing types can bring out many benefits that support and variate the work. However, distance barriers are never easy for any business firm. Let's get into them to get yourself the evaluations. 
Local Outsourcing
Local outsourcing or onshore outsourcing prefers contracting for a provider within your nation. An advantage of this choice is that you speak the same language, have the same cultural context, and are in a close time zone (if not the same). It is also much better to meet on occasion in person.
A significant downside to local outsourcing is that you are likely to spend more than outsourcing to another country. For businesses located in Canada, the United States, and much of Western Europe, this is real. Plus, you should not presume that the output would be better only because the provider costs more.
Offshore Outsourcing
Compared to other outsourcing types, offshore outsourcing offers another alternative. These forms of contracts involve operating some distance apart from a supplier. The easiest way to save on labor and material costs are always to do so. Furthermore, offshore outsourcing will allow you to access a particular skill set better than anywhere else in the world in a specific country. Finally, in your home country, you will be able to escape restrictions levied.
A lack of reliability, exceptionally when you choose a budget provider, is the issue with offshore outsourcing. By reading the feedback of the provider before committing to a deal, this is avoidable. You might find, though, that you end up paying for the services more than the low prices you initially saw. The distance can be a significant problem as well. For example, it can take a long time to connect with the provider: if you send a message early in the morning, the provider's workday will be lonely. Also, language barriers can be challenging since you or your partners are not using the same languages. Therefore, when considering applying this kind of outsourcing, think about the means of communication.
Nearshore Outsourcing
There's nearshore outsourcing right in the center of local outsourcing and offshore outsourcing. This includes contracting with a supplier who is outside the country but still nearby. If you're in the U.S., outsourcing from the nearshore would be to Latin America, while outsourcing from offshore would possibly be to Asia.
Nearshore outsourcing enables you to achieve the benefits of both onshore and offshore outsourcing, while reducing their drawbacks, at least to a degree. You'll be in a similar time zone, for example, but you'll benefit from the lower operating costs in the other country. Plus, when shipping goods, there is a lower chance of delays. Finally, for entering neighboring markets, nearshore outsourcing is useful, and is also the logical next move for companies.
>> Read more: Top 5 benefits of outsourcing in custom software development projects
Why Should Companies Outsource?
It is obvious that outsourcing types provide many benefits for companies. Here are some of them:
Operation cost reduction: Applying different outsourcing types in particular processes help business owners get rid of no-need payments for non-effective employees and experiment materials.
Work environment improvement: Using outsourcing types help reduce pressure on employees as companies hire them to do some specific types of work. They will have more time to focus on their specialists. 
Office space-saving: Different outsourcing types offer different choices of work location. Sometimes, by cooperating with other remote firms, they don't need more space for new employees. With online organizations, they don't even need to rent any offices in this case.
Talent accession: Some specific projects require many talents that companies hardly find across their countries. Practicing outsourcing gives them valuable chances to meet and cooperate with more talents, from the inside out. 
Contract flexibility: When you decide that you would instead work for a particular specialist or firm, turnover is simplified. You can also choose from different outsourcing contracts when you start working with a contractor, including project-based and fixed-term contracts that last for a short time. This means that you can only opt not to renew the deal and easily find someone else to take over once finished.
Free technology usage: Access technology yourself without having to pay for subscriptions. Without any preparation, the experts you outsource will also know how to use the technology. Plus, you can trust the supplier to take care of it if they do need training.
Such outsourcing styles can cover a wide variety of business practices. When you understand your choices, you need to find out the tasks your business would benefit most from and choose the right services for your company. Then, to ensure that you select the right kind of outsourcing strategy for you, think about things like connectivity, efficiency, and cost.
Among many outsourcing providers, Magenest stands out to be the most remarkable firm that can go with organizations long-term and effectively. Magenest always improves and adjusts to fit the latest technology scenarios with passion and the goal to support and push up businesses. 
At Magenest, you can find all the best Business and Enterprise solutions. They include Open Source Solutions such as Odoo, Magento, and other eCommerce development. Magenest commits to delivering excellent and high-quality service for Information Technology & Software Solutions to clients worldwide. Whether you're big organizations or new start-ups, you can completely trust Magenest as a future partner who can always work with you.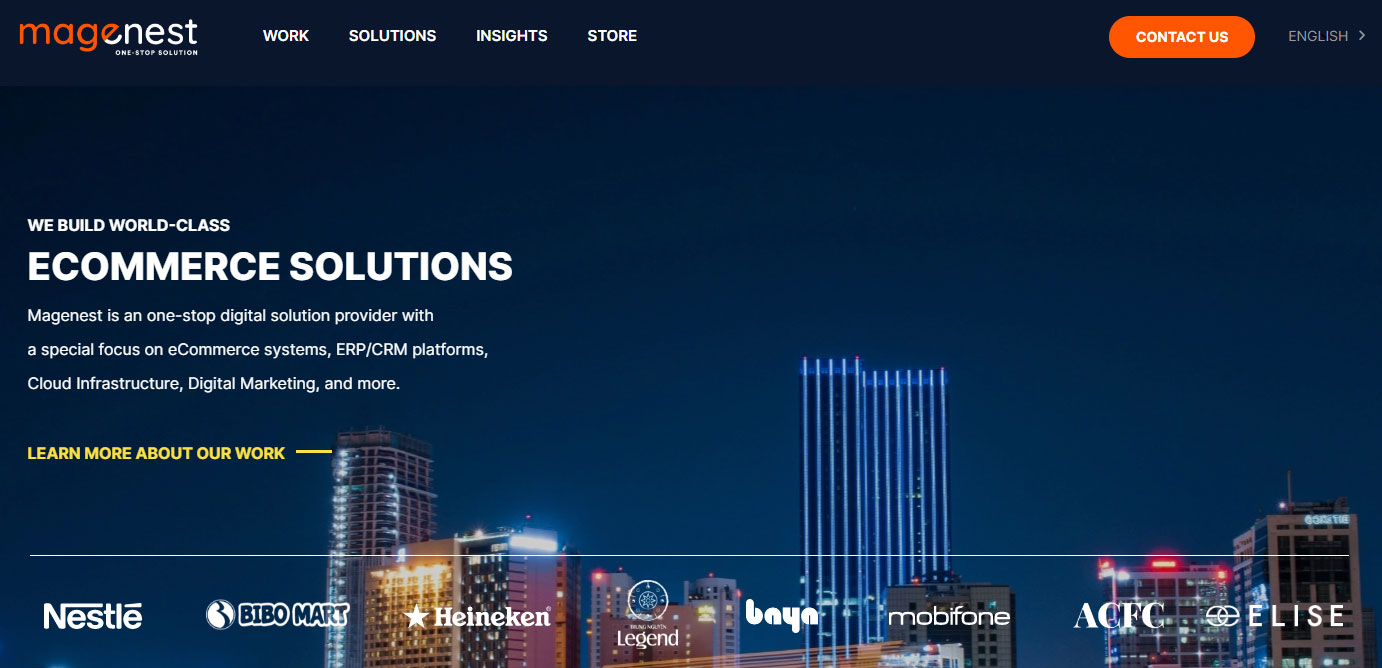 There is a wide range of service prices given on Magenest's website for you to consider. Keep in mind that there is always a FREE option for you to try before making any decisions. Contact Magenest today!
Is there anything that you want to know about outsourcing types or Magenest? Leave a comment below so we can answer all your concerns. Don't forget to visit Magenest's website to experience many outsourcing types.