It is apparent that you can't fully control what is not in your hands, including outsourcing. While outsourcing helps small and big businesses, there are many types of outsourcing risks that we should know. This blog lists ten regular ones that every firm should note in their outsourcing risk assessment checklist. Besides, there are some outsourcing risk mitigation strategies recommended in each case.
Keep reading to know the outsourcing risks and mitigation to improve your business's growth.
Outsourcing Risk – What to Know and How to Mitigate
Technology Dependency
Many businesses are worried that they will become so dependent on the outsourcing service provider over time that it will be almost difficult to turn to another supplier.
To get rid of this kind of outsourcing risk, make sure you sign an agreement on your codebase and data to protect your ownership. Also, investigate how simple it is to discover developers using similar technologies. Before changing the supplier, take time to calculate the cost and document all the process phases.
Limitations in Communication
The outsourcing risk analysis shows that miscommunication is one of the top IT outsourcing risks. Therefore, many business owners have claimed that effective communication is the key to successful outsourcing. In long-term corporations, Some of the reasons for poor communication are the differences in time zones, languages, cultures, and, sometimes, the absence of face-to-face meetings during projects. In short-term contracts, the outsourcing firms will not have enough time to know and understand your businesses' cores and needs. Sometimes, both parties don't know each other's communication styles to adjust due to the short period.
In this case, there are many kinds of outsourcing risk mitigation that business owners can practice. Business representatives should confirm the mutual language, time, and communication means with the outsourcing party in the negotiation stage. Also, the contract should include the agreement about the regular face-to-face meetings between the two parties.
Lack of Specific Experience
In outsourcing risk management, businesses should care for the quality of the outsourcing process. Sometimes, some outsourcing firms don't have any domain tools or facilities for specific fields. While many solutions are common enough to be applied to various niches, the lack of domain awareness during development can cause multiple problems and result in a product that varies from industry standards.
In this outsourcing risk management framework for this problem, it's better to carefully learn about the contractor's domain expertise. Outsourcing companies usually list their case studies and proof of experience on websites or you can directly ask them. When making the process plan, you can try to break it into several stages if not confident. Therefore, whenever you're not satisfied with the quality, you can request to postpone the contract.
Hidden Expenses of Outsourcing
Although outsourcing is a cost-saving solution for many businesses, sometimes, the total amount of money that you have to pay can be unnecessarily higher with unknown extra fees. The less company's expenses, the higher profits. Therefore, many outsourcing companies usually try to close the deal with a higher amount of money than the actual outsourcing process costs. One unpredicted outsourcing risks example is that a company charges fixed rates, commits to deliver appropriate service, then hires poorly trained specialists.
The solution for this outsourcing risk is that companies should ask for testimonials before closing the deal. Besides, choose a 'cost-plus' outsourcing model that provides budget transparency and gives power over recruiting the remote workers.
Lack of Control
This kind of outsourcing risk refers to the lack of trust between the partners. It can be a nightmare for business managers as they have no access to follow or control the working process and quality of outsourced sides. In this case, all the parties still have to firmly trust each other. That can lead to many confusion and doubts while cooperating.
While creating a detailed management plan, list down all the main stakeholders, contacts, and responsibilities. Also, both two sides have to establish the processes to deal with changing requirements. The critical point is that you and your partners should together manage the project to prevent unspoken dissatisfaction.
Leaking Intellectual Property
This type of outsourcing risk refers to the fact that by letting the outside software party, businesses are accidentally exposing their intellectual property. That means all the sensitive information about employees, IT systems, and business processes will not be secret anymore.
To prevent this issue, it's better to learn whether the IT outsourcing firm can handle confidential data. If yes, try to request their practical protection policies. In case you're not sure about that, don't forget to sign a Non-Disclosure Agreement (NDA) before cooperating. If needed, research the local IP laws or hire a legal consultant with experience in software outsourcing.
No Quality Assurance of Service
In the first stages, when searching for trustful outsourcing firms, there are tons of unverified information. Therefore, business owners might have found their future partners but can't be sure about the quality. As a result, business owners can waste a lot of time and money. It hasn't mentioned that some companies can lose their reputations due to poor-quality services.
The outsourcing risk mitigation of this case is spending a certain amount of time on researching. When looking at outsourcing firms' websites, pay attention to their already-done projects and services. The trustful outsourcing firms often list down their regular partners and achievements. Besides, look for those companies on verified review platforms to ensure that they are what you want. 
>> Read more: Top 5 Benefits of Outsourcing in Custom Software Development Projects
Magenest – Optimize Your Outsourcing Risk Management Function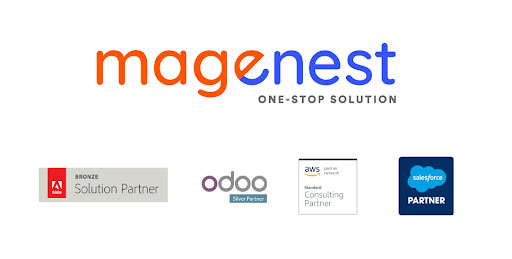 Understanding the difficulties of business runners, Magenest always updates and actively supports them by providing high-quality services. Magenest has worked with many agencies, merchants, and other Magento Partners to enhance the robust Magento systems. Besides, outsourcing your Magento work to a certified partner is always more efficient and cost-effective.
With more than 5 years of cooperating on full-scale Magento projects with a lot of direct clients such as Eztoro and Heineken, Magenest is confident that our work methodology is agile, outcome-oriented, and transparent. To prevent all of the undercovered facts, clients have all permissions to access our project management platform supported by English-proficient AM.
Also, multiple dedicated technical teams with qualified, talented leaders in Magenest can guarantee any business's quality, no matter what size. We successfully covered many projects by applying Magento Open Source (CE) and Magento Commerce (EE). For Magenest, every new challenge makes us grow more assertive and dominant.
From now on, each outsourcing risk listed above is not a problem anymore. Feel free to contact Magenest TODAY for potential upcoming cooperation.
Are your businesses facing any outsourcing risks? Share with us in the comment section below for helpful advice. Don't forget to sign up to Magenest for more informative upcoming blogs.