Outsourcing refers to the contracting out of a project, certain activities, or an entire business function to an external provider. In case companies grew larger and there were requirements that they had to be more specialized, they would find the outsourcing company to get the job done quicker and more efficiently by the skills of external providers.
This results in the fact that more and more external providers are hired to manage business functions. If you search the phrase "outsourcing company list" on Google, you will be in the mess of thousands of results. Let's keep reading and we will show you the top outsourcing companies in the world and how to outsource successfully.
1. What's IT Outsourcing Company Meaning?
The IT outsourcing company is a company that specializes in IT services to manage, maintain and operate the information technology (IT) function of the business. They will provide the appropriate human resources for your company, and offer appropriate solutions. Thanks to the outsourcing company, businesses not only use maximum resources and improve operational efficiency but also save costs and time.
Top outsourcing company services:
Virtual Private Server (VPS).
Configure computer system.
System backup and restore.
IT security system.
There are plentiful reasons for outsourcing IT services. Organizations and businesses choose the outsourcing option for convenience and flexibility especially when it comes to software development which is a technical and complex task. Let's check out the reasons for outsourcing.
2. Top 10 Outsourcing Companies 2022
Now that you know what is IT outsourcing company service. However, the market for software outsourcing companies is growing at an unprecedented speed. There are thousands of outsourcing companies across the world in 2022, how do you choose the right outsourcing company?
To help you get started, we've compiled this list of the top Outsourcing Companies from major outsourcing locations such as countries of Eastern Europe, Asia, and Southern America, to help you choose the most suitable partner for you. Please note that our list implies no ranking purposes, each company in the list has its own advantages and disadvantages. One can be extremely suitable for your current project, but you might have to consider another company for another project. With that in mind, let's take a look at our list.
# Wipro
Headquarters: Bengaluru, India.
As one of the best IT outsourcing companies in India, Wipro Technologies is the first name outside the US that we want to add to this top outsourcing companies list. Exploiting applications of cloud, analytics, hyper-automation, cognitive computing, robotics, and emerging technologies, it provides IT infrastructure solutions for businesses in every industry, from media, banking to insurance, oil, etc. Its typical clients are Swiss Pharmaceutical, Airbus, and Telenor.
They have collaborated with large brands like IBM AWS Adobe Cisco Citrix Citrix Citrix Citrix Google Huawei Hitachi and others. Wipro is promoting a more quiet future for communities and consumers, but quite over the budget for a startup.
# Oxagile
Headquarters: New York, USA.
As a New York-based software development company, Oxagile has a long history of providing business intelligence and big data consulting services. With over 400 clients in more than 30 industries, including media and entertainment, healthcare, finance and e-learning and banking. Oxagile is a BBB-accredited company with an A+ rating. It comes in second on top outsourcing companies since its focus on complex data management may be more than most businesses need.
Oxagile specializes in online video management, including over-the-top (OTT) streaming media technologies, video conferencing solutions, and multi-screen apps for major customers such as Google, MIT, Vodafone, Telecom Argentina, and Discovery Communications, among many others.
Additionally, Oxagile achieves outstanding code quality by enforcing code style guidelines and best practices around source code workflows throughout the whole company.
# Magenest
Headquarters: Hanoi, Vietnam.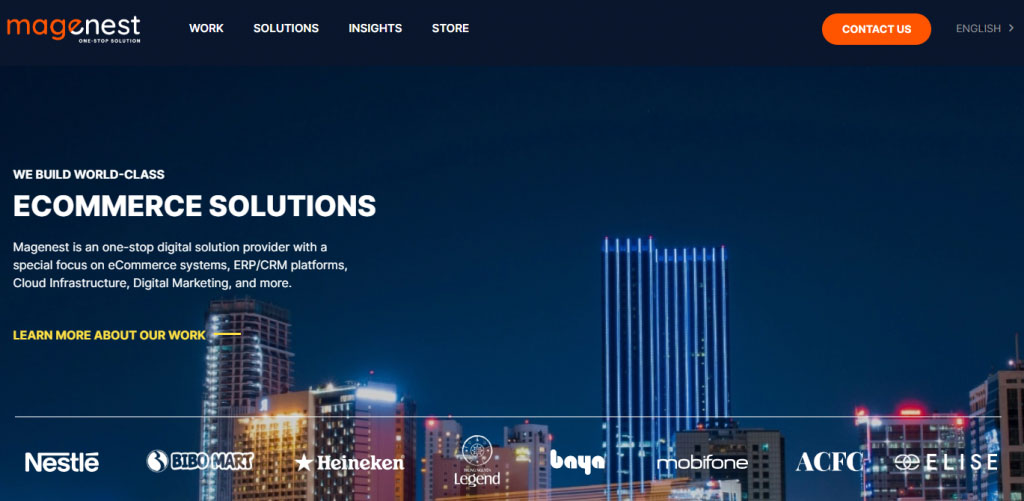 Magenest is the first name on the list of top outsourcing companies in Vietnam. As one of a few Magento and Adobe's solution partners in Vietnam, Magenest commits to accompany businesses with IT outsourcing services not only in Vietnam but also in the region.
The goal of Magenest is customers' benefits and sustainable development. It helps businesses in the digital transformation process and helps their employees adapt to technological transformation.
If you choose Magenest, you will be supported to run your business smoothly, whether you are a large enterprise or a startup. Furthermore, the company also cooperates with global corporations and other technology agencies around the world, such as Odoo, Salesforce, or Amazon Web Services.
# HCL
Headquarters: Noida, India.
As a part of HCL Enterprises, HCL Technologies Limited is a leading provider of consulting and technology services. They collaborate with a variety of businesses, including healthcare, civil amenities, and life sciences, among others. HCL makes sure that companies get the most out of these technologies in order to achieve their goals.
Their Outsourcing Services included: Content production; Sourcing and procurement; Order management; Cloud infrastructure and automation.
# Sciencesoft
Headquarters: US.
It was formed in 1989 as a U.S.-based IT services company. With the company already holding almost 32 years of experience in the industry, they are certainly one of the most trusted and reliable companies on the list. Industry experts at ScienceSoft utilize their expertise to provide unique solutions for companies in the healthcare, banking, finance, retail, telecommunications, education, transportation, and logistics industries.
Business growth and digital transformation are the only two of ScienceSoft's major services. The company also offers customized software development for Fortune 500 organizations along with mobile and desktop apps and Software-as-a-Service (SaaS) products.
A number of industry leaders have also partnered with the company to assure its dependability and uniqueness, including Microsoft, IBM, Oracle, Salesforce, and others. IBM, eBay, Deloitte, Leo Burnett, NASA's Jet Propulsion Laboratory, and Nestlé are among the company's clients.
# Accenture
Headquarters: Ireland.
With more than 10 years of experience and cooperation with the World Bank, Google, Apple, Microsoft, and American Express, Accenture is known worldwide as a leading company in the list of top outsourcing companies that was founded in 1989 with the former name Anderson Consulting and integrated into Dublin, Ireland in 2009. It is a professional innovation-driven company that improves and solves the most challenging business issues of strategy, digital, technology, consulting, and operations.
Accenture has a remarkable record of hiring competent individuals and promoting gender equality at work. So that they can come up with more creative ideas, they want to establish a diverse team to enhance their projects and generate long-term value throughout their companies.
# Unleashed Technologies
Headquarters: Columbia.
The next IT outsourcing company that we have here is the best choice for businesses that are looking to develop and increase engagement for their mobile apps and websites. If you're still in doubt, then Unleashed Technologies will amaze you with the Top Web Designers in Washington DC 2017 award. Yes, it is one of the top outsourcing companies that will unleash unique and creative technologies for website and app development.
In addition, Unleashed Technologies also serves those who have a need for development and integration, eCommerce solutions, cloud computing, digital strategy administrations, and other related services.
# Intellias
Headquarters: Ukrainian.
If you are looking for services such as digital consulting, software engineering, advanced technology, development teams, and solution operations, Intellias is the best choice between top outsourcing companies.
Intellias provides an ideally planned roadmap for hiring your team, producing essential assets, and hitting clearly defined KPIs. They dive deep into our clients' needs and goals to provide the most suitable offshore software service models, from hiring offshore software developers you can manage directly to assuming complete responsibility for the software development lifecycle (SDLC).
Owing to its fast growth over the past 20 years, Intellias is now listed on the Fortune 500 list. The company has also partnered with significant companies such as LG and KIA as well as Swissquote Bank and HERE Technologies and more.
# Capgemini
Headquarters: Paris, France.
What are the best outsourcing companies in France? This is one of the most frequently asked questions for all companies seeking to outsource a development project to France. According to research, Capgemini is one of the most well-known companies included in the list of top outsourcing companies in France. There are more than 100,000 employees in more than 36 countries. Intel and Microsoft are two of the most important partners. Capgemini's business goals include expertise, ensuring sustainable and long-term growth, and providing a return on investment to its shareholders.
If you're looking for unique services and a result-based approach. Capgemini will be one of the potential software consulting companies.
# IBM
Headquartered: Armonk, New York, USA.
Its headquarters are in Armonk, New York, but it has a reputation as a worldwide company that specializes in outsourcing technology. IBM, one of the world's leading outsourcing companies, began promoting "Next-Generation BPO" in 2010 and provides customers with all the information they need to make an informed choice about whether to outsource their technological requirements.
Additionally, the company provides its clients with a wide range of technical consulting services such as lab service and client centers as well as product engineering and platform testing and IT economics. IBM's supply chain savings range from $3 to $5 billion a year, including productivity improvements of over $500 million.
>> Read more: [TOP 15] Outsourcing IT Pros and Cons you Should know about
3. Mistakes to Avoid Before Choosing a Outsourcing company
Failing to Budget
In outsourcing, the cost is a critical factor, but it shouldn't come at the expense of quality. It's true that outsourcing software development tends to lower costs, but it doesn't mean it's free or inexpensive. Having a clear understanding of your budget helps both you and the software developer evaluate if a collaboration is feasible. If you speak with a number of suppliers and they all appear to be offering prices that are higher than your budget, you may need to reevaluate your expectations.
Not Researching Your Choices
Any professional outsourcing company would gladly share case studies with you. How many firms and sectors does the company deal with that are comparable to yours. What is the owner's aim and what is the solution in each of the instances of work? Remember that code isn't everything—though you won't be able to get your product without it!
Retaining unclarity and misunderstandings
Oftentimes, small business owners outsource their software development projects without a clear knowledge of what is needed to be done. A hazy concept about your project makes it tough to define specific criteria for the outsourcing partner as well as evaluate whether the process is going in the right direction.
The milestones and approval mechanism must also be discussed prior to starting a partnership. A good outsourcing partner will know exactly what you're looking for so they can come up with the most efficient approach to accomplish what you want.
Obsessed with modern trends
It's possible that when searching for outsourcing businesses, customers may come across those that don't follow the latest trends in their industry. Sometimes, the work which has to be done does not require it, but mostly working on a project requires seeking new ideas and methods to cope with hurdles using the latest technological trends. This means that you should make sure that the dev shop you choose stays up with the latest technological trends and will be able to handle any challenges that may arise.
Quality Assurance (QA) or Testing
Testing your project while it is in progress is essential to ensuring that your final product is strong and performs well as it should in the end. Since the beginning of the development process, a tester should be included in order to avoid encountering some defects in the final product. Therefore, make sure that your program has been tested properly before release.
In addition, Quality Assurance should ideally be done by the same company that collaborates with you for your development projects.
4. Magenest | Top IT Outsourcing Company in Asia
Magenest has 7 years of experience working with agencies, merchants, and other Magento Partners to manage high-quality and robust Magento systems. Also, it will be more efficient and cost-effective if you outsource your Magento work to a certified partner.
Magenest uses information technology to help businesses solve management and operational issues. The combination of four platforms Odoo, Magento, AWS, and Salesforce creates the power of One-stop Solution – the unique and comprehensive set of enterprise technology solutions in Vietnam. We help businesses solve issues such as resource management, sales management, data storage, data analysis, and building and maintaining customer relationships.
Let's discover our successful outsourcing case study from brands all over the world that have worked with us to transform their organizations. And you will know why you should choose Magenest.
Final Words
Outsourcing companies have grown significantly in recent years, providing a much-needed helping hand to customers worldwide, so choosing a reliable outsourcing partner becomes a tricky task. We hope that after reading this blog, you can go through this list of top outsourcing companies to find the right outsourcing companies that fit your company's needs
If you have any questions or are looking for an outsourcing company website, let's contact Magenest, tell us about your project, and we'll match you with recommended solutions.