In today's world, outsourcing and offshoring are trending up but they are often misunderstood and used synonymously. Despite a few similarities, outsourcing and offshoring are not the same and we will explain that to you in this article with more insight and knowledge about the two phrases. From here, we hope you will have a better idea about the pros and cons of these methods to a business, and how outsourcing and offshoring IT activities are getting more and more popular in the world of technology.
Outsourcing And Offshoring Definition
What Is Outsourcing?
Outsourcing refers to the contracting out of a project, certain activities, or an entire business function to an external provider. The term "Outsourcing" appeared in the business lexicon in the 1980s.
At that time, companies started to grow larger and were required to be more specialized, thus they found that external providers tended to get the job done faster and more effectively by the skills they possessed. This opened up more opportunities for external providers to be hired to implement business functions where there were requirements of specialized skill.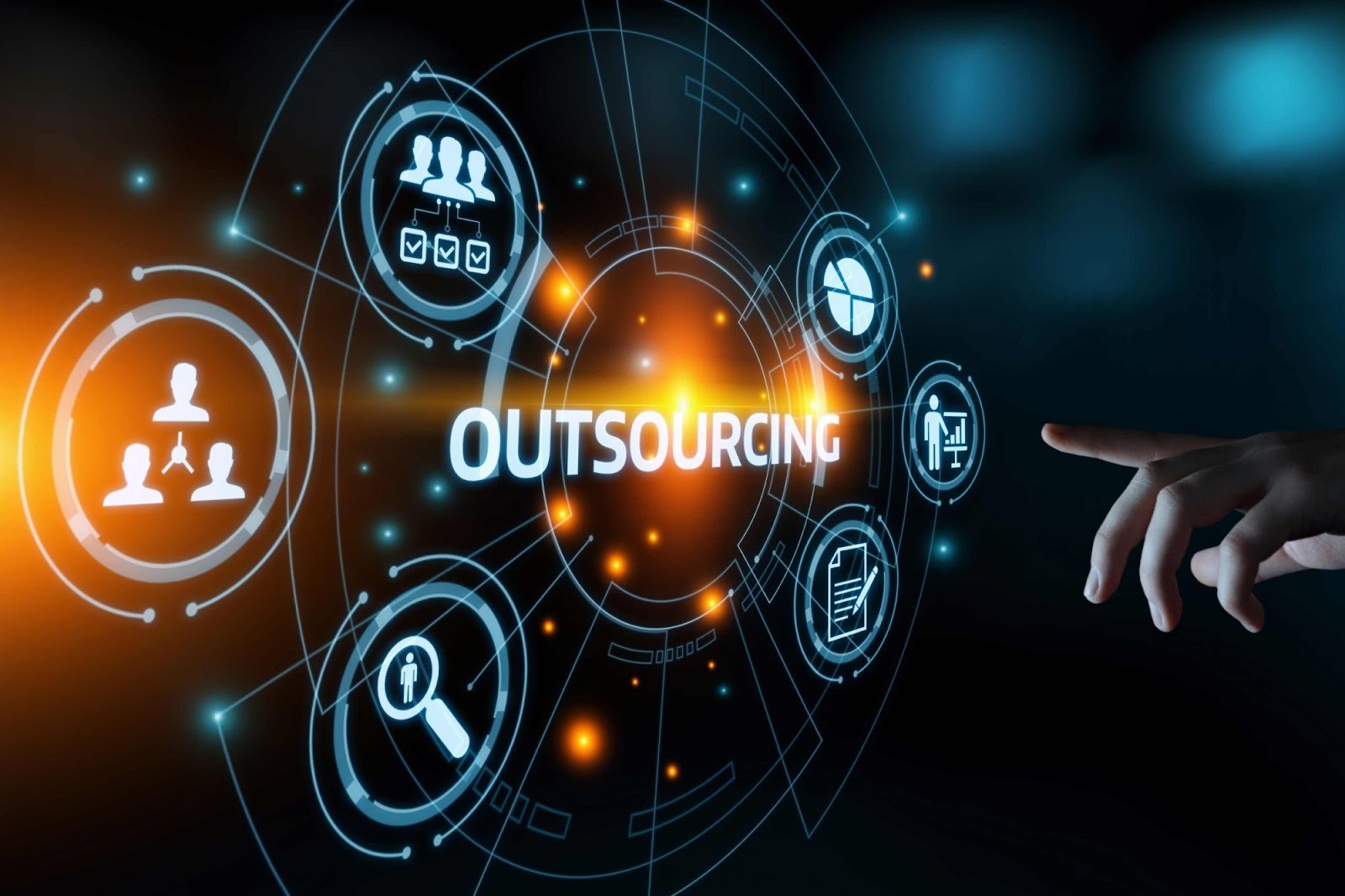 What Is Offshoring?
At the end of the 20th century, shipping technology and telecommunications infrastructure were improved with an aim to increase efficiency to get work done in other locations, especially in developing countries with lower wages. This practice is known as offshoring. In other words, offshoring is simply a form of using resources from another country.
With growing demand for specialties like IT and software engineering, many companies have to look elsewhere for source talent, hence, outsourcing and offshoring have been relied on more than ever. Companies that offer these services focus on building their team of experts in the IT field and are ready to offer solutions and human resources to any companies in need.
For IT outsourcing, the main focuses are usually managing, maintaining and operating different IT functions of a business. Meanwhile, IT offshoring is often software outsourcing (or software development) contracts. Communication is typically done over high-speed data links, allowing engineers and managers to communicate on a real-time basis. Customers can remotely monitor the process and project development milestones on a minute-by-minute basis, ensuring quality and progress.
Advantages And Disadvantages of Outsourcing And Offshoring
Benefits Of Outsourcing And Offshoring
Outsourcing comes with a wide range of benefits, some of them are:
Cost savings: Outsourcing and offshoring help companies save costs by accomplishing the same tasks for less money. Although the task is being done for less money, it does not mean that the quality will decrease thanks to the specialized expertise of the service providers. Reducing cost while quality of service remains unchanged or even higher is probably the best advantage when it comes to outsourcing and offshoring.
Focus on core areas: There are a wide range of business functions in a company. For instance, IT, human resources, manufacturing, accounting, payroll, finance, transportation, security and logistics, sales, marketing among others. Most companies only invest their resources and efforts in a few of these business functions. A "core" offers the company competitive edges to win the battle over its competitors in the same industry. If the companies outsource some functions, which are not their "core", they will have more time and workforce to develop their strengths and stay competitive.
Quality and Capability: In case companies do not have in-house expertise for certain activities, it's a good choice to rely on a third party. The right provider will deliver products and services with higher quality because of the specialized skills they possess.
Labor flexibility: Outsourcing and offshoring gives businesses the ability to ramp up and down resources quickly. For instance, in case a company wants to develop an application in 6 months, if they do it alone, they have to hire a team of software programming experts for 6-8 months which might not be feasible in most cases. Outsourcing and offshoring will be the solution in this situation.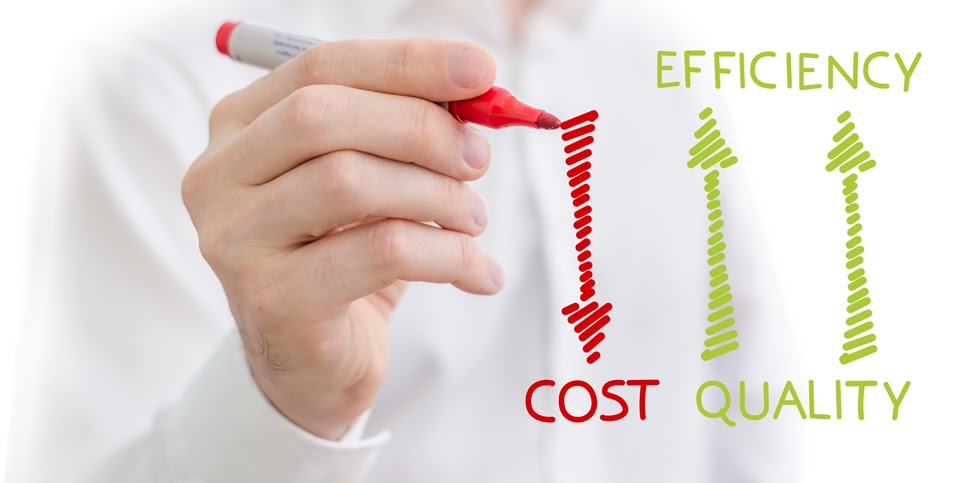 Apart from the cost-saving benefit like outsourcing, offshoring comes with more potential in terms of skills and expertise. Specifically, some countries or regions have a better ecosystem for certain kinds of industries, which means there is a reliable source of skilled labor available in the region to do specific tasks that require certain skills. For example, India and the Philippines have college educated youth, a large pool of English-speaking workforce, and a mature training infrastructure, which make them perfect for business process outsourcing and offshoring certain business functions.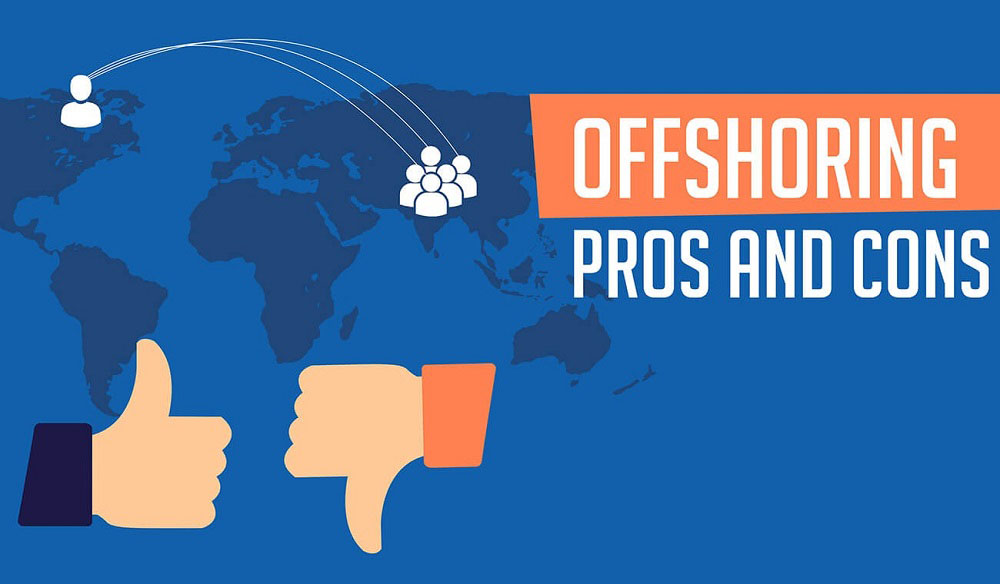 Risks and Criticism
Every coin has two faces. Both offshoring and outsourcing have been subject to much criticism, especially from a political aspect. Offshoring is often blamed for "stealing jobs" by politicians and laid-off workers. Besides, most economists agree that offshoring lowers costs for companies, then passes on pros to shareholders and consumers.
Besides, there are some risks that are associated with offshoring, including project failure due to the lack of communication; negative affection on timeliness or quality caused by poor infrastructure in developing countries, and civil or political unrest impacting production or service delivery.
Risks related to outsourcing can largely be attributed to the providers which are unfamiliar with the client's business. Besides, a lack of commitment for long-term business objectives of the vendor and the client are also a drawback for outsourcing and offshoring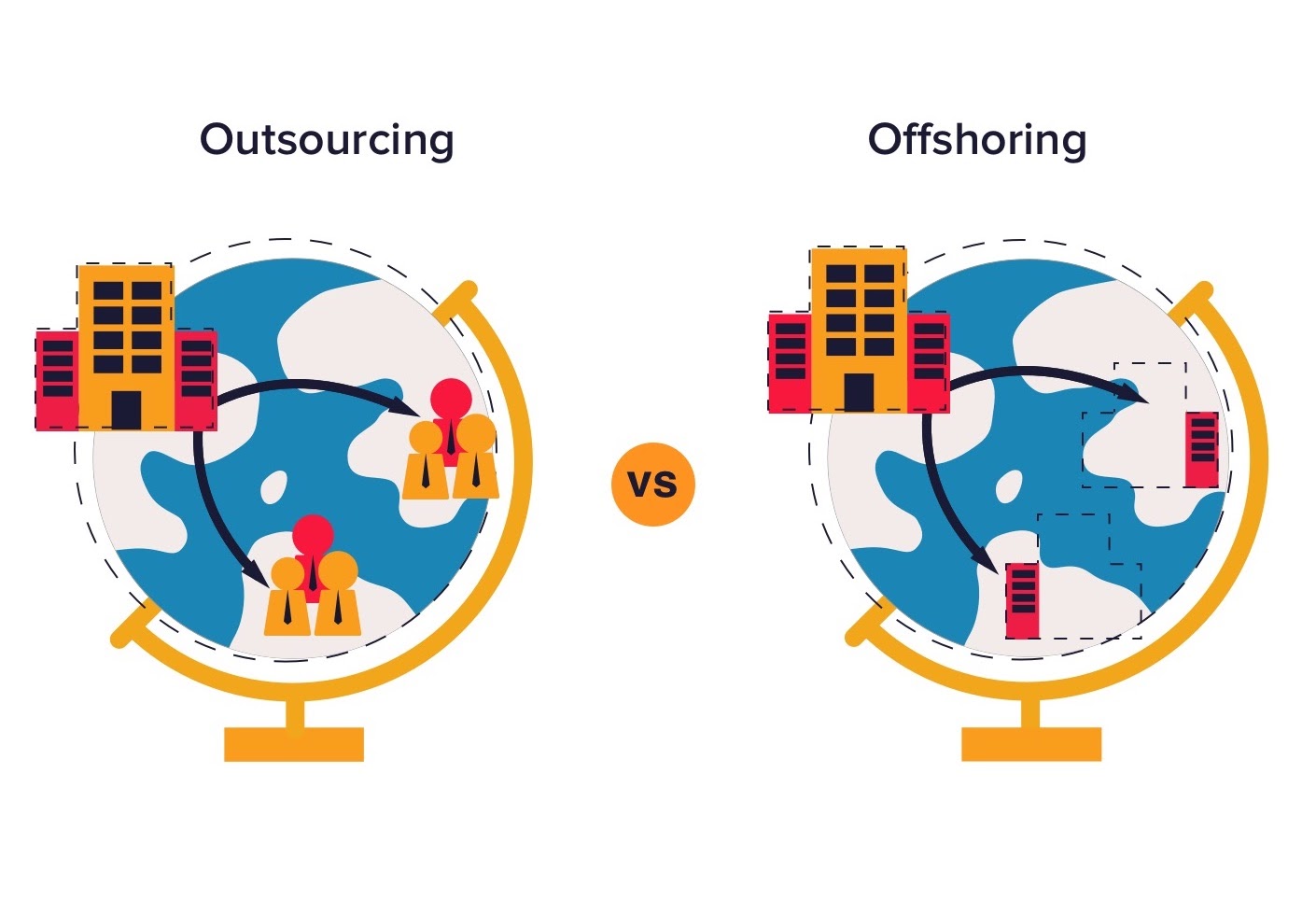 Offshore Outsourcing
Offshore outsourcing is a concept of combining outsourcing and offshoring together. It's the practice of contracting out some business functions to an external organization that is located in another country. The idea behind is mainly to utilize the advantages of both concepts.

Benefits Of Offshore Outsourcing in the IT field
Thanks to globalization, offshoring has proved to be the fastest-growing segment of the IT outsourcing market.
IT offshore outsourcing comes with the combination of the outsourcing advantages, such as resources easily ramp up and ramp down, and other specialized skills; with the advantages of offshoring, which are higher productivity and lower costs. In details:
One of the pros of offshore IT outsourcing is the availability of 24/7. Offshore IT outsourcing to an Asian country like Vietnam located in a different time zone gives businesses an additional advantage of getting the most out of 24 hours a day. Since your night is their day, your partner can take over and resume work even after your inhouse team is unavailable. They can complete important tasks and return them for your review the next day. So the benefit of outsourcing here is that you get more done in a day, increasing your overall productivity. 24/7 customer support is a dream-come-true for your clients and this can be fully realized through offshore IT outsourcing.
In today's face-paced technology driven world, businesses are required to adapt quickly to new technologies and expand their IT capabilities on demand to keep up with the competition. Not every business has the financial and human resource ability to build their own data center or ramp up in a short time under short notice. Outsourcing companies with their specialized pool of experts in the IT field can easily respond to market trends and changes. Plus, with access to a large pool of workforce with different skill sets, an outsourcing company can ramp up their team when demand is high. These will definitely be great values that outsourcing can bring to the table.
One of the advantages of offshore outsourcing is risk analysis. Outsourcing several elements of the business process helps the organization transfer certain responsibilities to the outsourcing company. There are several factors that you may not be aware of while your outsourcing partner offshore can easily identify and fix. Keep in mind that it requires both parties to closely work together when it comes to risk controlling and communication is the key factor.
Drawbacks Of Offshore Outsourcing
Everything has pros and cons, it is also susceptible to the risks of both business practices. Critics claim that these risks are magnified because of the complexity being multiplied. For example, while it can be challenging to work with an external organization for projects that require knowledge of your business operations, these challenges could increase manifold when members of the external organization are located in a different country. Risks include poor communication, incorrect setting of expectations, and disconnected control structures. To minimize the effects of these drawbacks to the collaboration, onboarding, coordination and communication play such an important role. A solid workflow management to communicate and follow up task progress will be a great tool for companies that are working with an outsourcing partner.
Final Words
In conclusion, both outsourcing and offshoring will continue to rise in the tech-driven world. We hope this article is as useful as a handbook of global outsourcing and offshoring, and you will find out the best solution for your own company.
If you are looking for a reliable partner who knows how to leverage offshore outsourcing to grow your business, we are here to help. As a one-stop digital agency with 6+ years in business, we at Magenest have helped brands transform their digital presence through our full-stack technology pack with Adobe Magento Commerce, Odoo, Salesforce and Amazon Web Services. Contact our experts now to find out what values we can bring to you and your business.