There is no doubt that the World Wide Web has become the latest battleground for most businesses. Even if you have a brick-and-mortar store or company that has been operating for many years, not utilizing the web for your customer service and marketing could mean that you are missing out on a lot of business. So whether you are running an online business or a brick-and-mortar one, it is essential that you also have an eCommerce shop.
Once your eCommerce site is up and running, the next thing you will need to do is look for an effective customer relationship management system, also known as a CRM system. After all, establishing and maintaining good customer relationships is a top priority for any business. Your customers are the key to your business and treating them right even leads to the probability that they will bring in more customers to your business. This is why it's vital that you find a good CRM system.
Magento 2 integration with Sugar CRM
If you are looking for a solution that will provide CRM integration with eCommerce then you will want to check out Magento 2. Magento 2 is an open-source eCommerce platform which means it can be tailored in order to fit your particular business. With the Magento 2 and Sugar CRM Integration, the value you get is therefore doubled.
Today we are proud to announce that our Magento 2 Sugar Integration is officially released. This Magento 2 extension helps the merchants to integrate and synchronize Magento 2 sales data with the Sugar CRM records. Being an extremely efficient and time-saving tool, Magento 2 Sugar Integration provides business process optimization and, as a consequence, online sales growth.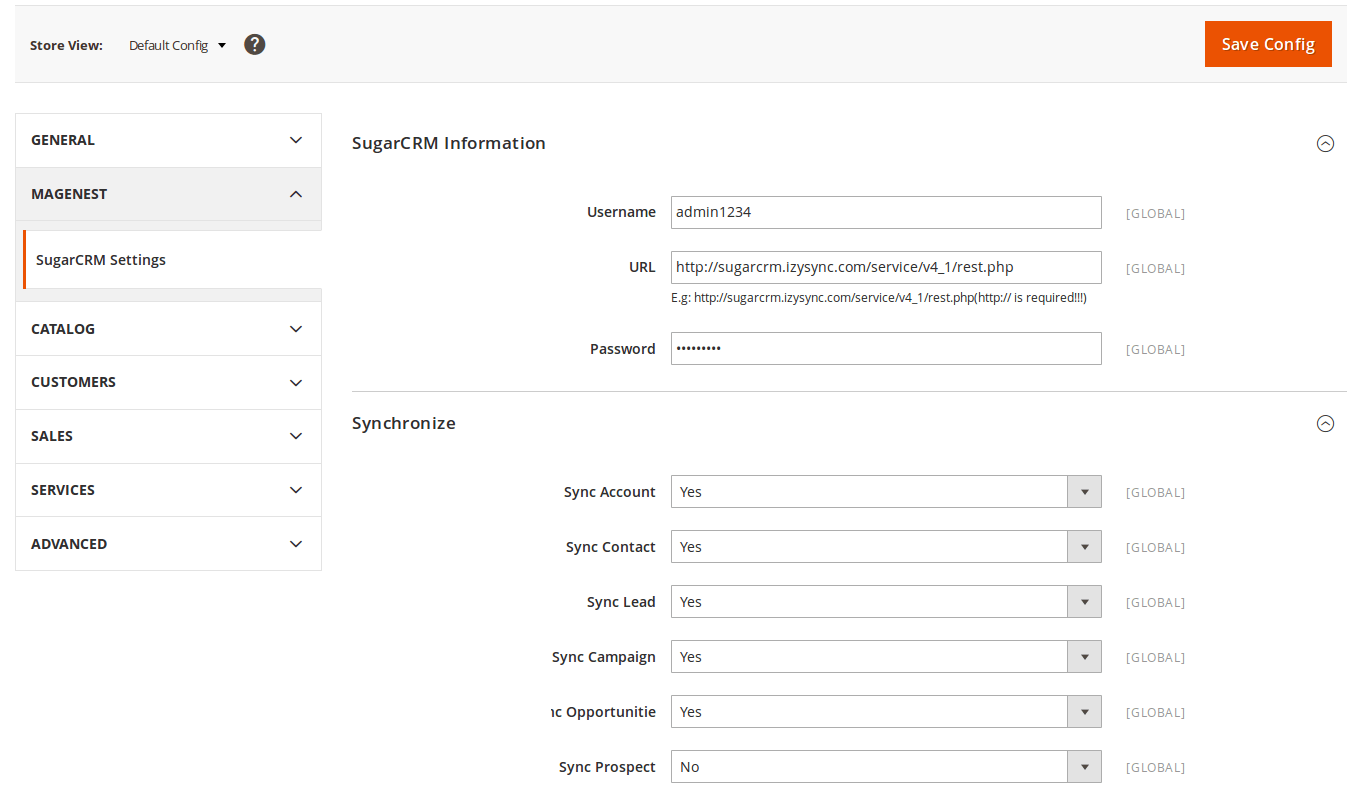 Here are some of the features and benefits that eCommerce businesses can expect from the integration.
Allows synchronizing and updating Customers from Magento 2 store into SugarCRM Leads, Accounts, Contacts, and Opportunities.
Allows synchronizing and updating Customers from Magento 2 store into SugarCRM Opportunities when an order Magento created.
Allows synchronizing and updating Customers' billing address book from Magento 2 store into SugarCRM Targets.
Allows synchronizing Campaigns from Magento 2 store into SugarCRM Campaigns.
Allows admins to define the mapping fields in the back end with ease. Mapping manually between Magento 2 attributes and SugarCRM custom fields.
If you wish to learn more about Sugar CRM Integration with Magento 2, please visit the extension page: Sugar CRM Integration.
You can consult other integrations on our Magenest Store at https://store.magenest.com/:
Magento 2 Salesforce CRM Integration.
Magento 2 Zoho CRM Integration.
Magento 2 Vtiger CRM Integration.
Magento 2 Quickbooks Online Integration.
Magento 2 Sugar CRM Integration.
Magento 2 Odoo Integration.
In addition, if you want to learn more about our Magento development and design services, migrate your website to the Magento eCommerce platform, or encounter difficulties in the process of setting up and configuring our modules to your Magento store, you can contact us now. Magenest is guaranteed to deliver the highest quality services at the most affordable price in the world.