Today, we proudly announce that Magenest has received the honor of becoming a Magento Solution Partner.
This milestone is proof of hard work and dedication from the Magenest team, which has been working restlessly for the last 6 years for this common goal.
The Journey to Be A Magento Solution Partner
Magenest started in 2011, serving both B2B and B2C customers. We provide solutions for customers from a multitude of industries. We offer industry and culture-specific solutions such as hotel booking, event management and gift registry. Since then, the company has come a long way, working with different partners around the world. Conversely, these customers helped us to accumulate our experience and become an expert in integration – Magenest currently offers integration solutions for the three most popular CRM services (Salesforce CRM, Zoho CRM, Vtiger CRM), the 2 most popular Accounting services (Quickbooks, Xero) and payment gateways for different countries and regions (Stripe, Moneris, Barclaycard, SagePay, PSiGate, Hipay, Alipay, Worldpay, Adyen).
With expertise and experience working with various customers, experience various programming logic, business workflows and management style, Magenest is confident in our ability to adapt and learn. We are always ready to develop and provide integration solutions to new third-party applications to the Magento 2 platform.
Magento Integration: The power for an open-source and flexible platform
Scalability and flexibility are the trump card that Magento has over other e-Commerce platforms. Magenest builds upon this capability and makes it even more powerful with integration capability with other business systems. Each day, more and more SaaS are entering the market, making breakthrough innovations and cause disruptions to the technology landscape. As a result, the best method for businesses to stay competitive is to learn and adapt to these new technologies. Magenest helps customers reduce the technology barrier by integrating the novelty business application with your existing Magento 2 business platform.
With the power of integration, we help business to multiply the power of Magento and adapt to changes while maintaining the stability of their existing business system.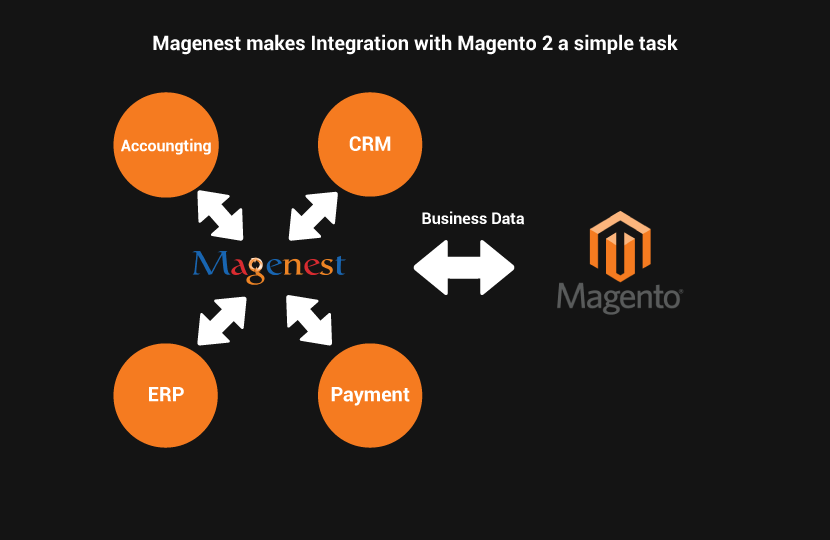 Integration Expert: It's not only programming
We approach integration in a holistic manner. We have an integration team full of experts that possesses in-depth knowledge about CRM, ERP, Accounting and Payments. Therefore, Magenest is able to provide a comprehensive solution package for our customers – business process & workflow design, CRM & ERP onboarding, accounting chart of accounting setup, payment gateway security consultation.
A team of agility: Collaboration and modular method is key
The Magenest team consists of senior developers with a thirst for knowledge. We created a training and mentoring model that allows our staff to grow fast, as well as speed up the development process. by programming with a module structure, collaborating between different project managers and seniors developers, we are able to utilize experience and expertise from different fields to reduce development time, allowing customers to get the site up and running in a shorter period of time.
Moving forward with Magento
We are grateful for this opportunity to work with Magento as a Magento Solution Partner. Thanks to this partnership, Magenest would be able to expand its capability as an integration expert. We help Magento to meet the ever-growing needs of B2B and B2C customers that want a smarter, stronger e-Commerce platform for growth.