Today, in the world of the growing demand for specialties like IT and software engineering, the use of IT systems has become more and more complicated, which requires companies to need a professional IT department to reduce costs while ensuring the system works well. Businesses can have many IT outsourcing services such as database administration, network administration, operation of IT systems, etc. However, many people still have questions about IT outsourcing service.
In this piece, we will provide you with the IT outsourcing services definition, types of IT outsourcing services and the reason why small businesses need IT outsourcing. Let's read on to find out whether outsourcing is the best fit for your company.
What are IT outsourcing services?
IT outsourcing is the practice of using an external service provider to deliver some or all of the IT features required by a company including directing strategy, managing infrastructure, and running the service desk.
IT outsourcing providers can take full responsibility for all IT maintenance and support, which is called a fully managed service, or they can offer support for the company's in-house IT team. This is sometimes referred to as co-sourced IT support and is usually an approach taken by larger organizations.
An organization may use one vendor for all their IT tasks, or multiple service partners to deliver various elements.
Types of IT outsourcing services
Categories based on Geography
The process of sending IT-related work to a business in a country that shares a border with your own country. This type will make communication and travel between the two companies easy.
This involves sending IT-related work to a company in a foreign country, such as the Philippines, India, and China, which offers lower costs, political stability, and tax savings.
Onshore or domestic outsourcing
This involves contracting an external service partner, lying in the same country, to provide IT-related work, remotely or on-site.
Categories based on Products
Contracting an external vendor to offer IT-related services over the internet, such as Platform-as-a-Service, Infrastructure-as-a-Service, and Software-as-a-Service.
This involves contracting an external provider to offer network management functions such as virtual private networks (VPNs), messaging and call centers, firewalls, IP telephony, and networking monitoring and reporting.
With outsourcing, you can pick the best-managed services for your enterprises to help address specific business needs. A suitable managed service vendor provides a comprehensive range of technology services within one or many technology domains. Their large team of skilled IT experts creates a superior end-user experience by offering operational support and enhancements for a wide range of IT applications and services.
What are the IT outsourcing models?
Your specific circumstances determine the relationship model you choose. You should select a collaboration model before signing a contract with an information technology outsourcing company.
Here are the most common IT outsourcing models that can be chosen based on business needs:
Staff augmentation
This is the ideal choice to solve the talent shortage problem. Works well for companies who already have an in-house IT department but need to strengthen it with skilled professionals.
Dedicated team
This is an IT outsourcing service for companies that require long-term software development. According to having a professional IT department, the company will be able to save money on recruiting, administration, and office expenditures.
Project-Based
Also known as full-process outsourcing, this model is the most popular in IT outsourcing services. The IT vendor is granted complete control and responsibility for the project, including all process stages, team management, results, deliverables, and risks.
Standardized model
Often companies outsourcing IT services look for quick business solutions and an introduction to a standardized model can make your project market-ready at a lower development cost within a short timeline. It should be noted that custom solutions can often be more expensive than standardized services, therefore later is suitable for smaller businesses or start-ups.
Why does eCommerce IT outsourcing service help grow your business?
Outsourcing, the practice of using outside vendors to handle tasks normally performed within an organization, is a familiar concept to many companies. Small companies routinely outsource their accounting, distribution, payroll processing, and many other important features because they have no other choice. Many large enterprises turn to outsource to decrease costs. Consequently, entire industries have evolved to serve companies' outsourcing needs.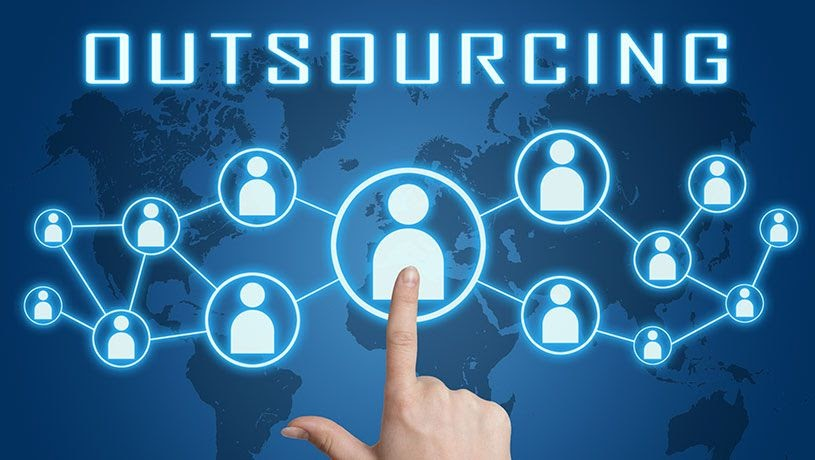 However, not many businesses thoroughly know the advantages of outsourcing, especially small businesses. It's true that outsourcing can help you save money, but that's not the only or even the most important purpose to do it. IT Outsourcing can provide small businesses with a number of long-term benefits:
Cost Savings
Having in-house software development teams is costly, especially for small-sized enterprises that want to minimize costs. Outsourcing IT help desk makes it easy for the business to access the best services and talents without wasting the costs associated with housing in-house software development labors and particularly, training and hiring staff. Hiring and training IT employees is very expensive, and temporary employees' quality doesn't always equal your expectations. Outsourcing enables you to focus more on your human resources where you need them most. 
Also, outsourcing partners help your business eliminate the demand to invest in the tools and equipment required for successful software development. Therefore, outsourcing covers fixed IT costs into affordable costs and helps you to budget effectively.
Saves time
Outsourcing is also helpful in not only saving costs but also saving time for businesses. A short time-to-market is crucial for today's world, where there are narrow windows for capitalizing on an emerging opportunity. This needs faster development and deployment of new software achievements. Unlike building up in-house development teams that subject businesses to long employment and training processes, outsourcing software laborers eliminate these processes, therefore, they invest time in executing the tasks.
Increase efficiency
When you outsource IT tasks, you can focus more on your profession and expertise more because you do not waste time learning and doing things that are not specialized. In addition, the outsourcing firm also has industry expertise so the quality of the work is usually higher and the execution time is faster than that of the in-house team.
Enterprises that do everything themselves have much higher development, research, distribution expenses, and marketing, all of which must be passed on to clients. An outside vendor's cost structure and economy of scale can give your firm a crucial competitive benefit.
Decrease labor costs
Hiring and training employees for short-term or peripheral projects can be very costly, and temporary staff doesn't always live up to what you want. Also, when you hire new staff for short-term projects, the existing staff in your company may not have enough specialized knowledge to judge and ensure the quality of new staff. Then you will have to employ external QA or QC to ensure the quality. Thus, outsourcing enables you to focus your human resources on your core.
Control capital costs
Reducing costs may not be the only purpose to outsource, but it's certainly a major factor. Outsourcing converts fixed costs into variable costs, releases capital for investment elsewhere in your business, and enables you to avoid large expenditures in the early stages of your company.
When to Use IT Outsourcing Solutions
Lack of IT Talent: Top talented software developers are scarce on a global scale. IT Outsourcing companies work with remote methodologies to overcome this challenge.
Complex Projects: Tackling a complex project requires a lot of know-how and technical expertise. Without those, it is easy to run into speed bumps and accumulate downtime.
Support & Consulting: IT Outsourcing Services also include consulting and support solutions for existing or ongoing projects that have fallen off the tracks.
Specialized Roles: Many projects require either super-specialized technical roles or temporary positions that are not attractive for top talented developers.
Tight Deadlines: Getting the right results at the right time can be the difference between success and failure. Deadlines are just pushed back without the proper horsepower.
Cost-efficiency: IT Outsourcing Companies completely eliminate the costs of hiring in-house staff while providing the same or better benefits.
Magenest IT Outsourcing Service Guide
Our services
With more than 6 years of experience, Magenest confidently brings real value to customers with 4 targets: Safe, Stable, Efficient, Economical. We are proud to be a reliable partner with many businesses from the first day of establishment up to now. If you are looking for a reputable and quality IT Outsourcing service provider with reasonable prices, we are ready to help you. Our first-line priority is to fulfill the needs and requirements of our clients and work collaboratively toward a common objective: delivering ONE-STOP SOLUTION, building trust for the eCommerce needs of customers around the world. Let's discover our services!
Site Auditing Maintenance & Optimization​
Magenest conducts a regular audit of your eCommerce Website, manages general maintenance and updates to ensure a flawless online shopping experience.
Platform Migration
At your demand, our solution enables easy migration from one platform to another, including from servers, orders to customer migration.
Native Mobile App Development
Magenest enables you to build useful and seamless experiences across all devices.
Web Development /Implementation
Our team can create outstanding eCommerce websites with perfect UI/UX.
Platform Integration
Magenest provides a full range of system integration services, including counseling and consultation as well as solution design and execution.
Hosting
Magenest is a consulting partner of Amazon Web Services, we offer cloud solutions, network security, and support the enterprise "cloud" process. Leading experts will assist businesses with fast database storage and operations with minimal IT infrastructure costs.
Our Typical Successful Story – Heineken Cooperate Vietnam
With the rise of high volume orders coming up, Heineken needs to improve operational efficiency and provide better service to boost its sales. Therefore, Magenest offers technical advice and builds e-commerce systems around Magento Commerce.
With experience in implementing Drinkies – Heineken's B2C system in Southeast Asian countries, Magento Commerce is Heineken Vietnam's first choice when deploying the Corporate D2C (Direct to Customer) system. Storage on AWS's cloud infrastructure is the foundation for Heineken to operate efficiently in the future. We design a digital Corporate D2C Commerce experience with the combination of Magento Order Management System and B2B experience redesigned from the ground up.
What Magenest has achieved from the project is an efficient D2C system, creating a positive impact on the development of Heineken Vietnam. The highest level of sales performance is a step for Heineken to continue investing in digital transformation projects. Automated order processing allows productivity to raise many times with high accuracy. Heineken was able to confirm orders faster with timely and clearly transferred data. Human resources also increase connectivity, thereby building an effective workflow and customer care service. Thanks to the state-of-the-art technology, Heineken's performance, and sales have reached new heights.
If you want to know more about this successful story, let's visit here.
Final Words
IT outsourcing functions will continue to rise at a significant pace. The continued strong growth of both the breadth and depth of IT outsourcing requires that this management practice is more than just a passing fad and that, under the correct circumstances, IT outsourcing may offer the advantages noted by its proponents. We hope that this article about IT outsourcing IT services is helpful for you and will help you outsource successfully.
A partner with experienced and trustworthy outsourcing IT services can help you launch your enterprise forward. Magenest has been providing our clients with the cost-saving IT outsourcing they require for day-by-day IT tasks and long-term strategic achievements. After knowing about IT outsourcing services, if you're looking for finished IT outsourcing, no matter your enterprise is small, medium, or big size, we can show you in the right direction.
If you are searching for a partner who knows how to make outsourcing grow your business, we are ready to help you. Magenest is proud to be a one-stop digital agency with more than 6 years in business, we have helped many companies to transform their digital presence through our full-stack technology pack with various platforms such as Adobe Magento Commerce, Odoo, Salesforce, and Amazon Web Services. Contact our experts to figure out what values we can bring to you and your business.