Since Google has released Hummingbird algorithm, e-commerce solutions focused on mobile devices. You have a responsive site design with mobile-friendly modules. In short, all merchants and retailers want to make a success of mobile e-commerce strategy but they really don't care about mobile search engine in their website. Today your customers not only want to save their time on browse and shop online, but they also want to use their phone for mobile search to compare price and product reviews while browsing your store!
What makes mobile commerce become different? Why you should focus on mobile search?
Almost of mobile shoppers are more likely to be looking a specific product than they are to be browsing your store. This feature can make effective site search functionally the most efficient navigation strategy for your mobile site.
In fact, not all eCommerce site search strategies appropriate for mobile commerce site, so if you can make an effective mobile search, it will make your site become different and convenient with you customers anymore.
How to use mobile search effectively?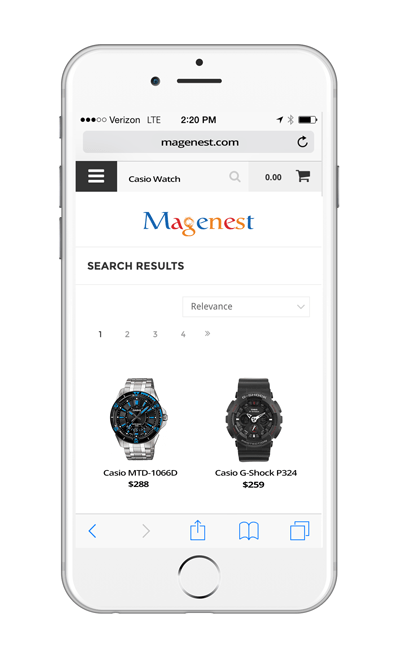 Friendly result page design
It is important to give your mobile shoppers exactly what they want at a click button. With short attention spans and small screens, mobile users require highly relevant and simplified experiences.
Design your search results pages to immediately answer your mobile users' questions. In the homepage search box, once you begin typing, a dropdown of options pops up. The two most prominent searches will lead you to site pages designed specifically for your search. Other options available feature the most popular store items. Finally, if these results aren't what you are looking for, you can continue to a full-blown search page which includes product photos, prices, and the ability to refine your search based on popularity, average rating, sort by price and more.
Make it easy for mobile shoppers to call you
Don't forget to include your phone number on all appropriate pages because 61% of mobile users make a call after a local business search.
Eliminate unnecessary clicks and data entry
Smartphone users like to scroll and swipe and can become frustrated with user interfaces that are clearly designed with a desktop computer in mind.
Take advantage of search features such as autocomplete to both guides your visitors toward their goal and eliminate the need to type complete search queries. The search drop-down helps to suggest and guide mobile users to relevant long-tail search terms.
Make the search box easy to find
Make the search box easy to spot, right at the top of every page – don't waste a mobile visitor's time by making them find this important functionality.
Help mobile users make sense of their search results
It goes without saying that the order in which you display the search results is critical. The most relevant and highest converting products should always be presented at the top of the list. But, what if your visitor is looking for something else?
Rather than make them scroll through dozens (or hundreds) of results, make sure that you provide them with a set of filters that is easy to find and use so that they can quickly refine the results to a shortlist that is relevant to their needs.
By the end of 2017, it is estimated that mobile purchases will make up nearly 75% of all transactions online. And it is important to know the fact that customers use mobile devices more than their computers. So making the best search mobile experience will help to keep your customers loyal and them turn back on your website again and again.