Social login is popular among customers due to a faster registration process (requiring almost no additional information), and you can save the time of remembering all your accounts. However, before creating a social login in Magento 2, you have to connect to the API of other social networks such as Google, Facebook, Yahoo, Instagram, Pinterest, etc. Today, we will show you how to configure Foursquare API in Magento 2.
When entering Foursquare, you need to create an external application to connect your website to Foursquare API. Then, application ID and secret (Client ID and secret or API ID and Secret), or application credentials, are all that we need. With this external application, your website will be linked to API. And these credentials play an important role in making Foursquare users get access to your website.
How to Configure Foursquare API in Magento 2 in 5 Steps
To Configure Foursquare API, let's follow these steps:
Step 1
First of all, let's get access to developer.foursquare.com and click on Create new app.


Step 2
Login to Foursquare pop-up will appear, and you choose to Sign up for Foursquare.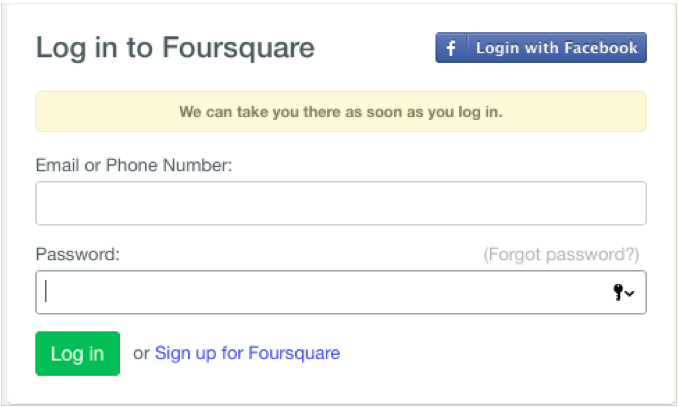 Step 3
At this step, you have to fulfill every required information like your email. These can be the password for the Foursquare login, first and last name, gender, and date of birth. There is also an option you can choose to upload your profile picture for a recognizable account.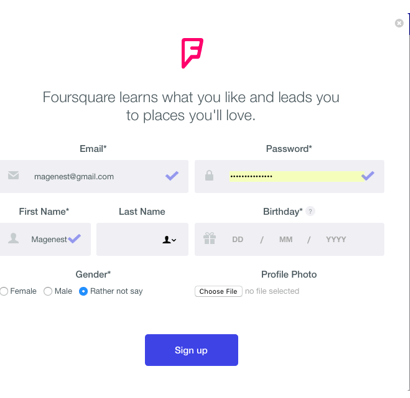 Step 4
After signing up successfully and choosing the tastes that you like, you will see a New Developer App page. This step is crucial because it allows you to integrate Foursquare into your website or application. All you have to do is type in all required information (marked by a red star), namely your app name, web addresses, push API, app info, install options, and credit card verification.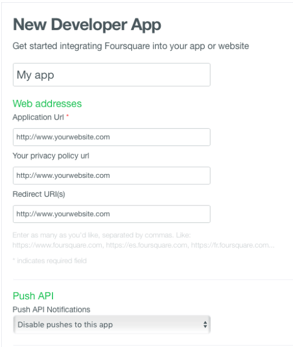 Step 5
At the end of the page, you can see two options: Create app and Verify and Create app without verification. With the first option, you will have to insert your card number in order to verify the account. With the second option, the browser will take you to the next page shown below. Here shows your client ID and the secret that you can copy and insert API into API fields in Magento Admin > Stores > Configuration > Magenest > Social Login > Foursquare in this link.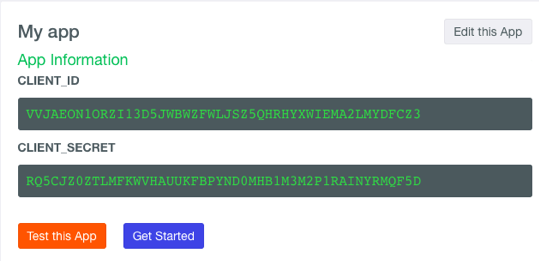 We have shown you how to configure Foursquare API in Magento 2. Want to know more about how to configure the API of other social networks and connect them to Magento 2? Don't hesitate to keep following our blog for more, or you can contact directly to our Magento experts and specialists for more advanced consultancy.