Deadwood Knives LLC is a high-end knives brand which is located in Knoxville, TN, United States and is part of the Electronic Shopping and Mail-Order Houses Industry. Deadwood Knives LLC has worked hard for a chance to own a quality piece of cutlery by offering the best knife at the best price, with the best service. Currently, Deadwood Knives is striving to be the easiest, most friendly way to shop through online shopping.
They believe that their simple, but informative website design has proven to be valuable for their continuing growing consumers. Deadwood Knives are proud to have:
A Wide Selection of the World's Finest Pocket Knives.
Friendly, Award-winning Customer Service.
Extreme ease-of-use for their products.
Product Confidence.
Same/Next Day Shipment on All Orders.
Almost any Payment Method.
High-quality pictures of products.
Why does Deadwood Knives need to apply a proper eCommerce solution
Digital transformation – a transition in consumer behavior
Consumers in the new generation are now expecting a more convenient purchasing solution where products are available with a variety of selections and easy delivery options. With the advancement of technology as well as the ever-developing from the Internet, online shopping is a one solution fits all – allowing consumers to shop anywhere and anywhen. Given details, online shopping offers availability – convenience – right in time services/products without taking too much time. Also, due to the Covid 19 pandemic, people are advised not to go out or shop at the physical stores.
The appearance of generational change
As Gen Z will be dominant in the workforce and become the majority of the market, their purchasing behavior will become more influential. Since 2020, Gen Z and Millennials have dominated Deadwood's market since they have entered the workforce and hold firm decisions in most families. The milestone represented a generational shift that drives a change in business practices and behavior, requiring companies to transform to meet expectations.
Why did Deadwood fail to apply Magento in the past?
In the past, Deadwood applied Magento 2.1 with the hope to update the backend. However, the development team failed to customize the Magento site in terms of technical standards, which leads to the inability to work features out.
Operational issues: Customers use Channeladvisor to store and manage information about products and inventory, but the integration of this system with the Magento site is not complete and cannot be used. Also, other main selling features remain unworkable, making the official website unable to have sales.
Payment feature: The payments feature doesn't work due to low quality website build in the initial stage, leading to low customer satisfaction and sales reduction.
Due to these serious problems in the process of operating the website, Deadwood cannot have stable revenue and enhance customer service. Numerous complaints from customers have been made, and this makes Deadwood unable to keep loyal customers as well as attract newcomers. Also, as Deadwood's main website features were facing lots of errors, its internal department could not control the quality and timing of orders.
Why Magenest?
Obviously, the process of improving the current website system has caused way more effort for both the development team and the company itself than building a new Magento 2 system. However, since the holiday season is coming soon, it is urgent for Deadwood to enhance the short-term situation and also prepare for a long-term run.
Conducting in-depth research and hours, Deadwood finally met up with Magenest, a well-known partner of Magento. Undeniably, Magnenest has proven to be the top partner of Magento when they can offer:
Certificated developers: Despite the fact that Magento is open source and not subject to stringent coding regulations, it does have some standards, and Magenest development team have qualified full track of Magento certificates.
Adequate portfolio with existing projects, and clients: Magenest has partnered with brands to transform their digital presence as a one-stop digital agency with 6+ years in business.
What has Magenest done to overcome the previous error?
Deadwood's vision: Offering the most convenient – user friendly website for consumers
The aim of Deadwood was customer-centric, all features need to focus on leveraging customer purchasing experience. Due to complaints received from several customers, Deadwood finds it urgent to put consumers' ease of use on the website first.
Magenest's solution
Situation evaluation
Customer persona reorientation: Magenest development has teamed up with Deadwood's market research team to find out new customer targets with the persona on their demographics, goals of life, pain & gain when it comes to using the website, and what encourages and discourages them.
Feature sets proposition: The market research team would conduct customer journeys, finding out their pain points. With that, the development team can come up with a wired flow. Final steps, Magenest evaluated current features to decide which one is suitable for current findings, keep, discard or upgrade these features.
Solution coming up
In phase 1, Magenest and Deadwood Knives have agreed to work on the following tasks.
Improving current features which appear little to medium system errors.
Upgrading some features relating to selling to adapt to the new market's needs.
When integrated with a third party, Magenest advised Deadwood Knives to use the default Magento features or modules. Deadwood Knives also seeks out for potential modules in the market.
The deployment of the plan, however, was not as smooth as expected. The scope of work provided by Deadwood Knives was too vague and general, therefore Magenest team had to consult a lot more. Many different versions of the scope of work have been introduced, discussed, and then canceled until both teams could agree on the final version.
Another obstacle for Magenest is that the targeted customer group of Deadwood Knives has extremely unique tastes for UX/UI design. This requires Magenest to come up with a totally unique frontend design to meet the difficult requirements.
Initial achievements
Short-term achievement:
The time allowance of phase 1 was not long at all since Deadwood Knives wanted to have the website working at full capacity during the year-end festive season (Christmas 2020 and New Year 2021), not to mention the time spent to produce the final scope of work version. Facing the huge challenge, Magenest has tried its best to complete the basic features to operate before the deadline.
Although just the basic features have been optimized, the results were still noticeable. Despite the unoptimized UX/UI design, the smoother shopping experience from optimized basic features has brought Deadwood Knives a prominent rise in revenue at the year-end festive season, comparing with the previous year-end festive season.
Medium to long-term achievement:
Since Deadwood's vision was to offer a user-friendly site for its customers, Magenest has succeeded in building a website that is aligned with user flow and offers further optimization in phase 2.
About the unique UX/UI design, Magenest also comes up with a special design to satisfy the targeted customer group of Deadwood Knives.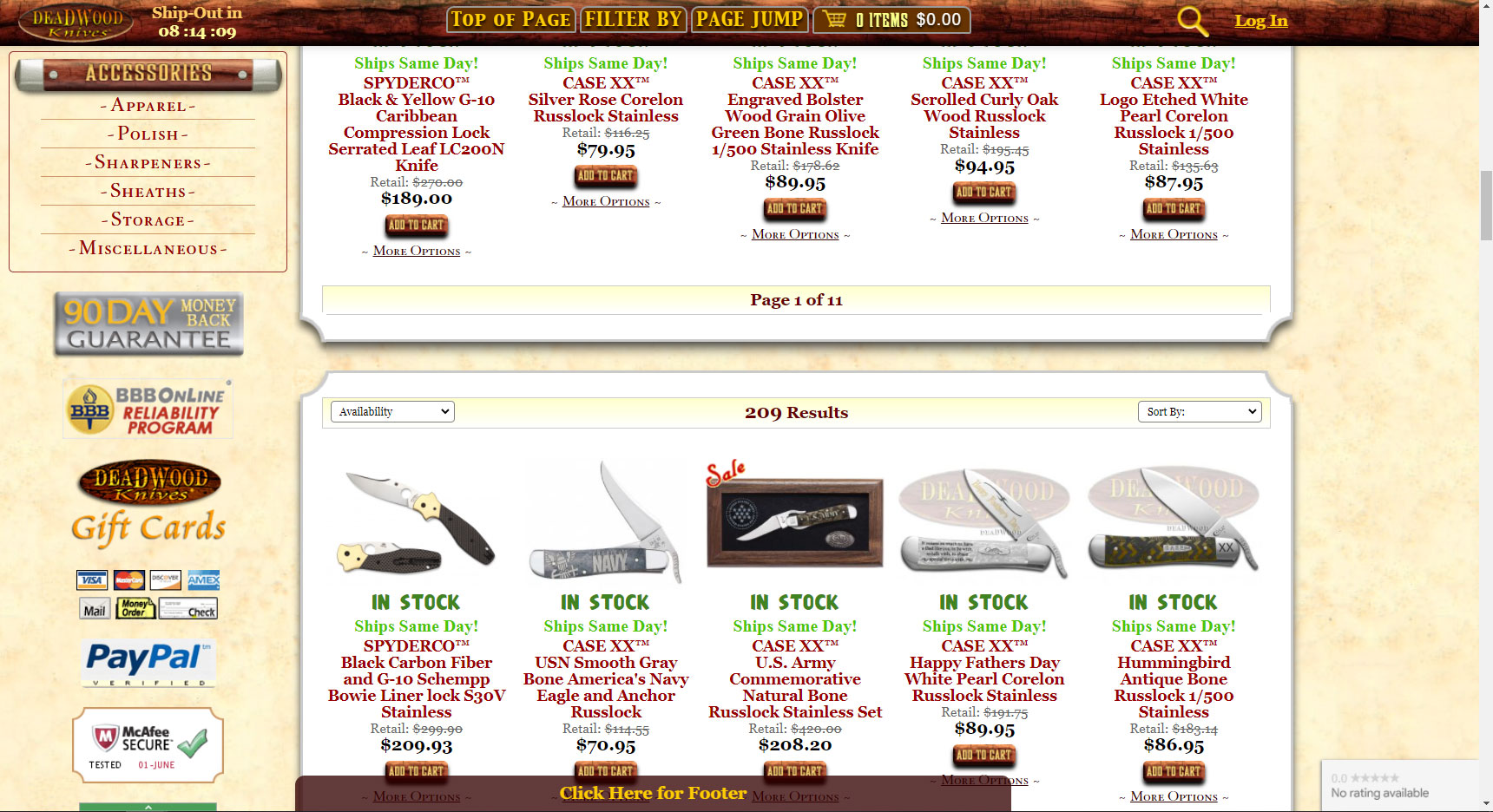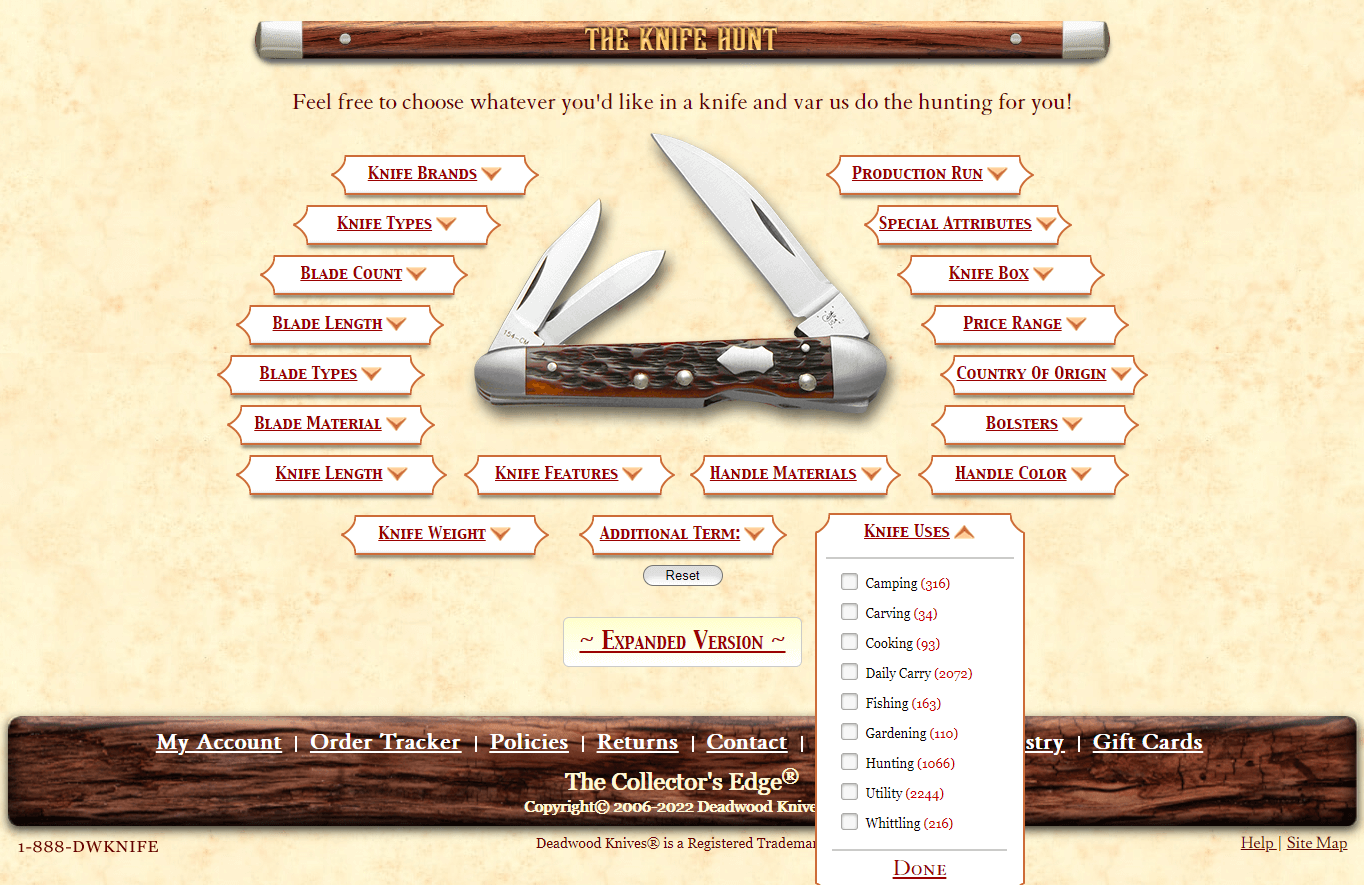 Pictures and screencaps can never truly describe the uniqueness of this design, so why don't you check it out yourself?
If you are interested in working seriously with us, contact us right away and Magenest will gladly be your humble partner on your eCommerce journey.